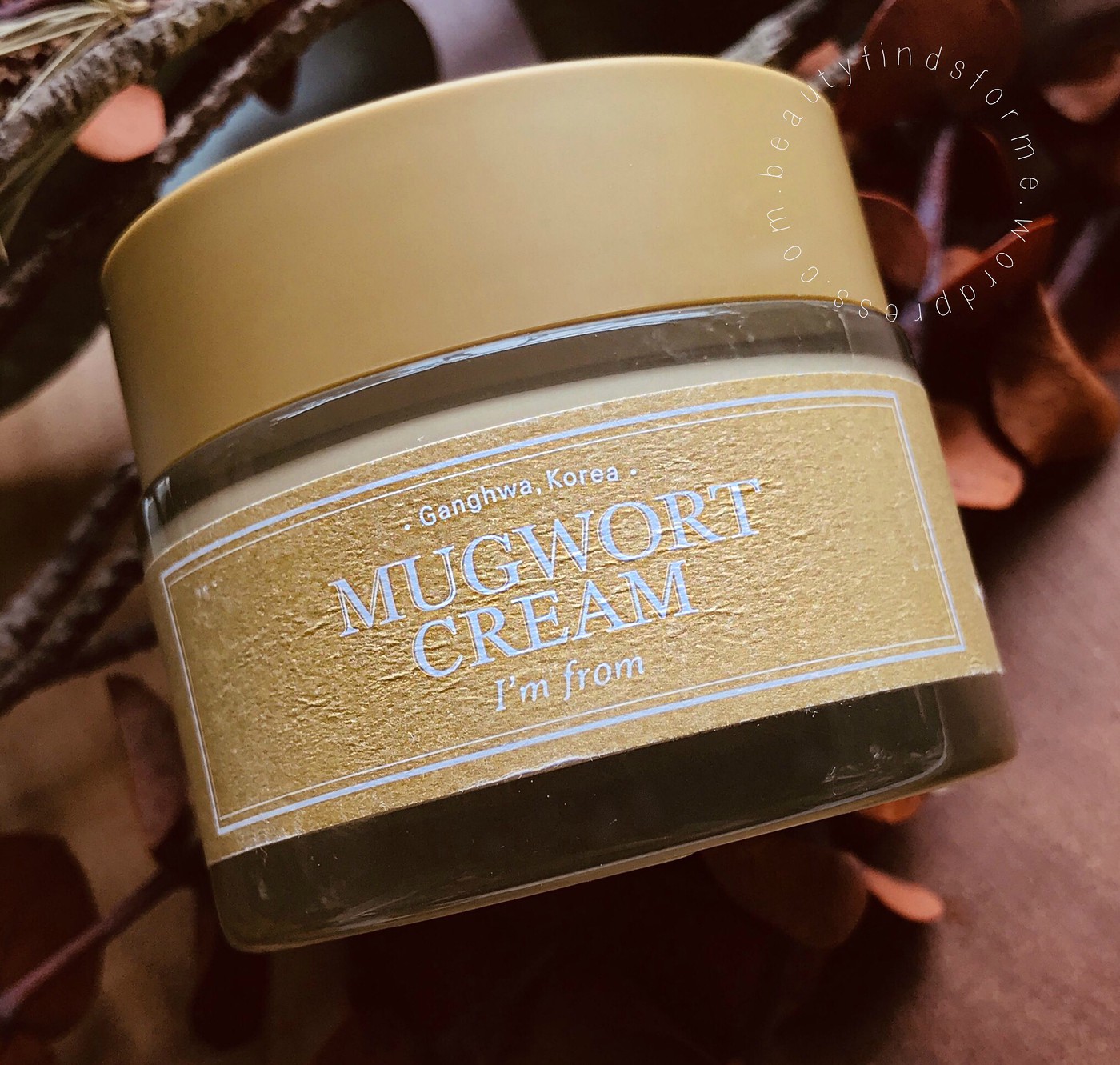 I'm From just keeps making Mugwort products!!  I have reviewed their Essence and Wash Off Mask here and I am a huge fan ~ so here I am with two more products from that line.  Many thanks to Wishtrend for sending me the Cream!

Skin Type/Concerns: Oily, blemish prone, pores, aging, hyper-pigmentation, fine lines/wrinkles
Some products were complementary to review and was not paid.  All reviews are my own honest opinion and  I never have been asked to write copy for a brand.  This blog post might contain promo codes, affiliate and referral links, which using my links will help generate a small commission that helps support my blog at no extra cost to you. 
About I'm From Mugwort



What is 🍃🍃Mugwort?  The following is from their press release and explains where I'm From sources their mugwort 
Korean mugwort is known for its unique scent and antioxidants, full of vitamins and minerals to restore youth and energy as well as for its amazing calming and detoxifying effects, making it excellent for skin care. Fermented Ganghwa mugwort that was produced with SLOW RELEASE EXTRACT™ process  to maximize the nutrients in the concentrate.  
As a Korean natural herb, the mugwort has been widely known for treatments and detoxing effect. This is effective for treating acne, troubled, irritated skin. Mugworts are called 'tea tree' in Korea for its soothing and cleansing effect. Korean native herb Mugwort holds a unique scent of Chineol containing vitamins, minerals, and tannins.
Ganghwa is a marine climate, surrounded by the ocean so this climate will improve the quality of mugwort.  I'm From harvests the mugwort in May, when the plants have peek vitality and energy and then ages it for 3 years in a traditional manner.  Ganghwa is a marine climate, surrounded by the ocean, so the air is not dry and this type of climate is optimal for growing mugwort.
Artemisia Princeps (mugwort, wormwood) is an herb that grows in Korea, Japan and China and has been used in traditional Asian medicine for centuries.  Its primary benefit is as an anti-inflammatory and it is quite soothing and gentle on the skin.  Mugwort helps reduce redness, rashes and other skin issues, including allergic reactions.  It contains a rich source of  vitamin C, essential amino acids such as histidine, valine, leucine, and isoleucine. It also has non-essential amino acids including arginine, glutamic acid, glycine, serine and tryosine.  Due to its gentle nature, mugwort leaves can be added to a baby's bathwater to help soothe and reduce any skin dermatitis.  It helps heal skin wounds, such as blemishes, as it has anti-bacterial and anti fungal properties and it is a topical anesthetic.  It contains a rich source of antioxidants as well and has been known to reduce and lighten hyper-pigmentation caused by age, sun damage and blemishes.  It is very well suited for all skin types, including sensitive skin.   Fun Fact: Wort comes from an old term that meant a useful plant.
I'm From Mugwort Cream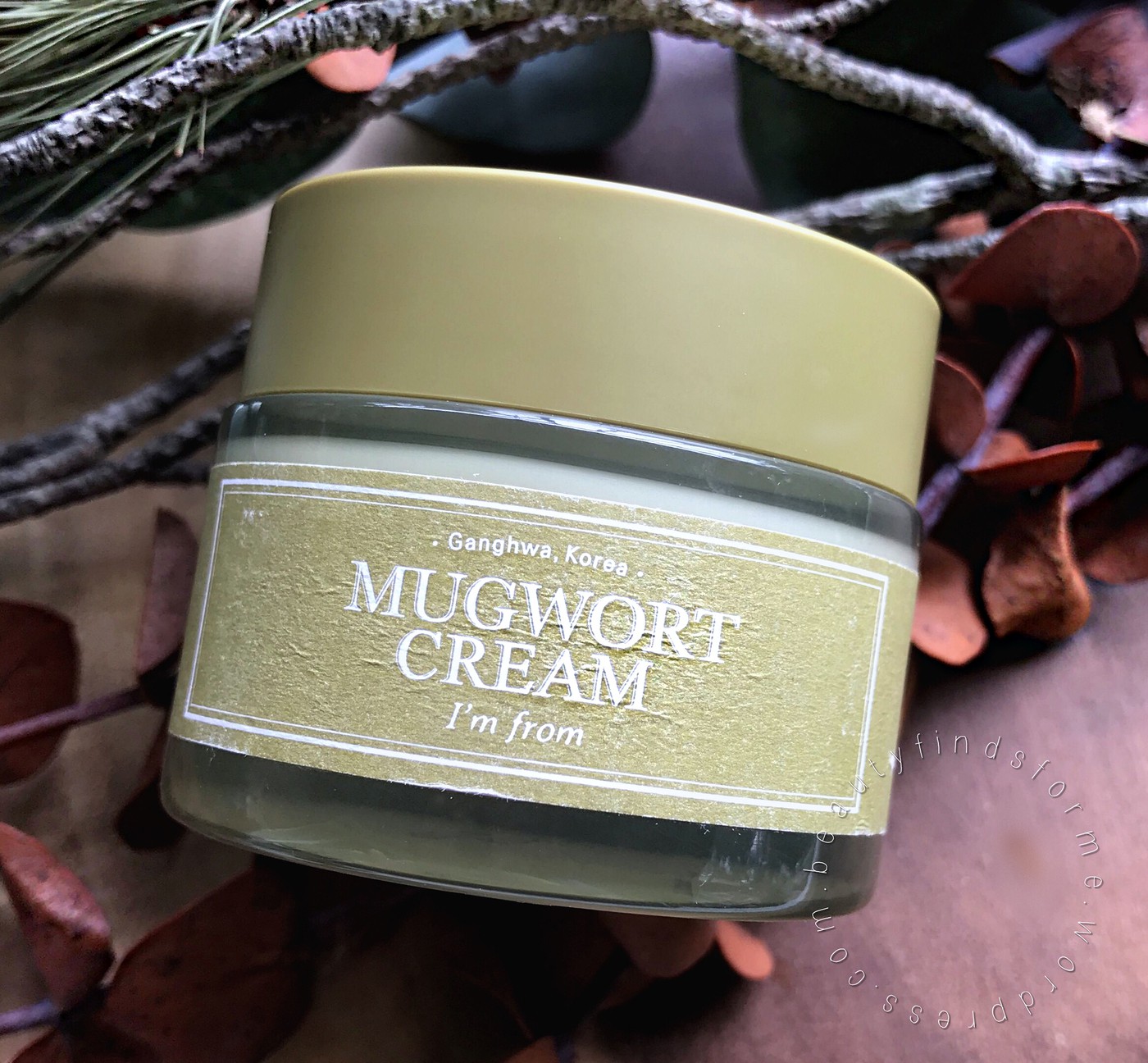 The I'm From Mugwort Cream is designed to calm, soothe, hydrate and refresh your skin.   It contains 73.55% of mugwort (princeps) as well as artemisia vulgaris oil and it comes with a lot of lovely hangbang ingredients:  longleaf pine is known for its antimicrobial and anti-inflammatory benefits along with Japanese elm root bark, which has been used as a medicinal herb in Korea for anti-inflammatory benefits and to help skin issues. Evening primrose extract is a moisturizing and soothing ingredient and dipotassium glycyrrhizate (licorice) also soothes and calms the skin, while acting as an anti-inflammatory and also reduces hyper-pigmentation. Boswellia serrata resin is frankincense, which is an astringent, helps reduce blemishes, softens lines and wrinkles and can help tighten your skin. Pueraria lobata (kudzu) is a wandering and invasive vine that is full of flavonoids which are known for their antioxidant benefits, combating free radicals and reversing their damage to your skin. It will also help unclog pores by gently loosing dead skin cells and calm your skin as it is an anti-inflammatory.
This also contains shea butter,  a rich source of concentrated natural vitamins and fatty acids ~ oleic, stearic, palmitic, linolenic ~ and is highly moisturizing and nourishing. It helps repair your skin, as well as reduce skin inflammation and it also smooths your skin to protect it from drying and it strengthens your skin over time as it helps aid in the collagen production. This also more than just shea butter to hydrate and moisturizer: glycerin, a humectant which makes the skin look healthy, moist, soft to touch, and is also an emollient, leaving your skin looking radiant and supple.  Allantoin moisturizes, exfoliates and softens skin, making it look smooth and refined, while reducing and relieving irritation. Polyglutamic acid is made from fermented soybeans (natto) and helps moisturize and exfoliate old skin cells. It can penetrate to the deepest layers in your skin, locks in moisture and helps increase the production of NMF (Natural Moisturizing Factor)
A slew of fermented ingredients:  mistletoe, soybean and cogongrass ~ I am familiar with fermented ingredients in my skincare and love soybean fermented anything. Fermented ingredients can have a greater concentration of antioxidants and can be more efficient in reducing wrinkles and hyper-pigmentation, as well as reducing toxins (source NCBI). LG Household & Health Care, a huge Korean company, states that "Oriental medicinal herbs are combined with yeast to create a fermentation process, which fortifies the active ingredients in Oriental medicinal herbs to make them more than 20 times more effective and produces new active ingredients" and "As is already widely known, fermentation has significant skin improvement effects as small microorganisms break down the molecular structures of Oriental medicinal herbs to allow them to be absorbed deep within the skin more rapidly and more effectively to boost the skin's defenses." (source LGCare)
Ingredients: Artemisia Princeps Extract (73.55%), Propanediol, Cyclopentasiloxane, Glycerin, Cetyl Ethylhexanoate, Cyclohexasiloxane, Stearic Acid, Butyrospermum Parkii (Shea) Butter, Butylene Glycol, Hydrogenated Lecithin, Arachidyl Alcohol, Arachidyl Glucoside, Pinus Palustris Leaf (longleaf pine ) Extract, Ulmus Davidiana Root (Japanese elm) Extract,  Oenothera Biennis (evening primrose) Flower Extract, Water, 1,2-Hexanediol, Caprylhydroxamic Acid, C14-28 Alkyl Acid, Stearyl Alcohol, Behenyl Alcohol, Polyglyceryl-2 Stearate, Glyceryl Stearate, Panthenol, Dipotassium Glycyrrhizate, Allantoin, Boswellia Serrata Resin Extract, Ammonium Acryloyldimethyltaurate/VP Copolymer, Hydroxyethyl Acrylate/Sodium Acryloydimethyl Taurate Copolymer, Dimethiconol,  Saccharomyces/Viscum Album (Misletoe) Ferment Extract, Lactobacillus/Soybean Ferment Extract, Saccharomyces/Imperata Cylindrica Root Ferment Extract, Disodium EDTA, Polyglutamic Acid, Pueraria Lobata Root Extract, Artemisia Vulgaris Oil cosDNA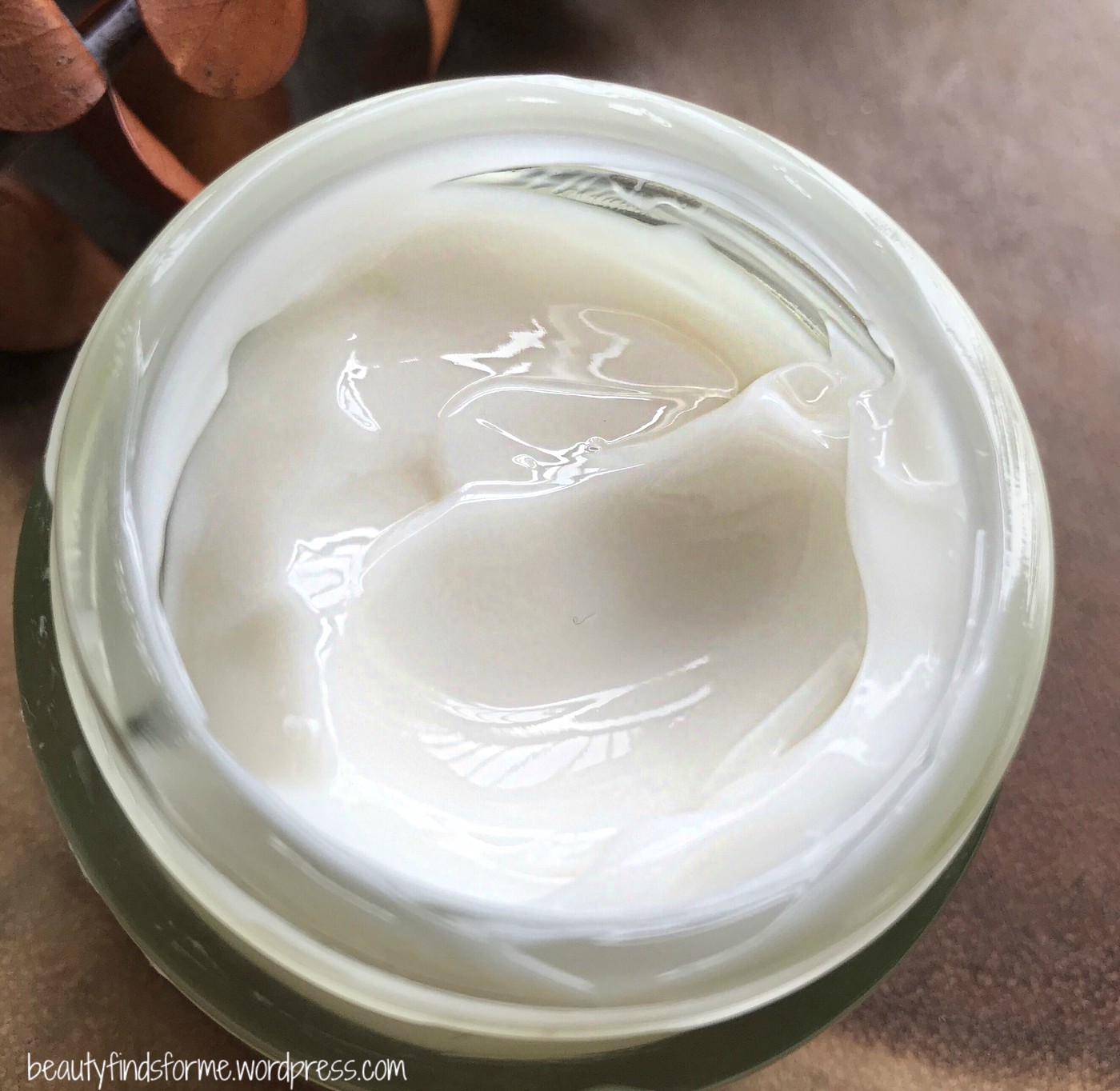 This Mugwort Cream comes in similar packaging as the other mugwort items from I'm From ~ a heavy glass jar with olive green paper label.  The cream has a gel-cream texture, not heavy at all, with lots of silky slip to it.   It is very lightweight and refreshing to use and it has a very faint herbal scent to it. Due to its texture, it's easy to use way too much of this, but don't ~ it will take a lot longer to absorb into your skin.  With the proper amount, which is based also on how dehydrated my skin it, this will sink in nicely, leaving my skin supple and very hydrated.

This also leaves my skin with a good moisture/oil balance, increasing my moisture levels by 40% and decreasing my oil levels by 36%. This doesn't have a sticky or tacky residue ~ it will not mattify my skin, but provides a nice fresh, satin finish ~ not a dewy one.  This is a cream that I like using to tackle my blemishes after they come to head or close to it.  This does provide soothing care and it helps heal my blemishes without any irritation.  It also hydrates my skin without causing clogged pores and the fresh cooling sensation is very nice as well.   As far as purifying my skin, since it does speed up healing and provide antibacterial care, I guess that means it clarifies and purifies my skin.
This product reminds me a lot of Klairs Midnight Blue Calming Cream (review here) in its function.  The texture on I'm From is much more lighter and it is cooling on skin;  however, it does a lot of what the Midnight Blue Calming Cream does with additional benefits ~ they both provide  anti-inflammatory and healing care and I'm From also provides some oily skin care benefits as well ~ it helps purify with its detox abilities and has additional antibacterial ingredients. 
I'm From Mugwort Sheet Mask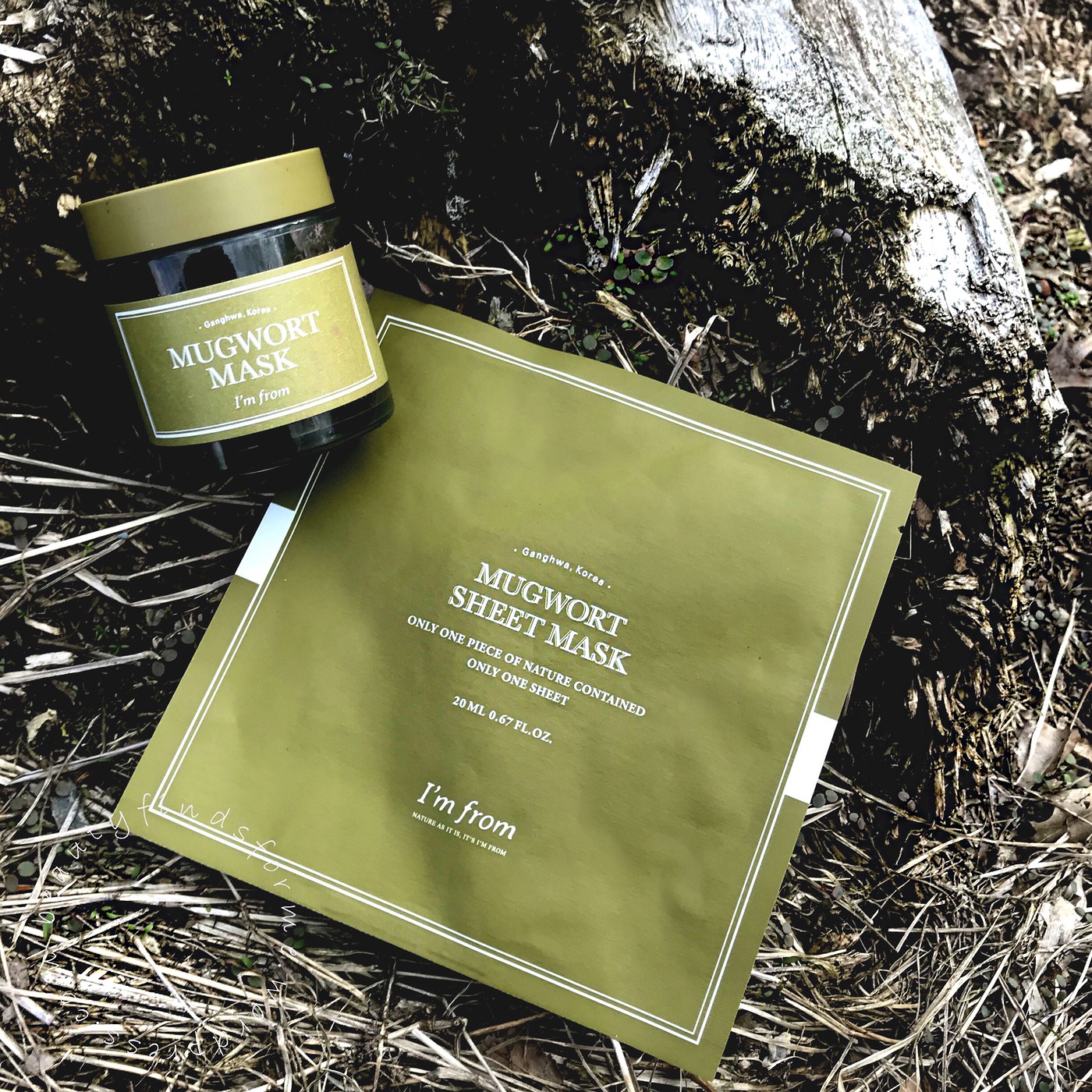 Disclaimer:  SophiesBeautyBox sent me a sheet mask, but I had purchased a couple of boxes already.  The I'm From Mugwort Sheet Mask is another item in the Mugwort line and I find it also to be a winner! This is made with 91.45% mugwort extract along with  cordyceps sinensis is a parasitic fungus that grows on a caterpillar and yes, it does kill the caterpillar and mummifies it. It has long been used in traditional Chinese and Tibetan medicine, and does have antioxidant skin cell regeneration benefits.   This mask also has glycerin, a humectant which makes the skin look healthy, moist, soft to touch  and is also an emollient, leaving your skin looking radiant and supple. Panthenol is also a natural humectant, retaining moisture and hydrates the skin. It also is a good lubricant on the skin, making skin look soft and smooth. It is also an anti-inflammatory.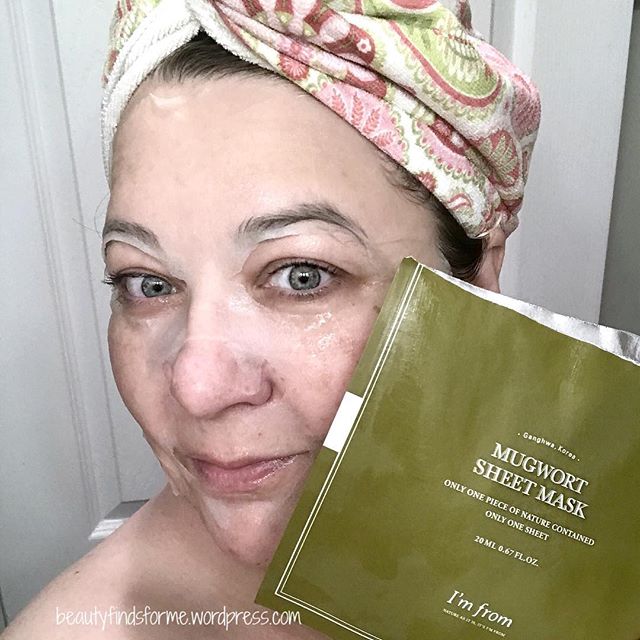 The sheet mask itself is a 100% plant based material, very thin, but strong as well  and  doesn't tear easily. The mask is not dripping wet, as the essence is actually more like a lightweight gel ~ so once the mask is on my face, the adherence is very good. This also has a nice fit on my big face as well. After 30 minutes, I removed this,and my skin did feel very soft and hydrated ~ there is a slight filmy feeling, but I think that is due to the gel essence on the mask. Due to the filmy feeling, I like using this at nighttime, not the morning, letting that film stay on my skin, to help continue with the repairing and healing benefits. My skin looks more calm after I use this mask! 
Ingredients: Artemisia Princeps Extract (91.45%), Butylene Glycol, Glycerin, Methlypropanediol, Cordyceps Sinensis Extract, 1,2 Hexanediol, Capryly Glycol, Allantoin, Zanthoxylum Piperitum Fruit Extract, Usnea Barbata (Lichen) Extract, Dipotassium Glycyrrhizate, Panthenol, Pulsatilla Koreana Extract, Carbomer, Arginine cosDNA
Final Thoughts
It's about time that I'm From came out with a hydrating cream in Mugwort!  This is very nice and calming, and if you have oily skin, you will really enjoy it.  If you love Klair's Midnight Blue Calming Cream, this is a product that is very similar. The Sheet Masks are FANTASTIC.  I love using them at night time and they really help calm my skin.   I'm From just came out with a Mugwort Spot Gel Treatment and I did purchase that, so look for a review on that product too.
Where to Purchase
You can purchase both of these products at Wishtrend, along with their whole I'm From series.
These products do not have free shipping, but if you add on any item from their free shipping section, your shipping will be free.
You automatically receive Free Shipping with purchases $69.00 USD and over
Don't forget to check out Wishtrend's Free Shipping and Promotion Sections

Wishtrend ships globally
[ some products were received in exchange for a review. contains affiliate links for a small commission ]