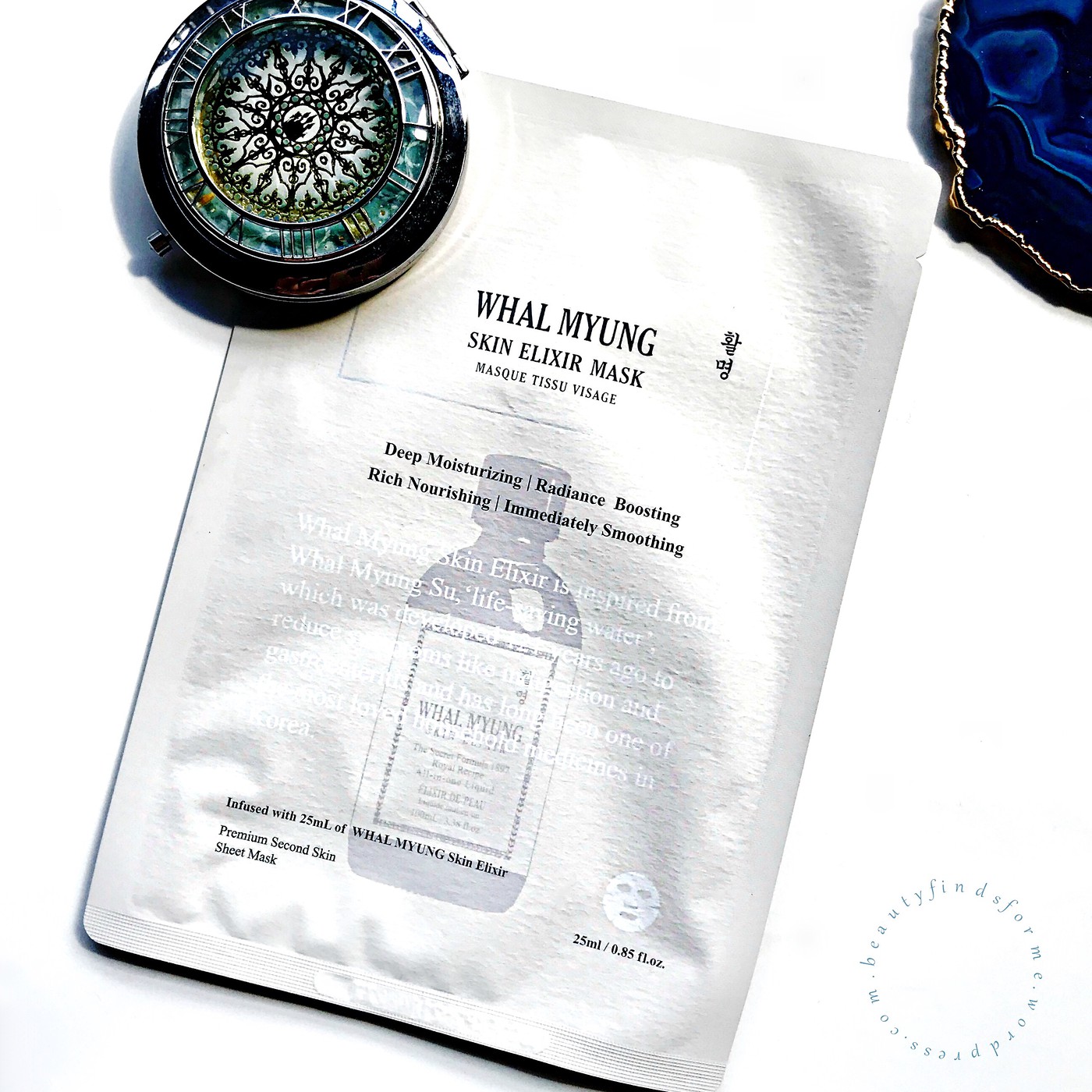 You HAVE no idea how happy and thrilled I was when I learned that Whal Myung was releasing a sheet mask and I WON a full box from the brand for review purposes!!  I have used up all of the masks that I received and I also wanted to wait until it was available for purchase before I released my review.  Thank you SO much Whal Myung for sending me these fantastic sheet masks.

Skin Type/Concerns: Oily, blemish prone, pores, aging with fine lines/wrinkles and hyper-pigmentation
I received some of these products complementary to review and was not paid.  All reviews are my own honest opinion and  I never have been asked to write copy for a brand.  This blog post might contain promo codes, affiliate and referral links, which using my links will help generate a small commission that helps support my blog at no extra cost to you.
About Whal Myung and Dong Wha Pharmacy
I wrote this up with my original review with Whal Myung's Elixir, but thought it would be nice to repeat it again, as the history of this brand is really amazing and rich with Korean Hanbang tradition.  I found an article about the Dong Wha Pharm and its history on Korea Net, an information online site operated by the Korean Culture and Information Service (KOCIS) (source).  Dong Wha Pharm (Dong Wha Yak Bang) opened its doors in 1897 and is the first and oldest Korean pharmaceutical company.  They created a medical herbal digestive drink, Whal Myung Su (hwal-myung su), which is in the Guinness World Records as Korea's oldest branded product!   They also own the oldest trademark with their fan-shaped logo ~ Bu Chae Pyo
image credit korea.net
Whal Myung Su literally means "life-saving water" and was created for the Royal Family of Korea's Joseon Dynasty.  It soothes and treats digestive problems, with its formula made from acacia, cinnamon and dried cloves.  Dong Wha Pharm has created other versions of this medical herbal drink and today, over 100 million bottles are sold annually.  They create 400 different types of medicine with exports to 30 countries around the world
Left: Early photo of Dong Wha Yak Bang company.  Right: Whal Myung Su ~ 117 year history  image credit korea.net
In 2017, Dong Wha Pharm branched out to skincare and launched a "royal secret formula" skincare line to help celebrate their 120th year anniversary.  They base their skincare products on their famous Whal Myung Su formula, selecting herbs from the   Whal Myung Su Secret Formula 11 herbs to create some unique and effective products!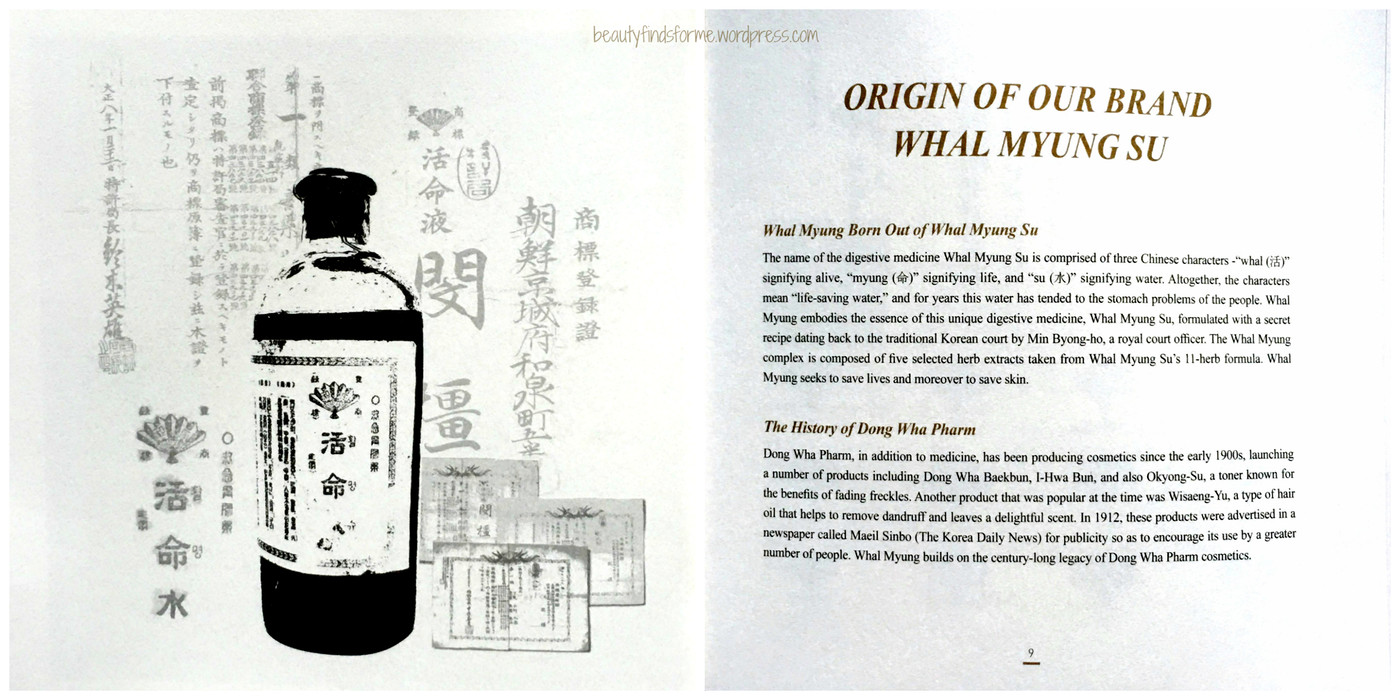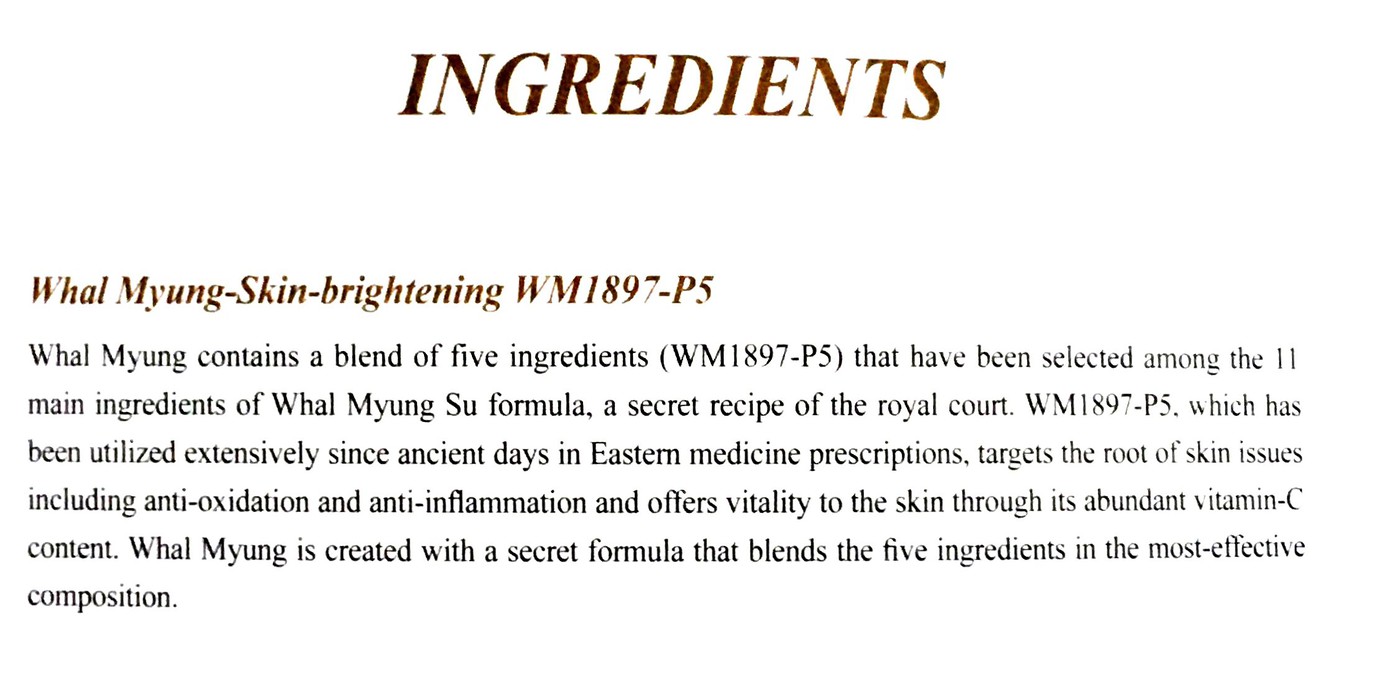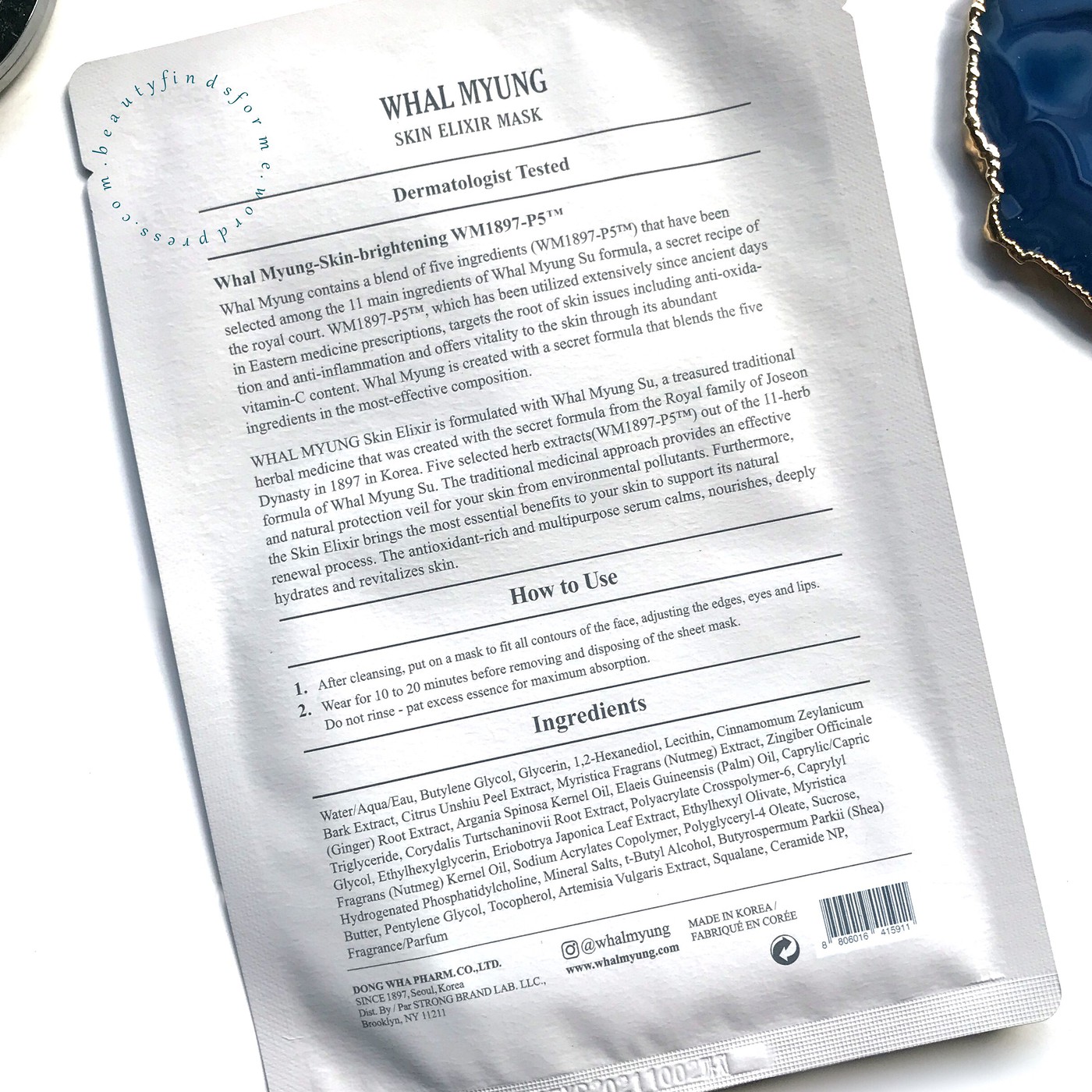 This contains 5 natural herbal ingredients that are in Whal Myung Su Secret Formula 11: Rich in vitamin C, flavonoids and hesperidins, citrus unshiu (mandarin orange) helps tighten pores, brighten your skin's complexion, while controlling hyper-pigmentation.  Cinnamon has anti-inflammatory properties, so it will help soothe, reduce swelling and redness and will also moisturize your skin.   As cinnamon has tannis, it is also an astringent, anti-septic and antibiotic, so it will help with pore and blemish control.  Nutmeg is an astringent and contains anti-inflammatory proprieties, so it helps with skin issues ~ it can help reduce infection and swelling and can also lighten blemish scarring and hyper-pigmentation.  Corydalis has anti-septic and antibacterial properties, so it also helps with keeping skin clear, while its anti-inflammatory properties reduce redness and swelling. 
Ginger contains 40 antioxidant compounds that help with anti-aging, removes toxins and stimulates your blood circulation.   It combats and prevents damage from free radicals, helping improve elasticity which makes your skin firm, toned and less wrinkles.  It have anti-bacterial properties to help fight off infections, it is also an anti-septic and antimicrobial, which helps keep blemishes away and its anti-inflammatory properties help reduce redness and swelling of the skin.   It also helps reduce the appearance of hyopigmented scarring ~ these scars are lighter than your skin tone and occur when your skin loses its pigmentation ~ it is the exact opposite of hyper-pigmentation.   It also is a skin brightener and can help even out your skin tone by inhibiting the production of melanin. This also contains soothing and healing mugwort, which has been used in traditional herbal medicine to help heal skin wounds and contains a rich source of antioxidants.  It is famous for its skin purifying properties and mugwort infused water has been used for bathing ~ it has anti-aging benefits and keeps your skin healthy.  Its primary benefit is as an anti-inflammatory and it is quite soothing and gentle on the skin.  Artemisia helps reduce redness, rashes and other skin issues, including allergic reactions.  Mugwort helps heal skin wounds, such as blemishes, as it has anti-bacterial and anti fungal properties.

This has some amazing moisturizing ingredients as well in here: Argan oil is chock full of nutrients, such as fatty acids and vitamin E.  Its antioxidant properties help restore skin elasticity, leaving your skin feeling softer and plumper. It also works well with helping to clear up acne, believe it or not. It is not greasy and it soothes your "troubled" skin, and helps balance your skin by adding natural moisture. It helps heal the damaged skin cells and it also reduces inflammation.  Shea butter contains a rich source of concentrated natural vitamins and fatty acids ~ oleic, stearic, palmitic, linolenic ~ and is highly moisturizing and nourishing. It helps repair your skin, as well as reduce skin inflammation, smooths your skin to protect it from drying and it strengthens your skin over time as it helps aid in the collagen production. 
Squalane penetrates and absorbs rapidly into your skin and has anti-oxidant properties, helping prevent UV damage and hyper-pigmentation age spots, helps cellular growth and is an anti-bacterial. This is an excellent moisturizing ingredient. Ceramides are lipids (fats) which are important in helping to repair and protect your moisture barrier. They will  keep your skin hydrated and plump as they retain water. Ceramides are found naturally in your body and you lose the ability to produce as you age, so adding them to skin care products helps with anti-aging.
This mask is free from parabens, sulfates, phthalates, formaldehydes, mineral oils, talc, PEG's and artificial dyes and it is cruelty free. 
Ingredients: Water, Butylene Glycol, Glycerin, 1,2-Hexanediol, Lecithin, Cinnamomum Zeylanicum Bark Extract, Citrus Unshiu Peel Extract, Myristica Fragrans (Nutmeg) Extract, Zingiber Officinale (Ginger) Root Extract, Argania Spinosa Kernel Oil, Elaeis Guineensis (Palm) Oil, Caprylic/Capric Triglyceride, Corydalis Turtschaninovii Root Extract, Polyacrylate Crosspolymer-6, Caprylyl Glycol, Ethylhexylglycerin, Eriobotrya Japonica Leaf Extract, Ethylhexyl Olivate, Myristica Fragrans (Nutmeg) Kernel Oil, Sodium Acrylates Copolymer, Polyglyceryl-4 Oleate, Sucrose, Hydrogenated Phosphatidylcholine, Mineral Salts, t-Butyl Alcohol, Butyrospermum Parkii (Shea) Butter, Pentylene Glycol, Tocopherol, Artemisia Vulgaris Extract, Squalane, Ceramide NP, Fragrance    cosDNA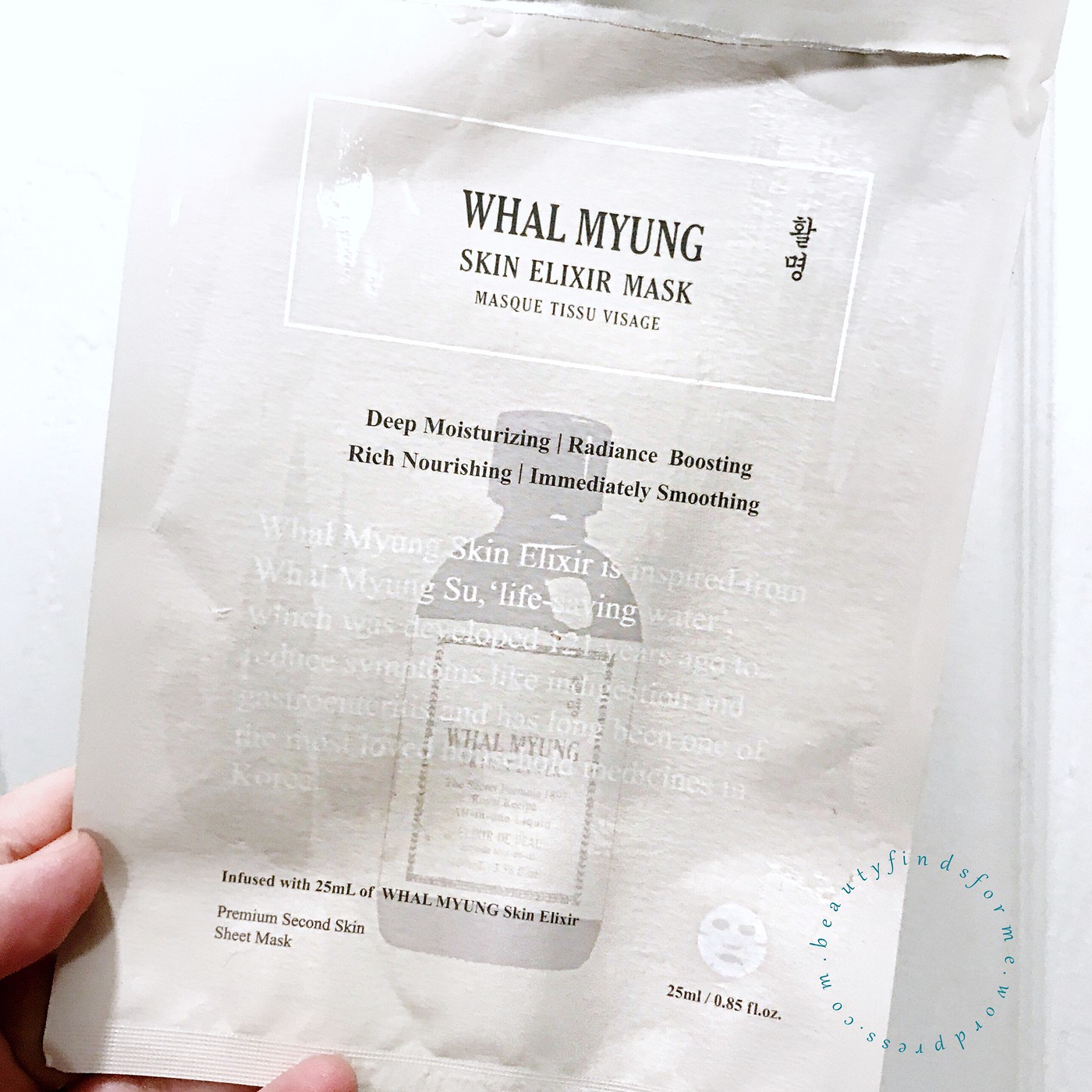 This mask is soaked and I do mean dripping wet with what is basically the Whal Myung's Skin Elixir. The mask sheet itself is neither too thin or too thick, nor is the material soft or rough ~ it is in the middle, so I wish the mask material was a bit more softer.  However, since the mask is SO wet, I didn't mind the material that much.  The fit is really nice and the mask adhered well to my face as well.  I did not notice any fragrance with this mask at all.  If there is a scent, it is so faint that I cannot detect it.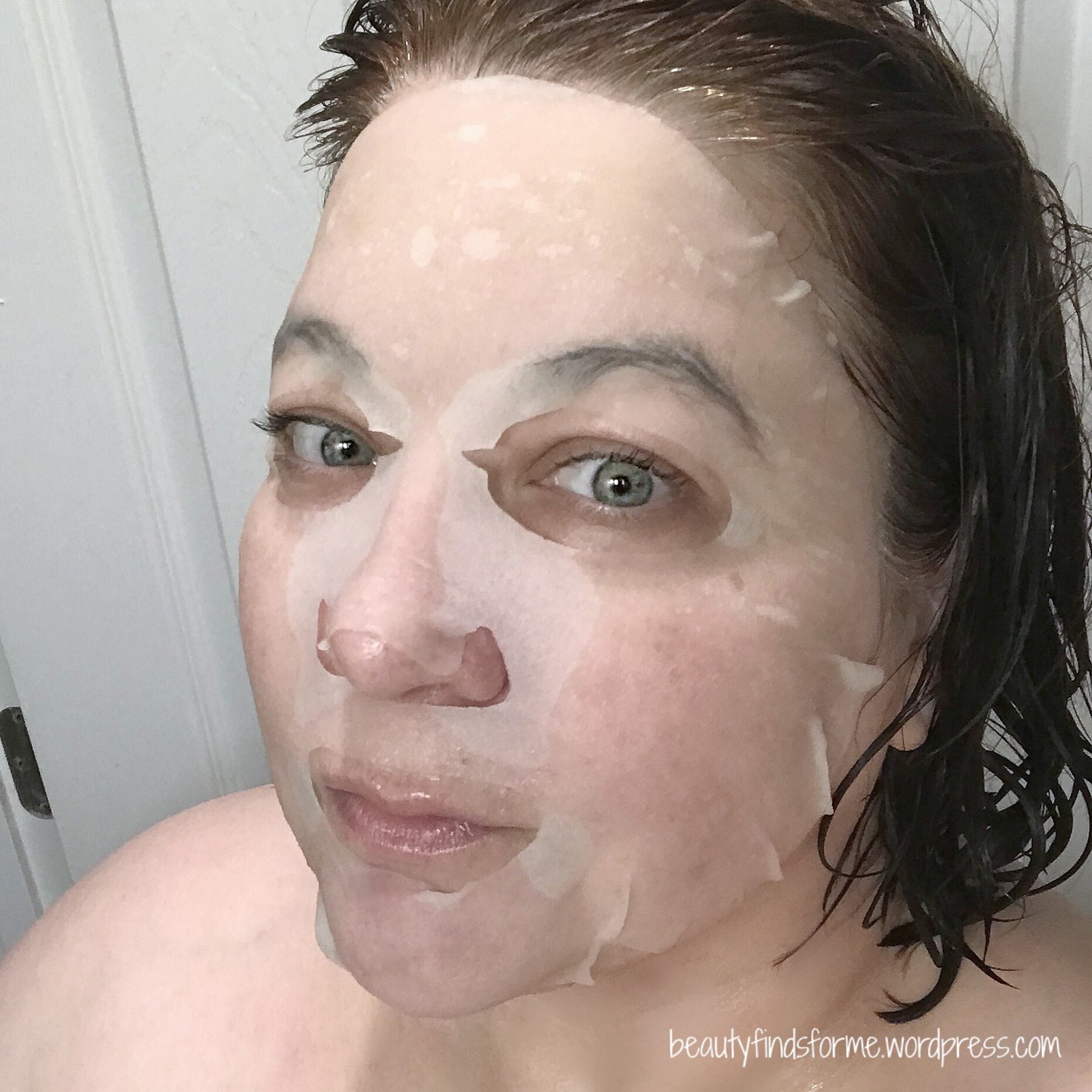 I left it on for 20 minutes and when I removed it, my face felt cool to the touch and very hydrated and wet.  Within a few minutes, the essence did dry down ~ do not rinse off the essence, you should just pat it into your skin ~ and there is no sticky or tacky residue.  My skin did look more calm with less redness ~ just like the results from the Skin Elixir ~ and I felt that my skin looked more brighter and had a nice glow to it.   I really love this mask as it not only nourished my skin and gave me a burst of hydration, but gave me a nice radiant glow.   I will be purchasing another box of these at Nordstorms!   Whal Myung also sent me their WM5 Hydrating Cream as well, and I plan to start using that this fall, as it is a very nourishing cream ~ so I will have more Whal Myung reviews in the future!
Purchase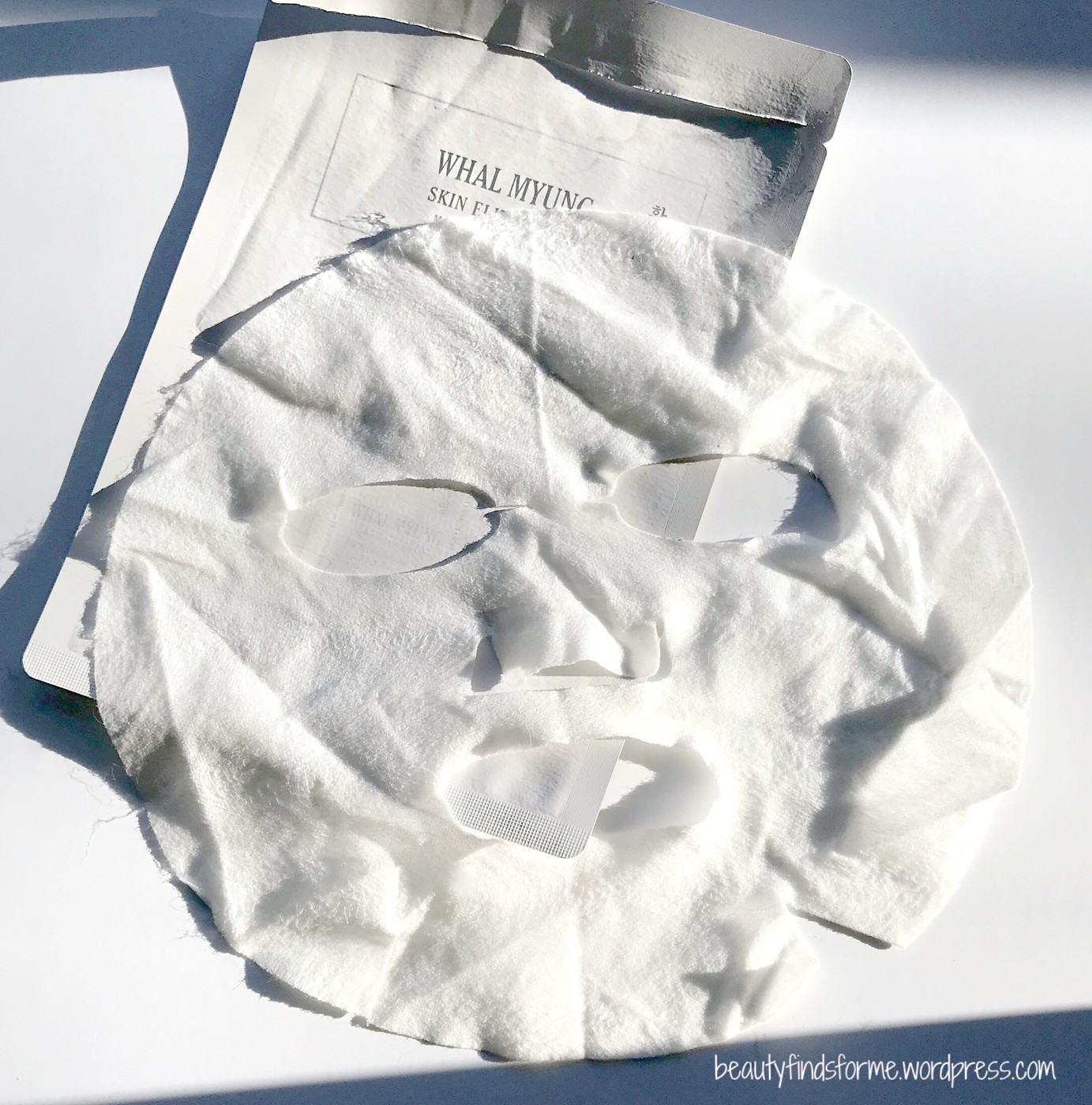 Nordstroms is the only place in the USA that I know that carries Whal Myung products ~ and they have all of them ~ Skin Elixir, two serums (I have reviewed one of them here), two creams, cleansing balm and now the masks.  The masks are $24.00 for a pack of 5 and they are worth it!.
Nordies also carries a special kit for $95.00: Whal Myung Rich Hydrating Elixir Set ~ includes full-size Skin Elixir (3.38 oz.), full-size Hydrating Cream (1.69 oz.), deluxe size Antioxidant Rejuvenating Serum (0.23 oz.), deluxe size Meltaway Cleansing Balm (0.33 oz.)  and 1 Skin Elixir Sheet Mask   
[ disclosure:  products received for review purposes. post contains affiliate links providing a small commission at no cost to you ]