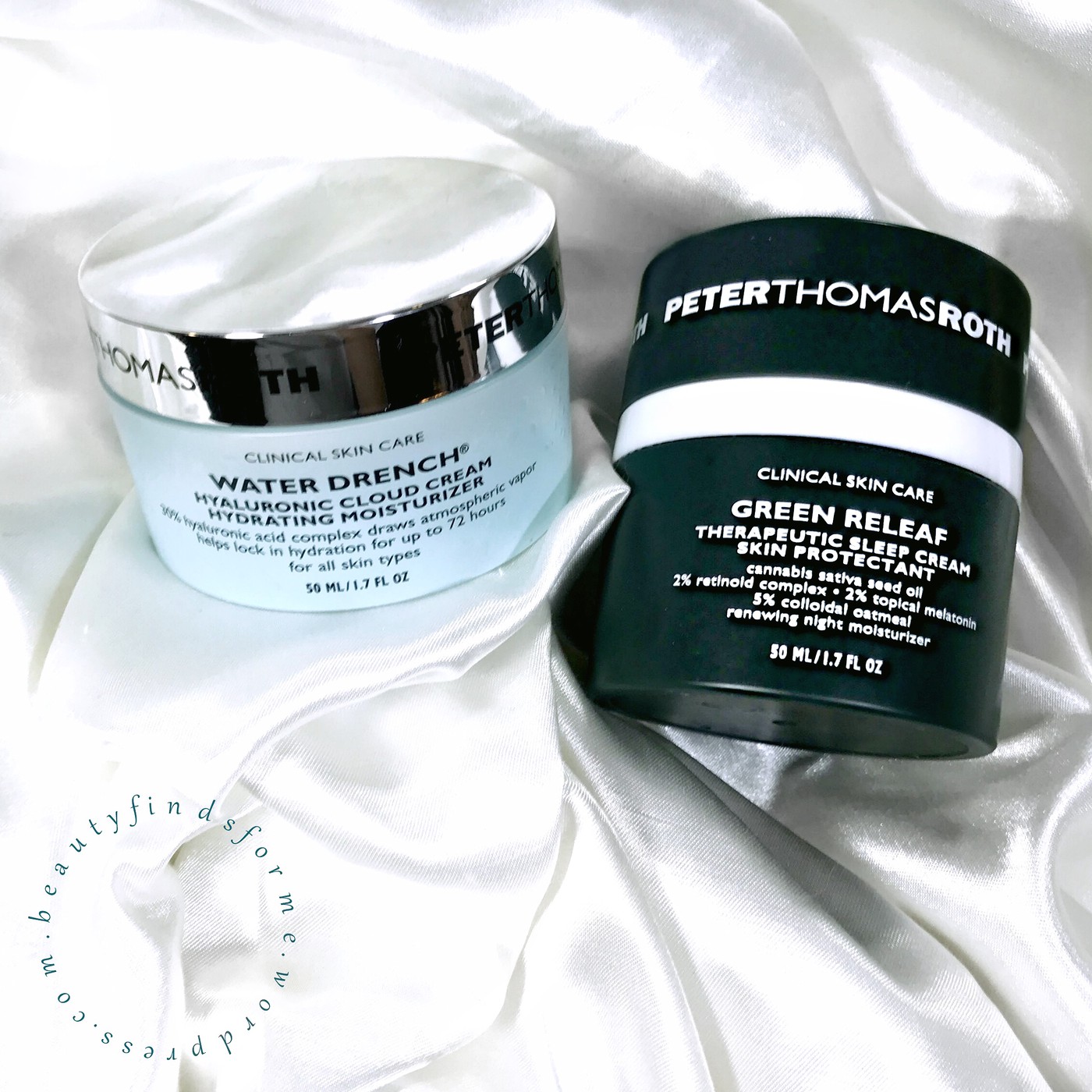 I was fortunate enough to receive a couple of products recently from Peter Thomas Roth for review purposes and both of these products work well for oily skin.   One of the items has been around for a couple of years and the other was a brand new release in 2019.  You can purchase both of these products at Sephora.  
Skin type/concerns:  Oily, aging, blemish prone, pores, hyper-pigmentation, fine lines and wrinkles. 
I received these products complementary to review and was not paid.  All reviews are my own honest opinion and  I never have been asked to write copy for a brand.  This blog post might contain promo codes, affiliate and referral links, which using my links will help generate a small commission that helps support my blog at no extra cost to you.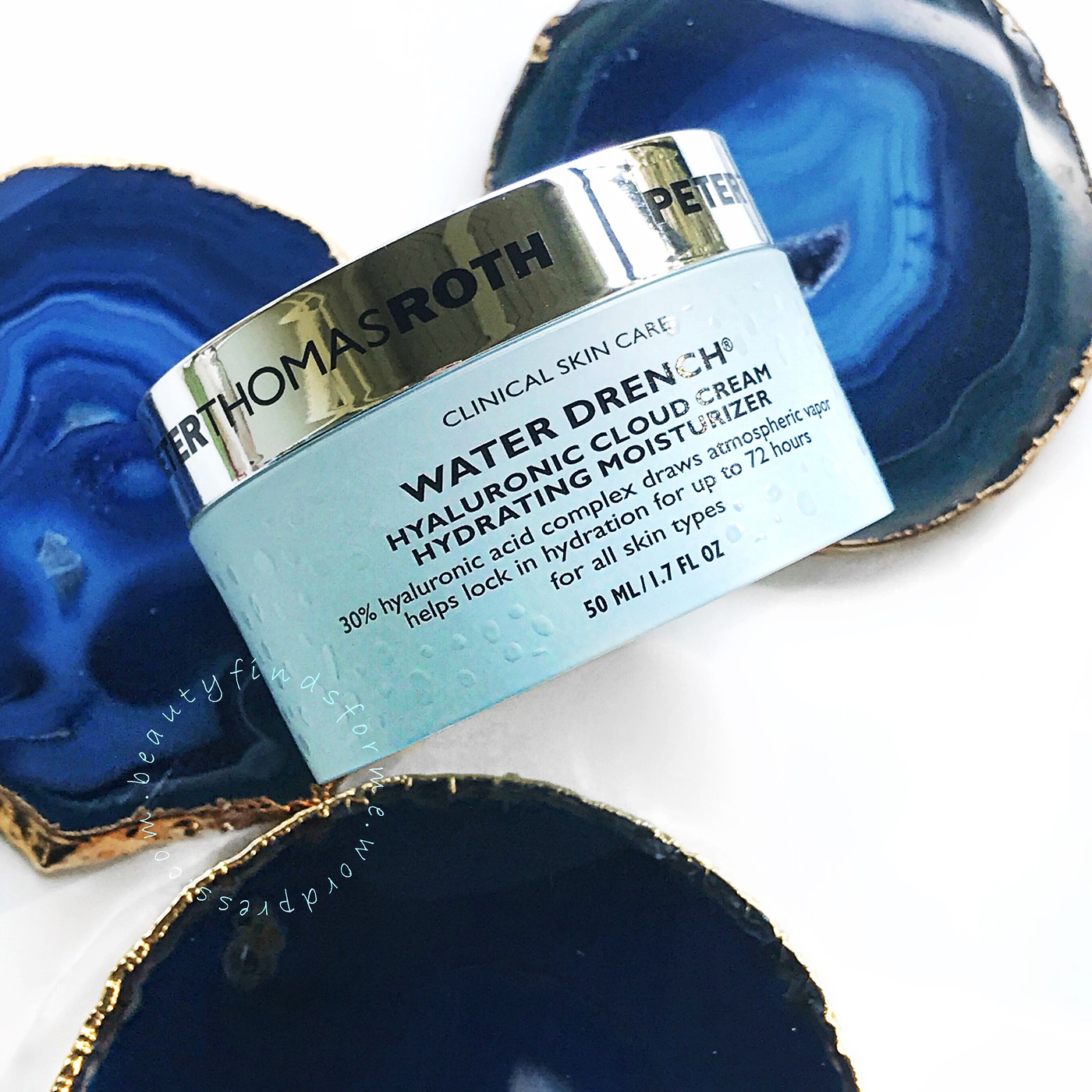 Peter Thomas Roth Water Drench Hyaluronic Cloud Cream  As I was writing this review, I realized what this cream reminded me of!! Naruko's DermaLane 1000-Molecule Hyaluronic Acid Hydrating Night Gelly (review here), which I cannot find anymore and it looks like it is discontinued.  So imagine my surprise when it hit me that this product by Peter Thomas Roth is very similar only it can be used both day and night!  Let's find out why I think this is similar
This has 30% concentrated sodium hyaluronate, sodium PCA and glycerin and this cream will attract moisture continuously and will help dehydrated skin be soft and supple. PROHYAL+® is an active ingredient rich in yeast oligosaccharides (that is your yeast ingredient) derived from blue agave leaves and it will help smooth and decrease fine lines and wrinkles.  This also has hydrolyzed silk, which has water binding properties as well.  To keep all of this moisture locked in,  this has a blend of five different types of ceramides, along with pentavitin (saccharide isomerate) and will help to strengthen your moisture retention barrier and make sure your skin does not loose all of that hydrating water.   
Okay, so far this Cloud Cream is turning out to be a water bomb… but then when I looked at the ingredients list a bit closer, I saw something that made me dig out my old review on Naruko as it sparked some familiarity.  Fermented minerals which are extracted from beer yeast. and this is called ACB Bio-Chelate 5.   Minerals cannot be produced within the human body, but they are key in our health ~ we couldn't assimilate vitamins and certain enzymatic reactions would never take place without these inorganic compounds . Those ingredients include water, saccharomyces/zinc ferment, saccharomyces/copper ferment, saccharomyces/magnesium ferment, saccharomyces/iron ferment and saccharomyces/silicon ferment. This complex is used in skin and hair care products, as well as makeup.  (source from In Cosmetics)
Active Concepts, which produces this fermented mineral blend, ran studies on how it would work topically on your skin, using a DNA micro-array with 21,629 different DNA fragment.  They found that it enhanced your skin's barrier function, provided anti-inflammatory benefits, increased growth factors while decreasing stress related factors and increased your cellular energy production. (source from In Cosmetics).  From my previous review on Naruko: 
These are the essential minerals that our body and skin needs and it improves our body's ability to absorb and reacts to enzymes/yeasts and minerals are as important as vitamins. The fermented mineral can improve the effectiveness of the mineral itself and let our skin absorb it easier.  Minerals are essential in helping our body react to enzymes, help and improve skin processes such as producing protein, metabolism and generating new skin cells. It also make our cells healthier, improving our defenses from all kinds of damage, protects from inflammation, reducing pressure factor and strengthen cell production. The idea of this for skin care is to improve hydration and cell wall, the effectiveness of skin care, reduce cuticle, repair and improve your skin's defenses, while reviving your skin, giving it a youthful healthy glow. 
So, you can see why I am excited about this as I adored the Naruko DermaLane 1000-Molecule Hyaluronic Acid Hydrating Night Gelly (such a long name) and now I have found a replacement for it!!   The ingredient list isn't exactly the same and Peter Thomas Roth has a lot of silicones in here, but I do not have issues with silicones, so that isn't a problem for me. 
Ingredients: Water, Glycerin, Cyclopentasiloxane, Dipropylene Glycol, Dimethicone, Cyclohexasiloxane, Yeast Extract, Sodium Hyaluronate, Ceramide EOP, Ceramide EOS, Ceramide AP, Ceramide NP, Ceramide NS, Sambucus Nigra Fruit Extract, Hydrolyzed Silk, Sodium PCA, Tocopherol, Ascorbyl Palmitate, Caprooyl Phytosphingosine, Caprooyl Sphingosine, Saccharide Isomerate, Saccharomyces/Magnesium Ferment, Saccharomyces/Iron Ferment, Saccharomyces/Copper Ferment, Saccharomyces/Silicon Ferment, Saccharomyces/Zinc Ferment, Olea Europaea (Olive) Leaf Extract, Methyl Gluceth-20, Ethylhexylglycerin, Lauryl PEG-9 Polydimethylsiloxyethyl Dimethicone, Cholesterol, Sodium Chloride, Sodium Citrate, Citric Acid, Behenic Acid, Propylene Glycol, Ceteareth-25, Butylene Glycol, Dimethicone/PEG-10/15 Crosspolymer, Cetyl Alcohol, Disodium EDTA, Sodium Benzoate, Potassium Sorbate, Phenoxyethanol, Mica cosDNA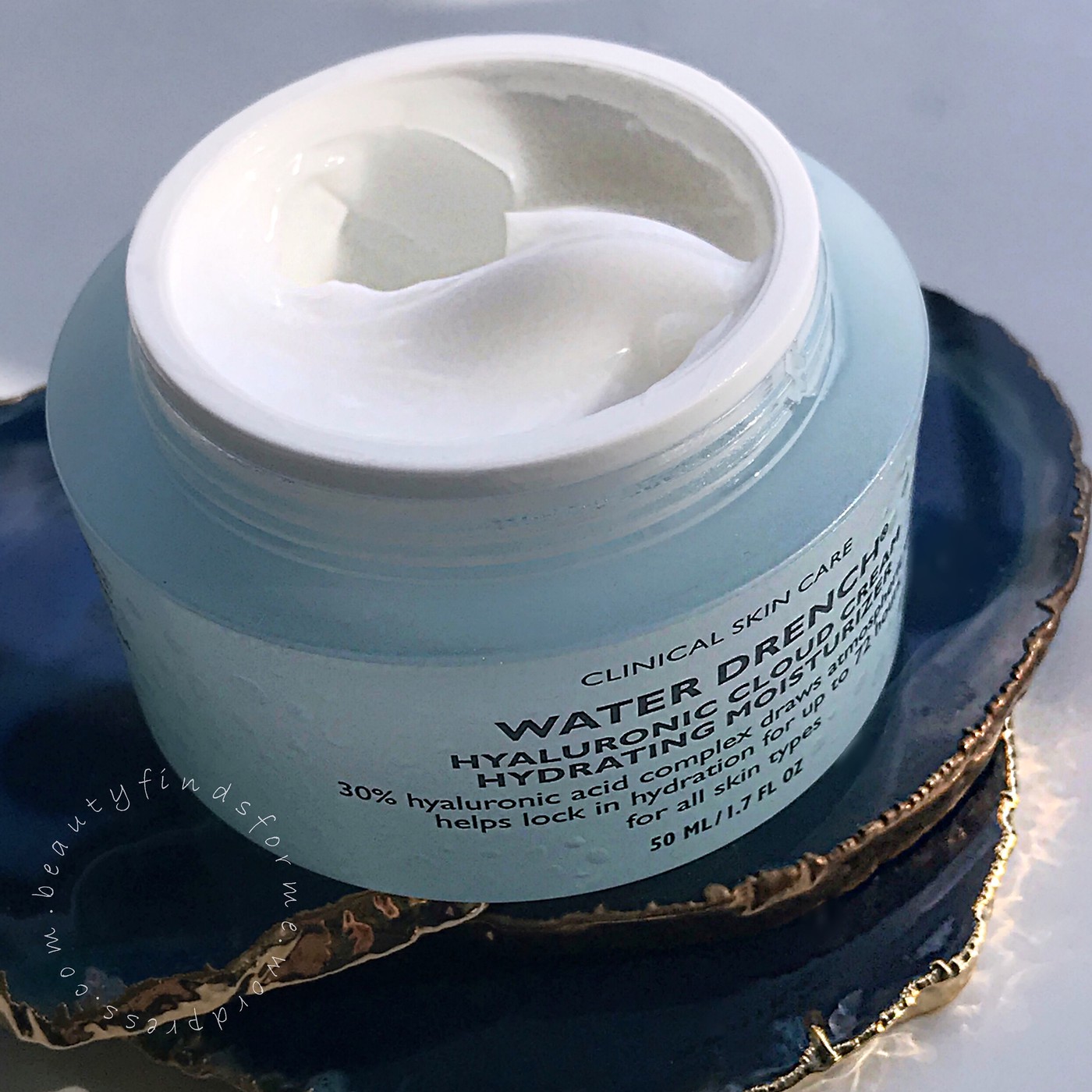 This comes in a lovely blue jar with textured water drops and a silver cap. The cream is a gel-cream, a very light whipped gel and has a light fresh scent that is very nice!  It feels like it would be heavy with all of the silicones in it and glides easily over my skin, very slick and slippery ~ but not oily or greasy.  It isn't heavy at all ~ in fact, once I pat it in, I can see the gel cream turn form little water droplets on my skin before absorbing completely into my skin.

This is so cool and refreshing on my skin and it provides a good dose of hydration ~ a 20% increase in moisture while a 45% reduction in oils.  Now, that might not sound too much, but that level was consistent even after an hour of application.  My skin feels so silky and smooth, very hydrated and refreshed.   I don't need a lot of this gel-cream, otherwise, I start to feel like I have a film on my skin.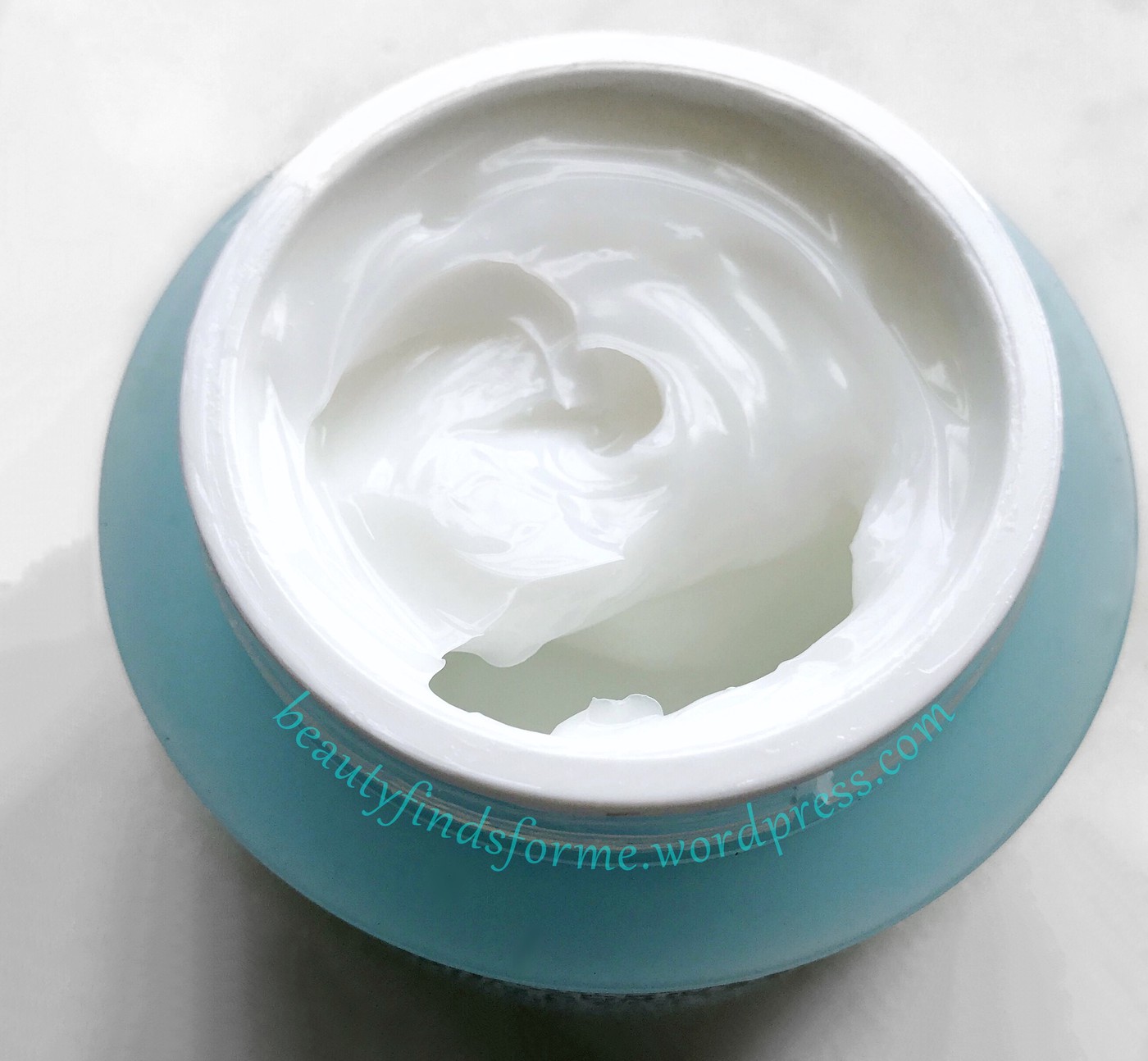 However, with the right amount, my skin has no residue or tackiness and my skin just feels so soft and supple.  I don't know if it has a "continuous burst of intense hydration that lasts up to 72 hours", as I do shower daily and wash my face twice a day, but for when this is on my face, it is amazing.  And the best part is that it doesn't pill up when I apply makeup over it.   One of the reasons why I never jumped on the belif train with their aqua bomb skincare products is that I found them to be too heavy for me.  PTR Water Drench Hyaluronic Cloud Cream is not at all heavy, feels wonderful on my oily skin and even though it isn't a mattifying product, it doesn't cause my skin to look greasy, clog my pores or produce blemishes.  Two thumbs up!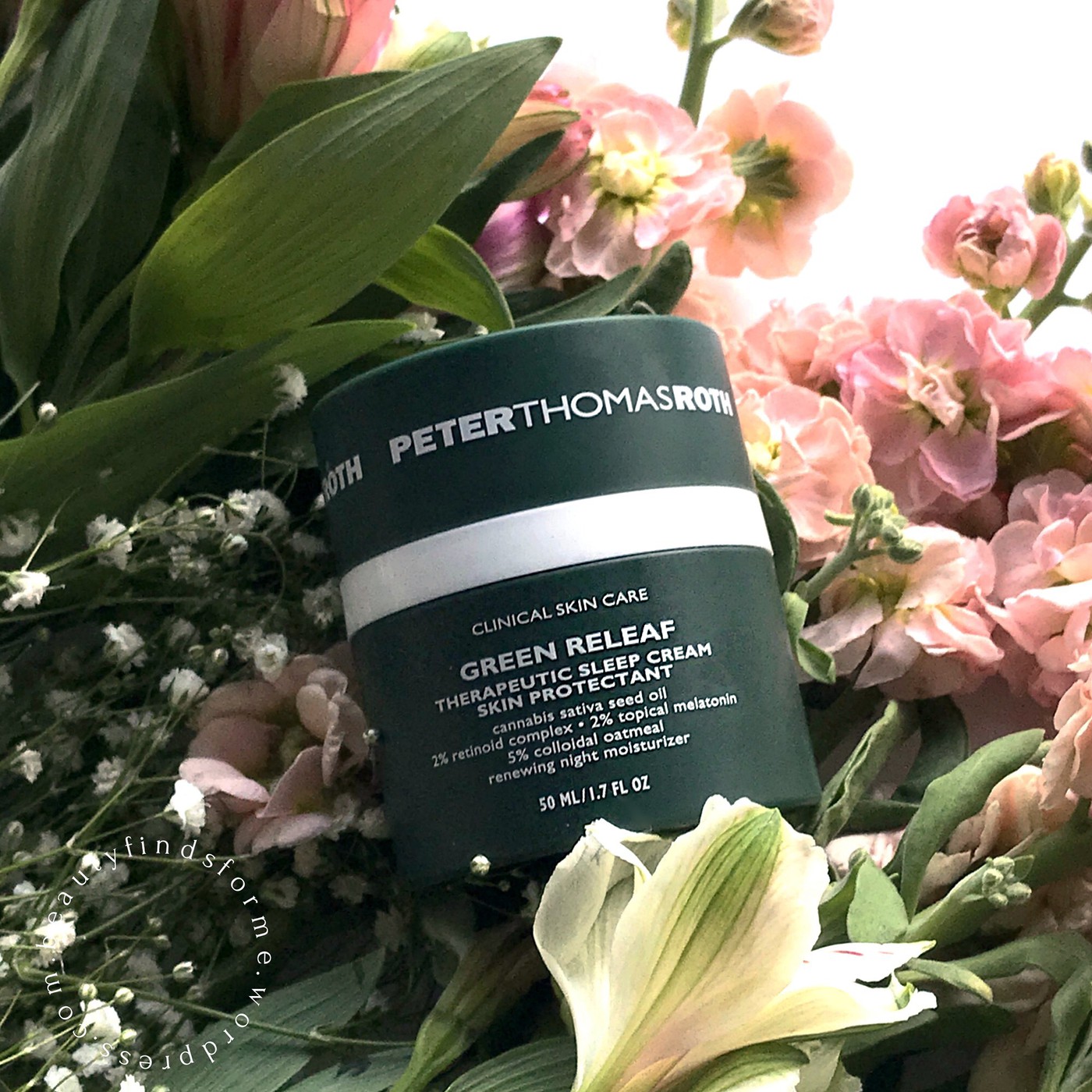 Peter Thomas Roth Green Releaf Therapeutic Sleep Cream:  This was a release I had been waiting for a LONG time and it is a sleep pack.  Why do you need a sleeping mask pack?   You can use a cream, I know I have ~ but make sure it is an occlusive cream.  A sleeping mask pack is more occlusive than most moisturizers and the reason for this is simple.  It helps lock in all of your other skin care products and can reduce trans-epidermal water loss, which is very important as you sleep.  One thing to note ~ occlusive ingredients do not bring moisture into your skin, but use the existing moisture to reabsorb it back into the skin, due to its barrier function.  That is why just a sleeping pack is not enough at night ~ you need to ensure that you have done a hydrating skincare routine before locking it all in with a sleeping mask pack. Occlusives don't feel that great on my oily skin for day time use ~ it is too greasy, too oily ~ but for nighttime use, I do not mind.  Your skin needs to recover and with a good occlusive product, it can help reset or reboot your skin, resulting in smoother and softer skin when you wake up.  Your skin will repair itself overnight, so using a product with beneficial nutrients and ingredients as your last step will create a protective barrier to lock in ingredients and prevent your skin from drying out.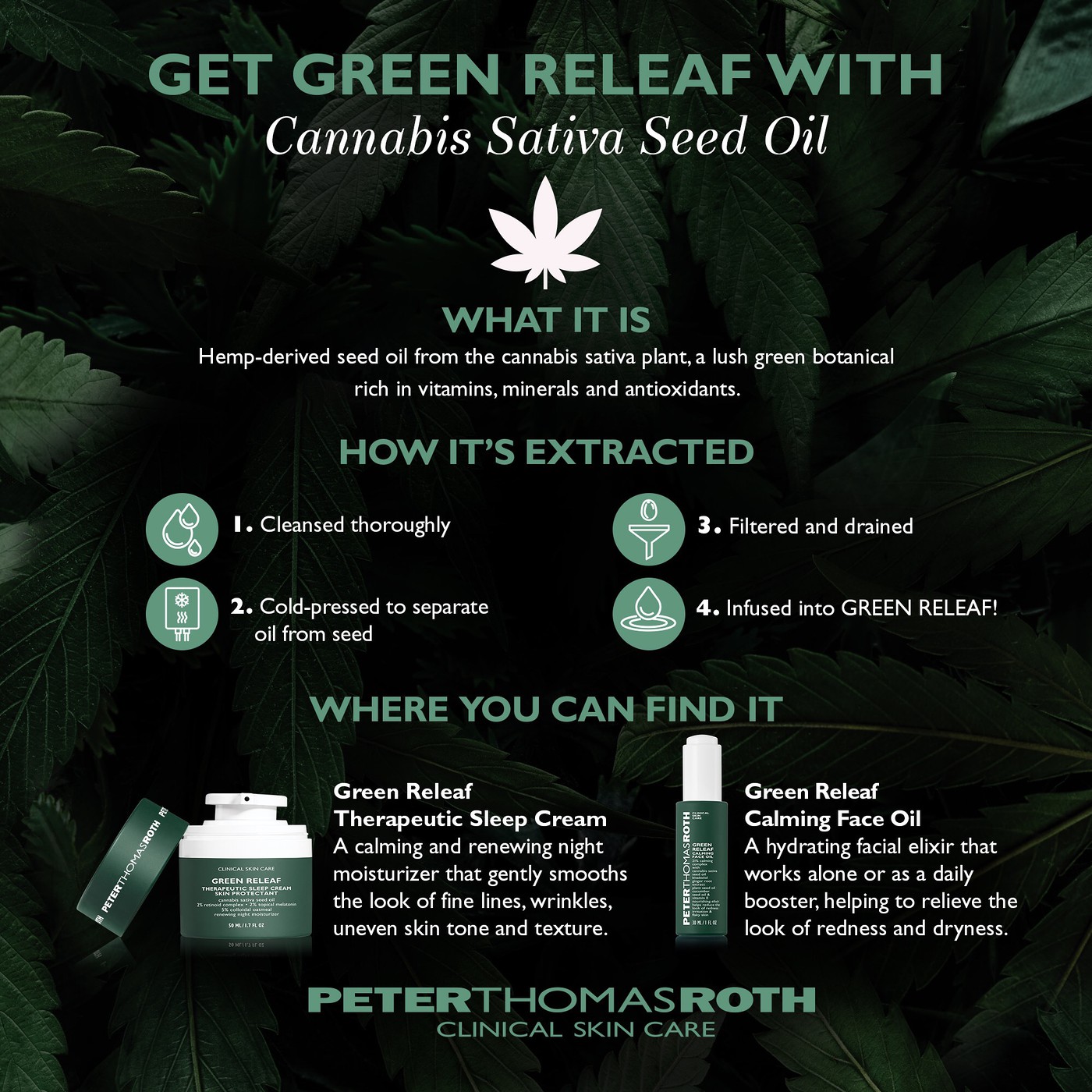 This is made with hemp derived cannabis sativis seed oil (not cannabinoid CBD),  rich in omega 3 and  6, linoleic acid and a-linolenic acid, acids are that are essential for moisturizing skin. It does have anti-inflammatory properties to help with blemishes and other skin issues. and can penetrate into the skin better as its molecules are extremely small.  It is non comedogenic ~ no clogged pores and does not contain psychoactive THC or CBD's.  This also has so many other good ingredients that makes this an attractive sleep mask pack 
2% retinoid complex (hydroxypinacolone retinoate) which is less irritating than normal retinoids and it will help speed up cellular turnover, to reveal fresh new skin, reducing the appearance of fine lines, wrinkles, hyper-pigmentation while healing and preventing blemishes.  This complex will help promote a more refined skin texture as well.  Ceramides are a lipid found in our skin cells and as we age, those ceramides decline, leading to dry, flaky skin. Introducing ceramides back to our skin via skincare products helps lock in moisture and create balanced skin. Non comedogenic vitamin E  is a powerful antioxidant, preventing free radical formation, protecting the upper skin layer from initial harmful UV radiation and preventing the deterioration of fats in your cell membranes.
To help moisturize and nourish the skin, oils of hazelnut, sunflower, grape and baobab along with shea butter are included, but this is not a heavy or greasy skincare product. There is also soothing and calming 5% colloidal oatmeal in here, which is the maximum amount for an over the counter (OTC) skincare product and it will help protect your skin while relieve itching from skin issues.  Neem is great for blemish and oil control and topical melatonin  will help provide antioxidant and anti-aging benefits while you sleep as it follows the "day-to-night circadian rhythm to help revitalize skin's appearance while you sleep". Diatomaceous earth is in here and again, this is good for blemishes.  It also contains silica, which we normally produce, boosting collagen.  However, as we age, our silica levels decrease, so adding this back in topically helps with firming the skin. I do believe this is the ingredient that is giving it that gritty feeling. 
Ingredients: Water, Propanediol, Glycerin, C9-12 Alkane, Butylene Glycol, Hydrogenated Polyisobutene, Melatonin, Dicaprylyl Ether, Dimethyl Isosorbide, Behenyl Alcohol, Stearic Acid, Polyglyceryl-2 Stearate, Caprylic/Capric Triglyceride, Phenoxyethanol, Polyglyceryl-6 Distearate, Octyldodecyl Oleate, Glyceryl Stearate, Stearyl Alcohol, Carbomer, Coco-Caprylate/Caprate, Daucus Carota Sativa (Carrot) Extract, Octyldodecyl Stearoyl Stearate, Xanthan Gum, Disodium EDTA, Hydroxypinacolone Retinoate, Plantago Lanceolata Leaf Extract, Jojoba Esters, Leuconostoc/Radish Root Ferment Filtrate, Adansonia Digitata Seed Oil, Allantoin, Butyrospermum Parkii (Shea) Butter, Cannabis Sativa Seed Oil, Corylus Avellana (Hazelnut) Seed Oil, Helianthus Annuus (Sunflower) Seed Oil, Melia Azadirachta Leaf Extract, Mica, Sorbitol, Vitis Vinifera (Grape) Seed Oil, Bisabolol, Cetyl Alcohol, Polyglyceryl-3 Beeswax, Sodium Hydroxide, Polyhydroxystearic Acid, Laminaria Digitata Extract, Octyldodecanol, Potassium Sorbate, Sodium Benzoate, Lecithin, Centella Asiatica Leaf Extract, Ceramide NP, Caprylyl Glycol, Gluconolactone, Avena Sativa (Oat) Kernel Extract, Diatomaceous Earth, Tocopherol Acetate, Glyceryl Caprylate, Zingiber Officinale (Ginger) Root Extract, Tocopherol, Yellow 5 (CI 19140), Blue 1 (CI 42090), Red 33 (CI 17200), Red 4 (CI 14700) cosDNA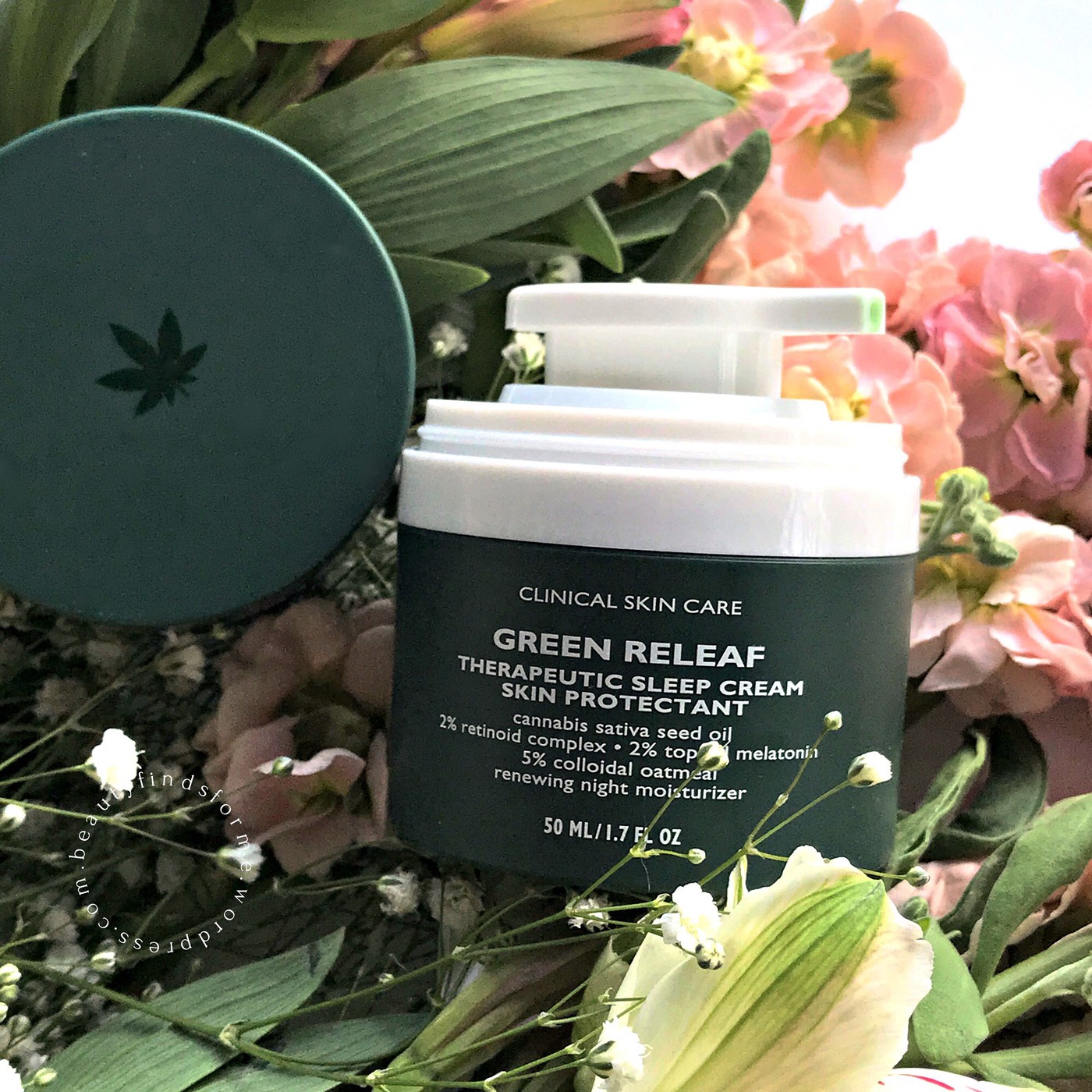 This comes in a matte green jar with a twist off cap.  I love the packaging as the airless pump applicator means that my cream is nice and fresh.  The cream is a beautiful leaf green color and any scent that it has is from the ingredients themselves ~ it has a slight earthy scent, not pot or anything ~ some reviews state it smells like pot, but I guess those reviewers never TRIED pot before and don't realize that hemp is not the same as pot ~ lol. 
The ingredient list does make it sound like it would be a rich heavy cream, but it isn't  heavy at all .  he application of this cream is smooth and there is a little bit of fine grittiness, which could be the combination of the oatmeal and diatomaceous earth.  However, it is not harsh or scratchy as I pat it into my skin ~ this cream is weightless and not greasy on my skin, but it does leave a barrier. Since this is a night cream, I don't mind that too much.

This doesn't do a lot in terms of moisture or oil control, but the numbers are long lasting.  Just like the Water Drench Cloud Cream, even an hour after the initial readings, the moisture level was steady an increase of about 10%.  I just make sure to use a lot of hydrating ingredients first before sealing it in with this sleep pack.   In the morning, my skin is brighter and less red, calmed down.  I really enjoy this calming sleep pack!  
Where to Purchase
Sephora carries an extensive line of Peter Thomas Roth 
[ some products received  complementary for review purposes. contains affiliate links ]