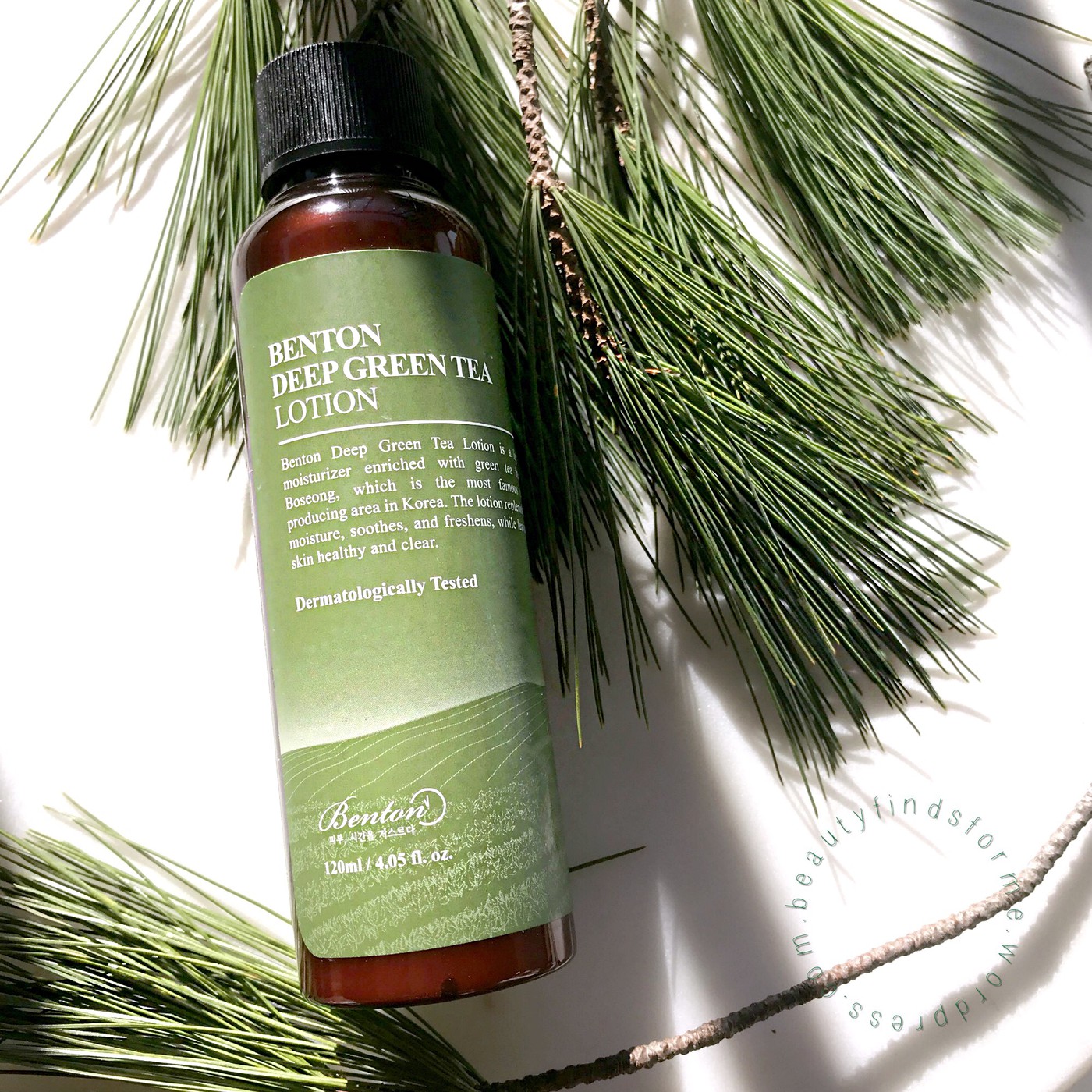 I am so happy that I got into the Benton campaign fort their latest product ~ a green tea lotion, which looks like it is made for oily/oily-combo skin types!   Many thanks to Benton for generously supplying this product for review.  I enjoy Benton products, even though some of the recent releases have not been all good for my skin type ~  see my reviews  here.

Skin Type/Concerns: Oily, blemish prone, aging concerns, pores, fine lines/wrinkles and hyper-pigmentation
I received these products complementary to review and was not paid.  All reviews are my own honest opinion and  I never have been asked to write copy for a brand.  This blog post might contain promo codes, affiliate and referral links, which using my links will help generate a small commission that helps support my blog at no extra cost to you.
Just Fun Info:  Ever wonder how Benton came up with their name?  Well, according to their website, it came from a movie
The name and definition of Benton took its motives from the movie 'The Curious Case of Benjamin Button' (also known as 'Benjamin Button goes backwards in time' in Korea) which had a warm touch on many people's heart. In the movie, Benjamin is born as an old man and he becomes younger and younger as time goes by and ultimately dies as a new born baby. Benjamin happens to deeply fall in love with a woman named Daisy. However, as time goes by and as Benjamin becomes younger he has no choice but to leave Daisy. What if Daisy could have also turned back time on her physical appearance, wouldn't she be happier? It may just be a fictional movie, but wouldn't most people have the same desire to be young again? Benton's desire is to turn back the time of your skin. Unlike the instant temporary effect created by the chemical ingredients, we hoped to improve skin care by using the natural ingredients in our products which will help regain your skin to its original healthy condition.  (source bentoncosmetics.com)  
image credit bentoncosmetics
This lotion has four different types of deeply brewed green tea extracts: its top ingredient of 50% green tea leaf water and a complex called EG-Green Tea, made of green tea leaf, seed and root.  Benton sources its green tea from Boseong,  a famous tea producing area in Korea.  Camellia sinensis, aka green tea, contains polyphenol antioxidants: catechins, tannins, flavonoids ~ which are anti-bacterial agents as well as acting as an astringent, retains skin moisture and hydration.   
image credit bentoncosmetics
Centella asiatica is a common herbal ingredient that is used medicinally to help speed up wound healing, such as blemishes and skin rashes. It also helps minimize the appearance of pores, and since it stimulates collagen production, it will make your skin more supple and firm. Houttuynia cordata is a medicinal herb that is found dipotassium a lot in Asian skin care products. It is an antibiotic, which helps with preventing infection from skin problems, such as blemishes. It is also a potent antioxidant, as it contains anti-aging compounds such as flavonoids and triterpenoid, which helps strengthen, purify and revitalize your skin . It also has powerful detox properties, is an astringent and anti-inflammatory.
Betaine is superior for its intense moisturization and hydration properties, without the stickiness, and also reduces the appearance of fine lines and wrinkles, while attracting moisture (humectancy) and relieving skin irritation.  Arginine is an amino acid that promotes healing and detoxes your skin. It also helps guard against the formation of wrinkles and loss of skin firmness. Vitamin E is the antioxidants of all antioxidants ~ prevents free radical formation, protects the upper skin layer from initial harmful UV radiation and prevents the deterioration of fats in your cell membranes.
This lotion doesn't contain PEG's, sulfates, added fragrances, colorants, phenoxythanol or parabens and its ingredients rate on the EWG Green Score care as green (low hazard). Benton's individual ingredients do not contains parabens  either ~ I guess, according to Benton, that parabens and phenoxyethanol are hidden ingredients, meaning they can be inside another ingredient, as they are preservatives. Benton lists all hidden ingredients separately, complying with the CGMP (Cosmetic Good Manufacturing Practice) and EU Cosmetics Regulations. Every ingredient in Benton products will not contain harmful  preservatives and all ingredients, hidden included, will be part of the ingredient lists on the product.

Ingredients: Camellia Sinensis Leaf Water (50%),  Water, Caprylic/Capric Triglyceride, Glycerin, Butylene Glycol, Pentylene Glycol, 1,2-Hexanediol, Cetearyl Glucoside, Helianthus Annuus (Sunflower) Seed Oil, Cetearyl Alcohol, Centella Asiatica Extract, Houttuynia Cordata Extract, Stearyl Alcohol, Cetyl Alcohol, Camellia Sinensis Leaf Extract, Camellia Sinensis Seed Extract, Camellia Sinensis Root Extract, Punica Granatum Fruit Extract, Tocopherol, Betaine, Arginine, Carbomer, Xanthan Gum cosDNA
Claims & Recommended For 
image credit bentoncosmetics
Dull skin that needs instant moisturization and vitalization
Skin that needs care from stress due to frequent use of makeup
Skin that needs soothing from external stressors causing uneven skin tone
Delicate skin that is sensitive to harmful environment or chemicals 
Skin with excessive sebum and poor oil-water balance
Skin that is easily damaged and needs protection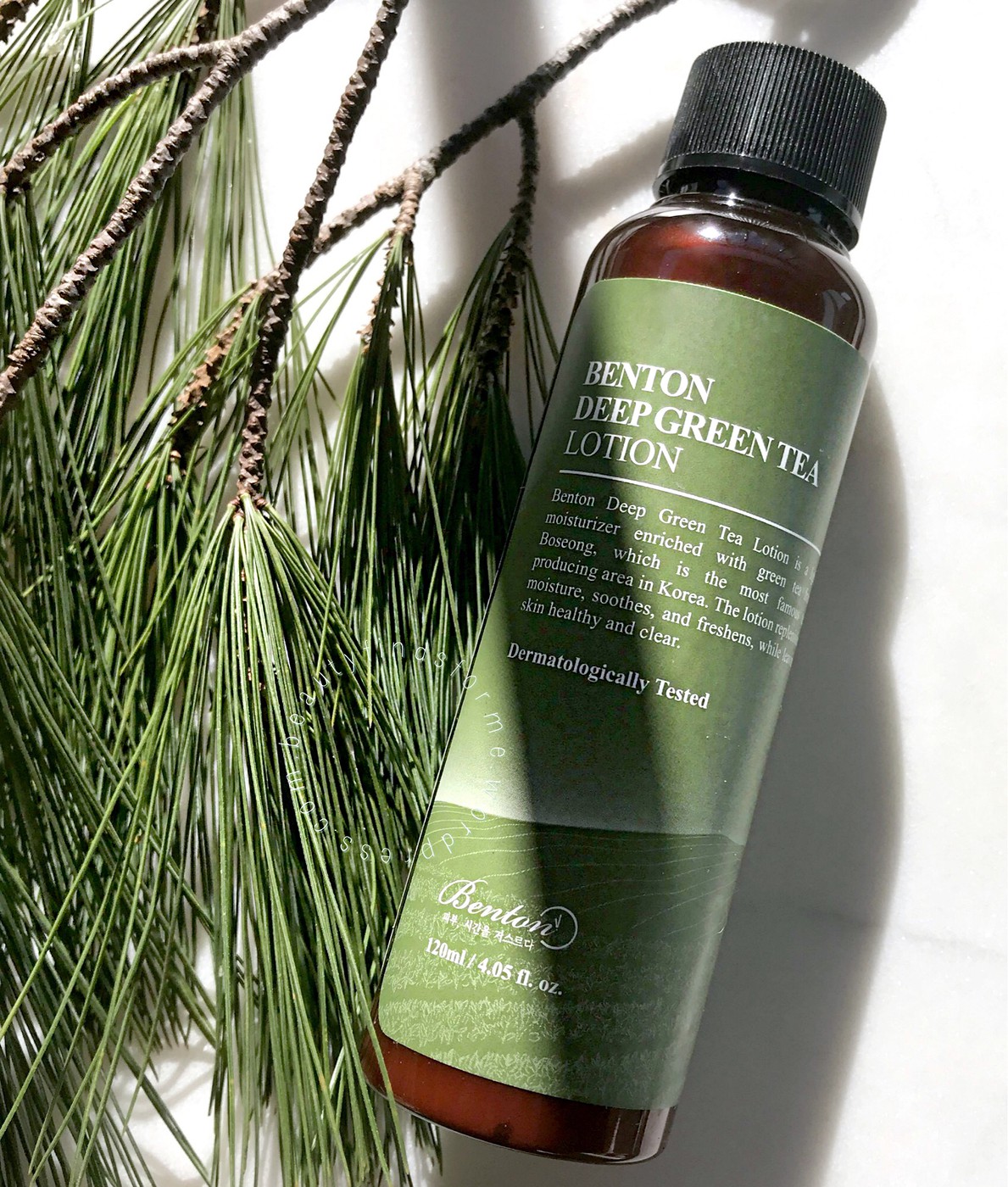 Benton Deep Green Tea Lotion comes in a 120 mL brown colored bottle, with a green paper label ~ the label is sweet as it shows green tea fields.  This has a twist off cap and the applicator is simple ~ it is a pin hole, meaning that you have to tip the bottle upside down and shake the product out.  The pin hole is bigger than a watery liquid product, but it is very inconvenient.  I do not like this applicator at all as I keep shaking and tapping the product onto my hand, which gets sore after a while.  This should be in a pump applicator.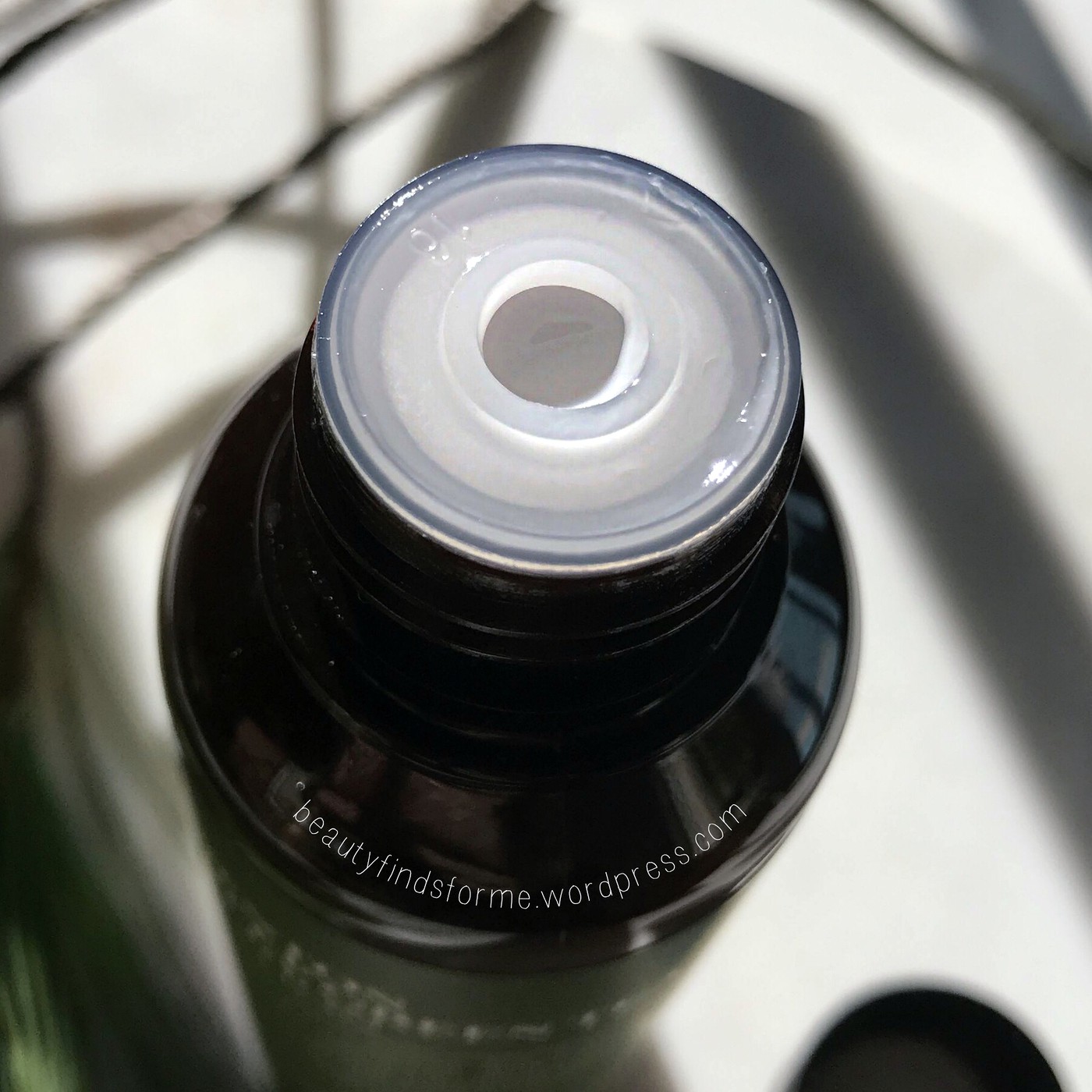 The lotion is very thin and watery ~ it reminds me more of an emulsion, not a lotion. The lotion doesn't have any scent that I can pick up and it literally melts into a watery liquid on my skin before being absorbed.  My moisture levels increased 25% but my oil levels did as well ~ 20%.  However, this doesn't leave my skin feeling greasy or oily, no sticky residue.  In face, my skin does feel very supple and soft.  However, I do feel it is not enough to use on its own or one layer.  I think regardless of your skin type, you would want to either follow up with another moisturizer or lotion or add several layers of the Benton Deep Green Tea Lotion ~ it actually makes for a great layering product, as it its texture is thin, watery and absorbs quickly into the skin. 

I found that my skin did like this lotion a lot and I did not experience any breakouts or adverse reactions while using it.  For Oily Skin types, I think this is a great product to use when the months are hot and humid, as it is so lightweight and won't sit heavy on your skin.  In the cooler months, it should be treated as an essence or emulsion step, imho.   My biggest complaint about this lotion is the packaging ~ it really needs to be a pump bottle. 
I will be getting the Benton Deep Green Tea Toner soon and will add my review on that product soon!  Are you excited about the Deep Green Tea line from Benton?   
Where to Purchase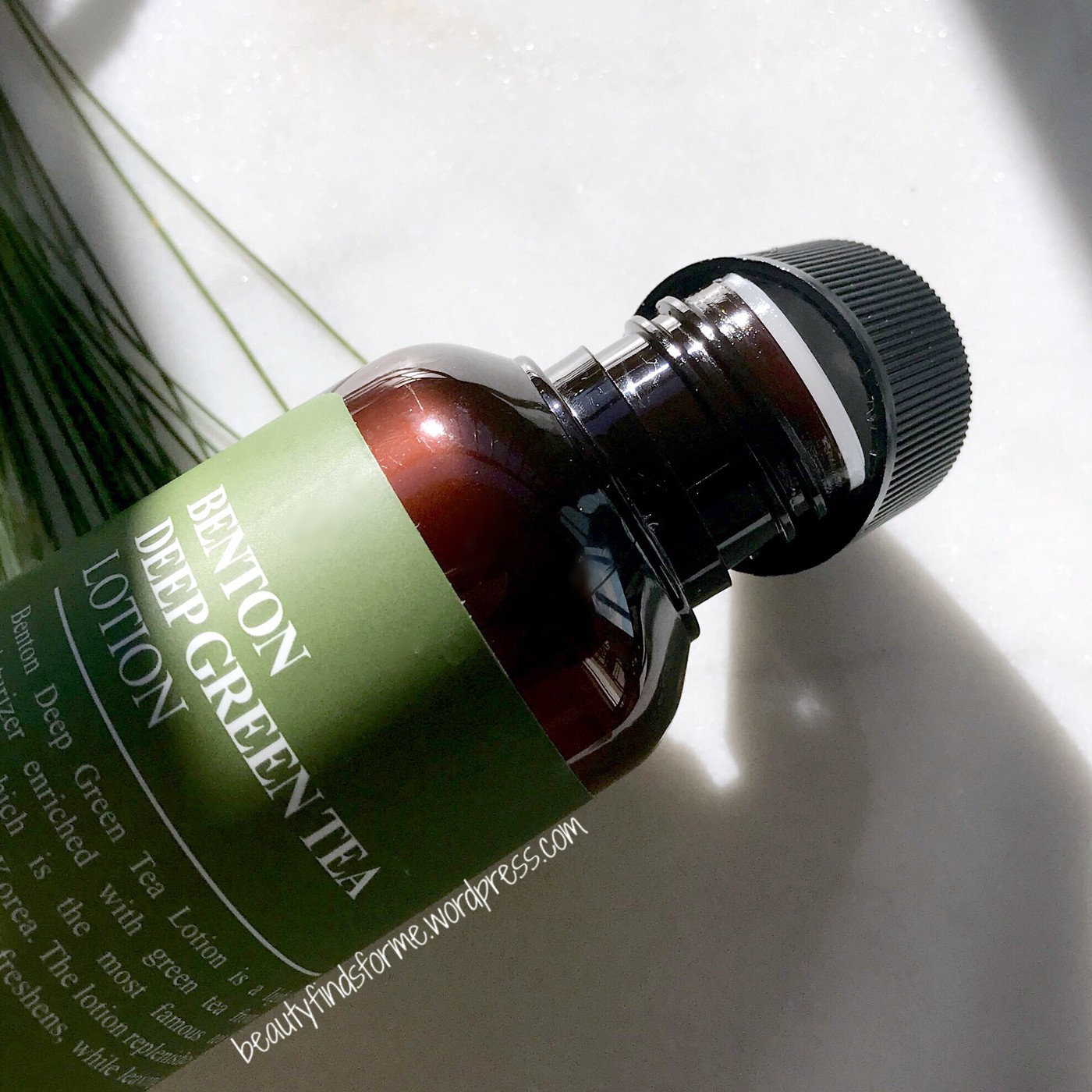 There isn't a lot of places that currently carry the Benton Deep Green Tea Lotion ~ it was just released at the end of February, so I am sure it is just a matter of time before you will see it in a variety of K-Beauty online shops.  This is a 120 mL bottle and you should be able to purchase for about $16.00 USD .

[ disclaimer: product received for review purposes.  all opinions are my own ]