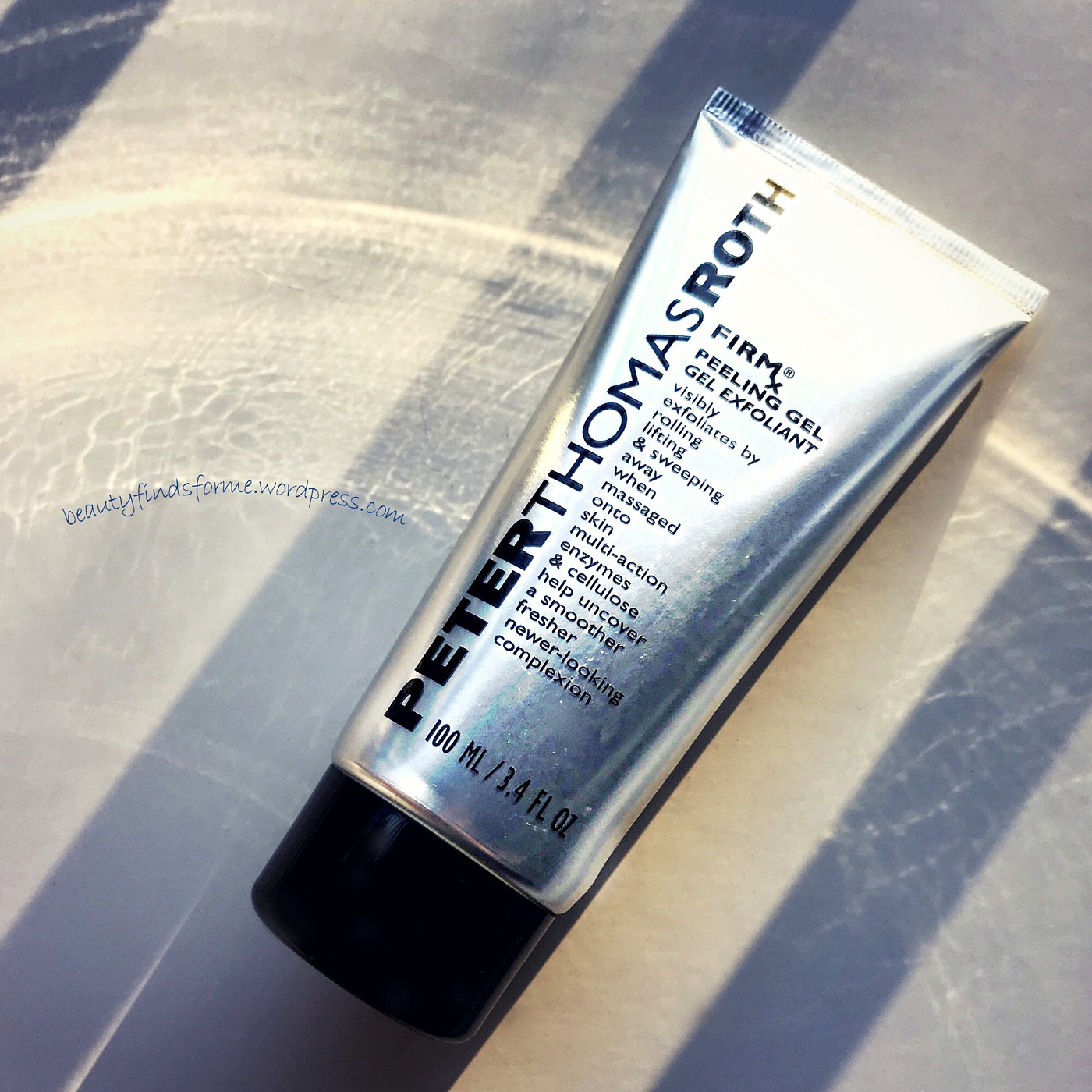 Peter Thomas Roth FIRMx Peeling Gel (courtesy brand via Brandbacker) I am very familiar with K-Beauty Peeling Gels (see my reviews here) and PTR has  created their own!  This gel contains enzymes, cellulose and humecants to help smooth, lift away dead skin cells, oil and dirt from your skin, while leaving it smooth and soft.
Skin type/concerns:  Oily, aging, blemish prone, pores, hyper-pigmentation, fine lines and wrinkles. 
I received these products complementary to review and was not paid.  All reviews are my own honest opinion and  I never have been asked to write copy for a brand.  This blog post might contain promo codes, affiliate and referral links, which using my links will help generate a small commission that helps support my blog at no extra cost to you.
What are Peeling Gels?  Peeling gels are not peels ~ they are actually non-physical exfoliators that use fruit enzymes to dissolve dead skin cells and unclog pores, which you can see as you massage it onto your skin. They revitalize and refresh the skin and only remove a small amount of superficial skin.  Peeling gels must be applied to clean, DRY skin, otherwise, they do not work as well.  Peeling gels should also have an alpha hydroxy acid (glycolic, citric, lactic, malic) as this acid helps in removing dead skin cells ~ lemons and papayas naturally contain alpha hydroxy acids.   Another common ingredient is hyaluronic acid, as that will increase moisture and hydration and improve your skin's texture and tone.  They will also contain one or more of the following: acrylates/C10-30 alkyl acrylate crosspolymer or carbomer or cellulose.  These ingredients will help "clump" your oil, skin cells and gunk and will form those "balls" on your skin.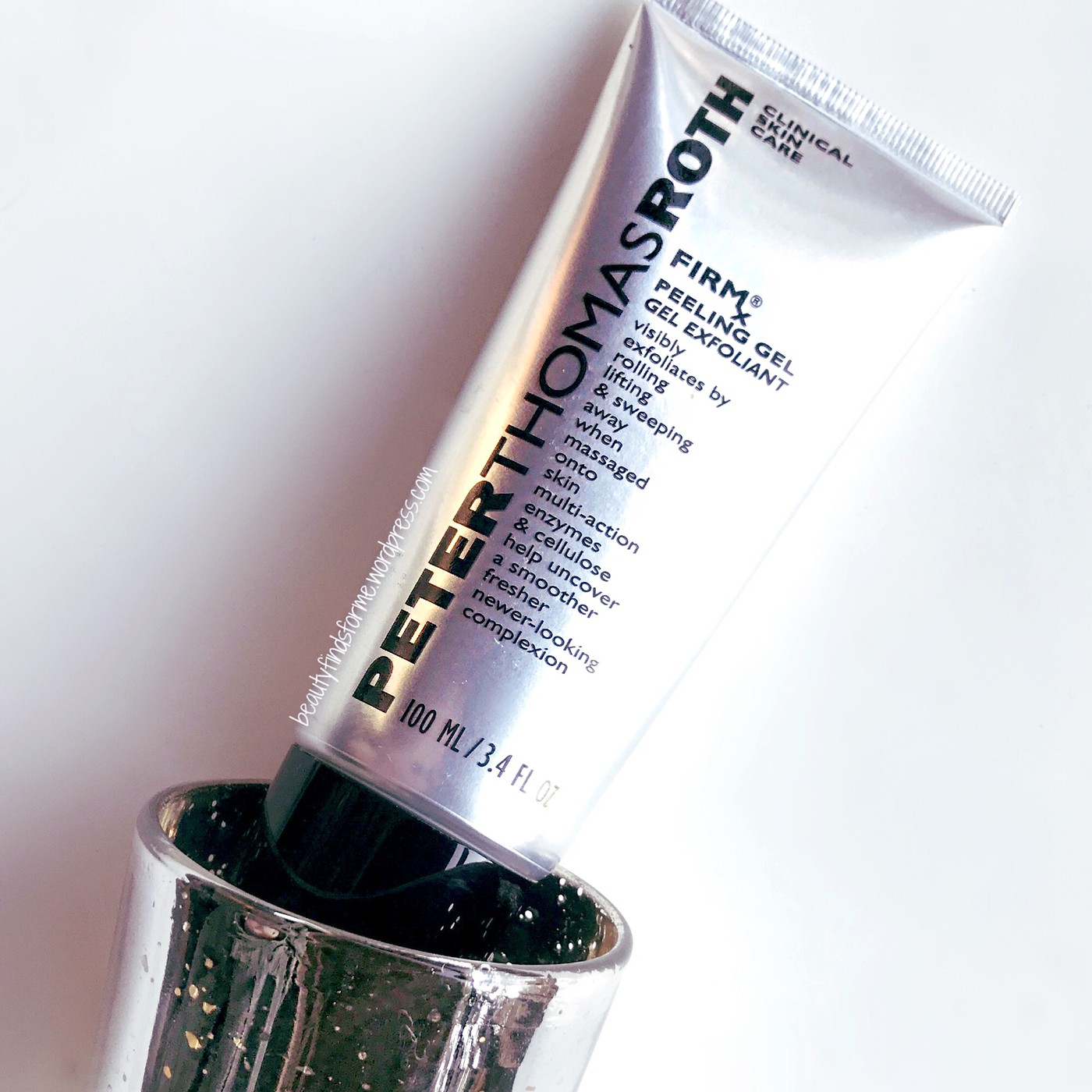 Peter Thomas Roth FIRMx Peeling Gel Description: This innovative gel contains multi-action enzymes—pineapple, pomegranate, and keratinase—and cellulose to effectively exfoliate for a smooth, fresh, new-looking complexion without drying, irritating, or causing undue stress to the skin. This customizable treatment for the most sensitive to the most resilient of skin types helps remove impurities while helping clean clogged pores for a youthful, radiant look.   This does not contain sulfates, parabens or phthalates
To be a peeling gel, it has to pass several criteria:
Alpha Hydroxy Acid ~ Check!  This product has citric acid.  It also has another exfoliating ingredient in the form of enzymes: pineapple, pomegranate and fermented keratinase. Enzymes gently dissolve the keratin protein in your dead skin cells, so they can be whisked away. Pineapple enzymes are also an anti-inflammatory
Clumping Materials ~ Check!   Contains 2 clumping materials: cellulose & carbomer
Humectant: Sodium hyaluronate & Glycerin are in here, so check!
The plate/glass/countertop test:  If a product has too much clumping materials in it, you will see the clumping action on a clean smooth plate (ceramic or glass).  You aren't supposed to see that action, as counter tops and dishes do not slough off dead skin cells.  You should only see the clumps when it is applied to skin, as the oils from your skin is what should activate the fibers and enzymes in a peeling gel. Those clumps are part product (listed as acrylates/C10-30 alkyl acrylate crosspolymer or carbomer or cellulose), part your skin cells, held together with the oils from your skin.  If the clumps are greyish-white in color as well, don't worry ~ that just means that your skin was dirty!  PTR FIRMx Peeling Gel passes the test!  I placed some of the peeling gel on a piece of glass and rubbed it around. It never clumped up with little balls.
Ingredients: Water, PEG32, Cellulose, Butylene Glycol, Citrus Aurantium Bergamia (Bergamot) Fruit Water, Sorbitol, R-Bacillus Licheniformis Keratinase, Ananas Sativus (Pineapple) Fruit Extract, Lactobacillus/Punica Granatum Fruit Ferment Extract, Leuconostoc/Radish Root Ferment Filtrate, Sodium Hyaluronate, Glycerin, Sodium Hydroxide, Citric Acid, Tetrasodium Edta, Algin, Carbomer, Tromethamine, Isopropyl Myristate, Sodium Chloride, Calcium Chloride, Potassium Sorbate, Sodium Benzoate, Mica, Phenoxyethanol  cosDNA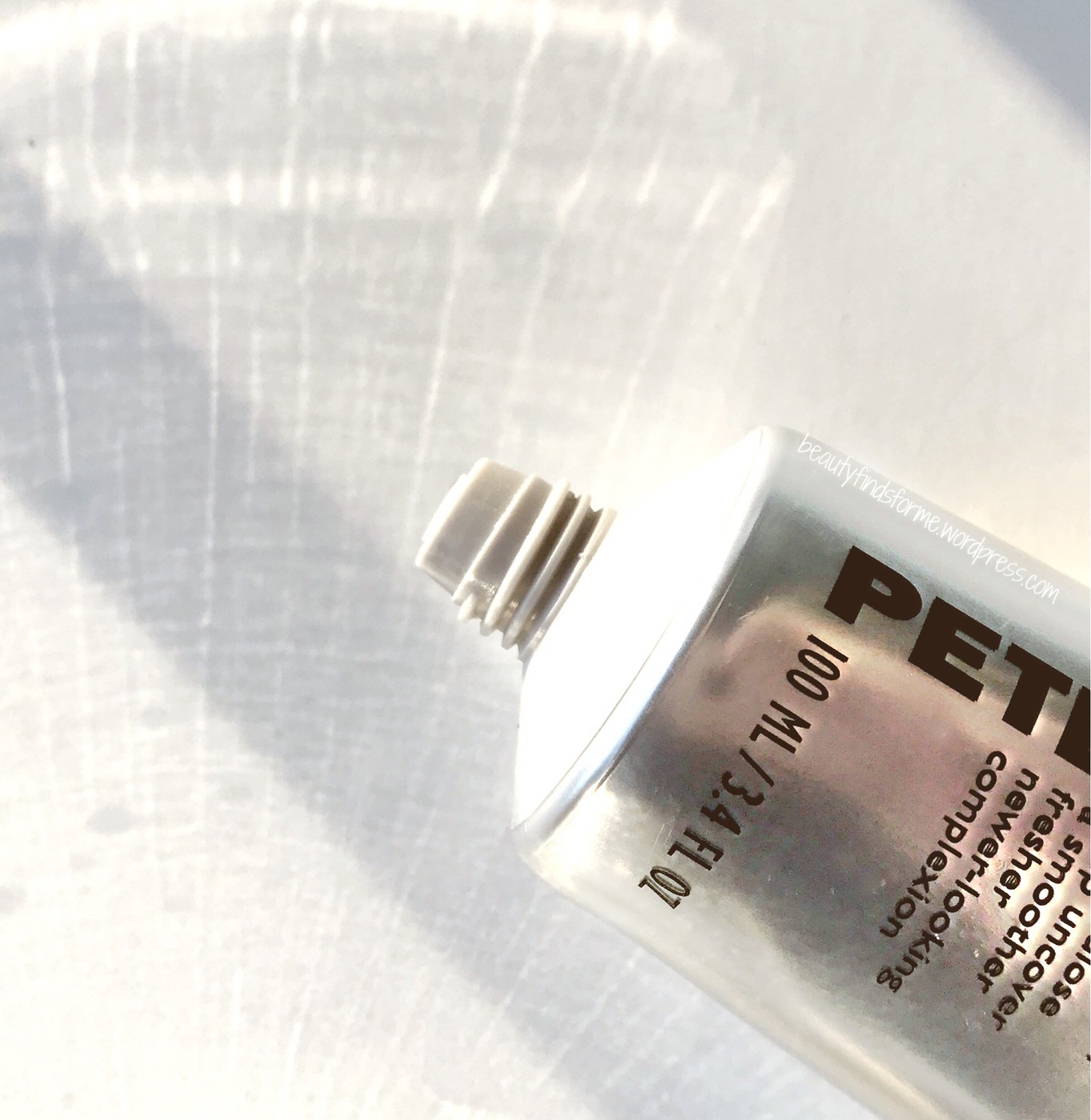 Peter Thomas Roth FIRMx Peeling Gel comes in a bright silver tube with a twist off cap.  The tube is easy to squeeze and the gel comes out easily.  Thas a lovely citrus scent to it, due to the bergamot and it is a thick yellowish gelly.  I just apply this to my dry clean skin and start massaging around. If your skin has excess oil, dirt, dead skin flakes ~ you will start to see the  clumping material ball up as it gathers up all of the debris on your skin. I just massage for about a minute or two, focusing on and around my nose, chin and forehead  and then rinse off with cool water. My skin feels smooth and clean.  This does help remove dead flaky skin and it is not irritating at all.  PTR recommends if you want extra exfoliation, leave on for an additional 2 to 5 minutes before rinsing off.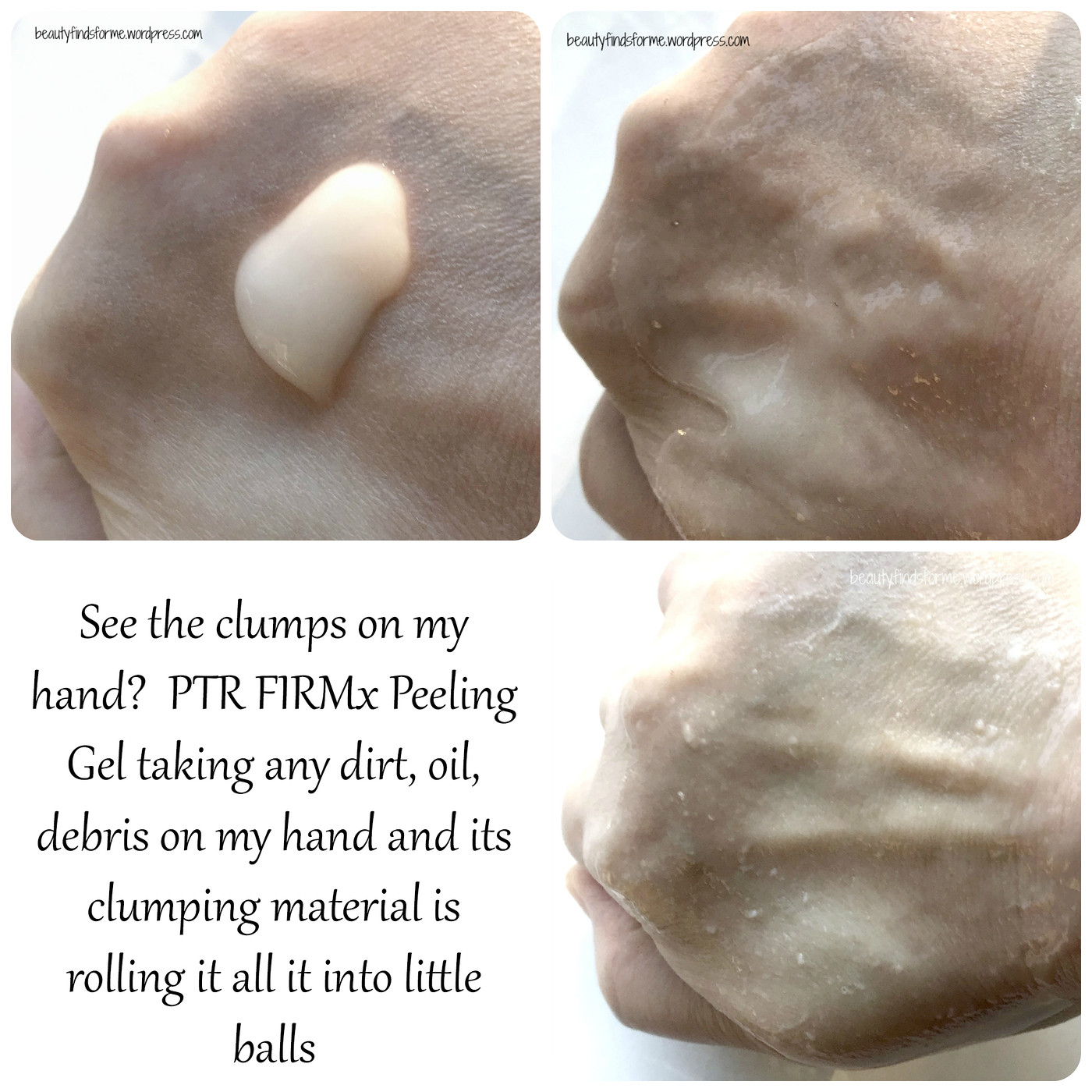 Peeling Gels are great for all skin types, but especially those who have sensitive or dry, thin skin, as this will not scrub away at your skin.  The exfoliates are gentle chemical (acids, enzymes) and the clumping material is a very gentle physical exfoliator.  This is mildly acidic at a pH level of around a 5, but that is okay as enzymes have a wider pH range than AHA or BHA's, as they remain stable even at higher pH levels.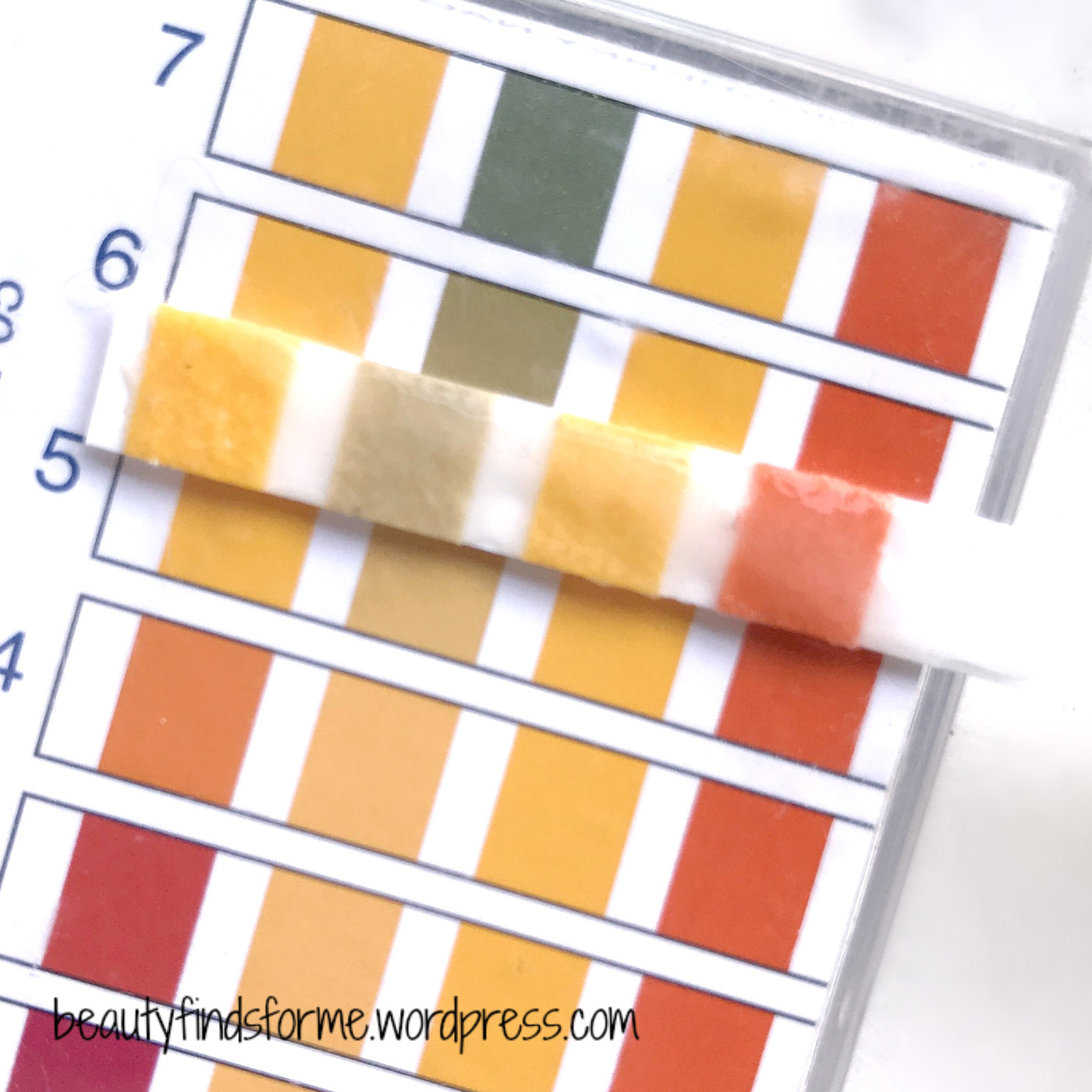 Have you tried PTR FIRMx Peeling Gel yet?  What is your favorite Peeling Gel?  You can purchase this product at  Sephora (click here) for $48.00 for a 3.4 oz tube or $89.00 for a 6.8 oz tube
[ some products received  complementary for review purposes. contains affiliate links ]