[ yes, I know that is cilantro.  my grocers doesn't sell centella!! ]
I am currently a creative partner with B2Link, which is a new up and coming Beauty Start Up, focusing on new and niche Korean Beauty Brands.  They distribute K-Beauty brands to multiple channels, such as Ulta, Sephora and Amazon, among other shops.  B2Link is currently focusing on the USA market but will be expanding to Europe and other countries in the next year.   B2Link allowed me to pick out a couple of products and since I am gathering ALL the Centella products for a mega blog post later on this year, I had to get this huge ampoule of 100% Centella Asiatica!  I have been using this product for almost a month now.
Skin Type/Concerns: Oily, blemish prone, pores, aging, fine lines/wrinkles, hyper-pigmentation
Skin1004 Madagascar Centella Asiatica Ampoule is made with centella asiatica ~ I am not sure if they have any type of preservative in here, as they do not disclosure that.  This ampoule is a soothing and repairing skin care product, as centella is a plant that is rich in saponins and is an anti-inflammatory, calming your skin and aid in wound healing. It is rich in amino acids as well as essential fatty acids, beta carotene and other phytochemicals, which help with wound healing and stimulating new skin cell growth.  It not only just helps with healing, it helps reduce blemishes and skin rashes as it has anti-bacterial properties.  Centella extracts will helps minimize the appearance of pores, and since it stimulates collagen production, it will make your skin more supple and firm.  This formula contains three components extracted from centella asiatica ~ 30% from asiaticoside, which not only helps form collagen to strengthen your skin and speeds up wound  healing, it balances your moisture/oil levels and is an FDA Wrinkle Improvement Function Authentication ingredient.  Another 30% is from asiatic acid,  an anti-aging compound, that helps to plump up your skin, prevents wrinkles, fine lines and scar tissue, strengthening your skin barrier and improving elasticity. 40% of madecassic acid helps aid in the production of collagen and tissue, provides soothing and calming care, repairing damaged skin and scarring from blemishes.   
The centella is sourced from Madagascar and then extracted in French laboratories, using a French extraction method that utilizes low temperatures and filtering to ensure that the centella benefits are not destroyed.  The extract is shipped to South Korea for bottling ~ this is making the rounds in 3 countries!  Skin1004 Madagascar Centella Asiatica 100 Ampoule does not contain any parabens, dyes and is alcohol free.  I have used Scinic's Centella 100 All in One Ampoule, but that has other ingredients in it, so I was interested in seeing how a pure centella asiatica product would work 
Claims
Hydrating
Tightening the pore
Enhancing skin complexion
Soothing skin trouble
Maintaining a healthy sebum balance
Restoring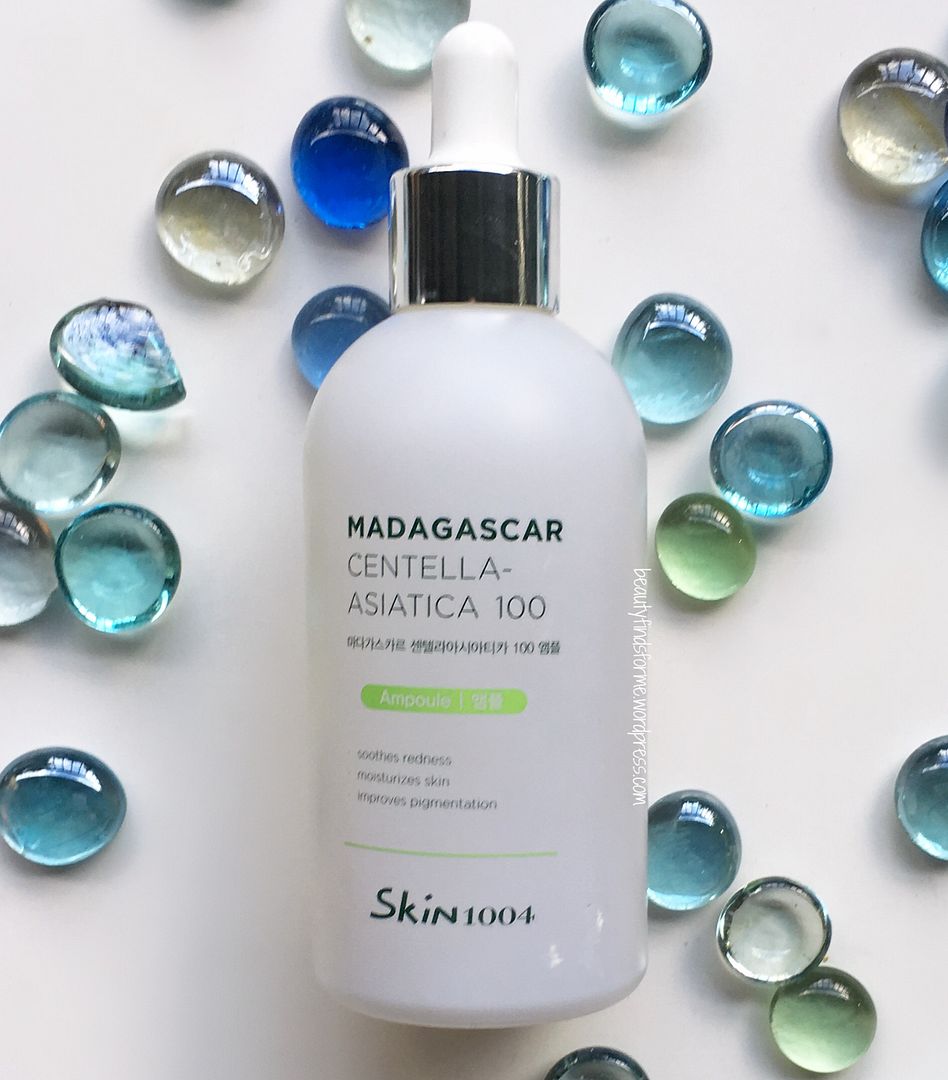 Ampoules are ultra concentrated ingredients that target specific skin concerns, which in this case is all about soothing and healing.  This ampoule comes in a huge frosted white glass bottle and it is 100 mL.  This is really BIG for an ampoule, but it is a multi-tasking ampoule and is marketed as such.  It has a nice long glass eye drop applicator, so you can really get a lot of product with one application.  One eye dropper full is more than enough to cover my face.  This is a watery essence that is pretty much without any scent.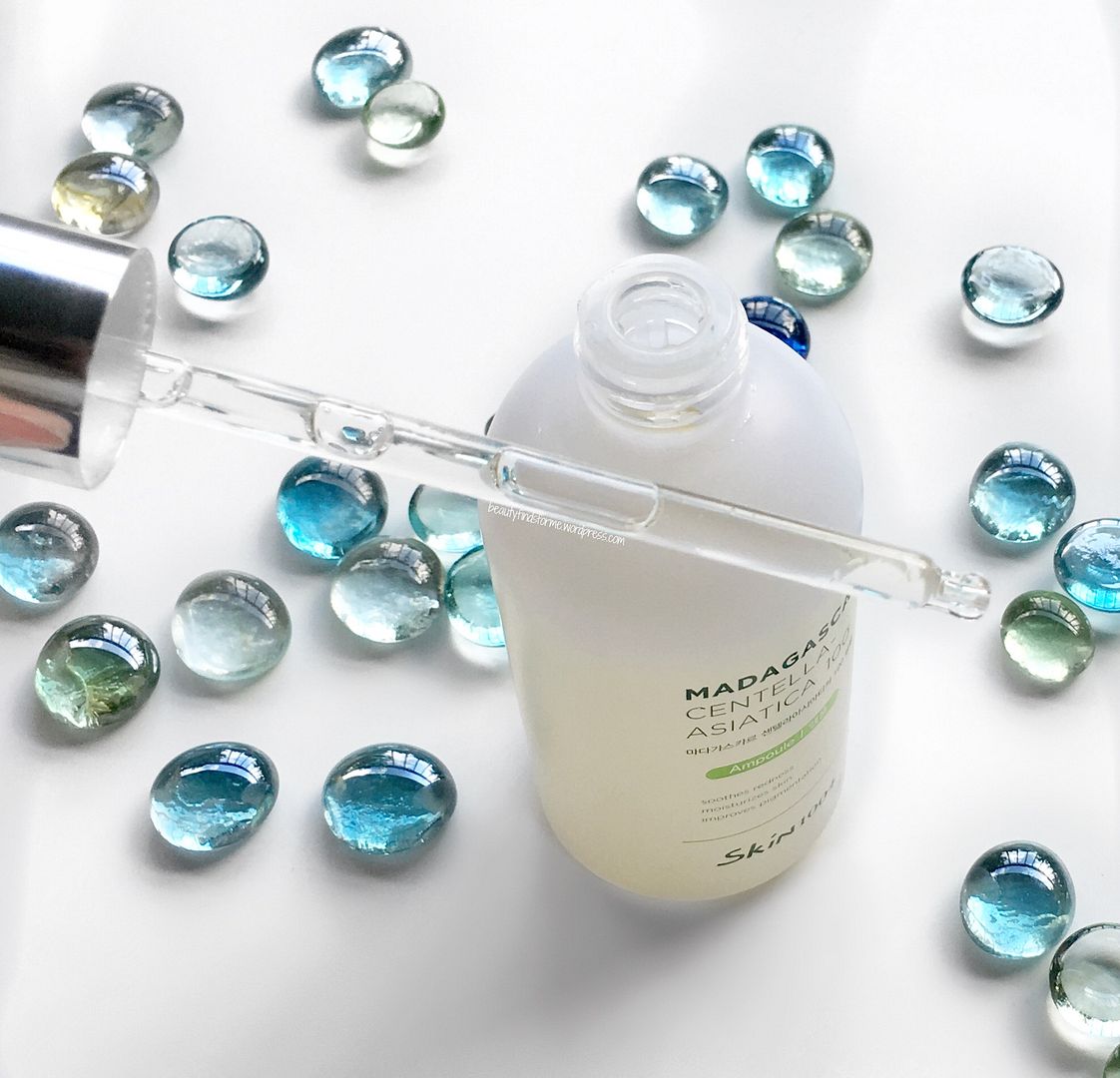 Now, despite this being a very watery essence, it is moisturizing.  I have oily skin and I cannot use a lot on my face, otherwise it doesn't absorb all the way ~ it can leave a slight tacky residue on my skin, but it isn't greasy or irritating.  However, once I apply a lotion over it, the stickiness does disappear.  I think if you have dry skin, your skin will just soak this up with no issues, as my skin does absorb it better if it is chapped or I had too much sun exposure. 

This is so soothing on my skin and I am really into soothing skin care recently ~ I am using acid treatments ~ different varieties of AHA ~ and sometimes my skin is very sensitive, so I look for products that will just calm my skin down and help speed up the wound healing.  This is also great on blemishes, as once again, my skin just sighs with relief as this watery herb protects and soothes my skin.  This improves my moisture level by 18%, which is fantastic for such a watery ampoule.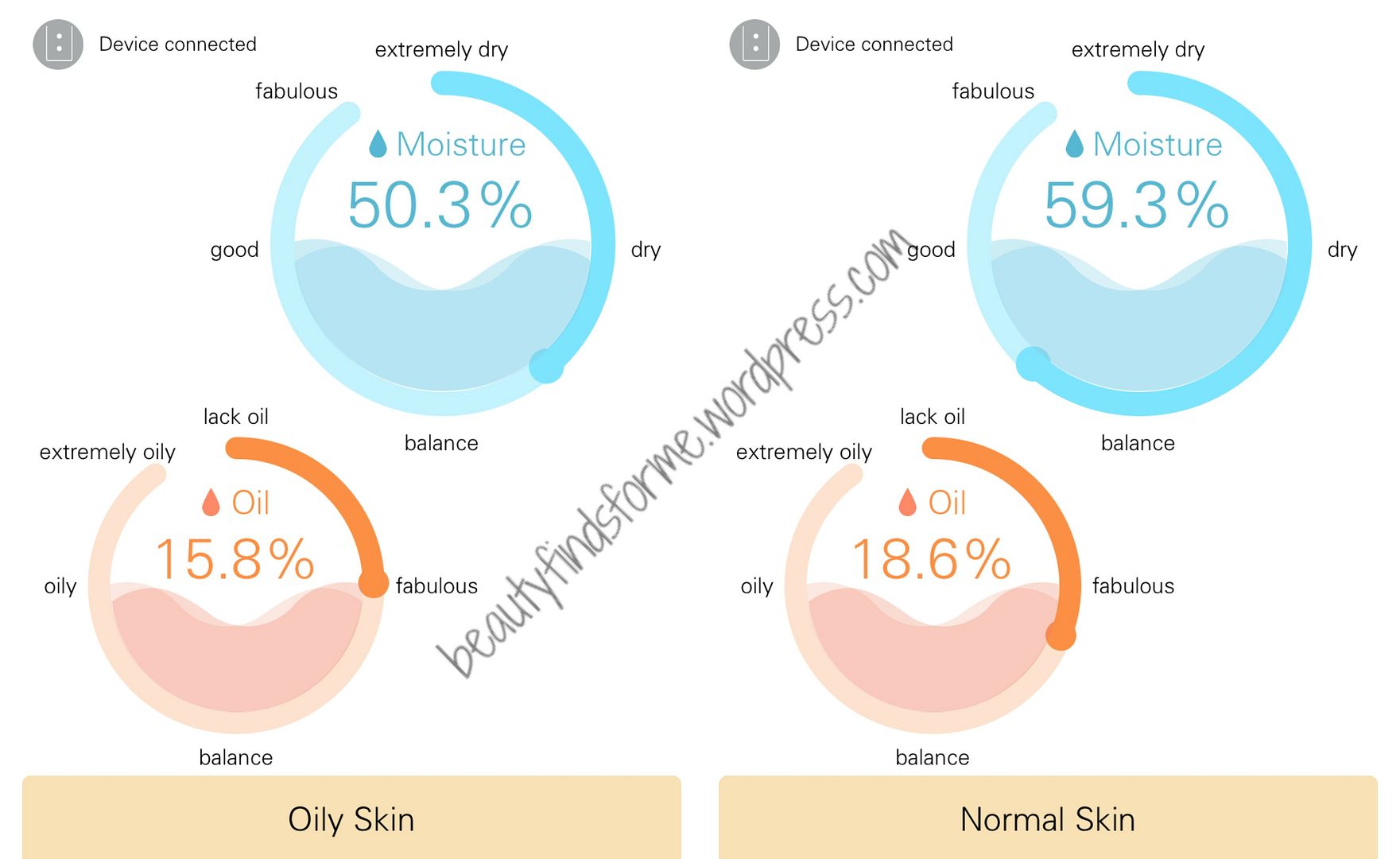 I use this on my skin as one product in the 7 hydrating layers method ~ this is where you add hydrating watery products on your skin, letting it dry before applying the next layer ~ it can be the same product or different products.  For oily skinned peeps, this is really one of the best ways to moisturize and hydrate your skin ~ Oily skin can be dehydrated and that leads to congested, clogged pores, ugly hard red blemishes and dull, but very greasy skin.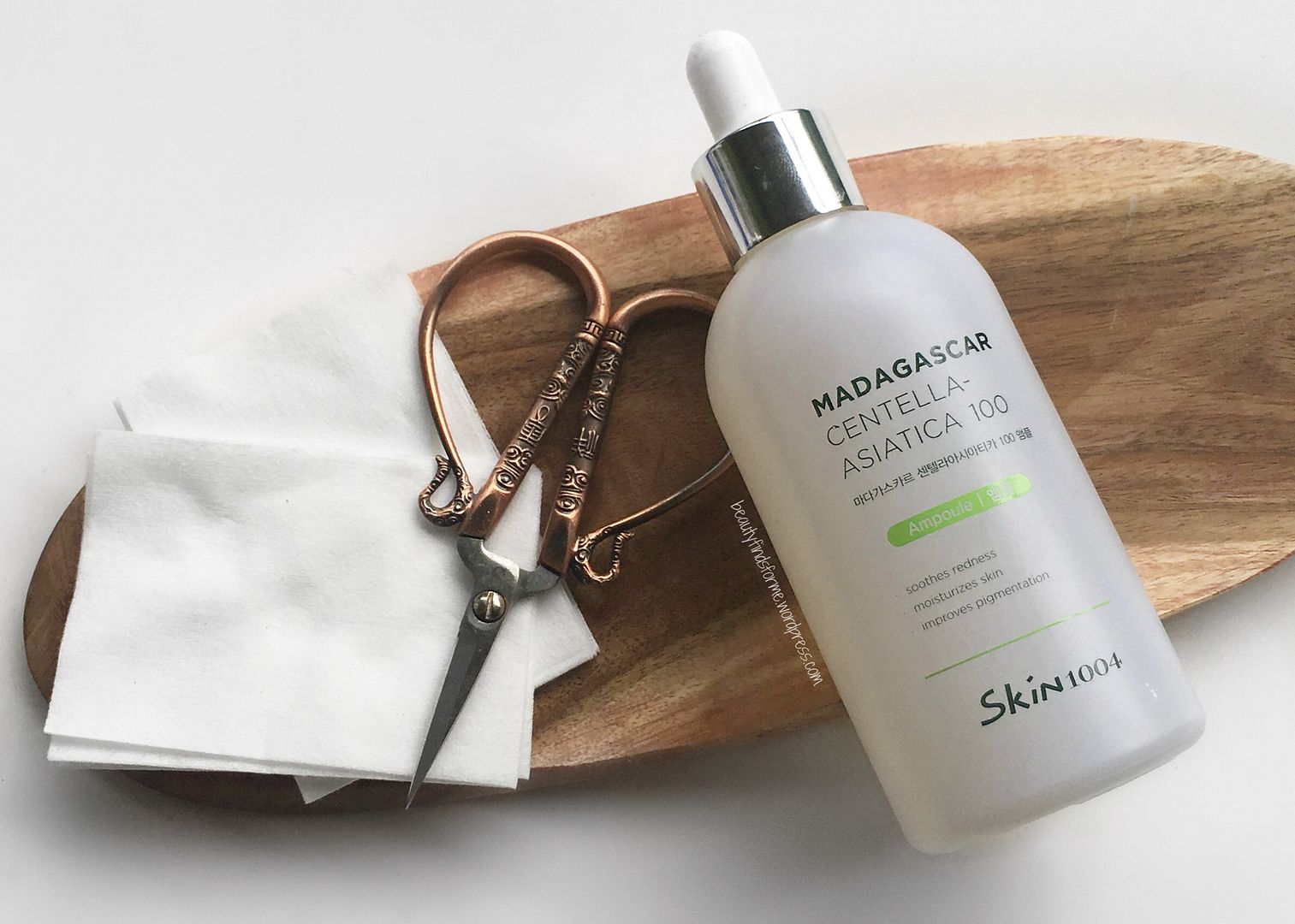 I also use this in other ways too.  I love to DIY mask with this ampoule ~ I take cotton pads/sheets, cut them up and then add this ampoule to the pad.  Slap on my face and leave on for 10 minutes ~ this helps calm down redness and provide blemish care to my face.   This ampoule is so big, I can feel free to use more product than normal ampoules ~ most ampoules are much smaller than 100 mL!   I haven't noticed any pore "tightening" but I do notice that my skin is less red and more calm after I use it in this manner.

I also mix this ampoule in my night time sleep pack when I am experiencing hormonal breakouts ~ it just adds an additional boost of healing ingredients to my normal routine.  Another use, which I haven't tried yet, but will ~ is to create a facial mist/toner ~ just add 3 parts of the ampoule with 7 parts of distilled water in a spray bottle.  This sounds fantastic and I need to do this soon ~ I have an empty sprayer somewhere in my home!  If you have body acne, you can also mix this with your normal body lotion to help heal your blemishes ~ use a 5:5 ratio, mix well and then apply your lotion as normal. 
Final Thoughts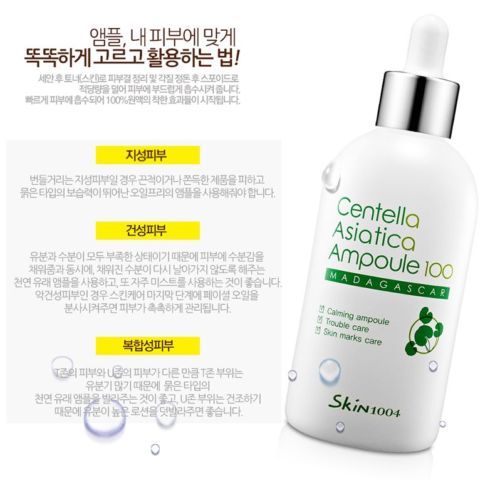 If you really wanted to try a pure centella ampoule, I think you can look no further with this one from Skin1004.  I think this is the only centella product I have tried where it just contained one ingredient.  Centella is good for all skin types, barring any allergies, and it really helps oily skin with reducing blemishes and healing existing ones.  It also works really well for dry skin, as it does help enhance and improve your skin barrier and moisturizes your skin.  I would recommend all skin types to add this to your favorite lotion or cream to get that centella soothing benefits.   Since this comes in a HUGE bottle, you can be more liberal with it as you aren't going to run out soon! I love multi-use products and this one allows me to customize my lotions, use alone, create masks and a facial mist.  It can be a bit sticky for oily skin if you apply too much at once, so be careful with the usage and layer the product until you find the right amount to apply on your face. 
Do you love centella products?  Does this one interest you or have you tried it?  Let me know in the comments below!
Where to Purchase
This can be found at Amazon USA for $13.99 with free Prime Shipping (click here to purchase). You can also find other products from GlamRecipe  at Amazon, including the other item I reviewed on Instagram ~ Wish Formula's Blackhead and Blackmask Home Spa Kit (click here to purchase)

I also have a great deal for my readers ~ I LOVE Wish Formula's C200 Bubble Peeling Pads (review here) and I had purchased them many times before B2Link sent me some more!   You can get a box of 4 Bubble Peeling Pads at 20% off currently and if you use my promo code MICHELE2, you can get a free Bubble Peeling Pad (click here to purchase). To get the free bubble pad, add both the 4 each (the box) and 1 each (one pad) to your cart and then use MICHELE2 as your promo code at checkout. This code expires at the end of September, 2017!! This is a good deal, because these pads are normally $7.00 each and with my promo code, it comes out to $3.99 per pad.
[ products received for review purposes.  contains affiliate links ]