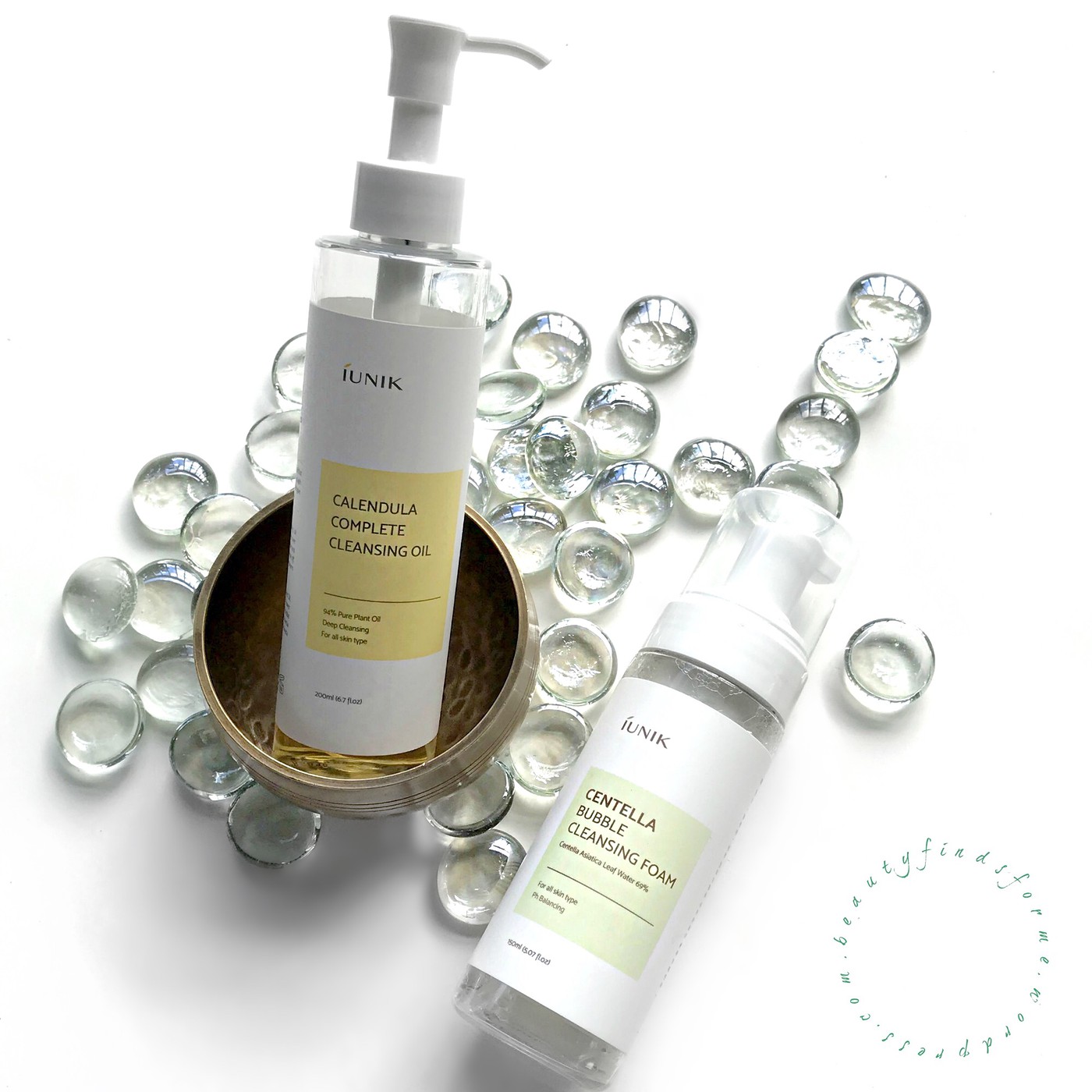 I had received these two lovely cleansing products from iUnik from e-Tailer unique4u and I am thrilled as they are perfect to go over the importance of Double Cleansing!  I have reviewed several other items from this brand and I can highly recommend iUnik for not only its affordability but its effectiveness.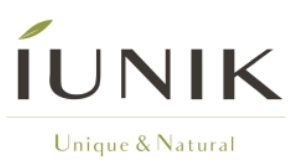 iUNIK is continuing to add items to their lineup right now ~  They have serums, toners, peeling gel, creams and cleansers.  Founded in November 2016, iUNIK stands for
i = Ideal Skin Over Dreamy (I think they mean ideal skin over unrealistic skin goals)
U = Unique products
N = Natural occurring ingredients, mild and raw materials from natural origin.

I = Ingredients ~ less bad and harmful ingredients, more good ingredients
K = Knowhow knowledge to create the best products thru continuous Research & Development
iUNIK uses only hypoallergenic ingredients for all of their products and they have continuous innovation and research to provide the skin care solutions.  All of their products are made in South Korea
Skin type/concerns:  Oily, aging, blemish prone, pores, hyper-pigmentation, fine lines and wrinkles. 
I received these products complementary to review and was not paid.  All reviews are my own honest opinion and  I never have been asked to write copy for a brand.  This blog post might contain promo codes, affiliate and referral links, which using my links will help generate a small commission that helps support my blog at no extra cost to you.
What is Double Cleansing?  I have written about it before, but it has been a while, so I will dust off my soapbox (see what I did there?) and repeat myself.   Double Cleansing is a method where you first use an oil cleanser to remove all of your makeup and dirt.   Don't be afraid of oil!  I have oily skin and I use an oil cleanser daily to remove my stubborn and long wearing makeup.   You apply the oil cleanser to your dry face and massage it in gently and it will loosen up and remove surface makeup, dirt, bacteria and debris on your face.  Then rinse off with warm water and prepare to do the 2nd step in double cleansing ~ a foam based cleanser.  Using a foam cleanser ensures that all of the oil residue that could be left on your face is removed and it also deep cleans into your pores and depending on the type of foaming cleanser you use, it can contain ingredients to help exfoliate dead skin cells as well.   The result is a fresh, clean face that is ready for your skin care products!  
Calendula Complete Cleansing Oil  This oil is made with 94% pure plant oils and six natural plant ingredients ~ one of which is the star of this cleansing oil ~  calendula, which is a lovely herbal ingredient.  Also known as pot marigold, it has one of the longest histories of usage of any herb in skin care. This is herb ~ not to be confused with the flower marigold ~  helps heal chapped and irritated skin. It stimulates wound and burn healing and it helps reduce dermatitits. Calendula gets much of its healing properties from its high levels of carotenoids, which is similar to vitamin A.
What else is in here?  There are only 8 ingredients in total, so I can run down the remaining seven.
helianthus annuus (sunflower) seed oil ~  a lightweight oil that has a high concentration of bitamin E, which is a powerful anti-oxidant and may also help protect the skin from UV rays. It is known for its hydrating and moisturizing properties and it contains omaga-6 fatty acids.
canola oil ~ one of the best plant lipids (oils) out there.   It is high in omega-3 fatty acids which help soothe and heal dry, cracked and irritated skin, leaving it smooth and soft.  Fun Fact:  Canola oil is actually rapeseed oil, but people are turned off by anything that has the word rape in it, despite the fact this came from its Latin name.  So, back in the late 1970's, Canadian rapeseed farmers actually started marketing the oil as "Canadian Oil, Low Acid"… which shortened into canola oil!  
sorbeth-30 tetraoleate  ~ surfactant and emulsifier that helps water, oil and dirt to mix more easily. .
simmondsia chinensis (jojoba) seed oil ~ has moisturizing and skin softening properties, is an emollient and also attracts and retains moisture.  Aids in increased flexibility and elasticity in your skin.
macadamia ternifolia seed oil ~  a natural seed oil that is lightweight and non-greasy, yet deeply nourishing. It is calming, healing and helps to maintain the skin's essential barrier function. 
cananga odorata (ylang ylang) flower oil ~ this lovely scented oil also has skincare benefits ~ it helps balance your skin's sebum production  
sorbitan sesquioleate ~ surfactant and emulsifier
All ingredients except  the ylang ylang oil is rated EWG 1 safe and is for all skin types.  This does not contain artificial dyes or fragrances.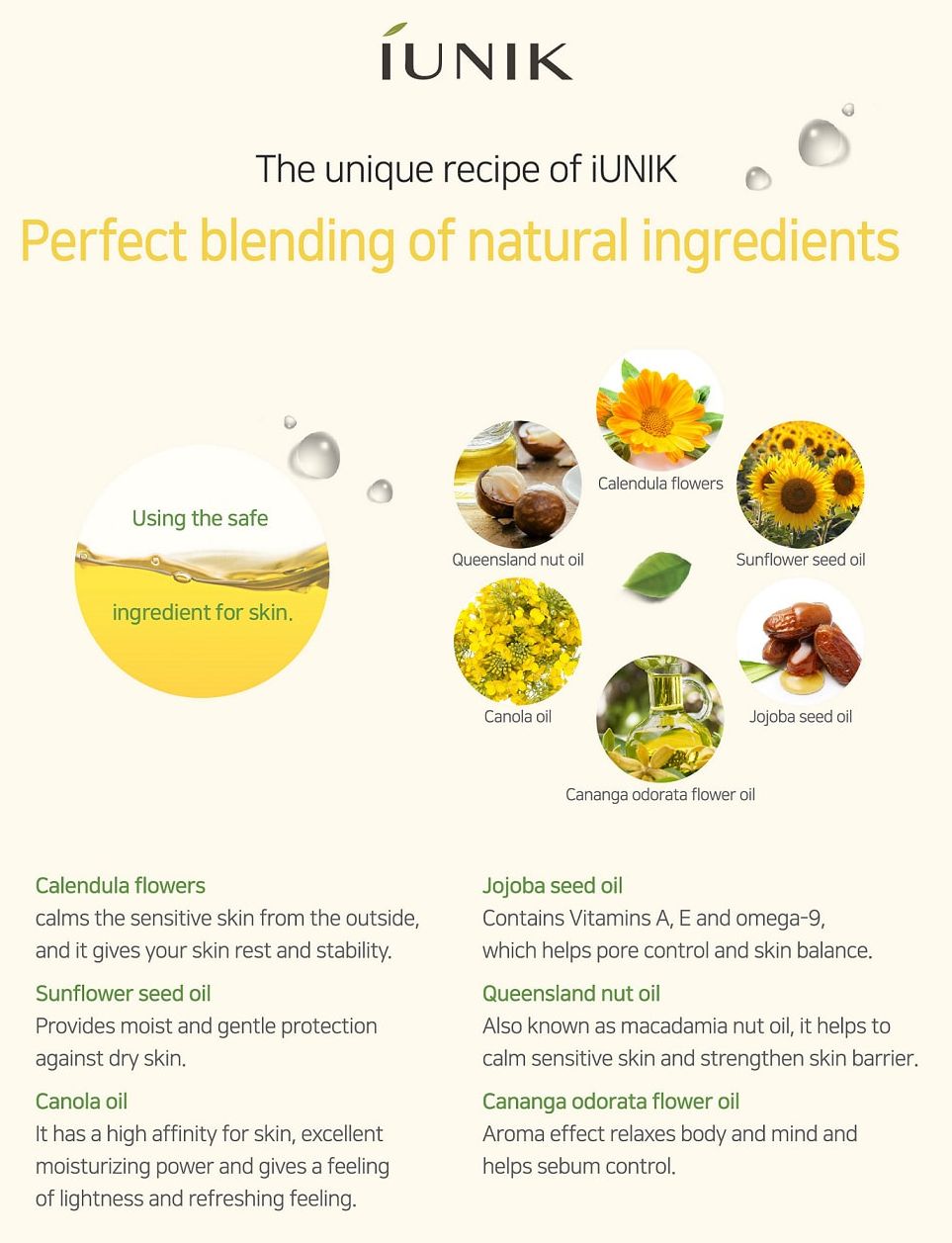 Ingredients: Helianthus Annuus (Sunflower) Seed Oil,  Canola Oil, Calendula Officinalis Flower Extract, Sorbeth-30 Tetraoleate, Simmondsia Chinensis (Jojoba) Seed Oil, Macadamia Ternifolia Seed Oil, Cananga Odorata Flower Oil, Sorbitan Sesquioleate cosDNA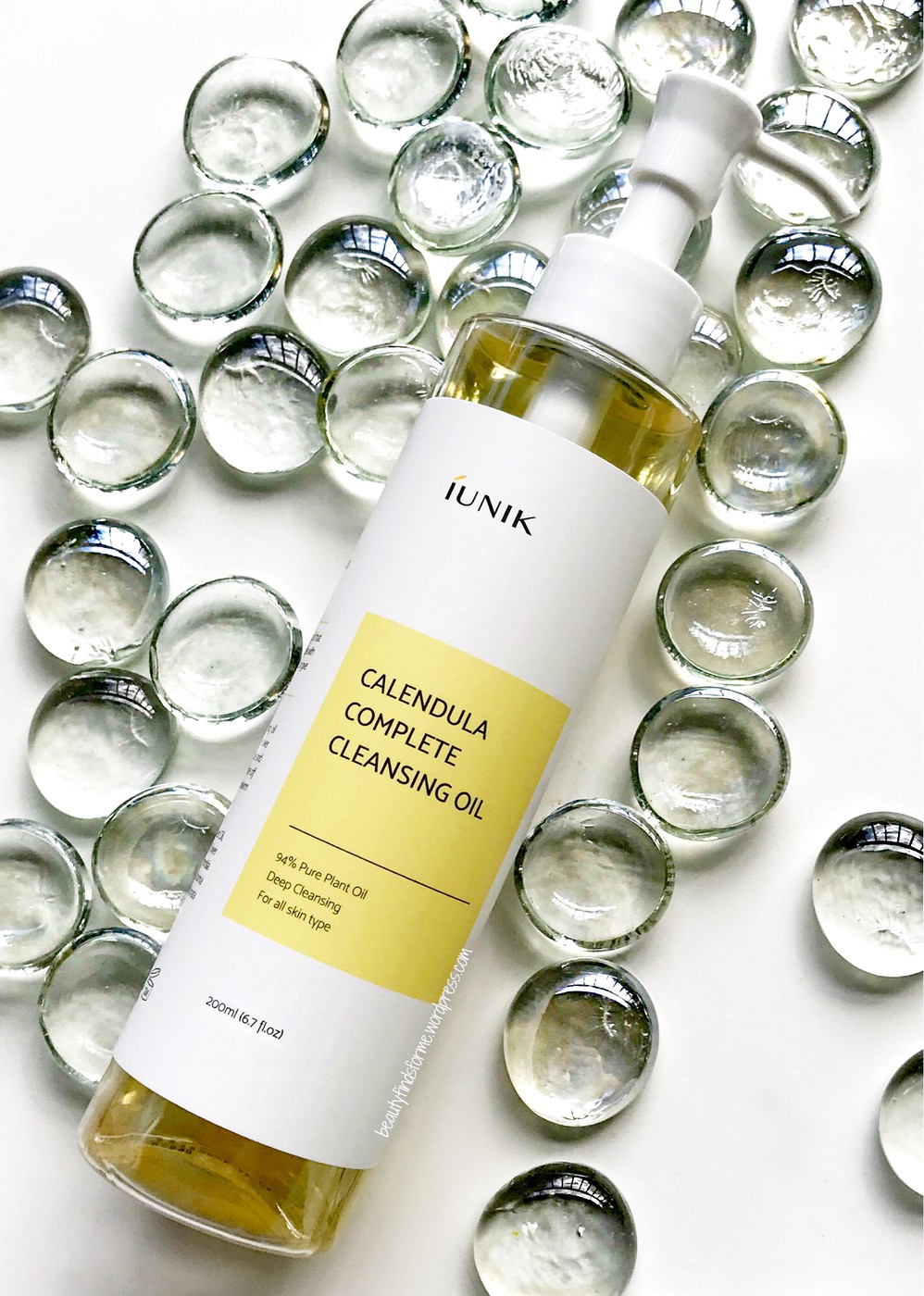 This comes in a nice tall plastic bottle with a great pump applicator ~ it doesn't squirt too forcefully or weakly ~ it is just right!  The hydrophilic plant cleansing oil has medium weight viscosity, as I have tried cleansing oils that have been even more lightweight than this. It has a good feel to it, very slippery and is a light yellow shade.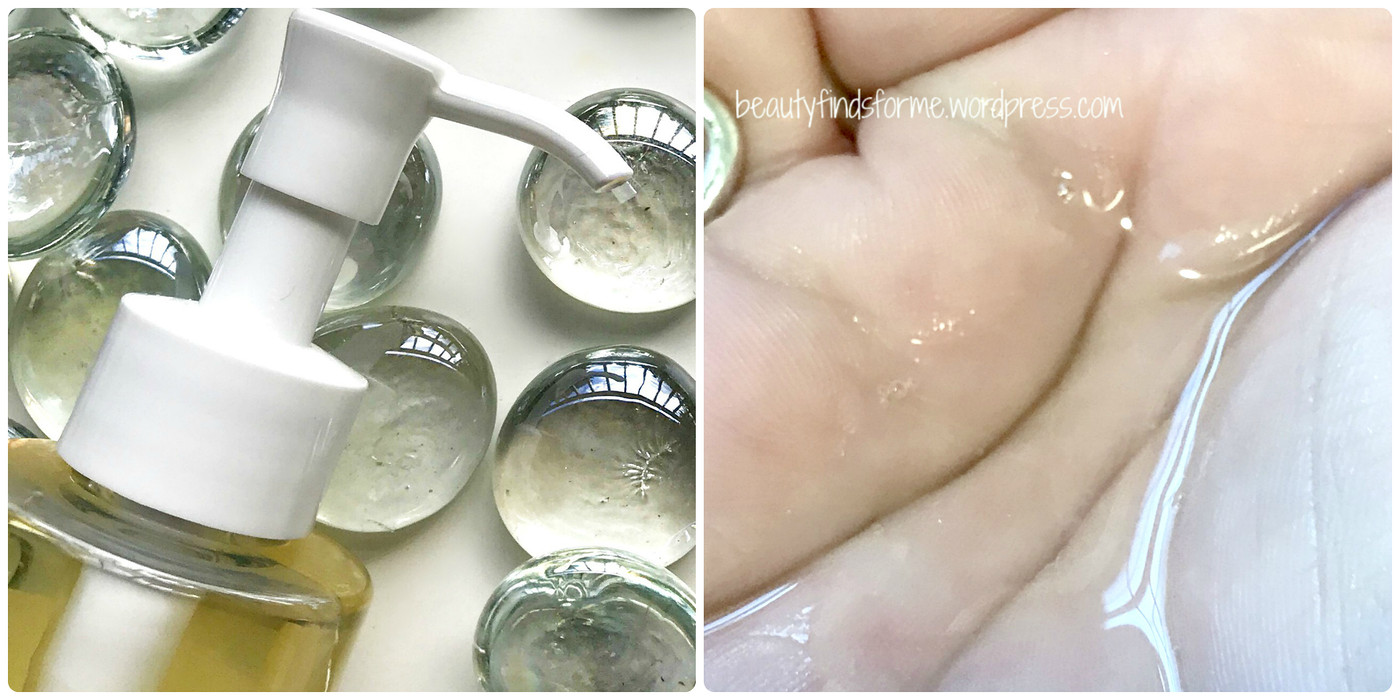 Alas, despite having ylang ylang in here and having claims that it smells like ylang ylang, I do not pick up that scent ~ just the natural oil scent.  This oil will help with removing sunscreen, BB creams, eye and lip point makeup, foundations with ease, while conditioning and moisturizing your skin.  When massaging this into your skin, pay extra attention to your nose and T-Zone area, if you have oily or blemish prone skin.   This oil will help dislodge dirt and excess sebum in your pores.  This emulsifies nicely with water and I only need a couple of pumps to remove my makeup.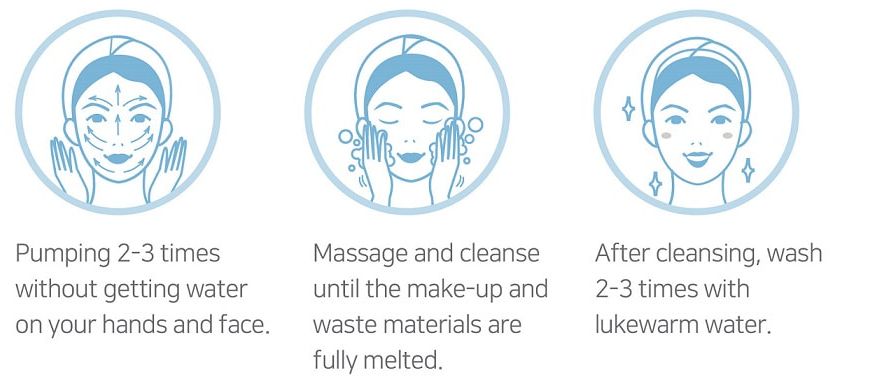 There is no drying or tight feeling on my skin and it rinsed off nicely.  Let's see how it did with the cleansing test.  Disclaimer on my tests ~ I really pile on stubborn, long lasting makeup and lots of it for my testing.  This is to show how well the cleanser will perform under the most extreme usage.  So, even if the test didn't remove everything but left a slight stain, I consider that a success ~ because in real life, I would never wear this much makeup on a daily basis.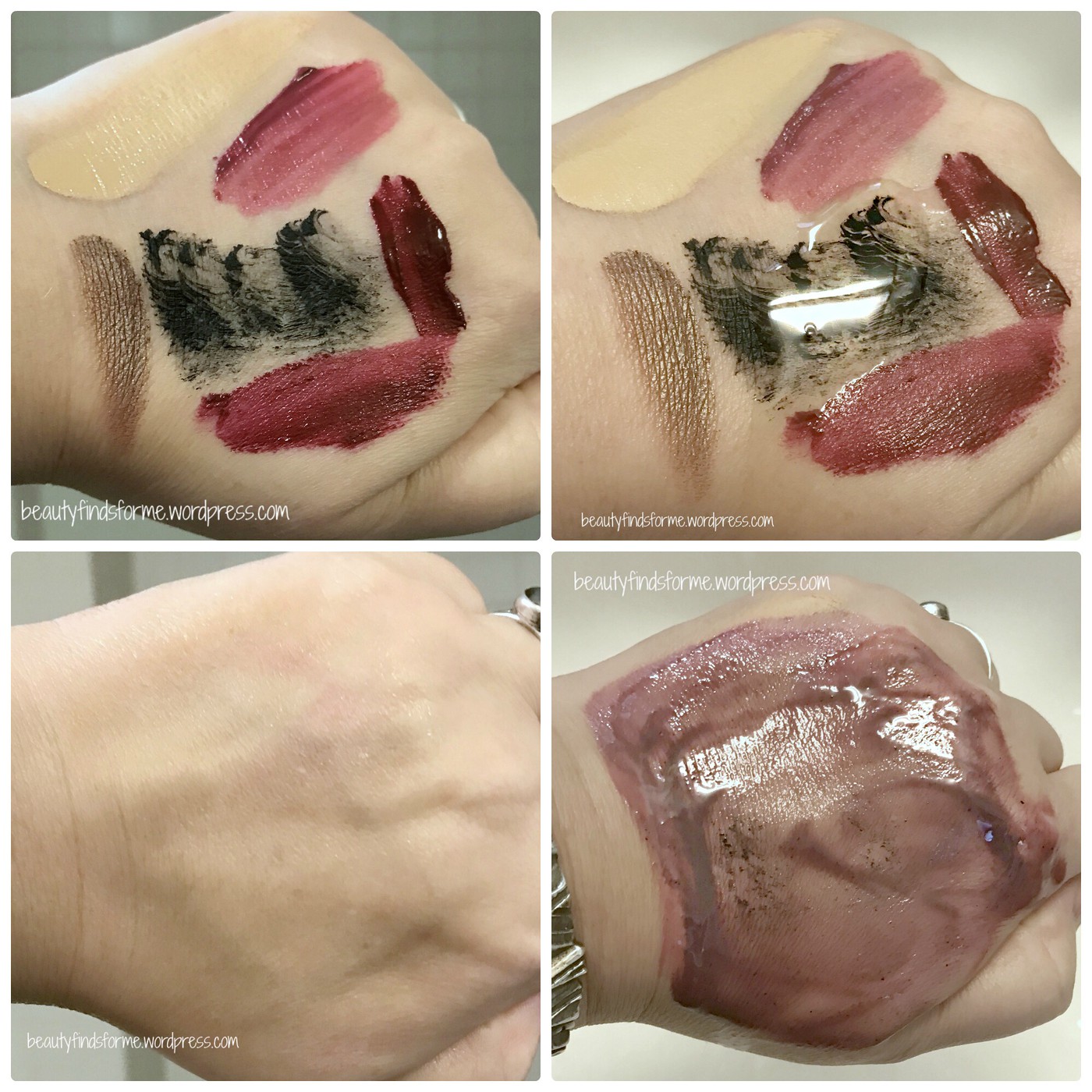 It did a great job removing makeup and my skin feels really nice and soft. The following photo is how the cleanser looks like when it is emulsifying and it is a milky liquid.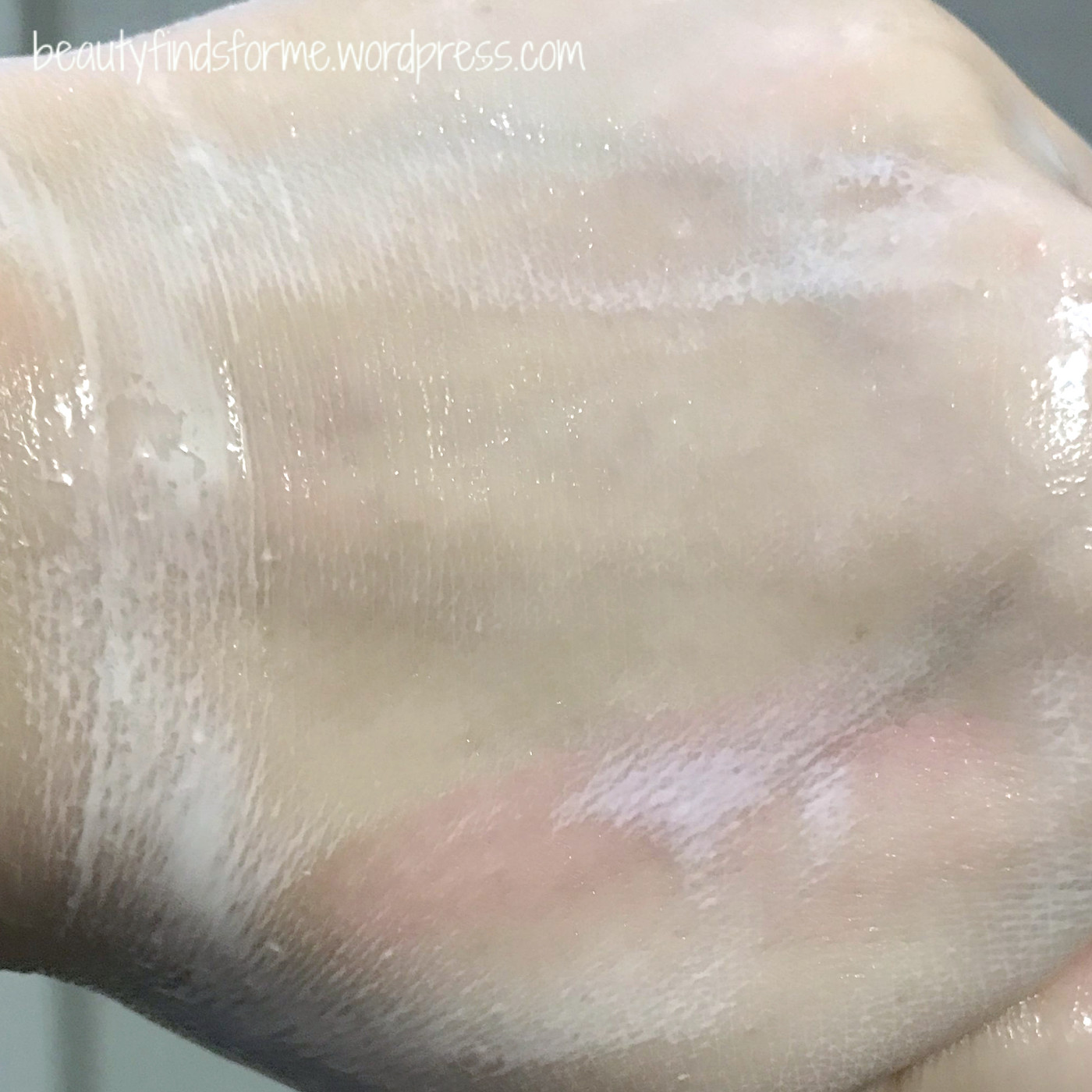 Centella Bubble Cleansing Foam This foaming cleanser is for all skin types, including sensitive and will help  bring oil/moisture balance back to your skin.  Instead of purified water, this contains 69% centella asiatica leaf water, a common herbal ingredient that is used medicinally to help speed up wound healing, such as blemishes and skin rashes. It also helps minimize the appearance of pores, and since it stimulates collagen production, it will make your skin more supple and firm.   This also has tea tree leaf water ~ well known for its topical antiseptic and anti-fungal properties and help target and treat blemish-prone skin. It also reduces oil and sebum production on your skin, while not disrupting the moisture level.  This has moisturizing and hydrating glycerin and trehalose, skin softening allantoin and antioxidants rice bran and rooibos.   
Chlorophyllin-copper complex when applied topically will help deodorize wounds, such as blemishes, rashes, and burns The surfactants in here are quite mild ~  coconut derived TEA-cocoyl glutamate, disodium cocoamphodiacetate and potassium cocoyl glycinate.   The ingredients are rated skin safe EWG 1-2
Ingredients: Centella Asiatica Leaf Water (69%),Water,TEA-Cocoyl Glutamate, Disodium Cocoamphodiacetate, Glycerin,Butylene Glycol,Potassium Cocoyl Glycinate,1,2-Hexanediol,Melaleuca Alternifolia (Tea Tree) Leaf Water,Polyglyceryl-4 Caprate, Trehalose, Caprylyl Glycol, Allantoin, Ormenis Multicaulis Oil, Portulaca Oleracea Extract, Oryza Sativa (Rice) Bran Extract, Ethylhexylglycerin, Citric Acid, Pentylene Glycol, Aspalathus Linearis (rooibos) Extract, Glycyrrhiza Glabra (Licorice) Root Extract, Chlorophyllin-Copper Complex cosDNA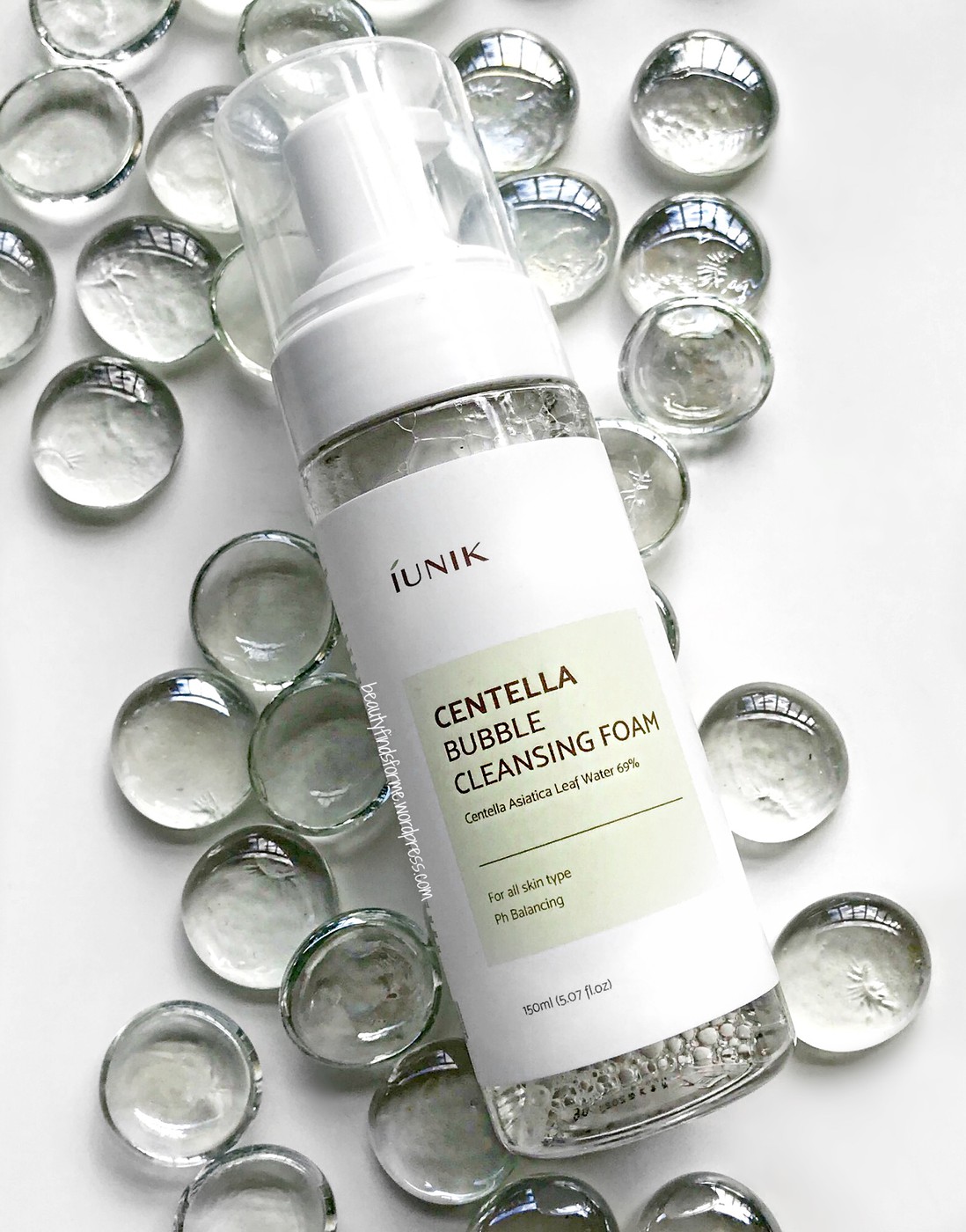 I really love the bottle this comes in ~ the clear liquid is in a clear bottle and the sturdy pump will dispense that liquid into a whipped light, soft cloud of foam ~ full of fine micro-bubbles.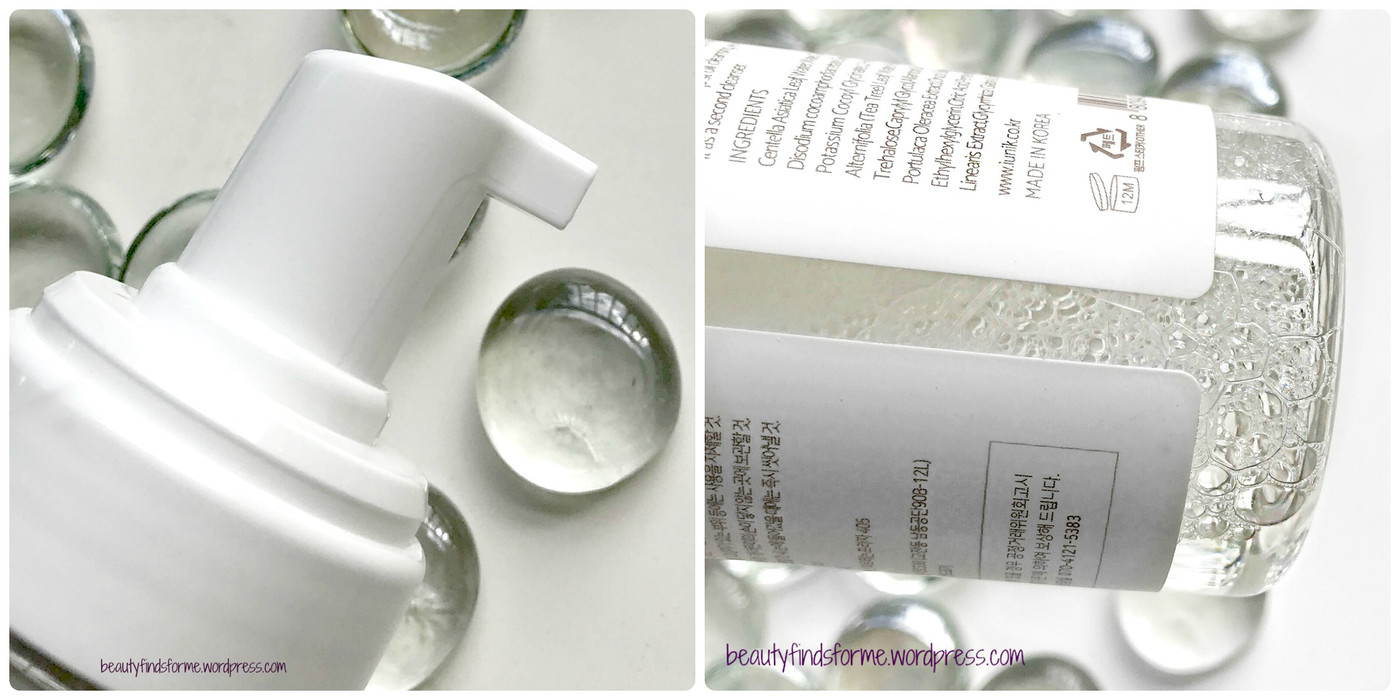 It has a lovely herbal scent as well, which is naturally from the chamomile (ormenis multicaulis) oil ~ I love this scent so much.  This is a mildly acidic cleanser, with a pH level of close to 6.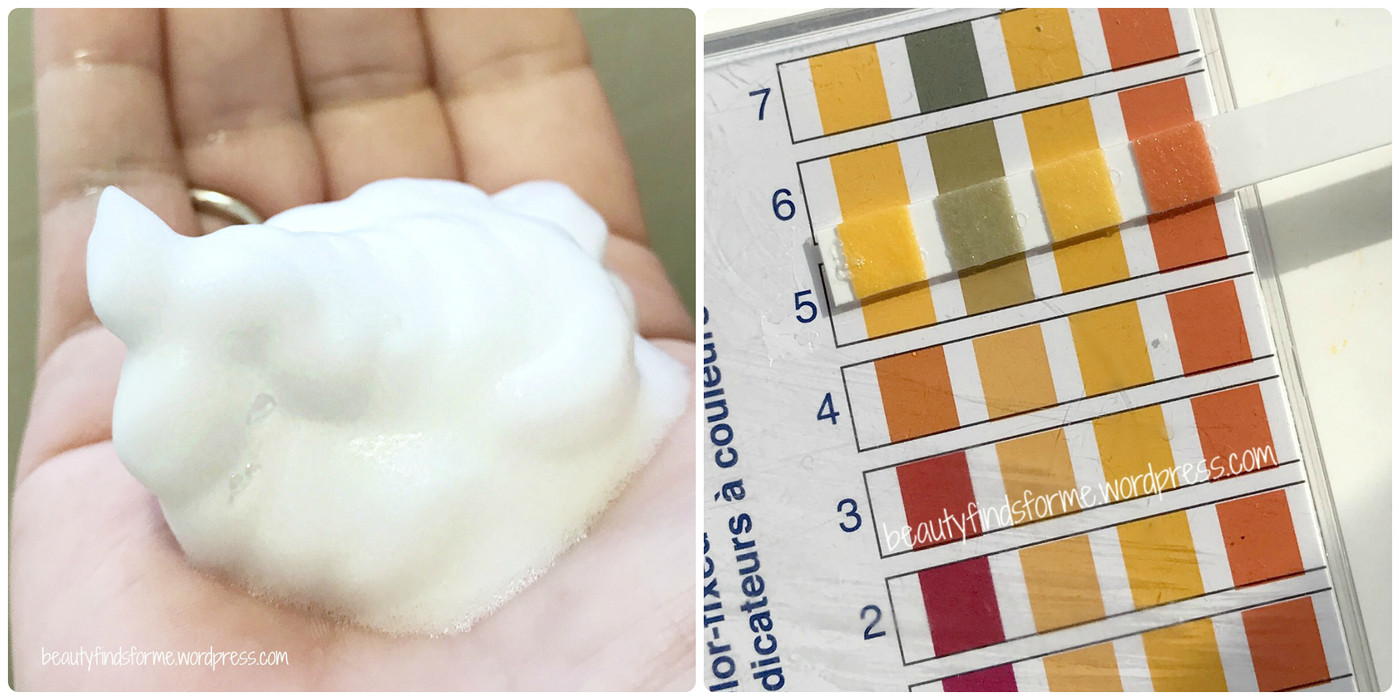 After using the Calundela Cleansing Oil, I pump a couple of times and then massage the foam over my face to fully remove any cleansing oil residue and dirt.  After I rinse it off, my skin feels soft and smooth, not dry or stripped at all and doesn't leave any residue behind.  It really does a lovely job cleansing and since it contains centella and tea tree, I know this is helping heal any blemishes and calming my skin.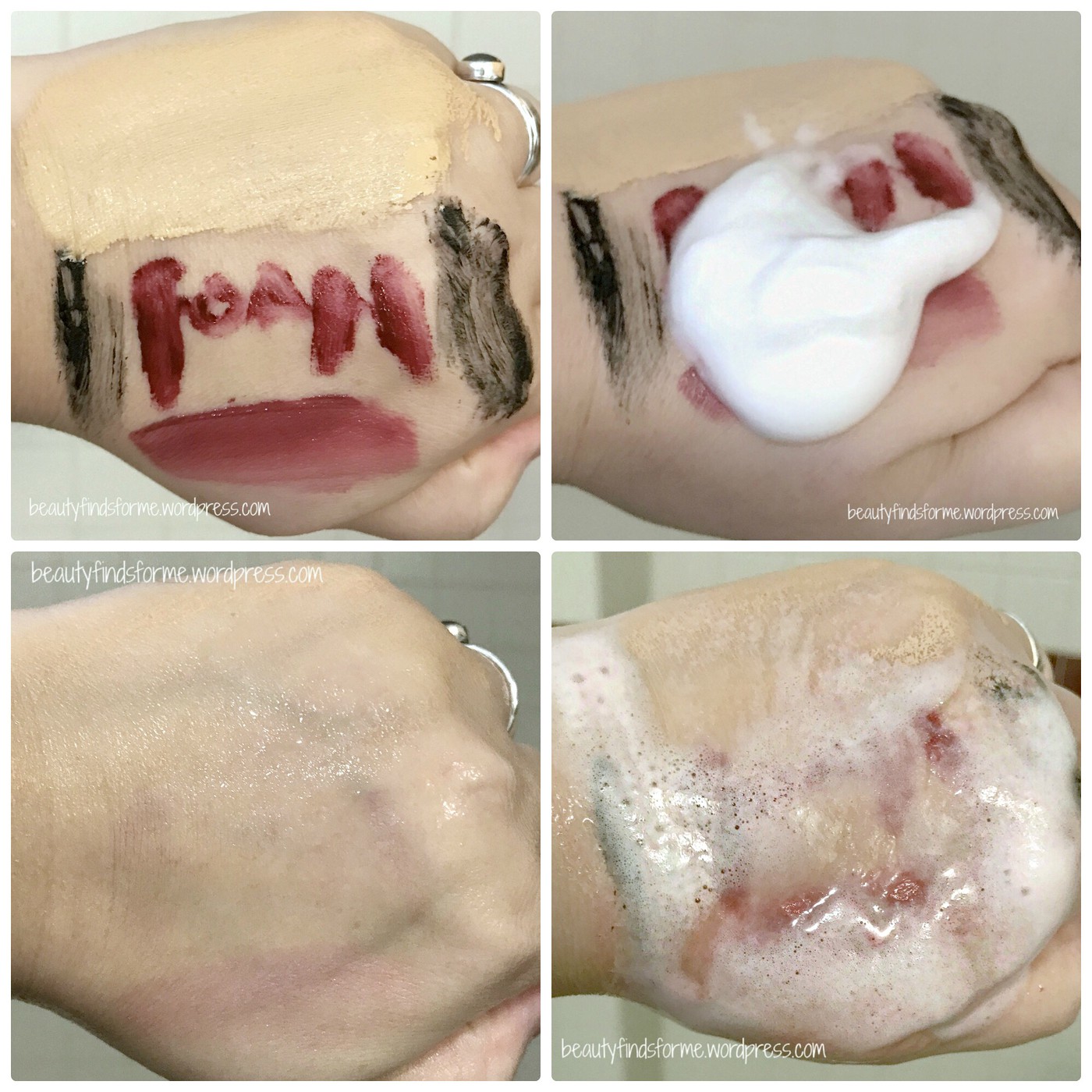 Final Thoughts
I am so happy that iUNIK is expanding their line of skincare to include cleansing products!  I will say this ~ iUNIK keeps up with the trends, as calendula and centella are two very popular and attractive ingredients in skincare right now, as well as the concept of double cleansing.  Double cleansing may be routine in Korea, but it is just starting to take off in the USA, so having these two products that work well together is a plus!  The cleansing oil is a solid product and I love the Centella Bubble Cleansing Foam ~ I will repurchase that in the future!  Have you tried iUNIK cleansing products yet?  Or any of the iUNIK products?
Where to Purchase 
You can purchase iUNIK from unique4 online shop  and they carry it in several bundles as well.  unique4 has free shipping and give samples with every purchase.
YesStyle   Global shipping
eBay  Prices vary, but you can find the cleansing oil for as low as $12.50  and the foam for as low as $15.00  (click here) 
[ disclosure: product received complementary for review purposes.  contains affiliate links ]