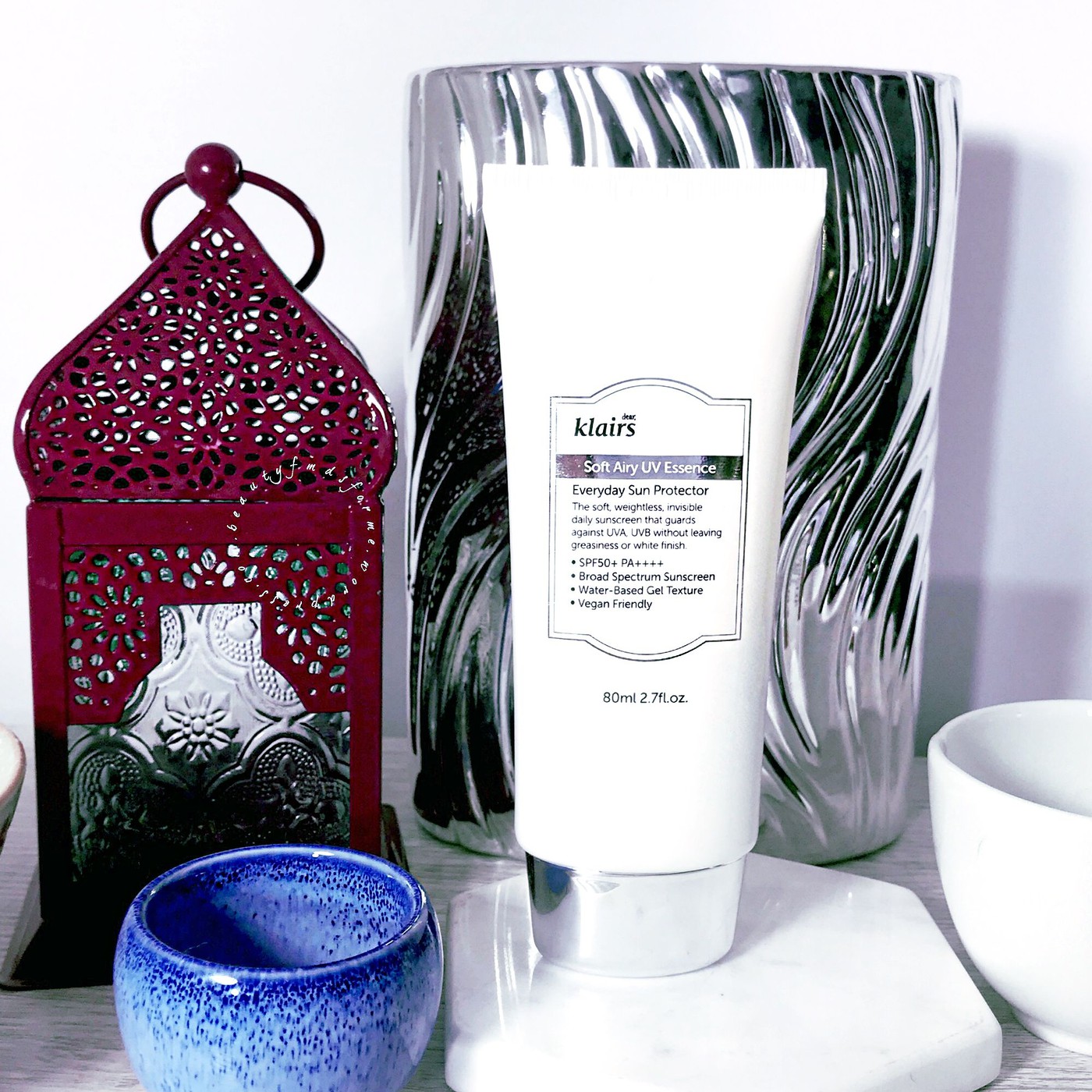 Klairs has been revamping some of their products recently to become vegan friendly as well as creating some new products.  They have been very busy and  Wishtrend sent me the latest product offering, which is a light essence type sunscreen! I have reviewed several Klairs products by now, and I have really enjoyed all of them ~ you can read my reviews here.  Klairs is an eco-friendly, vegan friendly brand from Korea that doesn't use colorants, alcohol, parabens or artificial fragrances. It is known as a high quality skincare brand that is safe for sensitive skin.
Skin type/concerns:  Oily, aging, blemish prone, pores, hyper-pigmentation, fine lines and wrinkles. 
I received these products complementary to review and was not paid.  All reviews are my own honest opinion and  I never have been asked to write copy for a brand.  This blog post might contain promo codes, affiliate and referral links, which using my links will help generate a small commission that helps support my blog at no extra cost to you.
Ingredients of Note
It is so important to wear sunscreen, no matter what age you are.  You might think the sun isn't damaging your skin if you are young, but give it another 10 to 15 years ~ that damage will appear on your face.   This is a physical full spectrum sunscreen, which provides protection from UVA and UVB radiation.   
There are two sunscreen ingredients in here:  Uvinul A Plus, also known as diethylamino hydroxybenzoyl hexyl benzoate, is used in sunscreen products and it is an oil soluble UVA ingredient.  Thanks to Vanity Rex (source), I learned more about the second sunscreen in here ~ organic compound ethylhexyl triazone (Uvinul T150) is a very stable, UVB filter and is water insoluble. 
This also has glycerin and sodium hyaluronate for hydration and silica which strengthens the cells in our skin, between the collagen and elastin fibers, plumps up our skin, reducing the appearance of fine lines and wrinkles, as well as slowing down the production of new wrinkles.  Panthenol helps cellular renewal and is an effective moisturizer, as it is natural humectant.   Beta glucan helps stimulate the production of collagen, speeds up wound healing, soothes and calms skin due to its anti-irritant and strong anti-inflammatory properties, moisturizes, locks in natural moisture, anti-aging and anti-wrinkle due to its anti-oxidant properties and also helps repair your moisture barrier.
Allantoin is known for healing, soothing and softening skin and it also helps remove cracked and chapped skin, leaving behind healthy looking skin.  Antioxidant vitamin E helps combat free radicals, which damage cells ~ it helps minimize new damage.   Niacinamide is another powerful antioxidant that acts as an anti-inflammatory, improves your skin elasticity, enhance the skin barrier function and also it helps to even out and brighten skin tone and reduce post-inflammatory hyper-pigmentation.
This does have a couple of oils in it ~ chamomile and orange oils ~ in case you are are sensitive to oils but they do have good properties ~ chamomile oil is an anti-inflammatory, antiseptic, antibiotic and is used in many skin care products.  Citrus aurantium dulcis is an astringent and anti-bacterial oil.  Based on what I have read, it looks like sweet orange is not phototoxic (source). The ingredients are EWG Level 1 Green rated, with no additives and is vegan.
Ingredients: Water, Dicaprylyl Carbonate, Butylene Glycol, Dibutyl Adipate, Diethylamino Hydroxybenzoyl Hexyl Benzoate, Hydrogenated Polyisobutene, 1,2-Hexanediol, Glycerin, Niacinamide, Ethylhexyl Triazone, Polyglyceryl-3 Methylglucose Distearate, Silica, Cetearyl Olivate, Cetearyl Alcohol, Sorbitan Olivate, Glyceryl Stearate SE, Methyl Glucose Sesquistearate, Sorbitan Stearate, Panthenol, Beta-Glucan, Disodium EDTA, Citrus Junos Fruit Extract, Adenosine, Sodium Hyaluornate, Anthemis Nobilis Flower Oil, Caprylyl Glycol, Ethylhexylglycerin, Tocopherol, Allantoin, Citrus Aurantium Dulcis (Orange) Oil  cosDNA
Just a quick recap on SPF (sun protection factor) , UVB and UVA.  SPF ranks based on protection from UVB :: ultraviolet B (shortwave) rays.   The PA rating is the amount of protection the sunscreen offers from UVA :: ultraviolet A (long-wave) rays.  PA ranks with + signs and the higher the + signs, the more protection you will get from UVA rays.  Klairs Soft Airy UV Essence has a SPF of 50, with PA++++
UVB is what causes sunburns and reddened skin and has direct links to cancer.  UVA is what causes us to tan, and age ~ wrinkles and deep lines are caused by UVA exposure.  A really fantastic article about ultraviolet rays and how they affect our skin can be found here at the Skin Cancer website  and I highly recommend reading it.   One thing I have learned is that a broad spectrum sunscreen is the proper choice as it will help deflect the UV rays and not allow them to penetrate into your skin layers.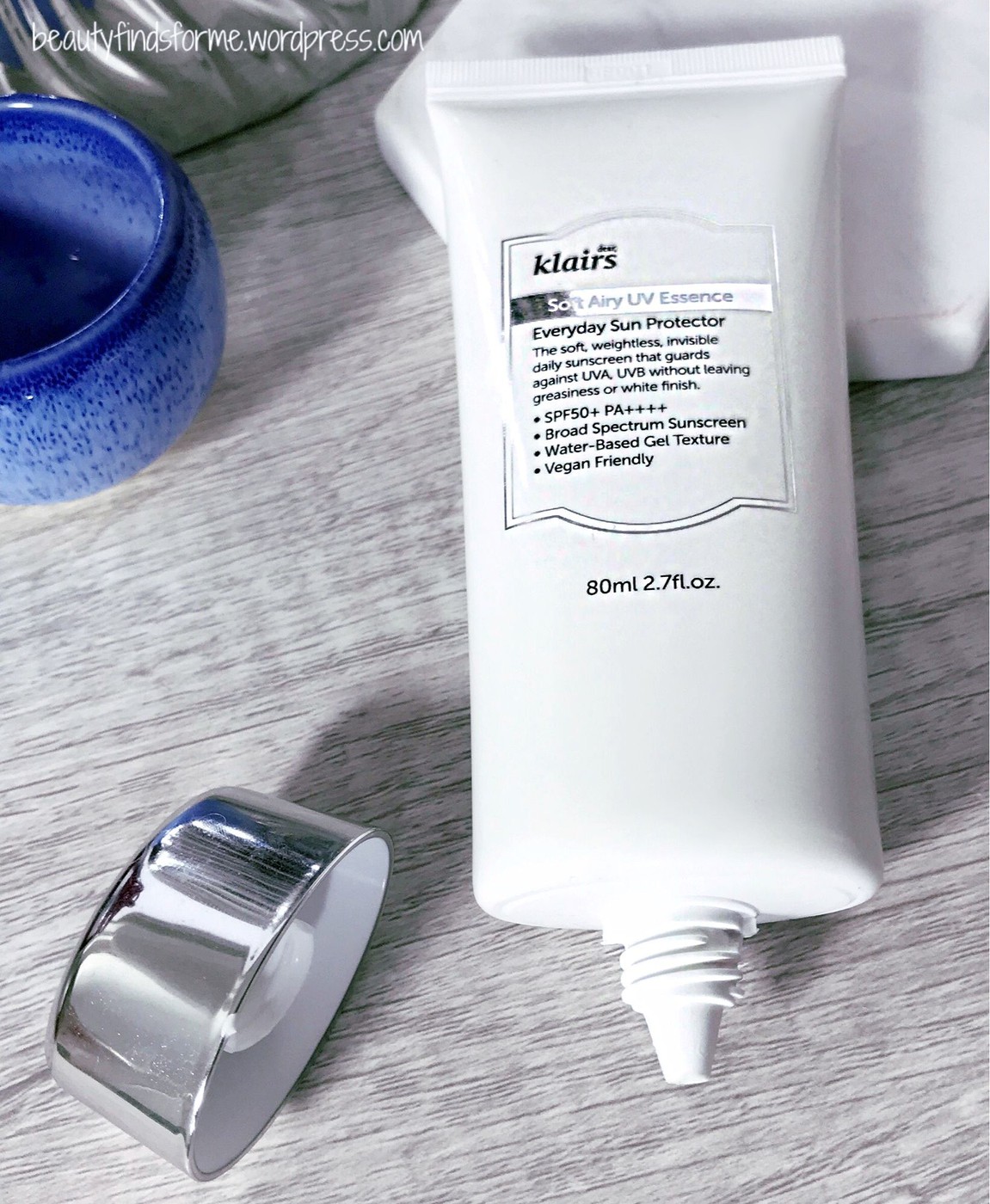 Klairs Soft Airy UV Essence comes in a white flat tube made of soft vinyl with black and silver lettering.  It has a silver twist off cap ~ I prefer a flip cap personally as it more easy to apply with just one hand.  This has a pointed applicator and since the tube is so soft, it is easy to squeeze out the sunscreen.  The sunscreen essence is very white out of the tube but there is no titanium dioxide or zinc oxide in here, so there isn't a white cast at all. It looks like a thick gel cream ~ but appearances are deceiving, as once I start massaging it into my skin, it melts away into a lightweight, silky smooth lotion, quickly absorbed by my skin. My skin feels really soft, supple and hydrated and there is no greasy or tacky residue.  This what I would consider a semi matte, sheer finish and it is cooling on the skin.  There is no detectable scent that I can smell.


Since this felt so hydrating and not drying on my skin, I did do a moisture/oil test.  This increased my moisture by 75% and decreased the oils by 24%.  Ten minutes later, I did another reading and moisture levels were still higher than before reading ~ increased by 50% and the oils were lower than the before reading and went lower than the first after reading ~ it now registered at  36% lower.  I found that this sunscreen did not clog my pores nor cause any skin sensitivities or blemishes. If you wear makeup, like I do, I did not find this sunscreen to pill under foundations, BB creams, primers and any other makeup products. 
This essence sunscreen is pretty much oil free, except for a small trace amount that is used for hydrating and skin brightening. This water based formula should be applied at least 15 minutes before you go outside and it should be the last step in your skincare routine.  Fiddy Snails at Fifty Shades of Snails has a great tip for applying sunscreen ~ use a cushion puff!  For my initial application, I just use my hands, but after I apply my makeup, I use a cushion puff to reapply my sunscreen ~ as that way I can gently tap the sunscreen on my face without disturbing my makeup.  The texture of Klairs Soft Airy UV Essence is perfect for the cushion method, as it is a gel cream from the tube that becomes a lightweight invisible product as I pat it into my skin.
Final Thoughts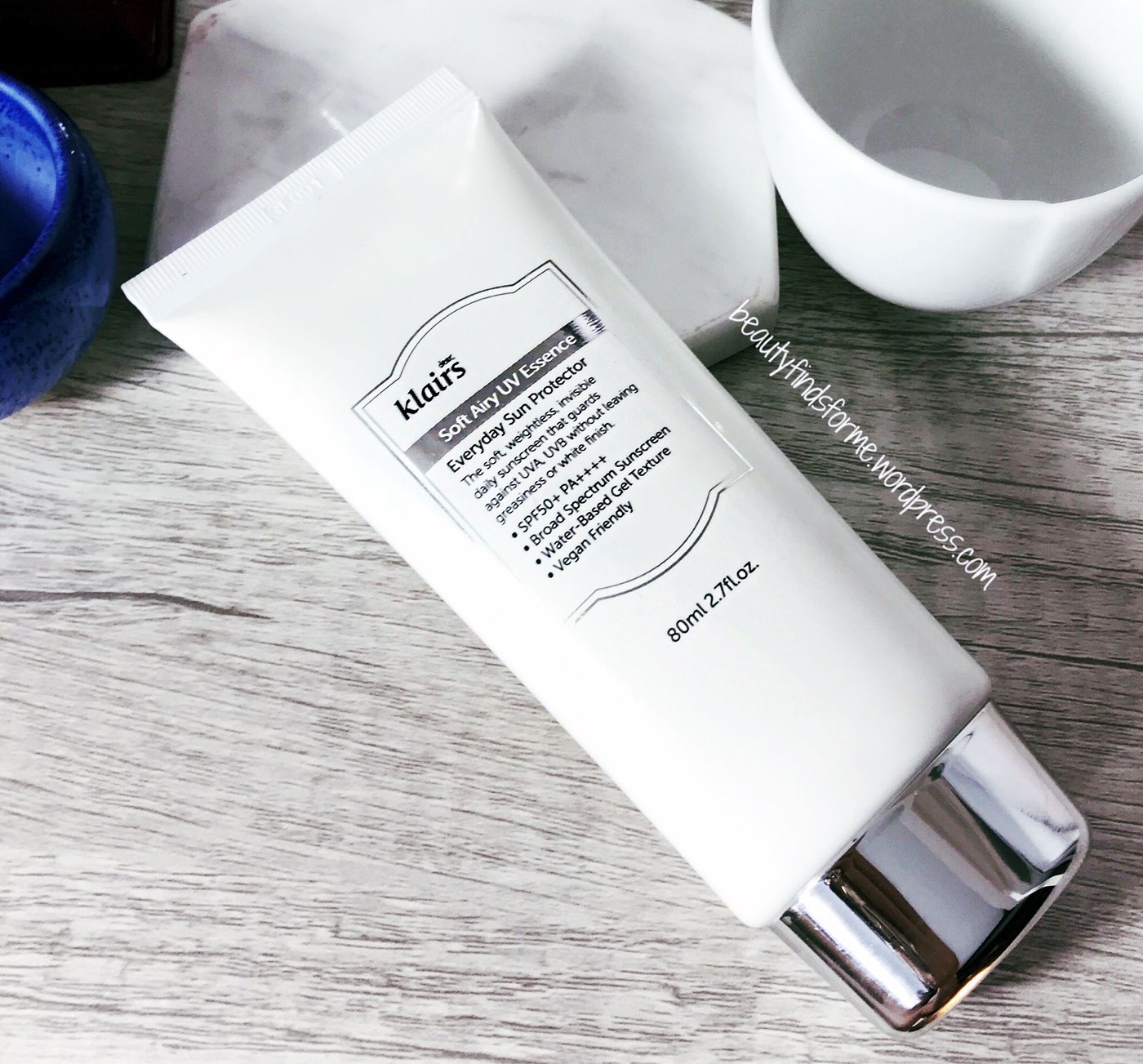 For those looking for a water based formula that is hydrating, very lightweight, chemical only and has a sheer semi-matte finish without a white cast, you would be very interested in Klairs Soft Airy UV Essence.  It comes in a bigger tube than most sunscreens at 80 mL and is easy to apply.  I don't think it is water proof and sweat proof, but it is good enough for normal daily wear. Oily and combo/oily skinned people will really enjoy this one a lot and yes, even though Winter is Coming™, you need to wear sunscreen all year round ~ winter is even more dangerous as the snow will reflect the light from the sky, even if overcast, and it will bounce back onto your skin.  Stay Sun-Protected by using sunscreen!  Have you tried Klairs Soft Airy UV Essence yet?  What is your go-to sunscreen ?
Where to Purchase 
Currently, Klairs Soft Airy UV Essence SPF 50 PA ++++ is on sale for $20.70 (click here)  and you can use affiliate code unboxingwishtrend for an additional 5% off all items at Wishtrend.  Check out all of the deals during Wishtrend's Vegan Friendly Skin Care Event ~ good thru October 11, 2018 here and any coupons there are stackable with unboxingwishtrend.  If this is your first time shopping with Wishtrend, you can save $5.00 off your purchase by using my friends referral number ~ 092847308  ~ and you will receive the coupon. Register first and enter the my code in the form labeled "friends invitation program" and wait for the coupon before you place your order.  Also, remember to save your welcome and any order emails from Wishtrend.  They usually have discount and free shipping codes just for your use in them, so you can save even more money on your next order!
You automatically receive Free Shipping with purchases $69.00 USD and over
Don't forget to check out Wishtrend's Free Shipping Product Selection

Wishtrend ships globally
[ product received in exchange for a review. contains affiliate links for a small commission ]