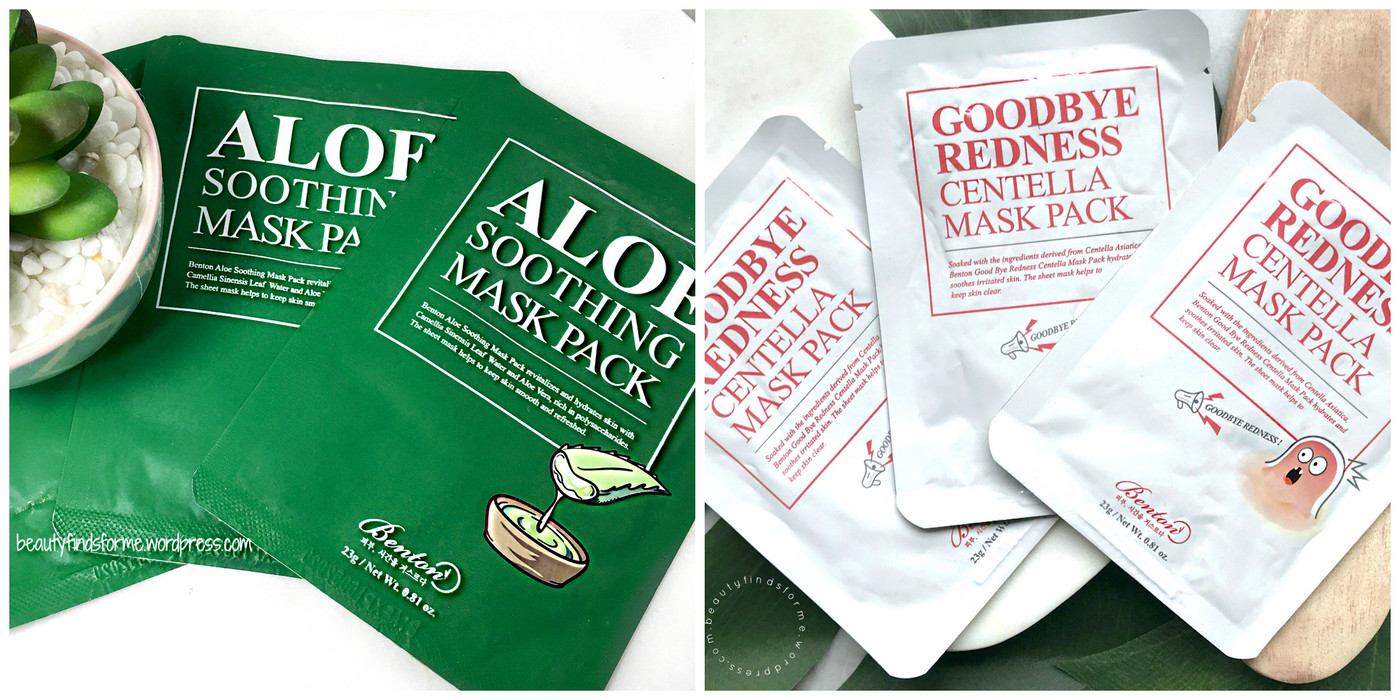 Benton is one of my all time favorite brands, of which I have tried and reviewed many of their products.  For years, the only sheet mask they had was their infamous Snail Bee High Content Mask Pack, which I love.  Benton released TWO sheet masks this year and I am thrilled to have had a chance to review these from Benton.

Skin Type/Concerns: Oily, blemish prone, pores, aging concerns with fine lines/wrinkles and hyper-pigmentation
I received these products complementary to review and was not paid.  All reviews are my own honest opinion and  I never have been asked to write copy for a brand.  This blog post might contain promo codes, affiliate and referral links, which using my links will help generate a small commission that helps support my blog at no extra cost to you.
Just Fun Info:  Ever wonder how Benton came up with their name?  Well, according to their webside, it came from a movie
The name and definition of Benton took its motives from the movie 'The Curious Case of Benjamin Button' (also known as 'Benjamin Button goes backwards in time' in Korea) which had a warm touch on many people's heart. In the movie, Benjamin is born as an old man and he becomes younger and younger as time goes by and ultimately dies as a new born baby. Benjamin happens to deeply fall in love with a woman named Daisy. However, as time goes by and as Benjamin becomes younger he has no choice but to leave Daisy. What if Daisy could have also turned back time on her physical appearance, wouldn't she be happier? It may just be a fictional movie, but wouldn't most people have the same desire to be young again? Benton's desire is to turn back the time of your skin. Unlike the instant temporary effect created by the chemical ingredients, we hoped to improve skin care by using the natural ingredients in our products which will help regain your skin to its original healthy condition.  (source bentoncosmetics.com)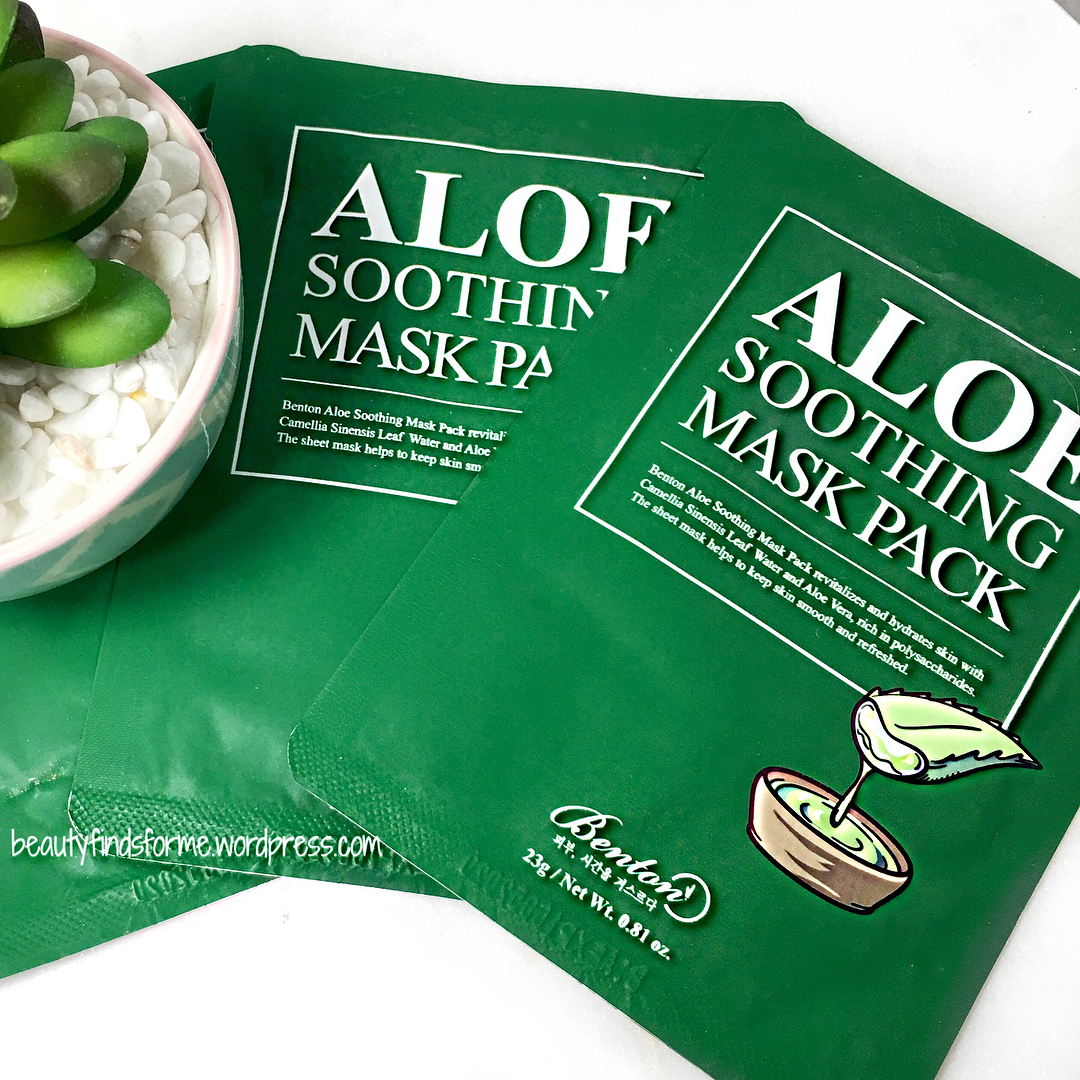 Benton Aloe Soothing Mask Pack I am a huge fan of Benton's Aloe line, Aloe Propolis Soothing Gel and Aloe BHA Skin Toner ~ the latter is HG status for me. When Benton released their 2nd mask (yep, they only had one sheet mask prior to this) and it was an aloe sheet mask, I signed up to be a tester. I love their High Content Snail Bee Mask, as it is great for helping soothe and calm my skin when I have blemishes. This mask is made with 49% aloe vera leaf water and 1000 ppm of aloe leaf extract ~ aloe is a powerful moisturizer and will soothe, treat inflammation, speed up skin healing and full of antioxidants ~ beta-carotene, Vitamin C and Vitamin E, which help improve your skin's firmness and keeps your skin moist and hydrated. This also has green tea, another powerful anti-oxidant ingredient, due to its high concentration of polyphenols. This has a trio of hydrating humectants sodium hyaluronate, glycerin and NMF sodium PCA that will attract moisture continuously and bind it to your skin. More good stuff ~ beta glucan, cucumber, betaine and licorice ~ soothing, hydrating and moisturizing ingredients. This sheet mask is free from alcohol and fragrance.
This mask pack is to help soothe, hydrate and bring your skin's oil/moisture levels back into balance, while relieving any itchy, hot skin. I am suffering thru a heat wave in my neck of the woods, so my skin is ALWAYS hot. I have seriously been sticking my head in the freezer, it is that hot. Before using these, I put them in the frig, as that will really help with cooling my skin down and Benton does recommend this.  
image from bentoncosmetics.com
First thing I noticed ~ this is one juicy mask!! Unlike the High Content Snail Bee Mask, this is not on the drier side, but dripping wet with a scentless watery essence. So much essence that it did make unfolding the mask a bit difficult, but since this mask is not thin, I didn't tear it. The sheet mask is made from tencel and it is a medium weight, but because there is so much essence, it isn't scratchy or feel harsh on my skin. In fact, it feels a bit plush as it is so wet.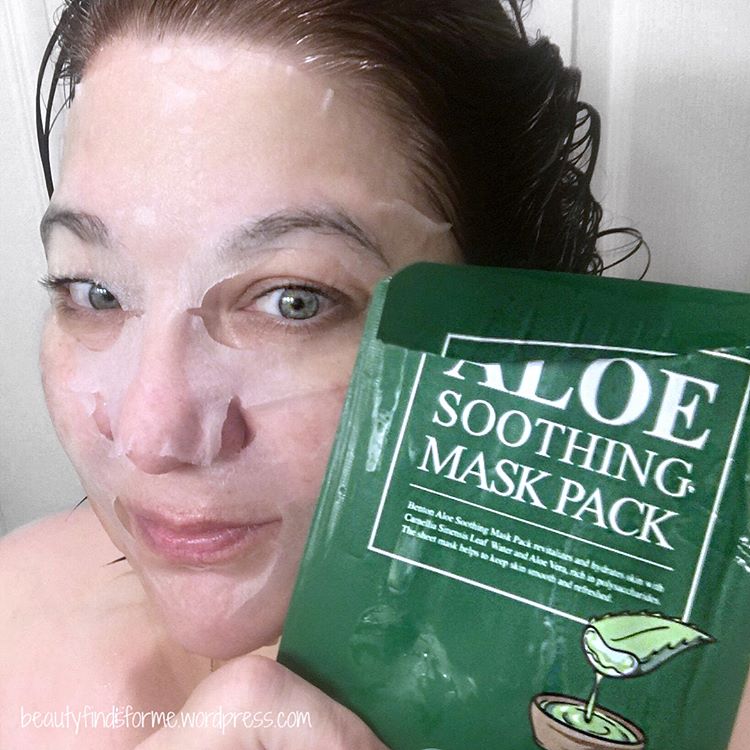 The fit is great and there is a lot of essence left over in the packet, so I just patted that over the sheet mask. I was able to leave this on for about 40 minutes as it was so wet and after removing, I will say my skin did feel very refreshed, hydrated (so moist!) but with no greasy or oily residue. It dries down fairly quickly ~ but if it is humid out (and Boston is like a hot wet sock right now), it does take a little longer to absorb. This is a really nice hydrating mask and I love the aloe in it as my skin does get red and hot during the summertime ~ no matter how much sunscreen I put on my face, I sweat it off, so my skin is bound to get a bit of sun. This really helps cool and calm my skin down and I will say this is a must have mask for the summertime! Have you tried this mask yet? What did you think of it?
Ingredients: Aloe Barbadensis Leaf Water (48%), Water, Camellia Sinensis Leaf Water, Glycerin, Pentylene Glycol, Sodium PCA, Aloe Barbadensis Leaf Extract(1000ppm), Sodium Hyaluronate, Beta-Glucan, Cucumis Sativus (Cucumber) Fruit Extract, Butylene Glycol, Xanthan Gum, Microcrystalline Cellulose, Sodium Gluconate, Betaine, 1,2-Hexanediol, Propanediol, Dipotassium Glycyrrhizate, Cellulose Gum  cosDNA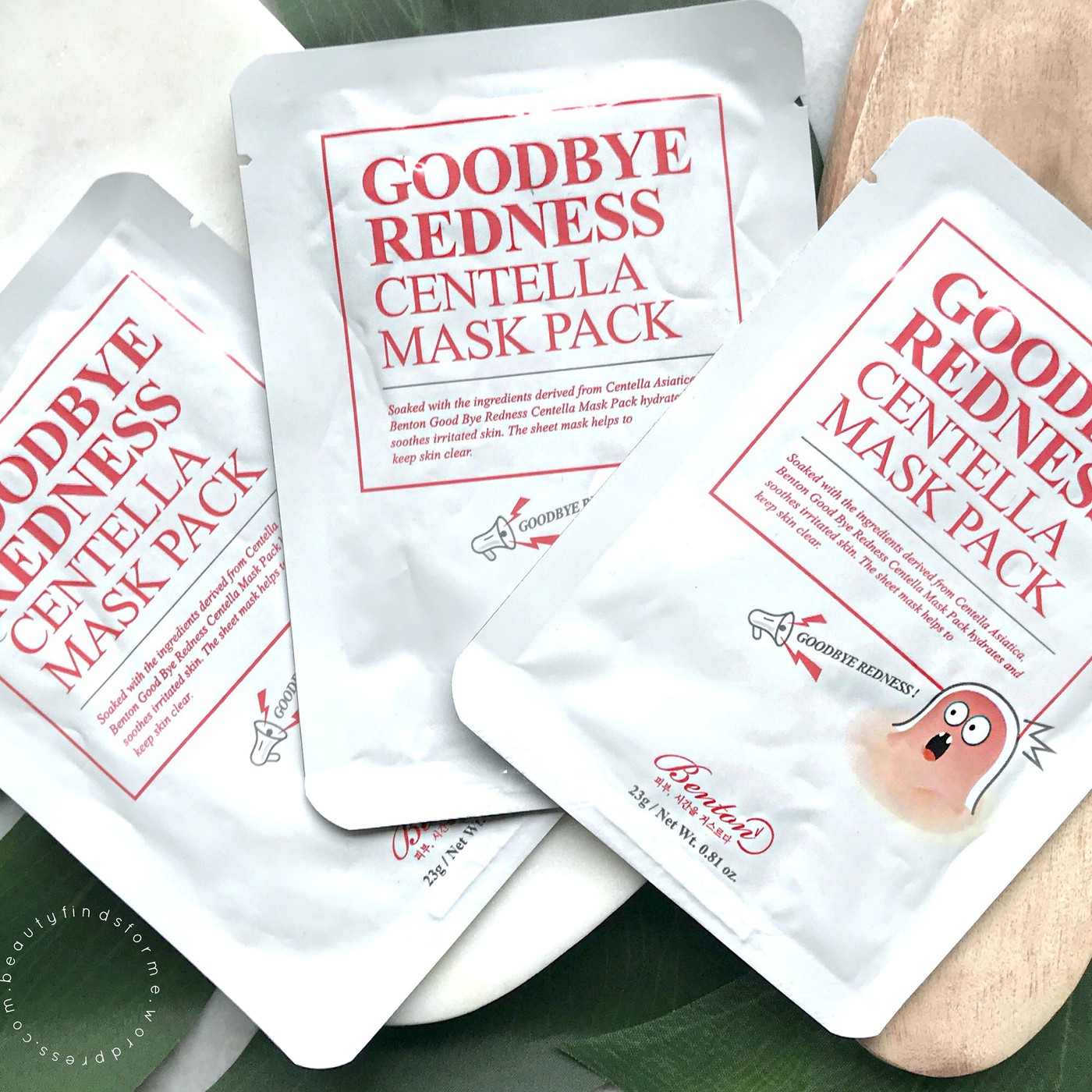 Benton Goodbye Redness Centella Mask Pack  Another mask pack!  This latest one focuses on irritated and red skin ~ whether it is from blemishes or other skin issues.  This a skin soothing and protecting sheet mask, made with 45% centella leaf water, 1000 ppm of centella extract and the four derivatives of centella: asiatic acid, aadecassic acid, asiaticoside, madecassoside. Centella is good for all skin types who suffer from blemishes, irritation, redness, or compromised skin. This also has glycerin and sodium hyaluronate, so it will help hydrate and bring a moisture/oil balance back to your skin, without any greasy or oily residue.
image from bentoncosmetics.com
The ingredients are non irritating and Benton had this mask run through a Skin Irritation Patch Test with KCI Skin Clinical Trial Research Center , and the results were an irritation value of 0.00. None of the ingredients are harmful, so sensitive skin types can use it and it is free from volatile alcohol and artificial fragrance. The mask sheet is made with a cellulose based eco-friendly S-Cell material, and it is soaked with essence. I mean, this was DRIPPING with essence. I guess Benton learned that people didn't like the drier Snail Bee Mask Pack and went the opposite route with very wet masks!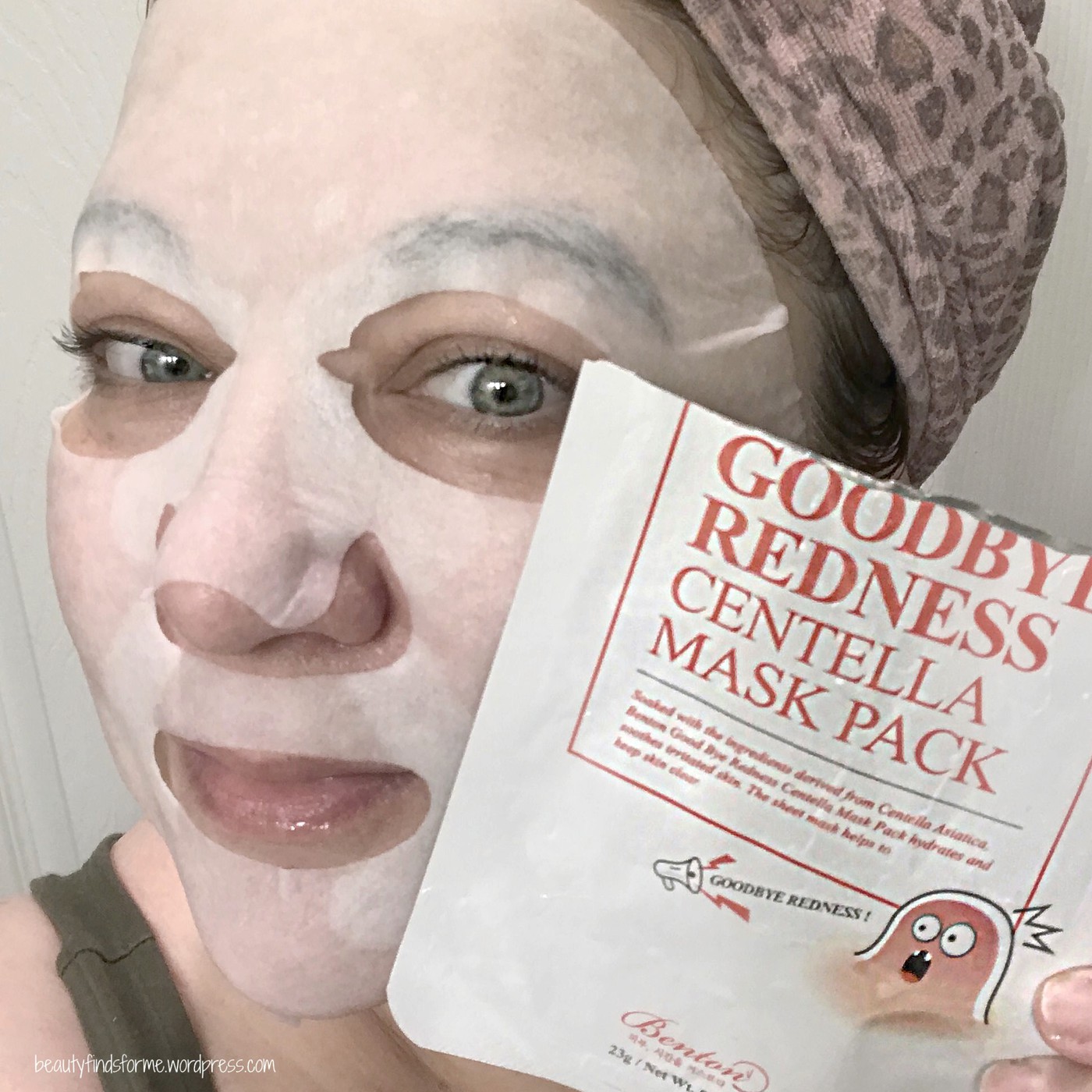 The mask was a really good fit on my face ~ the eye holes were a tad bigger than I liked, but other than that, the mask fit well and adhered well. It was a fairly soft material, thicker than the Aloe Mask material and the essence was scentless. I left it on for 20 minutes and removed ~ my skin  felt really refreshed, cool to touch and hydrated ~ I could see that my fine lines were plumped up and my pores looked less visible.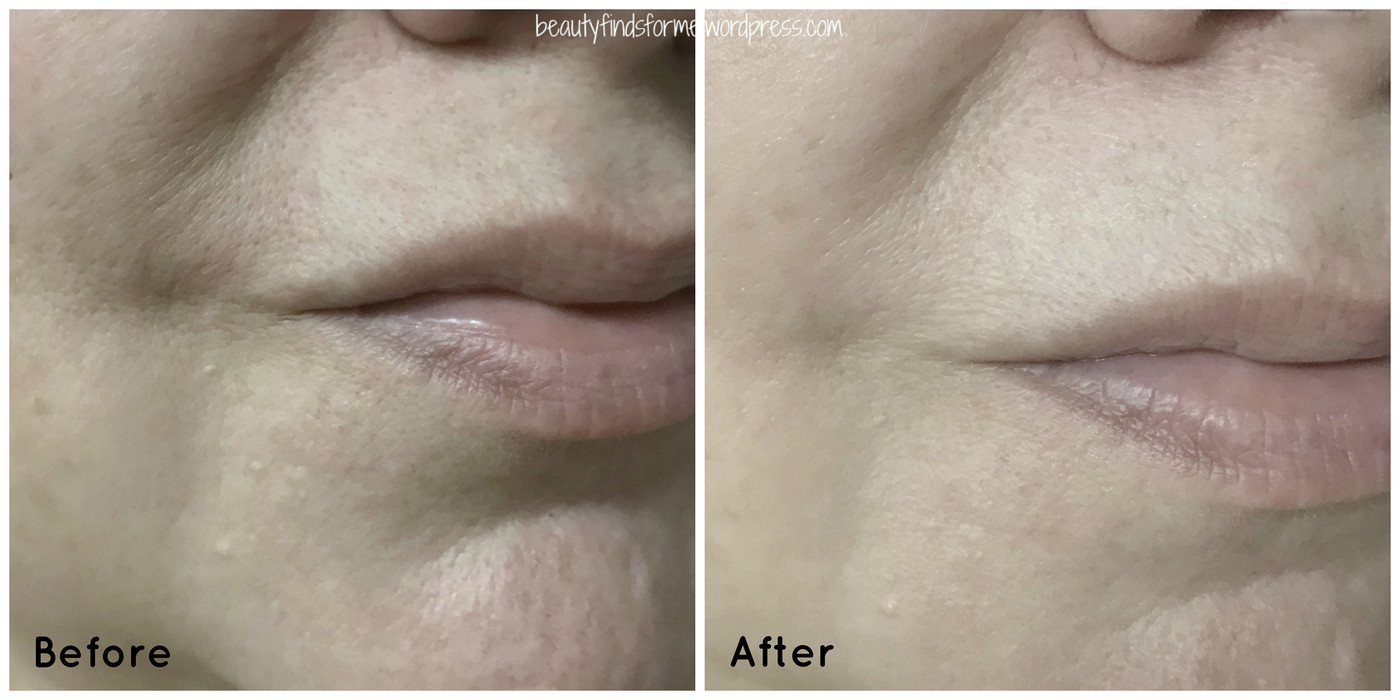 My skin looked more even in skin tone and less red ~ as I age, I can see my skin tone is getting more ruddy looking, so I am happy to have  a product that helps reduce that, even if temporarily. The dry down was very quick and my skin didn't feel sticky or tacky. This is a very excellent mask and I really enjoyed it!  Benton Tips: Store in frig for a cooling experience; Use a steamed towel or warm water before applying mask to help "open" up pores.  Have you tried Benton's new mask packs? What did you think of them? 
Ingredients: Centella Asiatica Leaf Water (45%), Water, Glycerin, Pentylene Glycol, Butylene Glycol, Microcrystalline Cellulose, Centella Asiatica Extract (1000ppm), Sodium Gluconate, Sodium Hyaluronate, Propanediol, Dipotassium Glycyrrhizate, Asiatic Acid, Madecassic Acid, Asiaticoside, Madecassoside, Portulaca Oleracea Extract, Xanthan Gum, Cellulose Gum, Caprylic/Capric Triglyceride, Hydrogenated Phosphatidylcholine, 1,2-Hexanediol, Cetearyl Alcohol, Sucrose Stearate cosDNA
Where to Purchase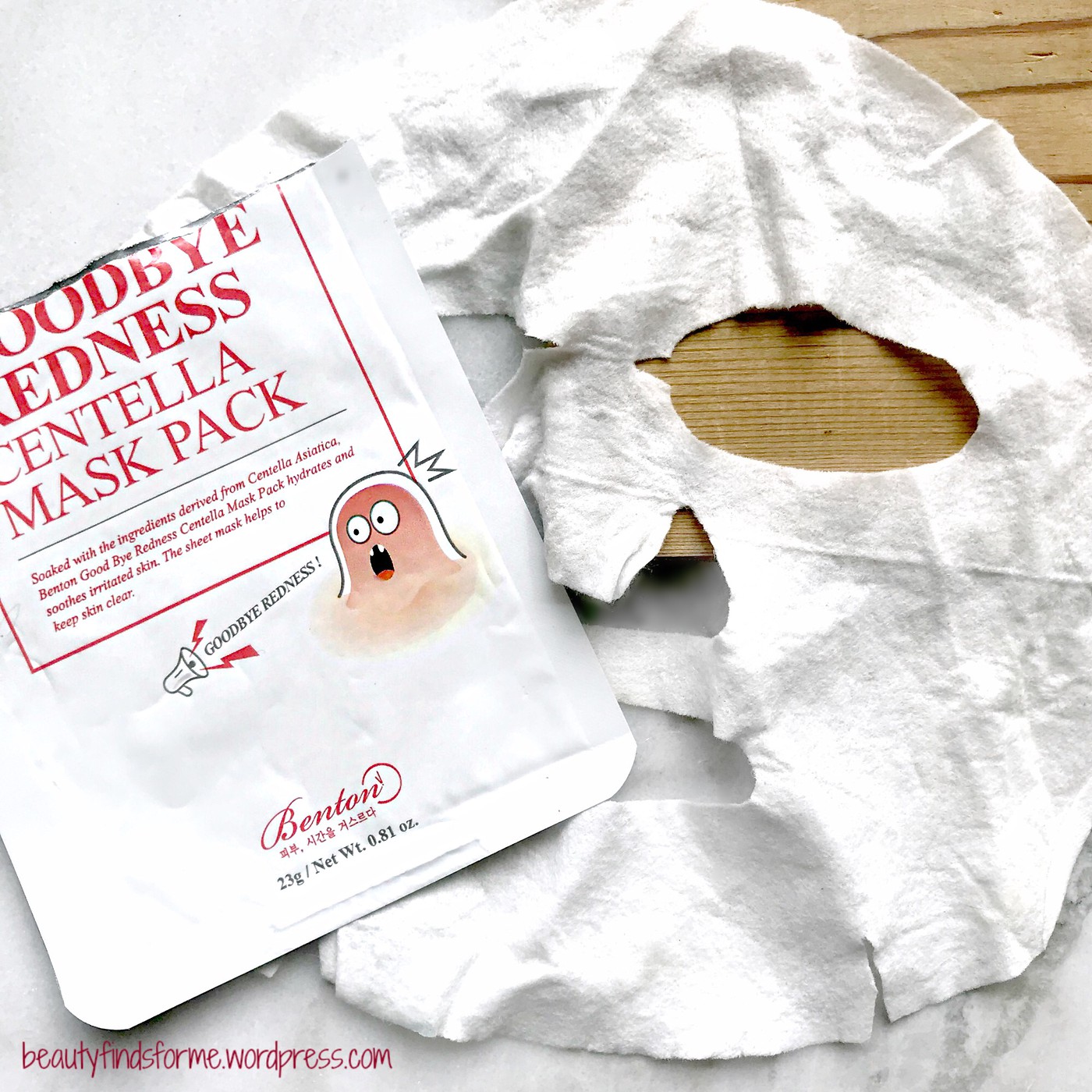 You can purchase the Benton new mask packs at their eBay Store, with free samples and free shipping worldwide
Style Korean sells the mask packs as well with free shipping to USA with purchases of $70.00 or more ~ they have free shipping to other countries too, but you have to read their shipping page to find the minimum purchase amount to qualify.
YesStyle also sells them with free shipping with any orders over $35.00. 
There isn't a lot of sites that carry these as it was just released.  Benton is very popular,  however, so it is a matter of time before it will be more wildly available.

[ disclaimer: product received for review purposes.  all opinions are my own ]