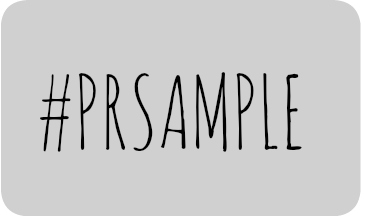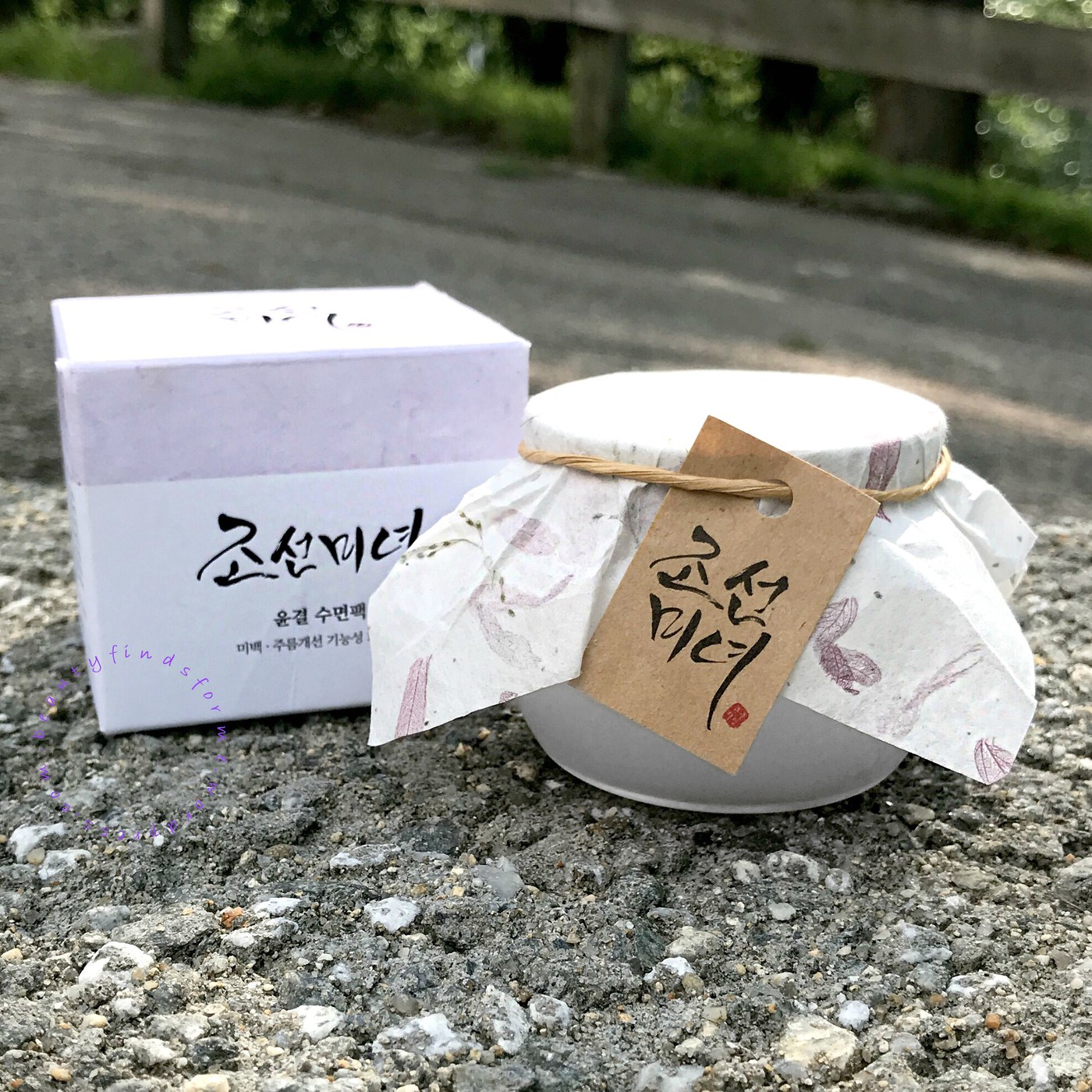 I had tried the Beauty of Joseon Dynasty Cream and the only thing I liked about it was the packaging!  But I wanted to give this brand another chance, so I picked out their Revitalize Sleeping Mask pack to try ~ Jolse Cosmetic was kind enough to send this to me for review purposes when I requested it.  If you haven't checked out this premier K-Beauty online store, you should!  Great service, free samples, free global shipping!
I received some of these products complementary to review and was not paid.  All reviews are my own honest opinion and  I never have been asked to write copy for a brand.  This blog post might contain promo codes, affiliate and referral links, which using my links will help generate a small commission that helps support my blog at no extra cost to you.
My skin type and concerns:  Oily, aging, blemish prone, pores, hyper-pigmentation, fine lines and wrinkles.
Brand Info:  Since Beauty of Joseon only has a few products, I thought I would introduce the brand for those who are not aware of their inspiration for their skincare products.  The Joseon Dynasty ~ 1392 to 1897 ~ is very famous and influential even today in modern Korea.  Beauty of Joseon users ingredients that were prescribed in a guide for women's cosmetics and makeup tools ~ Kyuhab Chongseo.  That book focused on skincare that would result in clear, clean skin, using traditional herbal and fermented ingredients ~ Hanbang.  The Kyuhab Chongseo had a section on beauty water ~ I find that amazing!   Joseon re-creates those formulas, using key ingredients such as honey, orchids, soybean, rice bran and apricots ~ which will nourish your skin.
image beauty of joseon
Why do you need a sleeping mask pack?  Good question!  You can use a cream, I know I have ~ but make sure it is an occlusive cream.  A sleeping mask pack is more occlusive than most moisturizers and the reason for this is simple.  It helps lock in all of your other skin care products and can reduce trans-epidermal water loss, which is very important as you sleep.  One thing to note ~ occlusive ingredients do not bring moisture into your skin, but use the existing moisture to reabsorb it back into the skin, due to its barrier function.  That is why just a sleeping pack is not enough at night ~ you need to ensure that you have done a hydrating skincare routine before locking it all in with a sleeping mask pack. Occlusives don't feel that great on my oily skin for day time use ~ it is too greasy, too oily ~ but for nighttime use, I do not mind.  Your skin needs to recover and with a good occlusive product, it can help reset or reboot your skin, resulting in smoother and softer skin when you wake up.  Your skin will repair itself overnight, so using a product with beneficial nutrients and ingredients as your last step will create a protective barrier to lock in ingredients and prevent your skin from drying out. 
Description: Various ingredients gift fine and smooth skin texture and elasticity. Conveys brightening & anti-aging nutrition to the rough and dull skin. Black bean improves elasticity of the sagging skin with anthocyanin and polyphenol. Ginseng tends the skin smoothly with concentrated energy and vitality. Orchid gifts smooth vitality that cares the skin healthily and gently. 
Ingredients of Note
It is sad to see that the hanbang ingredients well down on the list here.  Dimethicone/Vinyl dimethicone crosspolymer,  PEG-60 hydrogenated castor oil and dimethiconol are all occlusives, so this will help lock in all da moisture in your skin overnight.  This does have more silicones in it and the top two are cyclopentasiloxane and cyclohexasiloxane.  These are lighter than traditional dimethicone and also more silkier.  Good news for oily skinned folks, these two ingredients are ones that we will like best due to the lighter texture and slip.  Beauty of Joseon Revitalize Sleeping Mask  contains a few humectants as well: trehalose, which supplies concentrated moisture to your skin and helps retain moisture, preventing your skin from drying out. Glycerin will moisturize and hydrate the skin, leaving your face feeling smooth and soft.  Sodium hyaluronate is an intensive moisturizing ingredient which binds water to our skin and keeps it hydrated. Amino acid betaine is superior for its intense moisturization and hydration properties, without the stickiness, and also reduces the appearance of fine lines and wrinkles, while attracting moisture (humectancy) and relieving skin irritation.  Emollient saccharide isomerate (Pentavitin™) binds water to your skin and provides your skin with  long lasting moisturization.
Three of my favorite ingredients are also in this cream as they target two of my concerns ~ hyper-pigmentation and wrinkles: niacinamide (vitamin B3)  is a powerful antioxidant that acts as an anti-inflammatory, improves your skin elasticity, enhance the skin barrier function and also it helps to even out skin tone and reduce post-inflammatory hyper-pigmentation. Adenosine is an amino acid and it became popular after it was found to help improve the reduction of wrinkles, with its anti-aging, anti-wrinkle and anti-inflammatory properties.  Beta-Glucan is a compound that is naturally derived from mushrooms, oats, yeast and grains. It helps stimulate the production of collagen, speeds up wound healing, soothes and calms skin due to its anti-irritant and strong anti-inflammatory properties, moisturizes, locks in natural moisture, anti-aging and anti-wrinkle due to its anti-oxidant properties and also helps repair your moisture barrier.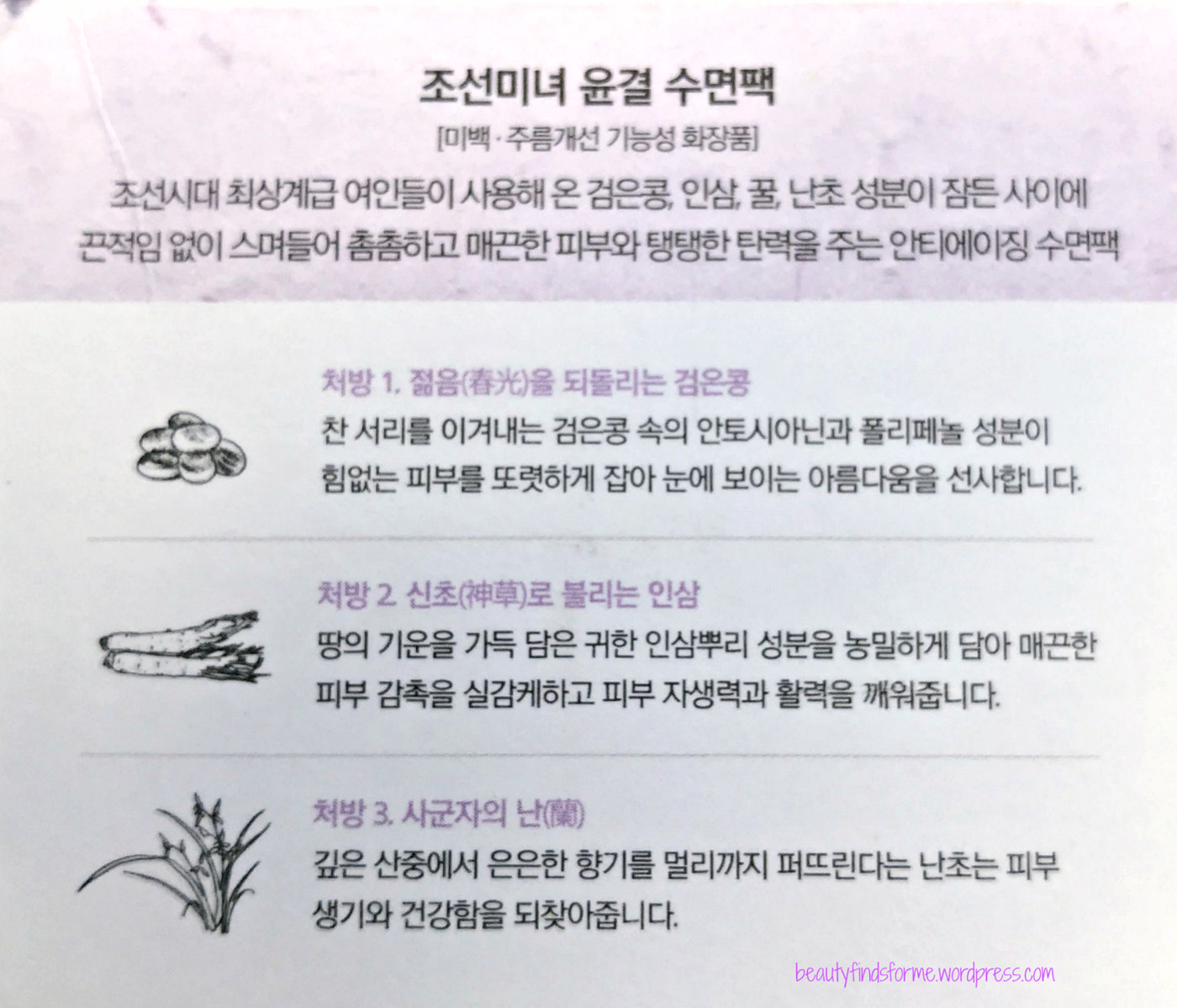 Okay, now for the botanical hanbang!  These ingredients were used during the Joseon era in skincare to help skin be smooth, moisturized and elastic. Honey has antibacterial properties, that can speed up healing in your skin ~ think acne, rashes, cuts ~ and prevent additional infection. The wonderful texture of honey will keep moisture close to your skin, which makes for a glowing and radiant complexion. Not only does honey keep moisture in your skin, but it is humectant, which means it attracts moisture too. Honey is also an antioxidant, which means it helps repair and combat any damage caused by free radicals and prevents premature wrinkling.  Orchid is one of the four noble ingredients ~ bamboo, apricot, chrysanthemum, orchid ~ and it contains flavonoid anthocyanin, which is an antioxidant and anti-inflammatory, helping to fight free radicals and repair the damage caused by free radicals.  Orchids help smooth your skin, reduce the appearance of fine lines and wrinkles, while moisturizing and conditioning your skin.
Soybean (black bean) is of antioxidants, soybeans moisturize, help reduce the appearance of fine lines and wrinkles and helps firm skin It has anti-inflammatory properties so it helps reduce blemish swelling and redness. The power of soybeans contain amino acid glycine, which helps repair damaged tissue and to speed up healing, which means it is great for blemish prone skin as well.  Genistein is so important as it is an anti-aging ingredient and soybeans can also boost elasticity in your skin as it can stimulate and aid in the production of collagen. Ginseng is used in anti-aging skin care products, as it is can stimulate the skin and activate the blood flow, which will increase toning and production of new skin cells. It also has anti-oxidant and anti-inflammatory properties, due to natural carbohydrate called saponin, and will help reverse damage caused by free radicals, such as hyper-pigmentation and also combat free radicals to prevent new skin damage of fine lines and wrinkles. Ginseng detoxes your skin and leaves it radiant and glowing. Applied topically, it helps stimulate collagen production to promote cellular renewal. Its herbal properties and usage dates back over 5,000 years.
Sesame seed contains essential fatty acids ~ oleic, stearic, linoleic and palmitic ~ along with vitamins E and K.  It is a great anti-inflammatory, anti-aging ingredient, keeping skin clear and healthy with its detox benefits. Star anise is good for detoxing the skin and also has antiseptic and anti-fungal benefits to help clear up skin of blemishes.  Scutellaria baicalensis  has anti-inflammatory, antioxidant and brightening benefits
Ingredients:  Water, Cyclopentasiloxane, Dipropylene Glycol, Glycerin, Cyclohexasiloxane, Niacinamide, Polysorbate 20, Dimethicone/Vinyl Dimethicone Crosspolymer, PEG-240/HDI Copolymer Bis-Decyltetradeceth-20 Ether, Betaine, Trehalose, Urea, Sodium Hyaluronate, Saccharide Isomerate, Butylene Glycol, 1,2-Hexanediol, PEG-60 Hydrogenated Castor Oil, Ammonium Acryloyldimethyltaurate/VP Copolymer, Dimethiconol, Illicium Verum (Anise) Fruit Extract, Orchid Extract, Honey Extract, Scutellaria Baicalensis Root Extract, Adenosine, Disodium EDTA, Fragrance, Glycine Max (Soybean) Seed Extract, Sesamum Indicum (Sesame) Seed Extract, Panax Ginseng Root Extract, Beta-Glucan, Phenoxyethanol cosDNA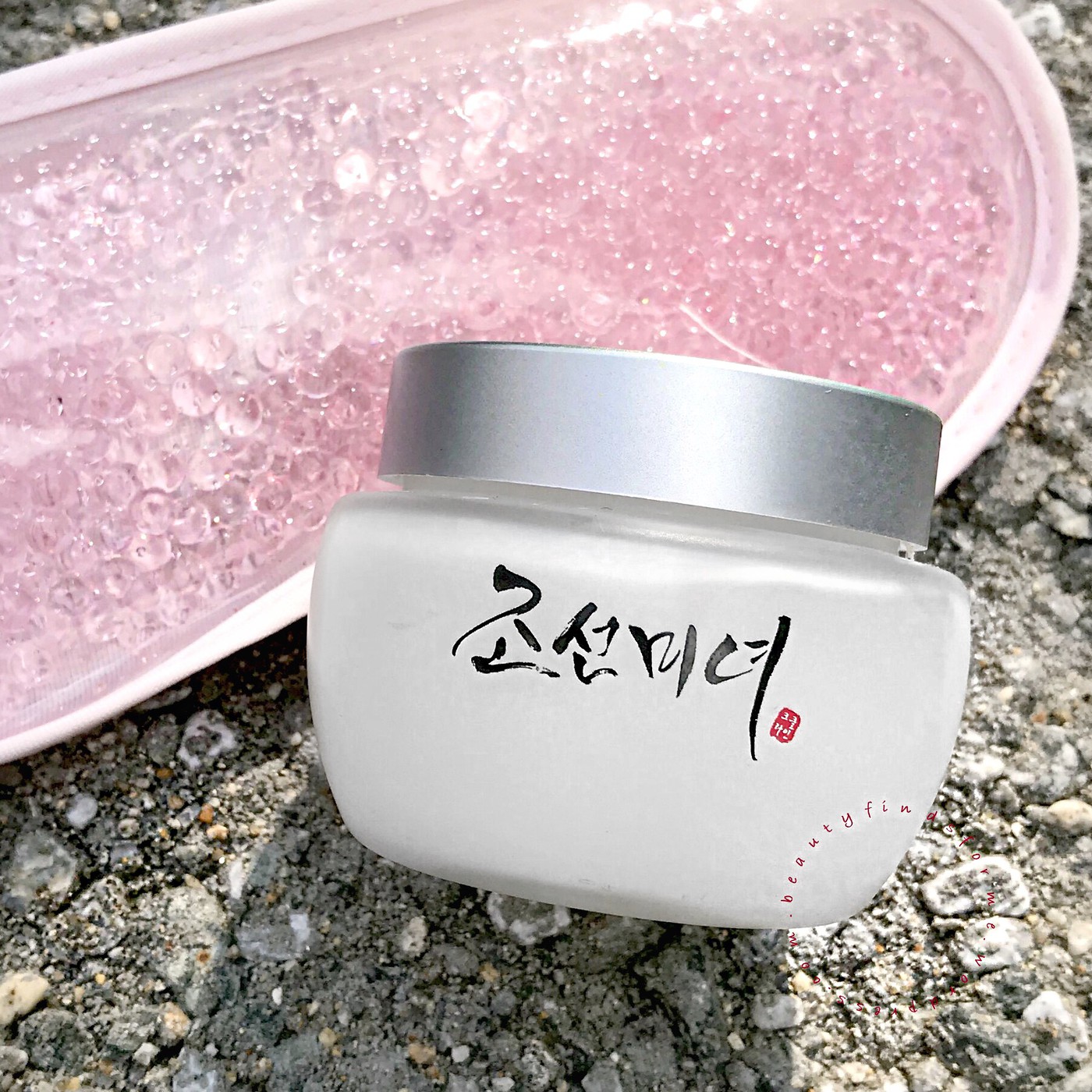 The packaging on Joseon Revitalize Sleeping Mask is really impressive ~ it comes in a frosted heavy, squat plastic jar that feels like glass ~ it is based off the shapes of Joseon era ceramic pots.  The box the sleeping pack comes in looks like made from Hanji ~ a Korean traditional paper ~ I know it is mass manufactured, but it does look handmade!   The jar comes with a Hanji covering, in a cream and pink botanical design.  This is fastened to the jar by a straw tie and a paper tag with Joseon printed on it in Korean.  It looks so fancy, as if I picked it up in a special boutique.  The jar as a matte silver toned cap that screws off, with an inner plastic lid to protect the cream.  This does come with a plastic spatula, but I always lose them.
image  beauty of joseon
The pack is a opaque white memory jelly ~ which means no matter how much you dig into it or stir it up, it will revert back to a calm, smooth flat glass finish in the container.  I darkened the middle photo a bit, so you can see I did stir it up, but this reverts back so quickly, it was hard to capture it.

It has a thick chewy texture and  feels very rich on my skin.  The scent is not very hanbang, though.  It smells like a light perfume… like a perfume trying to be a botanical… what botanical, I do not know.  It isn't BAD, but it certainly isn't a ginseng earthy heaven scent.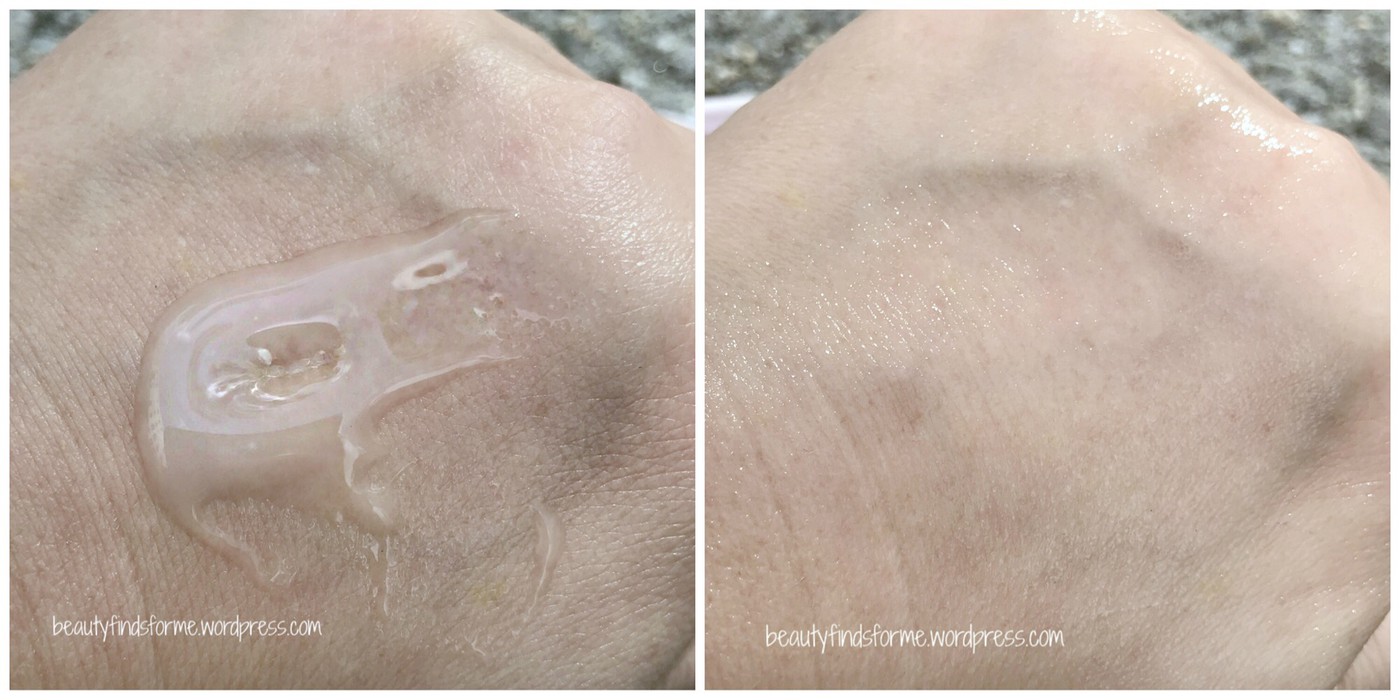 One thing I learned with this cream is not to use too much at once,  as it will be hard to spread.  It will break up into jelly chunks and then it becomes too rich for my skin ~ it doesn't absorb well, leaves a sticky residue and my face was sooo shiny.  When I used a little bit at a time, it is much easier to apply, as it won't break up into chunks. It also absorbs better and whereas my oily skin is a bit glossy, it doesn't have a sticky or tacky feeling.  If you have drier skin, you can use this as a day time cream as well, but for me, this is night time use only!  This is a good moisturizing sleep pack ~ on average, after initial application, this increased my moisture by 42% and decreased my oil levels by 32% when I used it properly.
Before Levels:  Moisture: 44.5  Oil: 29.8 (meh face)
After Levels:    Moisture: 63.3  Oil: 20.2  (smiley face)
When I wake up, my skin feels a bit oily around my nose, forehead and chin, but my skin is not overly shiny and it is really soft and smooth. This did nothing for my pores, but the rest of my skin feels so soft and smooth!  I did not experience any negative reactions to this sleeping pack ~ such as acne breakouts.
Final Thoughts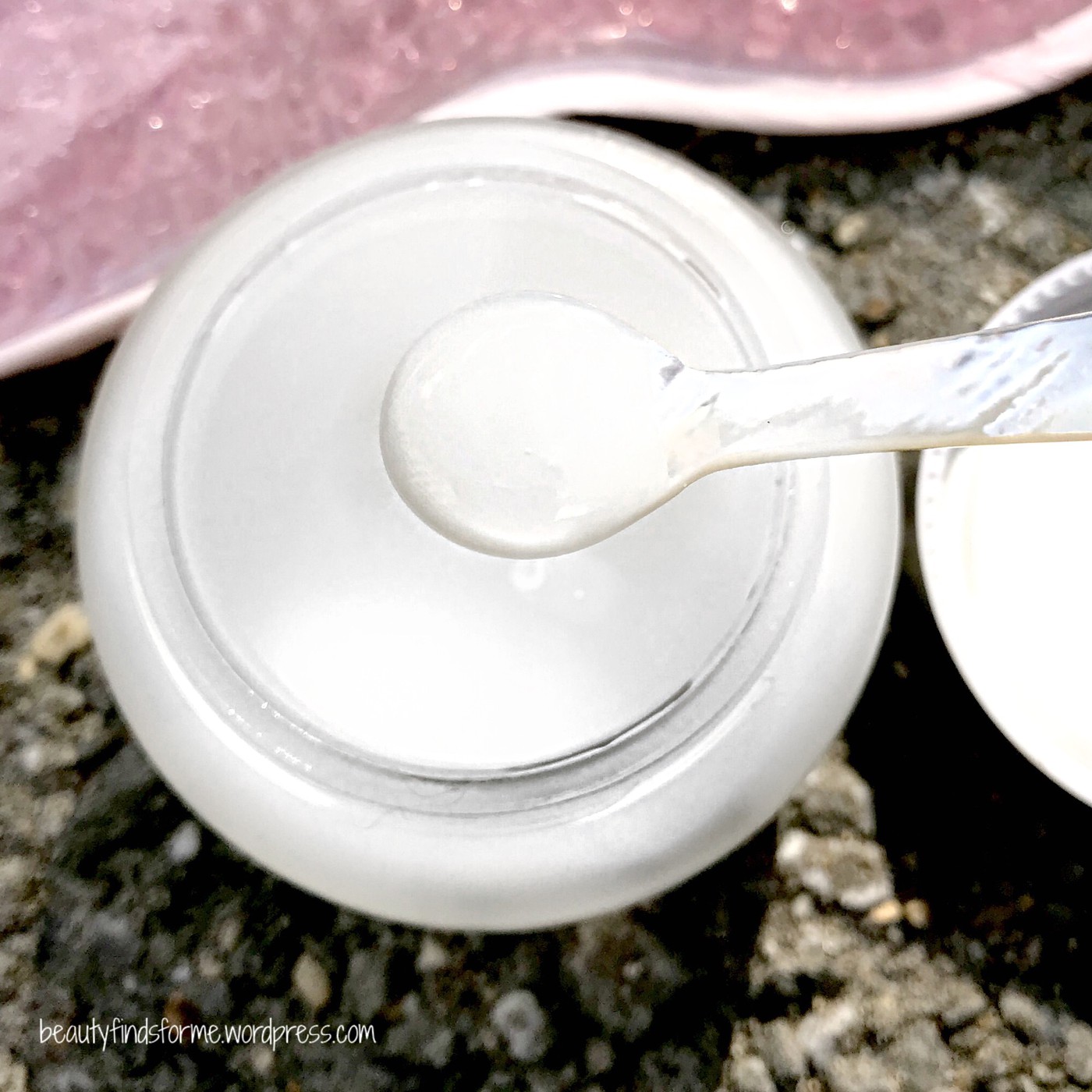 What a nice surprise!  I disliked Joseon Dynasty Cream, but I really do like the Revitalize Sleeping Mask Pack!  The top occlusive ingredients in this sleep pack were best for oily skin and I think that is why I found this sleeping pack to be good for my skin type.  My skin in the morning is supple, soft and feels very smooth to the touch, not dried out.  It is a bit oily around my T-Zone, but that is to be expected in the hot summer months.  It was not clogging to my pores, which is important when dealing with an occlusive-rich skincare product. I only have two disappointments… one was in the scent ~ I really was expecting a ginseng scent.  Also, the botanical ingredients were stuffed at the bottom of the ingredient list, which you would not have known by the way Joseon marketed the hanbang goodness of this sleep pack.  That said, this mask pack is filled with occlusives, emollients and humectants, which is great for a sleeping mask pack. 
Have you tried Joseon Revitalize Sleeping Mask Pack?  What did you think of it? Any other Joseon products?  I know that they have a cleansing balm and a peeling gel, so hopefully they will come out with toners and serums soon!   You can purchase this at Jolse for under $25.00 USD (click here to purchase) and Jolse has free global shipping plus provides free samples too! 
[ product received for review purposes. blog post contains affiliate links ]