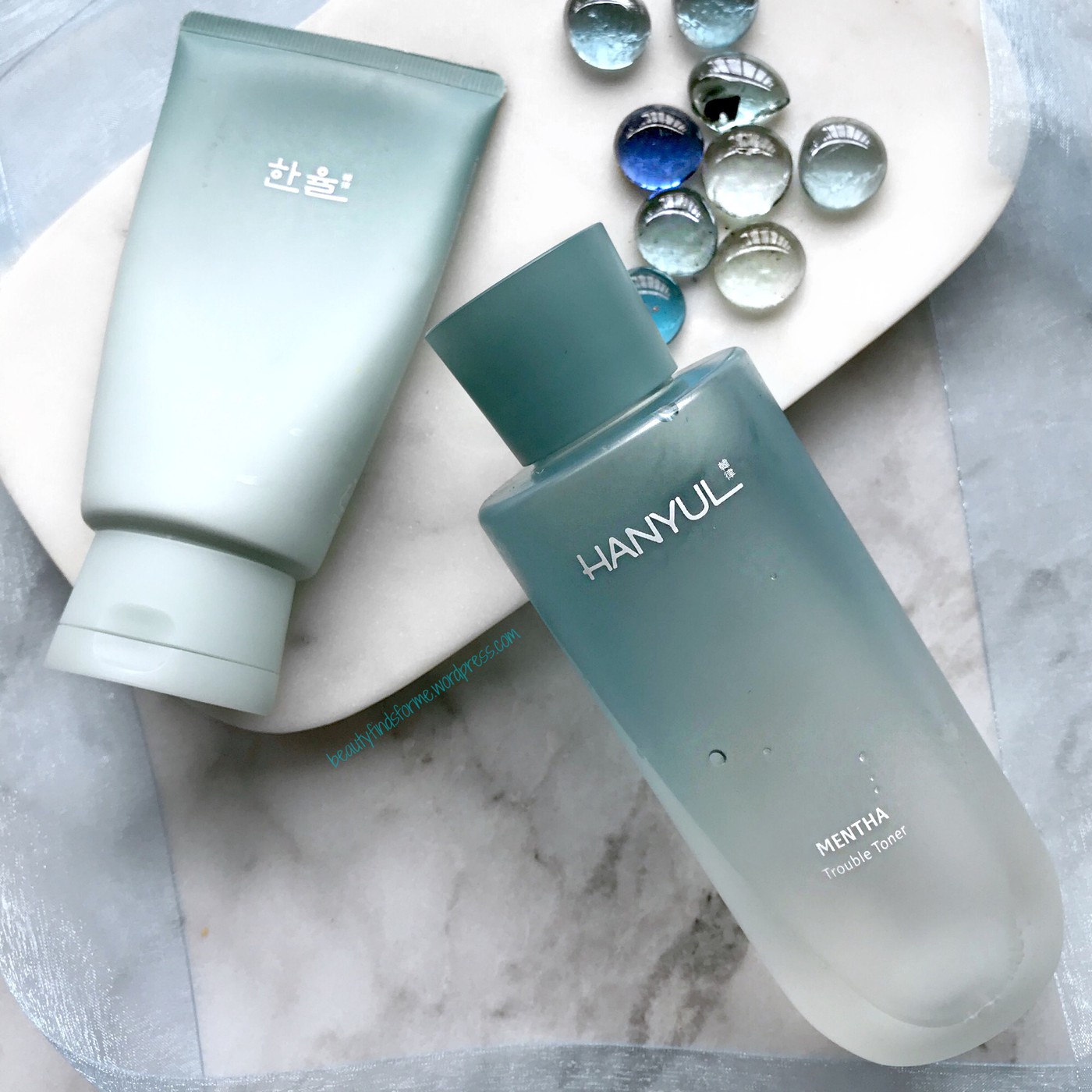 Hanyul is part of the Amore Pacific family and you can find their products at BeautyTap, formally W2Beauty.  Hanyul is their line of Traditional Korean Medicine (Hanbang) in skincare.  I love Hanyul products and have reviewed several here at my blog (link here).  The Mentha Trouble Care line is formulated for oily, blemish prone skin and has 5 items ~ cleansing foam, toner, gel cream, spot gel and body spray ~ and I received four of them, courtesy of Beauty Tap. My first part of this line covered the  Cleansing Foam and Spot Gel (review here) and this review will be featuring the Toner and Gel Cream.   Some information about the ingredients is repeated here as this is the Mentha Line. 
image credit hanyul.co.kr
They say mothers know best. We've found this to be true especially when it comes to natural skincare. Hanyul is a brand inspired by the traditional folk remedies and medicinal practices carried on for centuries by women in their homes. In combination with modern technologies and formulas our brand is inspired by these mild, but effective remedies passed down from mothers to their children for generations. Amorepacific's years of accumulated knowledge for creating skincare combine our mother's traditional wisdom with scientific advancements. Our products are made with the same traditional and local ingredients including Korean plants and grains such as rice, brown pine needles, artemesia, baekhwago (Korean mushroom), Korean chrysanthemum, and our native seoritae (Korean bean).  (source)
image credit hanyul.co.kr
Skin Type/Concerns: Oily, blemish prone, pores, aging, hyper-pigmentation, fine lines/wrinkles
Some products were complementary to review and was not paid.  All reviews are my own honest opinion and  I never have been asked to write copy for a brand.  This blog post might contain promo codes, affiliate and referral links, which using my links will help generate a small commission that helps support my blog at no extra cost to you.
Common Ingredients
image credit hanyul.co.kr
Even though this is not the top ingredient in the list for this line, mentha arvensis (cornmint, Chinese peppermint, Japanese peppermint, wild mint)  is key to the Mentha Trouble skincare line.  Hanyul uses mint grown in the hills and mountain fields of Korea ~ mint has been used for a long time to help skincare issues like blemishes and excess oil production, helping regulate sebum.  It contains a rich source of l-menthol, which provides for a cooling and refreshing feeling on the skin.  It is also an anti-inflammatory, antiseptic and also has analgesic properties, so it will help reduce the pain as well as swelling.  Vitamin E is also an ingredient in both of these products ~  Vitamin E is an antioxidant that helps moisturize, rejuvenate and reduce fine lines and wrinkles.

There are a couple of hanbang ingredients in here ~ antioxidant angelica root (angelica acutiloba, dong-quai) has been used for centuries in traditional asian medicine and it will help heal blemishes and increase your skin circulation, which in turn will make your skin look more radiant.  Cnidium officinale has also been used for thousands of years and topically, it can help clear up skin issues, such as blemishes, rashes and eczema while acting as an antioxidant.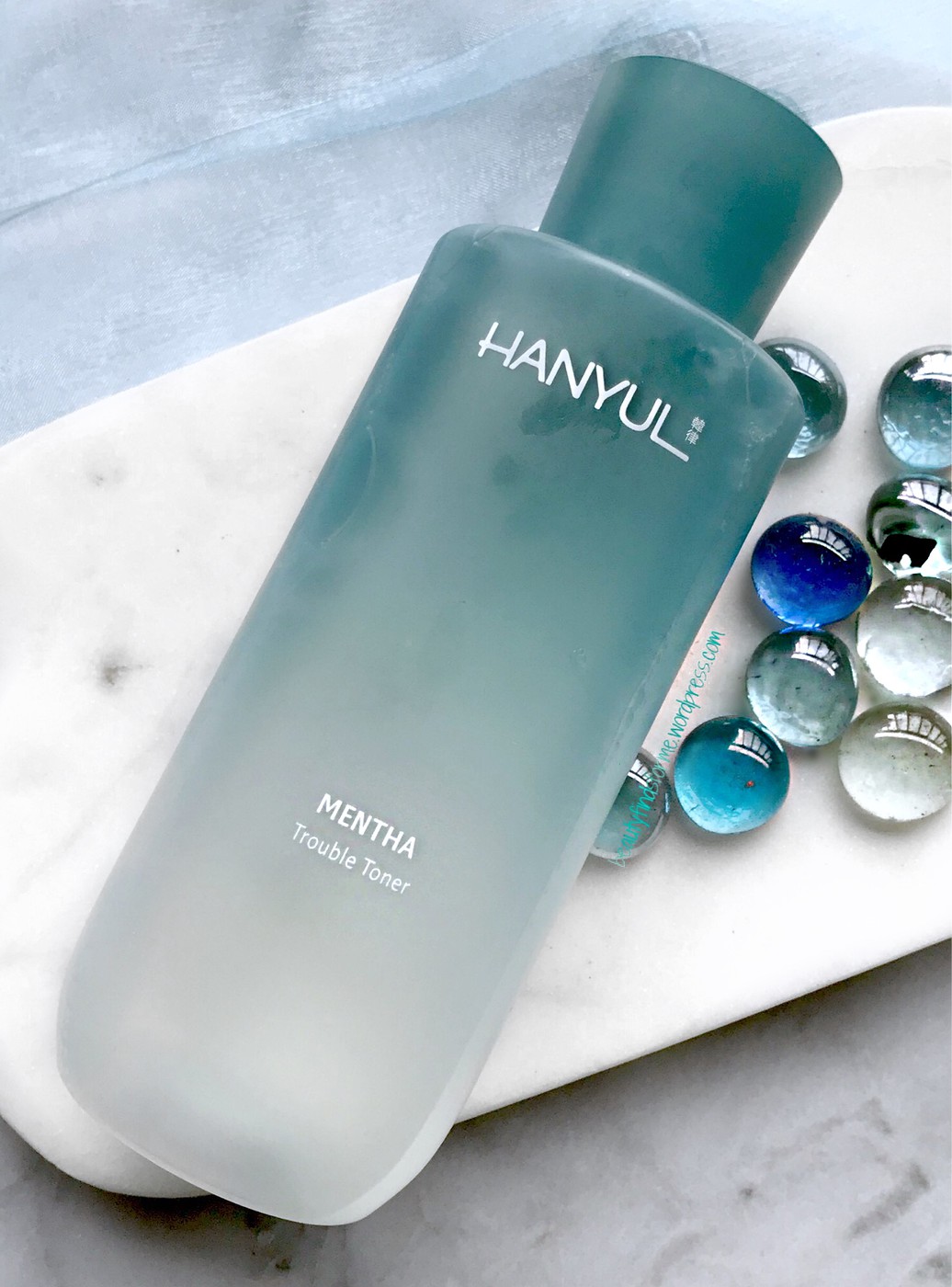 Hanyul Mentha Trouble Toner (300 mL)  I love Hanyul packaging, don't you?  It is so clean and modern looking with that ombre effect.  The Mentha Trouble Toner not only contains mint extract, but several exfoliating ingredients ~  willow bark extract is not only a natural astringent, it is also a natural source of BHA,  which helps combat acne, by gently exfoliating your skin and removing dead skin cells and excess oil.  It is fat soluble, so it can really get to the oil that is inside your pores. It also contains several ingredients that are natural sources of AHA's, which refine skin texture and remove dead skin cells that are "glued on" the surface of your skin:  sugar cane, sugar maple, lemon and orange extracts.  This also contains a few hydrating ingredients of note: glycerin, betaine ~ for anti-inflammatory benefits and beta-glucan, which soothes and calms skin as it is also an anti-inflammatory, moisturizes while locking in moisture.  Beta-glucan is an anti-aging/anti-wrinkle/anti-oxidant while repairing your moisture barrier.  This toner does not contain alcohol for those who are sensitive to it.  This is free from animal materials, mineral oils, fragrance, polyacrylamide, synthetic dyes, silicone oil, imidazolidinyl urea, triethanolamine and PEG's and has been allergy tested.
Ingredients: purified water, butylene glycol, glycerin, betaine, 1,2-hexanediol, salix alba (white willow) bark extract, cnidium officinale root water, angelica acutiloba root water, propanediol, ethylhexylglycerin, mentha arvensis leaf extract, vaccinium myrtillus fruit extract, disodium edta, saccharum officinarum (sugar cane) extract,  beta-glucan, citrus aurantium dulcis (orange) fruit extract, citrus medica limonum (lemon) fruit extract, acer saccharum (sugar maple) extract, tocopherol (vitamin E) cosDNA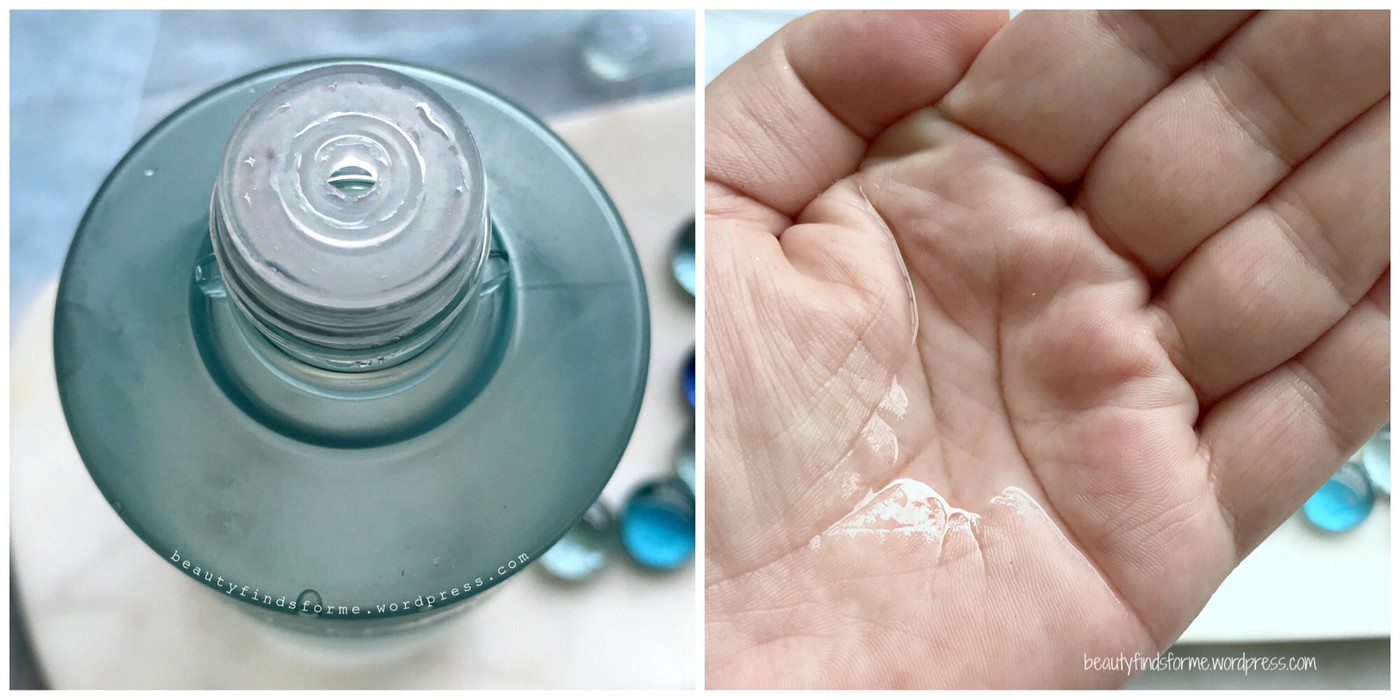 This comes in a tall 300 mL bottle, so you can feel free to use it generously!  It doesn't, alas, smell like mint, nor does it have a refreshing minty feel to it, so I was a bit disappointed in that.  The toner is very watery with only a faint BHA scent to it ~ it is barely there.  The pin-hole applicator makes it easy to pour either on a cotton pad or in your hands so that you can swipe or pat it on.  I like using a cotton pad myself with this one, due to the nature of the product.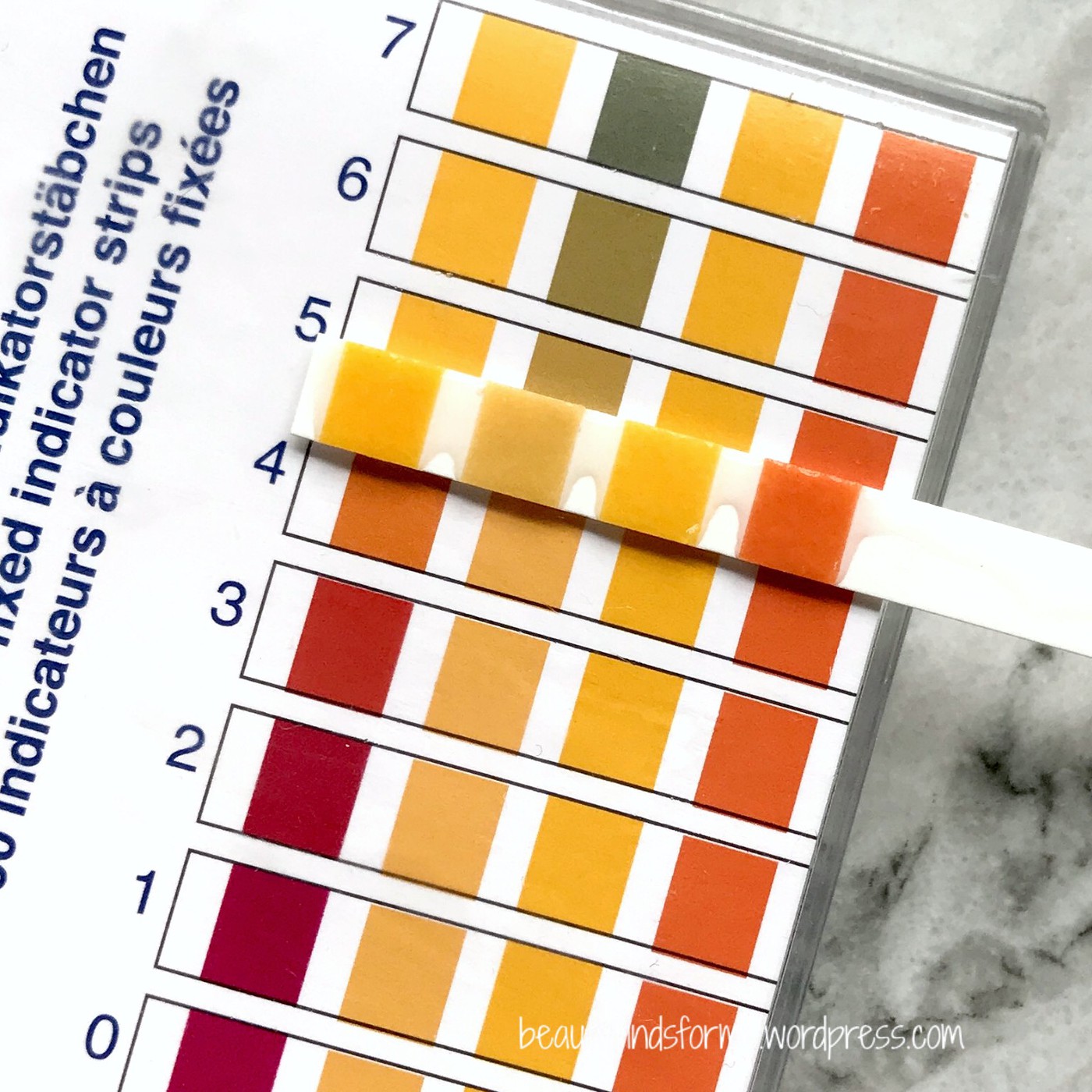 I did a pH test, as although the percentages of the BHA and AHA items were not given, I do know that for optimal exfoliation, the pH should be lower.  It registered as 4.5 to 5, which means this is more of a hydrating toner, than an exfoliation one ~ however, over time, it will provide gentle exfoliation.  I felt safe using this toner with other stronger exfoliation treatments, but that is on my skin.  You should always spot test to make sure your skin can handle it.   I was surprised to discover that this wasn't an astringent toner, as I originally thought. It is really is more of an hydrating toner and my skin does feel very moist when I use this.  It does dry down fast, so I can do a couple of layers of this watery toner ~ depending on the humidity level, it might even feel a bit tacky, but once I apply the rest of my skin care routine, that goes away. It increased my moisture levels by 39% and decreased my oils by 33%.  
Before:  Moisture: 35.7 Oil: 23.9
After:    Moisture: 50.5 Oil: 16.1
Based on this, I would say that all skin types who suffer from blemishes can use this toner.  It doesn't contain alcohol, is quite hydrating and the gentle BHA and AHA ingredients ensure that it can clear out dead skin cells, oil and unclog pores, without being too harsh on your skin.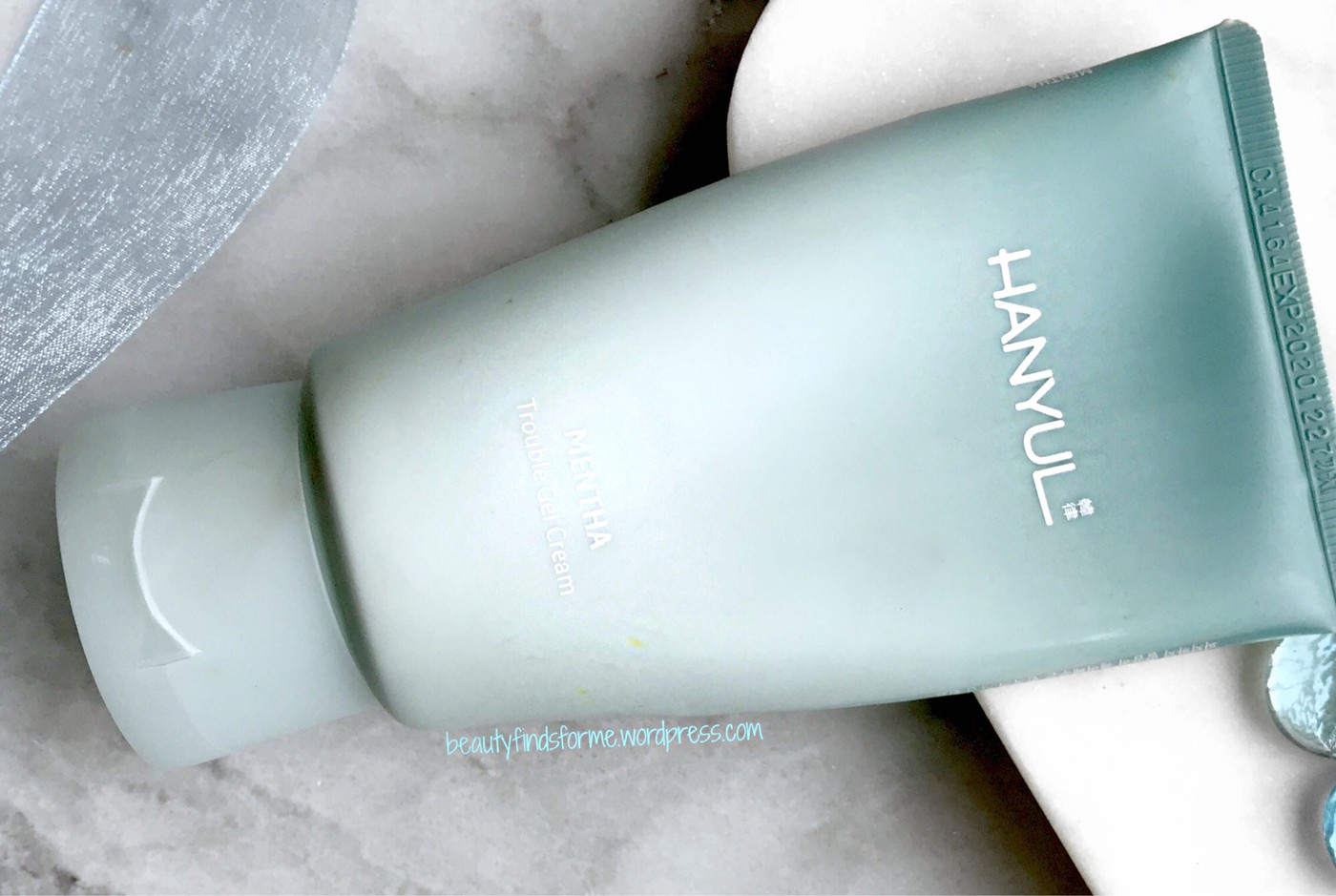 Hanyul Mentha Trouble Gel Cream  (100 mL)  This tube looks similar to the Mentha Trouble Cleansing Foam, but an easy way to tel them apart is that the Trouble Gel Cream has the ombre effect starting from dark to light and the foam has the ombre effect starting from light to dark. Once I figured that out, I knew which tube was which!  I think this, along with the Spot Treatment Gel, are my favorites from the Mentha Trouble Line.  Along with the common ingredients, some other ingredients of note ~ there are three compounds extracted from centella asiatica: asiaticoside helps form collagen to strengthen your skin and speeds up wound healing. Asiatic acid is an anti-aging compound, that helps to plump up your skin, prevents wrinkles, fine lines and scar tissue. Madecassic acid helps aid in the production of collagen and tissue.  Malachite extract is just that ~ grounded up gemstone malachite ~ this stone provides antioxidant, anti-aging benefits due to its high mineral copper content.  It helps detox your skin and protects your skin against environmental stressors and pollution. This gel cream does have a lot of silicones in it, but silicones do not clog your pores. 
Silicones are popular in skincare products because they have a slick, fluid-y texture and have emollient and humectant benefits. They help calm, soothe and heal your skin as well.  Now, you may not be able to use silicone ingredients, but all of the silicone ingredients in the beauty industry has been approved safe for use.  One thing to remember is that when you use a product that contains dimethicone or any cone's, is to ensure that your skin is clean.  You do not want to smear a dimethicone product over dirty or infected skin, as dimethicone is known for trapping moisture by "covering" it ~ it will also trap any bacteria and dirt as well, so that can cause more blemishes.  So, make sure your skin is nice and clean ~ you can have blemishes, but ensure that the area has been cleansed properly first.  Hanyul's Mentha Trouble Gel Cream is free from animal materials, mineral oil, fragrance, polyacrylamide, imidazolidinyl urea, triethanolamine, PEG's and synthetic pigments and has been allergy tested.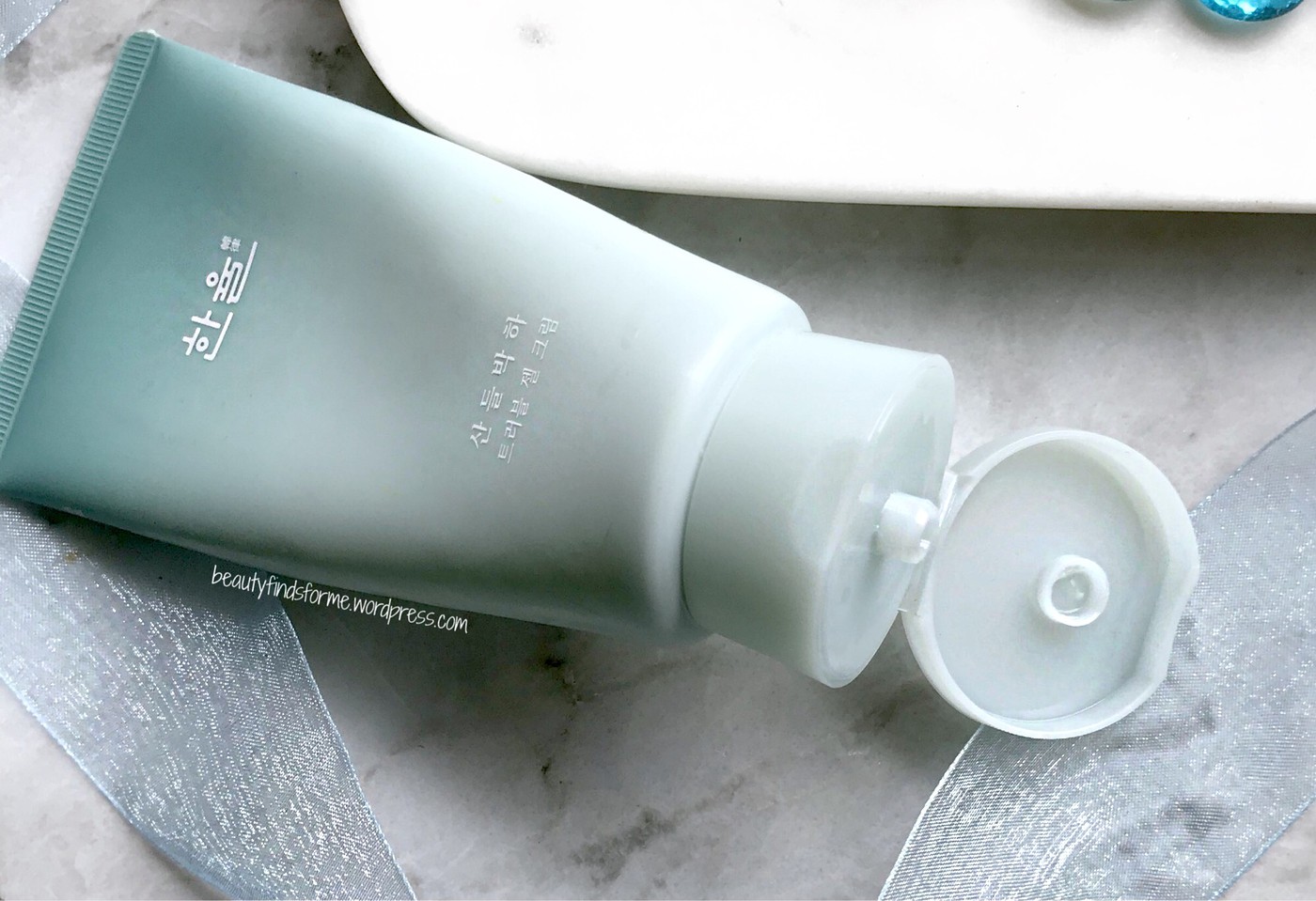 The Gel Cream comes in a handy flip top applicator and I only need to squeeze out a couple of pea sized dollops to cover my face.  It is very lightweight and doesn't have much a scent to it.  As I massage it in, I can see that it forms little water droplets that quickly absorbs into my skin without any tackiness or sticky residue. 

It doesn't sting, so for me, the claim that it is low irritation is true! My skin feels very smooth and hydrated  ~ this is not an oil controlling gel cream, however.  It does not mattify but leaves a soft and smooth finish, not dewy, but not matte.  My skin just looks hydrated ~ if you have dry skin, this will not be enough moisture for you, but for oily and oily/combo skinned people, I find it to be more than enough.  It increased my moisture levels by 47% while reducing my oil levels by 35%
Before:  Moisture: 26.2 Oil: 39.3
After:    Moisture: 38.4 Oil: 25.7
I did not experience any blemishes due to this product and in fact, this summer was pretty much blemish free ~ with an occasional pimple that quickly went away.  This gel cream was a favorite moisturizer for me during the hot, humid summer months here in Boston. 
Ingredients: purified water, butylene glycol, glycerin, cyclopentasiloxane,  cyclohexanedimethanol, cyclohexasiloxane, 1,2-hexanediol, dicaprylyl carbonate, cetearyl alcohol, dimethicone, hydrogenated polyisobutene, hydroxyethylacrylate/sodium acryloyldimethyltaurate copolymer,  angelica acutiloba root water, cnidium officinale root water, trisoloxane, ammonium acryloyldimethyltaurate/VP copolymer, glyceryl stearate, stearic acid, hydrogenated lecithin, disodium EDTA, ethylhexylglycerin, polyglyceryl-3 methylglucose distearate, sorbitan isostearate, cetearyl glucoside, menthoxypropanediol, malachite extract, mentha arvensis leaf extract (49ppm), asiaticoside, madecassic acid, asiatic acid, chamaecyparis obtusa leaf extract,  tocopherol (vitamin e), glycine max (soybean) oil, glucose  cosDNA 
Final Thoughts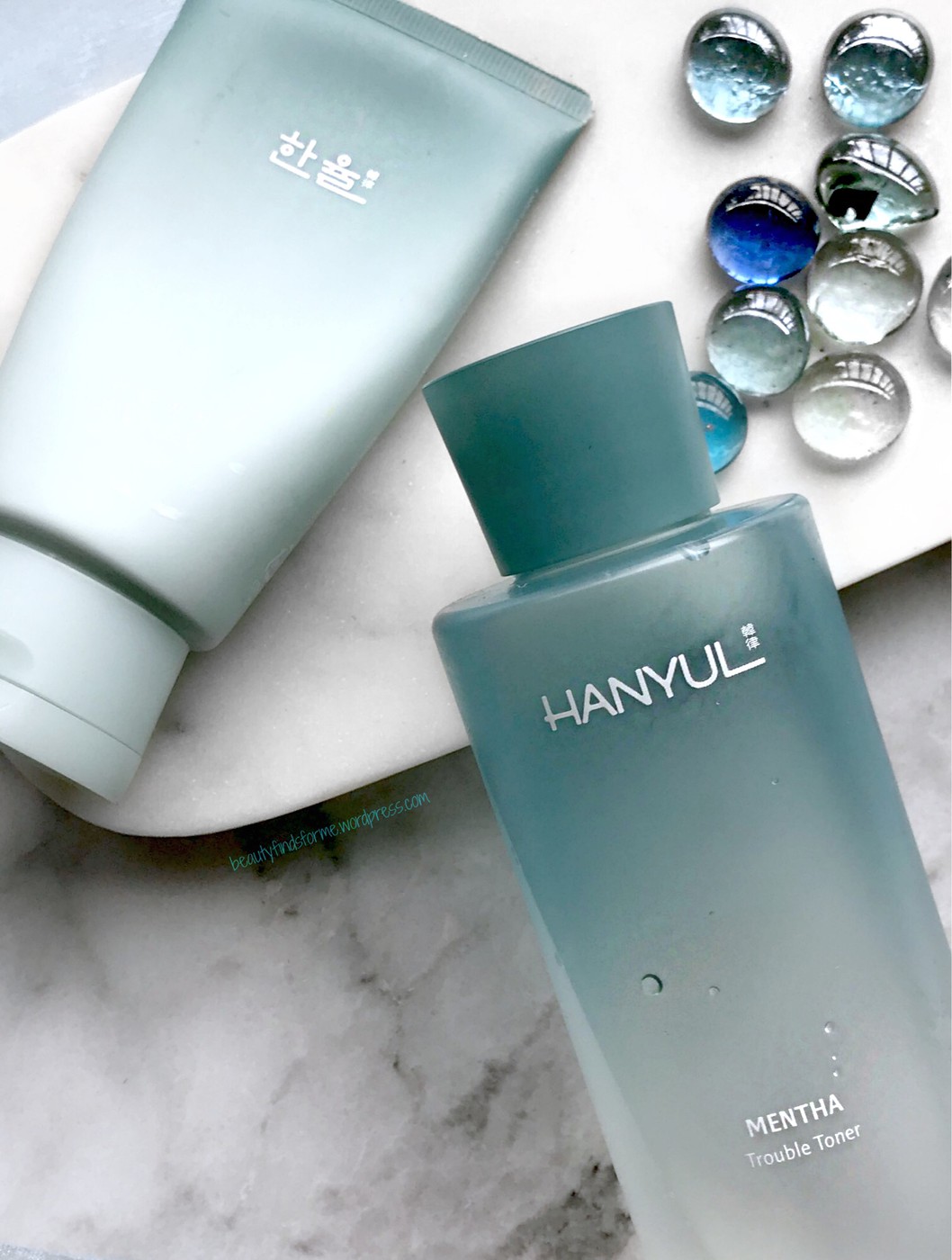 My final verdict on the Mentha Trouble line is that is a winner!  You can read my full detailed review on the Cleansing Foam and Spot Gel, but all four products worked well for me and I felt that they did contribute to an almost blemish free summer.  My favorite items are the Spot Gel Treatment and Gel Cream ~ I will purchase both of those for next summer as well.  I totally recommend the Gel Cream ~ it doesn't mattify, but it provides a nice, light finish with a soft look.   I think that the Toner, Spot Gel and Gel Cream work for all skin types, even though the Gel Cream might not be enough moisture for drier skin types.  The Cleansing Foam, with its high pH, I would say that some might want to avoid if they have issues with a higher pH.  My only sadness is that none of these have a minty blast of fragrance or feeling.  They are refreshing on my skin, however.  Have you tried any of the Hanyul Mentha line yet? 

You can purchase this line at Beauty Tap  ~ save 15% off any regularly priced items with affiliate code unboxing15.  Free shipping with purchases $60.00 or more. 
[ disclaimer: products received for review purposes.  blog post contains affiliate links.  all opinions are my own ]