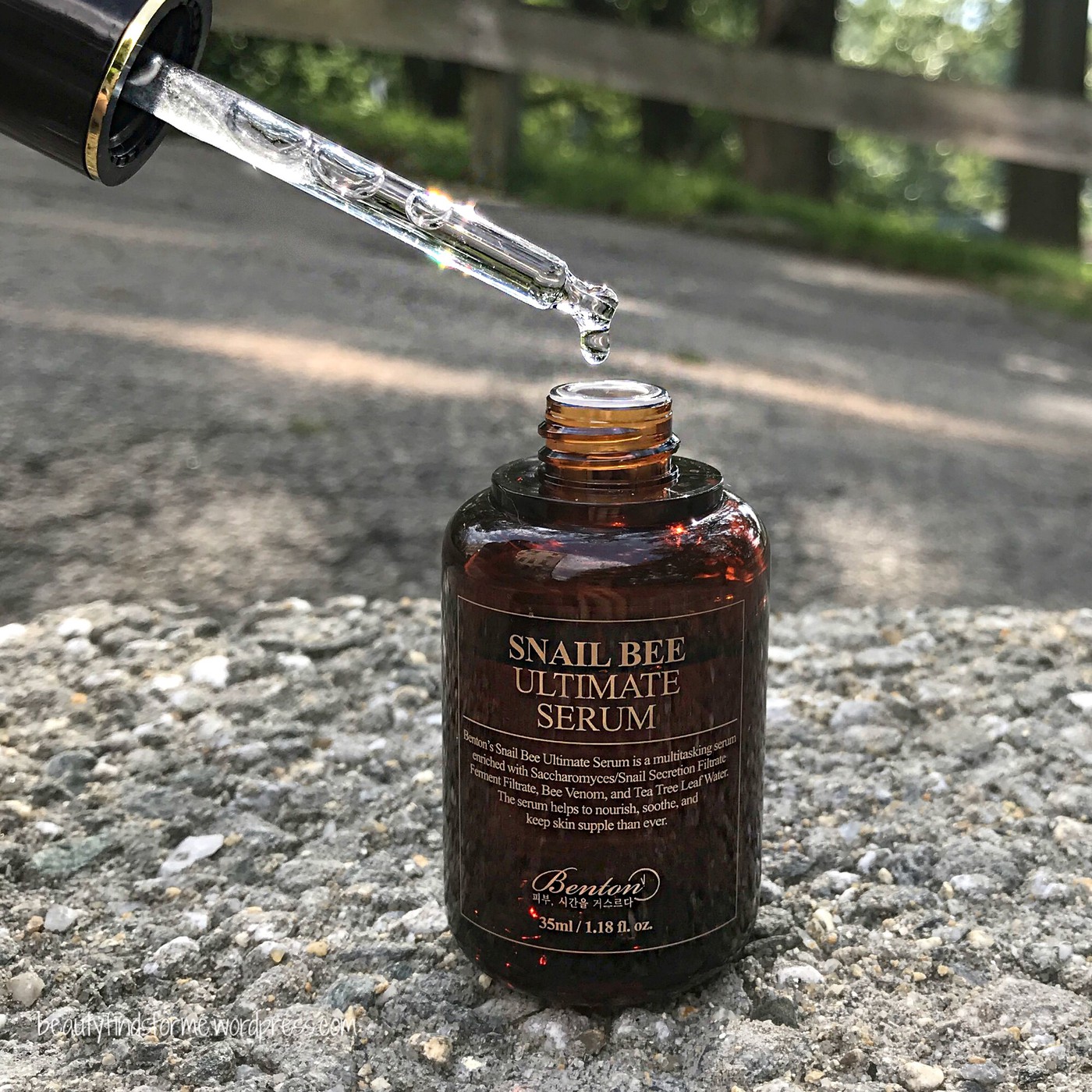 Benton is one of my all time favorite brands, of which I have tried and reviewed many of their products.  It is not to say there aren't products I disliked ~ last year saw the release of 4 items and I only liked one, which was a bar of soap!  However, this year, Benton releases Cacao Moist & Mild Toner and Serum, Aloe Vera Sheet Mask and now, one of my favorite lines from Benton, a new Snail Bee Serum.  I was lucky to receive this item from Benton for review purposes.

Skin Type/Concerns: Oily, blemish prone, pores, aging concerns with fine lines/wrinkles and hyper-pigmentation
I received these products complementary to review and was not paid.  All reviews are my own honest opinion and  I never have been asked to write copy for a brand.  This blog post might contain promo codes, affiliate and referral links, which using my links will help generate a small commission that helps support my blog at no extra cost to you.
Just Fun Info:  Ever wonder how Benton came up with their name?  Well, according to their webside, it came from a movie
The name and definition of Benton took its motives from the movie 'The Curious Case of Benjamin Button' (also known as 'Benjamin Button goes backwards in time' in Korea) which had a warm touch on many people's heart. In the movie, Benjamin is born as an old man and he becomes younger and younger as time goes by and ultimately dies as a new born baby. Benjamin happens to deeply fall in love with a woman named Daisy. However, as time goes by and as Benjamin becomes younger he has no choice but to leave Daisy. What if Daisy could have also turned back time on her physical appearance, wouldn't she be happier? It may just be a fictional movie, but wouldn't most people have the same desire to be young again? Benton's desire is to turn back the time of your skin. Unlike the instant temporary effect created by the chemical ingredients, we hoped to improve skin care by using the natural ingredients in our products which will help regain your skin to its original healthy condition.  (source bentoncosmetics.com)  
Star Ingredients
image from bentoncosmetics 
The Snail Bee Line actually was one of the first lines from Benton I tried ~ I love their mask pack and the Essence is one of my HG products.  This line is perfect for oily, blemish prone skin and they really amped it up with this Serum, by adding an ingredient that isn't in their other Snail Bee products. 
image from bentoncosmetics 
The main ingredient is 70% snail slime ~ this is the filtrate, not actual snail parts. Snail slime is a miracle ingredient for many people ~ it is a soothing, healing, calming, brightening and anti-aging ingredient and really works for all skin types.  Benton upped their game with this serum, as this isn't any ordinary snail secretion filtrate ~ Saccharomyces/Snail Secretion Filtrate Ferment Filtrate.  That's right, Benton fermented it with yeast derived from grapes as to allow for deeper penetration and absorption as fermented molecules are smaller. Fermenting any ingredient will enhance the benefits, as the process will create new vitamins, amino acids and antioxidants which will help strengthen and improve your skin.   So, that was the Snail part.. the Bee part is… bee venom, aka "Nature's Botox", and even Prince Charles' wife, Camilla , swears by her bee venom creams. This ingredient tricks your skin into thinking that it has been stung by a bee. This will result in your body pumping blood into that area, boosting collagen production and increase circulation as to heal your skin, which also helps with blemishes too.
The new ingredient that isn't in the other snail bee products is tea tree extract and that is known for its topical antiseptic and anti-fungal properties and help target and treat blemish-prone skin. It also reduces oil and sebum production on your skin, while not disrupting the moisture level.
Niacinamide (vitamin B3)  is a powerful antioxidant that acts as an anti-inflammatory, improves your skin elasticity, enhance the skin barrier function and also it helps to even out skin tone and reduce post-inflammatory hyper-pigmentation.  Willow bark is a BHA (beta hydroxy acid) abd helps exfoliate skin by removing dead skin cells, contains salicylic acid, to help combat acne. It is also high in anti-oxidants, which tone and reduce inflammation as well as being an astringent, to control oil. Salicylic acid is fat soluble, so it can really get to the oil that is inside your pores. 

This also has the powerhouse trio of hydrating humectants. Humectants not only lock in moisture in your skin, but acts like a water magnet, attracting moisture from the air and into your skin.
image from bentoncosmetics 
Ingredients: Saccharomyces/Snail Secretion Filtrate Ferment Filtrate (70%), Melaleuca Alternifolia (Tea Tree) Leaf Water,  Water, Camellia Sinensis Leaf Water, Butylene Glycol, 1,2-Hexanediol, Niacinamide, Glycerin, Pentylene Glycol, Aloe Barbadensis Leaf Juice Powder, Sodium Hyaluronate, Chamaecyparis Obtusa Leaf Extract, Diospyros Kaki Leaf Extract, Ulmus Campestris (Elm) Bark Extract, Plantago Asiatica Extract, Laminaria Digitata Extract, Salix Alba (Willow) Bark Extract, Aloe Barbadensis Leaf Extract, Althaea Rosea Root Extract, Allantoin, Adenosine, Bee Venom, Beta-Glucan, Betaine, Panthenol, Citric Acid, Caprylyl Glycol, Xanthan Gum cosDNA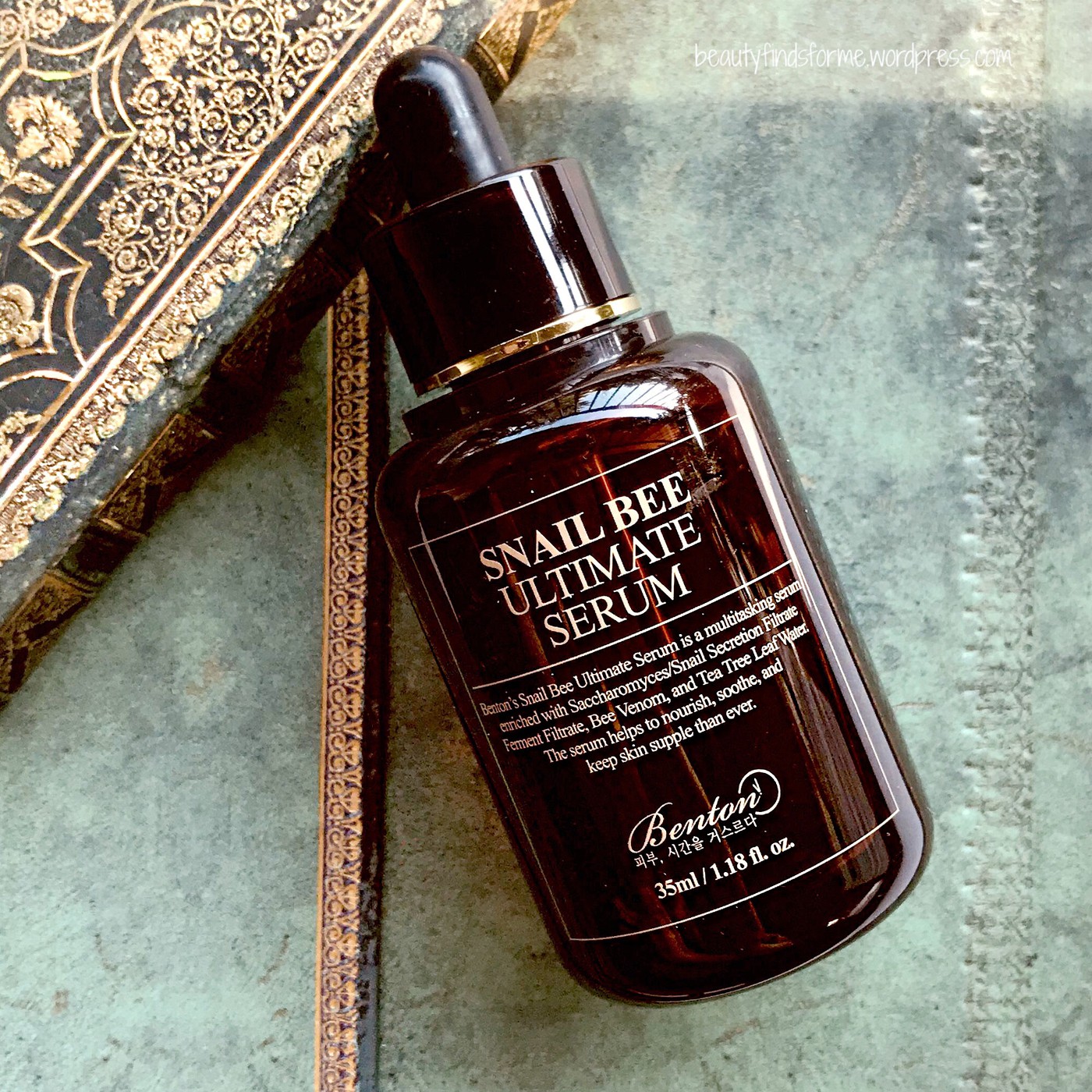 Benton Snail Bee Ultimate Serum  This serum is described by Benton as
Benton's Snail Bee Ultimate Serum is a multitasking serum enriched with Saccharomyces/Snail Secretion Filtrate Ferment Filtrate, Bee Venom, and Tea Tree Leaf Water. The serum helps to nourish, soothe and keep skin supple with the increased density of nourishment by fermentation
Now, I have my own thoughts about who can benefit from this serum, but I wanted to also disclose Benton's recommendation for skin that: needs more nourishment, want to prevent skin damage, has hyper-pigmentation and uneven skin tone, needs to balance oil-water ration, needs to be supple and revitalized.  This serum is dermatologically tested and is free of fragrance, volatile alcohol and PEG's.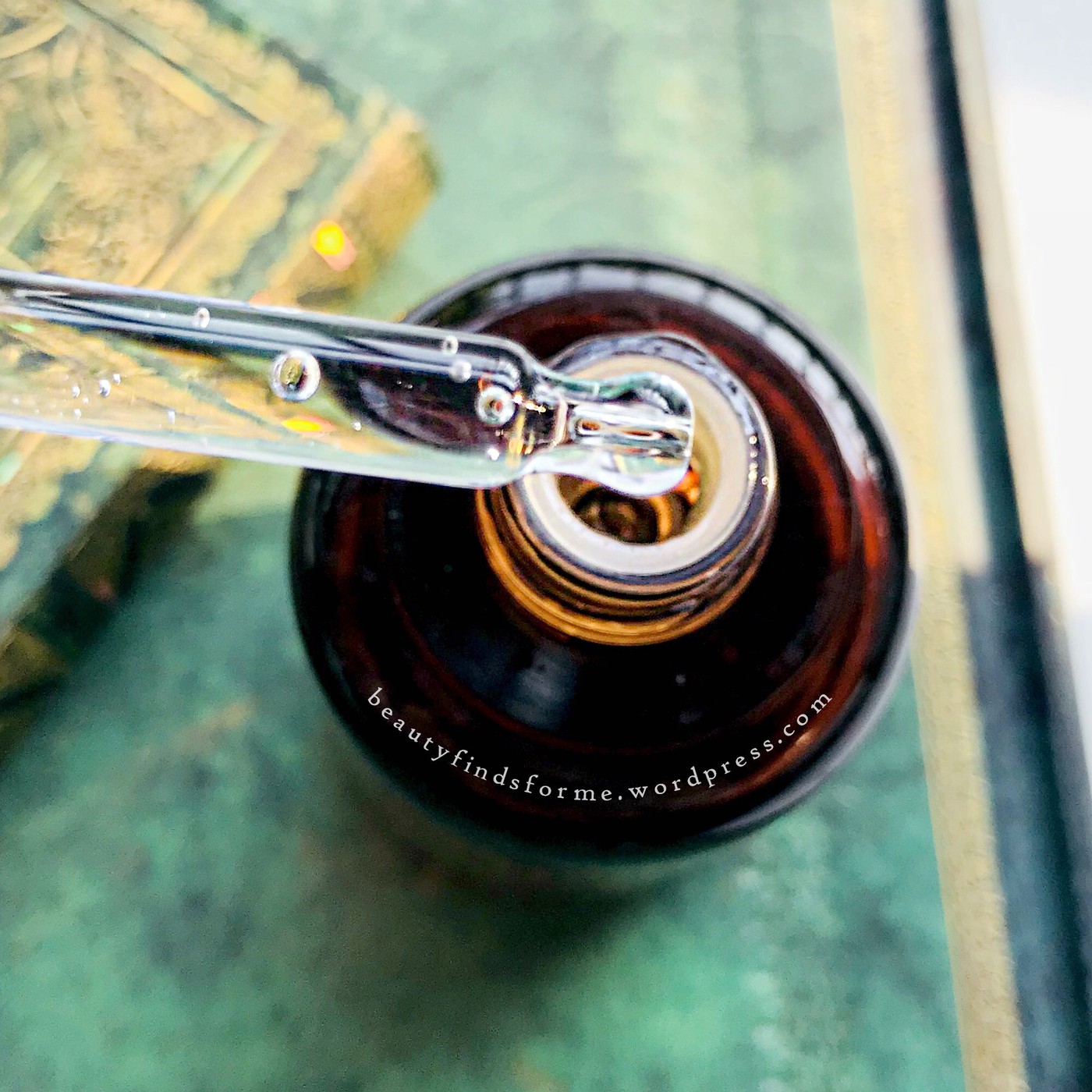 This serum comes in a plastic (but looks like glass) bottle in a dark amber shade ~ I love the band around the eye drop applicator ~ this helps keep the serum from leaking out and making a mess ~ they had the same design on the Cacao Moist & Mild Serum as well.  The packaging is very classy looking.   The serum is slightly watery viscous texture , not a gel serum at all ~ and unlike most snail slime products, there is not an excess of slimy or stringiness with this product!  So, if you want to use snail slime products but don't like the tacky slimy feeling, you would be happy with this one, as the slime feeling is very minimal.  It doesn't have a scent to it that I can detect.

This has a cooling sensation on my skin and it absorbs fairly quickly.  For my oily skin type, I find that this does hydrate nicely and leaves my skin feeling soft and supple.  If you have drier skin than me, you might find this not hydrating as I did.  With my skin moisture/oil device, I found that this increased my moisture by 48% and decreased my oil levels by 41%, leaving my skin happy and balanced. 
Before Levels:  Moisture: 39.4  Oil: 26.3 (meh face)
After Levels:    Moisture: 58.2  Oil: 18.6  (smiley face)
Now, during this testing period, I didn't experience any breakouts, so I could not really test for how quickly it could heal my skin during this time. I did find that my skin just soaked up this serum and was quite happy when I used it.  I normally don't pH test my serums, but Benton claimed this has a mildly acidic pH level of 5.5 (+/- .5) and for once, my testing came in under their claims!! Usually, I find that their pH claims are a tad higher than stated, but the Benton Snail Bee Ultimate Serum came in at a pH level of 4.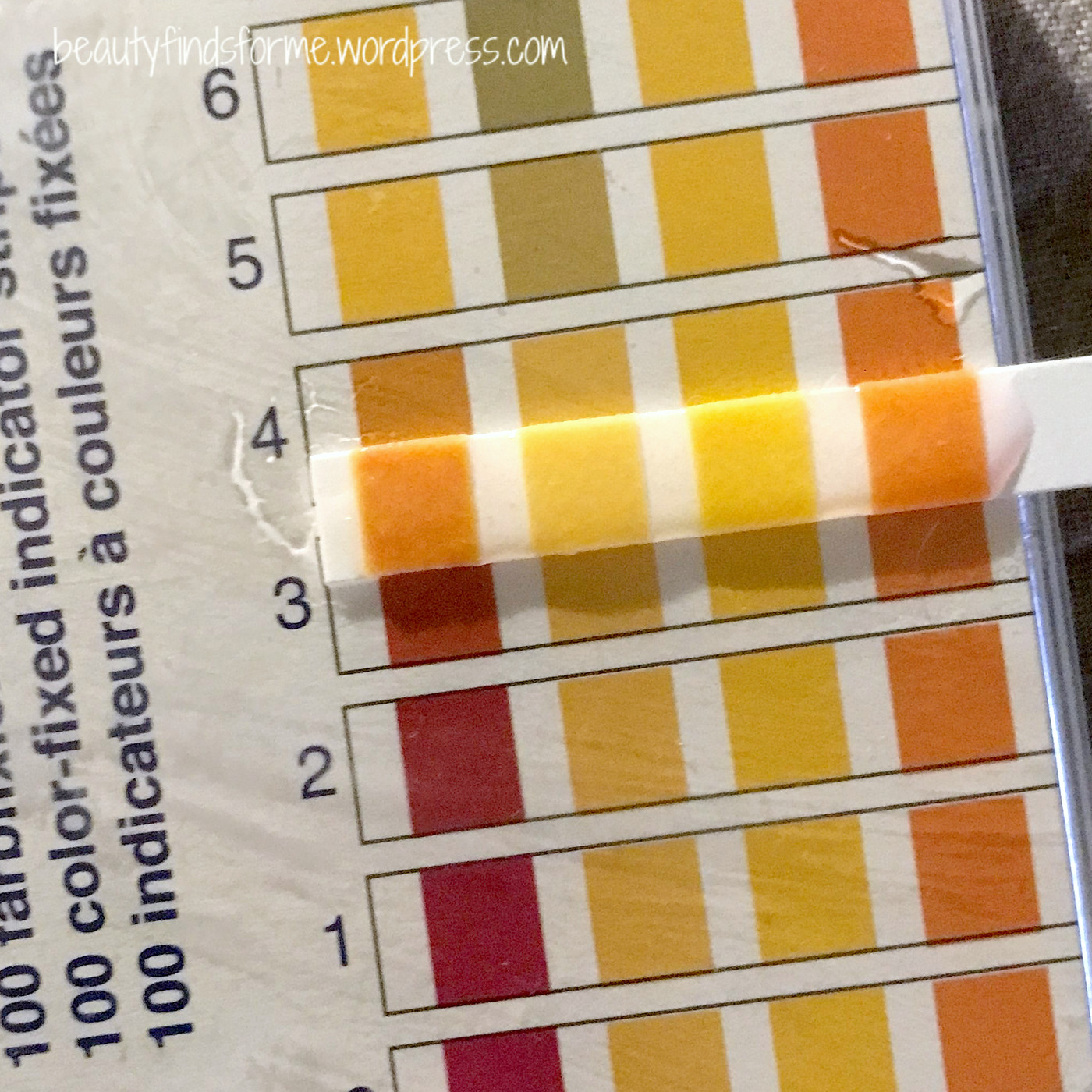 Final Thoughts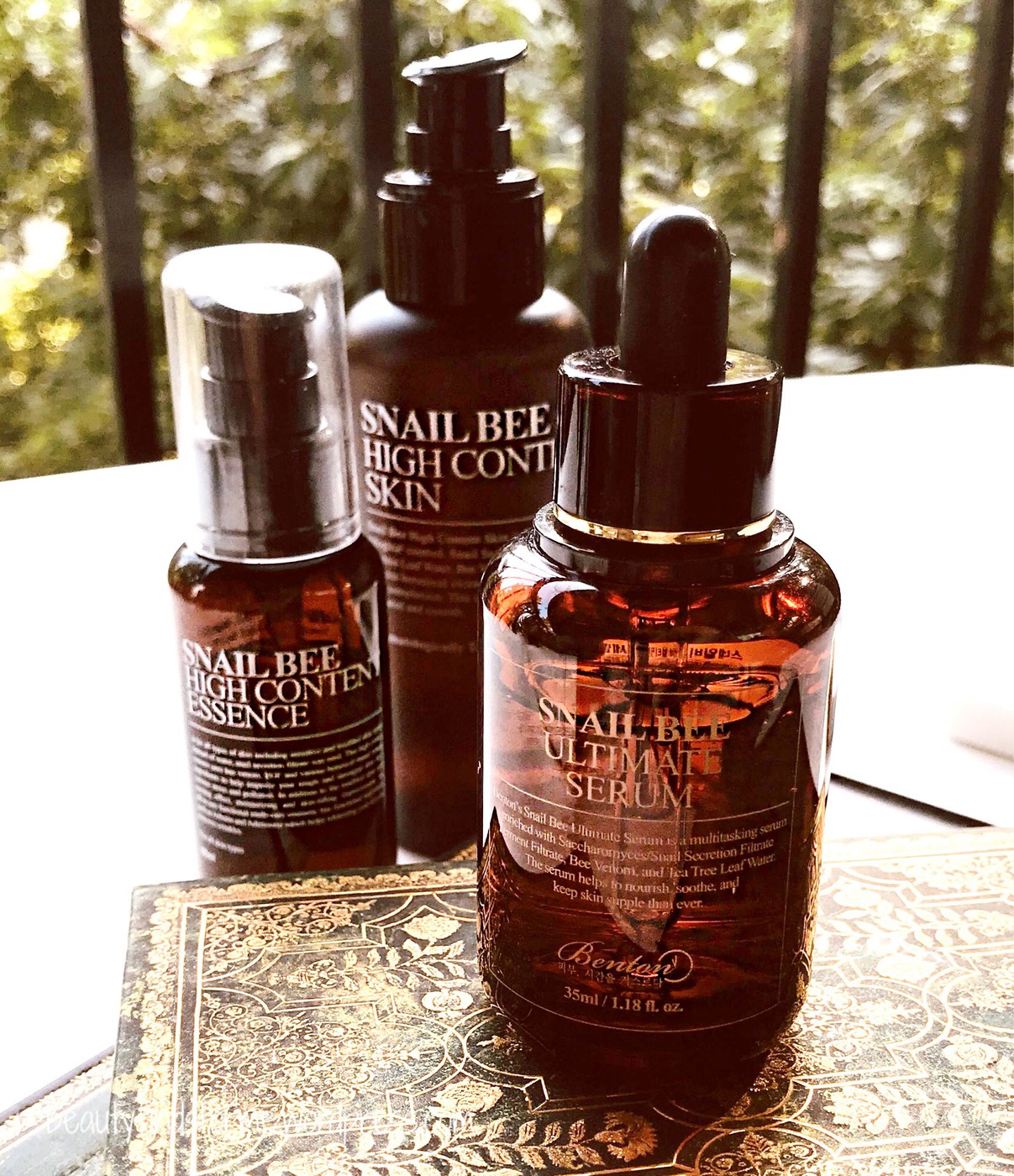 Another fantastic addition to the Snail Bee Line… In fact, I might have to say that this serum is going to bump the Snail Bee High Content Essence off its pedestal and sit in that HG throne for a while.  My skin feels very soft, supple, hydrated without any greasy or tacky residue and as an oily skin person, I find this is easy to layer with other products.  Time will tell how it tackles pimples, but it has ingredients that work for me on blemishes, so I am sure this will perform nicely.  Benton states that the Snail Bee Ultimate Serum is suitable for all skin types, but I do think that oily skin types will love this more than drier skin types.  If you have dry skin, you will layer this with other products.  Sensitive skin types will like this for its non irritating and scentless formula.  Do you love the Snail Bee line from Benton?  Which products have you tried?    
Where to Purchase
You can purchase the Benton Snail Bee Ultimate Serum on Benton's eBay Store (click here) for $27.00. They also give out free samples with every purchase and have free shipping worldwide.

Style Korean sells the Serum for $13.80 USD (click here to purchase) with free shipping to USA with purchases of $70.00 or more ~ they have free shipping to other countries too, but you have to read their shipping page to find the minimum purchase amount to qualify. YesStyle sells it for $21.90 USD (click here), with free  shipping with any orders over $35.00.  There isn't a lot of sites that carry it as it was just released.  Benton is very popular,  however, so it is a matter of time before it will be more wildly available.

[ disclaimer: product received for review purposes.  all opinions are my own ]