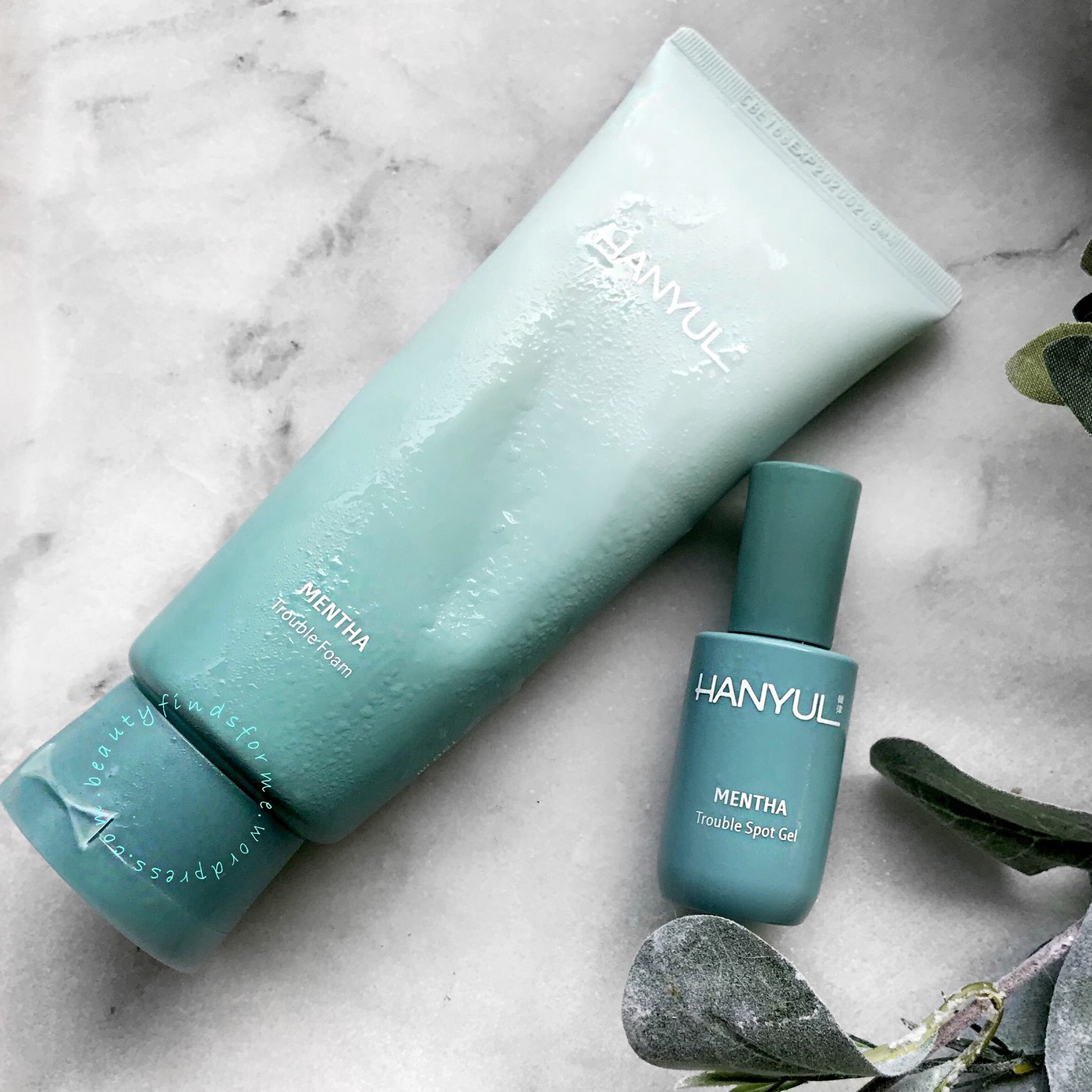 Hanyul is part of the Amore Pacific family and you can find their products at BeautyTap, formally W2Beauty.  Hanyul is their line of Traditional Korean Medicine (Hanbang) in skincare.  I love Hanyul products and have reviewed several here at my blog (link here) and when I saw that they were coming out with a line made just for oily blemish prone people like myself, I thought I died!  The Mentha Trouble Care line has 5 items ~ cleansing foam, toner, gel cream, spot gel and body spray ~ and I received four of them, courtesy of Beauty Tap. I am reviewing the Cleansing Foam and Spot Gel now and will have a second part for the Toner and Gel Cream. 

They say mothers know best. We've found this to be true especially when it comes to natural skincare. Hanyul is a brand inspired by the traditional folk remedies and medicinal practices carried on for centuries by women in their homes. In combination with modern technologies and formulas our brand is inspired by these mild, but effective remedies passed down from mothers to their children for generations. Amorepacific's years of accumulated knowledge for creating skincare combine our mother's traditional wisdom with scientific advancements. Our products are made with the same traditional and local ingredients including Korean plants and grains such as rice, brown pine needles, artemesia, baekhwago (Korean mushroom), Korean chrysanthemum, and our native seoritae (Korean bean).  (source)
Skin Type/Concerns: Oily, blemish prone, pores, aging, hyper-pigmentation, fine lines/wrinkles
Some products were complementary to review and was not paid.  All reviews are my own honest opinion and  I never have been asked to write copy for a brand.  This blog post might contain promo codes, affiliate and referral links, which using my links will help generate a small commission that helps support my blog at no extra cost to you.
Common Ingredients
image credit hanyul.co.kr
Even though this is not the top ingredient in the list for this line, mentha arvensis (cornmint, Chinese peppermint, Japanese peppermint, wild mint)  is key to the Mentha Trouble skincare line.  Hanyul uses mint grown in the hills and mountain fields of Korea ~ mint has been used for a long time to help skincare issues like blemishes and excess oil production.  It contains a rich source of l-menthol, which provides for a cooling and refreshing feeling on the skin.  It is also an anti-inflammatory, antiseptic and also has analgesic properties, so it will help reduce the pain as well as swelling.  BHA salicylic acid helps combat acne, by gently exfoliating your skin and removing dead skin cells and excess oil.  Salicylic acid is fat soluble, so it can really get to the oil that is inside your pores.
There are a couple of hanbang ingredients in here ~ antioxidant angelica root (angelica acutiloba, dong-quai) has been used for centuries in traditional asian medicine and it will help heal blemishes and increase your skin circulation, which in turn will make your skin look more radiant.  Cnidium officinale has also been used for thousands of years and topically, it can help clear up skin issues, such as blemishes, rashes and eczema while acting as an antioxidant.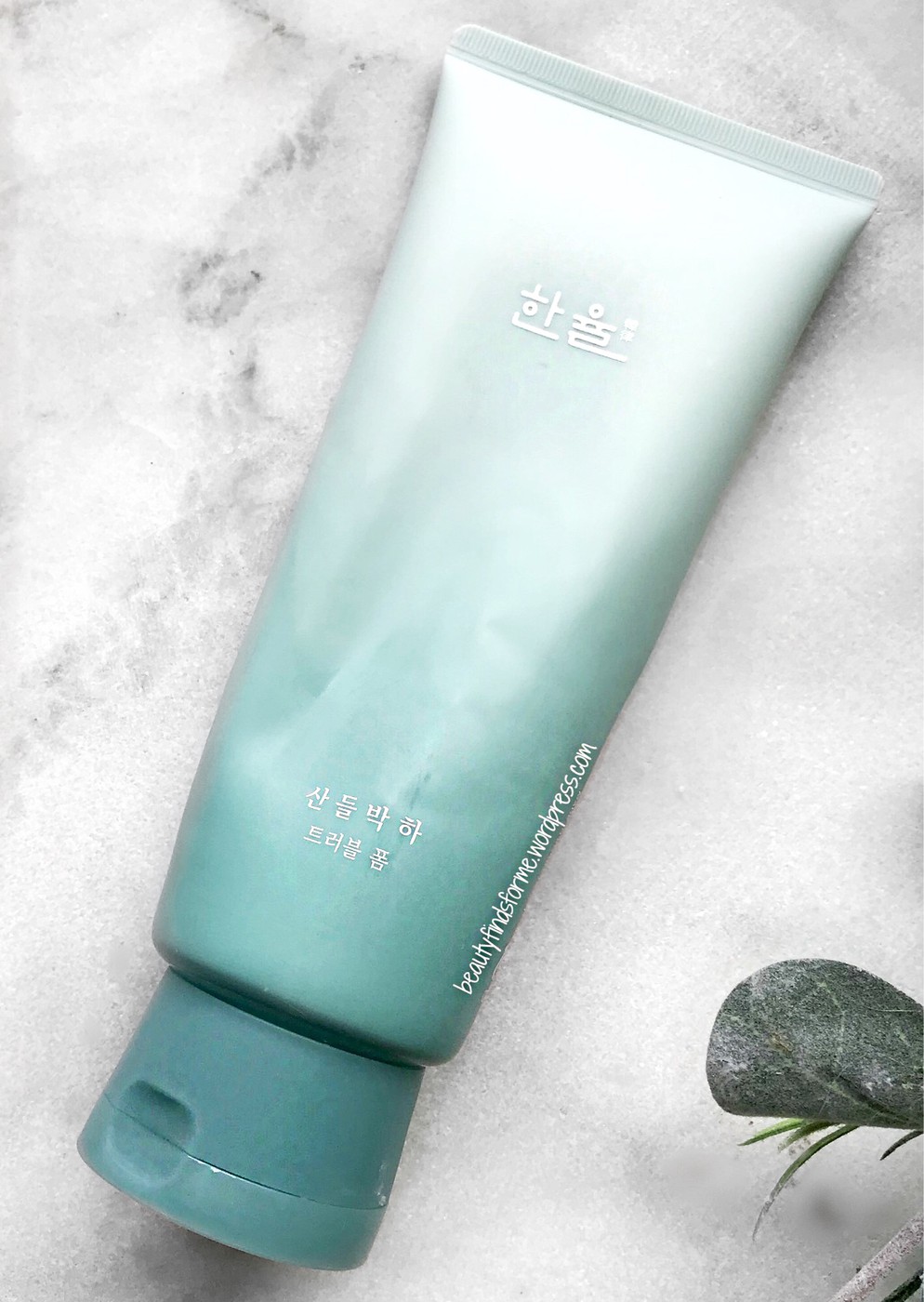 Hanyul Mentha Trouble Foam (150 mL)  I have very oily skin and whereas I know that some folks cannot handle or do not wish to use a higher pH cleanser, I normally do not shy away from them just because of the pH level.  If I do not like a cleanser, it has nothing to do with its pH level, but how it performs and makes my skin look and feel.  This Cleansing Form not only contains the mint extract but the BHA, which helps control oil production and also exfoliates your skin, removing excess oils and dead skin cells that are "glued" in your pores.   This cleanser also has lactic acid, an AHA (alpha hydroxy acid) and it will help exfoliate dead skin cells, excess oil and other debris, while moisturizing and brightening skin tone and firming your skin. Fusanus spicatus (aka Australian sandalwood) wood oil has antiseptic properties while cooling and soothing your skin ~ it also is good for reducing excess oil on your skin.   This is free from animal materials, mineral oils, synthetic dyes, silicone oil, imidazolidinyl urea, triethanolamine and SLS and has been allergy tested.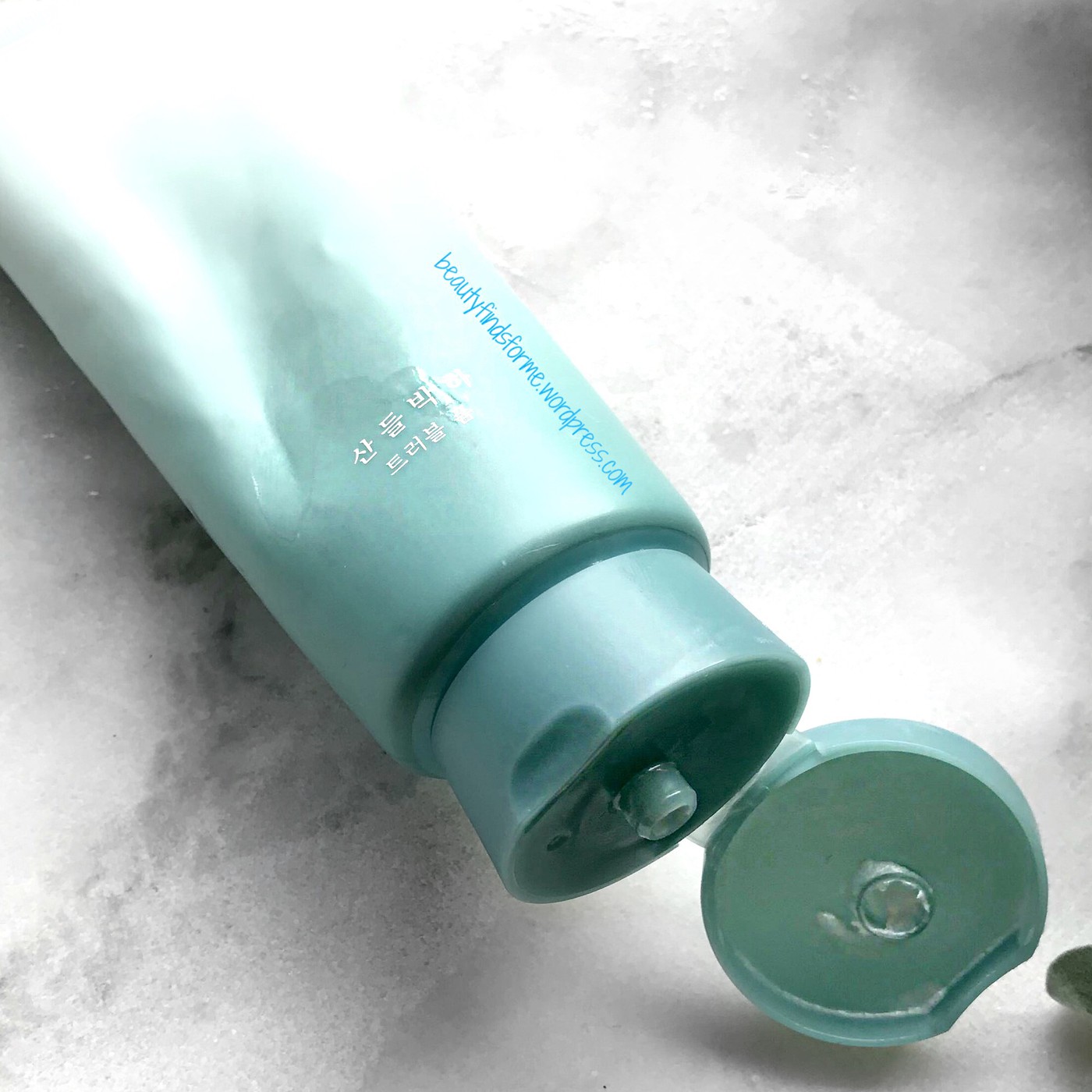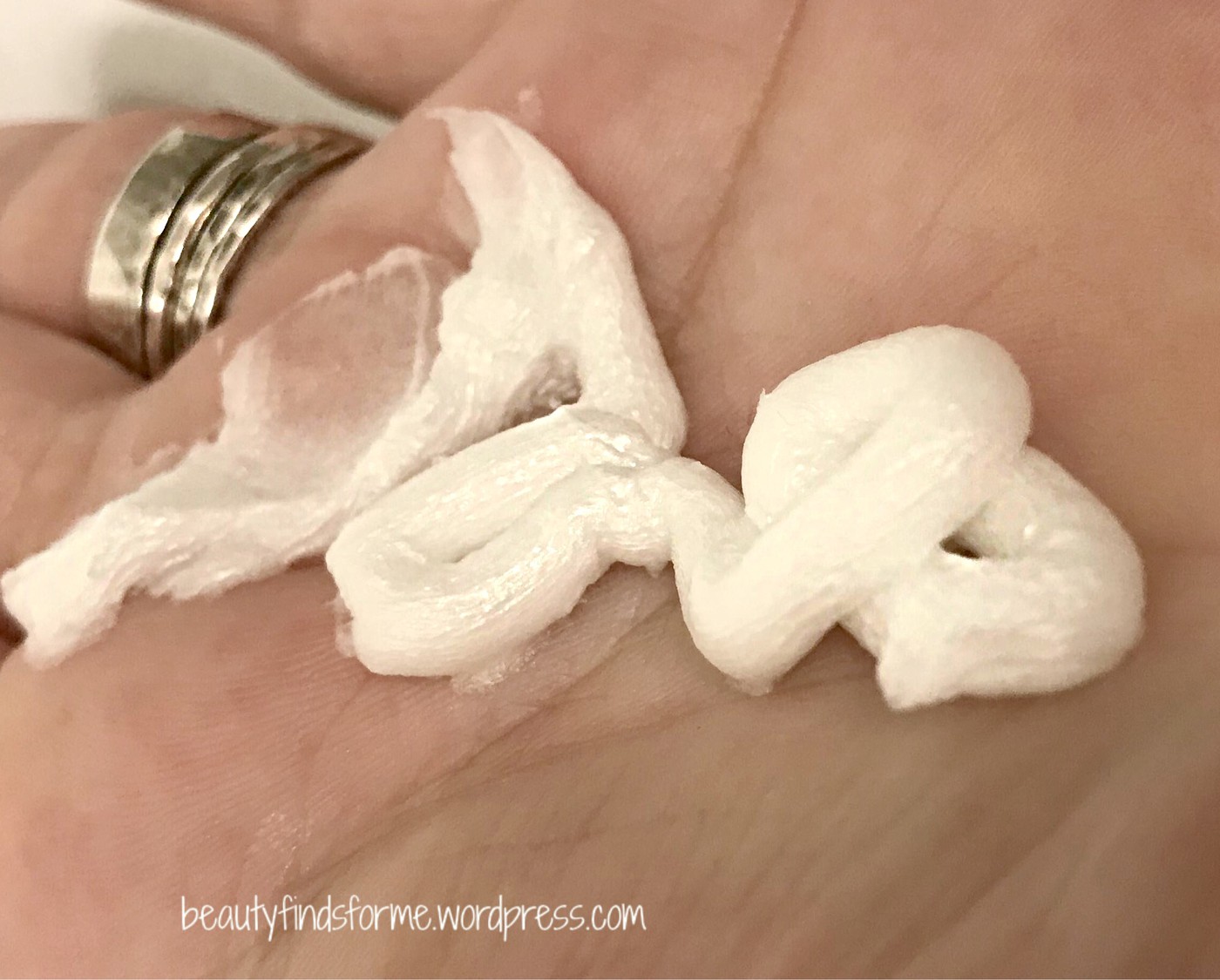 This foam cleanser is dense and a pearlized white color and it doesn't take much to create a thick, creamy foam.   It has a lovely refreshing mint-citrus scent and it is cooling on the skin.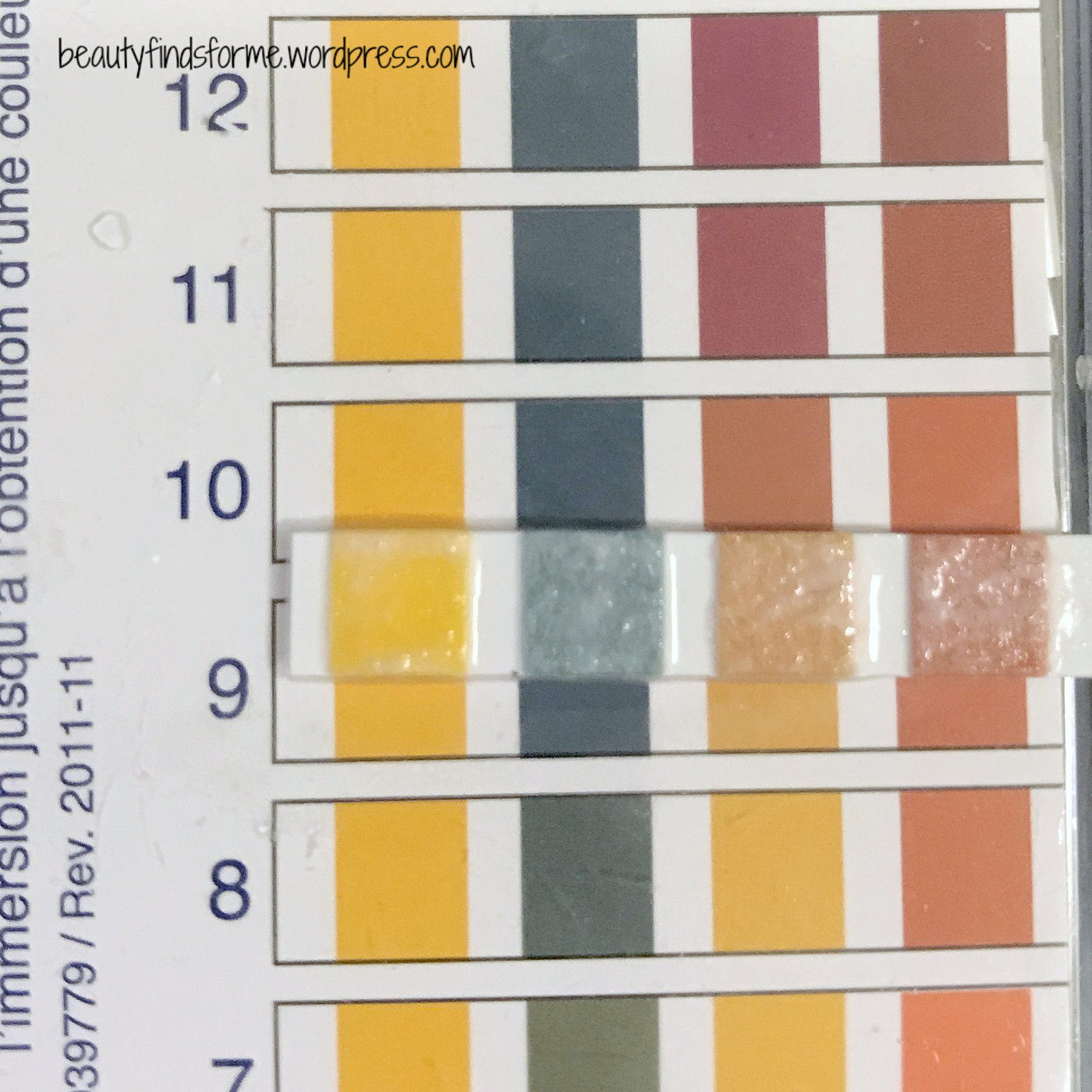 pH level is around 9.5 ~ and some of you are running screaming out of the room ~ lol ~ one of my favorite cleansers was the Missha Fermented Citron and that was 10!  This also removes makeup nicely ~ it only had issues with a stubborn, long lasting liquid matte lipstick.  My skin feels refreshed, cleansed and it doesn't feel itchy or tight.  I have not experienced any breakouts using this cleanser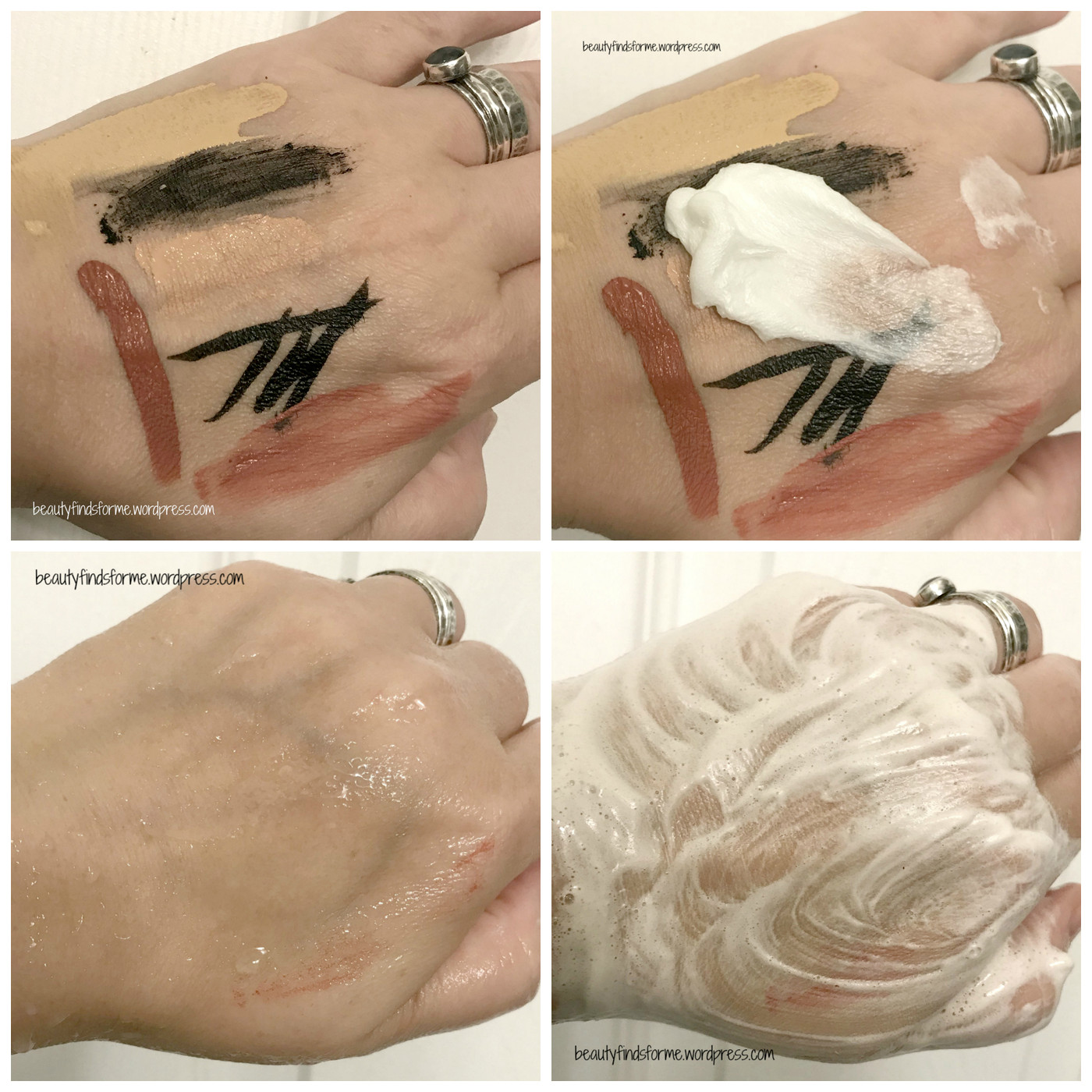 Ingredients: water, glycerin, myristic acid, potassium hydroxide, PEG-32, stearic acid, salicylic acid, palmitic acid, glyceryl stearate, PEG-100 stearate, lauryl glucoside, 7, cocamidopropyl betaine, angelica acutiloba root water, cnidium officinale root water, fragrance, sodium methyl cocoyl taurate, sodium chloride, butylene glycol, polyquaternium-7, disodium EDTA, fusanus spicatus wood oil, mentha arvensis leaf extract, angelica acutiloba root water, cnidium officinale root water, 1,2-hexanediol, sodium benzoate, malachite extract, lactic acid, ethylhexylglycerin, tetrasodium EDTA  cosDNA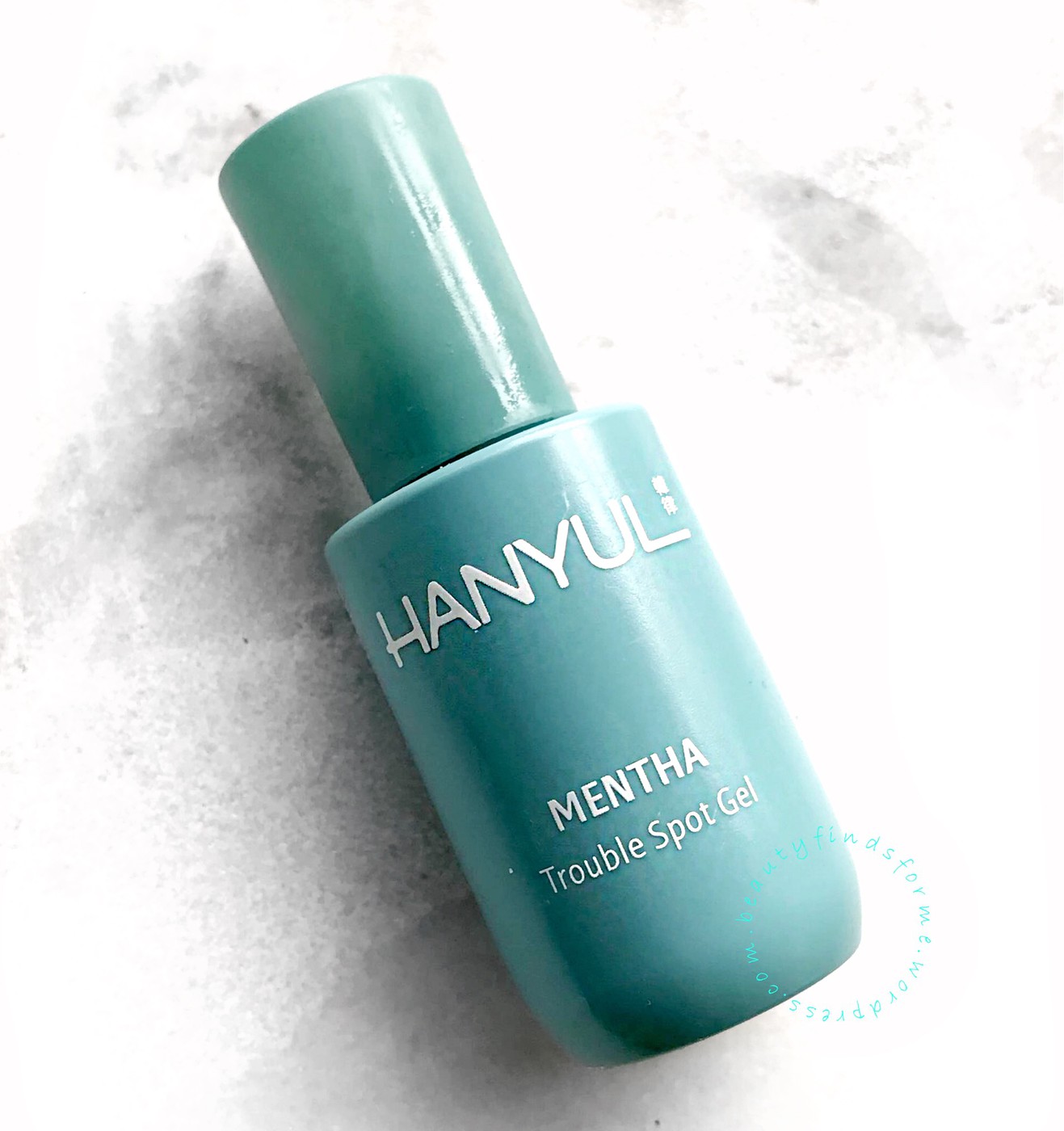 🍃Hanyul Mentha Trouble Spot Gel (20 mL) I am always looking for spot treatments to help heal and treat my zits, and this one is so much fun!  First off, the bottle ~ it's a bebe Hanyul!!  It is so tiny ~ hence the name spot gel.  Along with the common ingredients, some other ingredients of note ~ there are three compounds extracted from centella asiatic: asiaticoside helps form collagen to strengthen your skin and speeds up wound healing. Asiatic acid is an anti-aging compound, that helps to plump up your skin, prevents wrinkles, fine lines and scar tissue. Madecassic acid helps aid in the production of collagen and tissue.  Niacinamide is a powerful antioxidant that acts as an anti-inflammatory, improves your skin elasticity, enhance the skin barrier function and also it helps to even out skin tone and reduce post-inflammatory hyper-pigmentation.  Silica is a crucial item when it comes to your skin's connective tissue, collagen. By stimulating certain cells, silica helps strengthen your collagen and elastin.  I was a bit worried about the rose in here, but it didn't cause any issues on my skin ~ rose is as astringent ingredient with soothing properties.  Hanyul's Mentha Trouble Spot Gel is free from animal materials, mineral oil, fragrance, polyacrylamide, imidazolidinyl urea, triethanolamine, silicone oil and synthetic pigments and has been allergy tested.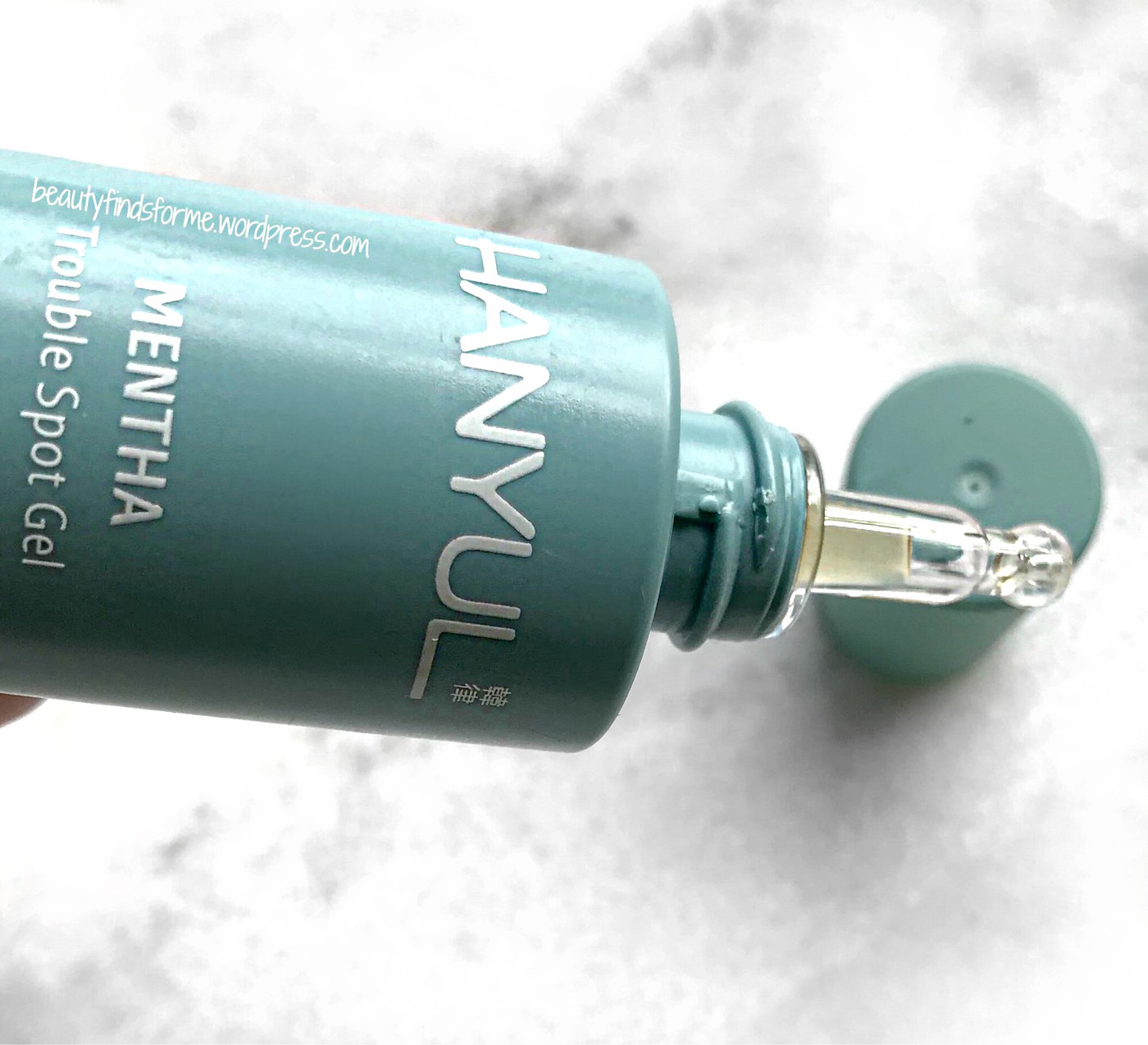 The design on this product is so clever ~ just remove the cap and there is a long tube with a bulb at the tip.  The bottle, made of a soft vinyl, is actually a squeeze bulb ~ just squeeze it and out comes a thick yellowish gel.  The gel goes on nicely and smoothly on my skin and there is no pilling when I apply my makeup over it.  It does have a light scent of alcohol in it, as since this gel is so thick, they needed to add alcohol to help thin the product.  I only need a drop or two of this gel and just lightly tap it on the spots,  but if you have a larger area, you would spread it on your skin like an essence.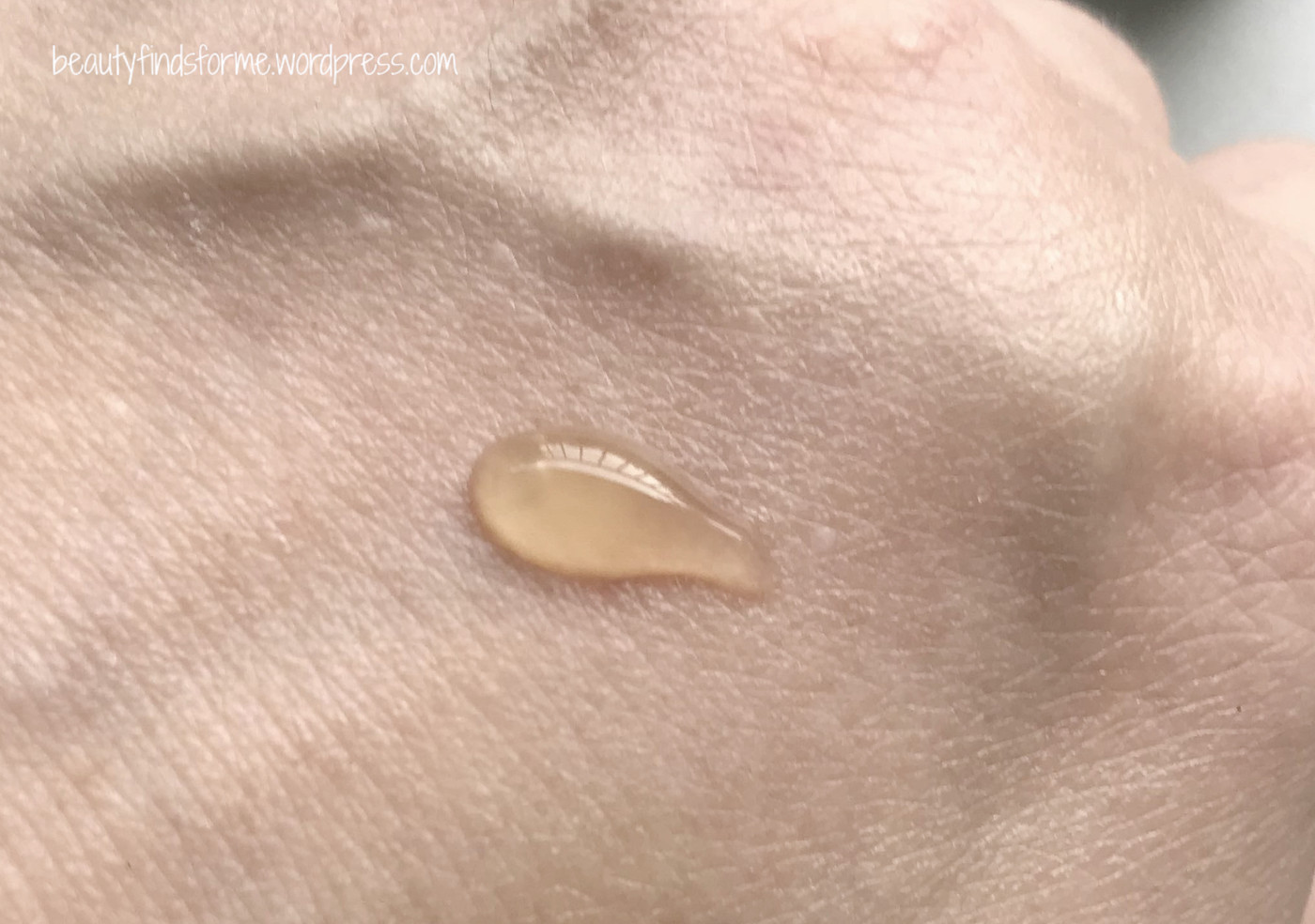 Does it help reduce blemishes?  Yes, I can say it does!  I normally use this at night and in the morning, I find that my offending pimples have either reduced in size or look less angry.  It helps without causing irritation or dryness as well.  The BHA in here also helps whisk away excess oil and debris from clogged pores, so this is a nice little product to have on hand. 
Ingredients: water, butylene glycol, glycerin, alcohol, niacinamide, ammonium acryloyldimethyltaurate/VP copolymer, hydroxyethyl acrylate/sodium acryloyldimethyl taurate copolymer, 1,2-hexanediol, salicylic acid, cnidium officinale root water, angelica acutiloba root water, silica, tromethamine, glyceryl caprylate, rosa centifolia flower extract, xanthan gum, sorbitan isostearate, mentha arvensis leaf extract, disodium EDTA, dextrin, theobroma cacao (cocoa) extract, asiaticoside, madecassic acid, asiatic acid, ethylhexylglycerin  cosDNA
Final Thoughts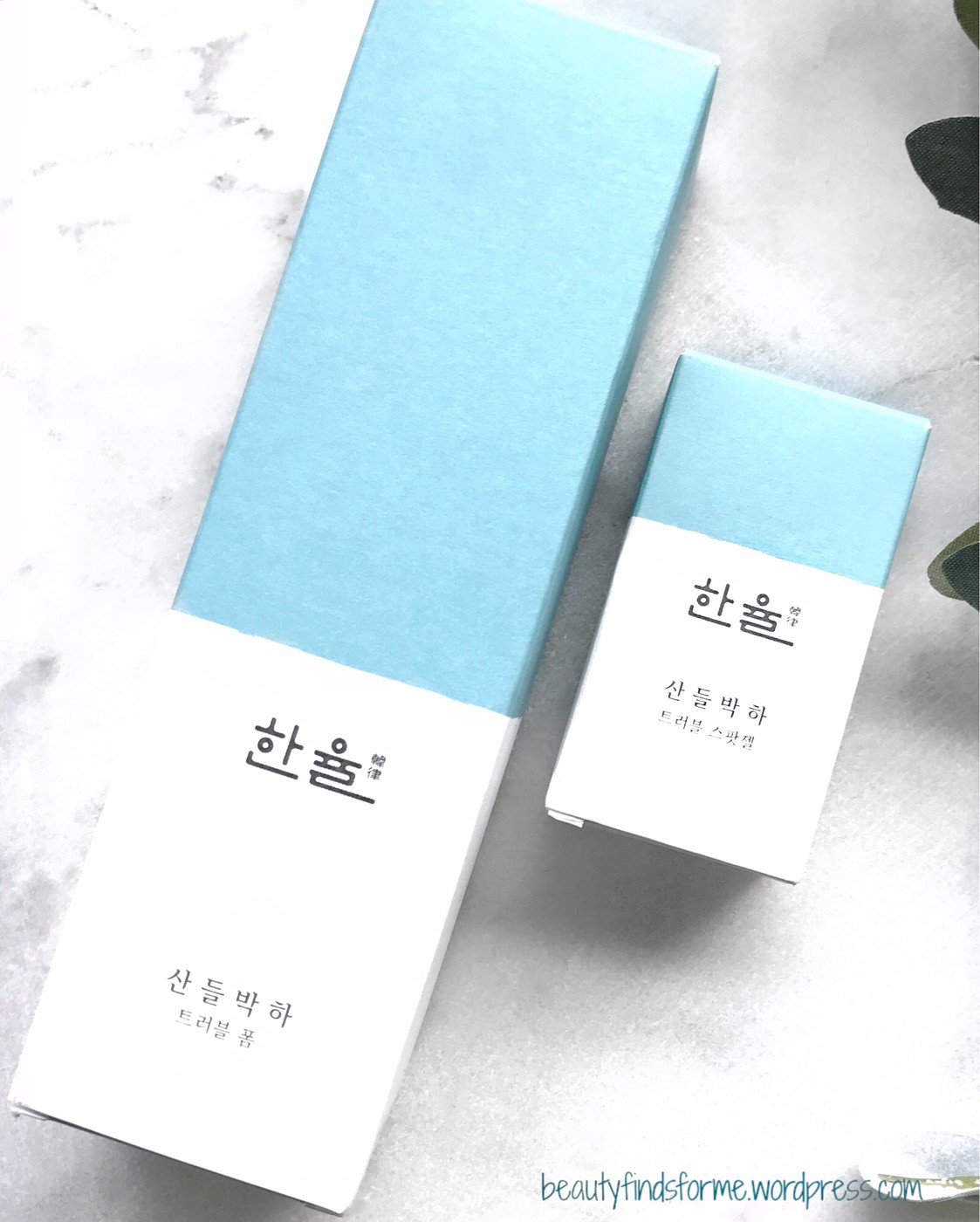 I am so pleased that Hanyul came out with a skincare line for oily, blemish prone skin and so far, I am enjoying these products!  So much so, that I am almost done with the foam and in my second review series of the Mentha Trouble line, you will discover another product is almost used up!!  I like the refreshing scent of the foam cleanser, but that item is the only one with such a scent ~ the other items are either scentless or in the case of the spot gel, have a light alcohol fragrance.  Would I purchase?  Yes ~ the foam cleanser is perfect for summertime and the spot treatment does work on light to moderate blemishes.  I also love the packaging on this line as well ~ very pretty with its cool blues.   And the BEBE Hanyul bottle with the spot gel ~ I almost died when I saw it!!  

You can purchase this line at Beauty Tap  ~ save 15% off any regularly priced items with affiliate code unboxing15.  Free shipping with purchases $60.00 or more. 
[ disclaimer: products received for review purposes.  blog post contains affiliate links.  all opinions are my own ]