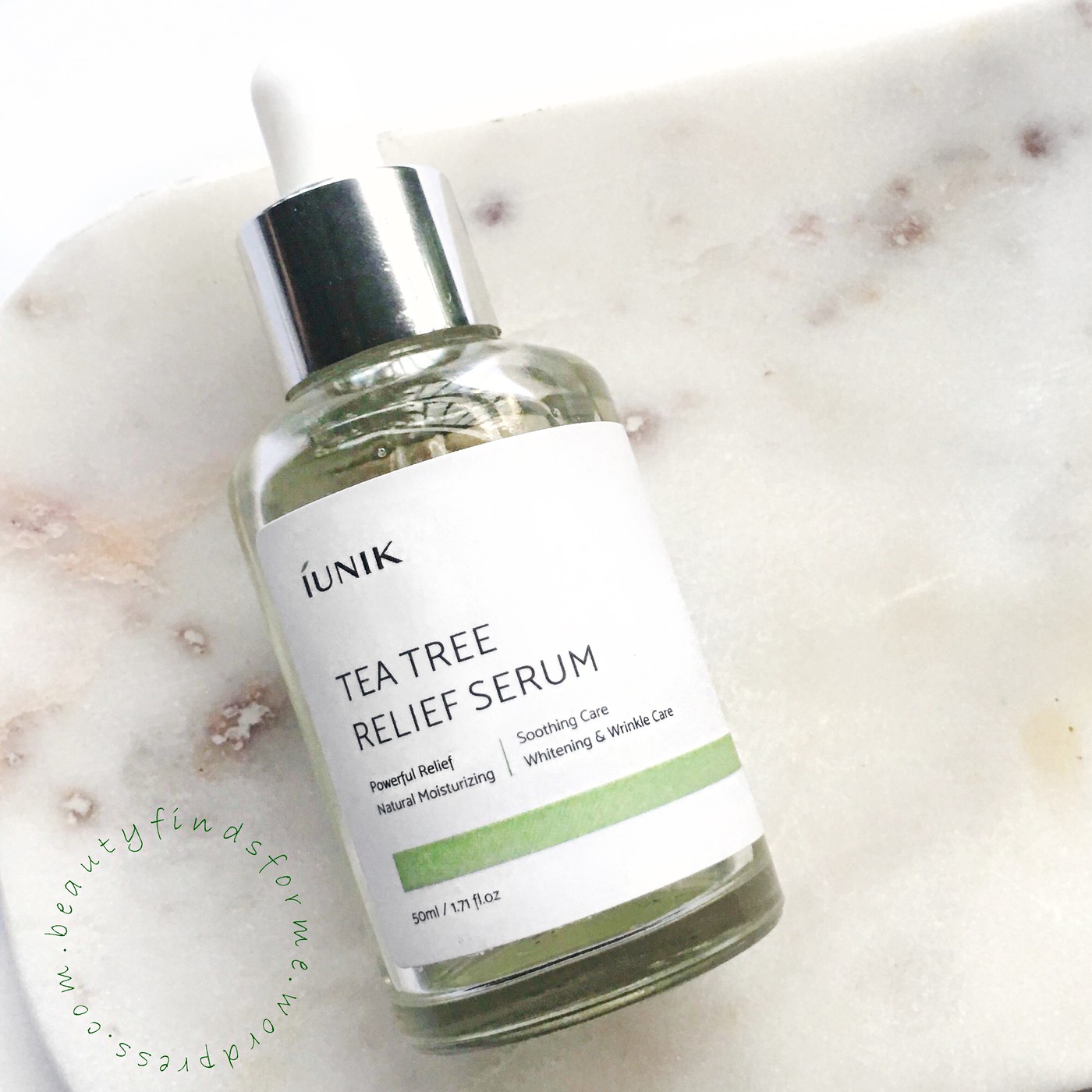 I had received the iUnik Tea Tree Relief Toner (review here) from the iUnik from e-Tailer unique4u and they added their Tea Tree Relief Serum as a bonus!  I have reviewed several other items from this brand and I can highly recommend iUnik for not only its affordability but its effectiveness.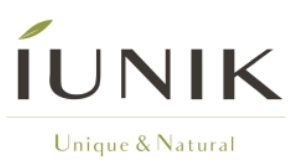 iUNIK is continuing to add items to their lineup right now ~  They have serums, toners, peeling gel and cream. I purchased their  Centella Calming Gel which I need to start using as I am almost done with my current moisturizer.  Founded in November 2016, iUNIK stands for
i = Ideal Skin Over Dreamy (I think they mean ideal skin over unrealistic skin goals)
U = Unique products
N = Natural occurring ingredients, mild and raw materials from natural origin.

I = Ingredients ~ less bad and harmful ingredients, more good ingredients
K = Knowhow knowledge to create the best products thru continuous Research & Development
iUnik uses hypoallergenic only ingredients for all of their products and they have continuous innovation and research to provide the skin care solutions.  All of their products are made in South Korea
Skin type/concerns:  Oily, aging, blemish prone, pores, hyper-pigmentation, fine lines and wrinkles. 
I received these products complementary to review and was not paid.  All reviews are my own honest opinion and  I never have been asked to write copy for a brand.  This blog post might contain promo codes, affiliate and referral links, which using my links will help generate a small commission that helps support my blog at no extra cost to you.
Tea Tree Relief Serum is for oily or sensitive skin types who need relief from irritation, blemishes and bring oil/moisture balance back to your skin.  Its top two ingredients are tea tree and centella.   Instead of purified water, this contains 67% tea tree water ~ tea tree is well known for its topical antiseptic and anti-fungal properties and help target and treat blemish-prone skin. It also reduces oil and sebum production on your skin, while not disrupting the moisture level.  19.5% of this toner is made up of centella asiatica, a common herbal ingredient that is used medicinally to help speed up wound healing, such as blemishes and skin rashes. It also helps minimize the appearance of pores, and since it stimulates collagen production, it will make your skin more supple and firm.  So based on the first two ingredients, we have a skin soothing, healing and oil-moisture balancing product.
The serum has a lot of similar ingredients to the toner, including hydrating humectants, sodium hyaluronate, betaine and glycerin ~ which will attract and bind water to your skin so it stays hydrated. Betaine is an amino acid is also an anti-irritant, providing silky smooth skin and soothes and calms skin.  Beta-Glucan makes an appearance in here (love my BG) and  it is a compound that is naturally derived from mushrooms, oats, yeast and grains. It helps stimulate the production of collagen, speeds up wound healing, soothes and calms skin due to its anti-irritant and strong anti-inflammatory properties, moisturizes, locks in natural moisture, anti-aging and anti-wrinkle due to its anti-oxidant properties and also helps repair your moisture barrier.  Portulaca extracts helps prevent dry skin, soothes and moisturizes while providing antimicrobial benefits.  Allantoin moisturizes, exfoliates and softens skin, making it look smooth and refined, while reducing and relieving irritation. 
This also has an organic patented sprout formula ~ Fresh Bud No. 6 contains six different vegetable sprouts, germinated for over a week, to help nourish your skin:  rapeseed (canola), broccoli, wheat, alfalfa, radish and cabbage, containing rich organic nutrients such as vitamins, minerals and enzymes, acting as antioxidants to protect your skin and prevent damage from free radicals.
This also has niacinamide and licorice root for brightening ~ niacinamide (vitamin B3) is a powerful antioxidant that acts as an anti-inflammatory, improves your skin elasticity, enhance the skin barrier function and also it helps to even out skin tone and reduce post-inflammatory hyper-pigmentation.  Dipotassium glycrrhizate (licorice) helps reduce flakiness in skin, and is an anti-irritant and anti-inflammatory which soothes skin while reducing redness. It also is a skin lightener and brightener, preventing hyper-pigmentation.

Ingredients: Melaleuca Alternifolia Leaf Water (67%), Centella Asiatica Leaf Water (19.5%), Butylene Glycol, 1,2-Hexanediol, Niacinamide, Glycereth-26, Water, Centella Asiatica Extract, Sodium Hyaluronate, Glycerine, Betaine, Portulaca Oleracea Extract, Brassica Oleracea Italica Extract, Medicago Sativa Extract, Brassica Oleracea Capitata Leaf Extract, Triticum Vulgare Germ Extract, Brassica Campestris Seed Extract, Raphanus Sativus Seed Extract, Cellulose Gum, Allantoin, Beta-Glucan, Caprylyl Glycol, Ethylhexylglycerin, Pentylene Glycol, Adenosine, Dipotassium Glycyrrhizate, Xanthan Gum, Chlorophyllin-Copper Complex  cosDNA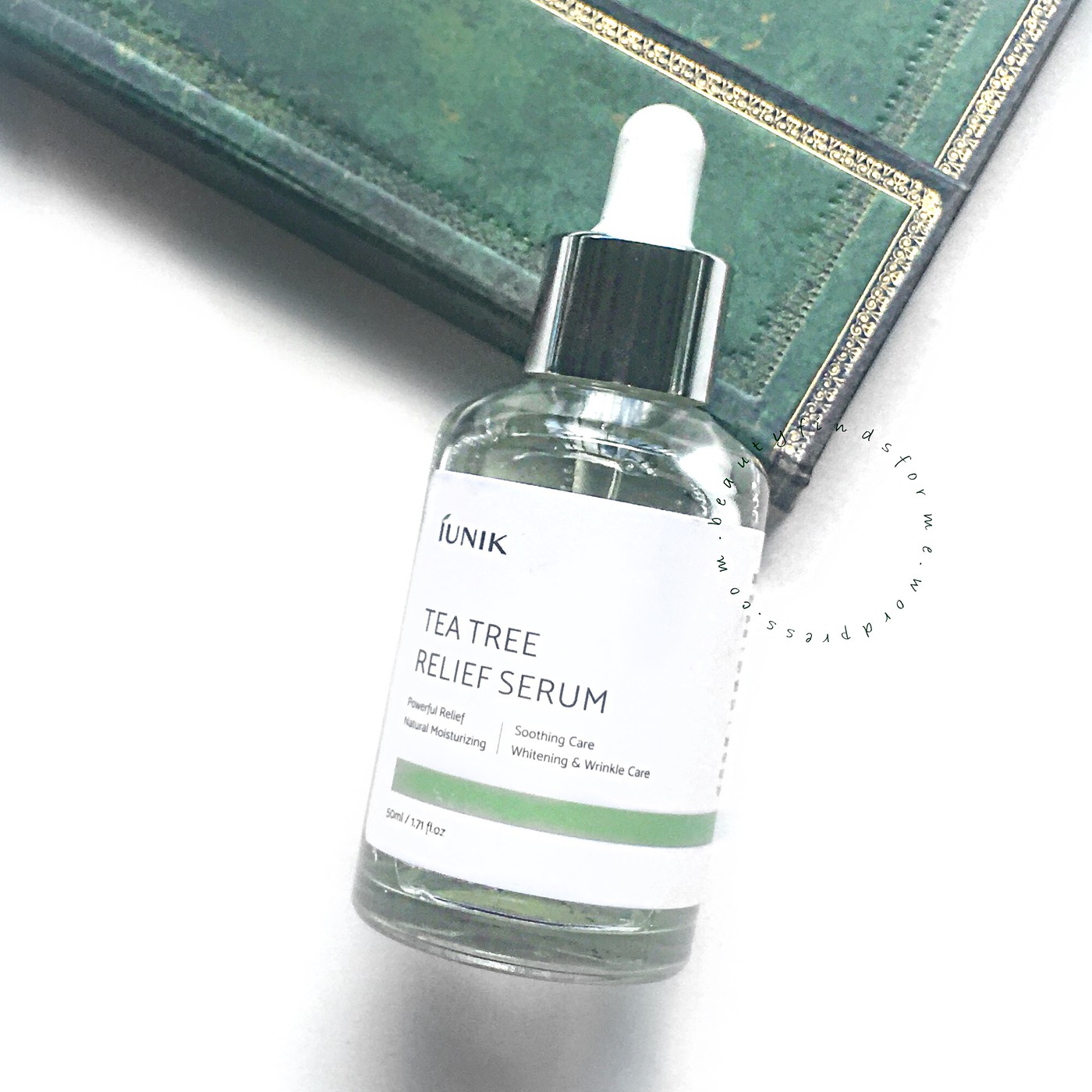 This serum comes in a squat 50 mL clear glass bottle with an eye drop applicator.  The packaging, just like all iUnik products, is minimalist. The serum looks a pale green in the bottle, which is due to the ingredient chlorophyllin-copper complex ~ it is a natural coloring and this ingredient helps heal skin wounds as it affects the growth of anaerobic bacteria that is on your skin ~ anaerobic bacteria is bacteria that lives without oxygen.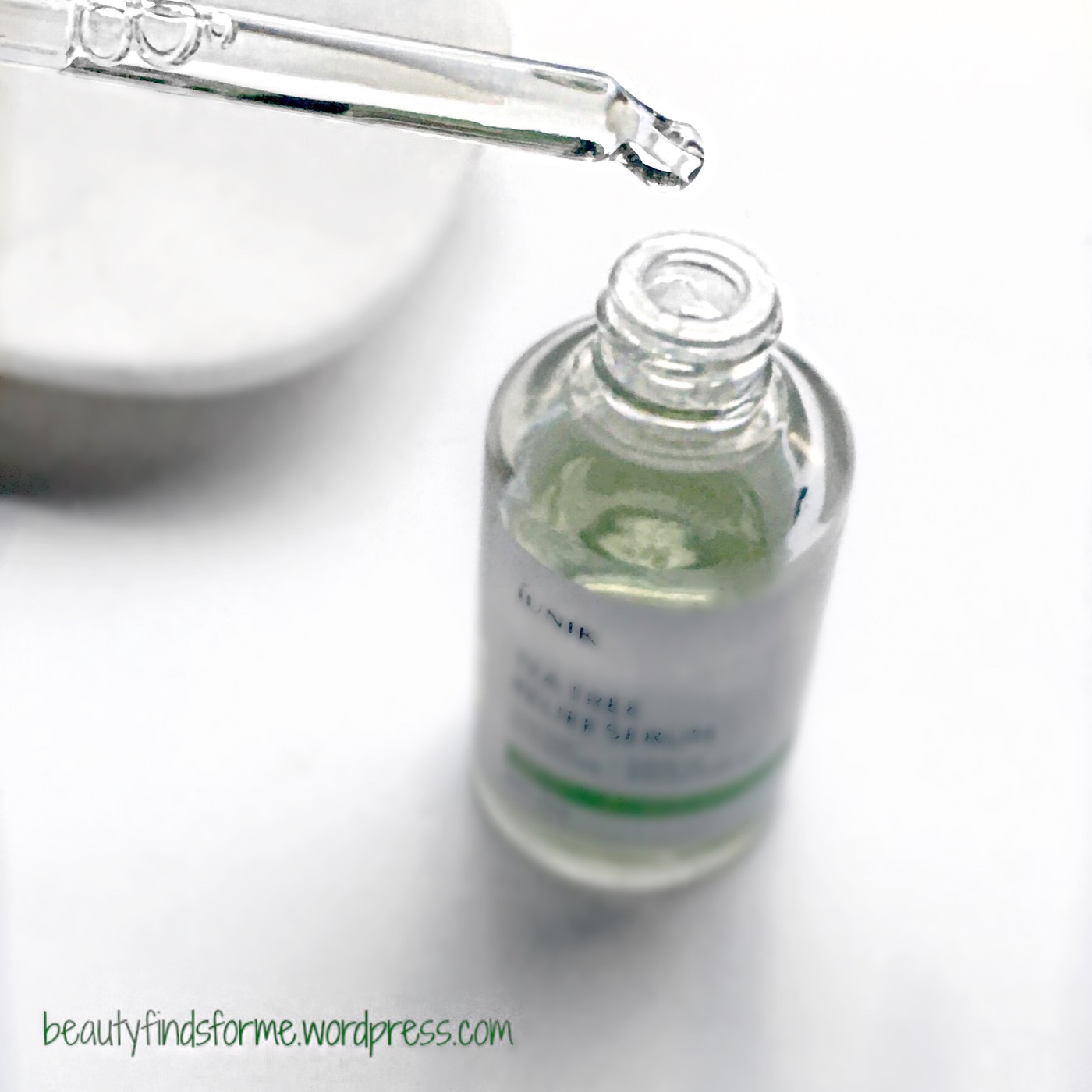 Don't worry, though!  The serum is clear when it is applied to the skin.  The serum looks very thick in the bottle, but it actually is quite runny and watery.  Its a mystery how these things happen.  I cannot make out any scent on this serum at all, but the description on the product states it has a light natural scent ~ I am just not picking it up at all.

This is very runny on my skin and I just use the dropper to drip it down my face and then I pat it into my skin.  It feels almost slimy as I pat it in ~ this is due to the glycerin, sodium hyaluronate, betaine and beta-glucan ingredients.  However, once it is absorbed into my skin, there is no tacky or slimy residue.  This serum actually feels cooling on my skin, which I do appreciate in the summertime and my skin feels soft and supple, as well as hydrated without being dewy.  I will say that it does help with calming blemishes and redness ~ my skin gets red more in the summertime and this does help calm and tone down that redness. 
I am back to using my some manual skin oil/moisture device as the Susee Nano Spray app is no longer available (so sad).  However, my manual device works just fine (link here).  This increased my moisture by 85% and reducing my oil by 18%.  I do not believe this is an oil-controlling product, but just to bring my skin back into normal levels, which this did.  My level readings were 
Before:  Moisture: 25.4  Oil: 38.1 (sad face)
After:    Moisture: 46.9  Oil: 31.4 (happy face)
Final Thoughts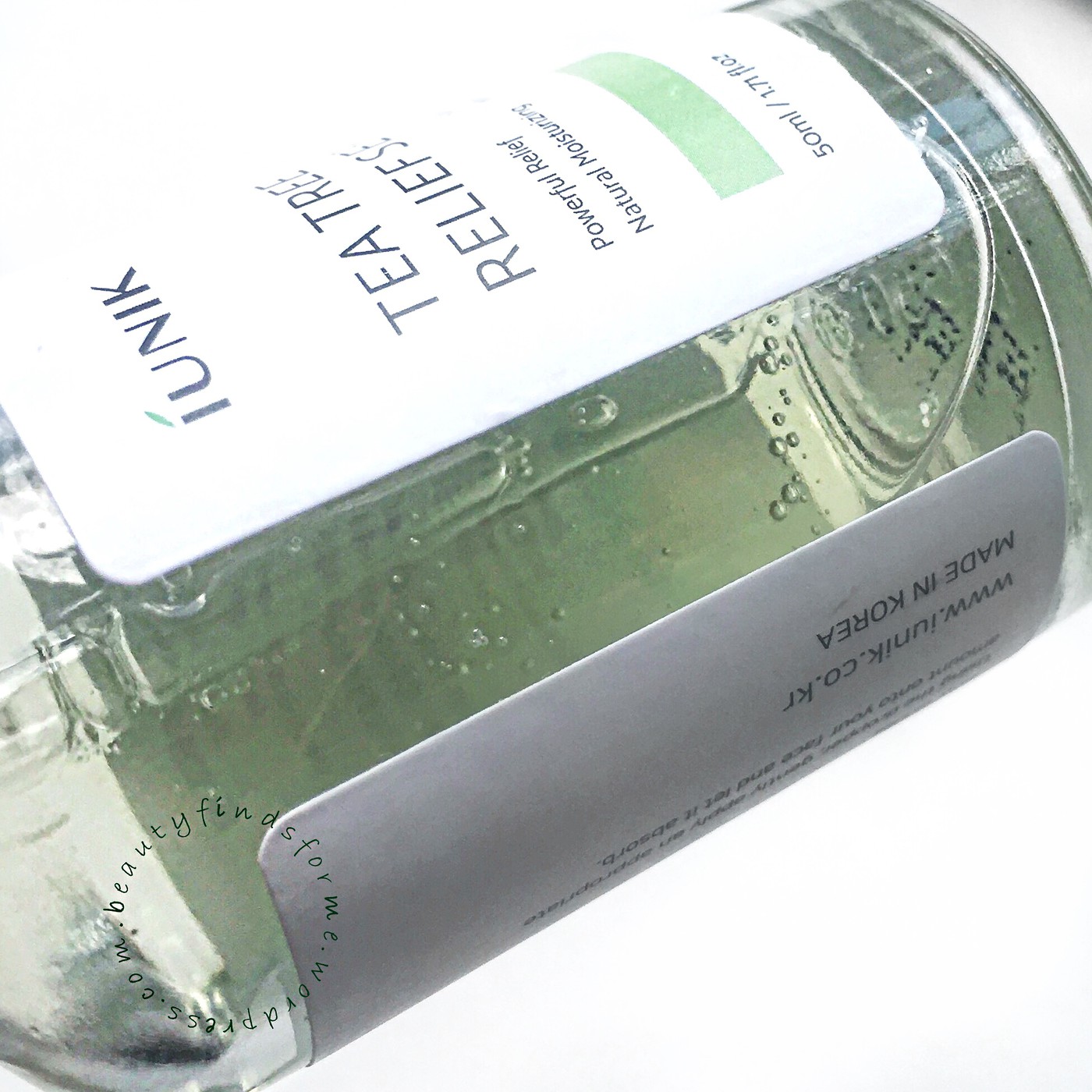 One of the issues I had with LGH Tea Tree 90 Essence was it left my skin DEWY which I hated as there is nothing more attractive than moist dewy pimples (not).  iUnik Tea Tree Relief Serum does what it claims ~ it calms and reduces redness, helps heal blemishes and brings my oil/moisture level back into balance.  Unlike LGH, this does not leave my skin shiny or dewy, and therefore, I can recommend this product.  In fact, even though there are differences in the ingredient list, iUnik Tea Tree Relief Serum is a dup for its effectiveness to LGH Tea Tree 90 Essence ~ and much less expensive too!  I have already purchased another bottle of this green gem as I do find it to be beneficial to my skin ~ it certainly packs a hydrating punch!   Have you tried iUNIK Tea Tree Relief Serum?  Or any of the iUNIK products?
Where to Purchase 
You can purchase iUNIK from unique4 online shop  and they carry it in several bundles as well.  unique4 has free shipping and give samples with every purchase.
Amazon USA  $21.90 50 mL with free prime shipping (click here) 
YesStyle  $17.90 50 mL (click here)  Global shipping
eBay  Prices vary, but you can find it as low as $14.50  (click here) 
[ disclosure: product received complementary for review purposes.  contains affiliate links ]