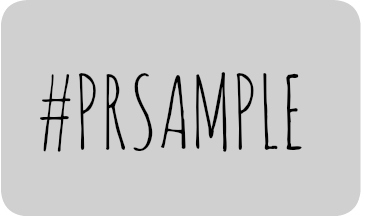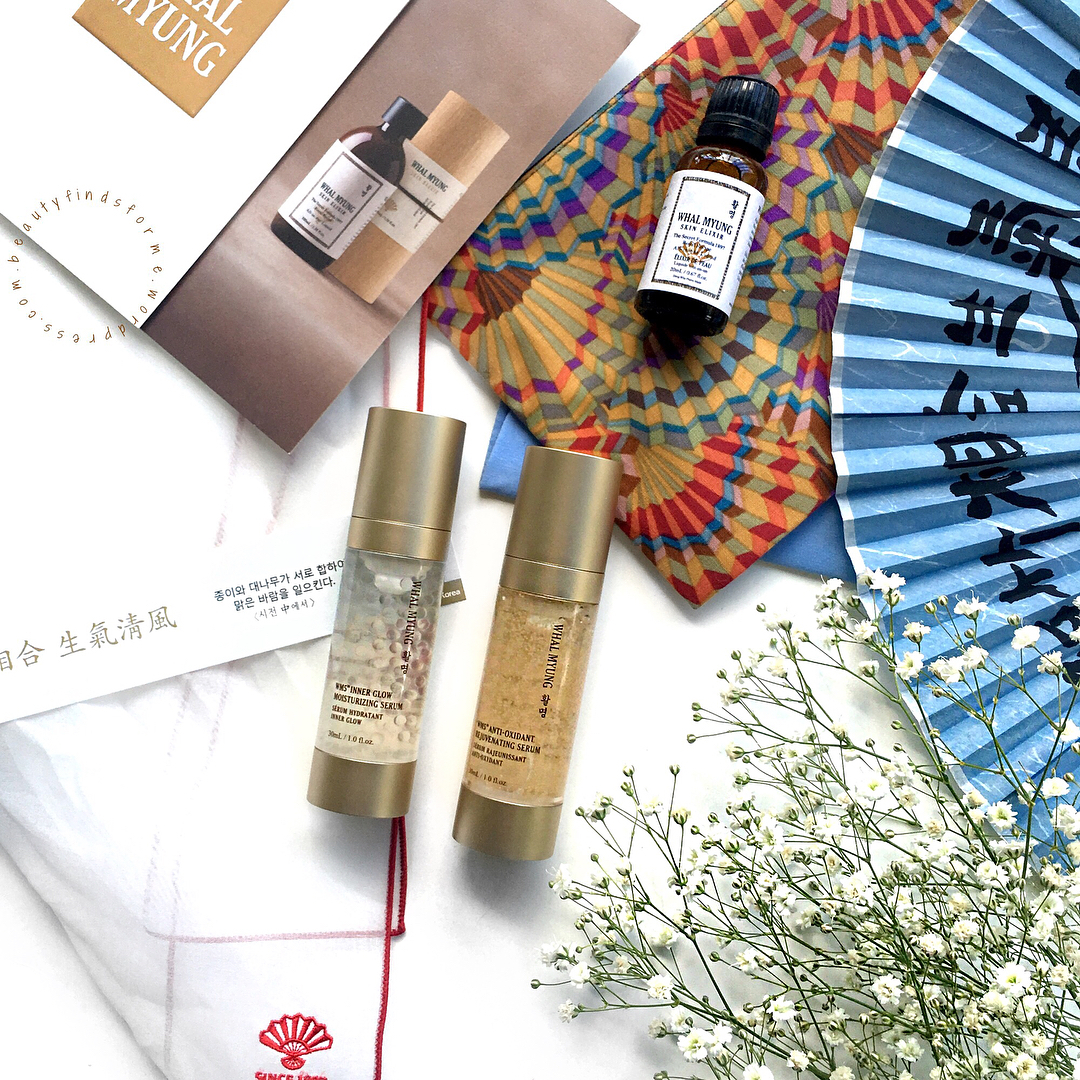 I was SO excited when Whal Myung sent me their brand new serums a month or so back ~  WM5 Inner Glow Moisturizing Serum and WM5 Anti-Oxidant Rejuvenating Serum.  I loved their Elixir, which is a must have in the winter months, so you can imagine how happy I was to try out their serums.

Skin Type/Concerns: Oily, blemish prone, pores, aging with fine lines/wrinkles and hyper-pigmentation
I received some of these products complementary to review and was not paid.  All reviews are my own honest opinion and  I never have been asked to write copy for a brand.  This blog post might contain promo codes, affiliate and referral links, which using my links will help generate a small commission that helps support my blog at no extra cost to you.
About Whal Myung and Dong Wha Pharmacy
I wrote this up with my original review with Whal Myung's Elixir, but thought it would be nice to repeat it again, as the history of this brand is really amazing and rich with Korean Hanbang tradition.  I found an article about the Dong Wha Pharm and its history on Korea Net, an information online site operated by the Korean Culture and Information Service (KOCIS) (source).  Dong Wha Pharm (Dong Wha Yak Bang) opened its doors in 1897 and is the first and oldest Korean pharmaceutical company.  They created a medical herbal digestive drink, Whal Myung Su (hwal-myung su), which is in the Guinness World Records as Korea's oldest branded product!   They also own the oldest trademark with their fan-shaped logo ~ Bu Chae Pyo
image credit korea.net
Whal Myung Su literally means "life-saving water" and was created for the Royal Family of Korea's Joseon Dynasty.  It soothes and treats digestive problems, with its formula made from acacia, cinnamon and dried cloves.  Dong Wha Pharm has created other versions of this medical herbal drink and today, over 100 million bottles are sold annually.  They create 400 different types of medicine with exports to 30 countries around the world
Left: Early photo of Dong Wha Yak Bang company.  Right: Whal Myung Su ~ 117 year history  image credit korea.net
In 2017, Dong Wha Pharm branched out to skincare and launched a "royal secret formula" skincare line to help celebrate their 120th year anniversary.  They base their skincare products on their famous Whal Myung Su formula, selecting herbs from the   Whal Myung Su Secret Formula 11 herbs to create some unique and effective products!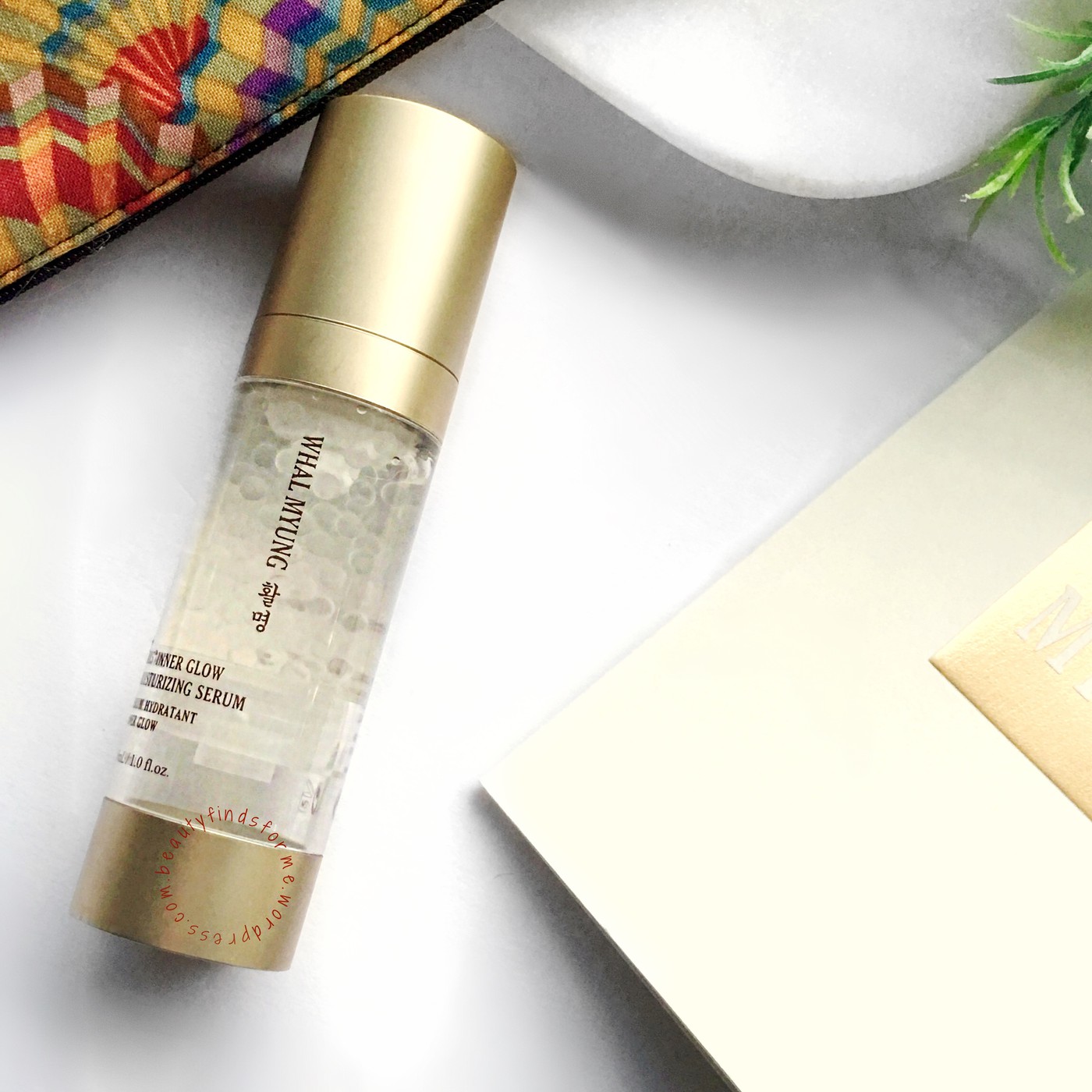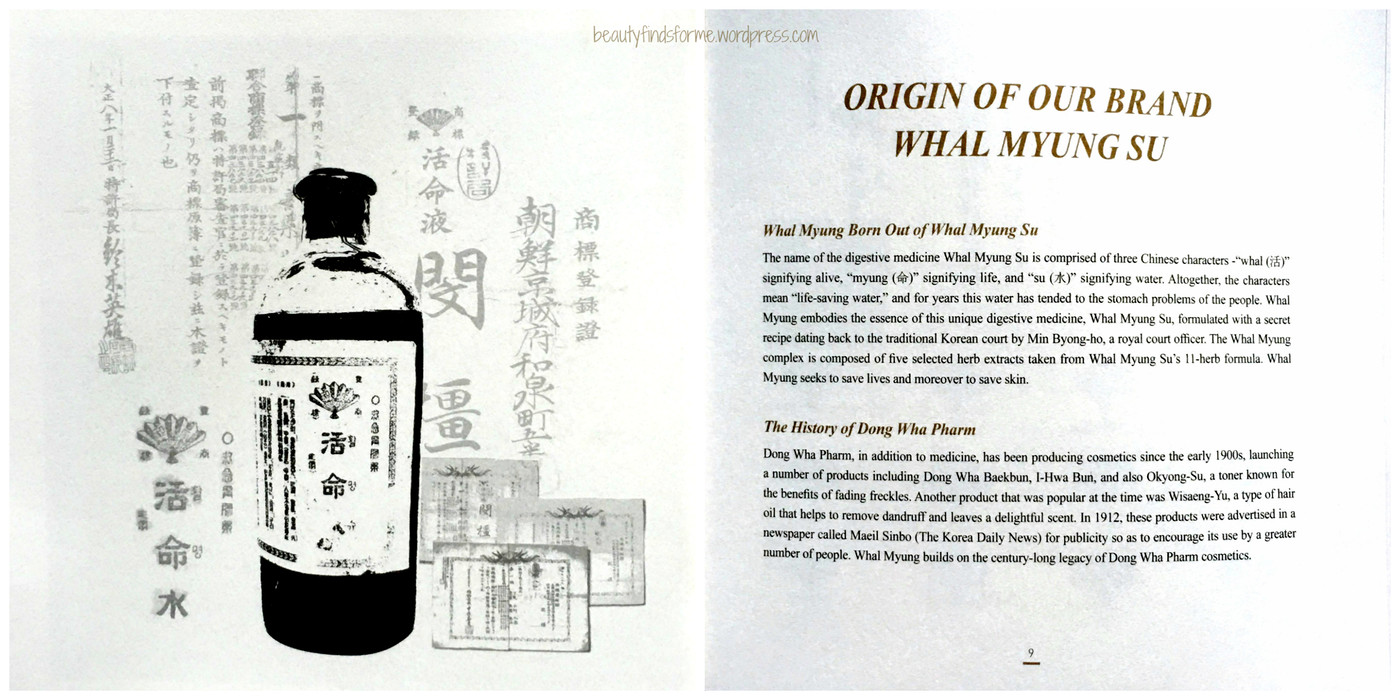 This contains 5 natural herbal ingredients that are in Whal Myung Su Secret Formula 11:  Ginger contains 40 antioxidant compounds that help with anti-aging, removes toxins and stimulates your blood circulation.   It combats and prevents damage from free radicals, helping improve elasticity which makes your skin firm, toned and less wrinkles.  It have anti-bacterial properties to help fight off infections, it is also an anti-septic and antimicrobial, which helps keep blemishes away and its anti-inflammatory properties help reduce redness and swelling of the skin.   It also helps reduce the appearance of hyopigmented scarring ~ these scars are lighter than your skin tone and occur when your skin loses its pigmentation ~ it is the exact opposite of hyper-pigmentation.   It also is a skin brightener and can help even out your skin tone by inhibiting the production of melanin.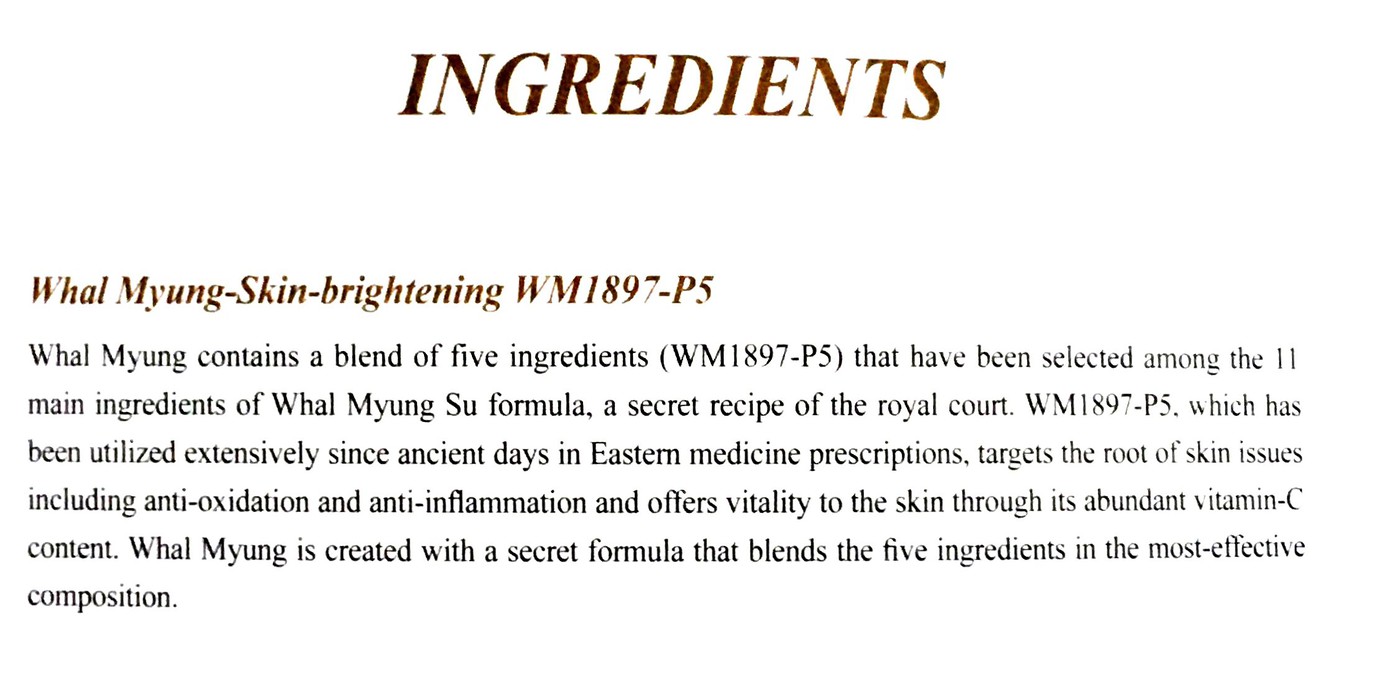 Citrus Unshiu (mandarin orange) helps tighten pores, brighten your skin's complexion, while controlling hyper-pigmentation.  Cinnamon has anti-inflammatory properties, so it will help soothe, reduce swelling and redness and will also moisturize your skin.  This ingredient is also an astringent, anti-septic and antibiotic, so it will help with pore and blemish control.  Nutmeg is an astringent and contains anti-inflammatory proprieties, so it helps with skin issues ~ it can help reduce infection and swelling and can also lighten blemish scarring and hyper-pigmentation.  Corydalis has anti-septic and antibacterial properties, so it also helps with keeping skin clear. 

This has some amazing hydrating ingredients as well in here:  chia seeds are an ancient seed used by Aztec and Mayan civilizations and is considered a superfood, due to its rich store of nutrients and can hold up to 10 times their weight in water. In skincare, the antioxidant rich seeds are used to help reduce wrinkles and hydrate. They also contain omega-3 fatty acids, so it will help calm your skin as it is an anti-inflammatory.  Sugar derived saccharide hydrolysate is based on the natural moisturizing factor (NMF) and is considered a humectant, helping bind moisture to your skin.  
Anti-aging pullulan helps provide a sheer film on your skin, improving its texture ~ it also can help tighten your skin temporarily. Centella asiatica is a common herbal ingredient that is used medicinally to help speed up wound healing, such as blemishes and skin rashes. It also helps minimize the appearance of pores. Houttuynia cordata is a medicinal herb that is found in a lot in Asian skin care products. It is an antibiotic, which helps with preventing infection from skin problems, such as blemishes. It also has powerful detox properties, is an astringent and anti-inflammatory.  Niacinamide (vitamin B3) is a powerful antioxidant that acts as an anti-inflammatory, improves your skin elasticity, enhance the skin barrier function and also it helps to even out skin tone and reduce post-inflammatory hyper-pigmentation.
And finally, those huge boba beads which are suspended in this herbal essence are actually filled with a high concentration of hyaluronic acid ~ this is a gel-like water holding molecule that attracts and binds water to your skin cells.   This essence is free from formaldehyde, artificial coloring and parabens and contains naturally derived ingredients and no animal testing was conducted. 
Ingredients: Water, Glycerin, Caprylic/Capric Triglyceride, Methyl Gluceth-20, Propanediol, Glycereth-26, 1,2-Hexanediol, C12-14 Pareth-12, Citrus Unshiu Peel Extract, Zingiber Officinale (Ginger) Root Extract, Cinnamomum Cassia Bark Extract, Myristica Fragrans (Nutmeg) Kernel Extract, Salvia Hispanica Seed Extract, Corydalis Turtschaninovii Root Extract, Centella Asiatica Extract, Acrylates/C10-30 Alkyl Acrylate Crosspolymer, Houttuynia Cordata Extract, Tromethamine, Agar, Sodium Hyaluronate, Niacinamide, Fructooligosaccharides, Saccharide Hydrolysate, Phenoxyethanol, Ethylhexylglycerin, Xanthan Gum, Pullulan, Fragrance, Caprylyl Glycol, Panthenol, Disodium EDTA   cosDNA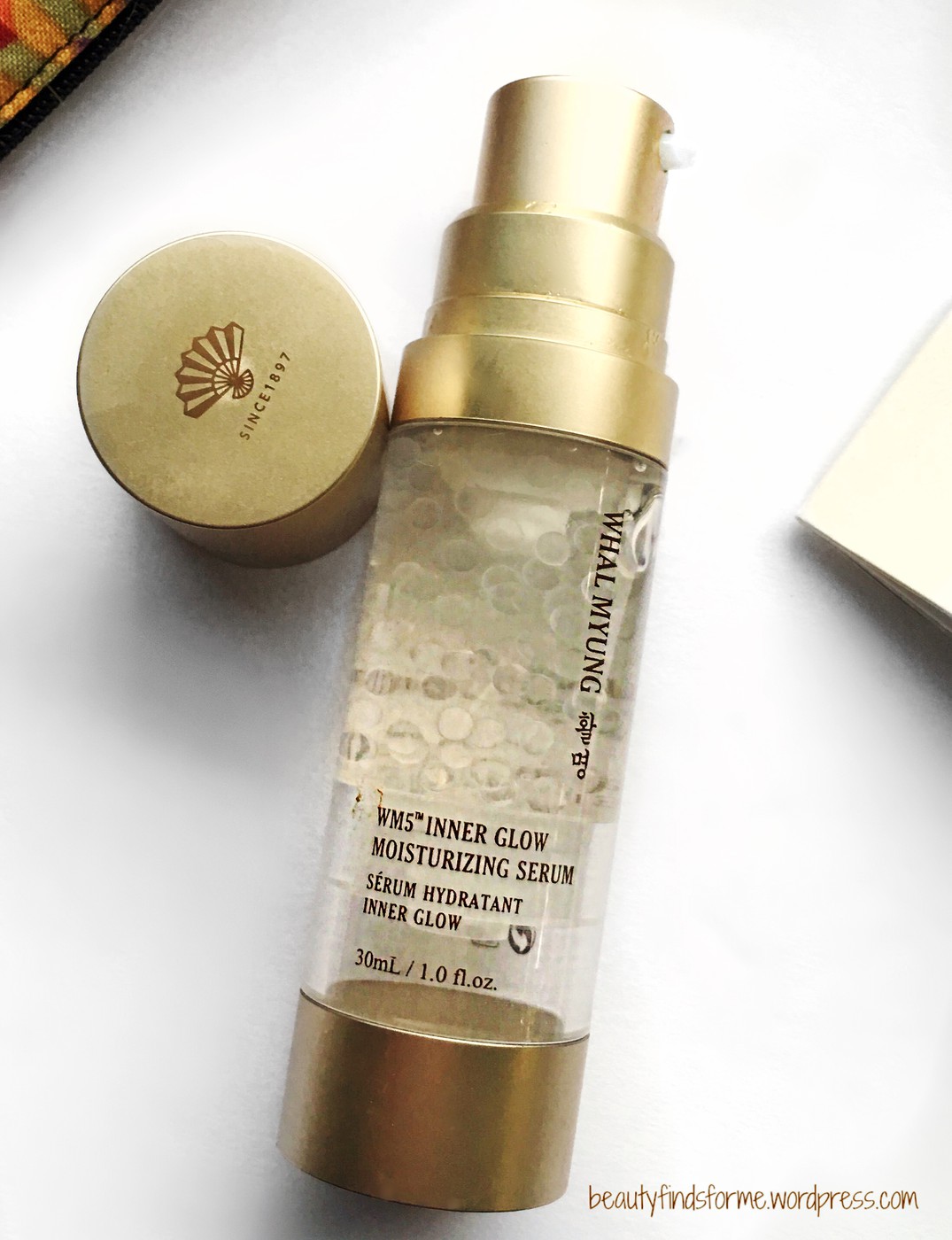 This serum comes in a sturdy plastic tube with matte gold end caps.  The tube is clear so you can see the product and it reminds me of Boba (bubble) tea with its huge transparent beads!  It has a pump applicator in an airless tube and I only need a pump or two to cover my face.  What is cool about this is that despite it being clear in the tube, it actually dispenses to a milky gel-like product when you pump it out.  This is due to the bubbles bursting as they come out of the pump and mixing with the rest of the serum.  As I tap it into my skin, it does turn clear again.  This has a very faint odor to it ~ it isn't overly herbal or floral, just a pleasant green scent with a touch of citrus.

This serum glides over my skin and leaves it silky smooth and hydrated.  My skin feels like it has a protective lipid layer but it is not sticky or tacky in its feeling ~ it is not a "filmy" feeling either.  I guess the closest I can get to describing it is more like applying a facial primer on my skin ~ this serum leaves my skin very supple, soft and my fine lines are plumped up.   Currently, I am without a skin analyzer as my normal one that I use with an app has been discontinued ~ I have on order one that I used several years ago, so once I get that, I will update this review with those results.  
Final Thoughts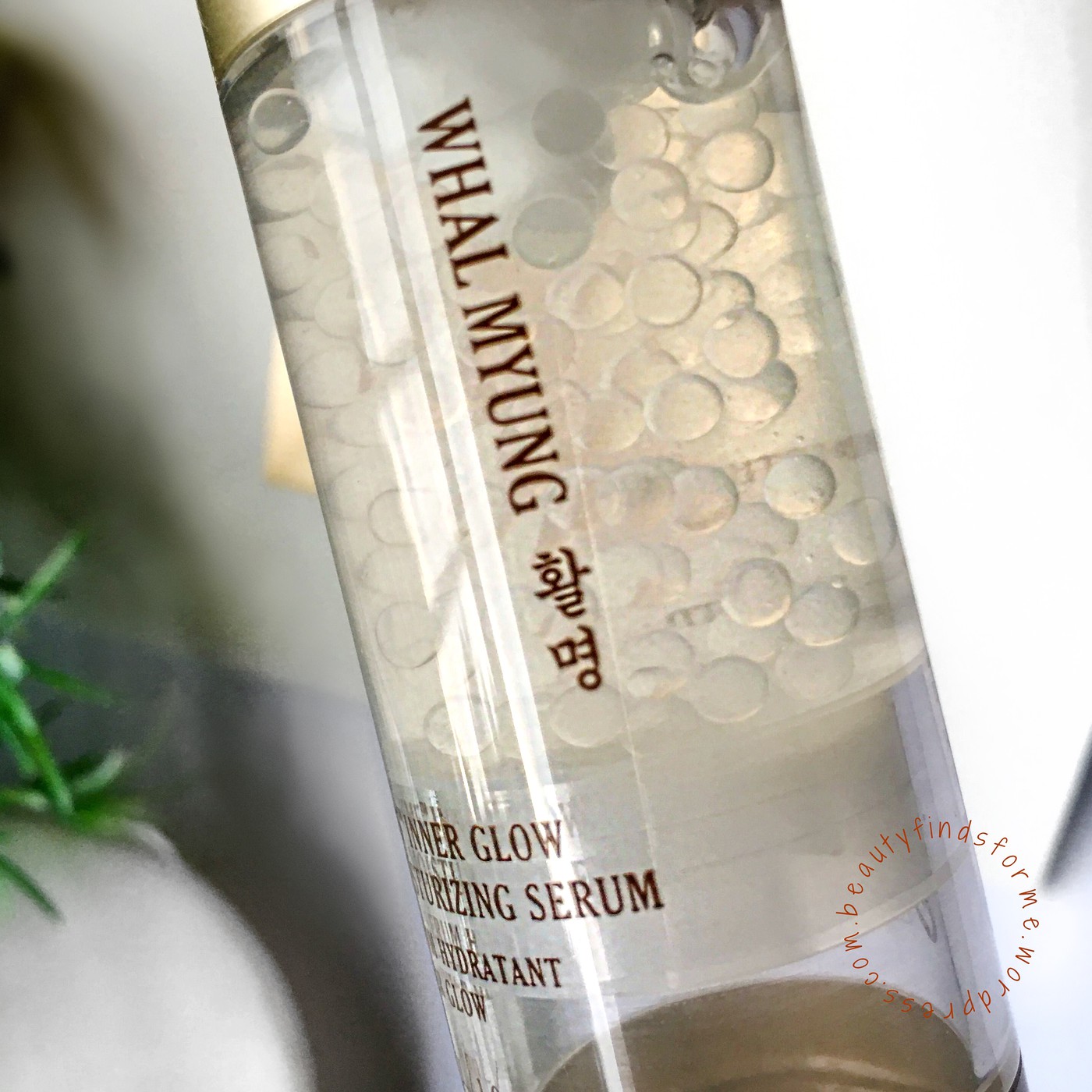 I am really jazzed about this serum ~ I thought with the word "glow" in it, it might be too dewy for my oily skin, but this is just a treat to use ~ it is so hydrating yet leaves a nice finish to my skin, leaving it soft and smooth.  I also love that a little goes a long way ~ this product might be expensive, but I don't need a lot to cover my face and get the soothing, moisturizing benefits from this serum.  It also doesn't break me out, which I was afraid it might as it has that barrier on my skin, but it has so many healing and anti-bacterial ingredients, that it doesn't clog my pores at all.  Would I purchase this?  You bet I would!  I am going to start using the WM5 Anti-Oxidant Rejuvenating Serum next and will have a full review on that serum as well in about a month.  My friend @littlehauls on Instagram did a review on this serum, in case you are interested in that now and you can read it here. 
Purchase
Currently, this serum is only stocked at Dongwha's Whalmyung online store.  It retails for $65.00 for a 1 oz bottle.  I am not sure if Dongwha Whal ships internationally at this time.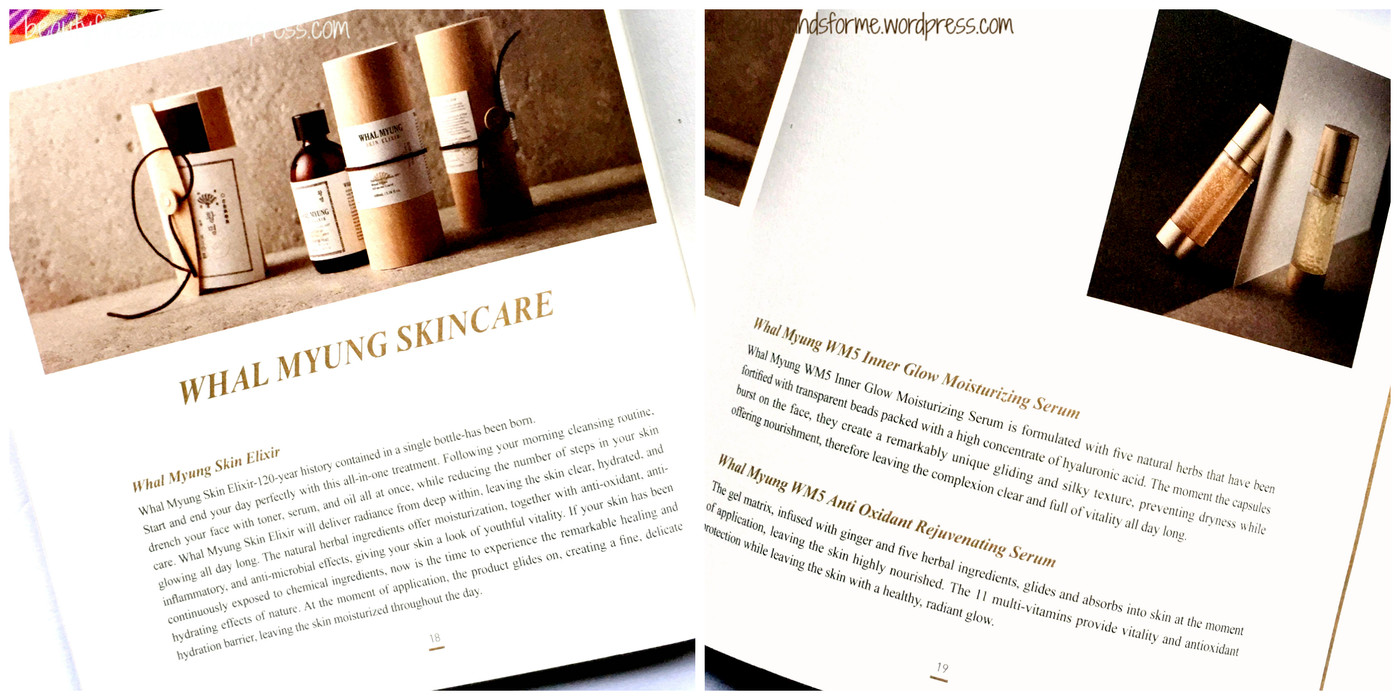 [ disclosure:  products received for review purposes. post contains affiliate links providing a small commission at no cost to you ]