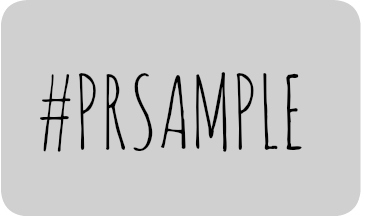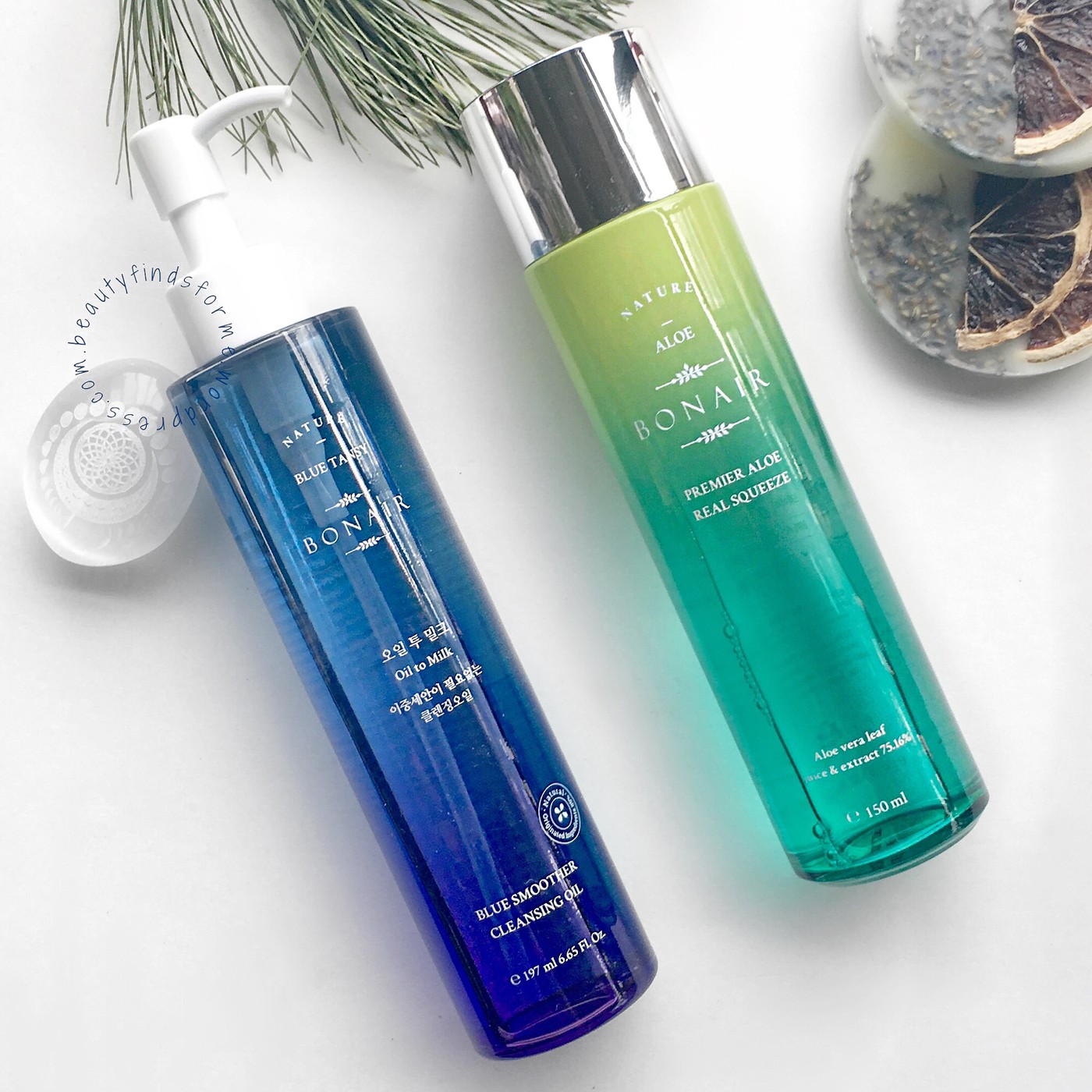 Bonair is a fairly new brand that is making a huge splash in the K-Beauty skincare world.   One of the things that really got my interested was that they use fermented oils in their skincare ~ and I love anything fermented ~ and they also have a natural herbal scent to their products.  Their current lineup is mainly for dry and normal skin, but there were two products for oily skin and Bemused Korea sent these two beautiful blue and green jewels to me for review purposes.

I received these products complementary to review and was not paid.  All reviews are my own honest opinion and  I never have been asked to write copy for a brand.  This blog post might contain affiliate and referral links and promo codes, which using my links will help generate a small commission that helps support my blog at no extra cost to you.
Skin Type and Concerns:  Oily, blemish prone, pores, aging concerns of fine lines/wrinkles and hyper pigmentation.
Bonair is an exquisite skincare brand that specializes in premium fermented oils. High quality raw materials are directly produced by the brand, and each product is meticulously designed through innovation while being faithful to "natural beauty  ." With extensive knowledge and research focused formulations, Bonair aims to maximize the efficacy of natural ingredients in skincare. Bonair uses patented biotechnology Photo to Real Skin™ to create premium fermented oils that is most similar to the skin. These oils are beautifully lightweight, yet penetrates deeply, and increases the nutrients that are delivered to the skin. (from bemusedkorea.com)

Bonair uses fermented oils, that will deliver the concentrated nutrients to your skin.  During fermentation, the ingredients' molecular structure becomes more flexible  and therefore, your skin can easily absorb it and it can penetrate more deeply into your skin.  Since it absorbs quickly and deeply, the oils are not greasy or sticky.  Bonair uses natural ingredients and oils to add beautiful herbal scents, from deep forest woods, sweet grassy scents to delicate florals. Bonair Signature Fragrance is manufactured by a famous business located in Grasse, France.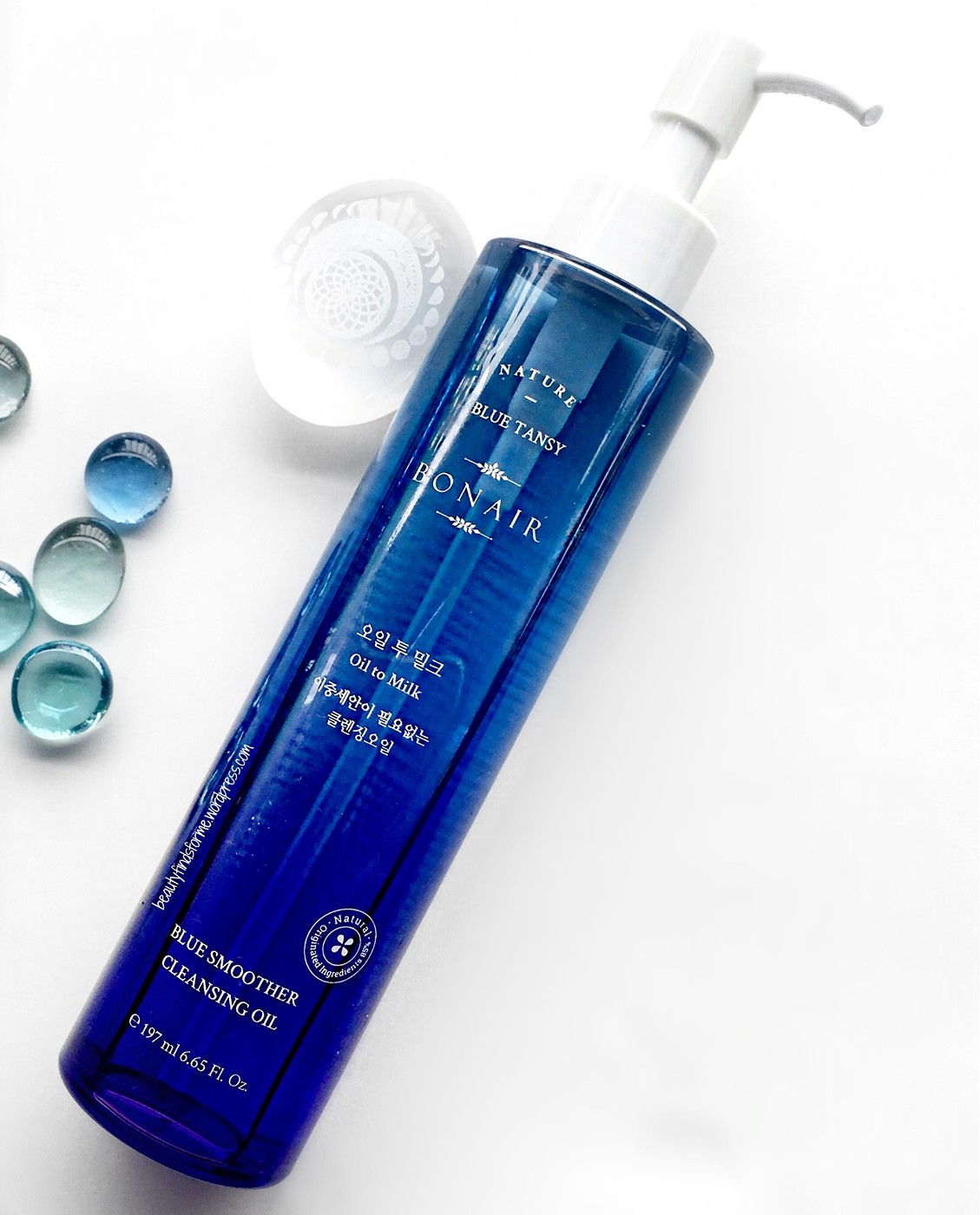 Blue Smoother Oil Cleanser  This cleanser is a brand new addition to the Bonair line and its color comes from two ingredients, one which is tansy ~ which is Moroccan chamomile and just like other chamomiles, it is an anti-inflammatory, anti-oxidant ingredient with soothing properties. It also helps to detoxifying your skin, so redness and skin irritations and issues are lessened. The ingredient is guaiazulene, which is another chamomile derived ingredient.  "Guaiazulene, also azulon or 1,4-dimethyl-7-isopropylazulene, is a dark blue crystalline hydrocarbon. A derivative of azulene, guaiazulene is a bicyclic sesquiterpene that is a constituent of some essential oils, mainly oil of guaiac and chamomile oil" (wiki)   Guaiazulene has anti-microbial properties, so it will help prevent bacterial infections and it has anti-inflammatory benefits,  so it will help reduce redness and swelling on your skin. 
This also has a plethora of  cleansing and moisturizing oils besides tansy ~ sunflower,  jojoba, angelica, chamomile, canola ~ and some scented oils with geranium and rosemary.  The fermented ingredient is candida bombicola/glucose/methyl rapeseedate ferment, which acts as one of the cleansing agents, containing anti-microbial properties and will help break up excess oil on your skin.   This blue oil cleanser is made with 85% natural originated ingredients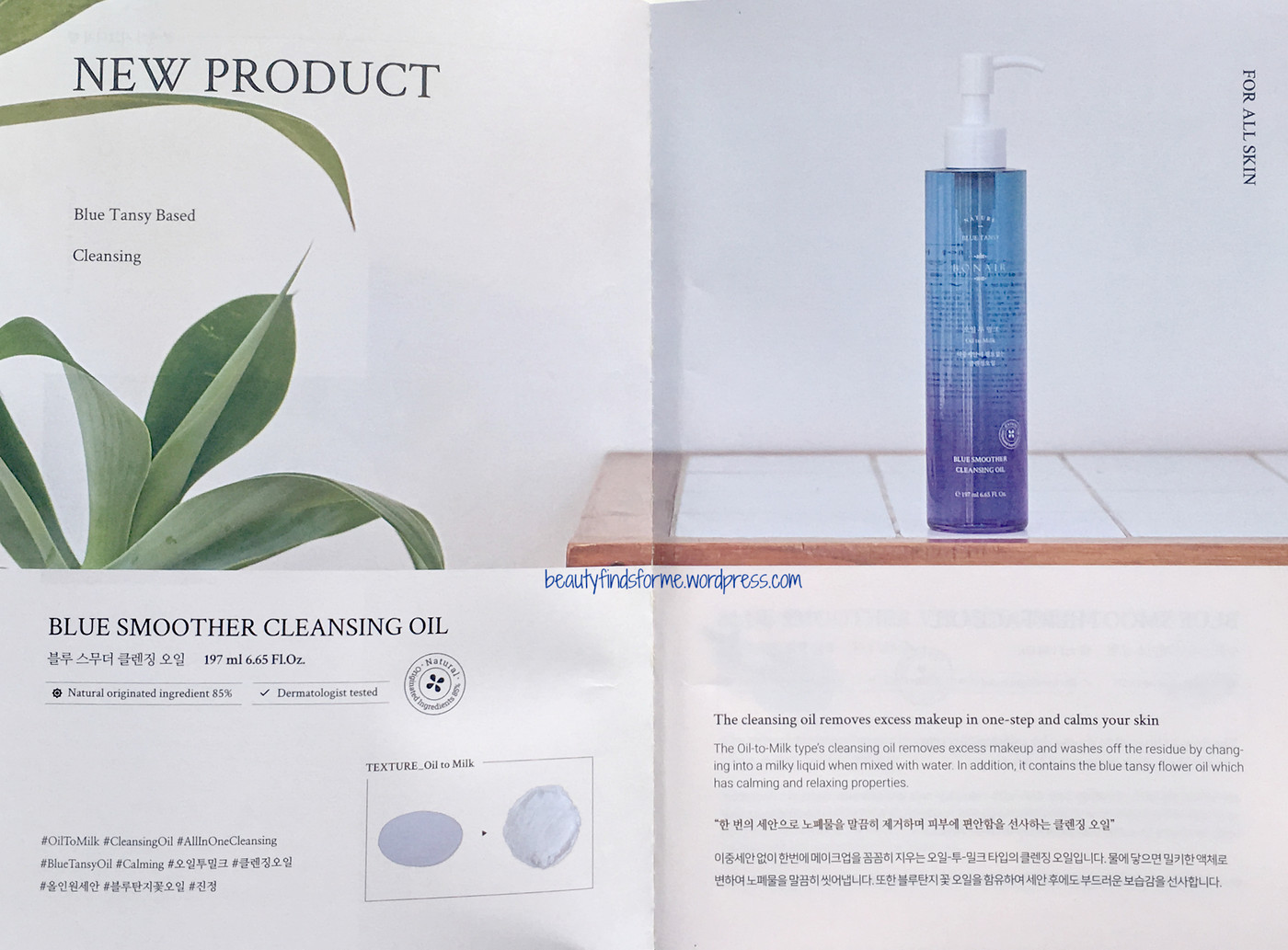 Ingredients: Caprylic/Capric Triglyceride, Helianthus Annuus (Sunflower) Seed Oil, Sorbeth-30 Tetraoleate, Candida Bombicola/Glucose/Methyl Rapeseedate Ferment, Simmondsia Chinensis (Jojoba) Seed Oil, Tanacetum Annuum (Tansy) Flower Oil, Angelica Archangelica Root Oil, Anthemis Nobilis Flower Oil, Brassica Campestris (Rapessed) Seed Oil, Pelargonium Graveolens Flower Oil, Rosmarinus Officinalis (Rosemary) Leaf Oil, Caprylyl Glycol, Ethylhexylglycerin, 3-Hexenol, Guaiazulene, Pentaerythrityl Tetra-di-t-butyl Hydroxyhydrocin Namate, Artemisia Vulgaris Extract  cosDNA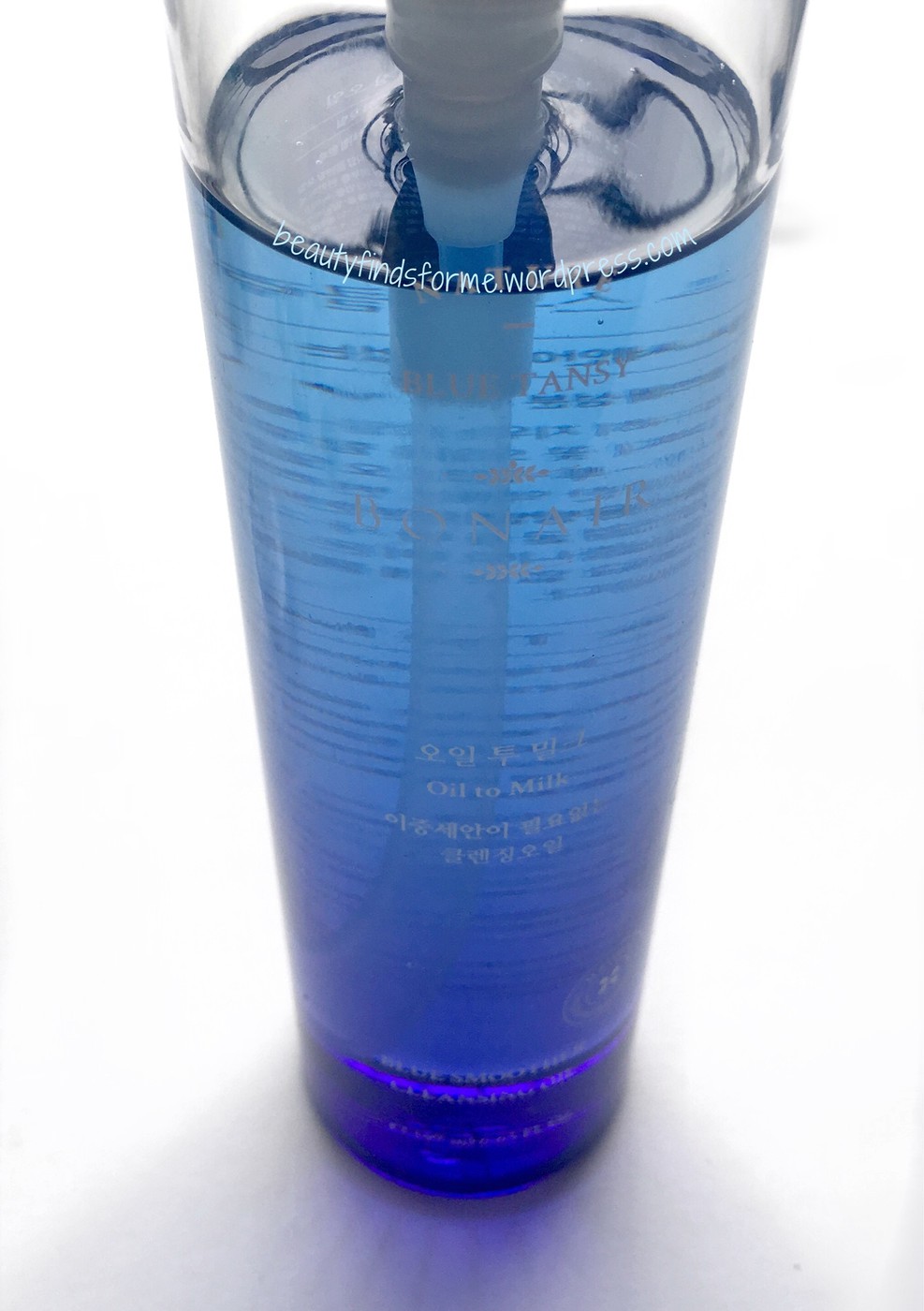 The cleanser comes in a tall clear plastic bottle with a tall white pump applicator that doesn't squirt out too much oil at once. This cleanser has a light herbaceous, 100% natural scent ~ I pick up the rosemary scent more than then the chamomile and it is a beautiful azure blue in the bottle that translates into a lighter blue on my hand.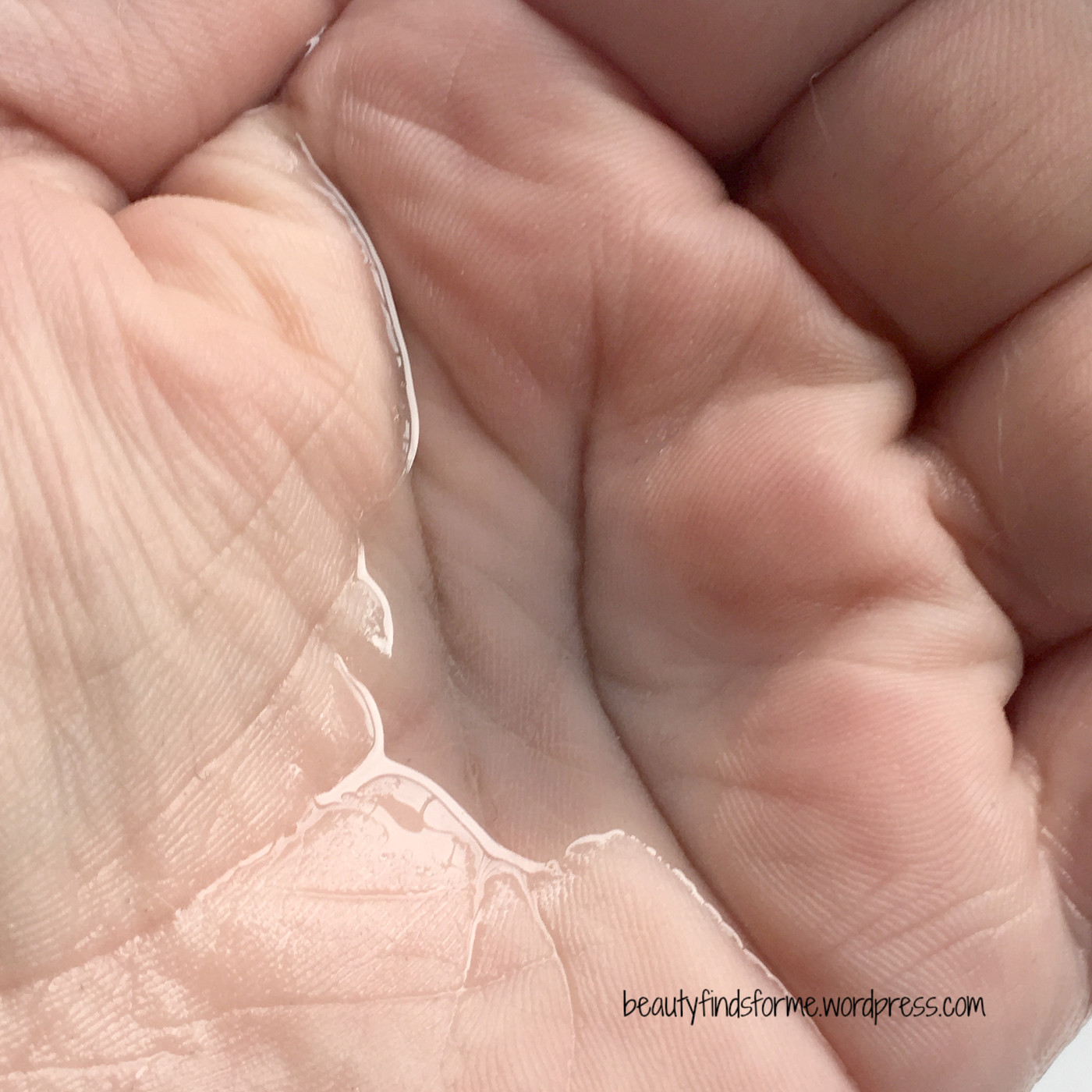 This oil's scent is so relaxing that I feel like I should be in a spa!!   Scent Imagery: Scent of deep forest, wood, comfortableness of grass scent, sweetness of flower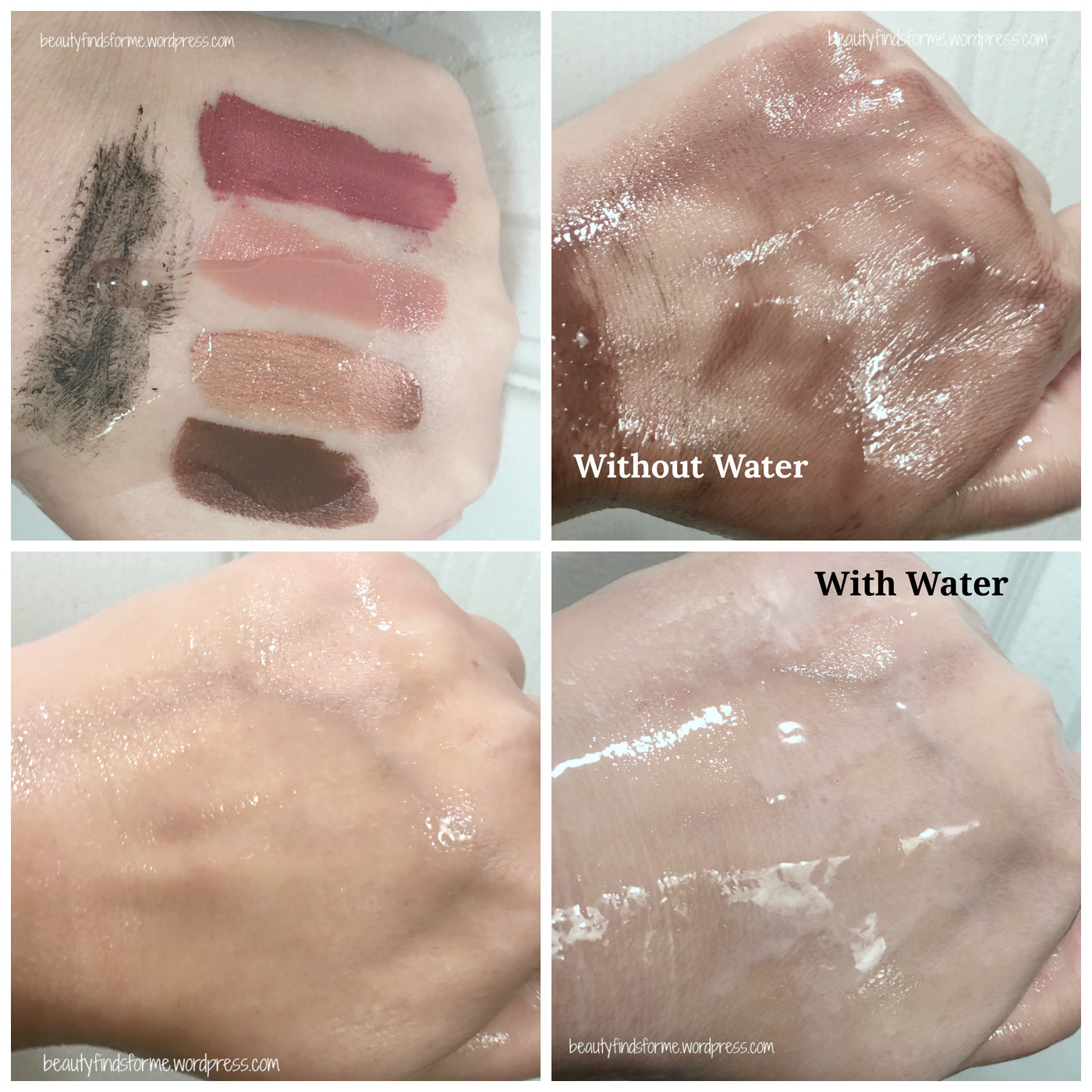 When I initially massage this runny oil into my skin, it behaves like a normal oil, breaking up and dissolving stubborn makeup.  Once I add water to it, it transforms into a milky cleanser, so that when I rinse it off, there is no oily residue on my skin.  This does a fantastic job in removing makeup and it doesn't irritate or strip my skin.  It does have a milky emulsion once I add water, but since I had so much makeup on my hand in the test, it looks like strawberry milk ~ 😀

image  credit bonair.kr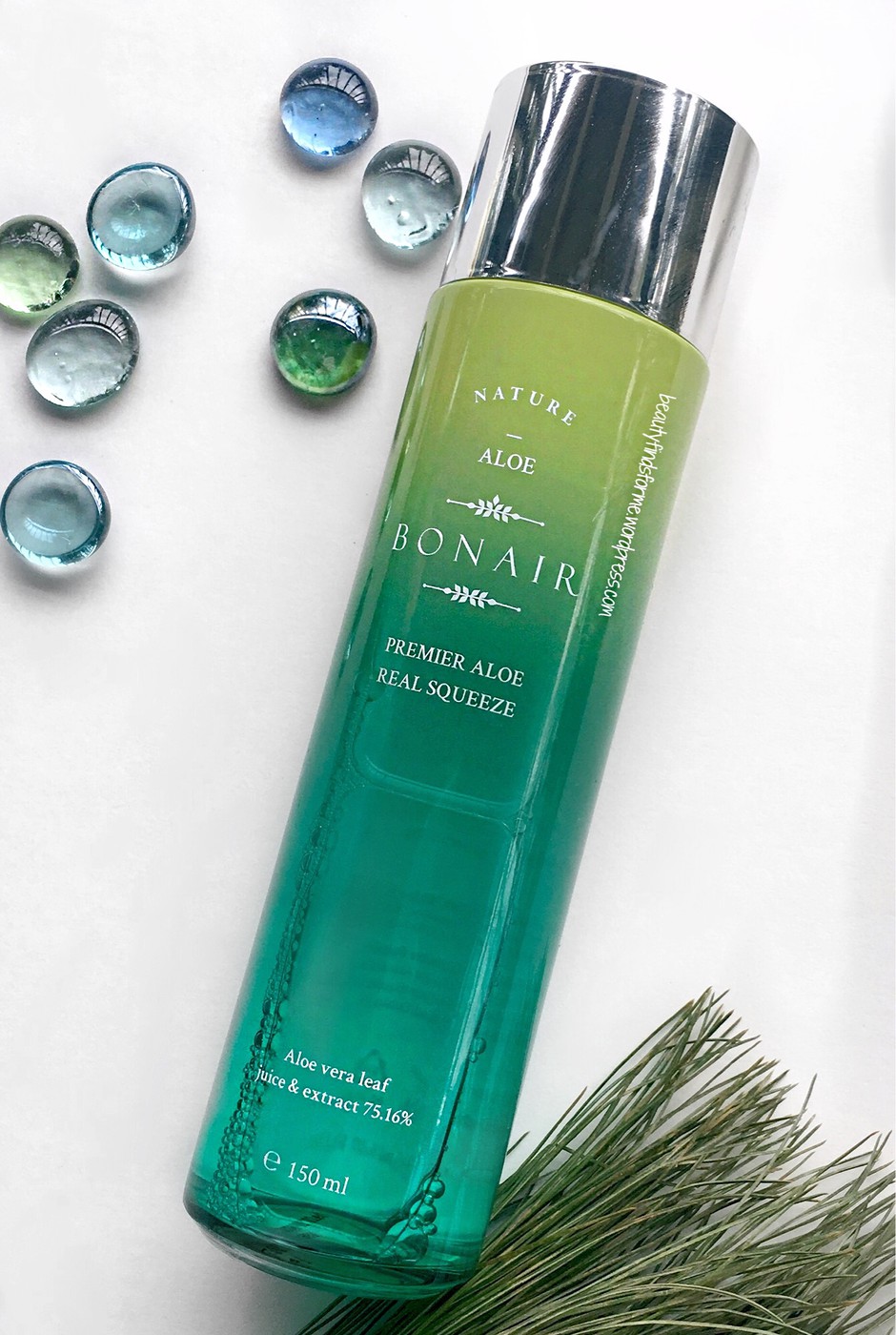 Premier Aloe Real Squeeze I love toners and I have a slew of them!  This one is an aloe vera toner and aloe is great for hydrating all skin types.  For oily skinned types, aloe not only hydrates, but has ingredients to help soothe and calm down skin that has been irritated by blemishes without adding any greasy or oily residue.  This is made with 71.6% aloe vera extract and 4% aloe vera juice for a total of 75.16% of aloe goodness ~ this toner doesn't use aloe powder, but juices.  Aloe helps attract and keep moisture  ~ Aloe vera is a powerful moisturizer that soothes, treats inflammation, helps speed up skin healing and also has a plethora of antioxidants ~ beta-carotene, vitamins C and E, which help improve your skin's firmness and keeps your skin moist and hydrated. It also contains over 75 different nutritious ingredients, including minerals, enzymes, amino acids, salicylic acid and much more.
image credit @bonair_nature instagram
The fermented ingredients are bacillus/soybean/folic acid and candida bombicola/glucose/methyl rapeseedate ferments, which soybean is very good for anti-aging and potent antioxidant care, while providing anti-inflammatory and moisturizing benefits.  Candida bombicola/glucose/methyl rapeseedate ferments helps with breaking up excess sebum and providing antimicrobial benefits.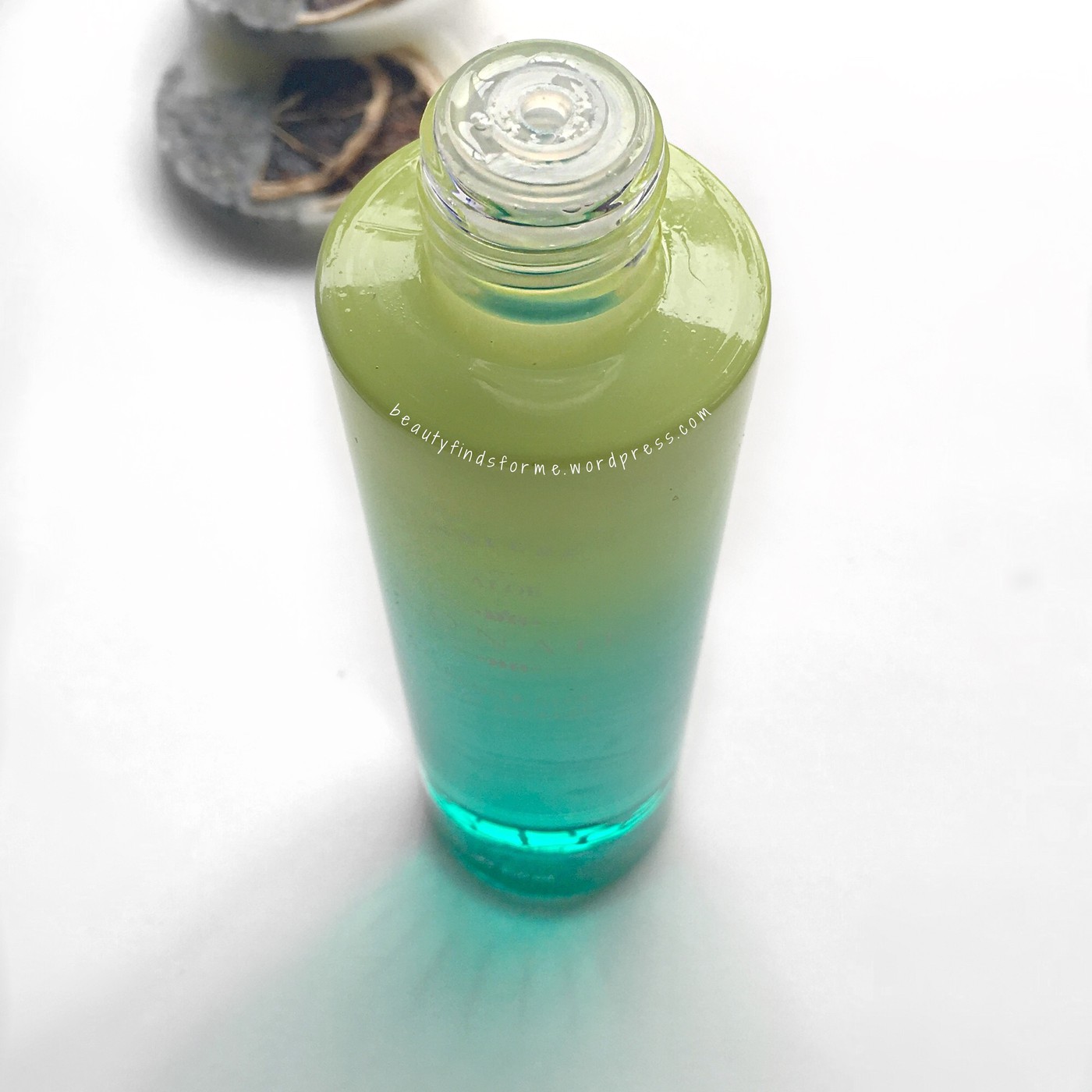 This also has three oils ~ coconut oil is rich in lauric acid and will help smooth and refine your skin texture, keeping it supple and hydrated.  Rice bran oil is obtained when rice is polished and it comes from the hard outer layer of the rice seed and contains 15 to 20 percent oil. It has a vast amount of lipids and contains phytic acid, squalene, vitamin E, phytosterols and ferulic acids, which help eradicate free radicals and it contains 44% of Omega 6 and 2% Omega 3 essential fatty acids, which help reduce inflammation. Avocados are full of antioxidant carotenoids, such as alpha and beta caroten ~ and these antioxidants combat free radical and environmental damage and protect your skin from premature aging.  It also has an omega-9 fat, high oleic acid, which helps create a moisture barrier, making skin soft and moisturized, while regenerating damaged skin cells and reducing facial irritation and redness.  This toner has no synthetic preservatives.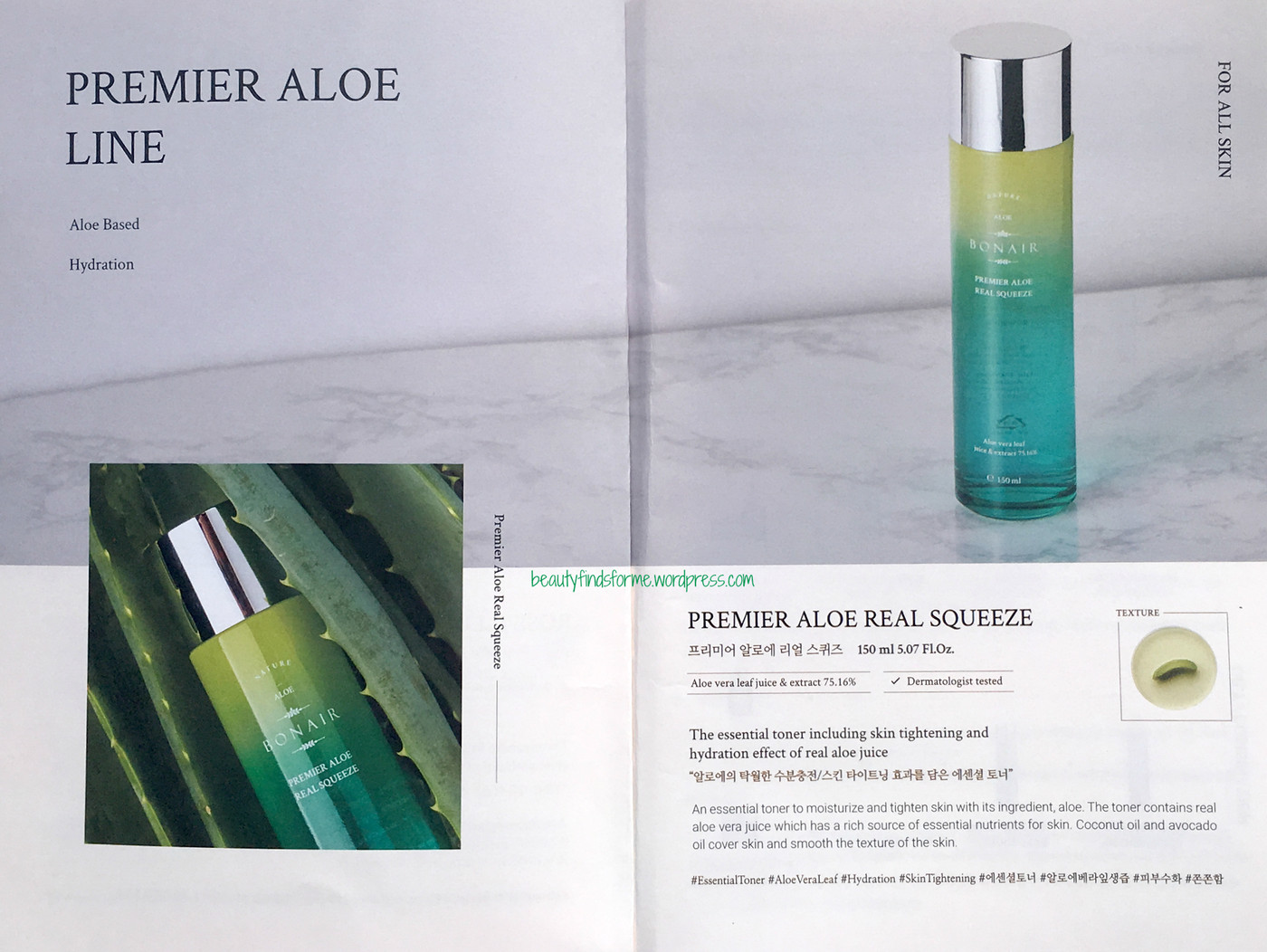 Ingredients: Aloe Barbadensis Leaf Extract(71.16%), Butylene Glycol, Glycerin, Propanediol, Aloe Barbadensis Leaf Juice(4%), 1,2-Hexanediol, Polysorbate 80, Sodium Lactate, Water, Bacillus/Soybean/Folic Acid Ferment Extract, Angelica Archangelica Root Oil, Anthemis Nobilis Flower Oil, Brassica Campestris (Rapessed) Seed Oil, Pelargonium Graveolens Flower Oil, Rosmarinus Officinalis (Rosemary) Leaf Oil, Pentylene Glycol, 3-Hexenol, Candida Bombicola/Glucose/Methyl Rapeseedate Ferment, Cocos Nucifera (Coconut) Oil, Oryza Sativa (Rice) Bran Oil, Persea Gratissima (Avocado) Oil, Polyglyceryl-3 Diisostearate, Xanthan Gum  cosDNA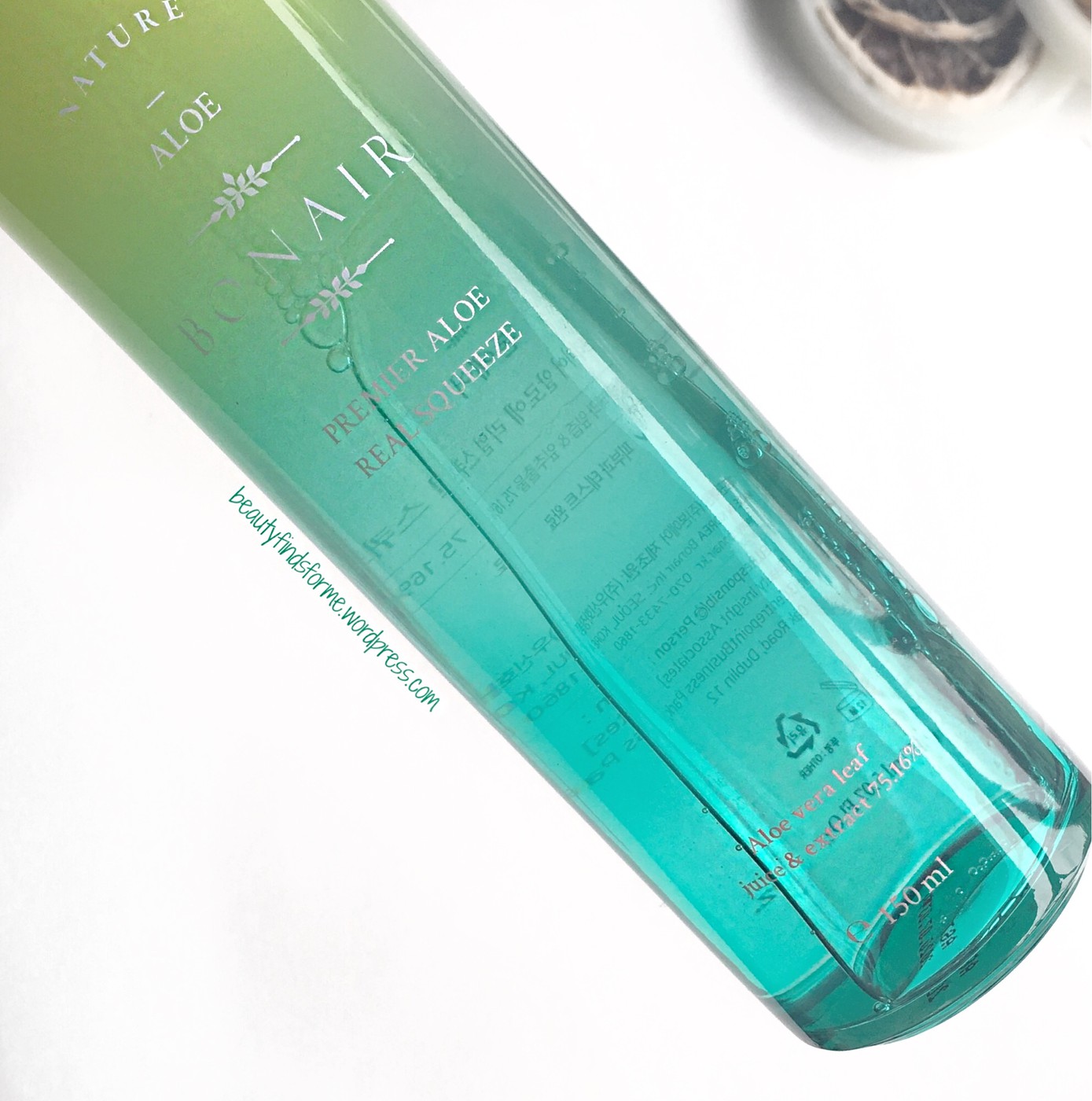 OMG THIS BOTTLE. It is so beautiful ~ this is a heavy glass bottle that has an ombré shades of green ~ from a opaque spring green down to translucent bright emerald green.   This is just so beautiful ~ Bonair put a lot of thought into this bottle!  It has a pin hole applicator and despite my fears that this toner might be thick due to the oils in it, it is not. It is a very watery, lightweight toner that is perfect for layering and leaves no greasy or sticky residue.  This has a lovely light fresh herbal scent to it as well.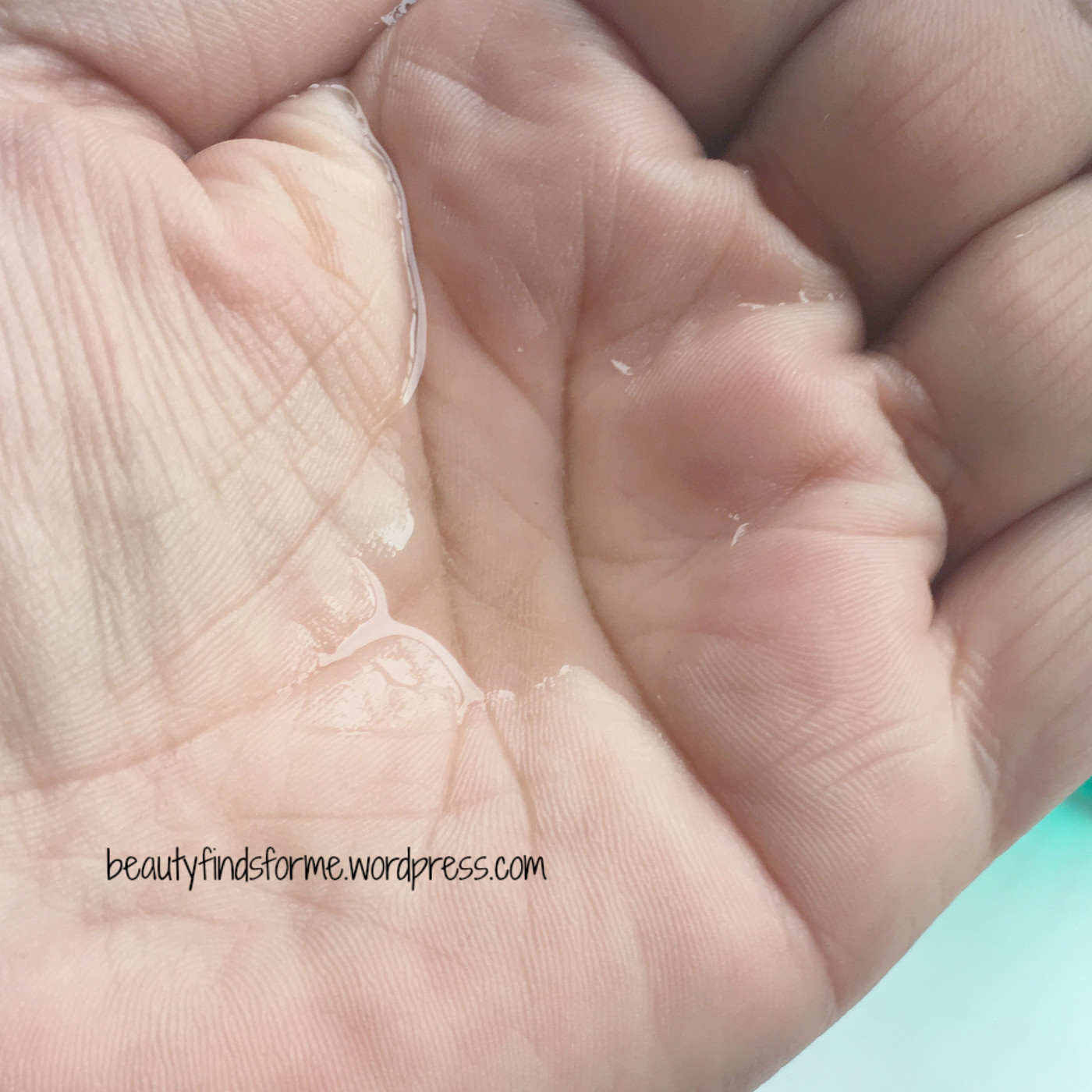 This really helps keep my skin hydrated and soft ~ this toner does not irritate my skin, even after I over exfoliate or have blemishes.  It is very soothing and feels great on my skin. This has a pH level of 6.2 and it increased my moisture levels by 37% while reducing my oil levels by 36%, making this a moisture-oil skin balancing toner for me!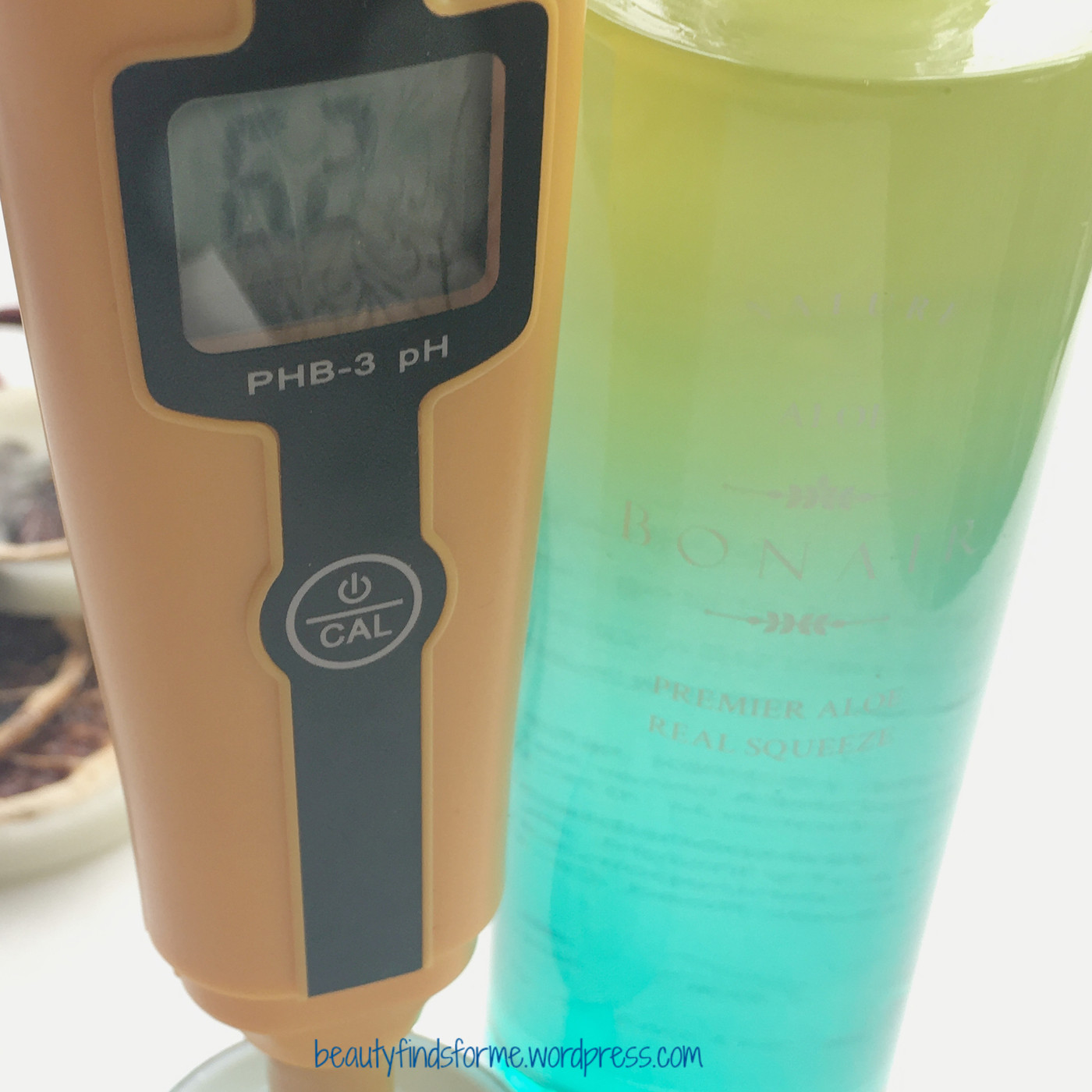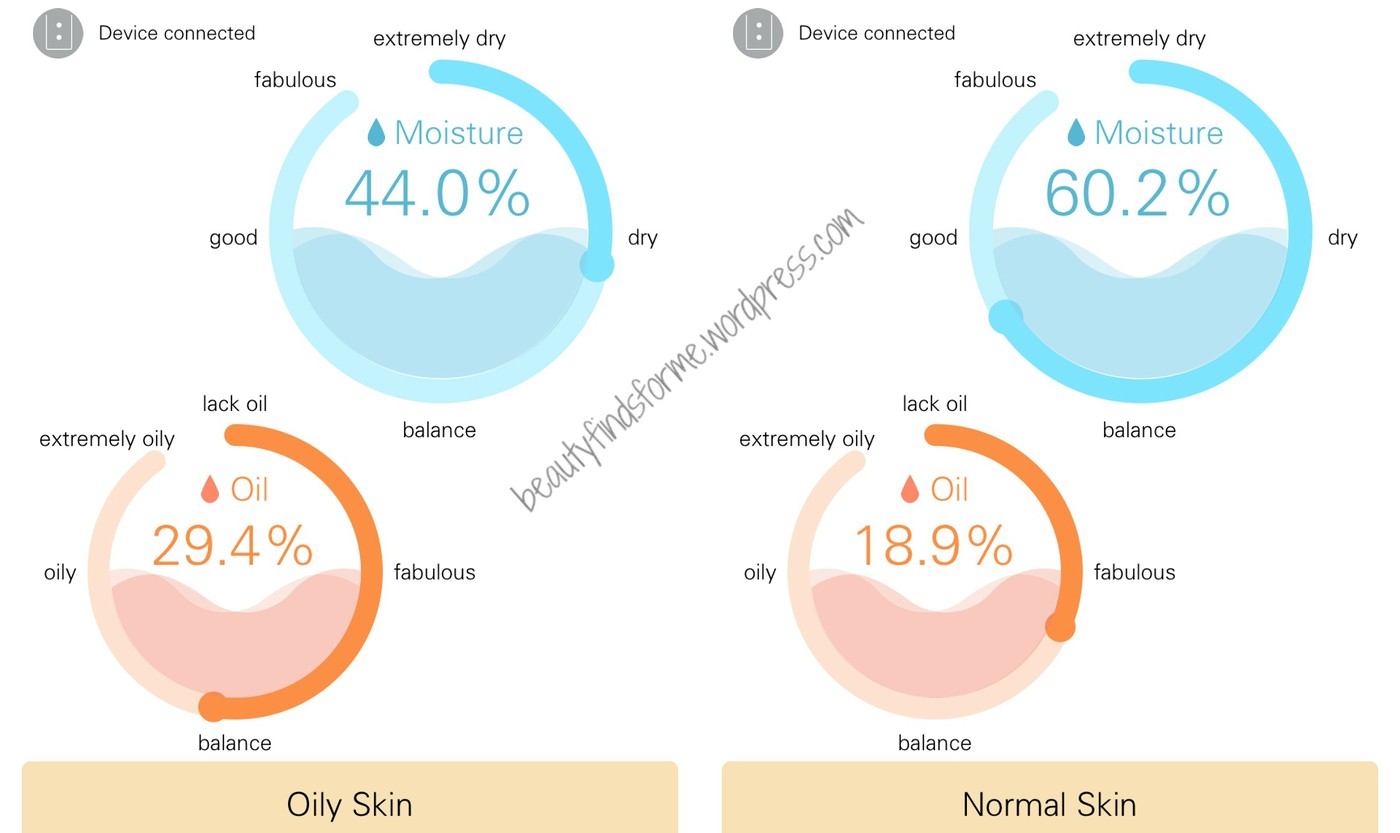 Bemused Korea has some extra tips on how to get the most out of your toner

Store in your fridge for a refreshing and cooling treat on your skin

Place cotton pads soaked in this toner on your irritated skin for 5 minutes for extra soothing care.
Final Thoughts
I am so happy to have tried these products ~ the blue tansy oil cleanser will probably go on a repeat purchase with me because I am in love with the rosemary scent and it cleanses really well.  It also looks so beautiful too in my bathroom and you cannot mistake this blue goddess for any other skin care product!  The aloe toner is an item I will repurchase for sure, as my skin needs hydration ~ I have oily skin but I notice that as I get older, it is getting dehydrated.  I don't have DRY skin, but oily, congested skin that looks dull and tired.  Bringing back moisture to my skin along with the nourishing oils in this toner without causing my skin to be greasy, is a must have.  Plus, I love the bottle AND the scent!  I mean, I know it is just a hydrating toner, but we all need to have one (or two or three), right?  This will complement my other favorite aloe toner ~ Benton's BHA Aloe Toner.  I hope Bonair expands their aloe line, as I think it could be fantastic!
Have you tried Bonair yet?  What is your favorite item? Thank you so much, Lisa at Bemused Korea, for sending these fine products to me for review!
Where to Purchase 
Currently, the best place to get these products is at Bemused Korea and they are an authorized retailer for Bonair which ships internationally.  Bemused Korea will ship free with purchases $60.00 or more.   Like Bemused Korea's Facebook page from their store and you will get a 10% off coupon with your purchase.


Bemused Korea carries the full line of Bonair products and if you want to see what products are good for your skin type, check out the below photo from their brochure.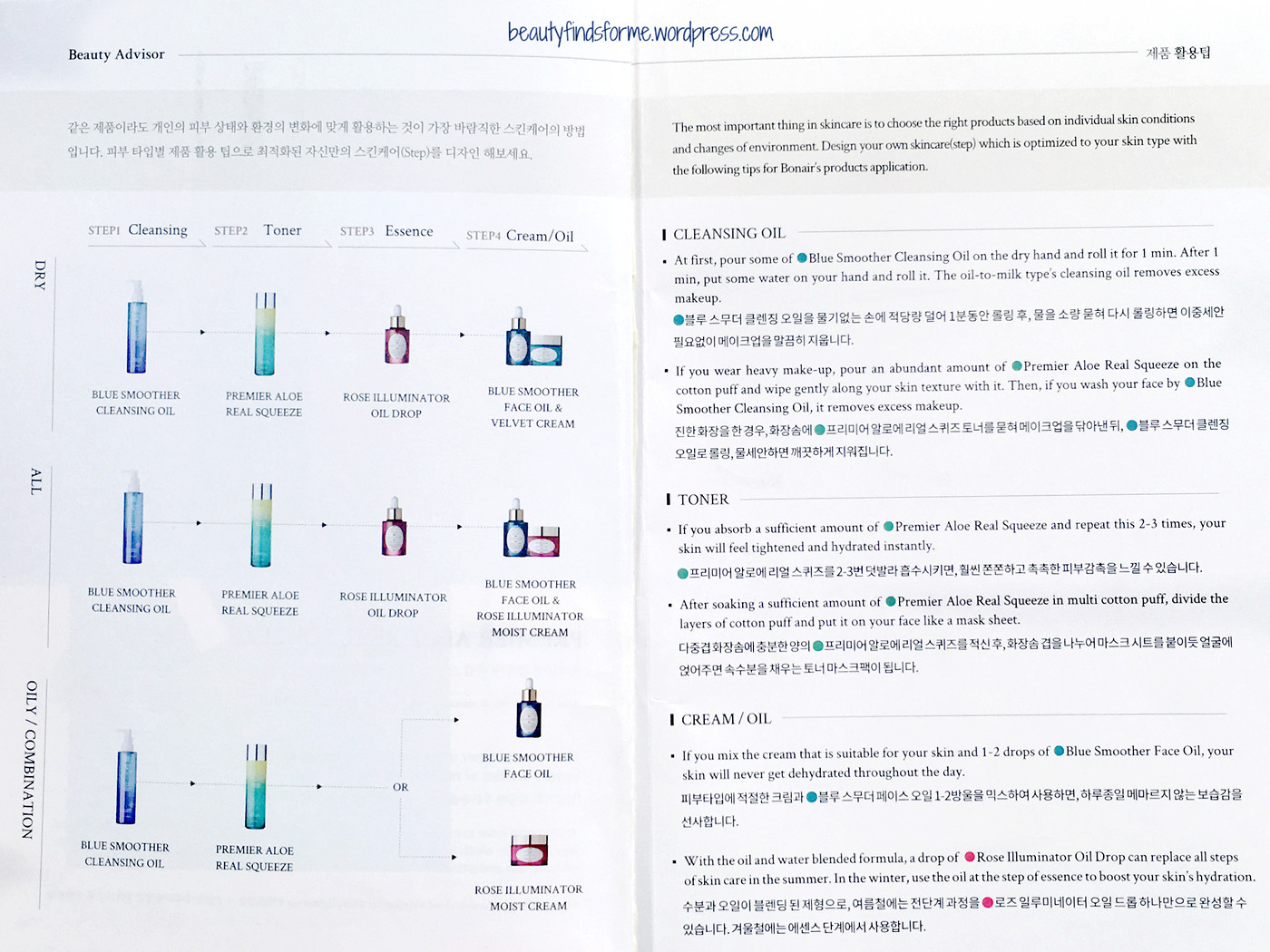 [ disclaimer: some products received for an honest & unbiased review  ]
Save