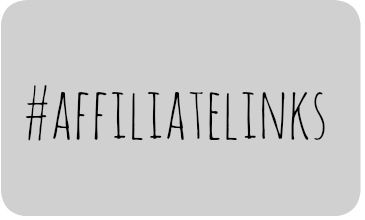 After I had finished the amazing Naruko DermaLane 1000-Molecule Hyaluronic Acid Hydrating Night Gelly (review) earlier this summer, I opened up two different types of sleeping masks that I had purchased ~ I'm From x Marymond Magnolia Sleep Mask and The Body Shop Tea Tree Anti-Imperfection Night Mask.   I usually love I'm From products, with the exception of their recent Ginseng line, and I love love love Tea Tree ~ and I had never tried anything from The Body Shop skin care line ~ just things like body washes and soaps. I am finally writing up my review on these two as I really was using them quite a bit.

Skin Type/Concerns: Oily, blemish prone, aging, hyper-pigmentation, fine lines/wrinkles, pores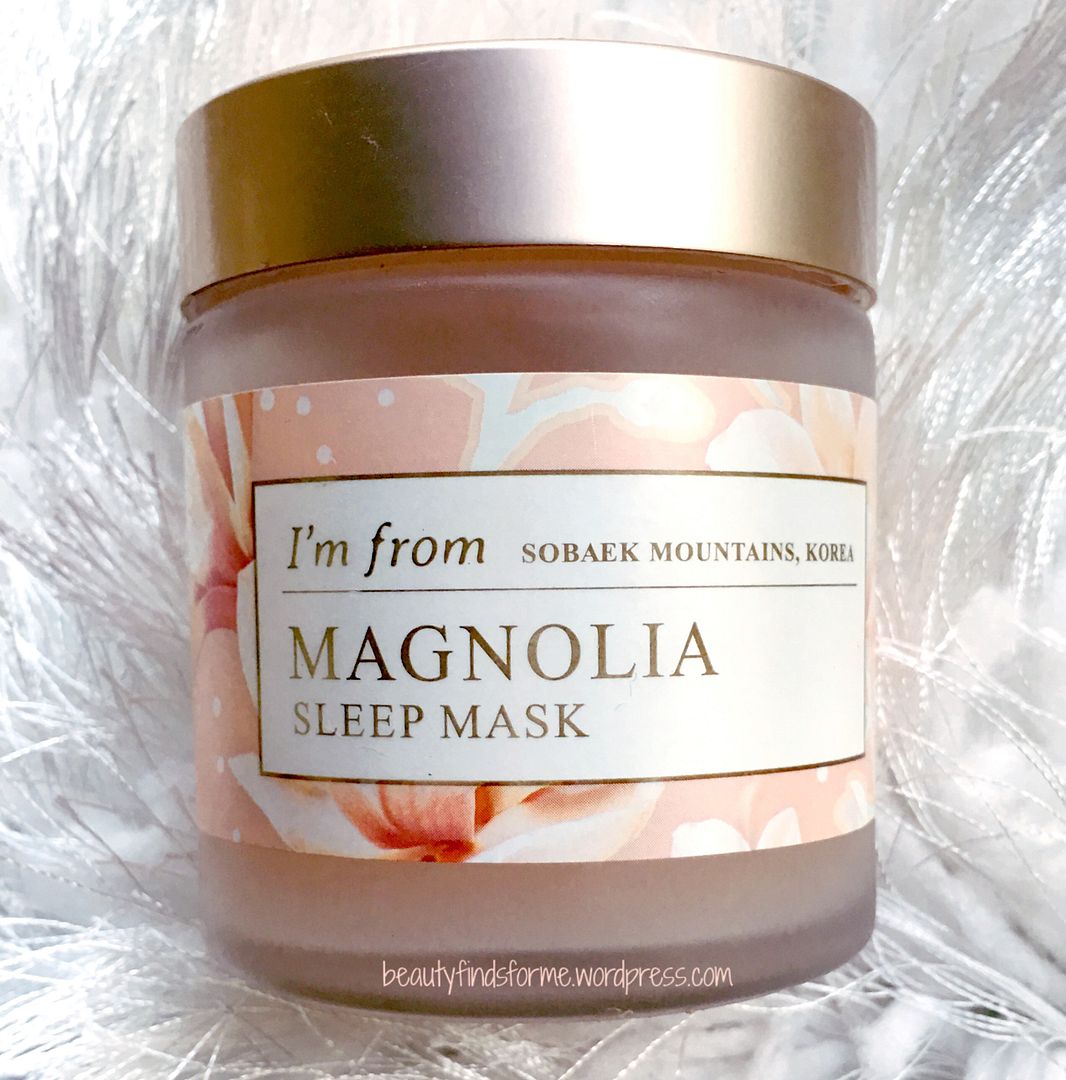 When I saw this on I'm From's instagram feed back in May/June, I was so excited about it! I love magnolias and I couldn't wait to get my hands on it and use it.  This also sounded very promising as a deeply hydrating yet lightweight sleep pack.   I'm From is famous for sourcing their main ingredients from South Korea and this mask pack is no exception ~ It contains 79% of magnolia water from the Sobaek Mountains.
Let your dreams bloom with the Magnolia Sleep Mask.Destress from a long day and let your skin bask in the soothing hydration of magnolia petals while you get your beauty sleep on. While the gentle scent helps you sleep with aroma therapy, the magnolia water deeply hydrates your skin and creates a water barrier to protect against irritants. Say good bye to dry, stressed skin and get the most out of your beauty sleep with the Magnolia Sleep Mask.
Magnolia is a calming and soothing ingredient due to the presence of magnolol and honokiol, compounds that help suppress inflammatory and aging processes.  Studies on antioxidant potency on these two compounds have shown that they can be up to 1000 times more potent than vitamin E. Magnolia helps repair fine lines and wrinkles, with anti-bacterial properties.  [source]   Magnolia bark has been used in Traditional Chinese Medicine for centuries as an herbal remedy for treating qi (energy) deficiency and treating loss of skin elasticity and redness. 
This also contains centella asiatica, a common herbal ingredient that is used medicinally to help speed up wound healing, such as blemishes and skin rashes. It also helps minimize the appearance of pores, and since it stimulates collagen production, it will make your skin more supple and firm. Aloe vera is a powerful moisturizer that doesn't leave your skin feeling oily or greasy. It soothes, treats inflammation, helps speed up skin healing and also has a plethora of antioxidants to help improve your skin's firmness and keeps your skin moist and hydrated.   Licorice root is a brightening ingredient as well as reducing flaking and smoothing your skin. It is also an anti-irritant and anti-inflammatory.
Green tea is full of powerful anti-oxidants, due to its high concentration of polyphenols, green tea helps reduce the appearance of fine lines and wrinkles. Rosemary has anti-septic properties, supports collagen growths and has anti-oxidant properties that will combat free radicals.  Chamomile  can calm down the skin and relieve redness effectively as it has antioxidant, antibacterial and anti-inflammatory properties. It helps to relieve skin issues and irritations because it soothes and lessens swelling and redness, while healing skin and stimulating cellular renewal.
Sea buckthorn contains vitamins C, A and E, beta carotene, minerals, amino acids and fatty acids. Vitamin C is important for brightening and stimulating collagen production.  It is known for its antioxidant properties to help slow down aging and to regenerate new skin cells, while penetrating deep into your derma layer and locking moisture inside.  Neem helps with blemishes and blackheads as it is a antimicrobial.   Finally, four powerhouses in hydrating and moisturizing ~ glycerin helps with healing of wounds, is an humectant, sealing in moisture and maintains the skin's water balance on an inter-cellular level, which makes the skin look healthy, moist, soft to touch and leaves your skin looking radiant and supple. Sodium hyaluronate is an intensive hydrating ingredient which bonds water to keep skin hydrated.   Beta glucan is a yeast or fungi derived ingredient that will attract moisture to your skin, and then locks it in. It is also an antioxidant, helping soothe your fine lines and wrinkles, as well as soothing your skin. Trehalose supplies concentrated moisture to your skin and helps retain moisture, preventing your skin from drying out.

This sleep pack does contain alcohol, but it is the 4th from the last ingredient in this botanical packed sleep mask.  Based on the ingredients, this sleep pack is an intensive hydrating product with lots of antioxidant, anti-inflammatory and blemish busting ingredients.  I'm From does not add harmful additives to their products. 
Ingredients: Magnolia Kobus Branch/Flower/Leaf Extract, Butylene Glycol, Glycerin, Cyclopentasiloxane, Trehalose, 1,2-Hexanediol, Cyclohexasiloxane, Centella Asiatica Extract, Polygonum Cuspidatum Root Extract, Scutellaria Baicalensis Root Extract, Glycyrrhiza Glabra (Licorice) Root Extract, Camellia Sinensis Leaf Extract, Rosmarinus Officinalis (Rosemary) Leaf Extract, Chamomilla Recutita (Matricaria) Flower Extract, Aloe Barbadensis Leaf Extract, Hippophae Rhamnoides Oil, Eclipta Prostrata Extract, Melia Azadirachta Leaf Extract, Moringa Oleifera Seed Oil, Beta-Glucan, Sodium Hyaluronate, Polysorbate 20, Ammonium Acryloyldimethyltaurate/VP Copolymer, Acrylates/C10-30 Alkyl Acrylate Crosspolymer, Water, Dimethicone, Dimethiconol, Tromethamine, Ethylhexylglycerin, Dimethicone/Vinyl Dimethicone Crosspolymer, Propanediol, Alcohol, Disodium EDTA, Phenoxyethanol, Fragrance  cosDNA analysis

This is a very light weight gel cream in a peachy-pink translucent color and when I apply it to my skin, it has a nice water drop texture.  The gel dissolves quickly to a watery serum.  It absorbs nicely with no stickiness or tacky feeling, but it also leaves a slight slick film on my skin, which is acceptable for a sleep pack.  This has a lovely aromatherapy scent of magnolias, very soothing and relaxing, which is perfect for a sleep pack.
This sleep pack is best chilled before applying as it is so refreshing.  It already has a cooling effect on my skin, but with the extra chill factor, it becomes amazing.  I'm From Magnolia was my sleep pack of choice in the hot muggy months of august.  I have used this pack alone after cleansing ~ blasphemy!!  No other products!!  ~ and my skin doesn't suffer from dehydration in the morning.  This does increase my moisture levels by 34% and decreases my oil levels by 37%, so this is a perfect oil-balancing skincare product!
It does not dry out my oily skin at all, but leaves it looking more plump and fresh, while my pores look a bit more refined and cleaner.  I did not suffer from any blemish breakouts due to this mask.  If  you have drier skin than mine, you may find that you need some more moisturizing skincare products as this might be too lightweight for you.  I found that this was a perfect hydrating, aromatherapy delight with a cooling and relaxing effect on my skin and senses.
I want to talk about the packaging as so many people remarked how beautiful it is and it is so pretty!   I'm From has collaborated with Korean design team Marymond.  Marymond mission statement is to recover dignity and awareness through their designs. The first partner of Marymond are the military sex slave victims ~ the pressed flower symbol represents the Korean women who were enslaved for sexual purposes during World War II by the Japanese ~ they were known as "comfort women", but let's not mince words ~ these women were raped and held against their will.  Marymond combines the words "mariposa" ~ butterfly in Spanish and "almond" from  Vincent Van Gogh's "Almond Blossom" painting.  Marymond wishes to restore the dignity and respect for the victims and they donate 50% of their profits to a foundation that will help these women who were drafted for Military sexual slavery in Japan. Marymond is also reaching out to the victims in other countries that were occupied by Japan, such as China and the Philipines. [source]  I am glad to see that Marymond is teaming up with skincare and makeup brands ~ A'Pieu is another brand that has collaborated with their design team.
The Body Shop Tea Tree Anti-Imperfection Night Mask
I have blemish prone skin, but it is aging, so I do walk the fine line with oil control and anti-aging products.   Products made for teenagers are too harsh for me and products made for "mature" women are too rich for my skin type and don't address the fact that there are millions of women who are older and they suffer from blemishes and oily skin.  Our skin doesn't become dry just because we reach a certain age.  I saw this product on Instagram (again!) and was intrigued by it.  It seems that The Body Shop does make nice skincare products ~ I have been living under a rock because I was unaware that The Body Shop made actual skincare products for the face!  Their tea tree line is very well rated and this Night (Sleep) Mask Pack is new this year! I love tea tree and I was happy to purchase it.
Wake up to clearer-looking skin! This fresh and breathable Tea Tree Anti-Imperfection Night Mask is specifically formulated to care for oily skin and imperfections while you sleep. Infused with salicylic acid and Community Trade tea tree oil, this 100% vegan leave-on mask for oily skin will reduce the size and number of imperfections and achieve clearer, smoother, and healthier-looking skin.
Tea tree obviously makes an appearance here, community trade straight from the foothills of Mount Kenya.  Tea tree is used for many infections and diseases due to its healing and disinfectant properties ~ antibacterial, fungicide, antiseptic, antimicrobial, antiviral and can help speed up wound healing and reduce scarring, as it is a cicatrisant. It helps with preventing dry, flaky skin and because of its antibacterial properties, can help heal current blemishes while reducing future blemishes and control excess oil. It helps with rashes, allergic skin reactions and fungal infections. This also has another variety of tea tree oil, leptospermum petersonii, which is known for its lemon-scent and an anti-fungal.  
Salicylic acid (BHA) to helps combat acne, by gently exfoliating your skin and removing dead skin cells and excess oil. Salicylic acid is fat soluble, so it can really get to the oil that is inside your pores. Tamanu oil is extracted from the nuts of the Ati tree and has an aromatic, pungent scent. Tamanu is a powerful skin regenerator as it helps promote new tissue growth, which speeds up wound healing.  It is not only an anti-bacterial, it is an antioxidant, antibiotic (lactone compound)  and anti-inflammatory (calophyllolide and coumarin compounds).  It helps prevent UV sun damage to your skin as it  can absorb UV rays.  Aloe is a non-greasy, non-oily moisturizer that helps soothe and protect your skin, while allantoin is known for healing, soothing and softening skin while aiding in removing cracked and chapped skin, leaving behind healthy looking skin.  Zinc sulfate is used to help treat acne, due to its anti-inflammatory properties and it helps speed up wound healing. This sleep mask pack is 100% vegan and free from alcohol.

Ingredients: Water, Glycerin, Propanediol, Acrylates/Beheneth-25 Methacrylate Copolymer, Phenoxyethanol, Lauryl Methacrylate/Glycol Dimethacrylate Crosspolymer,  Melaleuca Alternifolia (Tea Tree) Leaf Oil, Ethylhexylglycerin, Sodium Hydroxide, Salicylic Acid, Allantoin, Aloe Barbadensis Leaf Juice Powder, Calophyllum Inophyllum (Tamanu) Seed Oil, Acrylates/C10-30 Alkyl Acrylate Crosspolymer, Trisodium Ethylenediamine Disuccinate, Sodium Hyaluronate, Hydrolyzed Algin, Limonene, Citral, PEG-30 Dipolyhydroxystearate, Trideceth-6, Zinc Sulfate, Citronellol, Leptospermum Petersonii Oil, Tocopherol, Caramel,  Yellow 5 (CI 19140),  Blue 1 (CI 42090)  cosDNA analysis
This bright Borg-green sleep pack has a texture that is called a memory cream ~ meaning that you can mush it up, stir it up and it will smooth and flatten out as if you never were there. This also means it will cling to your skin better, or so the experts say!  The gel has these little white specks in it, which could be the aloe vera powder ~ it looks quite cool!  
This has a chunky and slimy texture, not smooth, as I take it out of the jar ~ it is like jello ~ it slips and slides, wanting to fall over everything but on my face.  However, once I start massaging it into my skin, this turns into a liquid-y serum.
This does have a very strong tea tree scent, which I love, but some people are really sensitive or hate tea tree scents, so do keep that in mind if you are thinking of purchasing it.   One thing I did notice is that if I use an AHA product before this sleep pack, The Body Shop Tea Tree Night Mask will pill up and ball.  It is quite strange, but something in an AHA product and this product is causing that reaction.  However, when I don't use an AHA product, it sinks into my skin quickly with no pilling.  If I press my hand against my face and pull away, it has that sucking, sticking and pulling feeling  but my skin is not sticky or oily. That feeling goes away after a few minutes and what is left is a nice semi-matte finish.
This increased my moisture levels by 26% but sucked the oil outta my skin as it decreased my oil levels by 41% ~ this is a sleep pack for oily and oily/combo skin. I do not recommend this for dry skin at all, because this can be drying on your skin ~ I had to make sure I applied an adequate amount of hydrating skincare products before I slapped this on my face.
My skin in the morning felt calmer and clean, my pores really looked refined and smaller in appearance. Unlike a lot of sleep packs which make my skin more oily in the morning, this one did not ~ it was normal skin!  I also noticed that my blemishes were healing faster with this sleep pack
Final Thoughts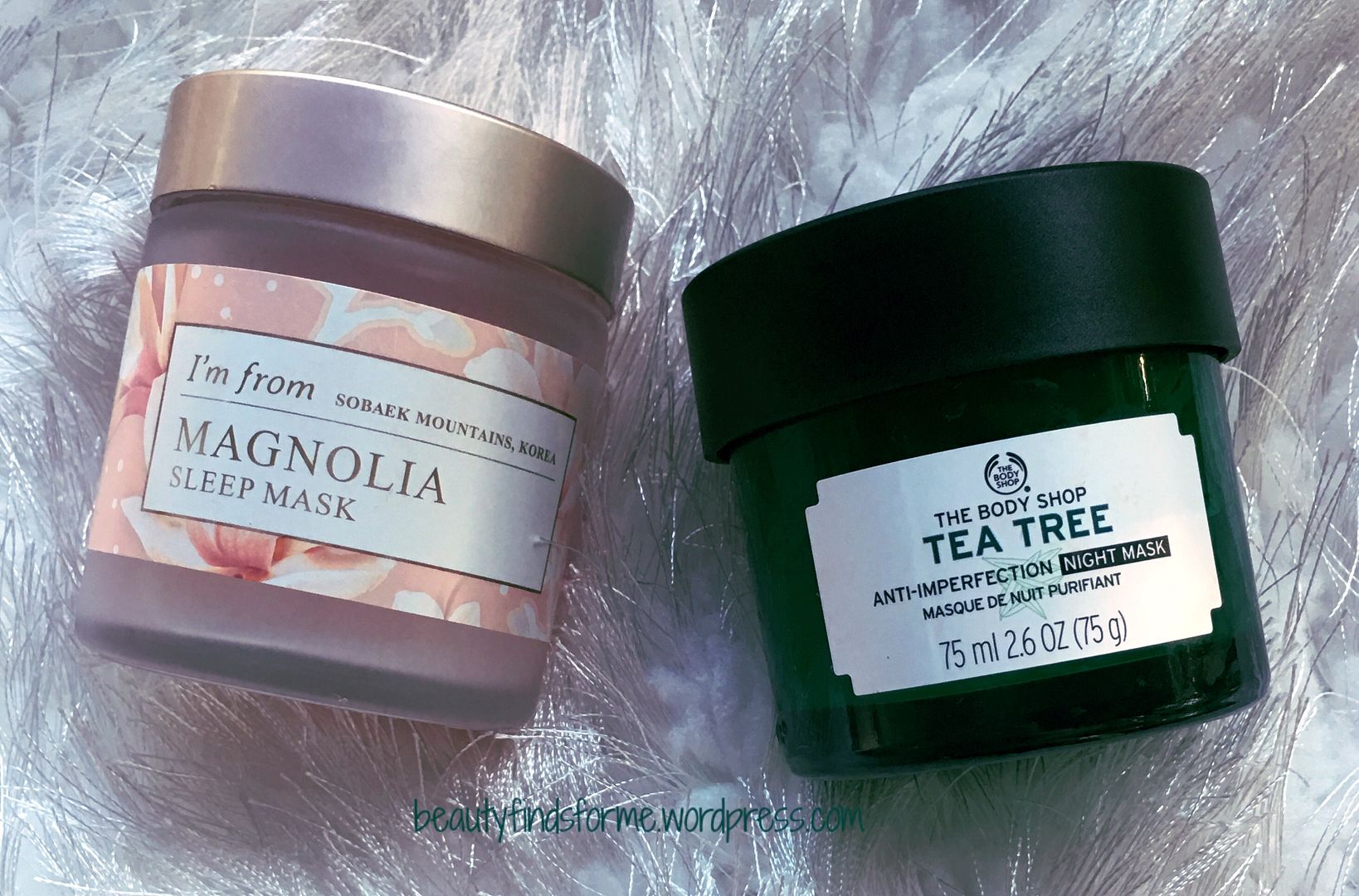 These two masks have different scents ~ one floral and the other a medicinal herbal scent ~ different textures ~ one with a soft gel water-droplet texture and the other, a chunky, slimy texture that quickly liquefies.  Different expectations for results ~ moisturizing, hydrating, relaxing and calming vs healing, purifying and mattifying.  And COLOR ~ one a soft peachy pink and the other a bright vibrant green.  I loved them both!  These two mask packs worked really well for me over the hot summer months ~ I'm From Magnolia was crucial for cooling and soothing my skin, providing a moisture bomb and preventing my skin from getting dehydrated.   The Body Shop Tea Tree was a must-have to help heal and prevent pimples, mattifying my skin and remove excess oil and impurities from my skin.   I highly recommend both of these sleep mask packs if you have oily skin.  The I'm From Magnolia is good for all skin types, but as I noted in the review section, it may not be enough for dry skin types.  I have the I'm From Magnolia Wake Essence, which I will be starting to use in November ~ I just have so many essences open right now!  The Body Shop Tea Tree is for oily, blemish prone skin.  If you have dry skin or dry/combo skin, I do not recommend it.  Have you tried either of these sleep packs?  Which one and what did you think of it?

Where to Purchase
I'm From Magnolia Sleep Pack (120 grams) can be purchased at Wishtrend (click here).  It is currently available with free shipping and you can take an additional 23% off with promo code F23SX91DH.  This will bring the total down to under $24.00 USD.   This offer expires 1o/09/2017. 
The Body Shop Tea Tree Anti-Imperfection Night Mask (75 mL)  can be purchased at The Body Shop (click here)  or Ulta (click here) for $22.00.

[ blog post contains affiliate links which provide a small commission to me at no cost to you ]