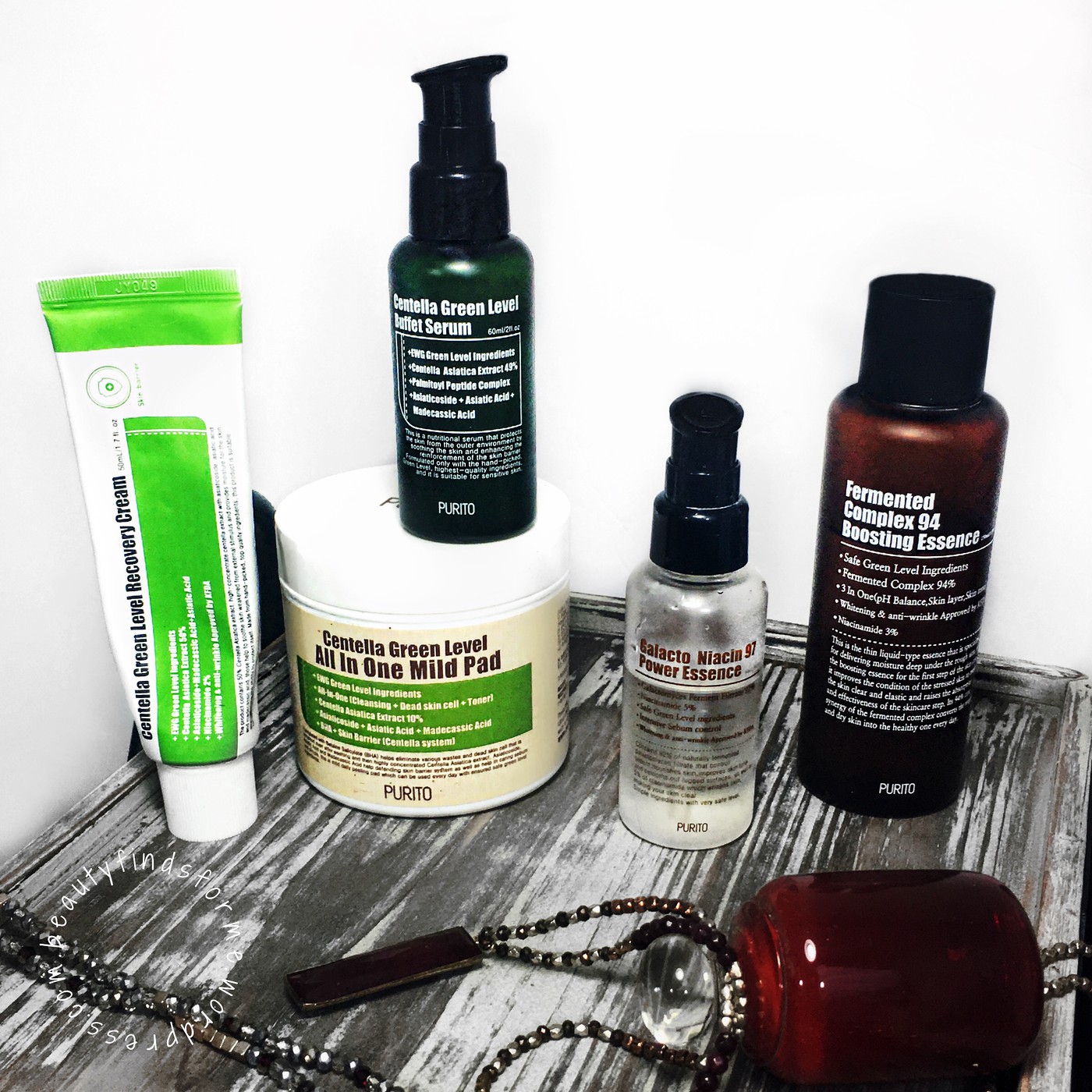 I received a lot of PR products from a new "green" Korean Skincare brand called Purito.  The brand name "Purito" means "purify" and "soil", emphasizing the pure and natural ingredients used in their skincare. Their philosophy is to be honest and make safe, natural products, without artificial fragrances, preservatives, surfactants and PEG's. Purito strives to make products safe enough to use with both adults and children and conforming to EWG Green Level ingredients. Their packaging is also eco-friendly when possible, and they spend more time on the formula than packaging as they believe it is what is inside that counts (I totally agree with this!) and they do not conduct animal testing.  I purchased one of the items in this review, the Fermented Complex 94 Boosting Essence ~ all others were received complementary for review purposes and will be marked with a *.
I received these products complementary to review and was not paid.  All reviews are my own honest opinion and  I never have been asked to write copy for a brand.  This blog post might contain promo codes, affiliate and referral links, which using my links will help generate a small commission that helps support my blog at no extra cost to you.
Main Ingredients
So, since this review is contains two fermented products and three centella products, I thought I would highlight these two main ingredients up-front. Fermented ingredients in skin care products are highly moisturizing and also have antibacterial properties, which is why my blemish-prone skin loves it so much.  Fermented ingredients are a classic process that has been around for a few millennia and what it does is to allow the growth of good bacteria.  This bacteria will create lactic acid,  by consuming sugar and starch, and it also creates pro-biotics, amino acids, antioxidants, omega-3 fatty acids, all sorts of Vitamin B's and enzymes, which means that it has more nutrients.  The fermented yeast helps break down active ingredients which can be absorbed more quickly into your skin.   It helps boost other skin care products and is reported to be more potent and very effective for all skin types.  I know my oily skin love ferments and I have been singing its praises since 2015.
Centella asiatica is a soothing and repairing skin care ingredient, as it is a plant that is rich in saponins and is an anti-inflammatory, calming your skin and aid in wound healing. It is rich in amino acids as well as essential fatty acids, beta carotene and other phytochemicals, which help with wound healing and stimulating new skin cell growth.  It not only just helps with healing, it helps reduce blemishes and skin rashes as it has anti-bacterial properties.  Centella extracts will helps minimize the appearance of pores, and since it stimulates collagen production, it will make your skin more supple and firm.  Centella also has derivatives that are extracted  ~ asiaticoside, which not only helps form collagen to strengthen your skin and speeds up wound  healing, it balances your moisture/oil levels and is an FDA Wrinkle Improvement Function Authentication ingredient.  Asiatic acid,  an anti-aging compound, that helps to plump up your skin, prevents wrinkles, fine lines and scar tissue, strengthening your skin barrier and improving elasticity. Madecassic acid helps aid in the production of collagen and tissue, provides soothing and calming care, repairing damaged skin and scarring from blemishes.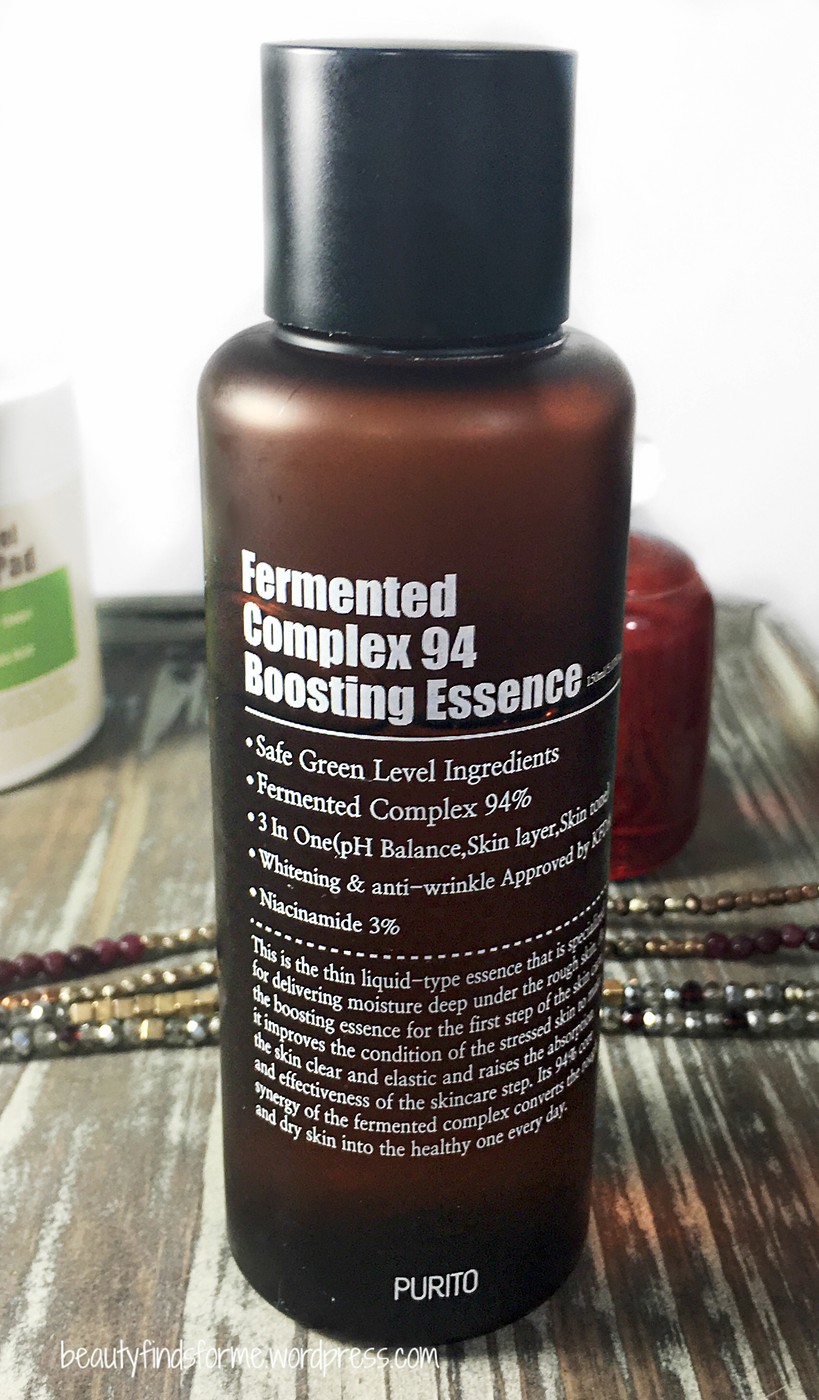 Fermented Complex 94 Boosting Essence  I purchased this one on my own.   I love a good FTE and this one is actually quite nice!! What are First Treatment Essences (FTE's)? There are two types of essences ~ the first type is a traditional essence ~ it is thicker than water and is used somewhere between the toner and moisturizer steps. 
image credit puritoen.com
I use those types of essences interchangeably with serums.  Purito Fermented Complex 94 Boosting Essence is the other type of essence, called an FTE and is also known as First Essence, Treatment Essence  and/or Treatment Toners ~ these are very watery concentrated formulas with fermented ingredients, very nutrient-enriched and it preps your skin, while providing benefits that will help reduce/prevent fine lines and wrinkles, dull and uneven skin tones.   These are boosters and provide an instant shot of hydration and nutrients to your skin and prep your skin to accept your other skincare products.

This is made with a 94% fermented complex of rice, bifida ferment lysate (pro-biotic), saccharomyces/viscum album (mistletoe), saccharomyces/imperata cylindrica root and
lactobacillus/soybean ferments and 3% of brightening niacinamide, along with mulberry bark extract, which also helps to brighten the skin.  Dandelion and green tea are full of antioxidants anti-aging benefits, helping to combat free radicals and reverse their damage on your skin.

This is a very watery essence with a slightly bitter and medical scent to it.  It has a little bit of a slip to it and feels oily, but it dries down quickly without any sticky or tacky residue.  This increased my moisture level by 33% and decreased my oil levels by 38%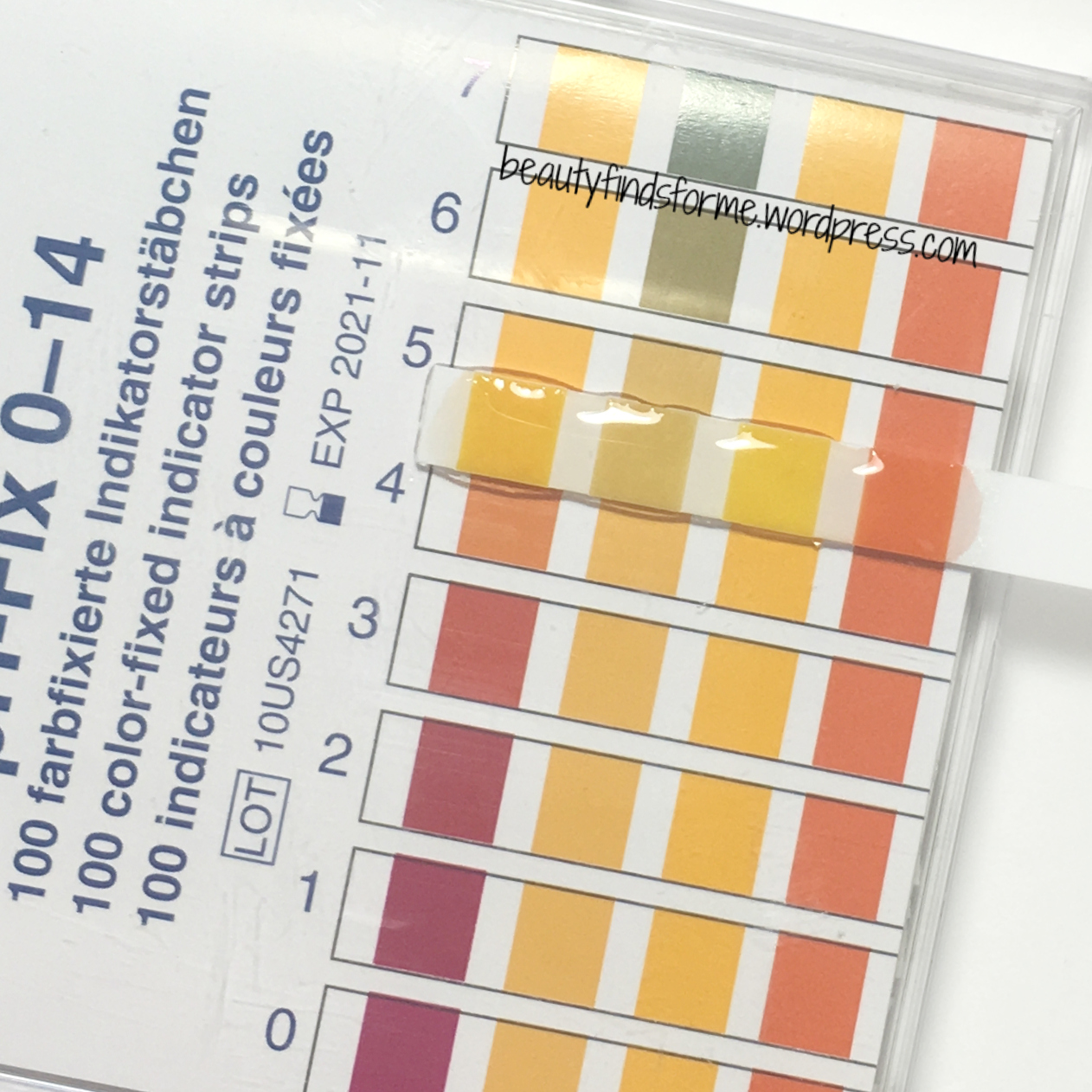 It has a pH level of 5, so it is mildly acidic.  I feel that this has done a lot to help calm my skin down but I also think it is a bit more "heavier" than most FTE's I have used in the past due to the high percentage of niacinamide.  I have found that this has reduced the redness of my skin and makes my skin tone brighter, but has not lightened any hyper-pigmentation.  This is not the fault of the product as my skin seems to be really resistant to brightening products. At under $20.00, this is a good inexpensive choice for a FTE.
image credit puritoen.com
Ingredients: butylene glycol, lactobacillus/rice ferment, camellia sinensis leaf extract, taraxacum platycarpum (dandelion) extract, morus alba bark extract, niacinamide (3%),  1,2-hexanediol, bifida ferment lysate, acrylates/C10-30 alkyl acrylate crosspolymer, allantoin, viscum album (mistletoe) leaf extract, portulaca oleracea extract, sodium hyaluronate, adenosine, perilla ocymoides seed extract, glycerin, saccharomyces/viscum album (mistletoe) ferment extract, saccharomyces/imperata cylindrica root ferment extract, lactobacillus/soybean ferment extract, dipotassium glycyrrhizate, disodium EDTA  cosDNA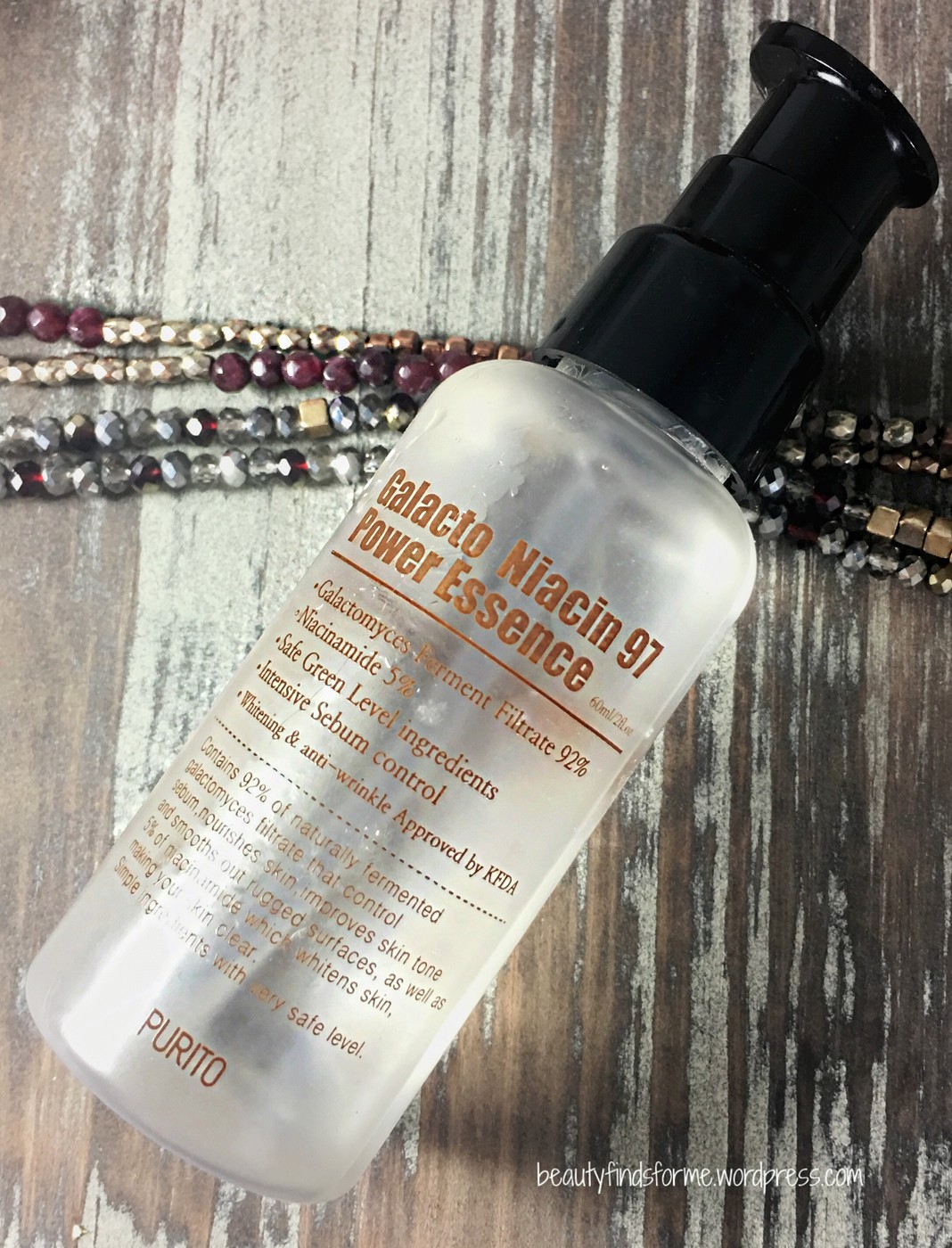 Galacto Niacin 97 Power Essence * has 92% of galactomyces ferment, a natural yeast that is used in brewing beer and it is rich in vitamins, minerals, amino acids, peptides ~ it is also known as Pitera, which is what SK-II has based their skin care line around.  This lovely ferment will help moisturize, heal, balance and nourish your skin  and I have also found that galactomyces has helped with healing my blemishes. This also contains 5% niacinamide, which is very high for Korean skincare ~ normally it is like around 3%, but Purito has it at 5%, so it will help brighten your skin tone. This essence doesn't contain any preservatives and it is made in small batches ~ they recommend placing this in the refrigerator and using it quickly. I like using this right after my toner step, as it is a very watery essence, with an almost oily texture, due to the high content of niacinamide. However, it absorbs quickly, without any greasy or sticky residue, so any oil concerns are not an issue. There is no scent to this essence at all.

This reminds me A LOT in texture and results as Goodal Waterest Lasting Water Oil ~ however, that has a lot of fermented ingredients and oils in it. Purito Galacto Niancin 97 Power Essence only has a few ingredients, with the majority of the product being galactomyces and niacinamide (97%)  and the rest is just amino acids, more ferments and botanicals. 
This really gives my skin a quick boost of moisturizing hydration. My skin is so smooth and  supple to the touch after I apply this essence. It increases my moisture levels by 29% and decreases my oil by 39% ~ so yeah, this little bottle is great for oily skin types for sure!  This is also mildly acidic at a pH level of 5.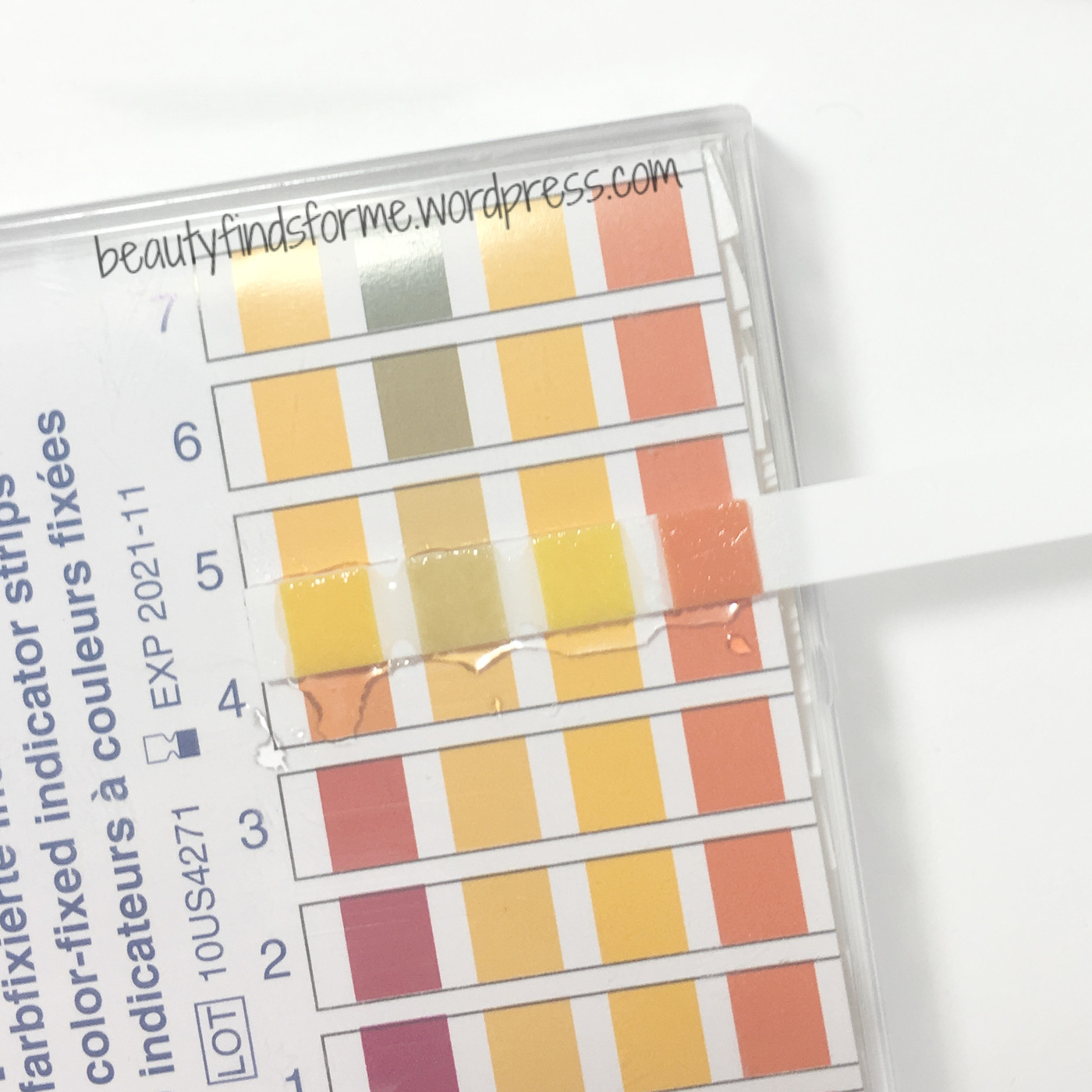 I am almost done with this and I haven't noticed any brightening, but I do love how my skin feels and looks, as it helps keep my skin blemish free.  I did have issues pumping this essence out of the bottle, however.  I do not know if I got a defective pump or not, but I would always have to remove the pump and just tip some of the essence into my hand.  Also, the cap on these pump bottles crack really easily, which is why they aren't in the photos ~ they have long been discarded as they just kept cracking and then broke completely.  I don't really mind too much as it is a pump applicator and having the cap gone just means one less thing I have to uncap while I am doing my skincare routine

image credit puritoen.com
image credit puritoen.com
Ingredients: galactomyces ferment filtrate (92%), niacinamide (5%), 1,2-hexanediol, viscum album (mistletoe) leaf extract, bifida fermente lystate, lactobacillus ferment, acrylates/C10-30 alkyl acrylate crosspolyer, arginine, allantoin, adenosine, dipotassium glycyrrhizate, disodium EDTA  cosDNA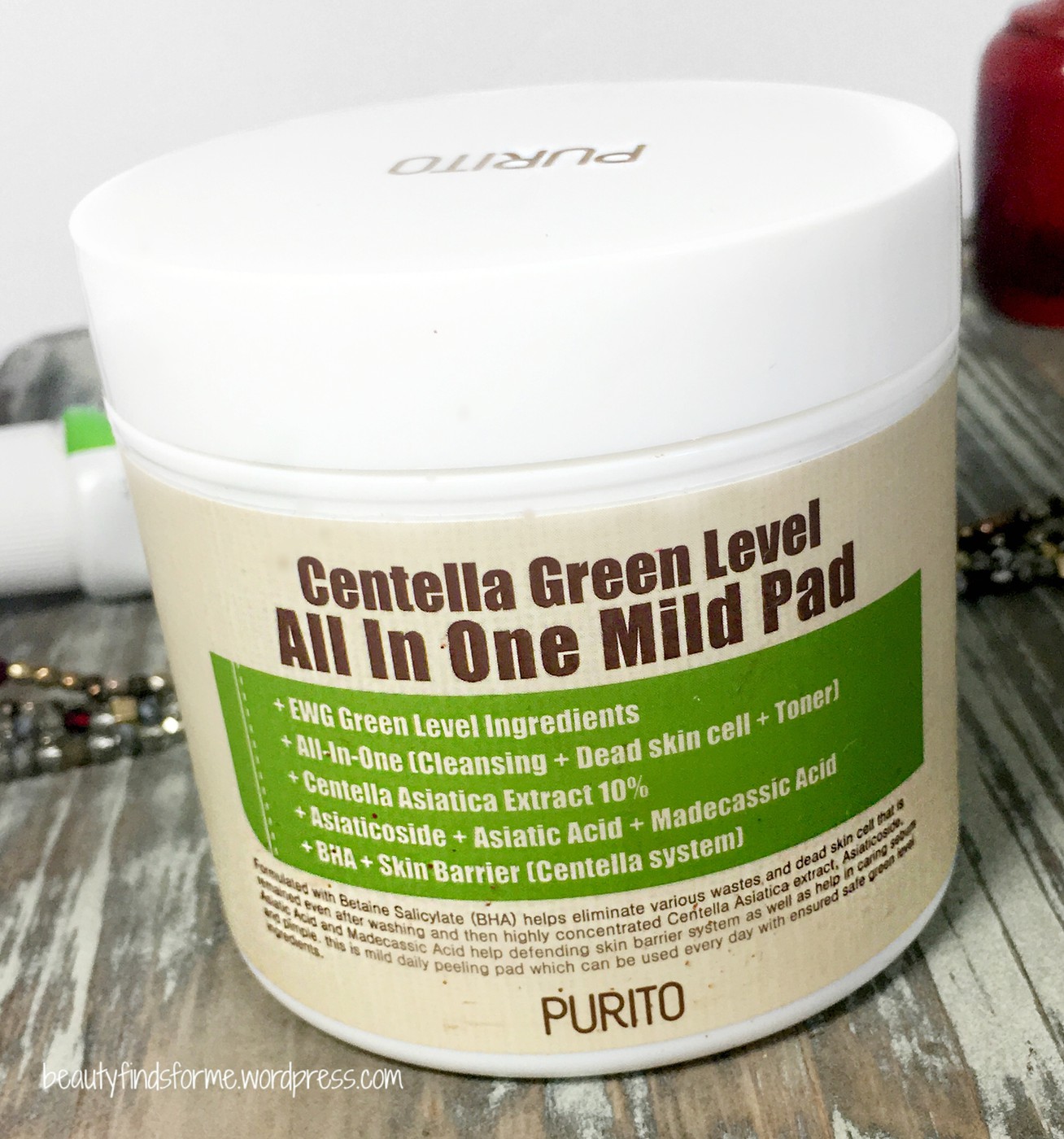 Centella Green Level All In One Mild Pad *  I make NO secret that I love my facial pad products. I use them all the time, sometimes just to refresh my skin after cleansing, workouts or whenever ~ they might even take the place of a toner step! These are made with centella, which is the 2017 Ingredient of the Year (well, to me at least!!).  This not only contains 10% of the healing and antioxidant rich centella asiatica herb, but the other compounds derived from centella ~ asiatic acid, asiaticoside and madecassic acid. This also contains tea tree leaf oil, which is excellent for blemish/oily prone skin to help heal and purify your skin and licorice, another brightening ingredient. This pad is both a physical & chemical exfoliator, as the pad is textured for physical exfoliation. This also contains chemical exfoliator betaine salicylate ~ this BHA will actually go into your pores, dissolve and clean out the dead skin cells and excess oil. This does not contain an AHA, which is good, as I have issues sometimes with betaine salicylate and an AHA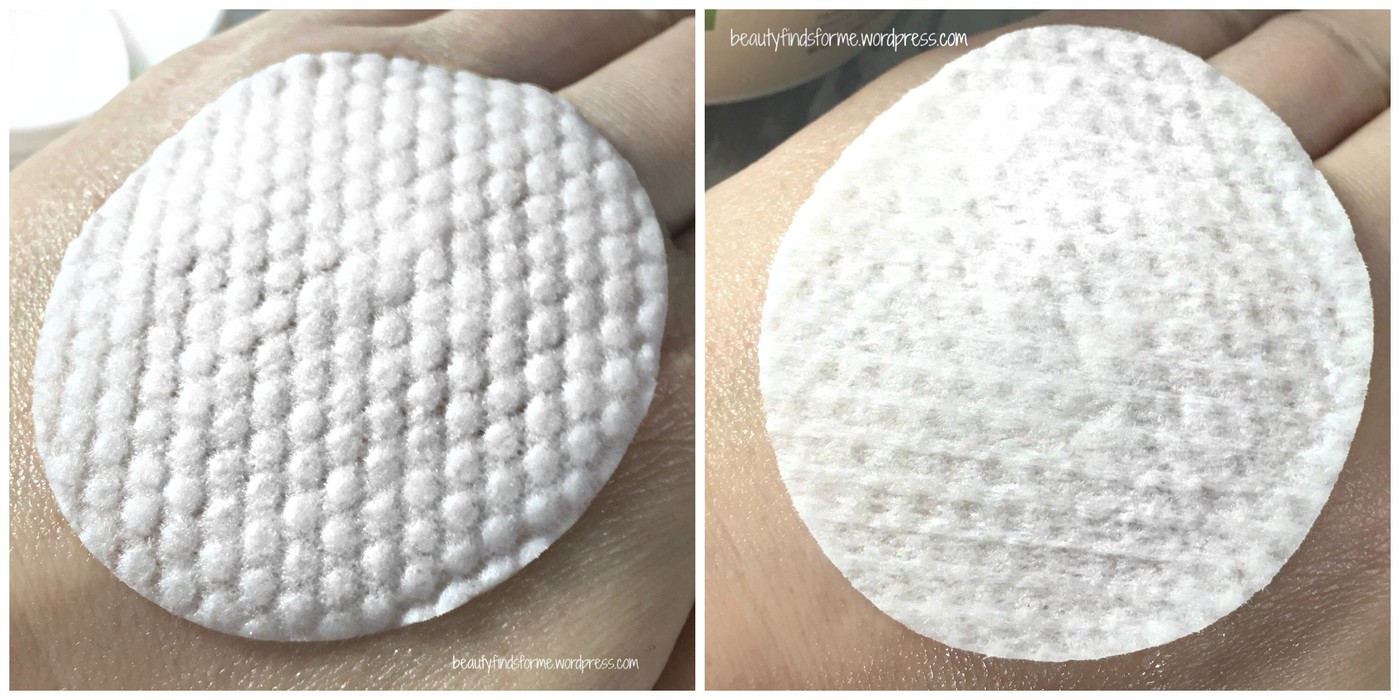 This smells strongly of tea tree, which I like, but if you don't like that scent, that could be an issue. These pads are VERY moisturizing on my skin and despite the fact that they remove excess oil and gunk on my face, my skin never feels dried out or tight. My skin feels hydrated, moist and very clean. You can use these pads a little point facial sheet pads ~ leaving them on the skin for 10 – 15 minutes to help clear up, soothe and heal your "troubles". I have done this & this does cause my blemishes to reduce in swelling and redness. You can also use these pads anywhere on your body where you have skin issues, as it is gentle to use all over ~ even on your lips to help exfoliate dead skin! These have a pH level of about 5, so they are mildly acidic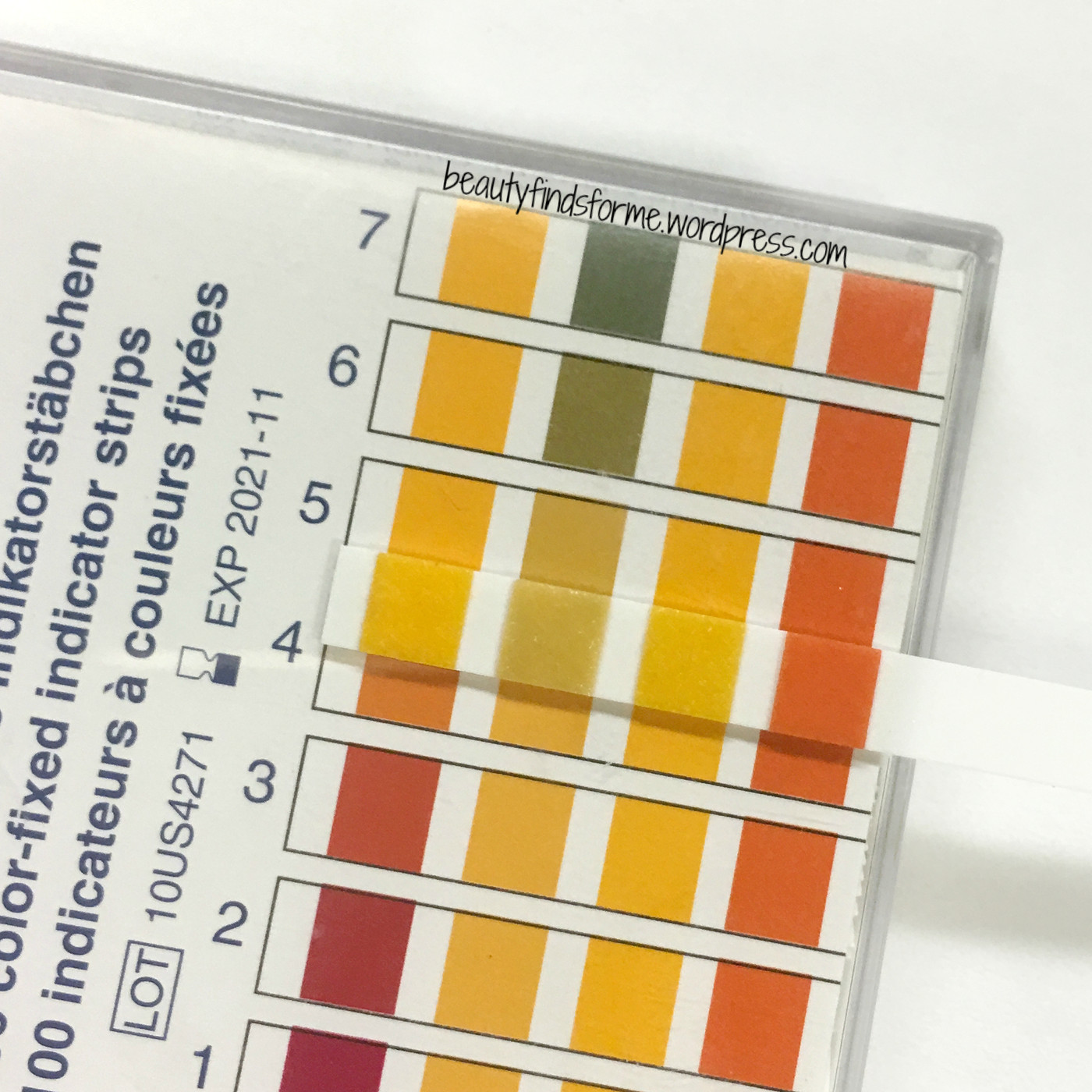 image credit puritoen.com
image credit puritoen.com
Ingredients: water, centella asiatica extract, dipropylene glycol, glycerin, butylene glycol, 1,2-hexanediol, betaine, betaine salicylate, sodium hyaluronate, arginine, glycyrrhiza glabra (licorice) root extract, allantoin, polyglyceryl-10 laurate, panthenol, polyglyceryl-10 myristate, caprylyl glycol, dipotassium glycyrrhizate, disodium EDTA, melaleuca alternifolia (tea tree) leaf oil, asiatic acid, madecassic acid  cosDNA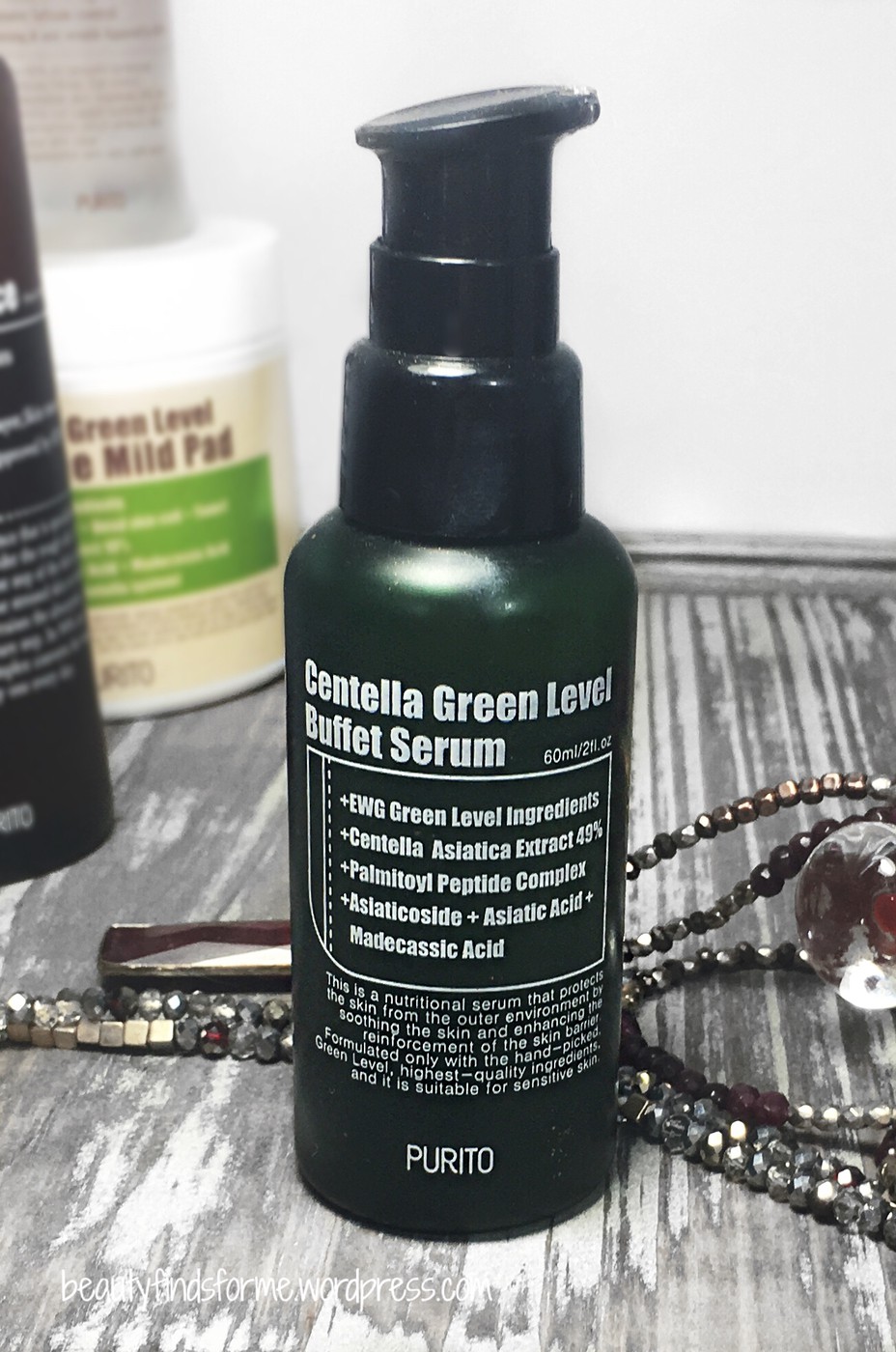 Centella Green Level Buffet Serum * is simply amazing.  I have been trying to find a centella serum for a long time now and this is it.  Its watery-gel texture reminds me a lot of Benton's Snail Bee Essence, which I love, and it has a sharp herbal + lavender scent to it.   This contains 49% centella, plus the concentrated derivatives of centella ~ asiaticoside, asiatic acid, madecassic acid, along with 5% niacinamide for brightening.  This also has some really moisturizing ingredients with collagen, lecithin, ceramide and sodium hyaluronate, along with 4 anti-aging palmitoyl peptides ~ designed for wrinkle care and hydration.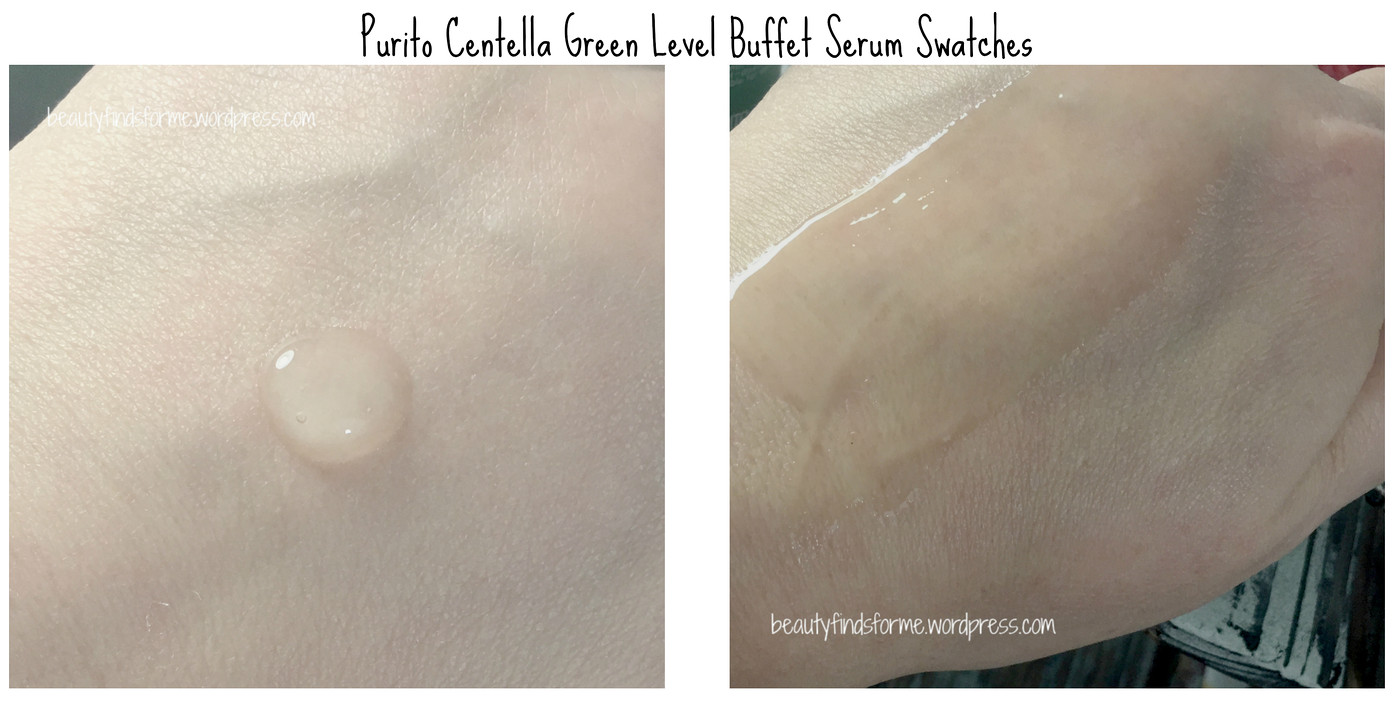 They also snuck in a fermented ingredient ~ this time a fermented seaweed ~ alteronmonas, which is a water binding, soothing and skin repairing ingredient.  All in all, this is an amazing cocktail of ingredients and it is so lightweight and absorbs quickly into my skin and it hydrates nicely for a serum ~ it increases my moisture level by 17%, but the best part is how it reduces my oils ~ 45%!!  Very happy about this!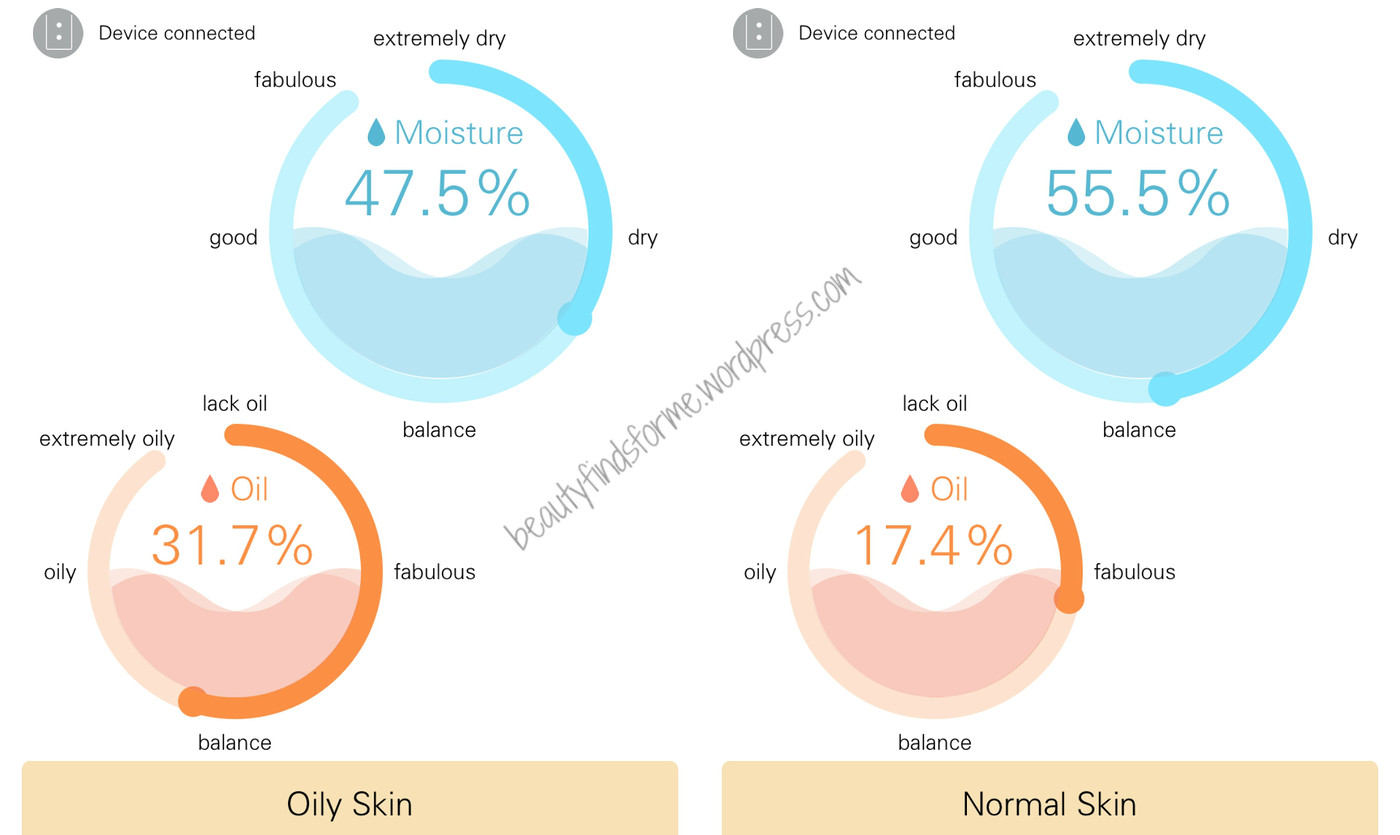 I don't know what it is doing, but my skin loves this ~ whenever I use it, my skin is less red, more clearer and less blemishes.  My skin is also hydrated, soft and smooth.  If I had to choose just ONE item out of the five reviewed here, I think this would be it. But thankfully, these products are inexpensive, so I can choose more than one!
image credit puritoen.com
Ingredients: centella asiatica extract (49%), water, dipropylene glycol, niancinamide (5%), glycerin, butylene glycol, 1,2-hexanediol, glycereth-26, carbomer, sclerotium gum, hydrolyzed jojoba esters, caprylyl glycol, panthenol, polyglyceryl-10 laurate, polyglyceryl-10 myristate, hydrogenated lecithin, hydrolyzed collagen, camellia sinensis leaf extract, alteronmonas ferment extract, pancratium martinum extract, citrus aurantium bergamia (bergamot) fruit oil, dipotassium glycyrrhizate, disodium EDTA, adenosine, lavandula angustifolia (lavender) oil, ceramide NP, sodium hyaluronate, asiaticoside, asiatic acid, madecassic acid,  palmitoyl hexapeptide-12, palmitoyl tripeptide-1, palmitoyl tetrapeptide-7, palmitoyl dipeptide-10  cosDNA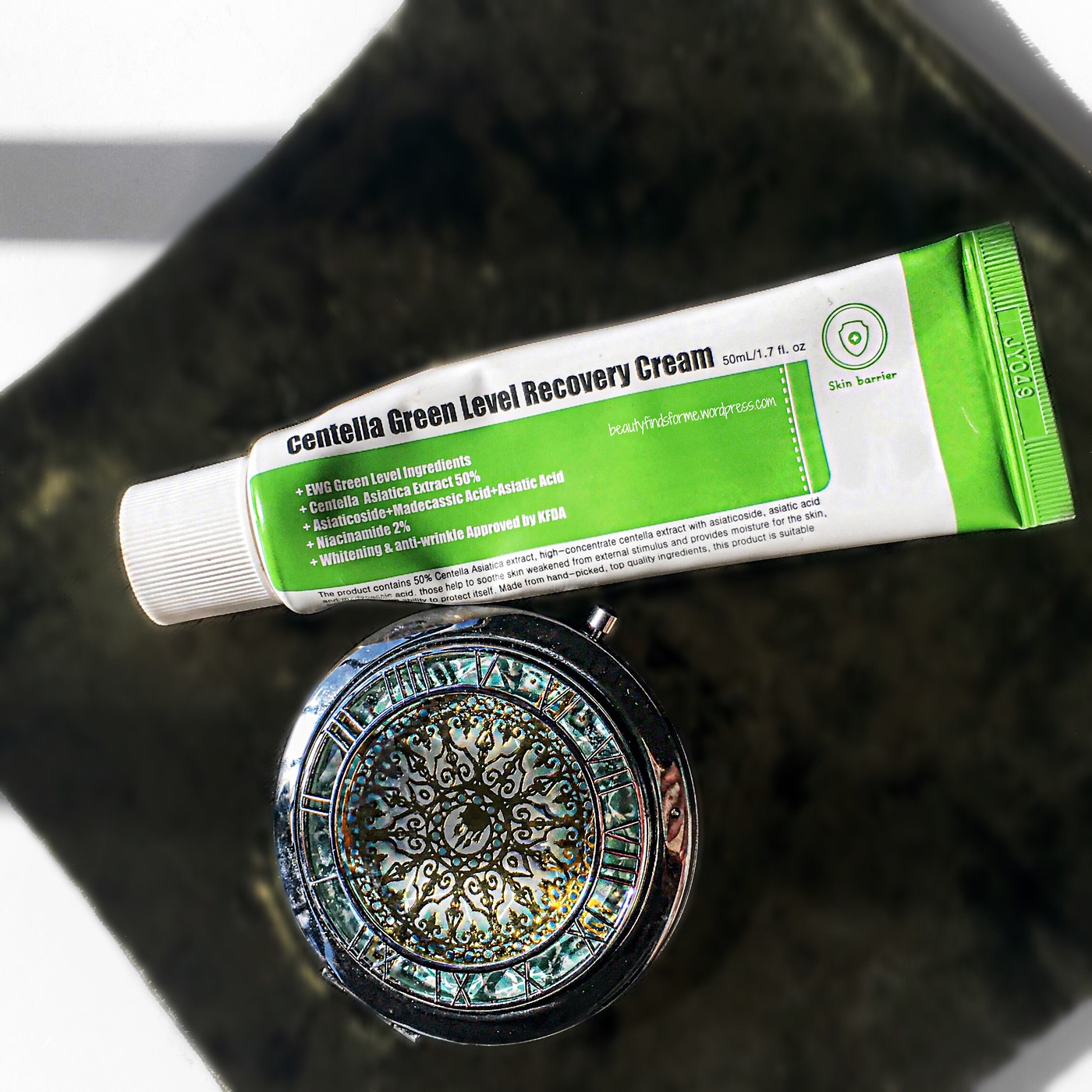 Centella Green Level Recovery Cream * contains 50% of centella asiatica extract and it is the top ingredient ~ for healing, soothing and skin repairing. and it contains three concentrated derivatives of centella ~ asiaticoside,  asiatic acid and madecassic acid. For brightening, this contains 2% niacinamide and it also has beta glucan, shea butter, squalane, argan oil, ceramides and macadamia oil for moisturizing.  Witch hazel is also included and that is a calming, soothing hydrator with astringent benefits. This also has lavender oils for healing and soothing care, while bergamot oils helps reduce spots and marks on your skin. This formula is made only with EWG green level ingredients, so it is safe for sensitive skin.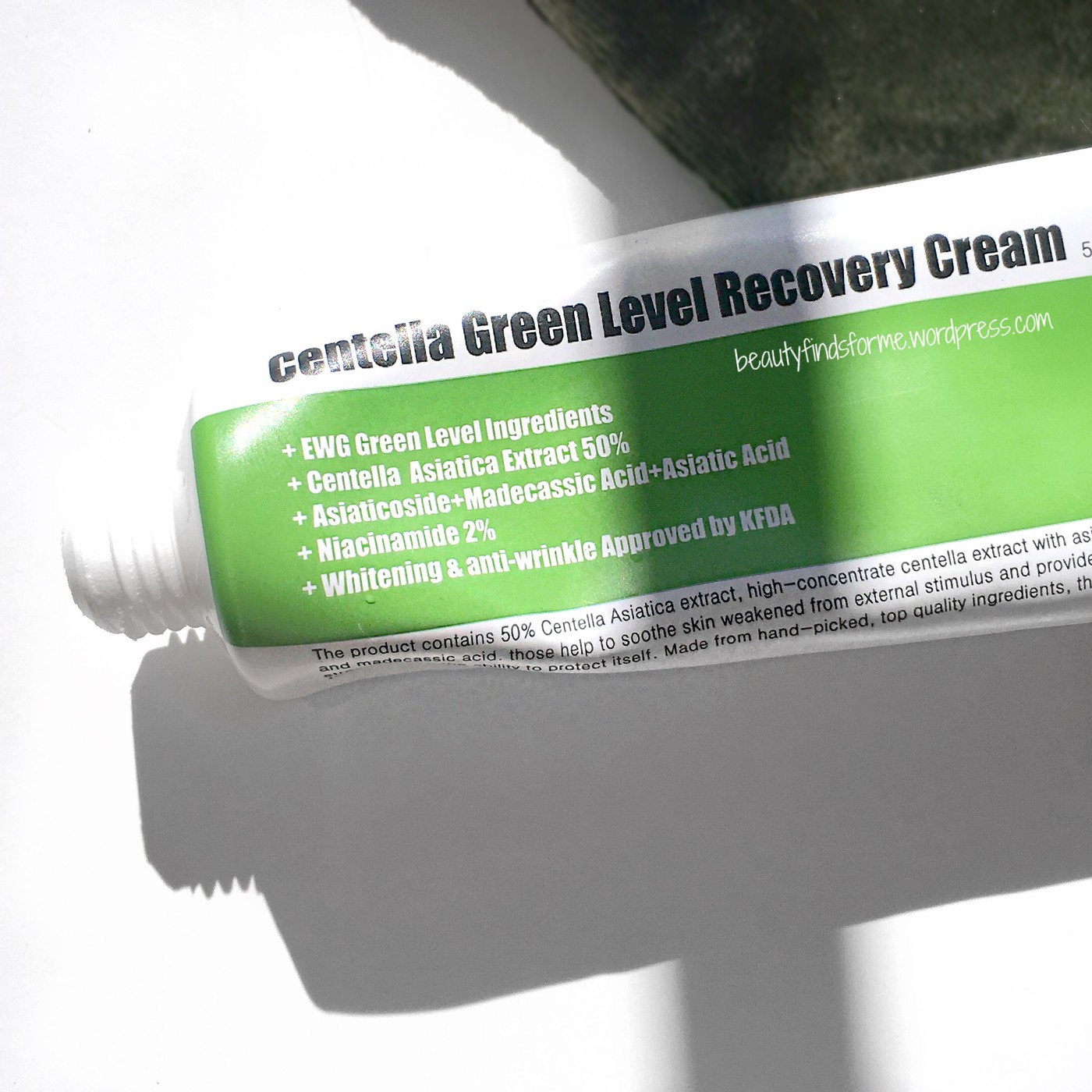 Due to the lavender and bergamot oils, this cream has a lavender scent behind it with a hint of citrus ~ totally unexpected! This is a white cream that has the texture of a lightweight lotion and it spreads quickly ~ in fact, it comes out the tube very quickly, so be careful with squeezing it out. It absorbs fully into my skin ~ leaving behind soft, supple skin that is not dewy, greasy or oily.

In fact, this is so lightweight, that I am going to say ~ oily skinned peeps ~ you are going to LOVE this healing cream for summer! This cream increased my moisture levels by 32% and decreased my oil levels by 38% and I am putting my tube away right now, so I can use it the warmer weather.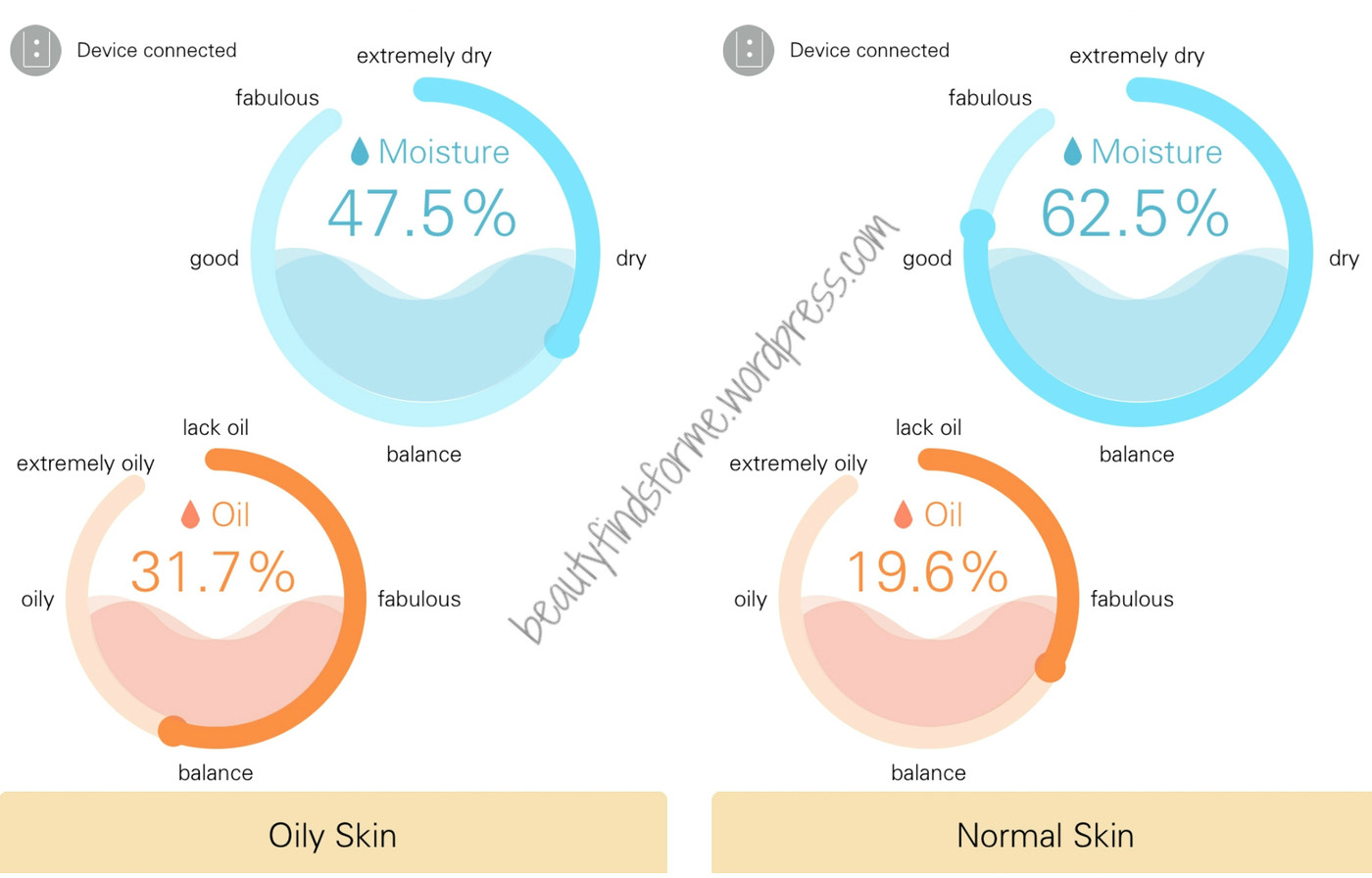 I think the texture and finish on this centella cream is so perfect for oily skin in warmer weather. It doesn't make my skin feel greasy or look oily and I guess I will store it in the frig, as that is what Purito recommends! For those whose skin is drier than mine, I think you might need to supplement this with another moisturizer, but for me, I was able to use this as a moisturizer without issues. It helps calm my skin and reduce redness and inflammation. I am so thrilled that some of the current CICA repair creams I have been using have been perfect for oily – oily/combo skin types, as Dr Jart's is really heavy and not suitable for everyday use for oily skin. It seems that brands finally realized that oily skinned people also suffer from blemishes too and made some beautiful lightweight creams that we can wear during the daytime and not glisten and shine in the sun!
image credit from puritoen.com
Ingredients: centella asiatica extract (50%), water, caprylic/capric triglyceride, squalane, glycerin, cetearyl alcohol, niacinamide (2%), macadamia ternifolia seed oil, butylene glycol, hydrogenated lecithin, butyrospermum parkii (shea butter) extract, 1,2-hexanediol, tribehenin, stearic acid, behenic acid, argania spinosa kernel oil, tromethamine, spent grain wax, carbomer, caprylyl glycol, tremella fuciformis (mushroom) extract, sodium hyaluronate, perilla ocymoides seed extract, hamamelis virginiana (witch hazel) extract, betaine, beta glucan, citrus aurantium bergamia (bergamot) fruit oil, xanthan gum, sodium carbomer, hydroxyethylcellulose, cholesterol, adenosine, lavandula angustifolia (lavender) oil, asiaticoside, asiatic acid, phytosphingosine, ceramide NP, madecassic acid, tocopherol  cosDNA 
Final Thoughts
WOW. I really enjoyed these five products from Purito ~ I was a little surprised because of how inexpensive they are, but some of them remind me of higher priced skin care products ~ only better due to the price tag!  If you are looking to try some decent fermented essences, either the Fermented Complex 94 Boosting Essence or Galacto Niacin 97 Power Essence can work nicely into your routine.  If you want to use both, just use the Boosting Essence first after you cleanse your skin and then add the Niacin Power Essence after that.  I found that the Niacin really helped bring a nice glow to my skin without making it feel greasy or dewy looking. 
For the Centella products, each one of these is unique ~ if you love a good pad product and suffer from oily skin, these pads are good at removing that excess oil, dead skin cells and dirt while not drying out your skin.   Centella Green Level Buffet Serum is my absolute favorite item and I love how it just snuck into my heart!  It really helps calm my skin down while balancing my moisture/oil levels.  And finally, Joy to the Recovery Cream ~ this is so lightweight, so hydrating and calming that I think this is the perfect repairing cream for the warmer months.   All of these products work well on my oily, aging and dehydrated skin type and if you have drier skin than myself, you would probably really enjoy the Ferments, as they bring a nice "chok-chok" glow to my skin.   Even if you have dry skin, you might enjoy the centella products ~ you might just want to add an additional oil or cream for additional moisture.  None of these products contain alcohol, but the centella products do contain essential oils ~ if you have sensitive skin, make sure you can handle the oils.  That said, I love the scents of these products ~ even the medicinal scent of the Boosting Toner (I have SMELLED much worse for a FTE!).  Many thanks to Purito and eOpenMarket for sending these my way.  Have you tried any Purito products?  Which ones and how did you like them?  I really want to try their latest cleanser!
Where to Purchase
eOpenMarket Global Shipping, but not free.  Lots of samples
Amazon USA  Free Prime Shipping.  
EBay  Global Free Shipping
[ some products received  complementary for review purposes. contains affiliate links ]