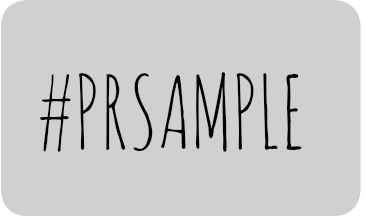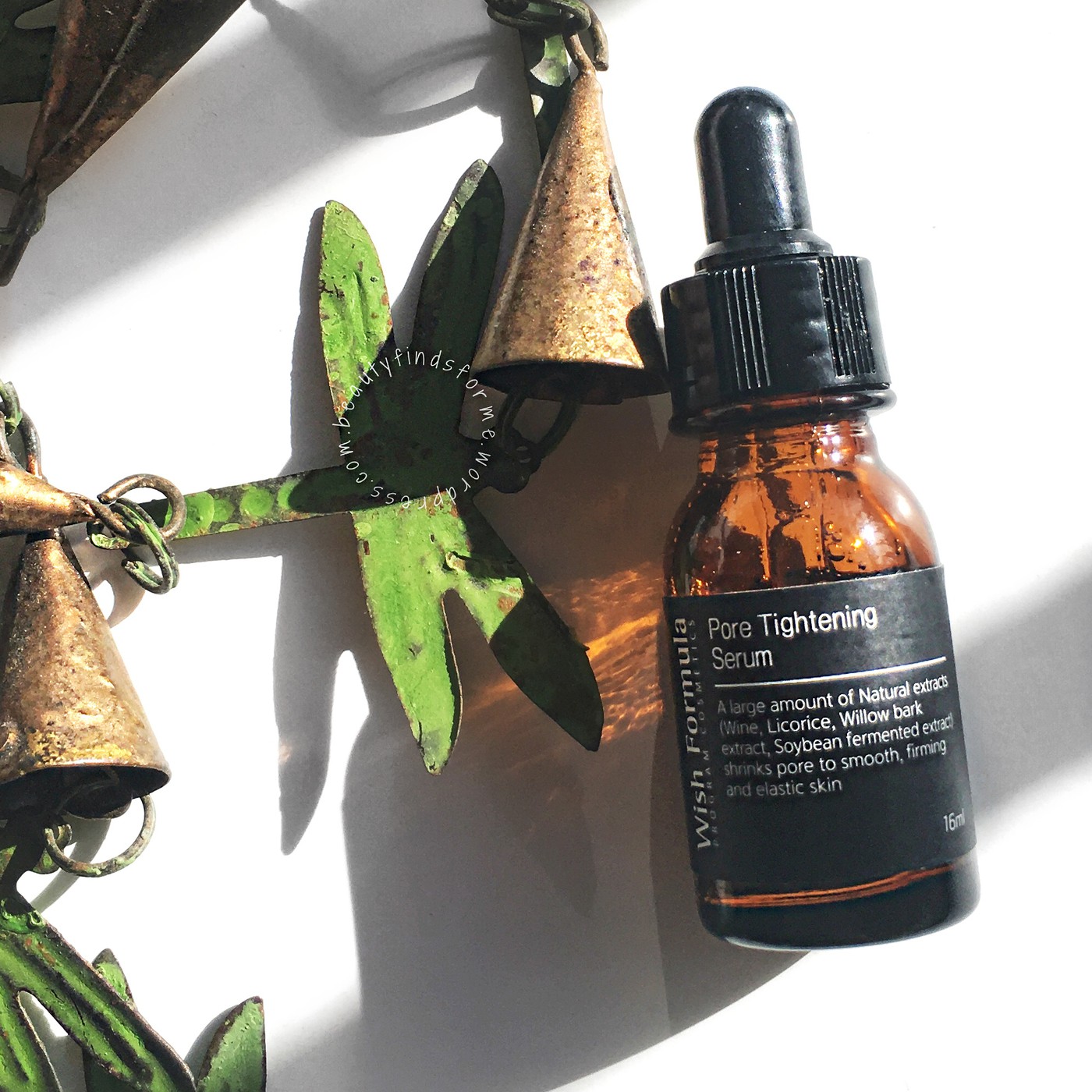 I love Wish Formula's C200 Bubble Peeling Pads and felt it was time to expand outside of those great items and try something else from their line.  I have tried this serum when it was in the 3 step Wish Formula Blackhead & Blackmask Home Spa Kit, so I wanted to try the full size version.  Wish Formula has been recognized and awarded several recognitions, including COS'IN Korea 2016 Power Brand and K-Beauty Expo Korea Editor's Choice Top 10 Brands, for their effective formulas.  Jolse, a premier K-Beauty online store, sent me the Wish Formula Pore Tightening Serum for review purposes.

image from jolse
My skin type and concerns:  Oily, aging, blemish prone, pores, hyper-pigmentation, fine lines and wrinkles.
image credit from jolse
Not gonna lie here, alcohol is second ingredient in this serum, but for those of us with really oily skin and pore issues, alcohol is not necessarily a bad thing.  There are some moisturizing and hydrating ingredients ~ butylene glycol, ethylhexylglycerin, scuttellaria and panthenol, so it is not like it going to suck the life out of my skin.  This also has some soothing, calming ingredients in chamomile and magnolia extracts, both of which have antioxidant anti-aging, anti-inflammatory and anti-bacterial properties as well. This also has licorice, an antioxidant that soothes, calms the skin and helps reduce hyper-pigmentation and redness.

For astringent and pore cleansing benefits, this serum has a few of them.  Wine contains tannins, which has outstanding pore tightening effects which makes it great for oily skin or enlarged pores.  Another ingredient that contains tannins is witch hazel, which not only soothes and moisturizes your skin, it also has astringent and antimicrobial properties.   It will help heal blemishes and is also an antioxidant too. Willow bark is a natural salicylic acid (beta hydroxy acid) and will help exfoliate dead skin cells, remove excess sebum and is an anti-inflammatory.  Mint is in here as well, helping to clean and purify pores while providing astringent benefits.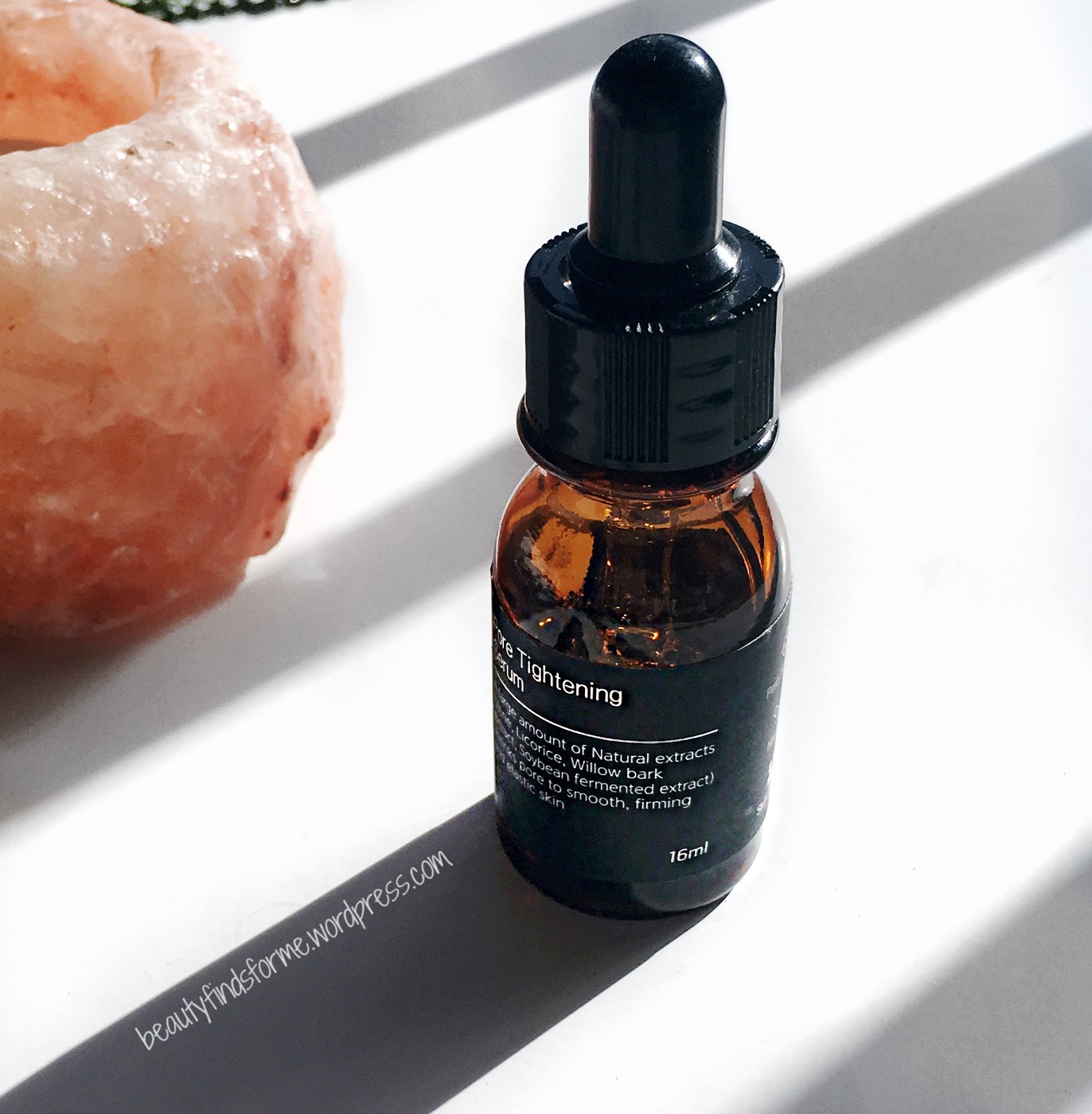 Ingredients: Water, Alcohol, Butylene Glycol, 1,2-Hexanediol, Ethylhexylglycerin, PEG-60 Hydrogenated Castor Oil, Xanthan Gum, Scutellaria Baicalensis Root Extract, Wine Extract, Chamomilla Recutita (Matricaria) Flower Extract, Magnolia Liliflora Bud Extract, Glycyrrhiza Glabra (Licorice) Root Extract, Potassium Alginate, Salix Alba (Willow) Bark Extract, Panthenol, Mentha Haplocalix Extract, Menthyl Lactate, Benzyl Glycol, Phenoxyethanol, Butoxydiglycol, Hamamelis Virginiana (Witch Hazel) Leaf Extract, Raspberry Ketone  cosDNA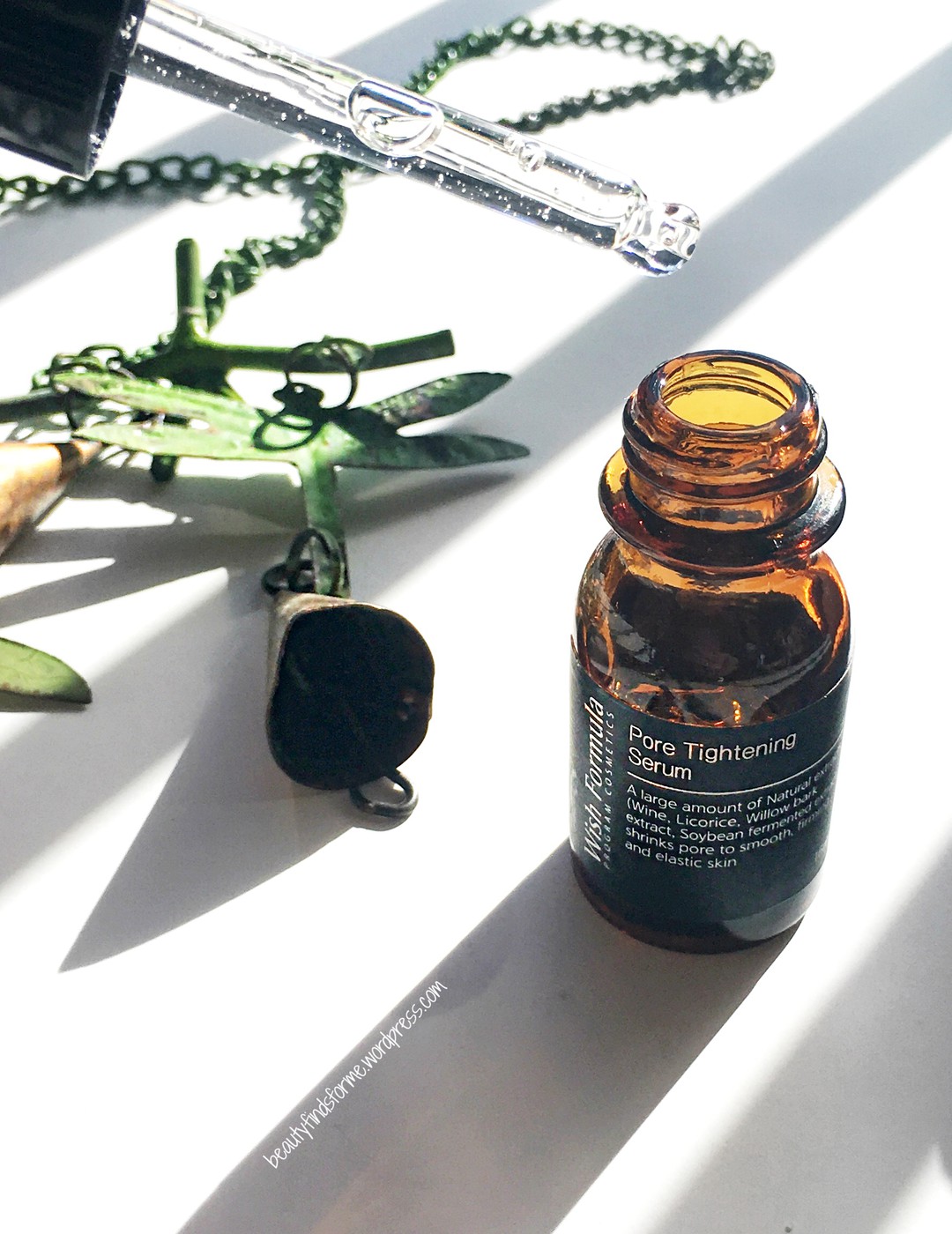 This comes in a small 16 mL amber colored glass bottle with an eye dropper applicator. The serum is very watery and thin with a scent of alcohol with herbs.  It sinks into my skin quickly, but it is not a mattifying product as my skin looks a bit glossy.  However, it isn't sticky and has a slight cooling effect.  Wish Formula does recommend leaving the serum in the refrigerator to get even more cooling benefits, which is coming from the mint, menthol (menthyl lactate) and alcohol in this product.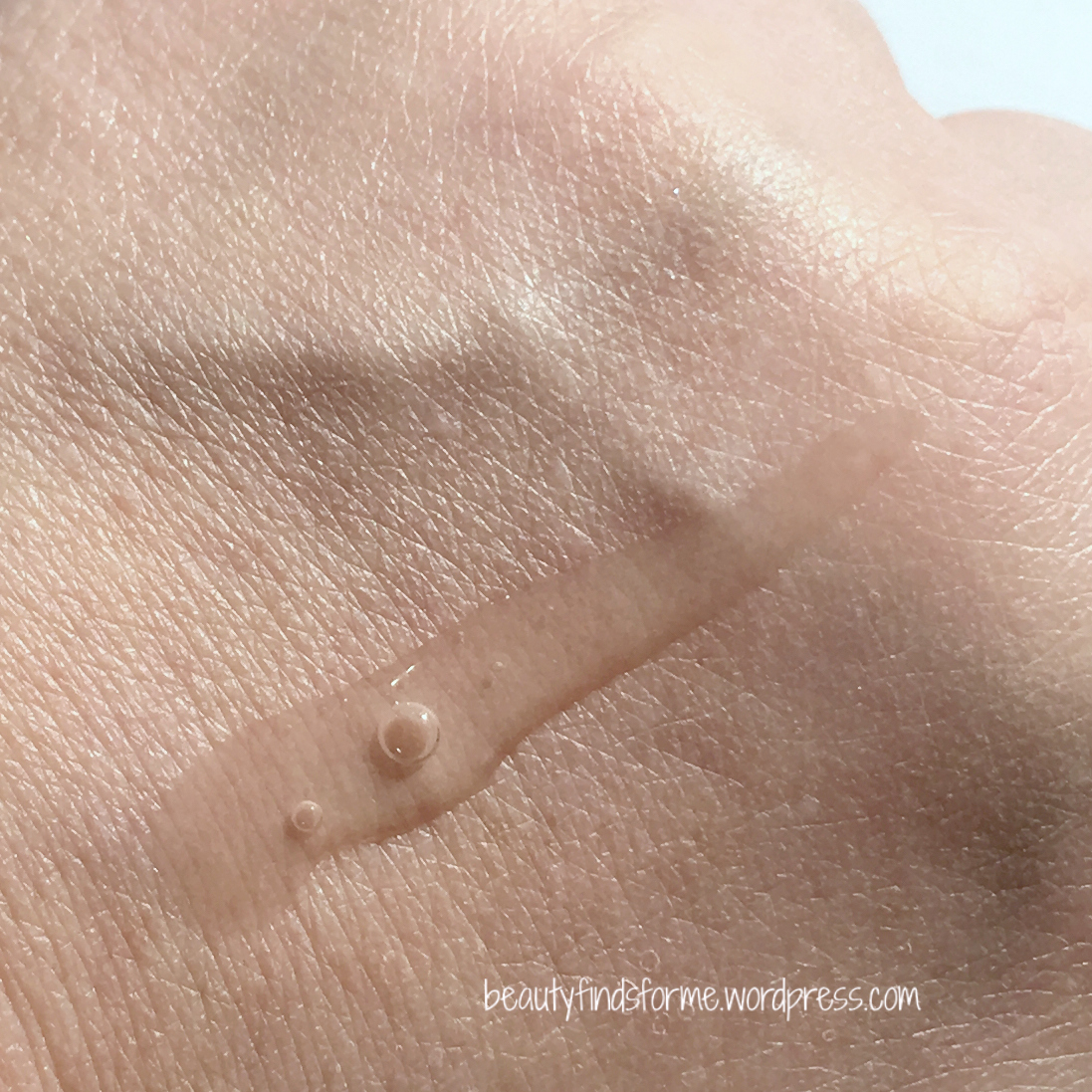 This does seem to help clean and clear out my pores and provide a very small reduction in pore appearance, maybe.  It is more of a blurring effect and the high gloss this has on my skin is just distracting.  If you are worried that this serum would be drying, it isn't ~ it is very moisturizing and alas, does not have a mattifying effect.  It increased my moisture level by 22% and decreased my oil levels by 43%,  so it does help bring balance to the moisture/oil levels.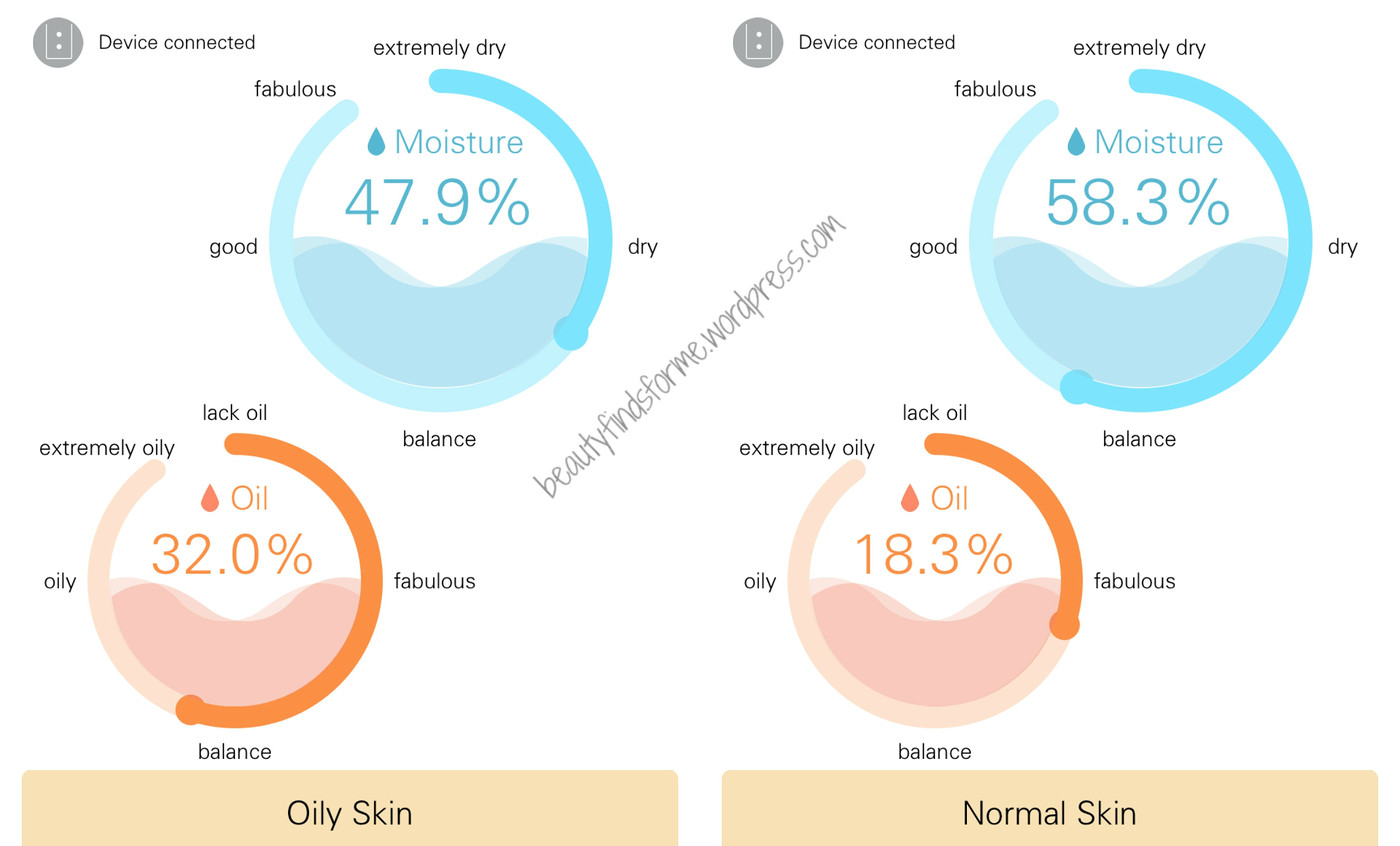 Final Thoughts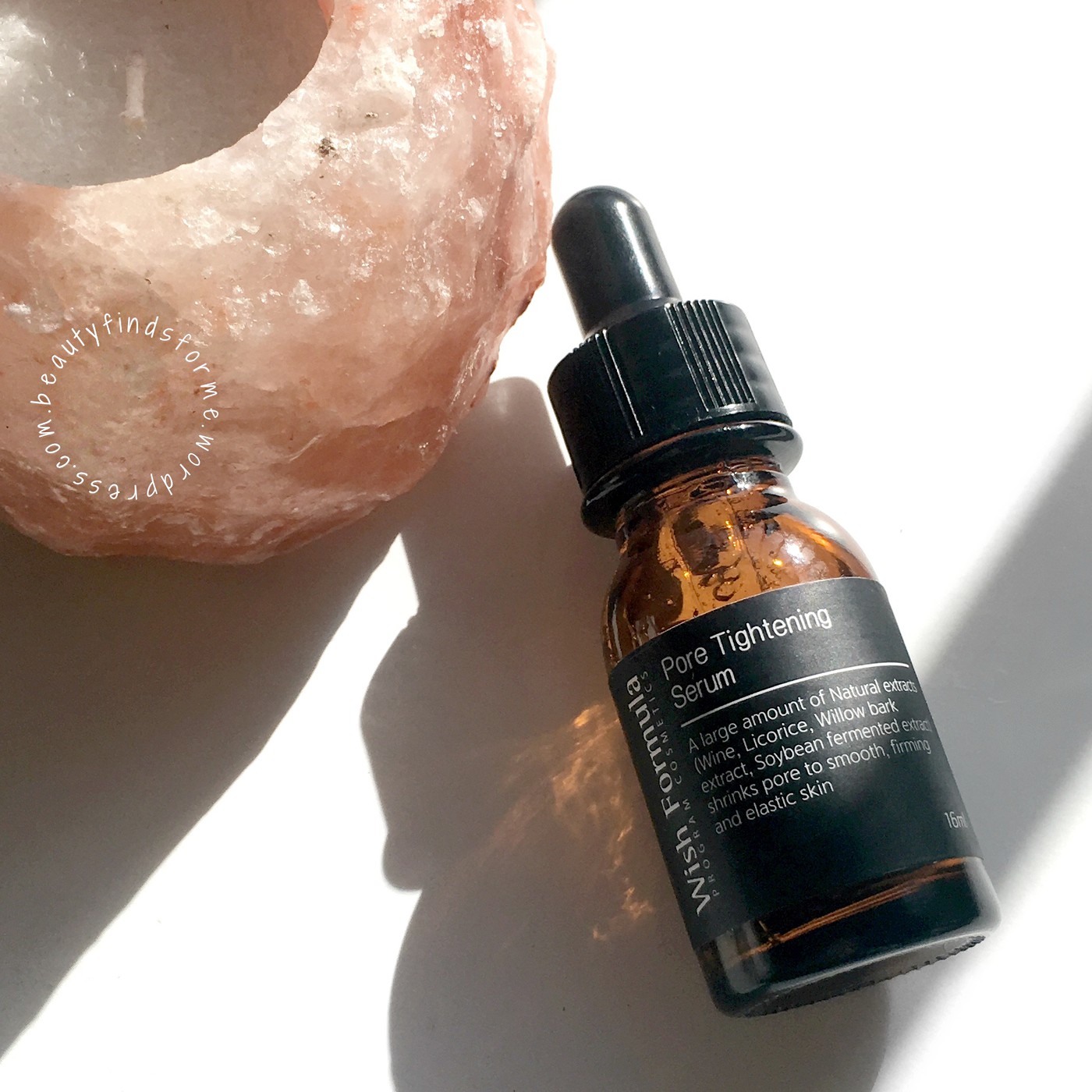 I am going to save this little bottle for the summertime and see if I have better luck with it at that time.  It really didn't do a lot for my skin in terms of reducing the appearance of pores, but it does keep my pores nice and clean, which is half the battle when it comes to dealing with pores.  If you have dirty clogged pores, they are going to look huge ~ when they are clean, the size isn't as noticeable.  I am hoping that the warm weather in the summer might work better with this serum as my pores are usually a lot larger in warmer weather.  All in all, this is a nice serum to cleanse your pores and provide some soothing, cooling care without drying out your skin.

You can purchase the 16 mL bottle of  Wish Formula Pore Tightening Serum at Jolse for under $13.00 USD (click here to purchase)   I also recommend picking up Wish Formula C300 Bubble Peeling Pads too, as that really brightens and reduces the appearance of pores really well!  All prices will fluctuate slightly due to the Korean Won/USD conversion.  Jolse has free shipping all the time, ships internationally and gives out free samples.

disclaimer: this product was sent to me for review purposes. all opinions are my own and are unbiased