[ disclosure: product received for review purposes. contains affiliate links ]

Can Peaches & Petals keep their winning streak up?  Can they curate fantastic boxes three months in a row?  Let's find out!  February's Peaches & Petals theme seems to be about gifts and treats.    Peaches & Petals is a subscription service that is focused on lifestyle and beauty products.  From their website  "Love trying new experiences? So do we. At Peaches & Petals, we thrive on trying new things, therefore our boxes are curated to maximize your experience with interesting products hinted by a monthly theme. We are adventurous at heart, and love hand-selecting products that help you enjoy every moment."  This box was sent to me for review purposes from Peaches & Petals and I thank them for their generosity as always 🙂  I am always appreciative of companies who look for honest feedback on their services.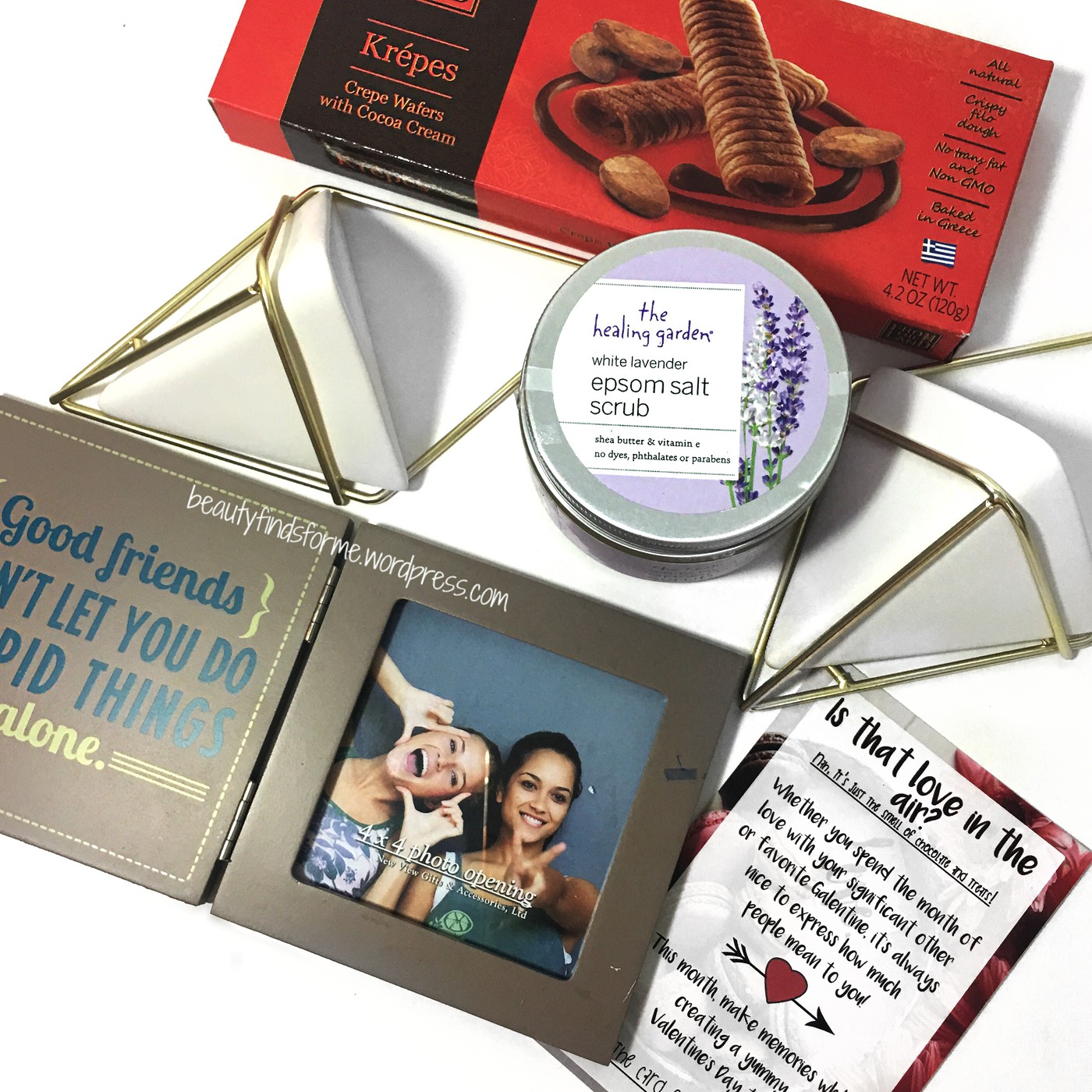 Informational Card
Explanation on valuing products:  Since Peaches & Petals does not give a value on their products,  I normally will use the Retail Value from the vendor's site or an average if I find the product on multiple sites with varying prices.  Subscription boxes are usually basing their value on Retail Value, not Markdown or Sale Values.  With that in mind, you can usually find products for less, just like anything else in the marketplace.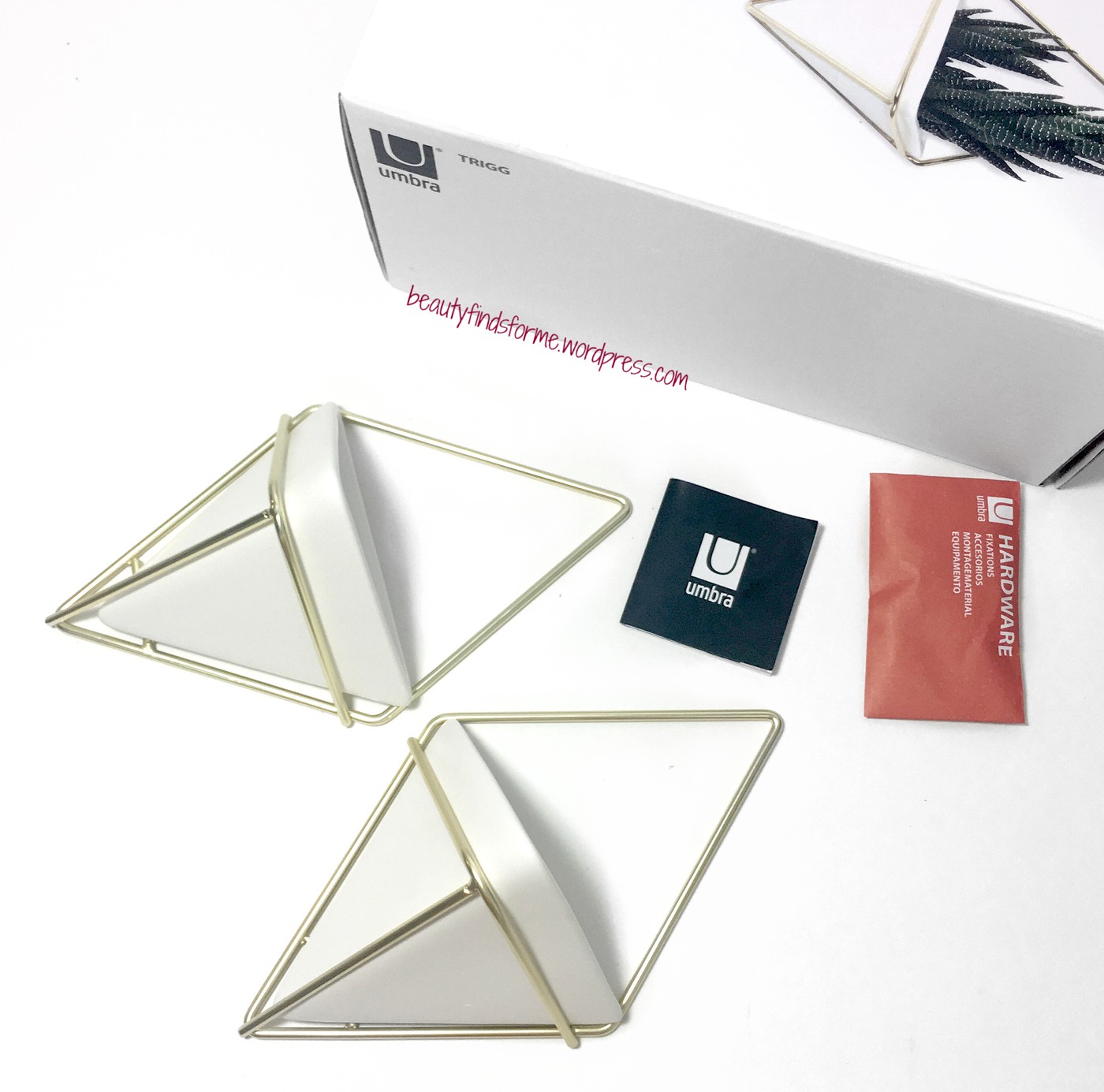 Umbra Trigg ~ Set of 2 Wall Vessels  This is probably my favorite item in this month's box ~ these are cute geometric shaped creamy-white ceramic holders in a brass frame.  You can put in plants, I suppose ~ but there is no drainage in these vessels, so maybe fake ones or those air plants.  At any rate, I am going to use these in my bathroom ~ hang them on the side cabinet and put items like tweezers, razors, lipsticks and eye pencils in here.  These measure 4.5 x 725 x 2.75 inches and come with hardware to attach to the wall.  RV $17.00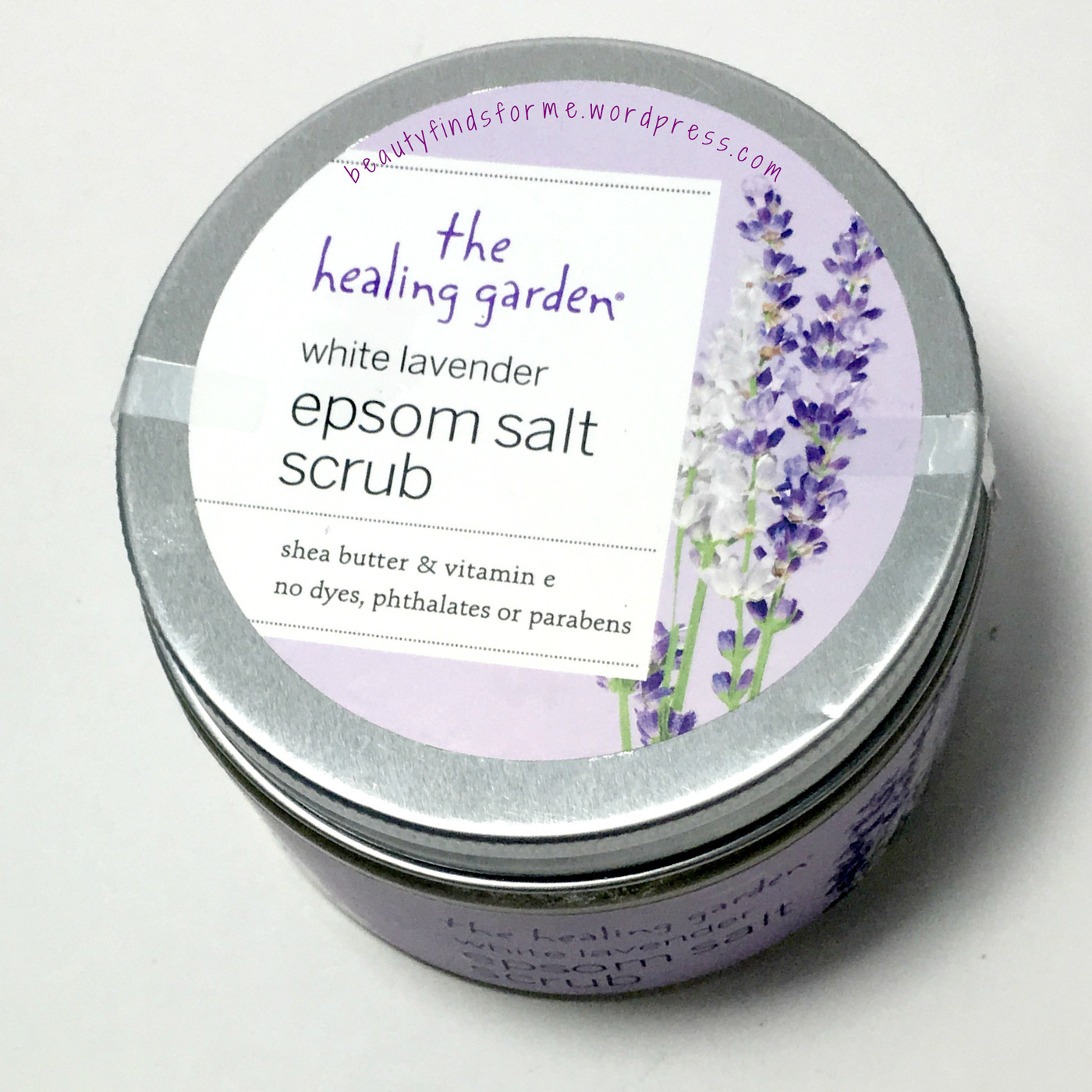 The Healing Garden White Lavender Epsom Salts Scrub  Another favorite item in here ~ as I love body scrubs and this one will be great to help exfoliate away dead skin, while smoothing and refreshing my skin, without harsh chemicals.  This happens to be in one of my favorite scents ~ lavender ~ and this doesn't have a strong scent to it, so if you are sensitive to smells, this one is pretty light and relaxing.  This is made with pure epson salts, shea butter and vitamin E and does not contain dyes, parabens, phthalates, mineral oil, DEA or SLS/SLES and is not tested on animals.  I do have to mix it around a bit, as the oils from avocado, safflower and jojoba separate from the salts.   16 oz tub  RV $6.00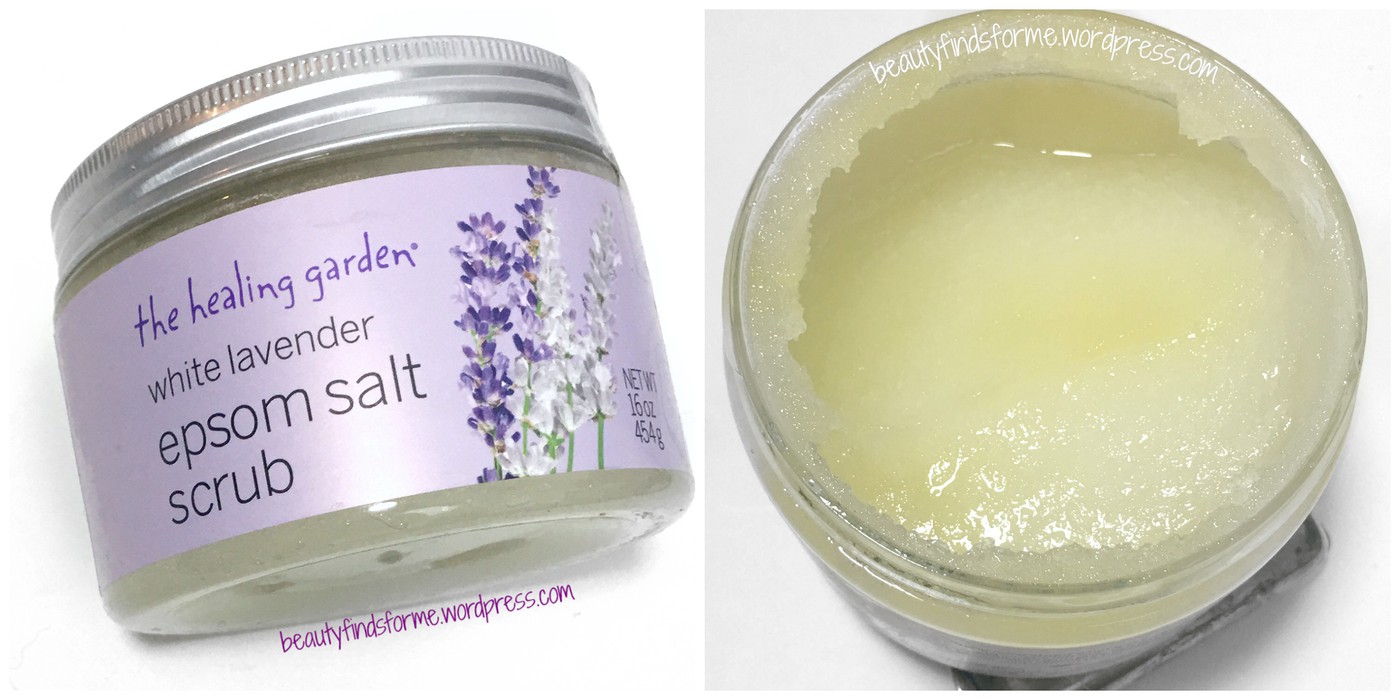 Ingredients: sodium chloride, glycerin, polysorbate-20, fragrance, magnesium sulfate (epsom salt), silicia, tocopheryl acetate (vitamin E), butyrospermum parkii (shea) butter), persea gratissima (avocado) oil, carthamus tinctorius (safflower) seed oil, simmondsia chinesis (jojoba) seed oil, retinyl palmitate, ethylhexylglycerin, phenoxyethanol, lavandula hybrida oil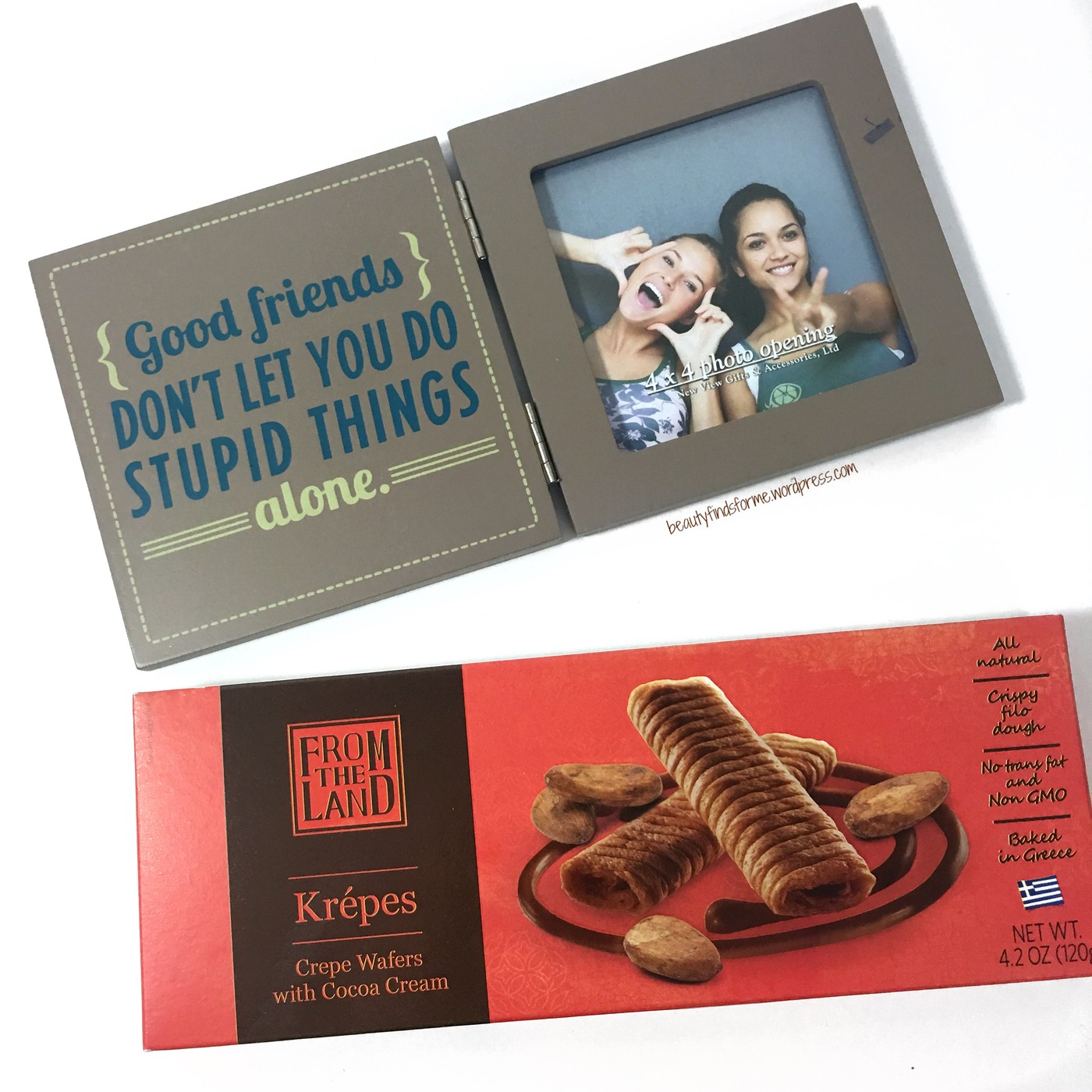 Clever Hinged "Good Friends" New View Gifts & Accessories Picture Frame I really dislike this. From the horrible puke green-brown color of the frame to the "Good Friends Don't Let You Do Stupid Things Alone" saying on it, it just fails on a lot of levels for me.  I guess I am not one of those people that like lifestyle products like this ~ I would rather see a nice real wooden frame  ~ like this from World Market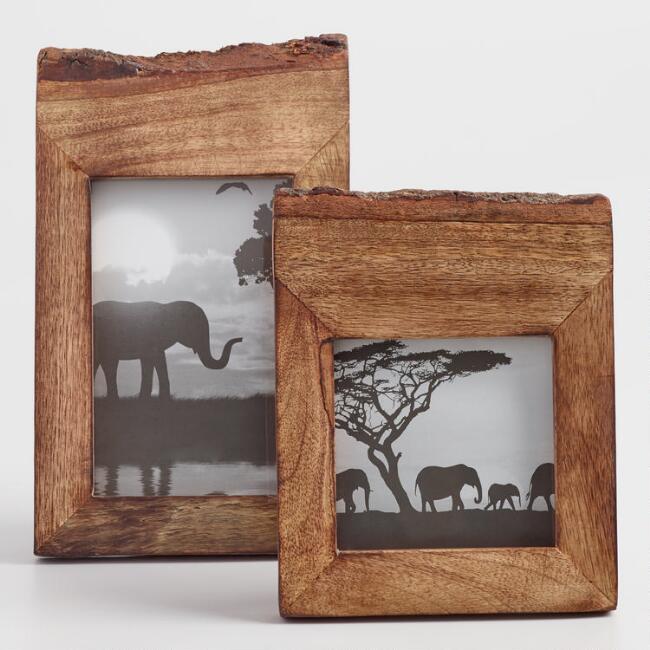 If you must put something on it, a watercolor or Japanese print would be nice.  I mean, this is really ugly for a lifestyle thing anyway ~ that green-brown color is really unappealing.  Plus, mine has a nice blue marker stain on it.  I am going to probably repaint this in a cream paint and use a bronze or copper paint to crackle it.  The frame itself is made well, so I will just do a little artsy-fartsy project on it.   Each side is a 4 x 4 inch square attached by a hinge.  I couldn't find anything like this online, so I am guessing its worth at about $12.00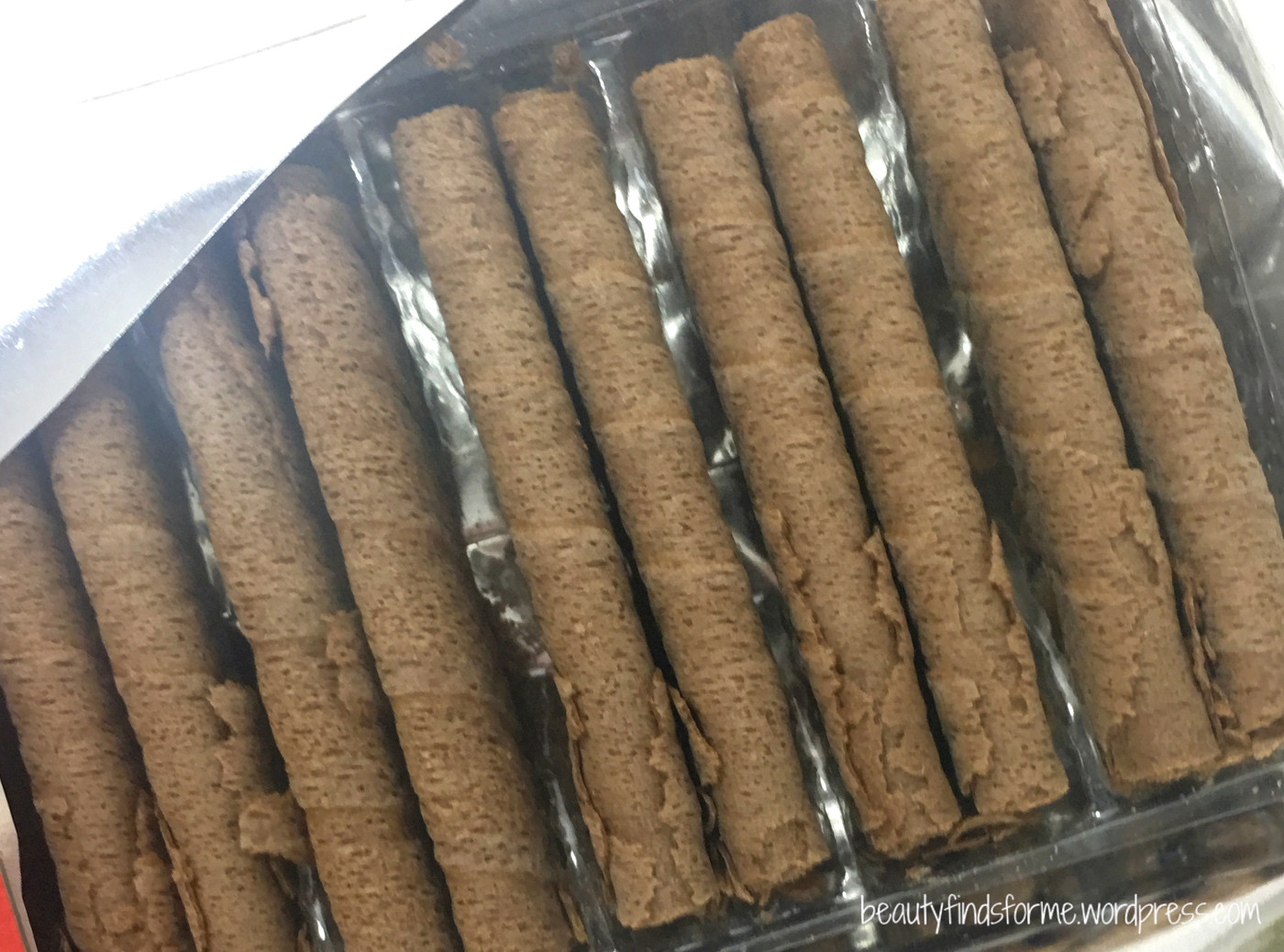 From The Land Krepes Crepe Wafers with Cocoa Cream  These are really good ~ crispy filo dough wafers filled with cocoa cream ~ they are light, crunchy with a creamy filling.  And they make a mess! lol These are made in Greece with all natural ingredients with no trans fats and GMO's.  4.2 oz RV $4.00
Ingredients: wheat flour, sugar, palm oil, skim cocoa powder, skim milk powder, whey powder, corn starch, glucose syrup, caramel color, soy lecithin, vanilla, natural chocolate flavoring
Final Thoughts
Well, I do mark it down a bit for having that lifestyle item picture frame.  Even without the cutesy saying, the color of the frame is ugly.  I think that overall, this is a nice box and I do love 3 out of the 4 items, so it is worth it, but please stop sending us those inspiration/dumb saying products.  Maybe something a bit more classy ~ abstract watercolor?  Japanese inspired print?   I love the Umbra wall vessels, the lavender scrub and the cookies are already gone!!

Peaches & Petals monthly subscription boxes are $19.99 a month and that includes shipping.   This month, the box looks to be of  a retail value around $39.00, which is quite low… I base this off the retail value of the items. Many thanks to Peaches & Petals to sending this me for review purposes ~ I always look forward to seeing what P&P puts in their boxes! Did you receive this month's Peaches & Petals box?  What was your favorite item and what do you think of it?

If you would like to subscribe to Peaches and Petals, I would love it if you used my referral links!

[ products were received complementary for review purposes.  All opinions are my own and are unbiased.   ]
[ Blog post contains affiliate links and referral links. Descriptions in italics from linked site ]
Save
Save
Save
Save