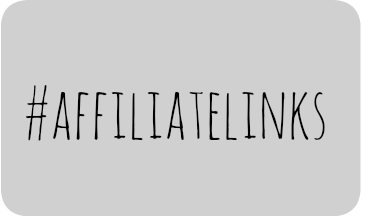 Pink and Red are the colors in this month's February box ~ Valentine's Day always is a central theme in subscription boxes!  What is Yogi Surprise?   

Yogi Surprise Jewelry Box
2 handmade pieces + 1 organic treat

Handcrafted in Bali. Fair Trade

$65+ retail value in every box

$24.95/month + free shipping
The Jewelry box will contain two handcrafted yoga inspired jewelry pieces, that are fair trade, sustainably harvested materials, nickle-free, lead-free and cadmium free.  These are made in Bali, Indonesia and 10% of all proceeds will be given to education the Balinese families to make these beautiful pieces.  It also contains an organic treat.

This month's theme is Love Yourself ~  "Love is in the air! Though the arrival of spring is still weeks away, we can all prepare ourselves for spiritual rebirth by engaging in more self-loving practices  throughout the month of February so we may experience incredible growth come winter's end. Now is the perfect time to embrace your Divine femininity, express your emotions, and bring balance to the energies that flow through your heart center. To help you along your journey toward cultivating more self-love, we're gifting you two beautiful jewelry pieces crafted with alluring rose quartz and  rhodonite beads. A true heart stone, rose quartz reconnects the spirit to its own innate state of love while providing a deep sense of personal fulfillment. Pairing it with rhodonite's  emotional healing properties ensures that you'll be able to remain calm, grounded and self-compassionate as you strive to reach your fullest potential. By the power of self-love, you can set your spirit free and really begin to embrace your true self"
Informational Card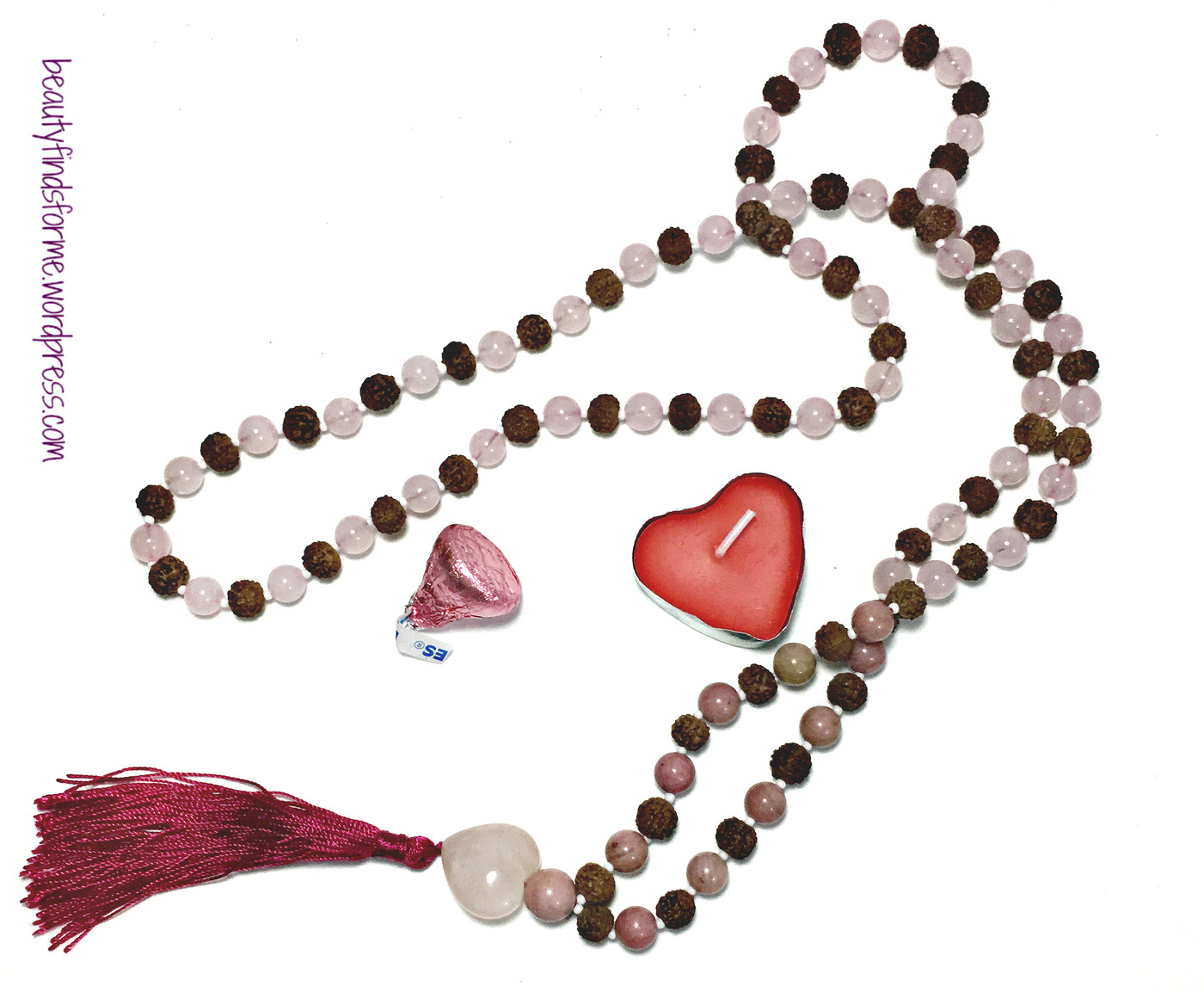 Love Yourself Heart Mala This is a long mala necklace ~ about 40 inches in length with a red tassel hanging from a heart shaped rose quartz stone.  The lower part of the necklace has rhodonite beads alternating with rudraksha beads and the midway up,  the soft pink rose quartz beads come back, alternating with rudraksha beads.  I will say this looked a lot nicer in the photo for some reason, and I had no idea that the center stone was heart shaped.  I am not really feeling the love with this mala's design ~ I like last year's design better but I am pretty happy to see rhodonite beads in here.  RV $70.00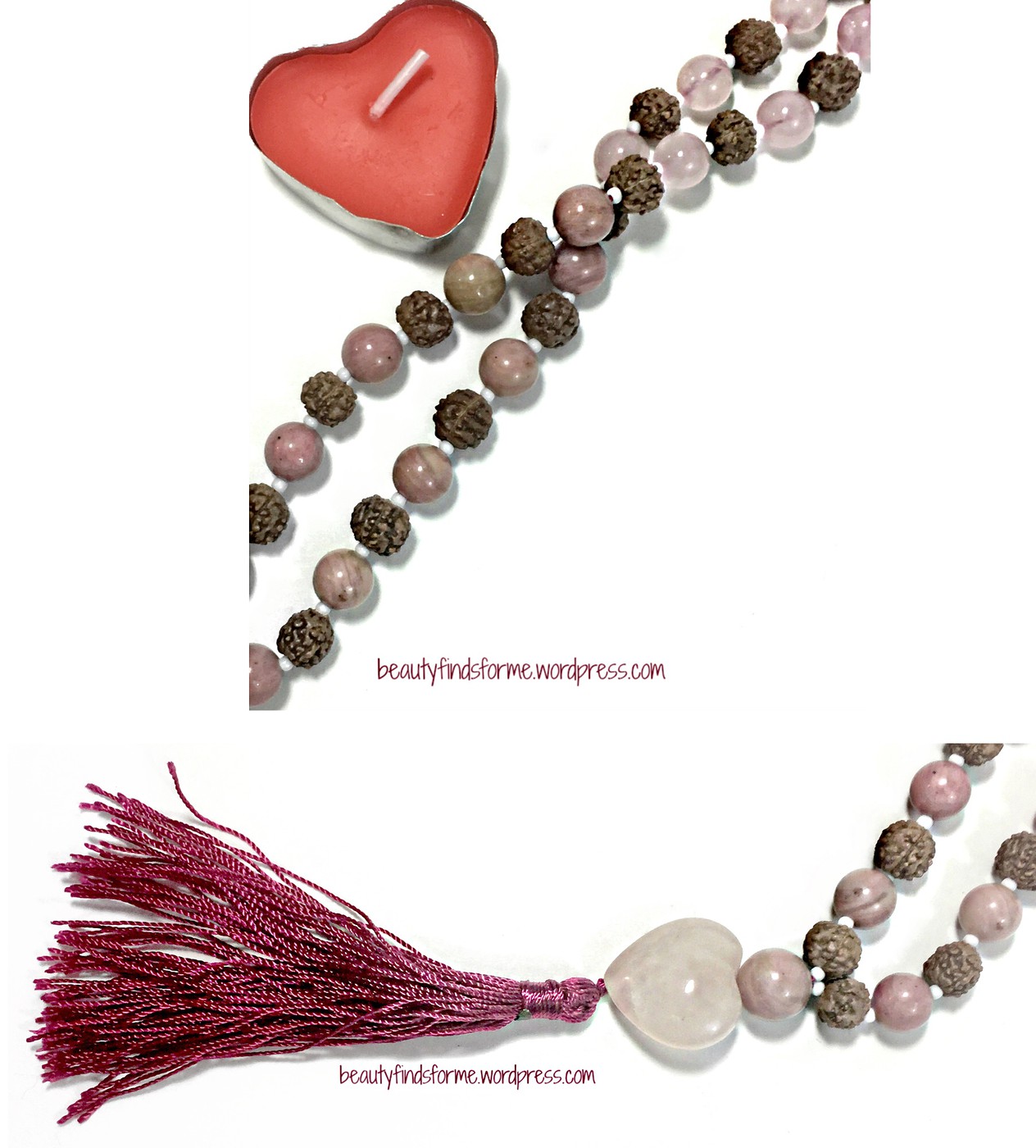 Rose Quartz ~ Primary Chakra: Heart-Chakra  Rose Quartz is the stone for unconditional love.  It helps open the heart to all love ~ self, family, friends, romantic.  Quartz stones have a high energy vibe, but it is also soothing and calming.   This energy helps bring about empathy, forgiveness, reconciliation and removes anger, envy and resentment.  It also us to heal and remove those negative emotions.   Rose Quartz also can attract romantic love, add loving energy into current relationships and can help soothe and heal a broken heart.  Learn more at Healing Crystals
Rudraksha is the seed from an evergreen tree and it is used for prayer beads in Hinduism.   They provide support for travelers and those who move around a lot, as they create a self-made energy bubble around the wearer.  As these beads are strung on a mala, they will ward off negative energy.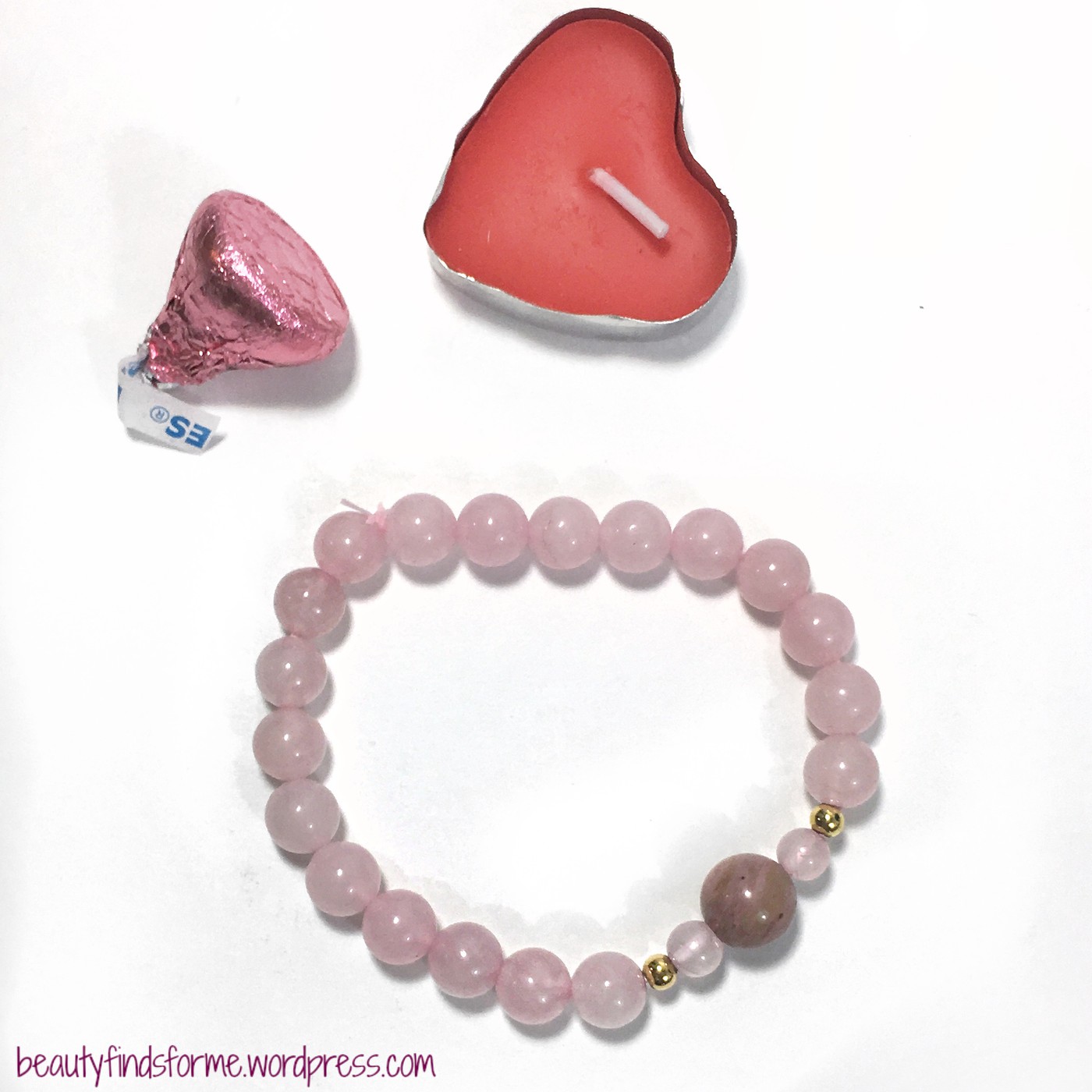 Love Yourself Heart Bracelet I actually love this bracelet ~ it doesn't have a cutesy heart stone in it and the colors really are working well here.  Most of the bracelet is made up of the rose quartz beads with the exception of the focal point in the center of the bracelet.  Two smaller rose quartz with gold toned beads surround a larger rhodonite bead.  This fits well on my wrist so hopefully, they got the stretchy bracelet issue squared away!  RV $24.00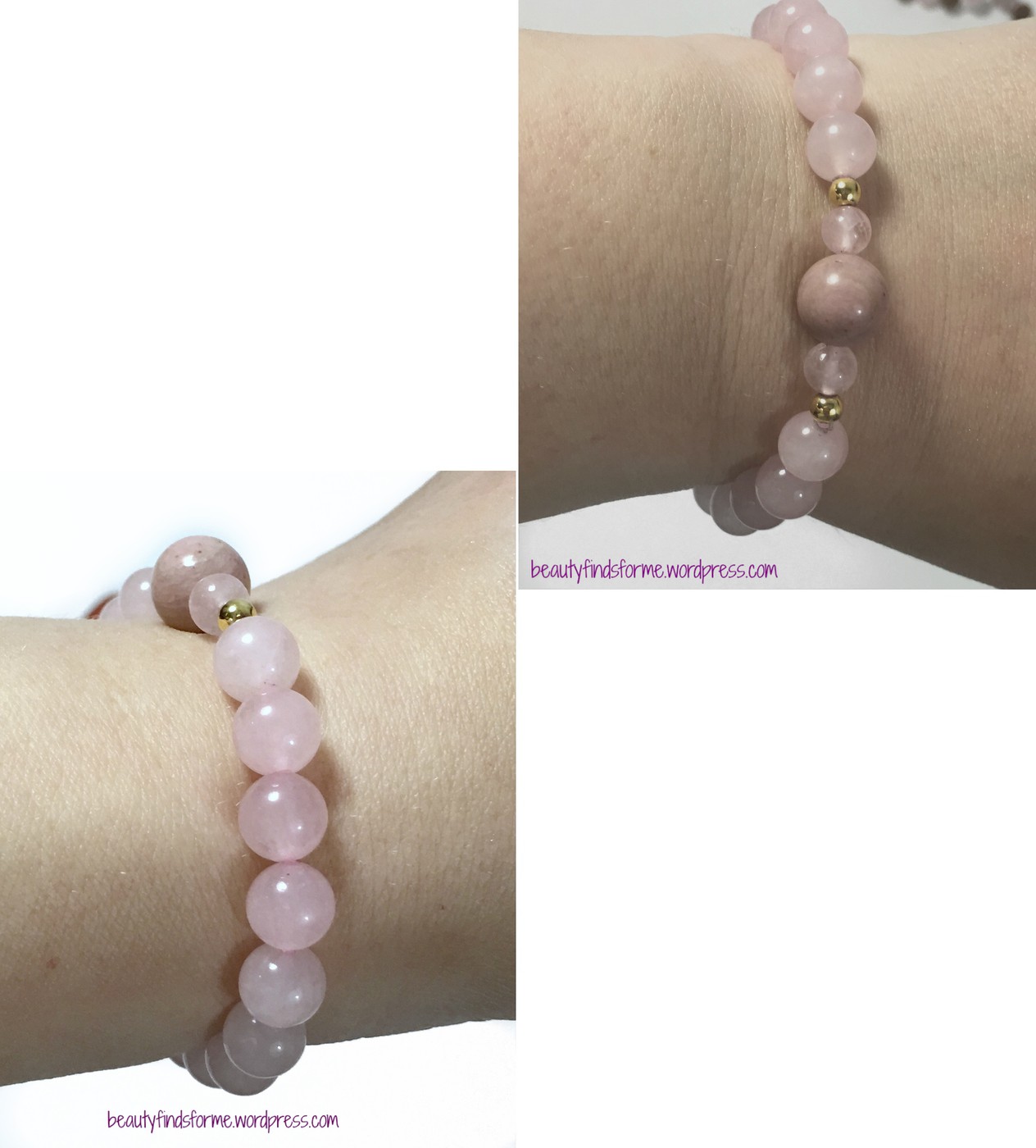 Rhodonite This is a powerful heart chakra stone, also called the Rescue Stone, it focuses on forgiveness, love, redemption, compassion virtues.  It will help you release your fears and emotions that are toxic to unconditional love and clears the way to clearer communication.  Rhodonite helps you mend your broken heart and  opens up the channels for emotional healing.  Read more at Energy Muse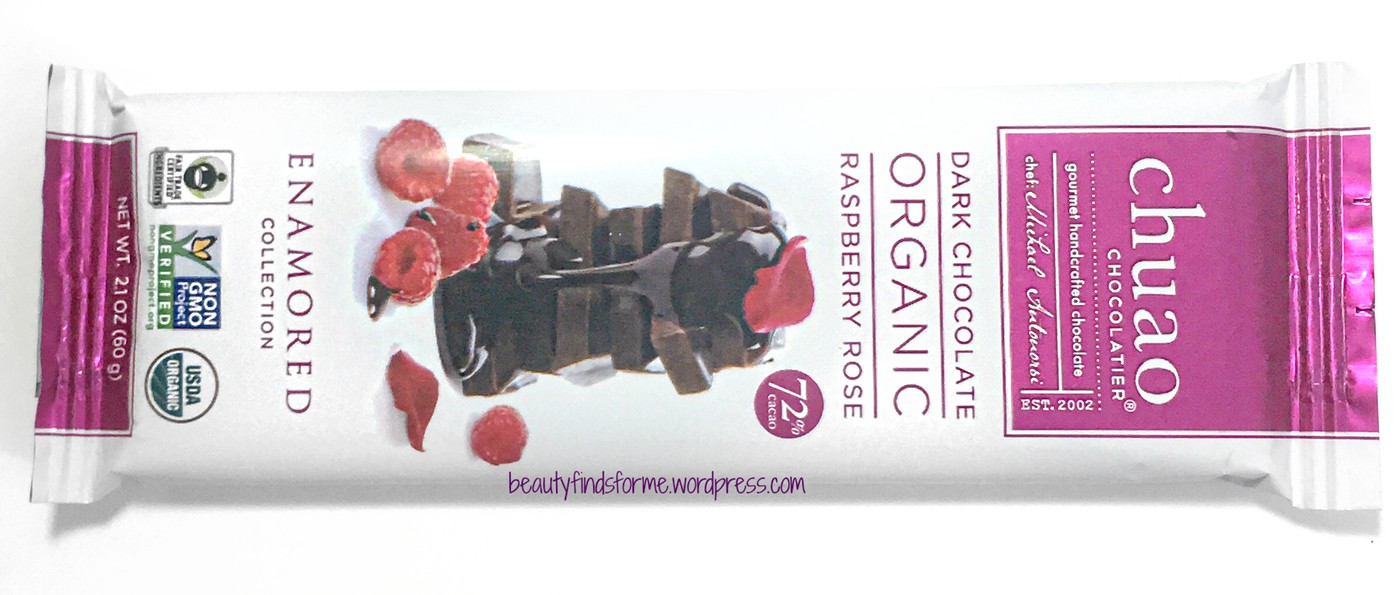 Chuao Organic Raspberry Rose Dark Chocolate I love Chuao chocolates but alas, this one is not for me as it is made with rose petals.  This bar is made with fair trade 72% dark chocolate with a raspberry rose filling, so you will get the luscious rich raspberries with a touch of floral.   This is made with certified USDA organic, Fair Trade, Non-GMO and gluten free ingredients, but it is made in a factory where soy, tree nuts and wheat is used.  2.1 oz bar RV $5.00
Ingredients: Organic 72% Chocolate (Organic Chocolate Liquor*, Orgniac Cacao Butter*, Organic Soy Lecithin [as an emulsifier], Organic Vanilla), Organic Maple Sugar, Organic Raspberries, Organic Rose Petals.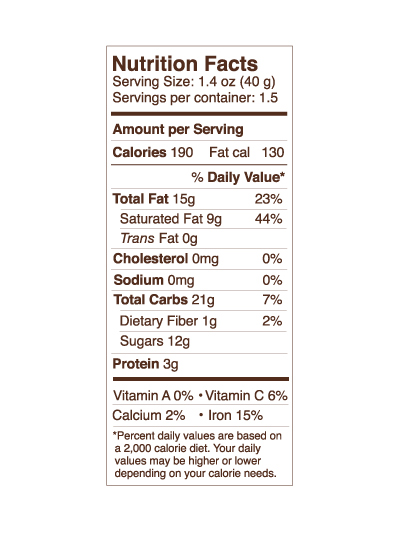 This month was okay in terms of items ~ the necklace is not really my style but I do love the bracelet!  I hope to see more  Chuao chocolates in the future, as I do love them a lot. This month had a retail value of $105.00, but I think this is one of the few times where I think the box value and the box price is not worth it to me.  I go by the value of the pieces to me if a box is good or not, and I have to say I was disappointed.  I think the heart shaped stone dates and restricts the mala. Next month looks to be much better ~ I am intrigued by that green stone in the preview. Part of the proceeds from this box will go back to the local artisans that made these items and help educate their community.

Do you subscribe to Yogi Surprise?  Which box do you get and what was your favorite item this month?  Let me know in the comments below, I would love to read them 🙂
If you are interested in signing up to Yogi Surprise for either their Lifestyle or Jewelry box, I would love it if you used my affiliate link    Check out the spoilers for next month's boxes below!    If you sign up for the Lifestyle box, use YOGILOVE to get 15% off the life of your subscription!

Next Month Spoilers



[ all descriptions in italics from linked website.  this blog post contains referral & affiliate links ]