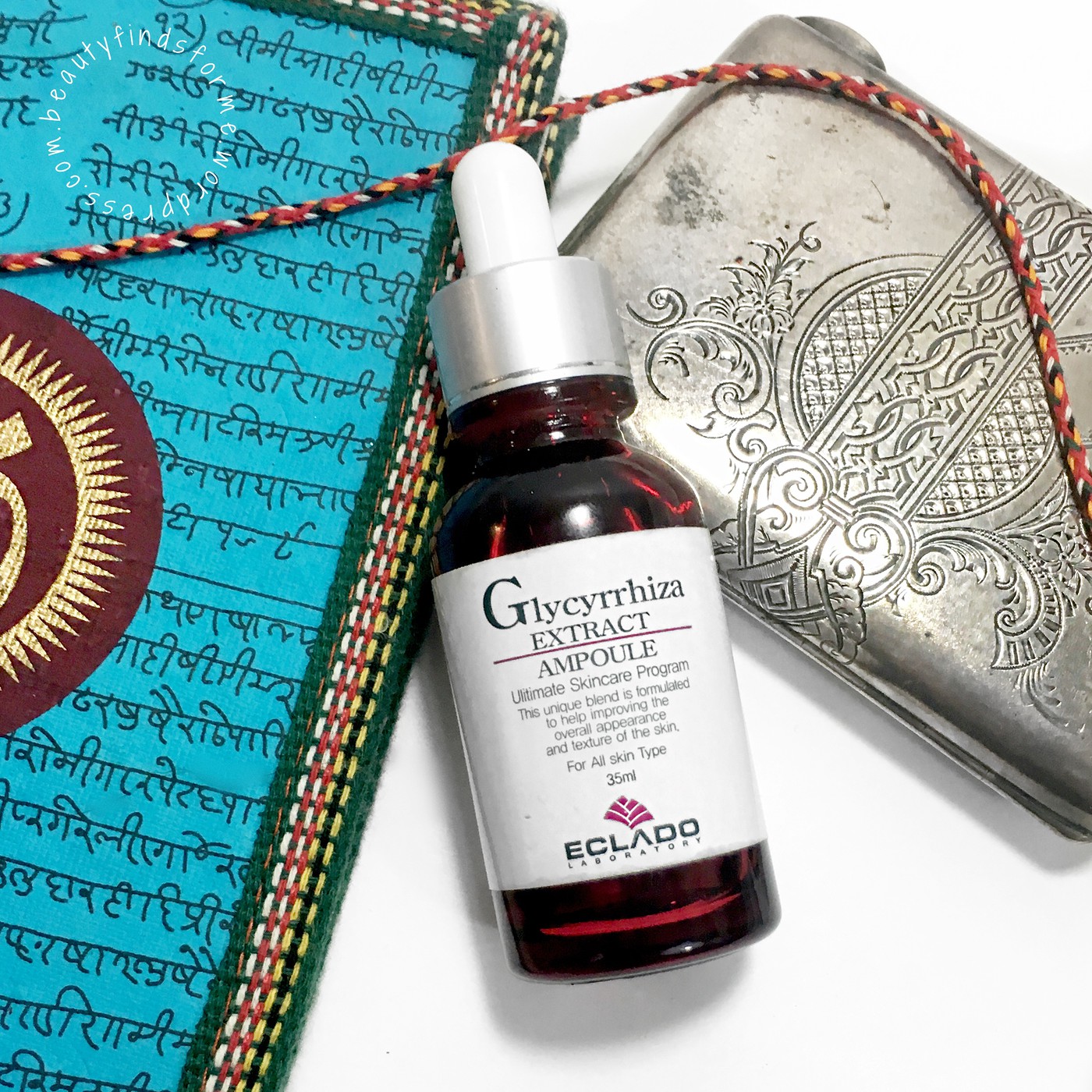 I think this is probably one of the most expensive products I own.  It isn't THE most expensive ~ I actually had the opportunity to try a French facial moisturizer that retails for over $500.00, but this really is up there for me.  That said, if a product works, I will move heaven and earth to keep it in my routine ~ so let's see how I feel about the Eclado Glycyrrhiza Extract Ampoule.   I am always looking for products to brighten and lighten my hyper-pigmentation ~ whether it is PIH (post inflammatory hyper-pigmentation caused by blemishes) or sun damaged brown spots hyper-pigmentation.  Niacinamide works somewhat for me as an overall skin brightener but doesn't do much with really reducing hyper-pigmentation and due to my reactions to vitamin C, I only can use one product that is marketed as a vitamin C skincare item.
Ever feel like that word ~ glycyrrhiza ~ is a tongue twister?  Yeah, me too and then… I found out you can find youtubes with how to say words!  What a lifesaver ~ glis-er-I-zha
What is glycyrrhiza?  It is a really common ingredient in Asian Beauty skincare products and it is licorice root.  You might see it under dipotassium glycyrrhizate, which is a salt derived from licorice or glycyrrhiza glabra, the actual licorice root extract.  I had a lot of fun looking up the name and trying to figure out how they went from glycyrrhiza glabra to licorice!  It comes from the Greek words glykys (sweet) and rhiza (root) and the Latin word glaber, meaning "smooth".   It was Latinized  somewhere between the 3rd and 8th century and renamed to liquirita ~ and then it was customized into the different languages ~ licorice, liquorice in English, lakritze in German and réglisse in French. 
Licorice played a huge part in Traditional Chinese medicine, going back to 2,800 BC and other countries, such as Tibet and Egypt, used them for medical and healing purposes.  Licorice has been commonly used to help with upper respiratory infections for over 2000 years.   Licorice was cultivated during the Middle Ages and then declined as medicine advanced. There is now a resurgence of interest in this sweet tasting plant, not only for its medical purposes but topical skincare application.   [ source A Vogel ]
Licorice is best known as a skin repair, anti-inflammatory and brightening ingredient.  It helps reduce flaking, irritation, redness and soothes your skin, while softening and smoothing it.   There are studies that show it can suppress the activity that creates melanin ~ in other words, hyper-pigmentation, dark spots.   The enzyme tyronsinase aids in the production of creating dark spots and licorice contains the isoflavane glabridin, which prevents hyper-pigmentation caused by sun damage and also inhibit the production of tyronsinase.  Licorice also contains a liquiritin, that also lightens and brightens your skin.  [source  NCBI ]  It also contains licochalcone, which helps control sebum production, while calming and soothing blemished prone skin.  Licochalcone is also an anti-bacterial, so that is important for helping heal skin as well. [source  acne org ]

This ampoule contains 98% licorice extract.  It has a short but impressive list of ingredients that make up the rest of the 2%, including water.
Butylene glycol aids in helping the product penetrate the skin,  hydration and improve the texture of skincare product
Hydrating humectant glycerin helps with healing of wounds and seals in moisture, maintaining the skin's water balance on an intercellular level, which makes the skin look healthy, moist, soft to touch and leaves your skin looking radiant and supple.
Hydroxyethyl cellulose is a skincare product thickener
Natto gum is fermented soybeans and fermented ingredients penetrate your skin more easily and deeper.  Natto contains vitamins, amino acids and enzymes, along with PGA ~ polyglutamic acid.  PGA helps moisturize and exfoliate old skin cells. It can penetrate to the deepest layers in your skin, locks in moisture and helps increase the production of NMF (Natural Moisturizing Factor)
Hyaluronic acid is a water holding molecule that will bind moisture to your skin.  It can help retain more than 1,000 times its own weight in water within your cells.   It is hydrating and attracts water as it is a humectant
Scutellaria baicalensis root has anti-inflammatory, antioxidant and brightening benefits
Paeonia suffruticosa root is a skin tone brightening and softening ingredient, along with anti-inflammatory benefits
Ingredients: Glycyrrhiza Extract (98%), Butylene Glycol, Glycerin, Hydroxyethyl cellulose, Natto Gum, Hyaluronic Acid Extract, Scutellaria Baicalensis Root Extract, Paeonia Suffruticosa Root Extract, Distilled Water  cosDNA analysis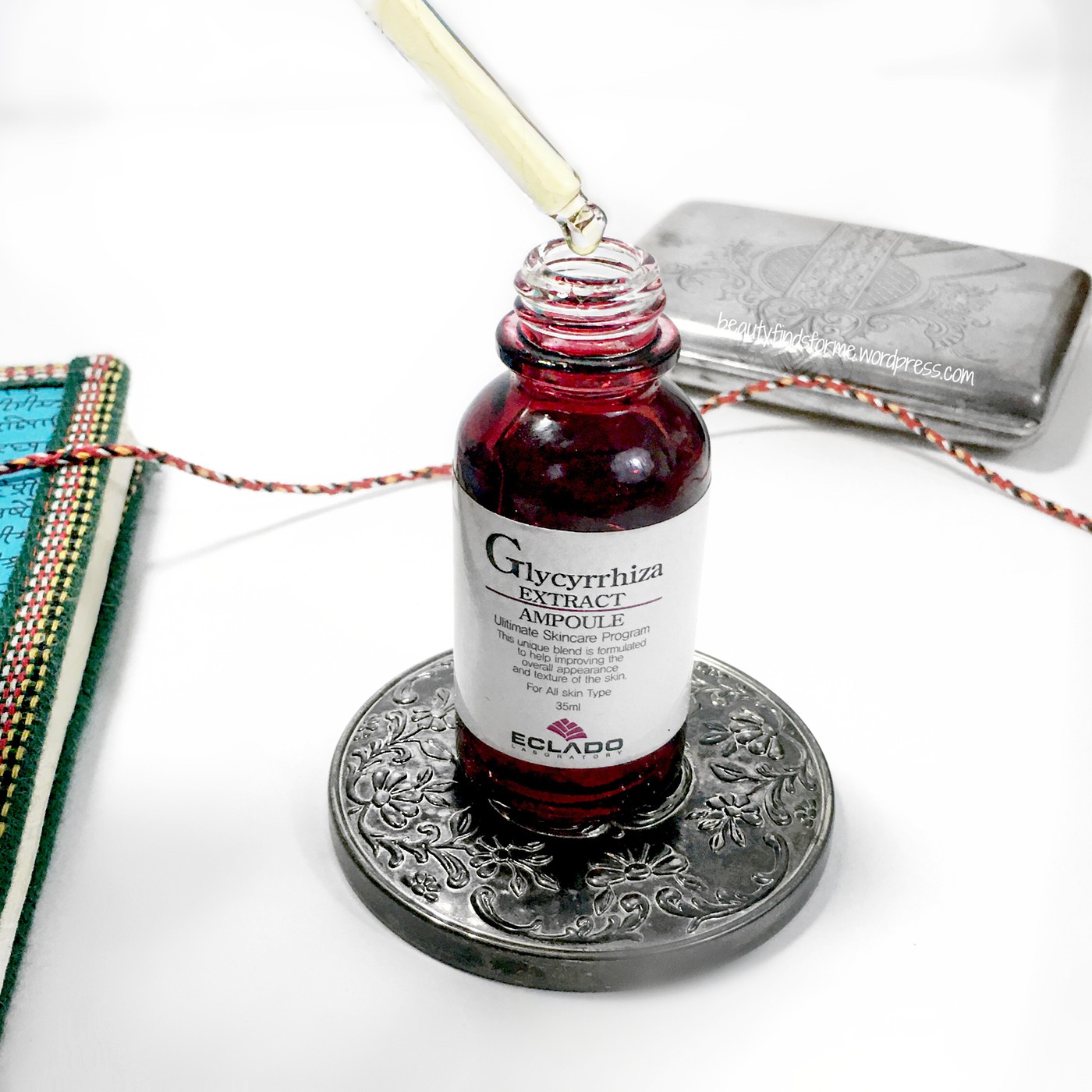 This ampoule will help soothe, repair, soften and brighten your skin.   It comes in a blood red colored glass bottle, but the essence is a light golden shade.  Eclado Glycyrrhiza Extract Ampoule has the most wonderful light herbal scent ~ I don't think it smells like licorice, which is a sweet scent, but more of a warm herbal scent.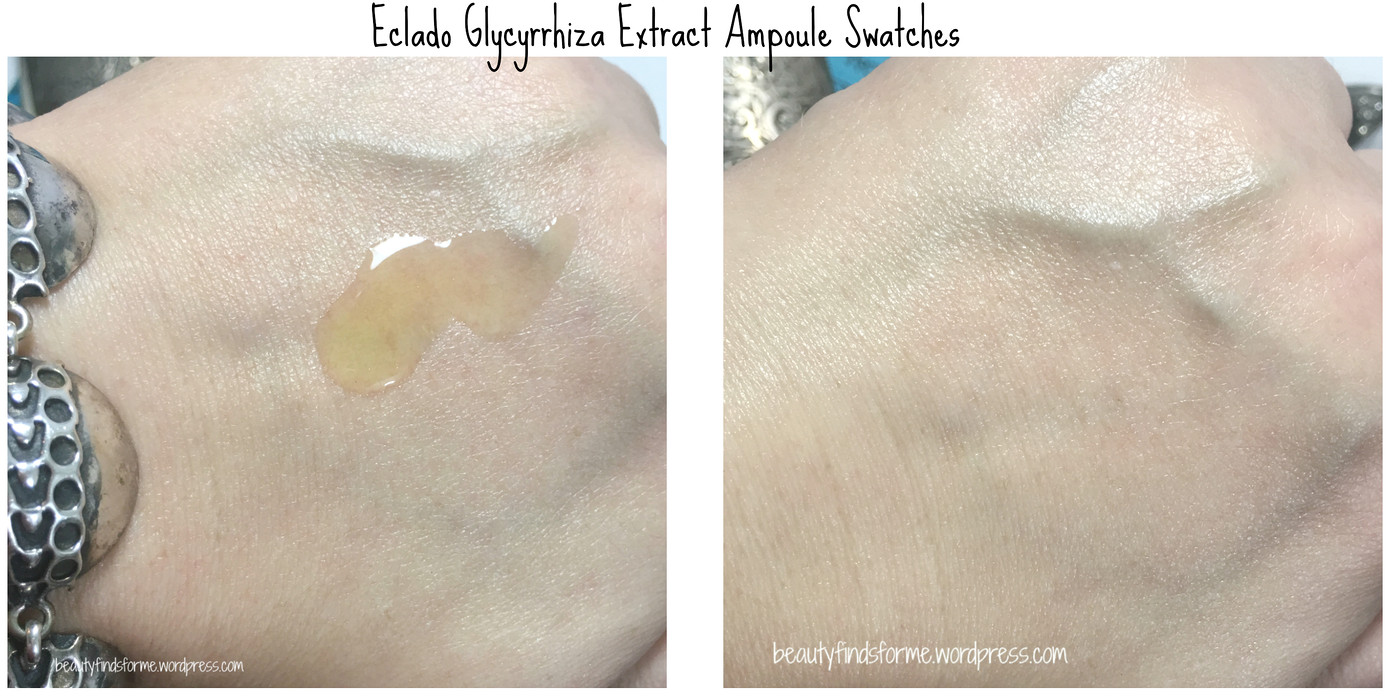 The essence seems like it would be oily and it initially feels that way, but once it is absorbed into my skin, there is no oily or greasy residue. My skin looks more refreshed when I use this and it feels very soft and supple, as this essence plumps up  my skin with hydration, filling in the cracks and lines.  This increased my moisture levels by 28% and decreased my oils by 40%.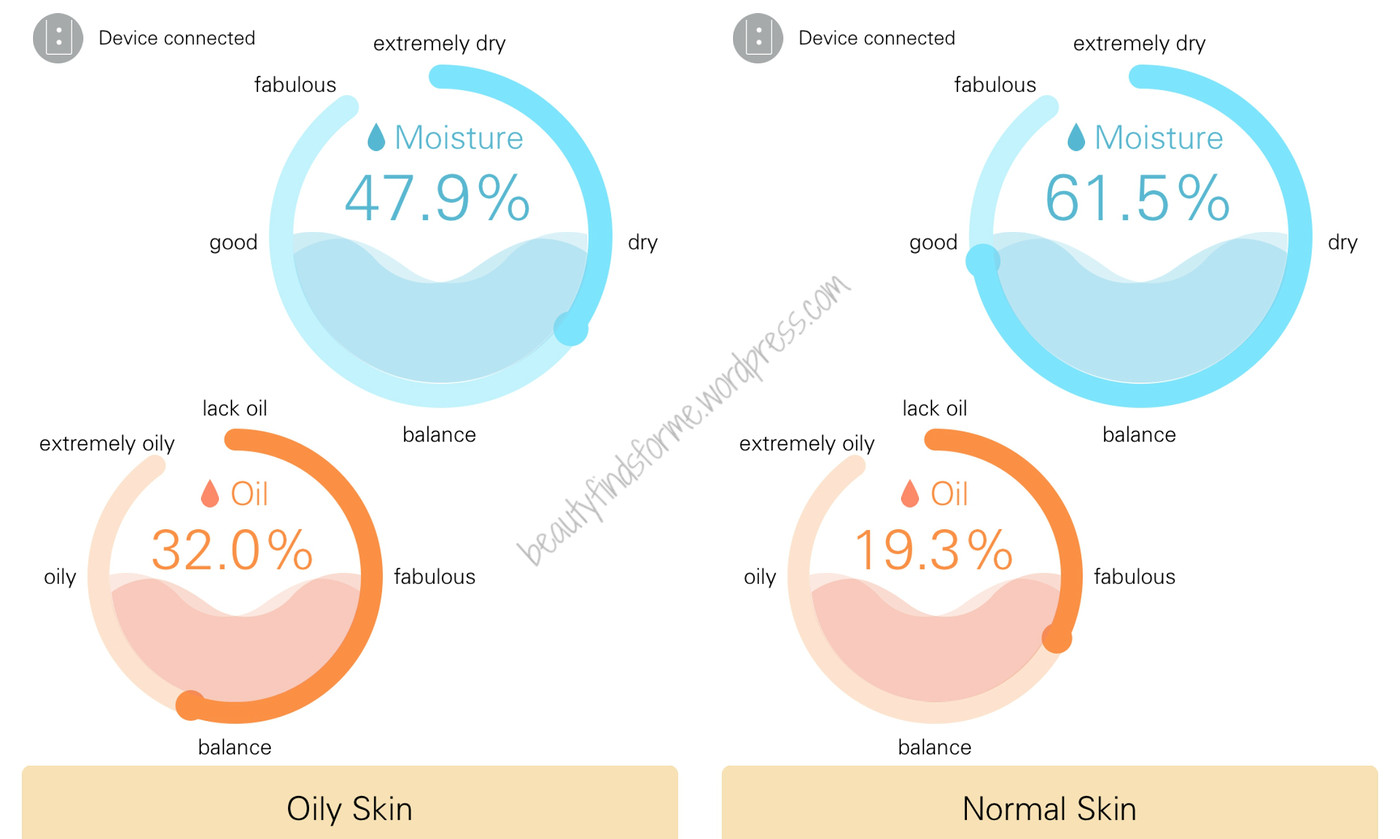 This product took a long time for me to figure out how to use and if I liked it or not.  I struggled on how to use it, as there aren't any English reviews on this ampoule ~ the essence is very watery so I thought to add it to creams, oils, emulsions and other thicker products ~ I honestly didn't notice a difference.  Then I started to use it start up out of the bottle, targeting the areas that needed help ~ I decided to use it on fresh PIH (blemish spots). I suffer greatly when I break out as my blemishes heal to those horrible reddish/purple PIH all the time, which is why my top concern is acne control. It is ironic because at my age, I should be more focused on aging products, but so far, my oily skin has saved me from getting bad wrinkles prematurely.
I noticed two things when I started adding this to fresh blemish marks ~ this ampoule does help lighten and/or lessen the appearance of fresh PIH.  I had a huge whopper of a blemish that was very purple-red and within a couple of weeks, it had lightened considerably.  It is currently a pinkish spot on my skin right now and will need more work to completely disappear.  The other benefit I noticed with this was its purifying and soothing benefits ~ it reduced the size of that blemish and looked like it really helps clean that skin quite a bit, reducing the pus and bacteria that comes with pimples as well as reducing the sebum.
Final Thoughts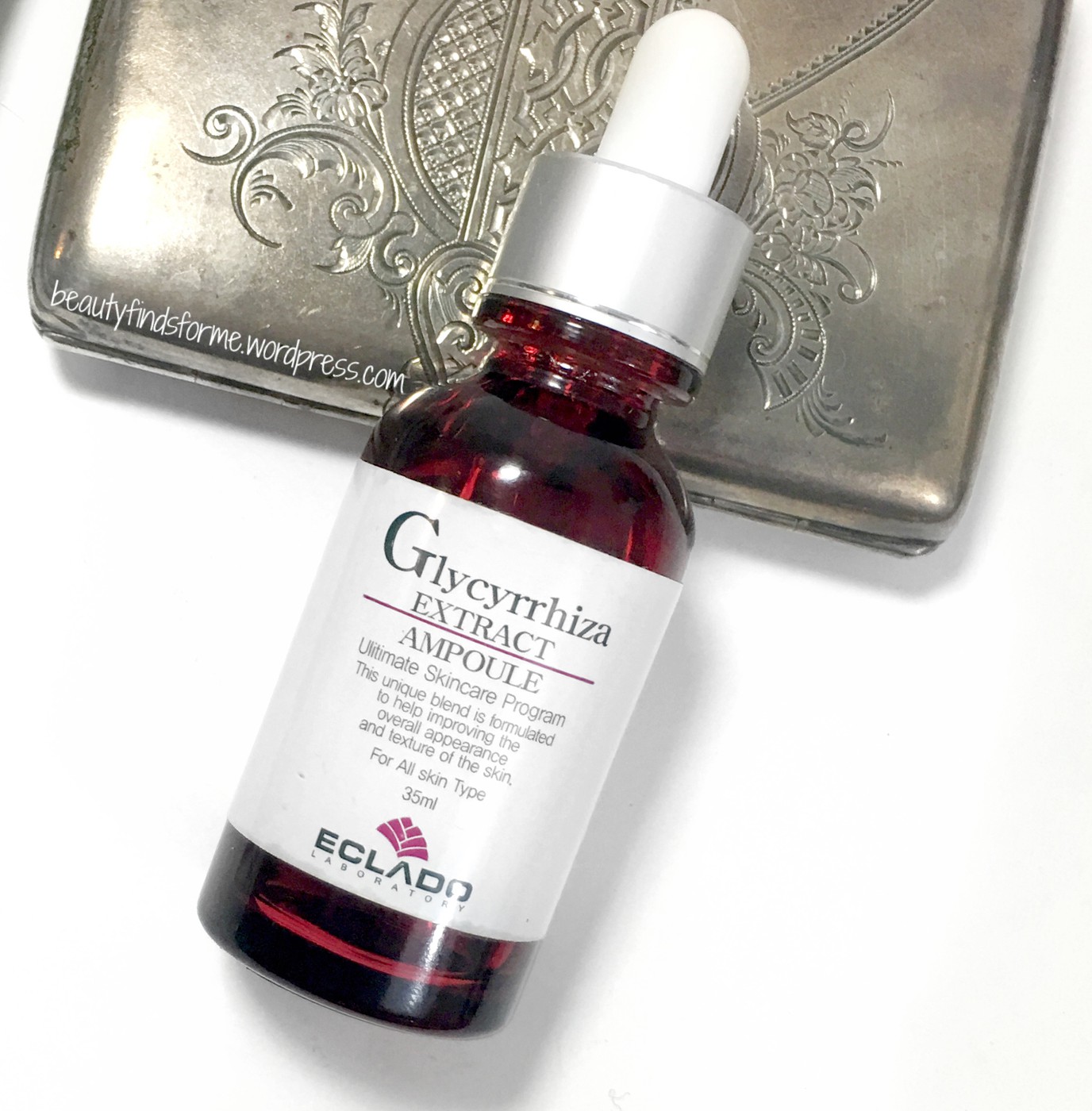 Well… I do like this product quite a bit and a little goes a long way. I have been using it since November 2017 and now in February 2018, I am about halfway through the bottle.  I am going to try using it a new skincare device I purchased, the TokStick, which is the next generation in needling.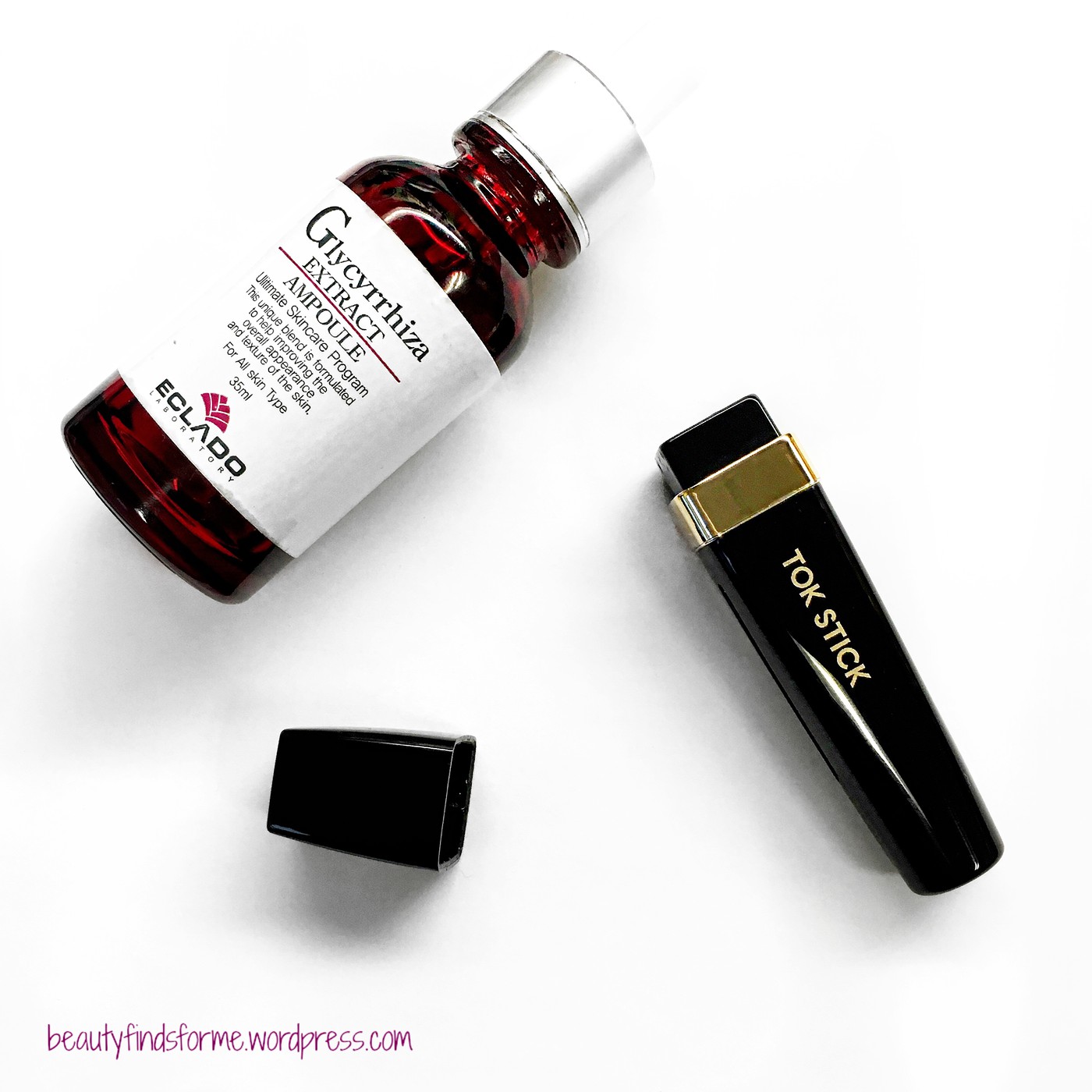 I am hoping that by adding this ampoule to my TokStick and then stamping it directly over my PIH and hyper-pigmentation, that the essence will be delivered more efficiently and directly into my skin ~ alas, the TokStick is only good for about 10 uses and costs about $75.00, so I might have to switch to the Meso Stamp instead ~ similar concept, much cheaper.  This is such an expensive product at $114.00 for 35 mL that I have mixed feelings about recommending it.  This works slowly and its results are not overnight, but I found that it is very promising so far for my skin.  I would NEVER pay full price for this.  Thankfully, BeautyTap (formally W2Beauty) runs promotions all the time on Eclado, sometimes as high as 30% off ~ so if I fall in love with this, I would wait for those sales.   I do have a special promo code right now for the Eclado Glycyrrhiza Extract Ampoule  (click here to purchase) to get 30% off ~ use code unboxingeclado at checkout.  This code is good through 2/28/2018.  This bottle will last a long time if you use it as a spot treatment ~ I think I have at least 3 more months out of this bottle.
Are you tempted by this item?  Have you used licorice skincare products with success at brightening?  Let me know in the comments below!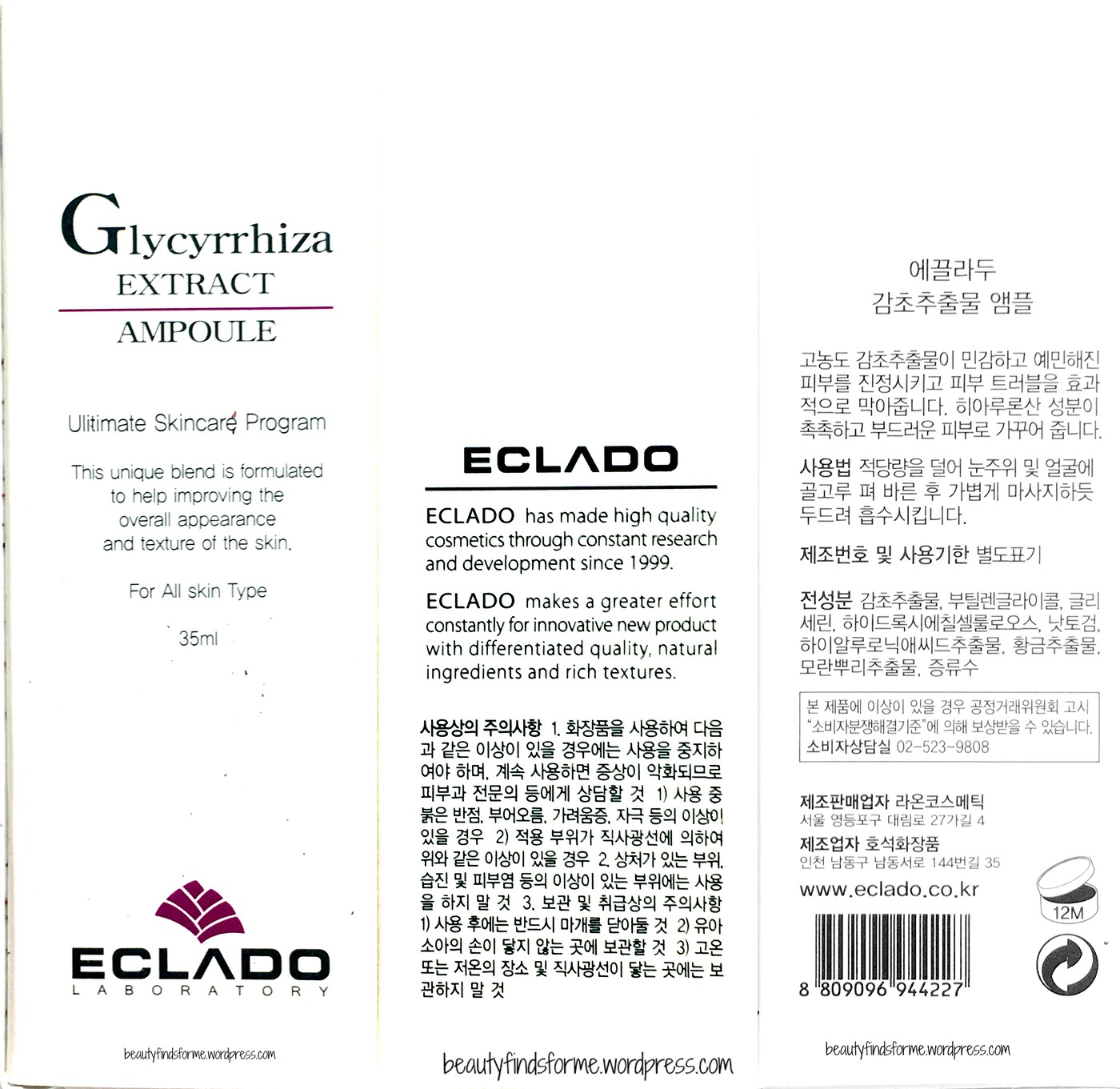 [ disclaimer: ampoule provided free for review purposes.  contains affiliate links ]