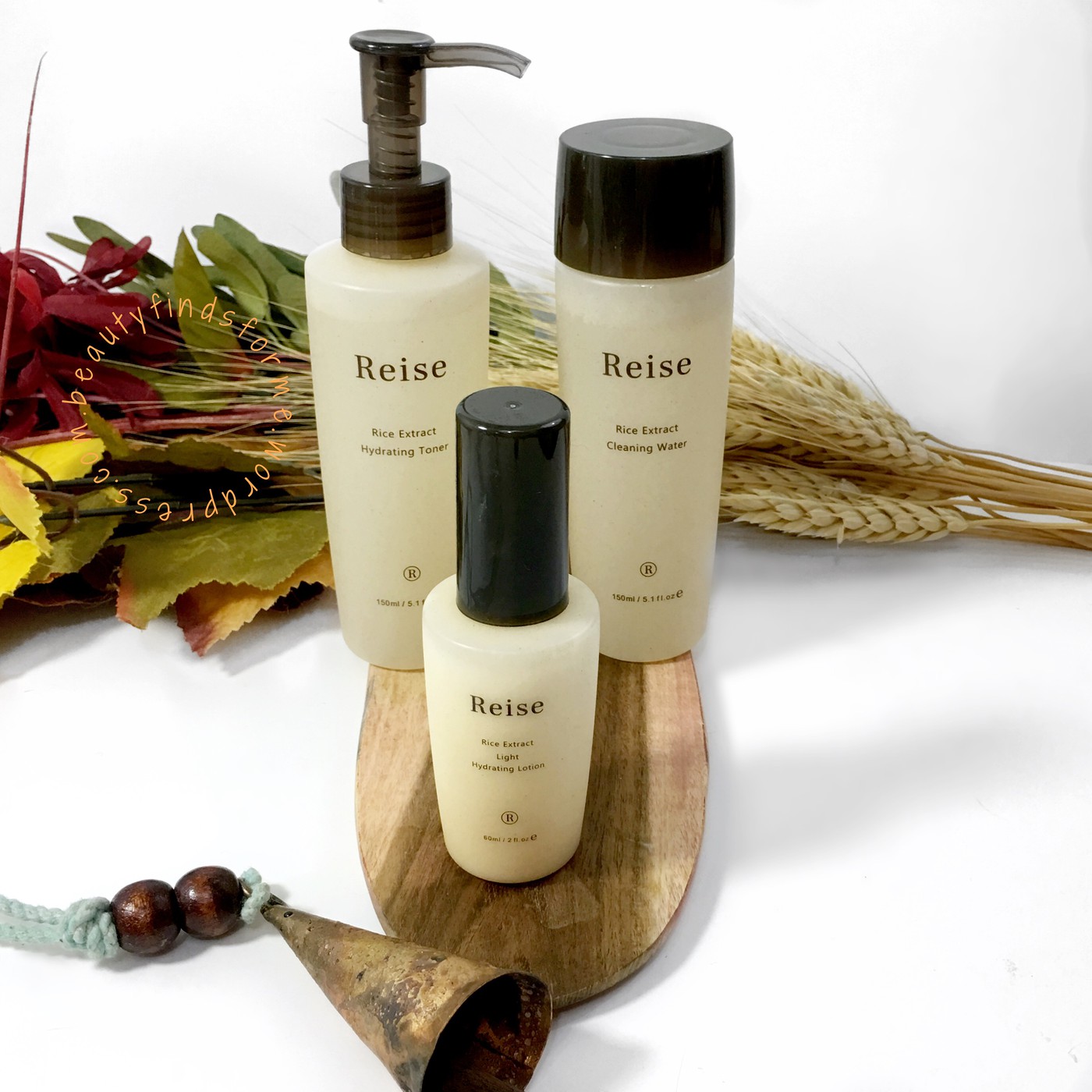 I received these lovely new products from Beautibi to try out and I have been using them for over a month now ~ time for a review!!  Reise (pronounce Rice) is a Green Beauty Taiwaese skincare brand and they have several items in their line up ~ a cleansing water, toner and two lotions: a moisturizing version and a light version for oily skin types. As you can probably guess by now, Reise uses rice extracts as their key ingredient.   From Reise's website, I learned that their motto is "No wastes is the real sustainable lifestyle" and it shows from their products  ~ from the design, sourcing, manufacturing,  packaging, waste disposal, they put in extra mindful care to each stage of the production to help reduce the waste and footprint on the environment ~ they even use rice bran to make their bottles, so they use 40% less plastic, 30% reduction in consumption and 30% decrease in carbon emissions.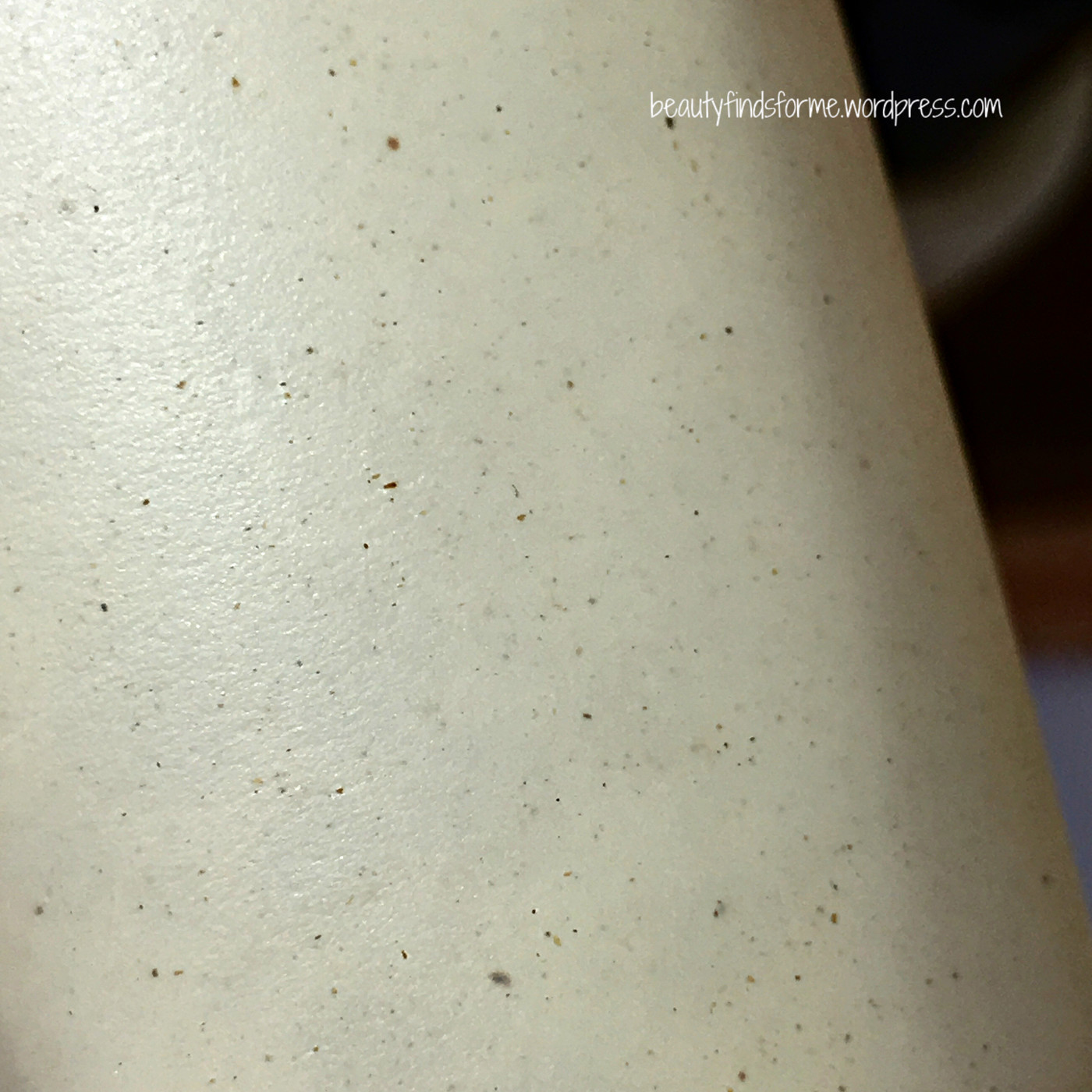 Their boxes are eco-friendly, use FSC certified packaging paper and soybean ink.  All of their products contain no alcohol, no added fragrances and it is all vegan.
Skin Type/Concerns: Oily, blemish prone, pores, aging, hyper-pigmentation, fine lines/wrinkles
I did a swatch test and demo back in January for my Instagram followers ~ I was calling it "Reese" instead of  "Rice" as I didn't know the proper pronunciation yet!
Rice bran has been used since ancient times to help cleanse and maintain glowing and bright skin.  It is rich in in lipids and contains phytic acid, squalene, vitamins A, B1, B2 and E, amino acids, hytosterols and ferulic acids, which help eradicate free radicals and it contains 44% of Omega 6 and 2% Omega 3 essential fatty acids, which help reduce inflammation.  The nutrients within this powerful ingredient can provide deep hydration and moisture, reduce hyper-pigmentation and sun damage, protect your skin from external stressors, such as pollution and it is safe for sensitive skin.
Reise sources its rice from Chihshang Township, Taiwan and this is located in a natural paddy rice area in the East Rift Valley, at an altitude above 853 feet (260 meters).   This valley has the perfect conditions to grow premium rice as it has optimal temperatures, abundant sunshine, with rich fertile soil, watered by the mineral rich Wulu River. Botanical ingredients have been used since ancient times to help benefit our skin and senses ~ they were used as cosmetics for makeup due to the natural colors and staining abilities, extracts to help soothe, moisturize, cleanse, treat skin conditions and protect our skin and perfumes were made from the oils.

All three of these products also include humectant organic glycerin, which moisturizes and hydrates the skin, leaving your face feeling smooth and soft. It also helps with healing of wounds and binds water to your skin,  maintaining the skin's water balance on an inter-cellular level, which makes the skin look healthy, moist and radiant.  Roman chamomile has been used for centuries and it calms down the skin and relieve redness effectively as it has antioxidant, antibacterial and anti-inflammatory properties. It helps to relieve skin issues and irritations because it soothes and lessens swelling and redness, while healing skin and stimulating cellular renewal.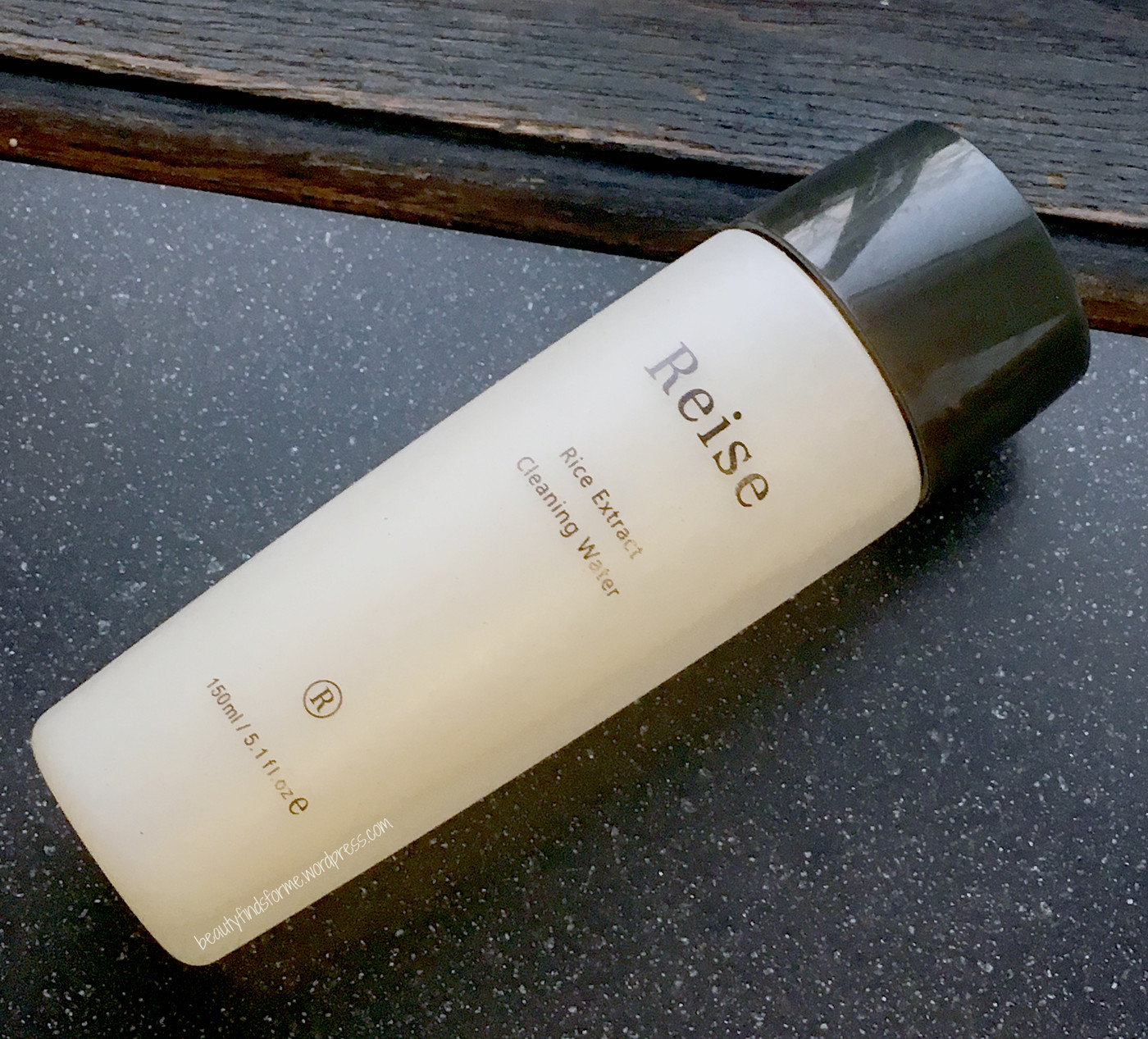 🍚Rice Extract Cleansing Water contains rice brand and chamomile extracts along with aloe vera ~ which helps soften and calm and soothe the skin, as it is packed with emollients.  Aloe helps speed up skin healing and repairing and moisturizes.  This comes in the traditional beige-y shade bottle from Reise and has a pin hole applicator on the top.  This is very watery and has a light clean scent and is made with organic preservatives.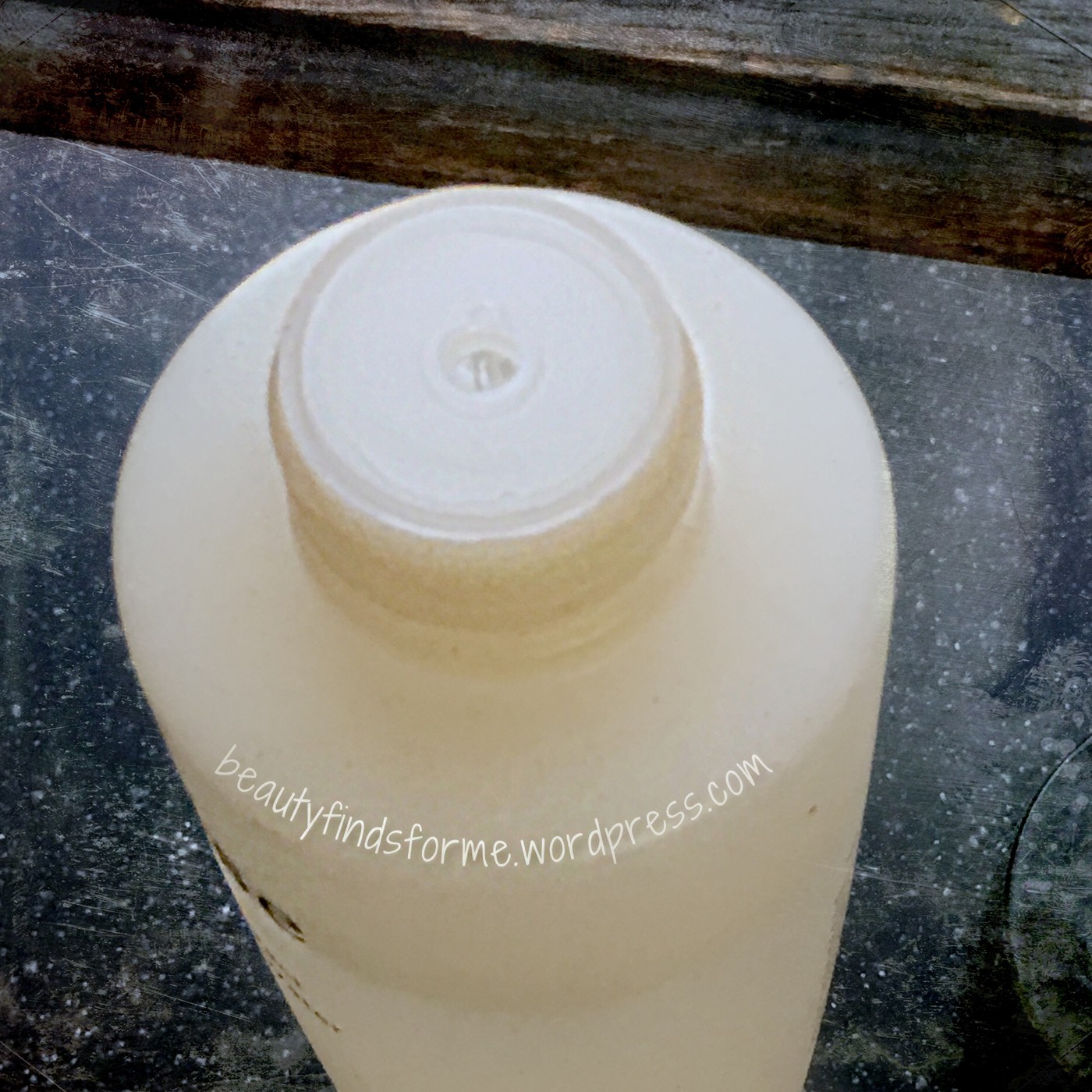 I use a cotton pad to apply and it does a good job with removing most makeup, and it wipes away cleanly without a sticky residue.  The only problem this cleansing water had was with a long lasting matte liquid lipstick that is difficult to remove without an oil cleanser, but it did remove hard-to-budge eye shadow, mascara and another lipstick.  I do not find this to be irritating to my skin or eyes and it is quite hydrating to my skin.

One thing I did notice and did not care for is that this cleansing water foams up slightly on my skin.  I am not sure you can tell very well in the photo below  ~ it is the "white spots" on my skin ~ but if you look at my swatch demo video, I did show how it foams up.  I asked Jen at Beautibi about that and basically, it is because of the ingredient organic ingredient decyl glucoside.  If your face has makeup or is not clean, it won't produce foam.  However, if your face is clean or clean enough, this cleansing water will product foam and this is normal.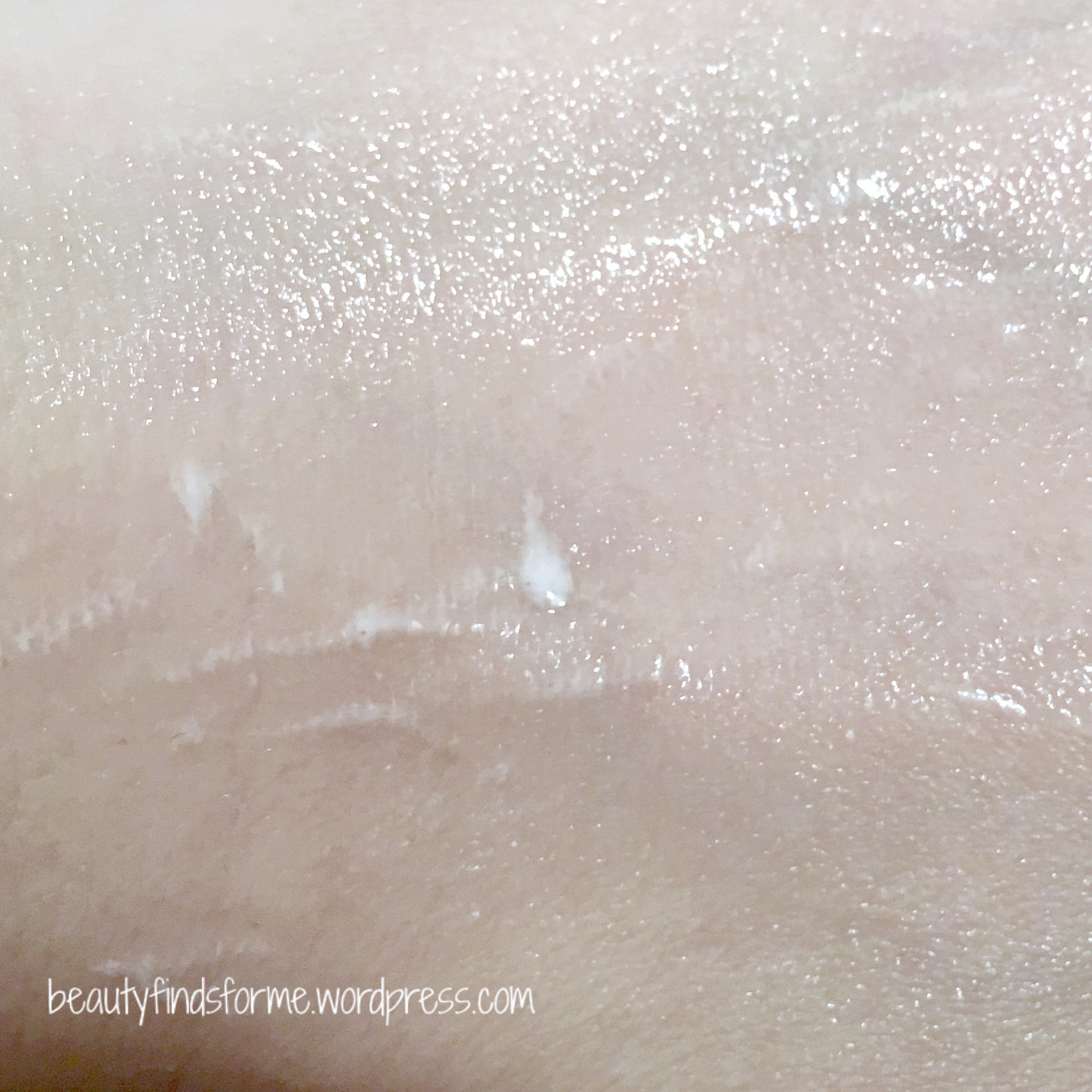 Tests and Stuff:  This increased the moisture on my skin by 29%, decreases oil by 40% and the pH level is around a 6.5 ~ 7.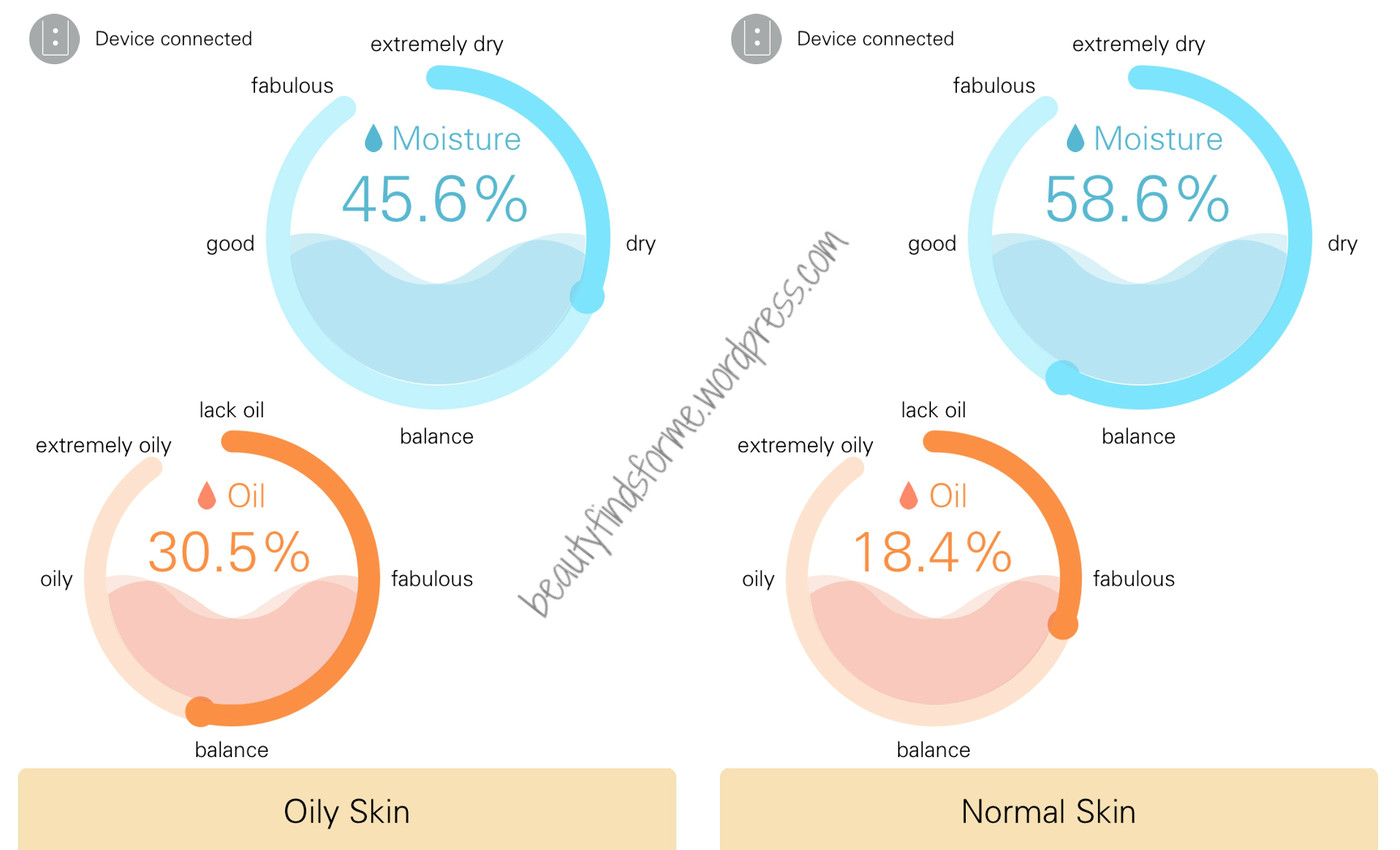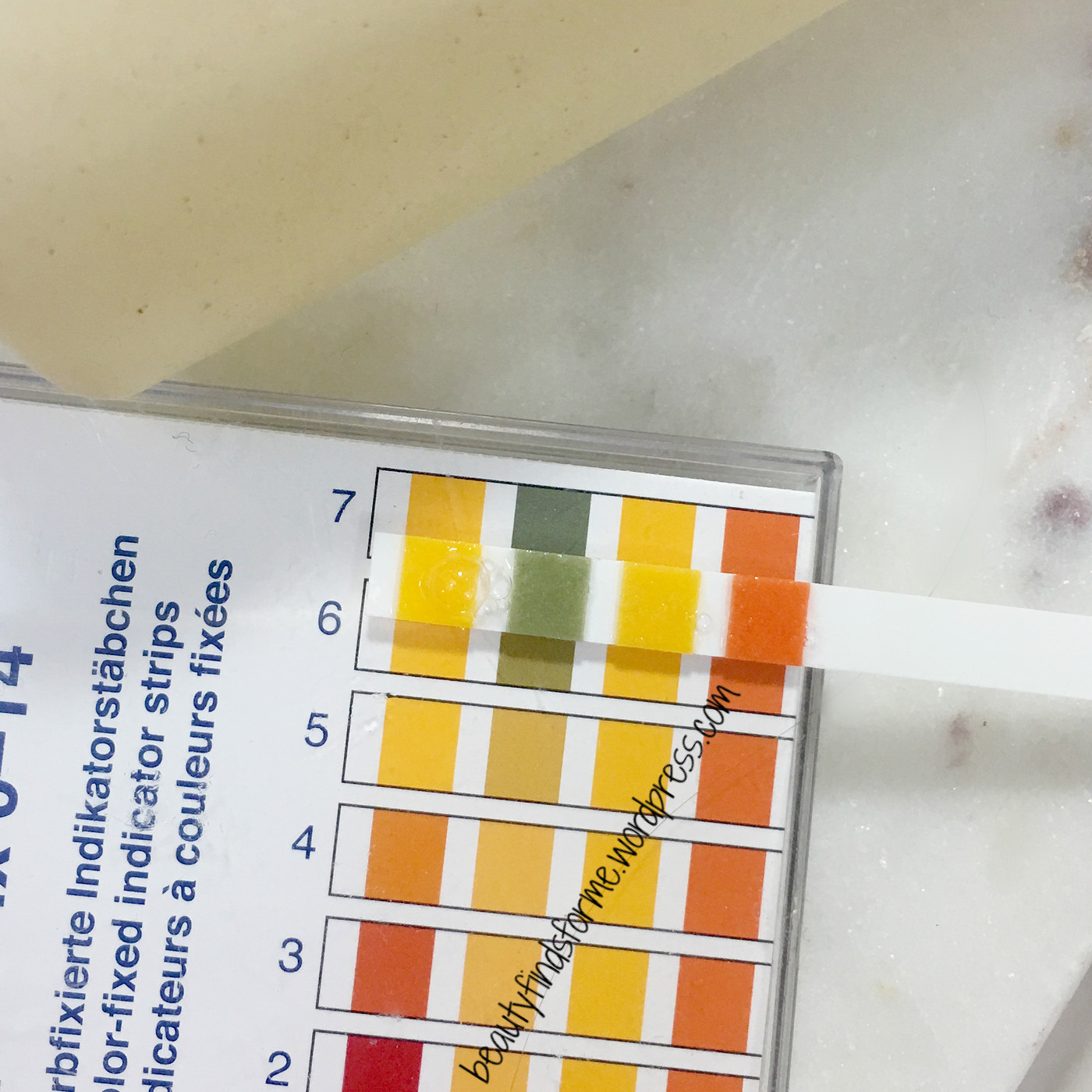 Ingredients: Water, Propanediol, Decyl Glucoside, Glycerin, Polyglyceryl-4 Caprate, Caprylhydroxamic Acid, 1,2-Hexanediol, Oryza Sativa Bran Extract, Anthemis Nobilis Water, Citric Acid, Aloe Barbadensis Leaf Juice Powder, Anthemis Nobilis Flower Oil cosDNA analysis
🍚Rice Extract Hydrating Toner  Along with the rice bran, glycerin and soothing chamomile, this has natural hyaluronic acid, an intensive moisturizing ingredient which binds to water to keep it hydrated.  Hyaluronic acid has the ability to absorb and store moisture 1,000 times its own weigh and it is important to replenish this ingredient back into your skin, as with age, this naturally found substance in our skin diminishes.   Without it, our skin becomes rough and dry.   This also contains saccharide isomerate, another water binding agent and provides moisture to your skin, while defending against moisture loss.   This comes in a tall bottle with a nice pump applicator.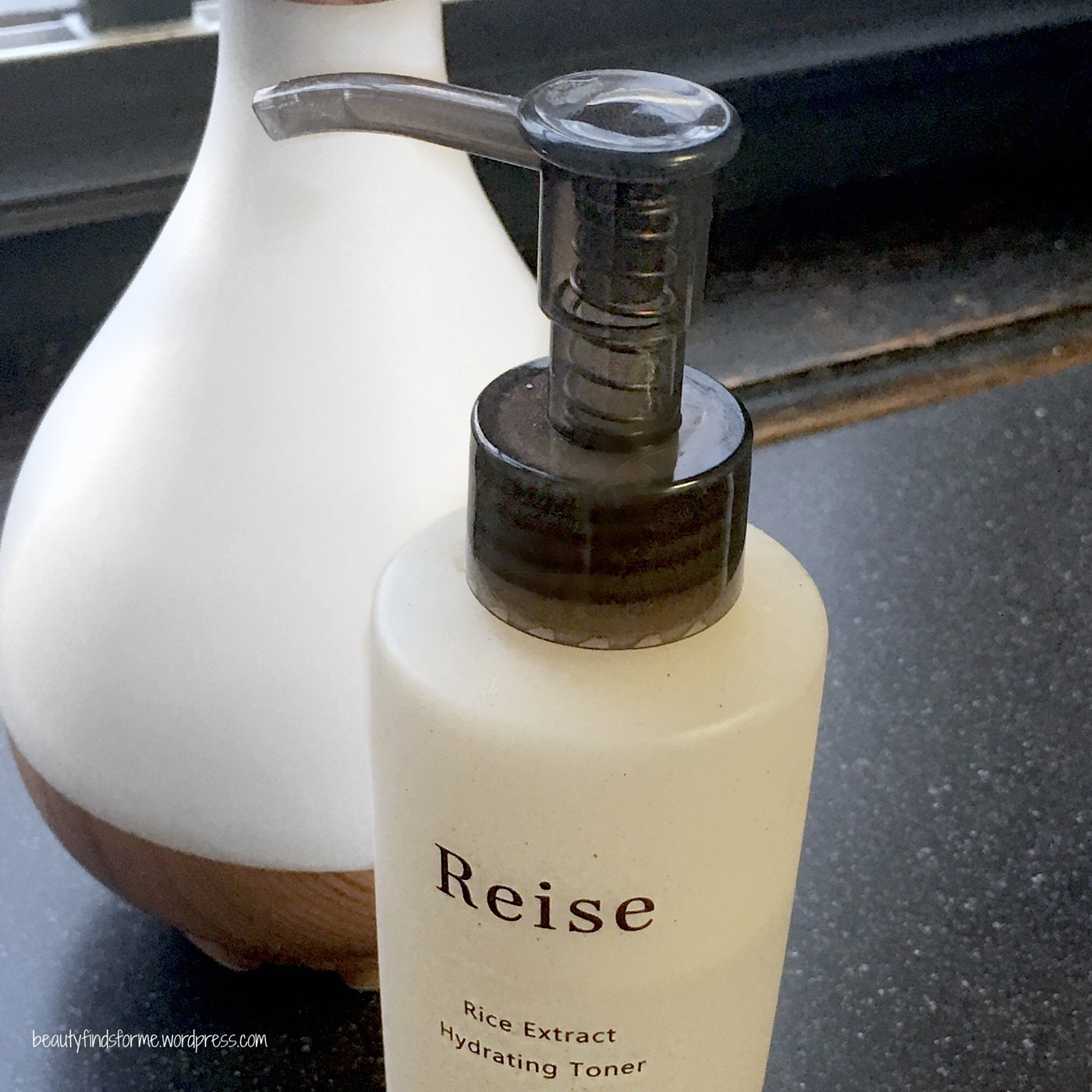 This toner has a slightly thicker-than-water texture, is very hydrating and absorbs fairly quickly ~ it is so soothing and soft on my skin, and it is prefect for that 3 or 7 layer method of layering watery products on your skin.   It also has a faint clean scent to it, nothing overpowering.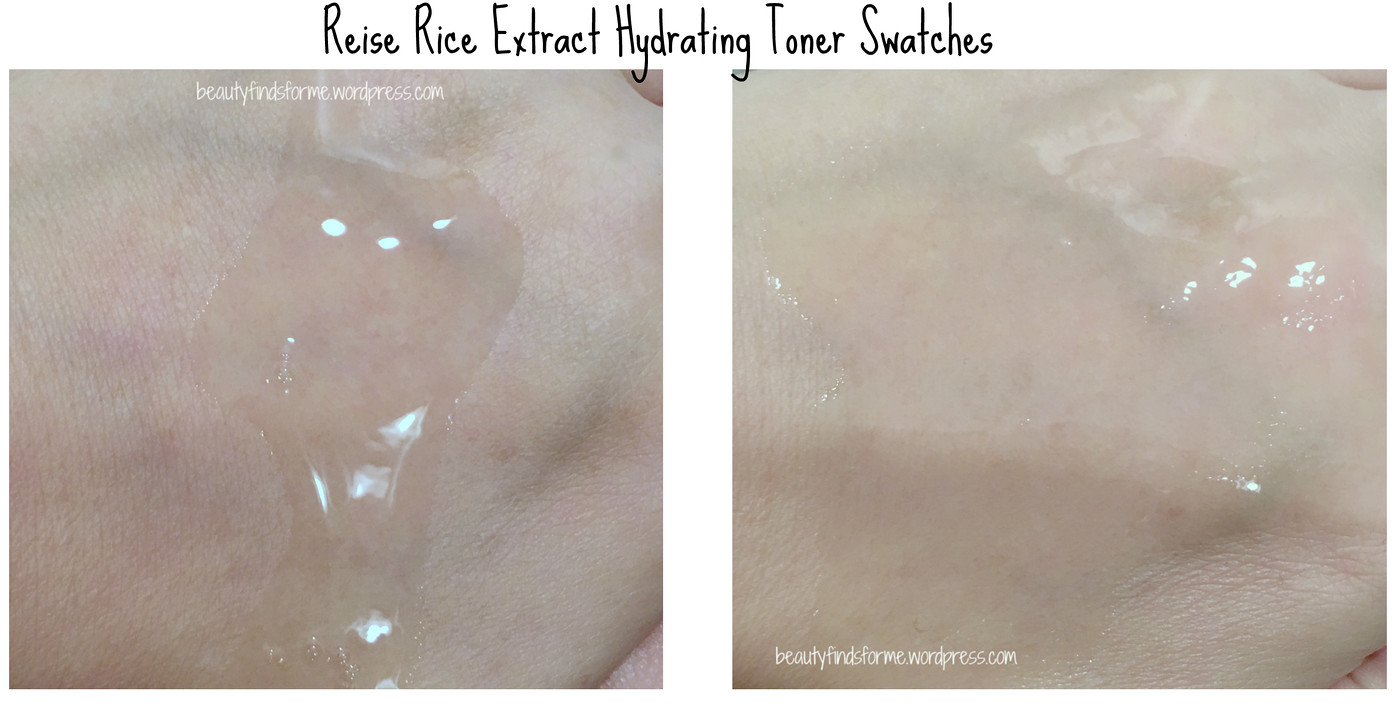 It increases my moisture levels by 30% and decreases oil by by 33% so it is a great toner for oily skin as it won't add oils to it.  It has a pH level of 6.5 so it is slightly acidic and it won't exfoliate but it will provide hydration to your skin.  I love how soft and supple my skin feels ~ and refreshed after I use this.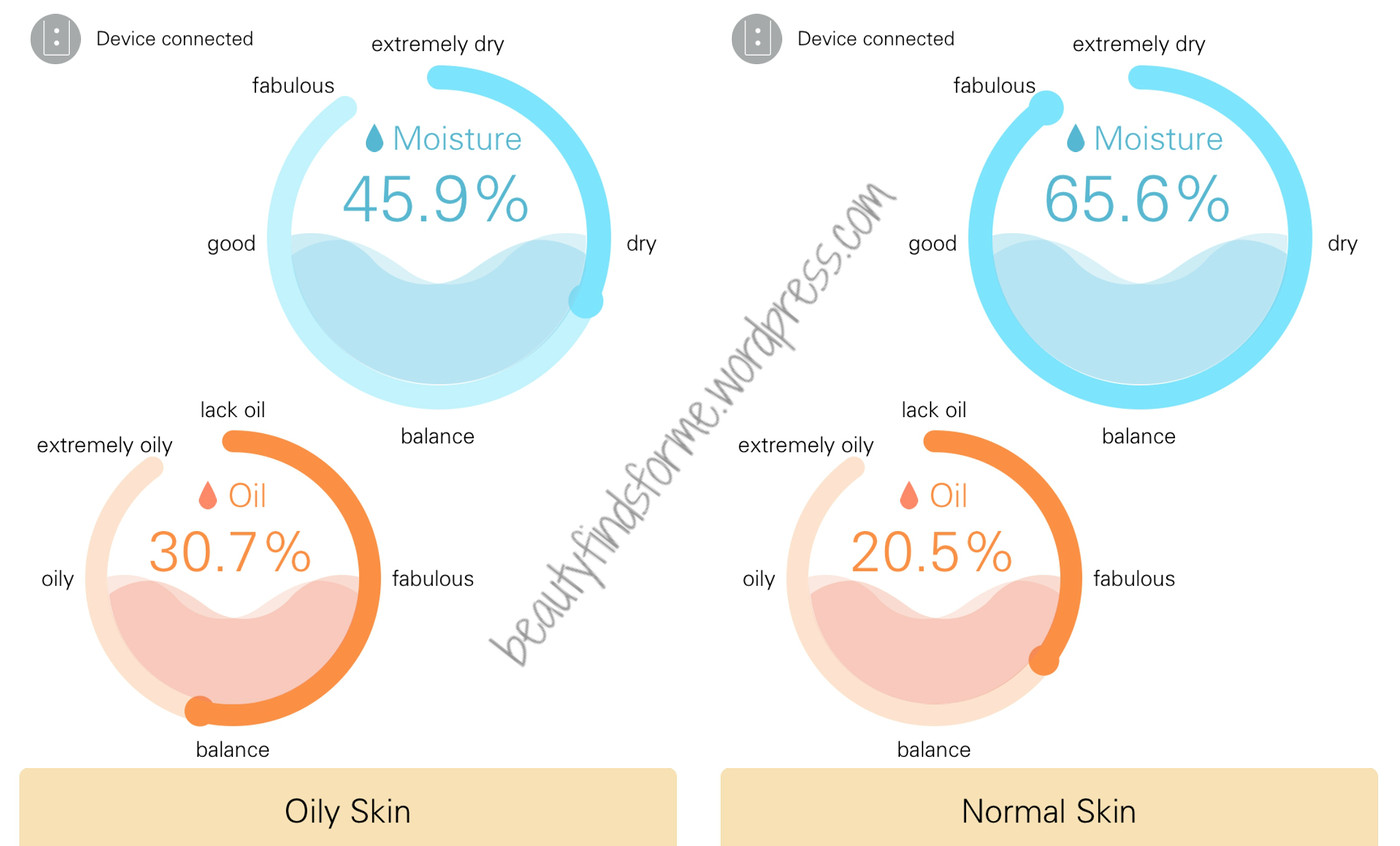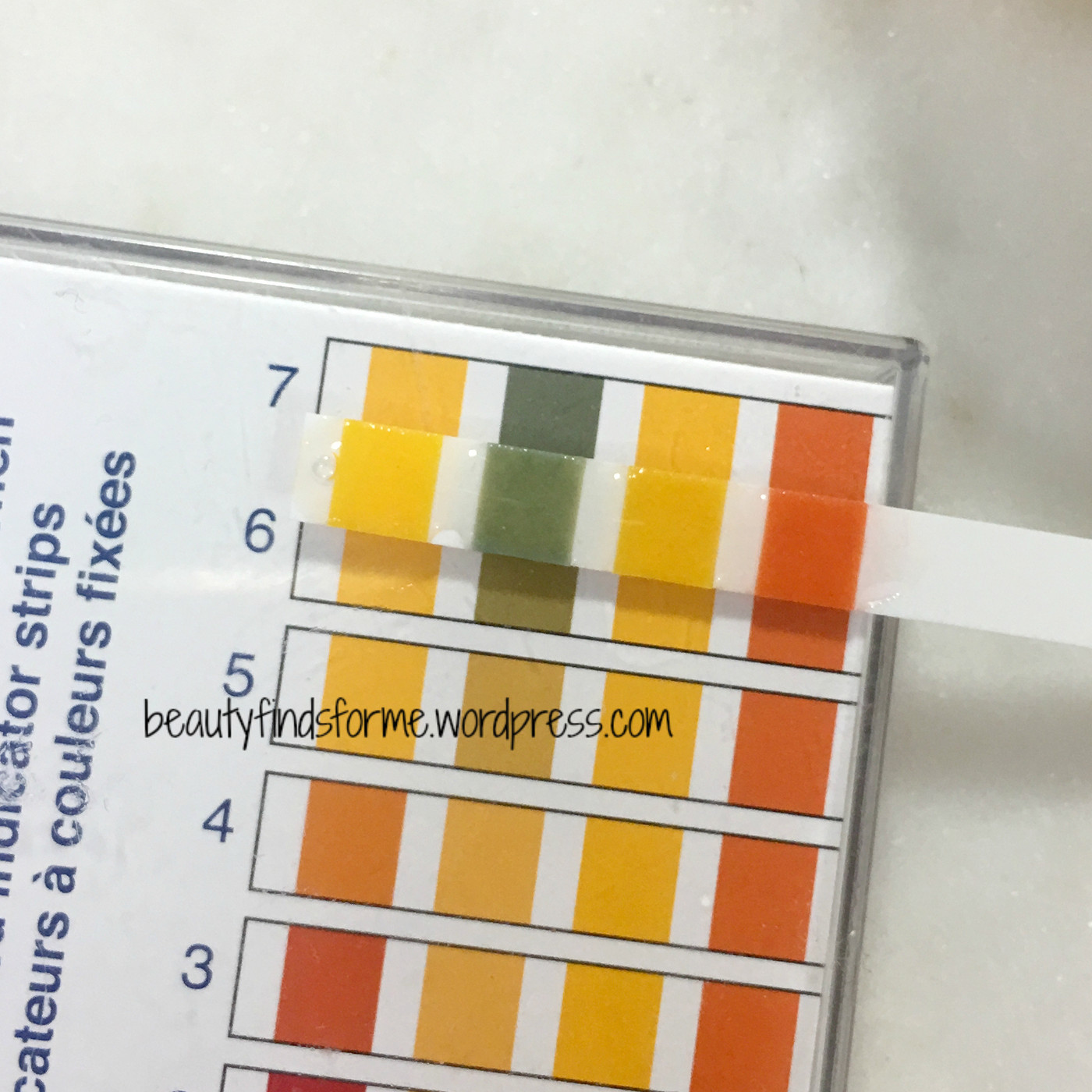 Ingredients: Water, Glycerin, Oryza Sativa Bran Extract, Caprylhydroxamic Acid, 1,2 Hexanediol, Propanediol, Saccharide Isomerate, Xanthan Gum, Polyglyceryl-4 Caprate, Anthemis Nobilis Flower Water*, Citric Acid, Sodium Citrate, Sea Salt, Hyaluronic Acid, Anthemis Nobilis Flower Oil*  cosDNA analysis * certified organic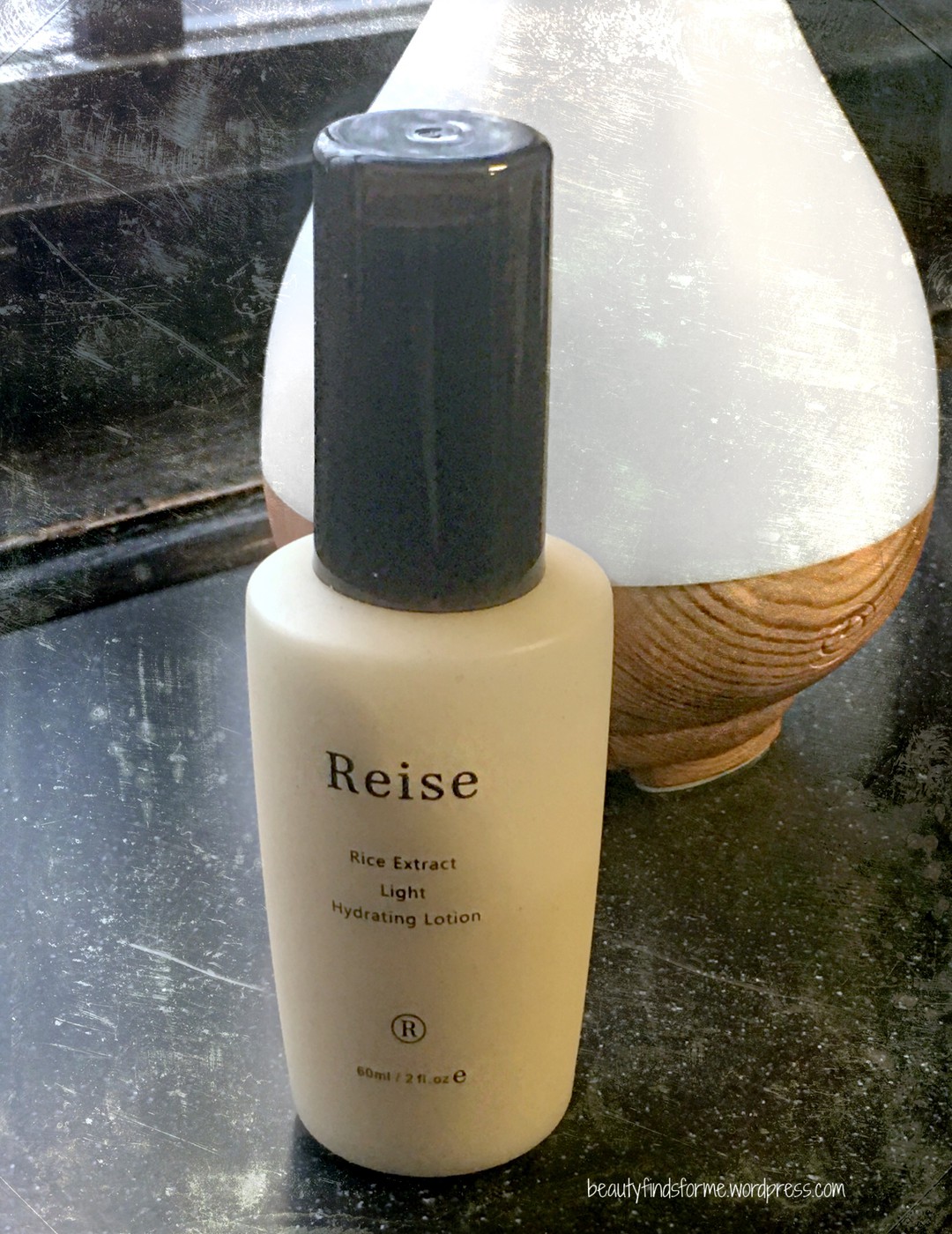 🍚Rice Extract Light Hydrating Lotion  As mentioned, Reise makes two types of lotions ~ a Moisture Hydrating Lotion, which is for combo/dry – dry skin and this one ~ Light Hydrating Lotion, which is better suited for oily- combo/oily skin.  Along with rice bran extracts to help nourish your skin, this also contains several nourishing oils and extracts:  Rice bran oil, which contains essential fatty acids, phytosterol, vitamin E and proteins ~ its smaller molecules can penetrate deeper and easier into your skin layers to provide the nutrition to prevent dryness and provide antioxidant benefits.   This also contains camellia seed oil, which is an amazing ingredient ~ it retains moisture, absorbs quickly into to skin, penetrating deeply into the layers, non-drying, non-clogging, rich in essential fatty acids, such as oleic acid.  It has vitamins A, B and E, along with squalene, which helps prevent dry skin and prematurely aging skin.
This contains another oil, olive, which is full of essential fatty acids, anti-aging benefits that repair skin cells.  Aloe vera is also added, providing intensive moisturization without a sticky or tacky feel.  Olus oil is an interesting ingredient ~ I never heard of this before.  From my research, this is a patented formula, made with a natural blend of triglycerides, derived from 100% vegetable matter.  It has similar properties to petroleum jelly (Vaseline), which helps prevent trans-epidermal water loss (TEWL) and is an occlusive.  Olus oil provides the ability to create light emulsions or lotions while providing the similar protections as petroleum jelly  [ source ]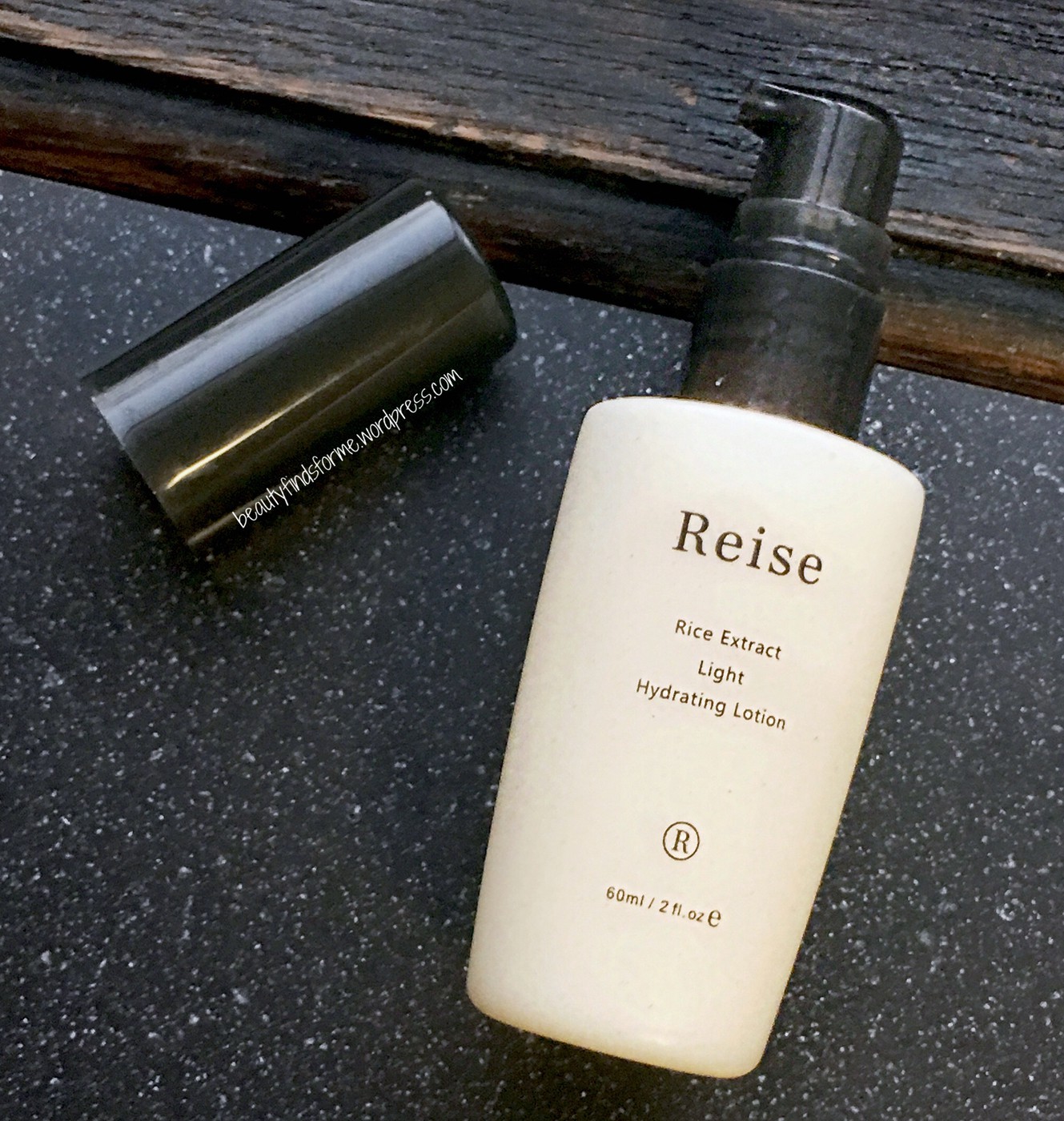 This comes in a nice, trim compact bottle, but it is 60 mL ~ I hate it when some brands make their bottles SO huge but there is no product.  It has a pump applicator and the lotion comes out nice and easy ~ it is a lightweight cream ~ notice I say cream as it comes out like one, but it does spread easily and smoothly on my skin.  It absorbs very quickly, leaves no tacky or greasy residue and my skin has a nice satin/matte finish.   This is a great lotion to use for daytime use in the winter time ~ providing enough moisture and protection but not making my skin oily.

This is both hydrating and sebum balanced ~ it increased my moisture by 33% and decreased my oil by 38% and my skin feels supple and soft.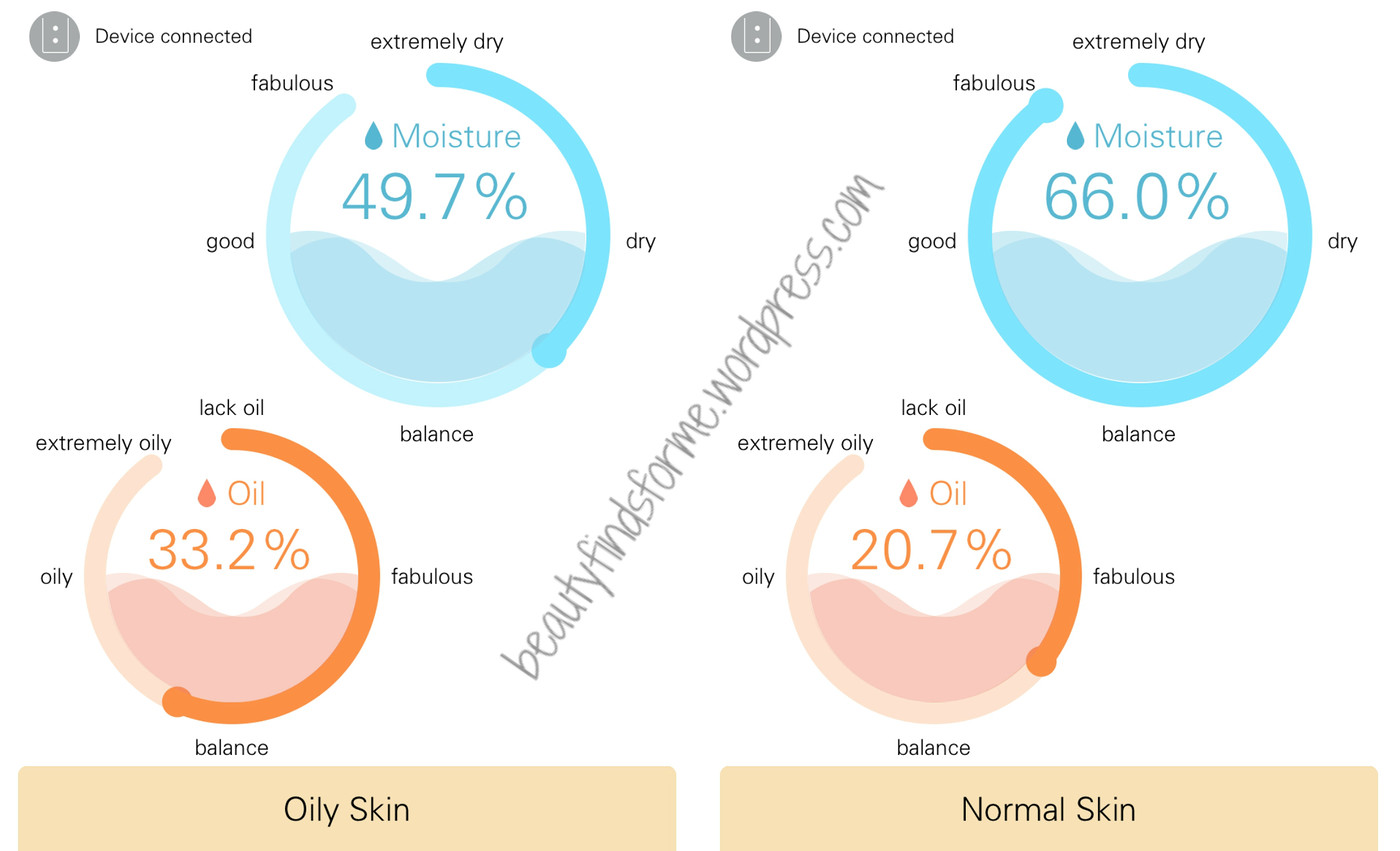 Ingredients: Water ,Caprylic/Capric Triglyceride, Oryza Sativa Bran Extract, Glycerin, Polyglyceryl-3 Dicitrate/Stearate, Undecane, Tridecane, Stearyl Alcohol, Leuconostoc/Radish Root Ferment Filtrate, Sodium Stearoyl Glutamate, Olea Europaea (Olive) Fruit Oil, Camellia Oleifera (Camellia) Seed Oil, Phytosteryl Hydroxystearate, Saccharide Isomerate, Sodium Citrate, Citric Acid,  Xanthan Gum, Chlorphenesin, Butyrospermum Parkii (Shea) Butter, Sodium Hyaluronate, Cetearyl Alcohol, Lecithin, Sodium Cetearyl Sulfate, Olus Oil,  Tocotrienols, Tocopherol, Oryza Sativa (Rice) Bran Oil, Anthemis Nobilis Water, Aloe Barbadensis Leaf Juice Powder, Anthemis Nobilis Flower Oil  cosDNA analysis
Final Thoughts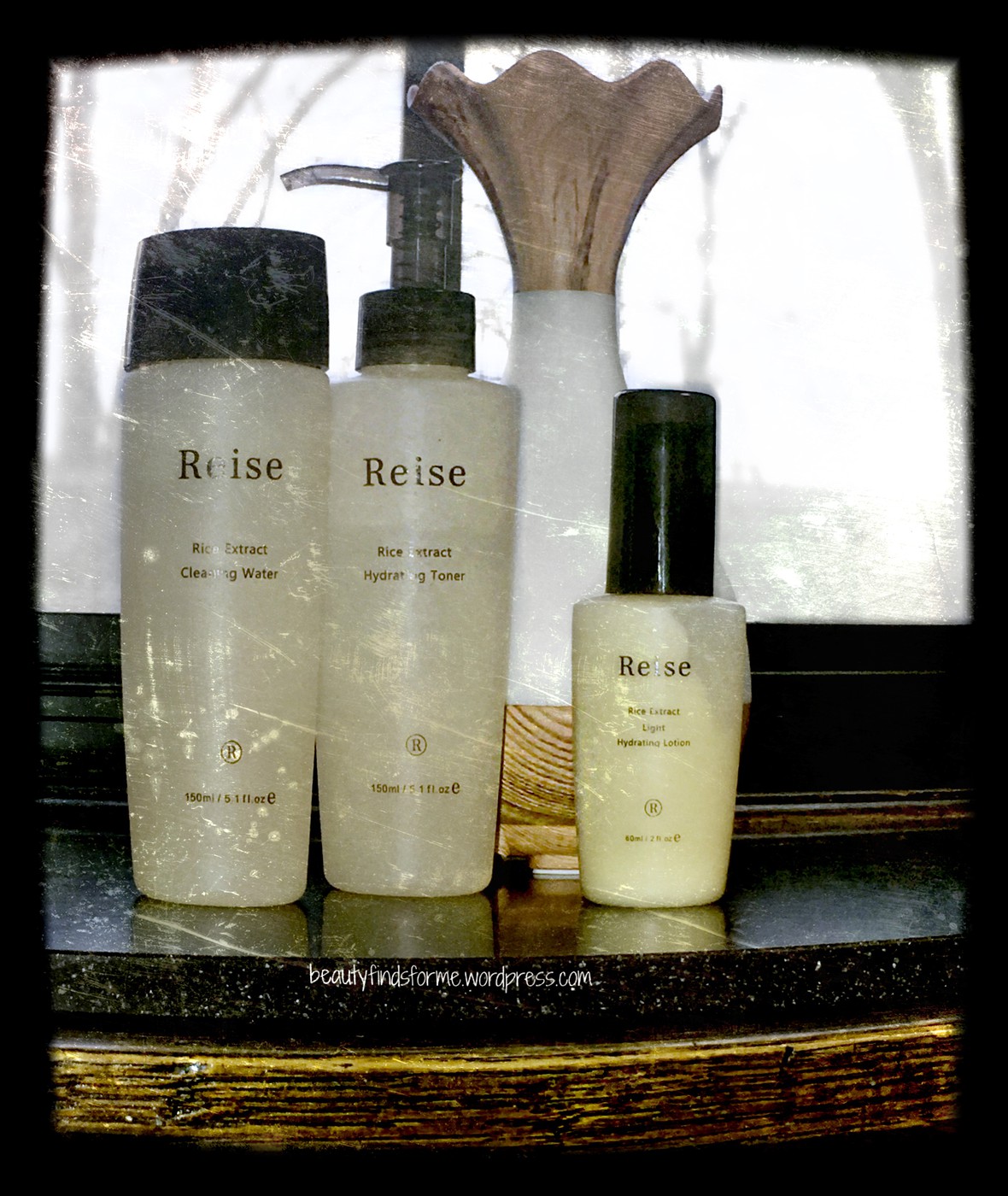 I have to say, Jen found another winner brand!!  I have been with Beautibi since they started and I am always impressed by her curation and this time, she did get some products that work SO WELL with oily skin.  I would say that it works well for dry skin too, as the lotion comes in a much more richer formula than what I received.  The one product that I was disappointed in was the Cleansing Water as I was always freaked out by the foaming action on my skin ~ I didn't like how it did that and bubbled ~ but that is just me.  Some folks love that bubbling action, and if you do, it is a really nice cleansing water that does the job.  The Hydrating Toner is my absolute favorite item of the trio, but that is because I am a toner junkie.  I love how hydrating it is and gentle it is on my skin ~ if you use a lot of acid treatments, this is a nice toner to use afterwards as it is not irritating to my skin.  The Light Hydrating Lotion is also wonderful ~ it is enough protection and moisture for daytime use in the cold winter months and leaves a smooth satin finish to my skin.
All of these products play well with other items, as I did use toners and serums from other brands and it didn't have any issues.  I love that how eco-friendly Reise is, how socially conscious they are with wanting to leave our planet in a better place and not be wasteful.  I highly recommend that you check this line out and it is not that expensive ~ all of the items reviewed here are under $30.00.  I hope Jen expands on the line, as I noticed that they have hair and body care items now! 
Where To Purchase
Beautibi!!  Currently Beautibi carries four products in the Rice Extract line
Save $5 on 1st purchase at Beautibi  with my referral code (click here).  If this code stops working, please let me know. For some reason, they "expire" and I have to create a new one. 
[ products received complementary for review purposes.  All opinions are my own.  Blog post contains referral links ]