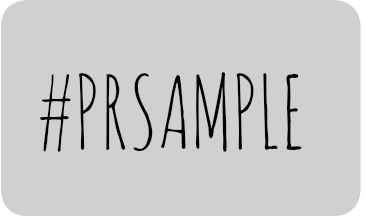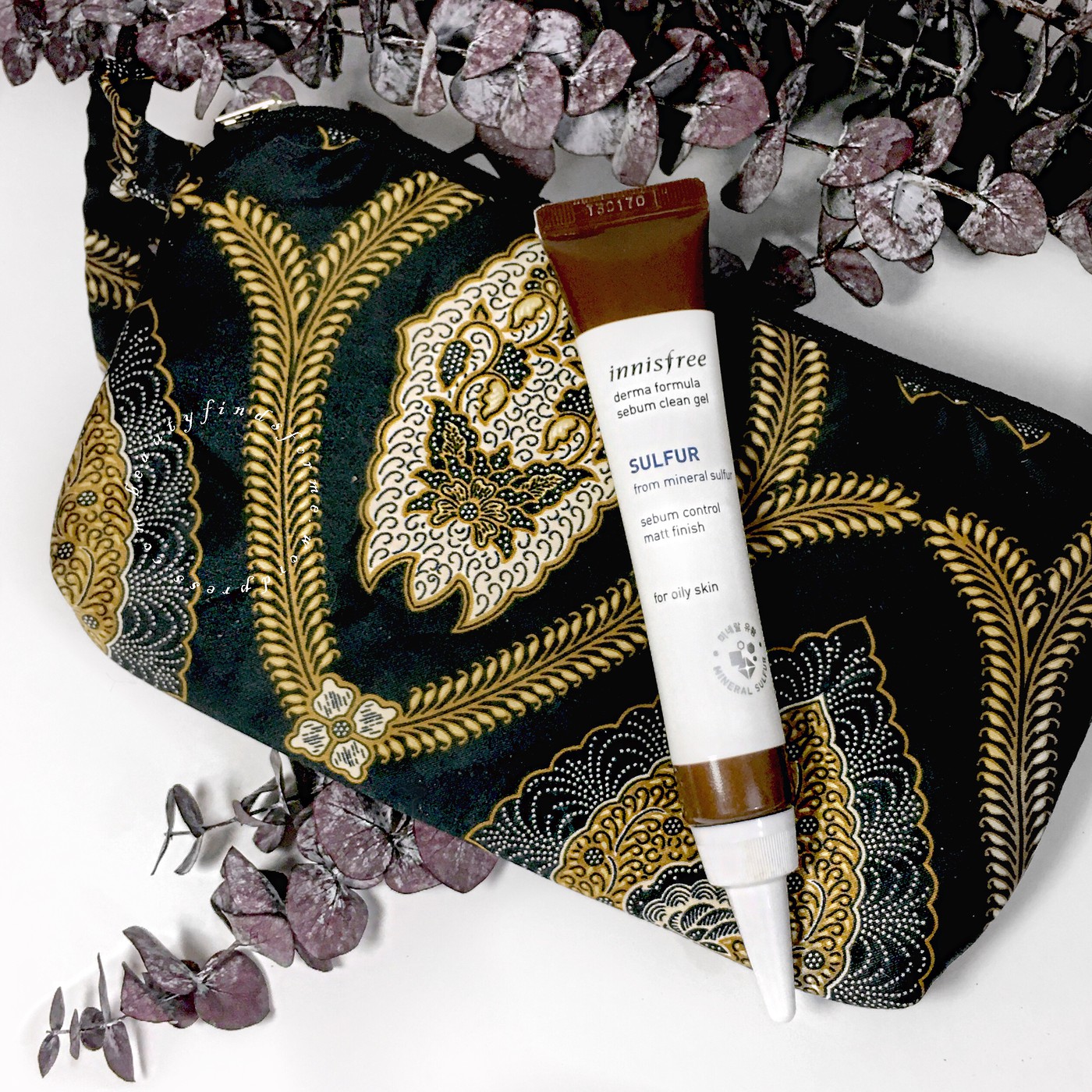 Innisfree is one of my favorite K-Beauty brands (you can get a taste of my reviews here) and I saw this Derma Formula line launch late last year. 
I always get excited with new product lines and this one is pretty no nonsense ~ it looks to be a clinical series of products that includes Hyaluronic Acid, Micellar Cleansing Waters, Ceramide and Pepide products ~ targeting different skin type concerns and issues.  I did pick out two items from their line  ~ Derma Formula Toning Serum Hyaluronic Acid with Jeju Soybean and this one, Derma Formula Sebum Clean Gel.  I will have a review with the Toning Serum as well, but I want to focus on this gel.  Jolse sent me this product for review purposes.
My skin type and concerns:  Oily, aging, blemish prone, pores, hyper-pigmentation, fine lines and wrinkles.
image credit from jolse
The key ingredient in here is sulfur ~ this is a blemish busting ingredient and it will dry up and heal your acne.  It has antibiotic and anti fungal benefits, so it will help prevent infections on your skin.  It is a potent ingredient as it does disinfect and purify your skin.  This is not an ingredient to be used lightly ~ I actually have used sulfur wash off clay mask packs and they can be quite drying.  Sulfur drying properties actually thins out your epidermis, which does lead to cellular turnover.  It penetrates pores, dries out blemishes and unclogs congested pores.

That is why Innisfree added a ton of emollients and moisturizers in here ~ starting with several silicone ingredients: vinyl dimethicone/methicone silsesquioxane crosspolymer and methyltrimethicone.  Not only do these ingredients provide moisture, they also contribute to the silky soft texture of this gel cream.  Normally, for a blemish product, I would not want silicone ingredients to be in the top of the list, but since this product contains sulfur, I do not mind.  Silicone forms a barrier and will not only create a protective film on your skin, it will trap everything that is underneath it too ~ including dirt, oil and impurities.  Since sulfur disinfects and purifies, I actually want to trap that stuff  and zap it into oblivion. 
Shea butter contains a rich source of concentrated natural vitamins and fatty acids~ oleic, stearic, palmitic, linolenic ~ and is highly moisturizing and nourishing. It helps repair your skin,  as well as reduce skin inflammation and it also smooths your skin to protect it from drying and it strengthens your skin over time as it helps aid in the collagen production.    Full of antioxidants, soybeans moisturize, help reduce the appearance of fine lines and wrinkles, helps firm skin and can reverse UV sun damage over time. It has anti-inflammatory properties so  it helps reduce blemish swelling and redness.  The power of soybeans contain amino acid glycine, which helps repair damaged tissue and to speed up healing, which means it is great for blemish prone skin as well. 
Two hydrating humectants are found in here as well ~ Glycerin helps with healing of wounds, sealing in moisture and maintaining the skin's water balance on an intercellular level. Hyaluronic acid is an intensive moisturizing ingredient which binds water to your skin, keeping your skin hydrated and moist. This also has the famous Innisfree Green Complex formula of  green tea, tangerine, cactus, camelia leaves and orchid extracts, to help hydrate and enhance your skin's complexion.  
Ingredients: purified water, methyltrimethicone, butylene glycol, glycerin,dicaprylyl carbonate, colloidal sulfur (1%), 1,2-hexanediol, ethanol, vinyl dimethicone/methicone silsesquioxane crosspolymer, ammonium acryloyldimethyltaurate/VP copolymer, cetearyl alcohol, polyglyceryl-3 methylglucose distearate, hydroxyethyl acrylate/sodium acryloyldimethyl taurate copolymer, shea butter, glyceryl stearate, stearic acid, glyceryl caprylate, hyaluronic acid, hydrogenated lecithin, disodium EDTA, xanthan gum, sorbitan isostearate, camellia sinensis (green tea) leaf extract, citrus unshiu peel extract, opuntia coccinellifera fruit extract, orchid extract, camellia japonica leaf extract, tocopherol, gycine soja (soybean) oil  cosDNA analysis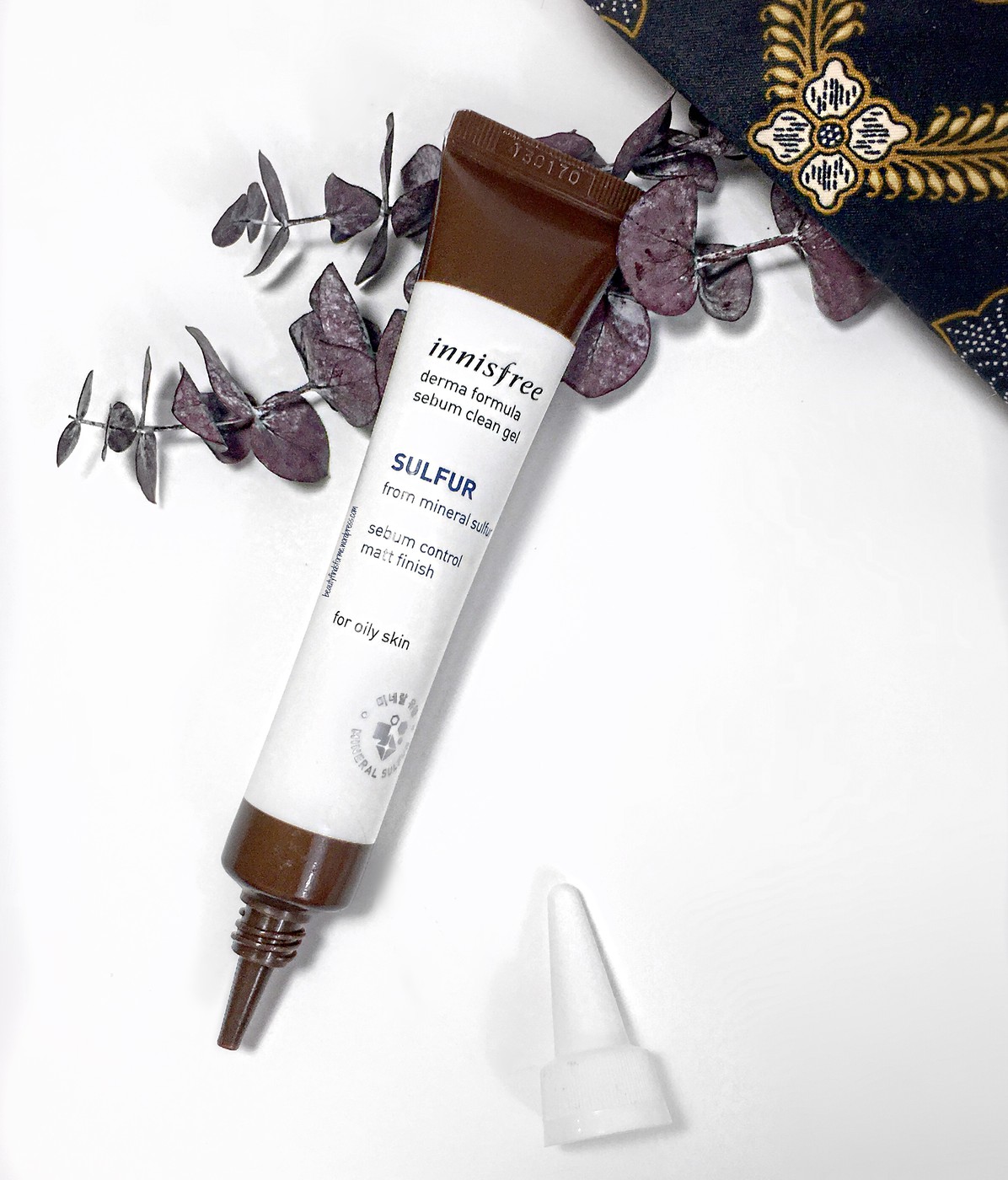 This is a gel that contains 1% of mineral sulfur crystals and the whole purpose of this gel cream treatment is to reduce the sebum, calm your skin and dry out your pimples.  In my opinion, this is not to be used in place of a sleep pack, it is not to be used for a long term basis and only for those pimples that are already or about to come to a head.   It comes in a long 30 mL flexible plastic tube that has a pointed tip.
The texture of this is very much like a facial primer, due to all of the silicone ingredients in here.  It is an semi-transparent white gel that spreads easily and absorbs quickly into my skin, leaving no footprint.  This treatment should be your last step in your night time routine and Innisfree does not recommend it for day time use.  I need to stress this is for oily, blemish prone skin.  If you have combo/oily, you can use this, but if you are dry/combo or dry, please do not use this.  I didn't bother doing a moisture test as I view this as a blemish treatment and not a moisturizing product.  You should still continue to use your normal skincare routine at night to hydrate and moisturize.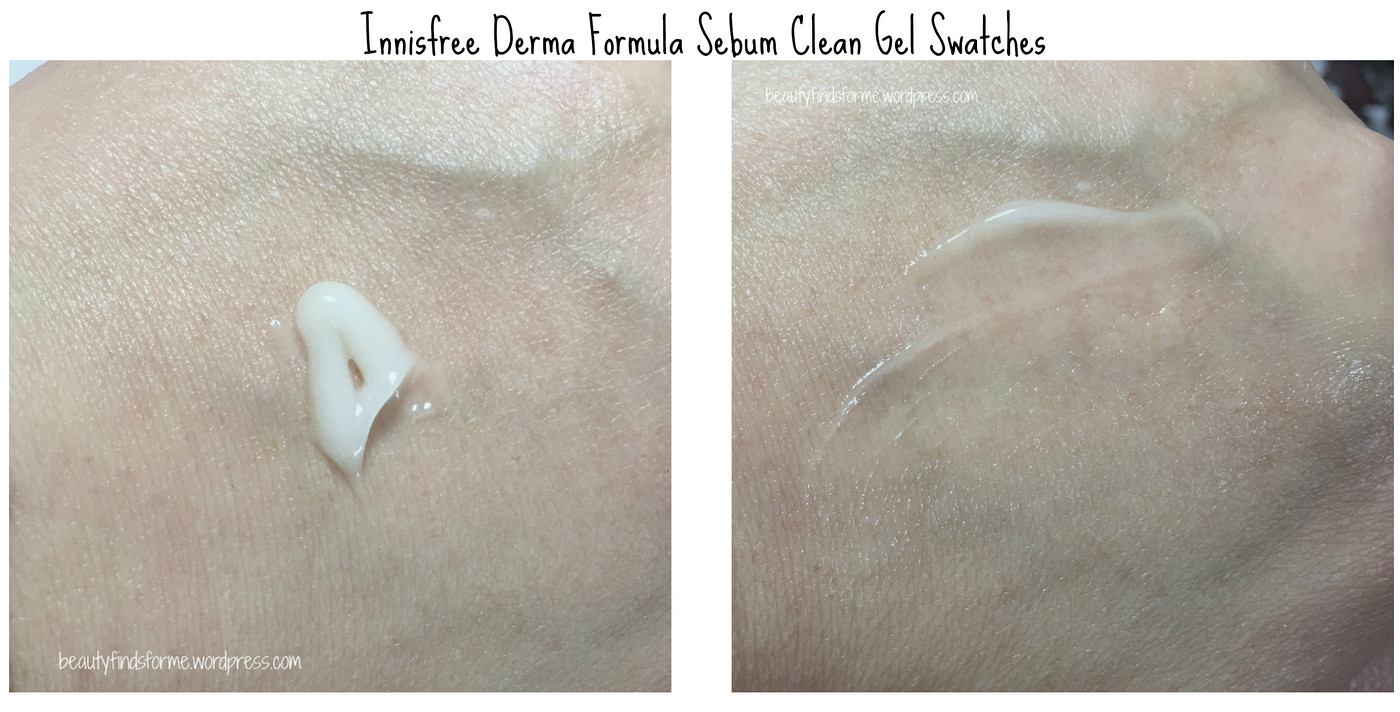 This does have a very light mineral acidic scent from the sulfur but honestly, if Innisfree didn't mention it, I would not have noticed, as it is that faint.   I have used it directly as a spot treatment on a pimple that was huge and gross and a broader area on my chin, where I noticed that I was going to have some pimples breaking through. 
The results ~ very good.  On the gross, already pus-filled and huge zit, the next morning it had deflated and flattened quite a bit and wasn't as red or painful.   For the pimples that were coming to a head but hadn't quite yet ~ they actually came up as little tiny white heads the next morning and I just whisked them away with a good wash ~ as my skin had thinned, they were easy to "break".  I did continue to use the Sebum Clean Gel for a few more nights on the problem zit and it really helped heal it nicely ~ however, my skin did dry out and I had to add more hydrating toners and lotions to adjust for some of the flakiness around that pimple.   That said, this gel cream did not irritate my skin and make it red or sore ~ it actually soothed my skin quite nicely and it did not sting. 
Final Thoughts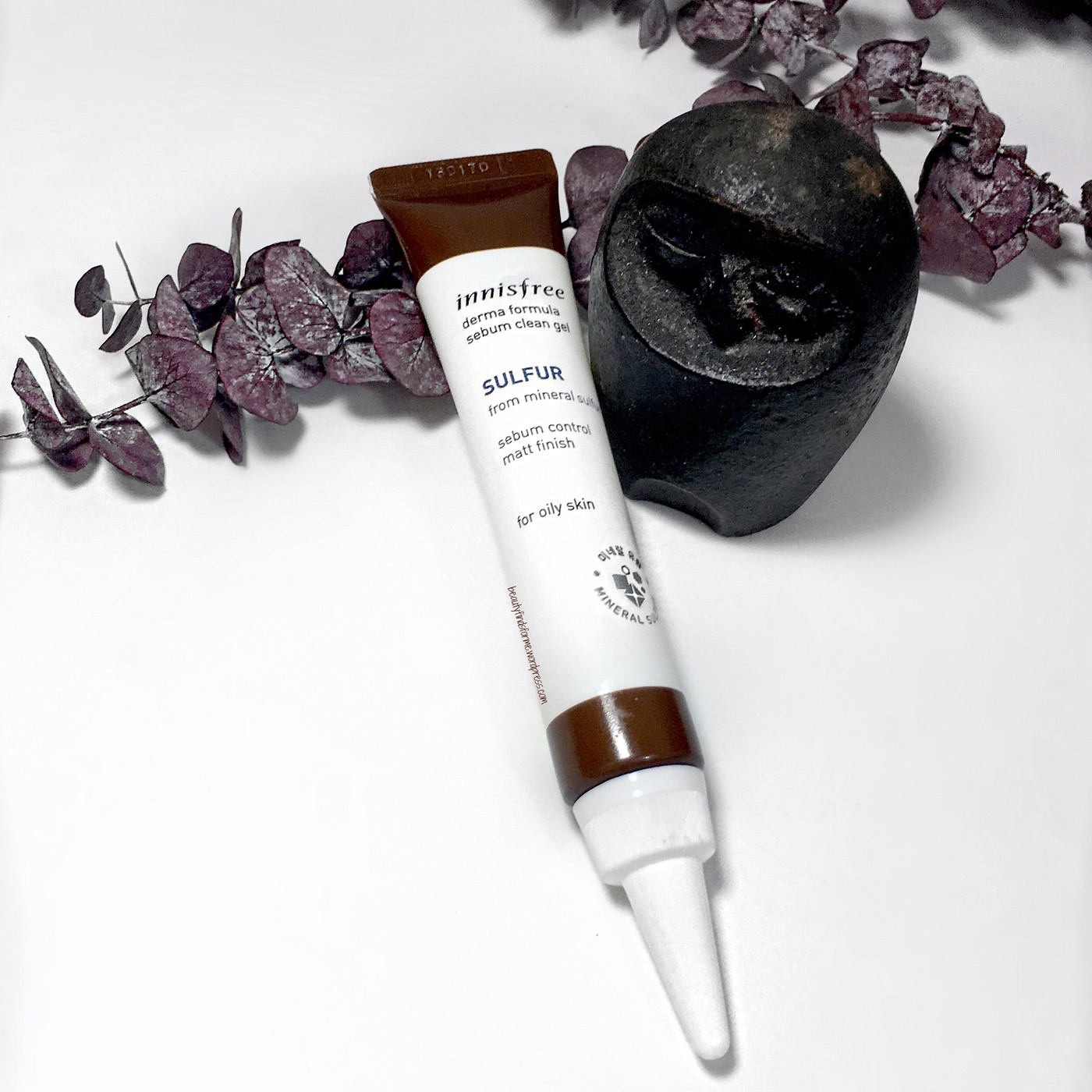 This is a great alternative to using my sulfur clay masks as a spot treatment!  Those are great, but they really dried my skin out and would also cause redness and sometimes burn my skin, as they didn't contain a lot of soothing, calming ingredients.  This gel cream not only zaps my zits, but also soothes and calms them.   I liked how it worked on zits-to-be ~ it brought them to head, but as those baby white heads that are so easy to get rid off ~ I just use a powder facial wash and they are gone!  This DOES dry out your skin if you use it for several nights in a row, so make sure you hydrate and moisture your skin.  Innisfree Derma Formula Sebum Clean Gel is a product that should be used AS needed, not as a preventative measure.  I didn't expect this product to be THIS powerful, but it is.  I totally recommend this gel to any oily, blemish prone person who really needs to dry out their pimples quickly without irritation.  
Jolse carries this 30 mL tube of Derma Formula Sebum Clean  Gel for under $15.00 USD (click here to purchase).  All prices will fluctuate slightly due to the Korean Won/USD conversion.  Jolse has free shipping all the time, ships internationally and gives out free samples.  Jolse also carries the full line of Derma Formula as well and this is a series that I am going to be keenly interested in!  How about you?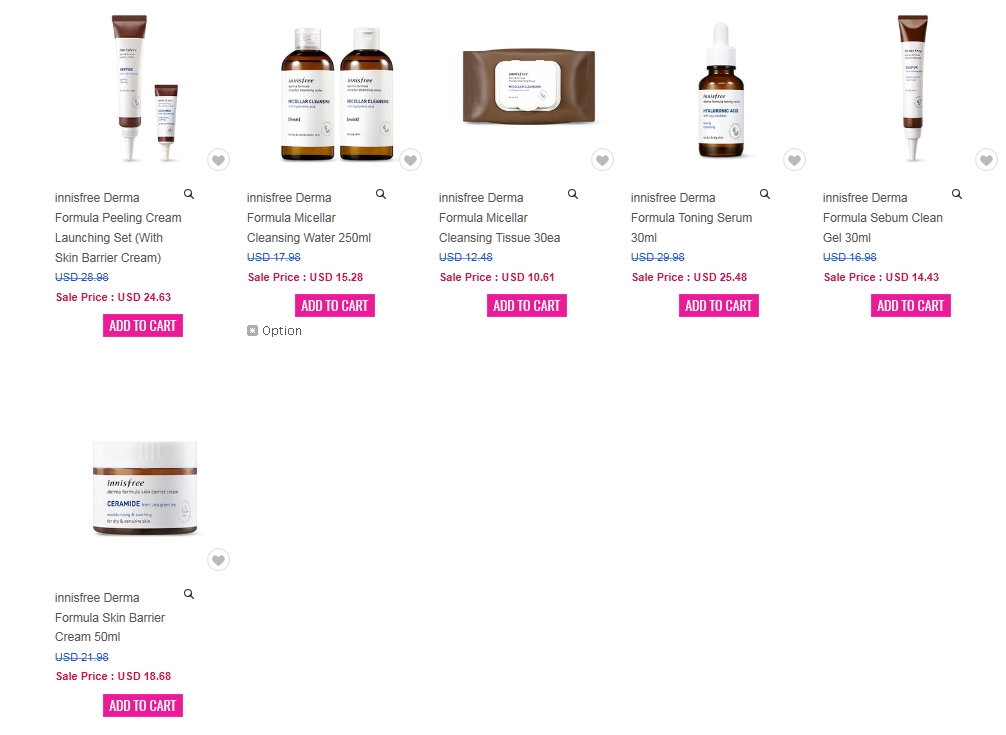 disclaimer: this product was sent to me for review purposes. all opinions are my own and are unbiased