The New Year!! Plus freezing temperatures, bad falls on black ice and skincare products freezing. Let's see what Nourish Beauty Box brought me this month ~ Nourish Beauty Box is an eco-friendly and organic products with some bold makeup items as well as skincare!  I have basically given up on Sephora and Birchbox for now ~ this is 3 times the cost as those boxes, but I find I am more happy with the curation of this box.

Nourish Beauty Box will contain four full sized eco-friendly, vegan, paraben free, cruelty free and organic bio-natural skincare and makeup products monthly.  Three of the brands are mainstays in the box ~ Nourish Nails (house brand for nailpolish), Peony Cosmetics and Seraphine Botanicals. The boxes start out at $29.95 and can be as low as $26.65/monthly for a 6 month subscription.  I recommend for USA addresses to use this link here for the $29.95 as it includes shipping.  For International readers, use this link instead, as it is less expensive that on their main site ~ free International shipping at $34.95/monthly.  I am not sure why they have two different price settings, but hey, you save a couple of dollars using that alternate link.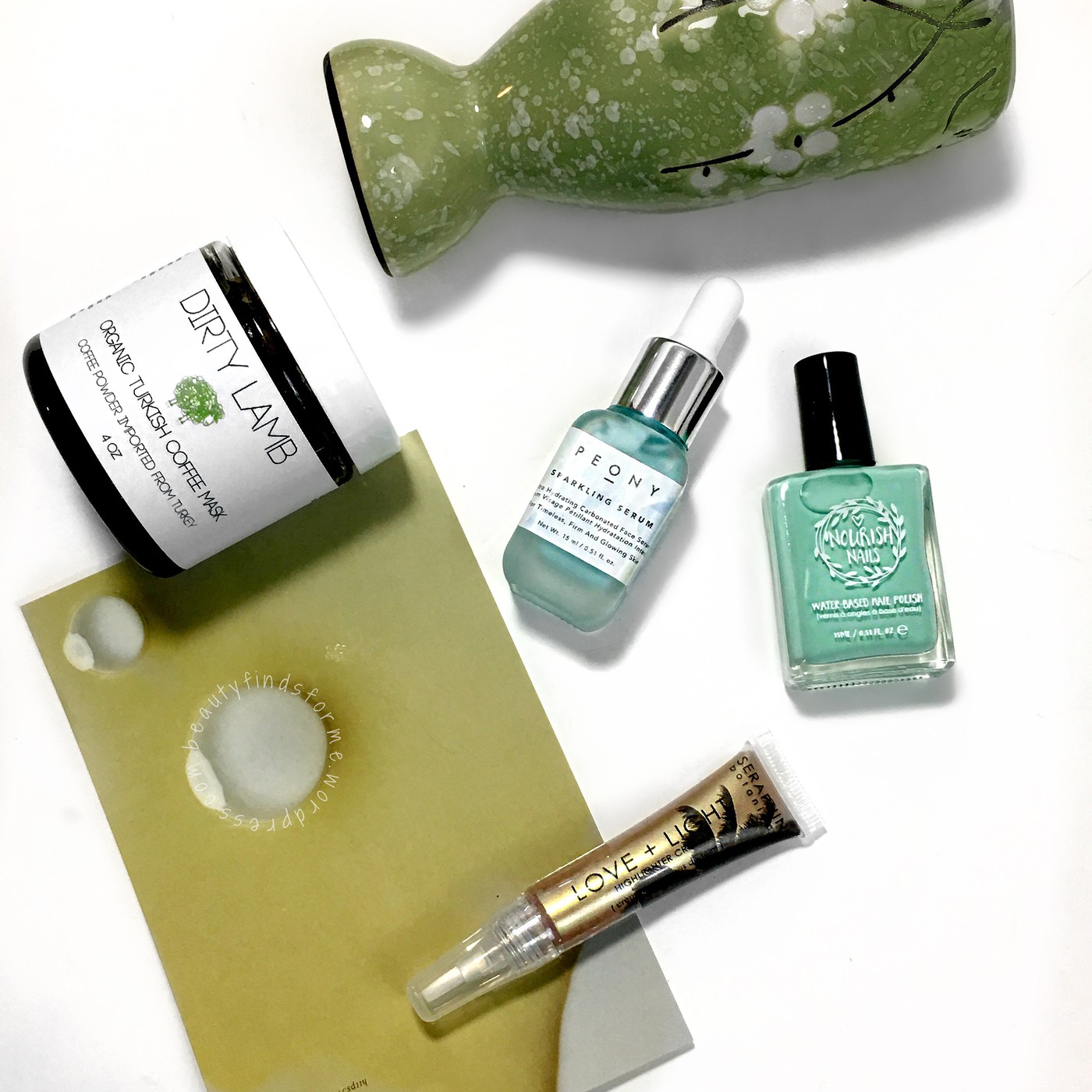 Informational Card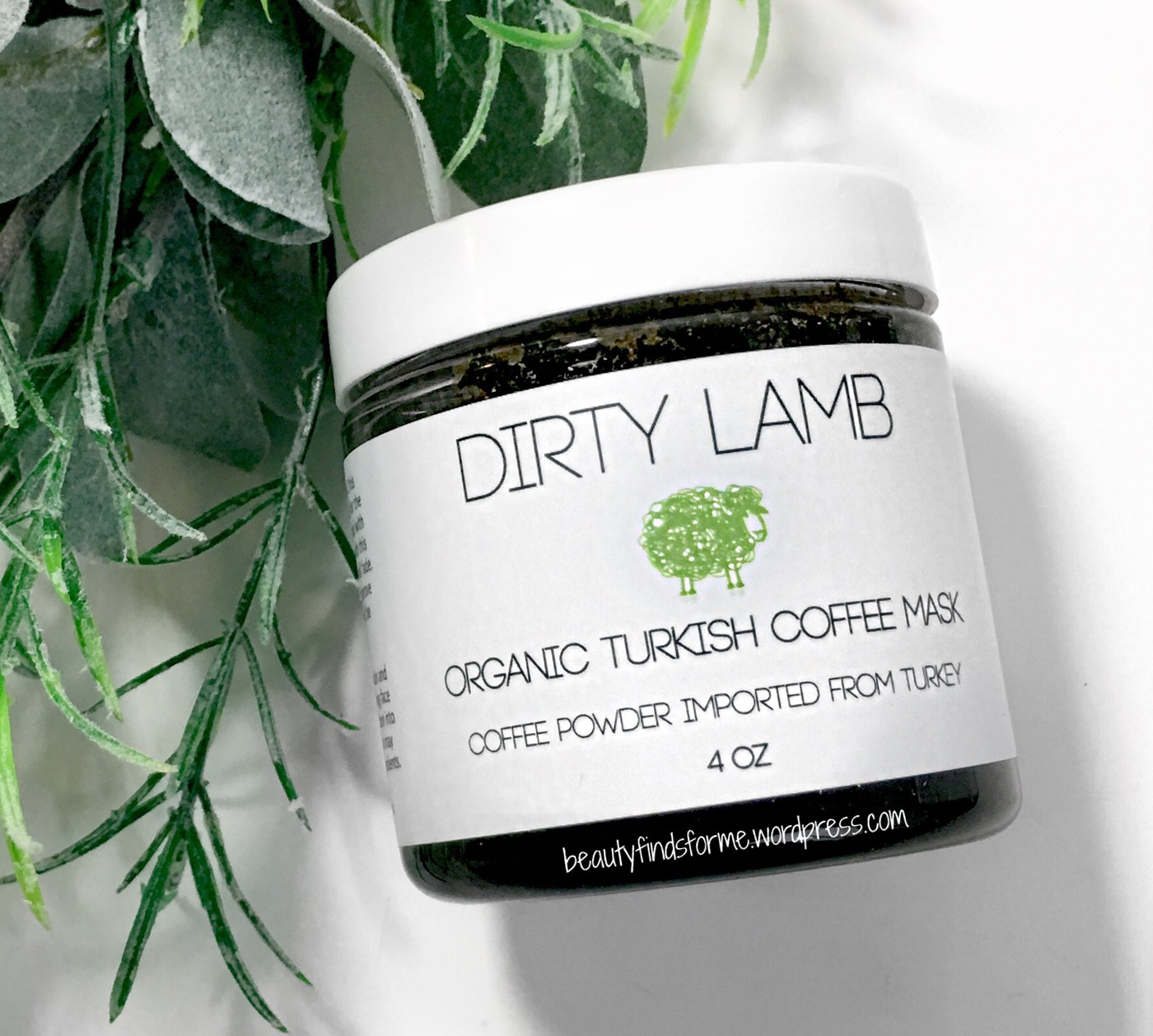 Dirty Lamb Organic Turkish Coffee Face Mask  To beat the winter blahs and start glowing again, this organic coffee mask, made with real Turkish coffee, cardamom, turmeric and mint not only wakes up my senses with its powerful coffee scent, but brings a glow to my skin.  This does have turmeric in it, which is great for oily, blemish prone skin as it is an antibacterial  to help heal your skin and it is full of antioxidant vitamin C to help with PIH (post inflammatory hyper-pigmentation ~ those red/purple scars you get from blemishes).   However, since turmeric can stain some skins yellow, do a swatch test first on your hand.  Coffee is a fantastic ingredient for scrubs, as it is a natural gentle exfoliator and it helps depuff and detox your skin.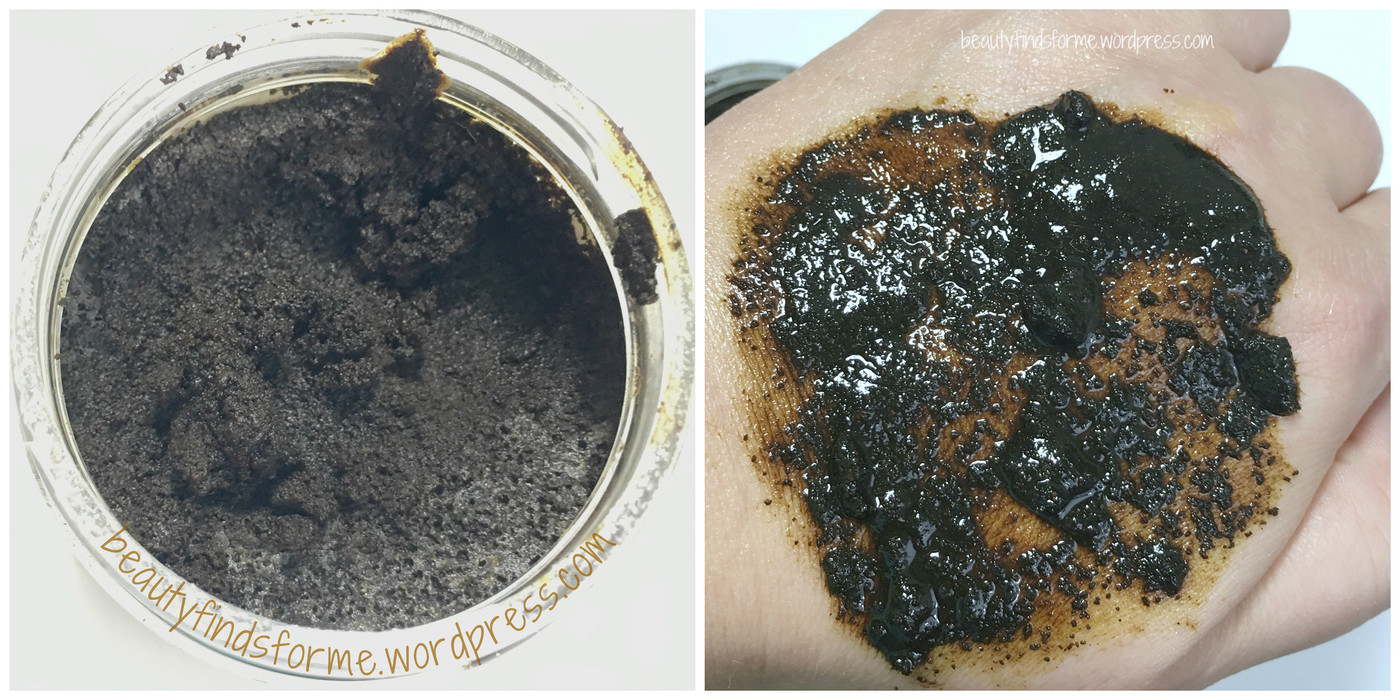 I used this already and basically, just add some to your face and/or body and leave on for 15 to 20 minutes.  Gently massage off the mask as you rinse off with warm water.  This mask really helps soften my skin as well as removing dead skin cells and smoothing.  Since this is made with 100% organic coconut oil, it can harden ~ just run the sealed jar under warm water to soften.    This is organic, cruelty free, vegan and unisex!  4 oz RV $44.00
Ingredients: Organic Turkish Coffee Powder, Cardamom, Turmeric Powder, Organic Coconut Oil, & Dried Mint Leaves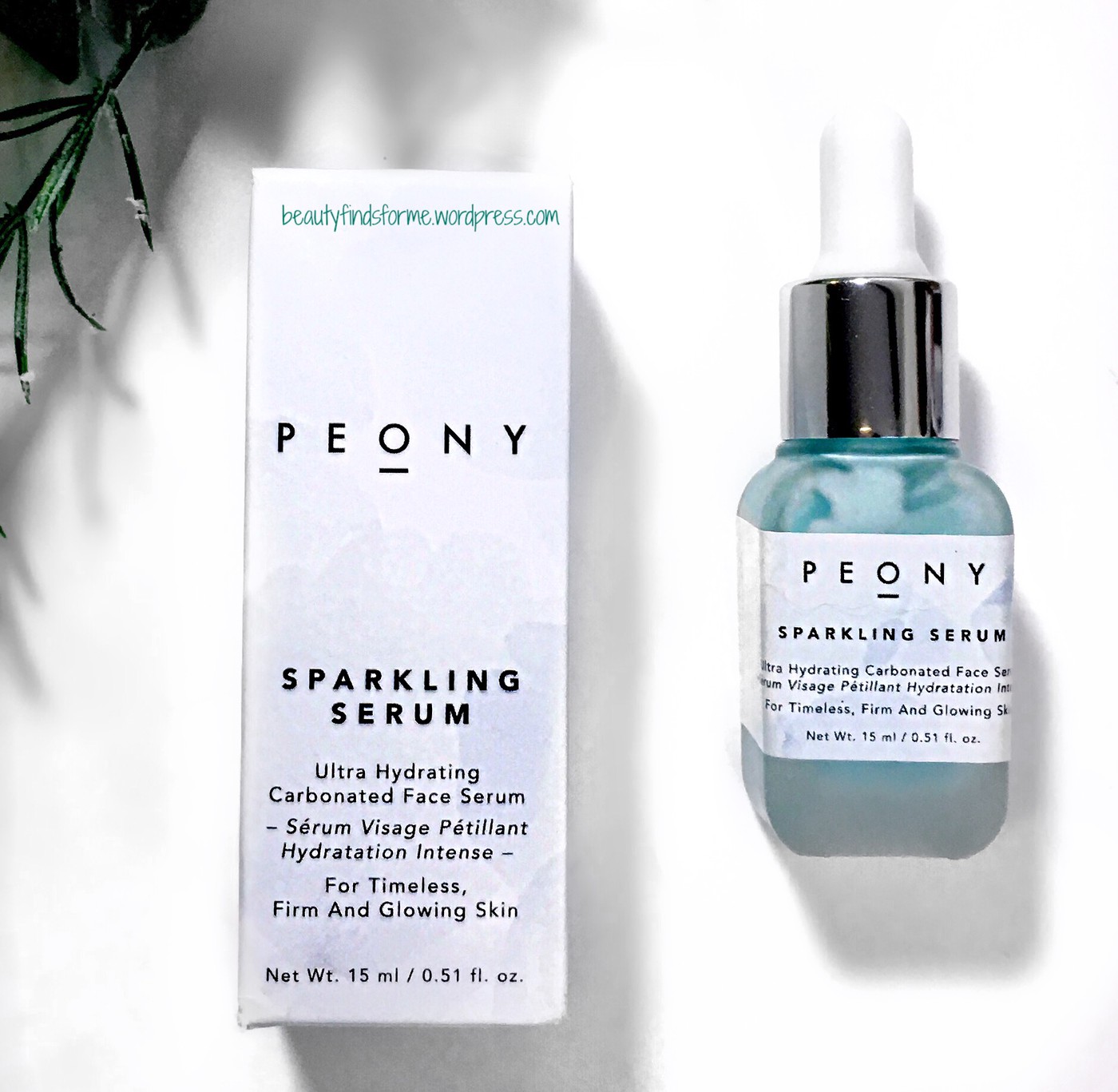 Peony Cosmetics Sparkling Serum – Ultra Hydrating Carbonated Face Serum After exfoliating your skin, you need a nice skincare product to help moisturize your skin and keep it hydrated.  This serum was an item I had been looking at on Peony Cosmetic's website and I am glad I waited as it showed up in this month's box!  This is an ultra hydrating serum, made with carbonated spring water ~ according to the description, that will "help firm and tighten the surface of the skin by delivering vital oxygen to the deep tissue below."  Hmm, not sure why carbonated water would do that, I guess I should research that claim a bit.  However, this does have some really good ingredients in it, such as sweet almond oil, which is very nutrient dense and helps repair your skin, while providing silky smooth skin.  It is a light oil and it contains oleic and linoleic fatty acids, vitamins A, E and B. This also has safflower oil, which is an ancient medicinal remedy and contains oleic and linoleic acids, helping protect and moisture your skin, as well as containing  anti-inflammatory benefits ~ protecting your skin from high level of toxins and bacteria.

Rice bran oil is obtained when rice is polished and it comes from the hard outer layer of the rice seed and contains 15 to 20 percent oil.  It has a vast amount of lipids and  contains phytic acid, squalene, vitamin E, phytosterols and ferulic acids, which help eradicate free radicals and it contains 44% of Omega 6 and 2% Omega 3 essential fatty acids,  which help reduce inflammation.  [ research on rice oils from Beauty Review ]

The color is amazing ~ it is a bright robin's egg blue and has a sweet floral scent that isn't unpleasant at all ~ but it is a strong scent.  For some reason, I thought this serum would be watery ~ maybe because the water was part of its name ~ but it is a thick serum.  In fact, I would call this a lotion and the eye drop applicator is ill suited to this product.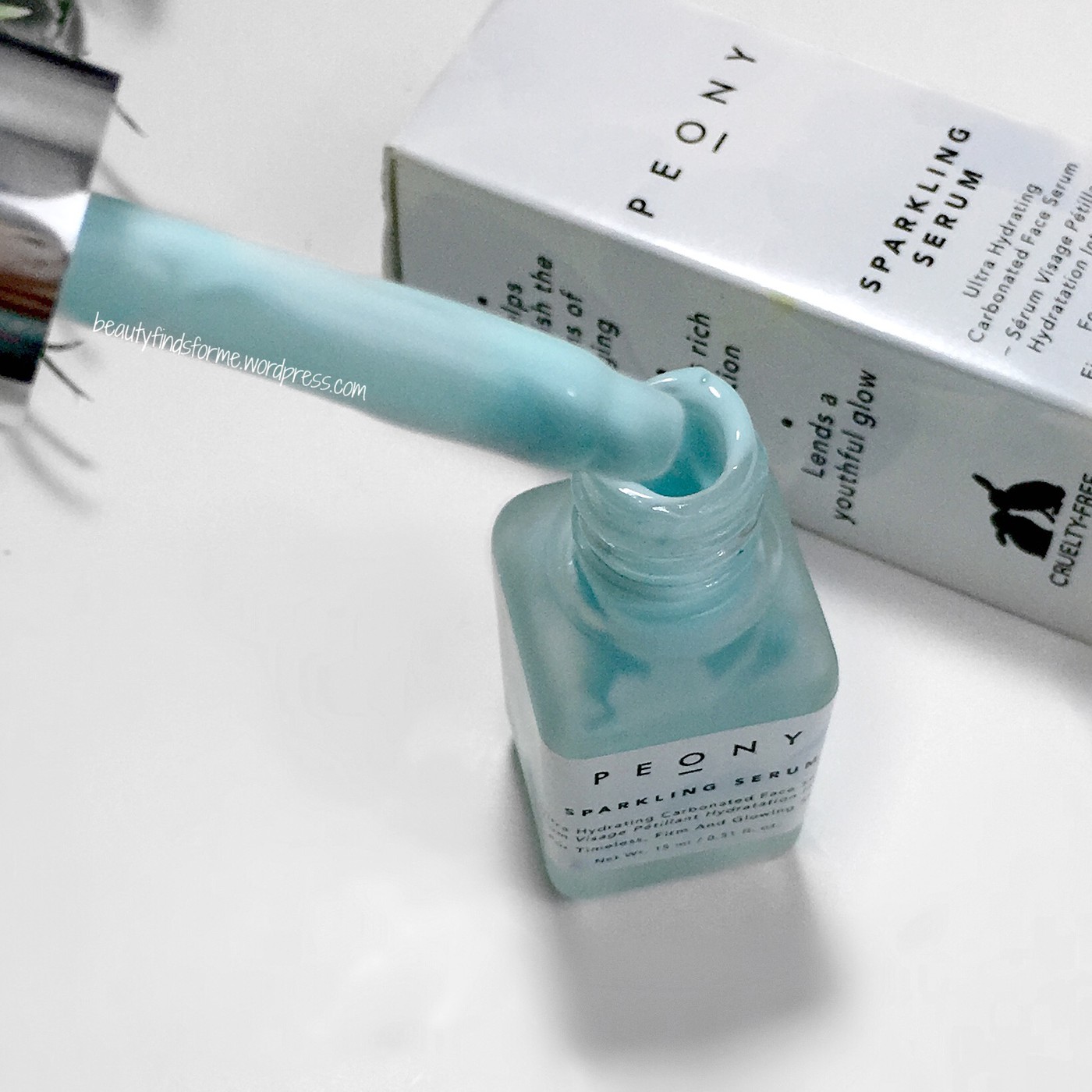 It should have been a pump applicator as it is so thick.  I probably will decant this into another bottle as it is hard to get out of the beautifully rectangular shaped frosted glass bottle. This serum/lotion is very moisturizing and I will use it at night time, as it does leave a dewy finish ~ but not sticky!! I also have been using this on my neck and décolleté as those areas need some rich hydration too!  If you have dry skin, you could use this during the day, but my oily skin won't appreciate the shine.  Peony Cosmetic products are eco-friendly, vegan, natural, gluten free and cruelty free.  15 mL RV $25.00
Vegetable-Derived  Natural 
Ingredients: carbonated water, aloe barbadensis (aloe vera) leaf juice, glycerin, carbomer, sodium hydroxide, tetrasodium EDTA, citric acid,  potassium sorbate, sodium benzoate, caprylyl glycol, carthamus tinctorius (safflower) oil, oryza sativa (rice) bran oil, prunus amygdalus dulcis (sweet almond) oil, laureth-4, isopropyl myristate, fragrance,  phenethyl alcohol [+/- (may contain)  mica, titanium dioxide (CI 77891), iron oxides (CI 77491, CI 77492, CI 7499), acid blue 9 (CI 42090), chlorophyllin-copper complex (CI 75810)]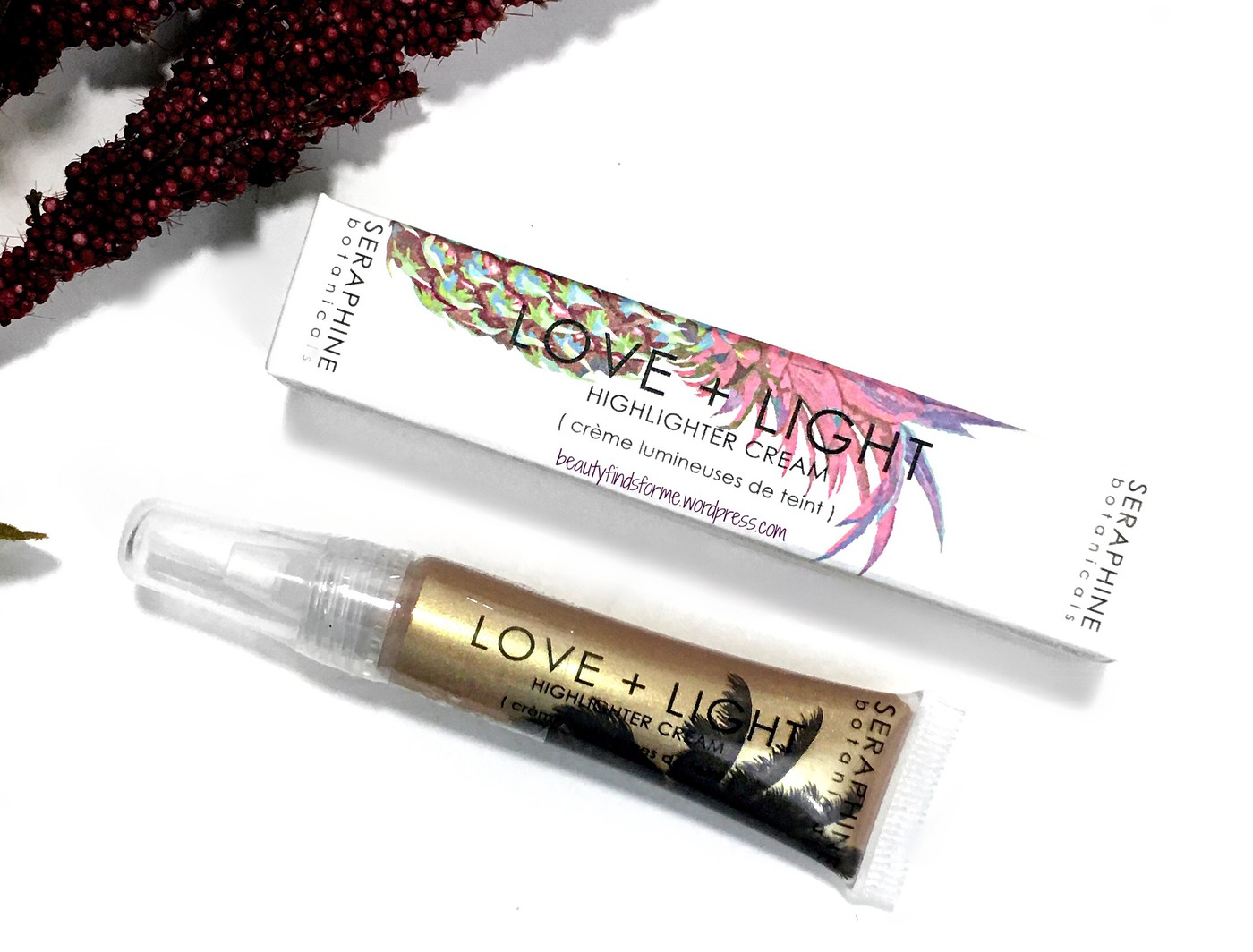 Seraphine Botanicals Love + Light – Highlighter Cream in "Veil"  Seraphine Botanicals has the prettest boxes and I hate TO THROW THEM OUT.  I might have to scrapbook the boxes (lol).  To finish off your glow, Nourish Beauty Box added a cream highlighter in the most amazing antique gold shade.  It is made with persimmon extracts for brightening, full of antioxidant vitamins A and E, along with  coconut oil for moisturize and hydration, so it's good for your skin too. 

This cream can be used to mix in foundations, facial creams and serums to add a gentle radiance and golden tone to your skin or you can use it by itself as a highlighter ~ it has a brush tip head, so you can control where you to apply the product.  I think this would be good as a lip highlighter and if it dries down nicely, as an eye shadow highlighter too.  It is VERY golden ~ they also make one in silver, which would have been more fitting for winter time, but gold works too ~ and a little goes a long way.  This cream highlighter is vegan and is free from mineral oils, gluten, phthalates, parabens and is hypoallergenic and non-comedogenic.  It is also cruelty free.  .27 oz RV $25.00
Vegetable-Derived  Natural 
Ingredients: isododecane, ethylhexyl palmitate, caprylic/capric triglyceride*, silica**, kaolin**, hydrogenated styrene/isoprene copolymer, silica dimethyl silylate, diospyros kaki (persimmon) fruit extract, cocos nucifera (coconut) oil, sorbic acid (acidum sorbicum)  [+/- (may contain) mica, titanium dioxide (CI 77891), iron oxides (CI 77491, CI 77492, CI 77499), D&C red no. 7 ca lake (CI 15850)]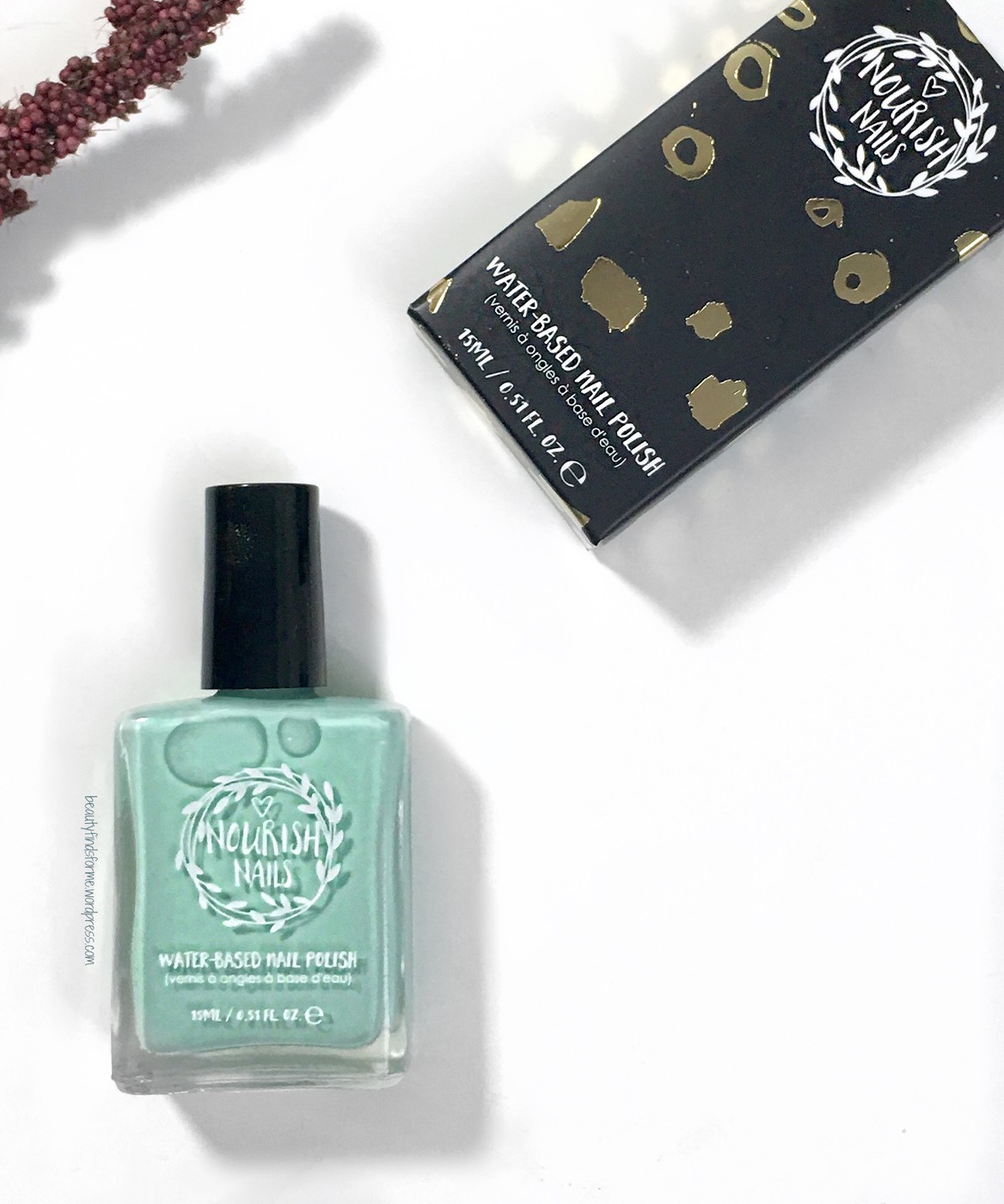 Nourish Nails in "Like A Queen"  Every month, Nourish Beauty Box will include one of their own products  ~ Nourish Nails Polish.  Nourish Nails is an eco-friendly, vegan and natural water-based nail polish, formulated free of   formaldehyde, toluene, DBP, formaldehyde resin, parabens, xylene, camphor, mineral oil, phthalates, sodium lauryl sulfates, gluten, phenoxyethanol, lead, nitrocellulose, GMOs and animal-derived ingredients. One of the down sides  with water based nail polishes is that they tend to peel off my nails quickly.  I usually use both a base coat and top coat to handle that, but they do not last as long as other polishes.  I normally use water based polishes on my fingers, because I am a nail polish peeler and my manicures usually do not last that long normally.  I do not recommend water based nail polish for your toe nails.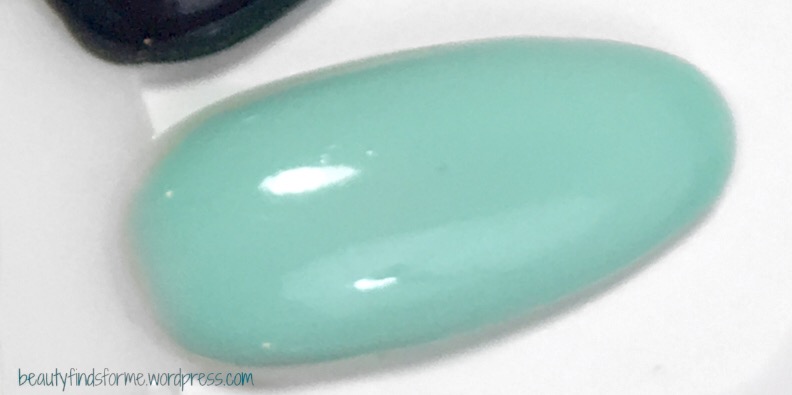 Now, I normally hate pastels, but I make an MAJOR exception when it comes in a beautiful creme aqua shade like this.  This is just beautiful and this color would also look stunning if you had darker skin.  Because I have light skin, I usually top shades like this with a bit of bold glitter ~ just a little ~ so my hands don't look too washed out.  I do love this shade and it is a lovely color that can work in the icy dead of winter and the cool spring breezes which one day will be here (soon, I hope).    15 mL  RV $12.50
Description: The ultimate, ultra gentle nail varnish formulation with a revolutionary water-based resin that creates a high shine coating that is both air and water permeable. This allows for oxygen and water to reach the nail bed to help nails stay healthy, stronger and to help reduce discoloration. The unique nourishing formulation provides a super high-shine coat, long-lasting color and a fast-drying finish.
Vegetable-Derived  Natural  
Ingredients: water, styrene/acrylates copolymer, acrylates copolymer, PPG-2 butyl ether, sorbic acid   [+/- (may contain) mica, titanium dioxide (CI 77891), iron oxides (CI 77491, CI 77492, CI 77499), manganese violet (CI 77742), blue 1 lake (Cl 42090), red 6 lake (Cl 15850), red 7 lake (Cl 15850), red 33 lake (Cl 17200), red 28 (CI 45410), yellow 5 lake (Cl 19140), yellow 6 lake (Cl 15985), red 40 lake (Cl 16035)]
Final Thoughts
I didn't mention that 3 out of the 4 items this month suffered greatly during its trip from Chicago to Boston.  When this box shipped out, it hit just as we were in freezing temps and a blizzard, so when I got my box, the highlighter had exploded, the serum was so thick and dried out and the scrub had hardened so badly that it was dried out ~ no amount of heating up the jar would soften the scrub.  That said, Nourish Beauty Box replaced all 3 items for me with no issues and I received them within a few days.  Excellent customer service!!  I loved this month's box ~ the nail polish is such an ice queen shade, the scrub is fantastic, love the serum cool color and how it feels on my skin and I even like the cream highlighter!!   I paid $29.95 and received a retail value of $111.50.  Now, I mentioned it before but I will say it again ~ This box is a bit more expensive than other beauty boxes, but it contains all full sized products and the quality is amazing.  Sometimes, it isn't about quantity, but quality and I also love that these items are items I haven't received before in a sub box.  I believe January's box is still available here  They do not have coupon or promo codes, alas, but I think that if you are looking for organic, eco-friendly products, I think this might be the box for you.