Sorry this unboxing is late!  February is a short month and I fell ill, so the month went by faster than I expected!  I always enjoy getting my Yogi Surprise Lifestyle box ~ even if you do not practice Yoga, this is a great eco-friendly, green lifestyle subscription box.  What is Yogi Surprise?   

Yogi Surprise Lifestyle Box
6-8 full-size yoga lifestyle items

Vegetarian and GMO-Free

$70+ retail value in every box

$44.95/month + free shipping
This month's theme is "Love Yourself"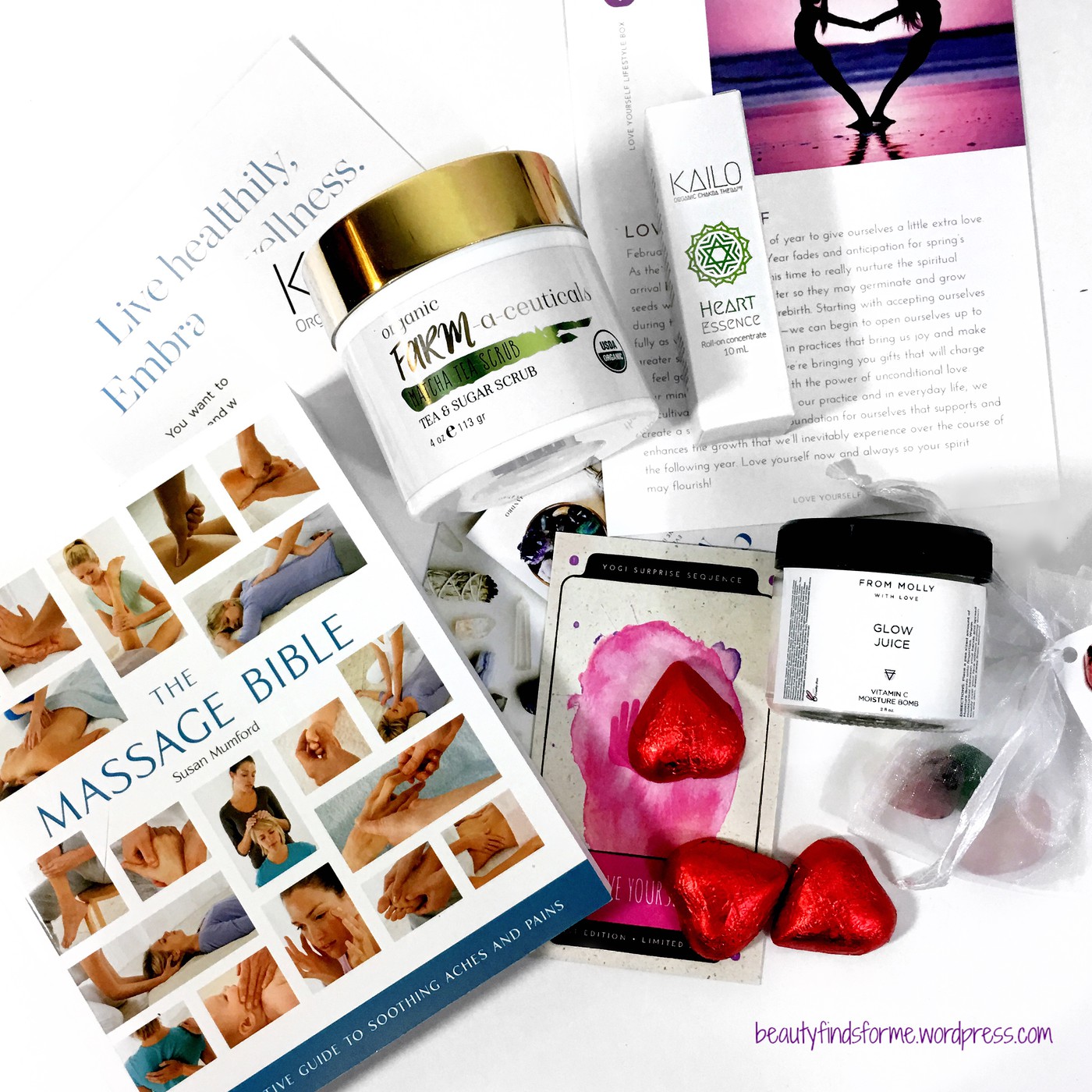 Informational Card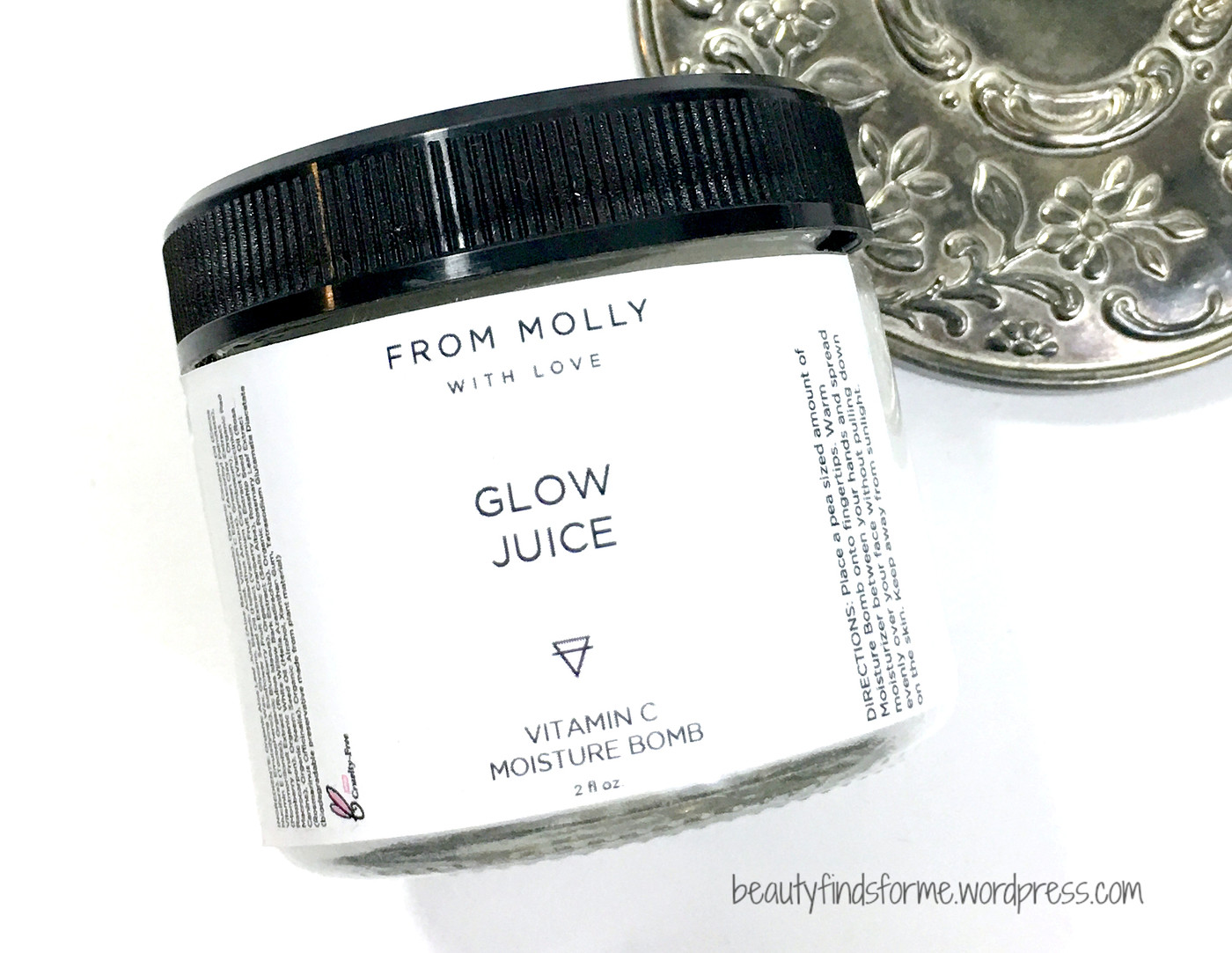 From Molly With Love Glow Juice Vitamin C Moisture Bomb  This is a lovely organic natural pH balanced facial cream that is packed with Vitamin C, aloe, essential fatty acids Omega 3 and 6 oils, willow bark and anti-aging antioxidant berry extracts.  This dense cream is actually not that heavy and smells wonderful, like oranges, and it will help brighten and even out your skin tone, help fade hyper pigmentation while firming and reducing the appearance of fine lines and wrinkles.  Alas, I break out with Vitamin C products like this, but I did gift this to my mom and SHE LOVES it.  She even stated that she wanted to try a Vitamin C cream and since she has such dry, thin skin, this is a nice cream for her face.  This is vegan, and free from parabens, phthalates and glutens.  2 oz RV $27.99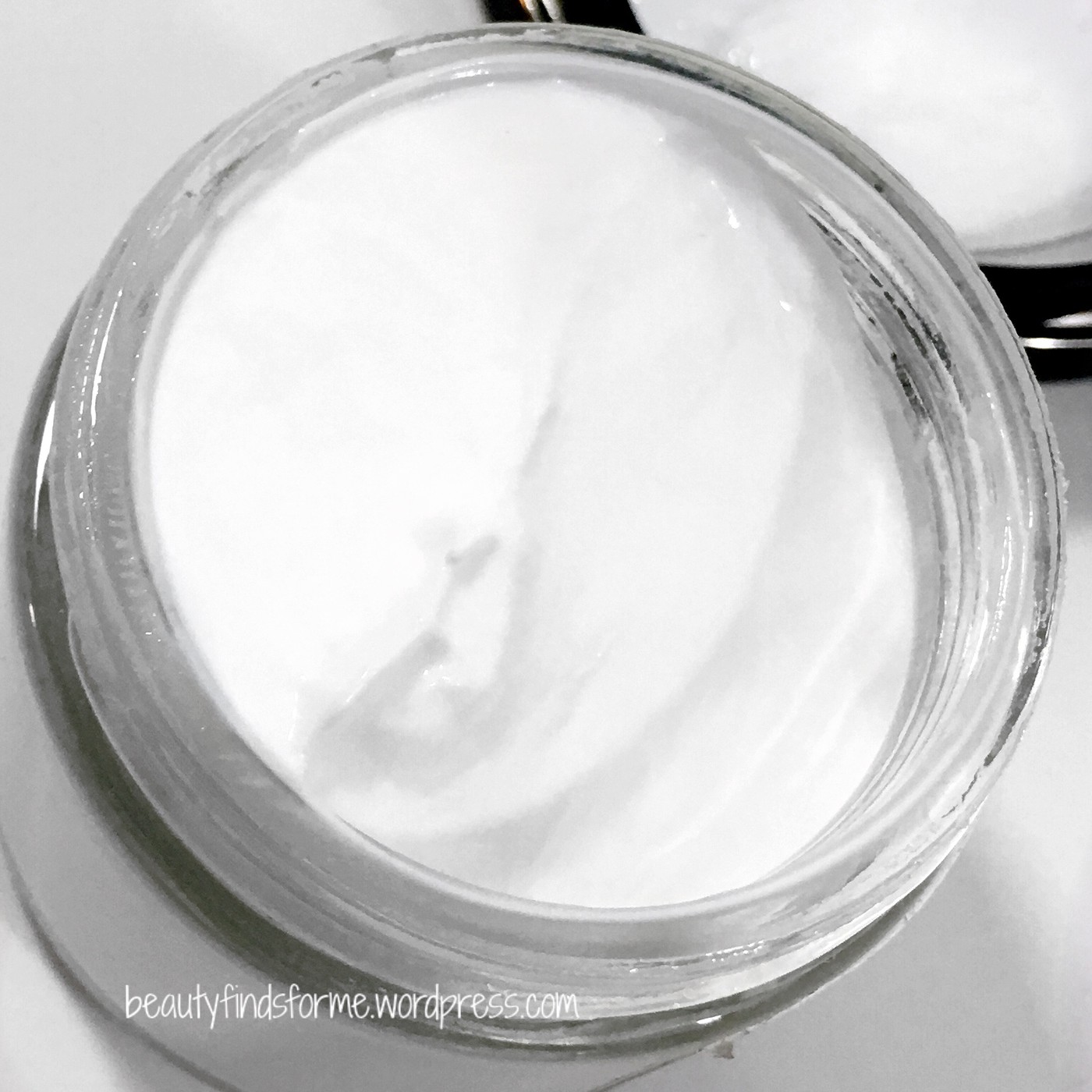 Ingredients: Organic Aloe Leaf Juice (Aloe Barbadensis), Organic Coconut Oil (Cocos Nucifera), Emulsifying Wax, Glycerin, Stearic Acid, Vitamin C Ester (Ascorbyl Palmitate), Vitamin E (Tocopherol), Sunflower Seed Oil (Helianthus Annuus), Green Clay Extract (Montmorillonite), Organic Blueberry Fruit Extract (Vaccinium Corymbosum), Organic Red Raspberry Fruit Extract (Rubus Idaeus), Organic Cranberry Fruit Extract (Vaccinium Macrocarpon), Organic White Willow Bark Extract (Salix Alba), Rosehip Seed Oil (Rosa Canina), Organic Neem Seed Oil (Melia Azadirachta), Organic Rosemary Leaf Extract (Rosmarinus Officinalis), Organic Alcohol, Xanthan Gum, Tetrasodium Glutamate Diacetate (biodegradable preservative made from plant material)  cosDNA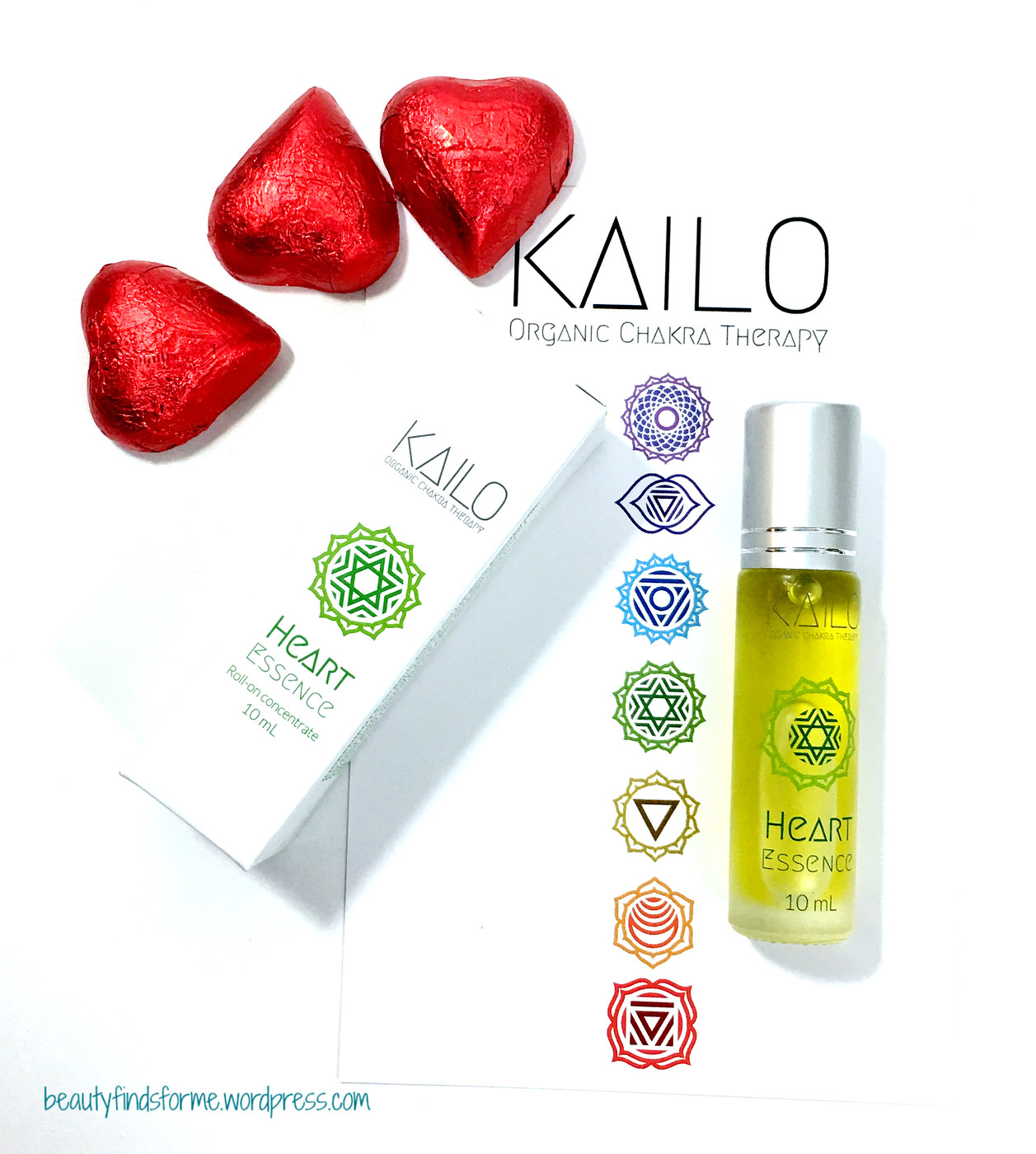 Lake Champlain Organic Dark Chocolate Hearts These are freshly made, all natural chocolates from Vermont.  They use local ingredients in their chocolates, like fresh-farm cream, honey, maple syrup.  These dark chocolates are Kosher, vegan, made only with cocoa mass, sugar, cocoa butter and vanilla.  These are wrapped in a candy-apple red foil and they are delicious!  3 chocolates RV $3.00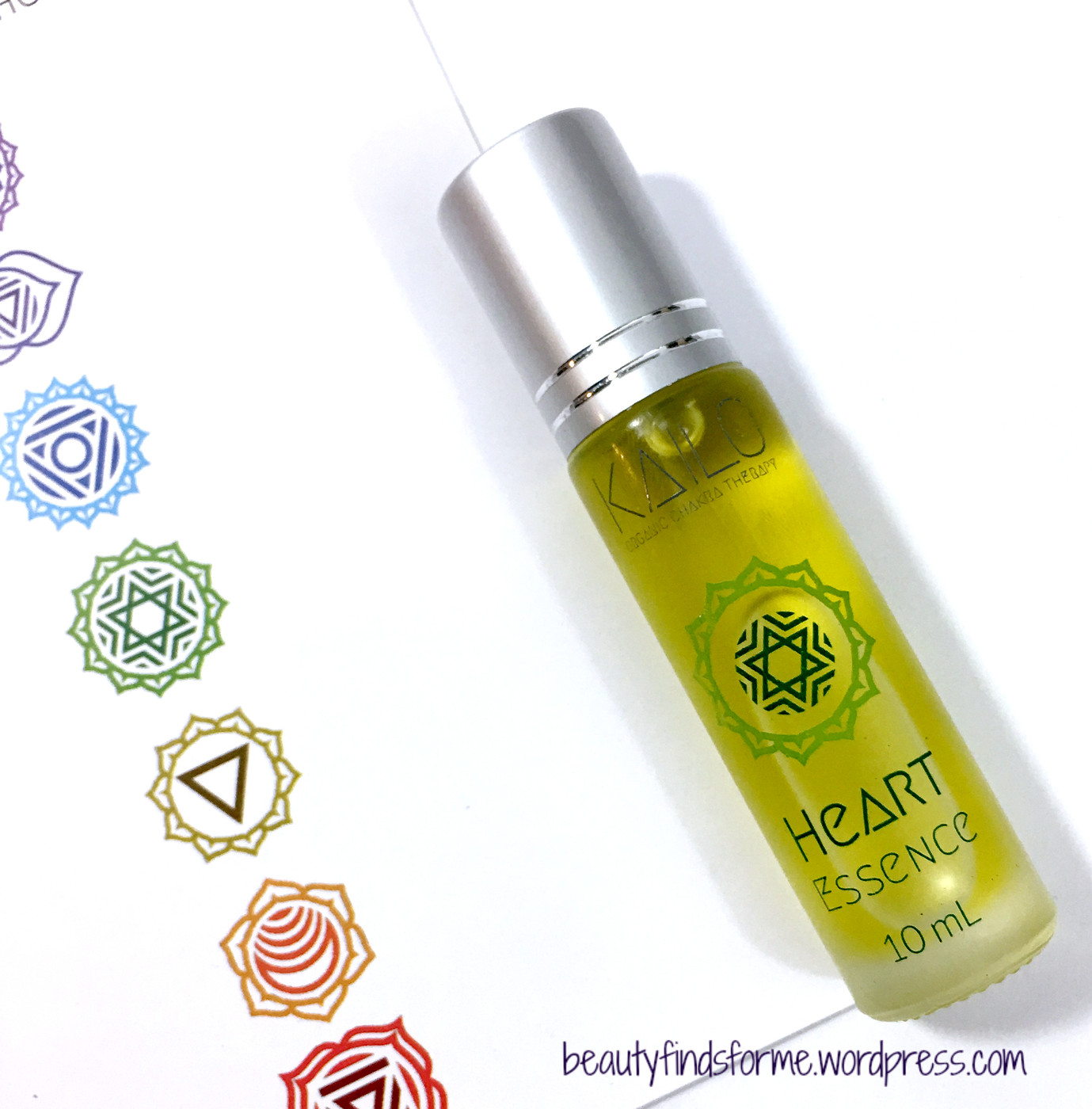 Kailo Wellness Heart Essence  This is a fantastic bright citrus herbal scented essential/perfume roll-on oil.  It is very concentrated and contains nourishing jojoba oil which is rich in minerals, vitamin E and antioxidants.  Jojoba oil is lightweight and non greasy and great for sensitive skin.  30 mL RV $42.00  Promo Code: Save 15% with code ChakraLove at Kailo Wellness
Description:  Combined with organic essential oils and energetic/vibrational infusions, this Essence will restore balance to the heart chakra, leaving you feeling full of love and compassion for self and others, peaceful, and empathetic. Our Heart Essence delivers highly effective aromatherapeutic and energetic medicine to the heart chakra by either opening it, clearing blockages within it, or taming it when excessively active.  For meditation purposes: Apply roll applicator to skin and move in a small circle. Breathe deeply, visualize the color green, and repeat to yourself either the bija mantra YAM and/or the affirmations.

High Vibration Infusions:: Crystal: Rose Quartz:: Color: Green:: Tibetan Singing Bowl Musical Note: F
Bija Mantra: YAM
Affirmations:  I love. I live a life full of love for myself and others. I make decisions based on love. I courageously love unconditionally.
Ingredients: Organic Unrefined Golden Jojoba Oil, Organic Bergamot Essential Oil, Organic Palmarosa Essential Oil, Organic Lavender Essential Oil, Organic Lemon Essential Oil, Organic Geranium Essential Oil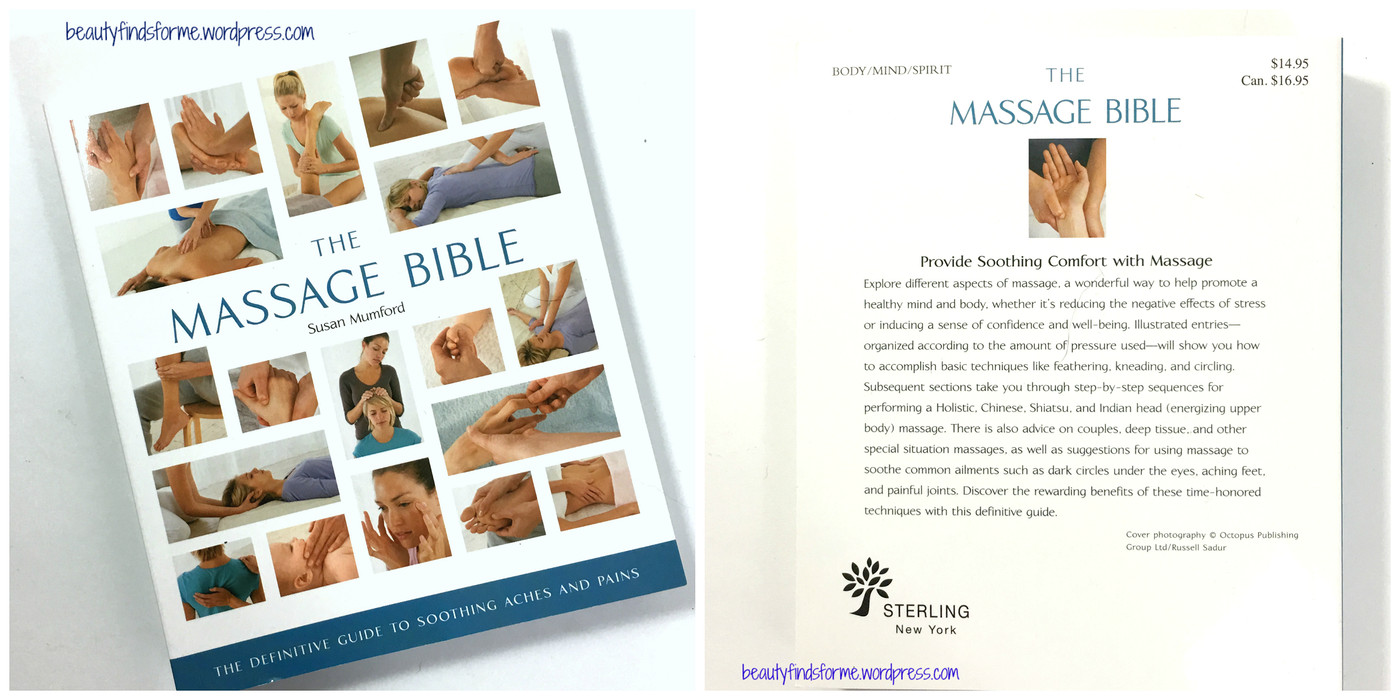 The Massage Bible by Susan Mumford WOWWOW This book has tons of massages from different techniques, from Chinese to Indian, Eastern and Western. It shows the basic techniques first, so that you can learn how to do massages properly.  It breaks down the sections, with photos and text guides ~ how much pressure to use, hand-body contact and how to do things like feathering the back, neck, scalp, arms and hands massages.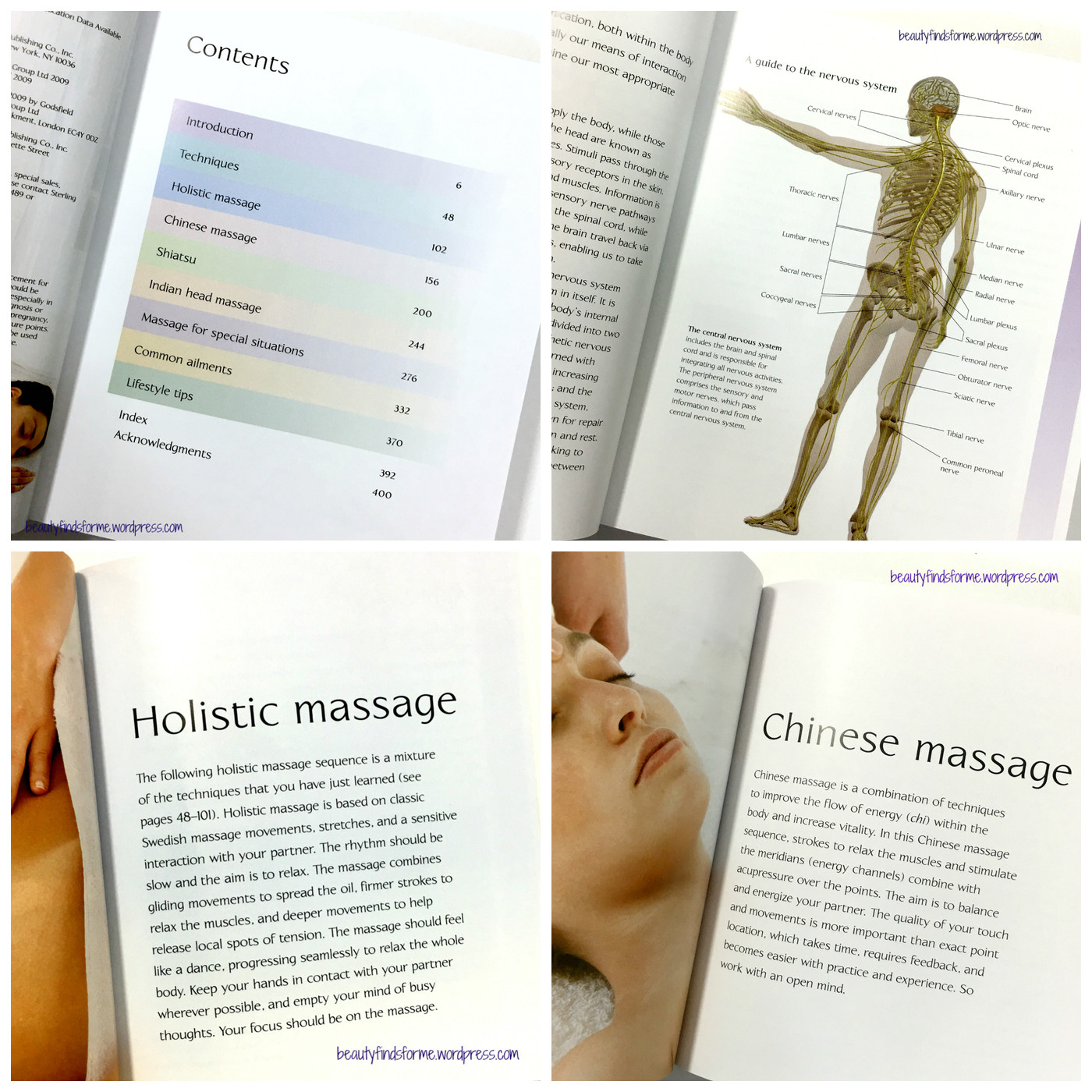 This book covers holistic and sports and even special massages for babies.  It also has lifestyle advice as well as a section on self massages.  I always suffer from neck and arm pain, so this is really handy to have!  RV $14.00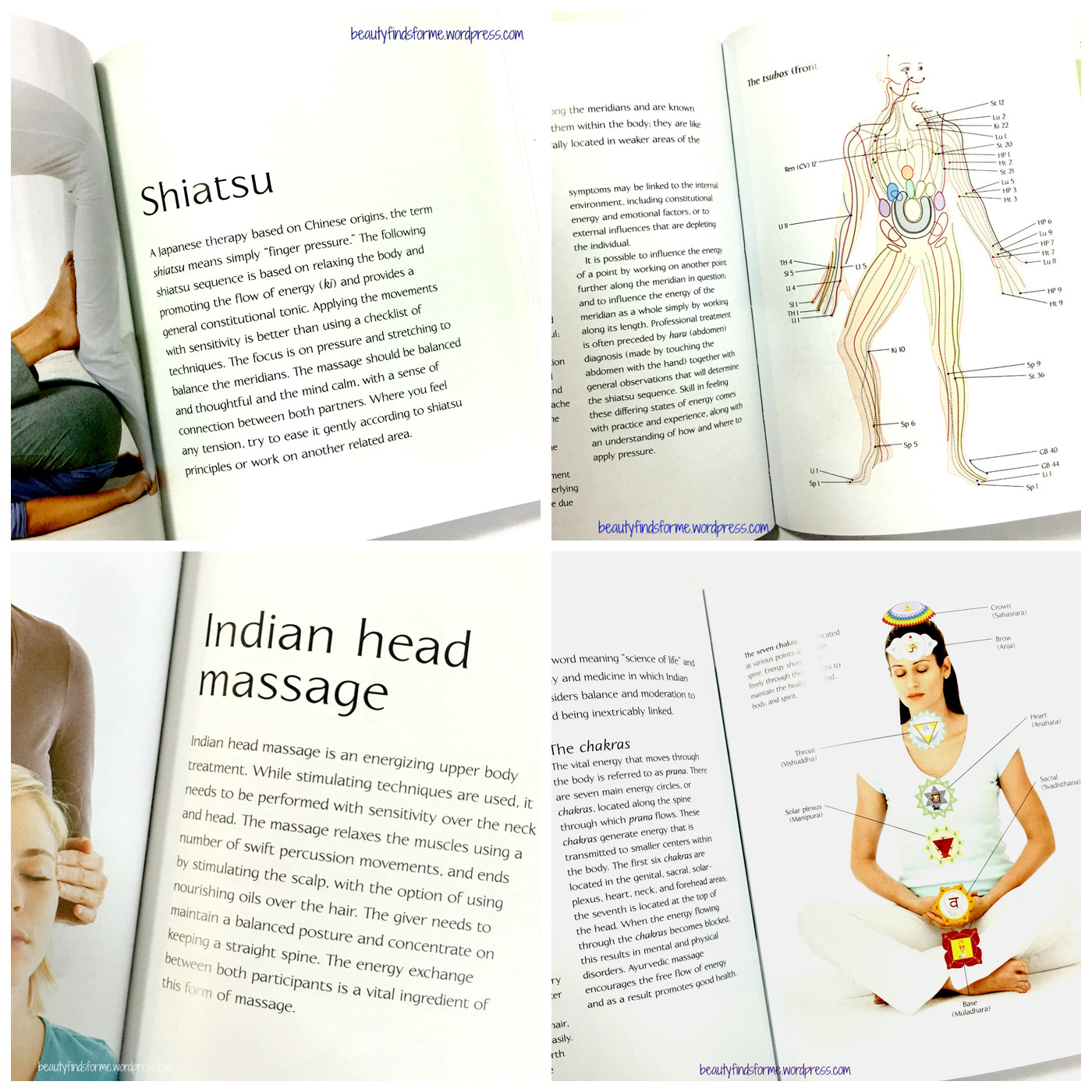 Balanced Guru Matcha Tea Scrub  OMG ~ I love the new packaging from Balanced Guru!! I always joke that their products are not Instagrammable and now they have gone and released a slick white packaging with green letter, gold lid.  I like this look!  I have tried their Matcha Tea Scrub and I really like it a lot ~ Balanced Guru is one of my favorite eco-friendly brands and their hair oil is a HG for me.  This doesn't smell too much like matcha, but more of a citrus herbal scent.  It is a sugar scrub, so it is gentle, but this is really for the body ~ it is a bit too harsh for the face as it is a "dry scrub" for the most part.  The oils in the scrub will be activated in the shower or when it gets wet, but for using as a facial scrub, I don't really recommend it.  This really helps smooth my arms and legs and doesn't leave any greasy residue on my skin!  4 oz RV $16.00
Ingredients: Sucrose*, Camellia sinensis (Green Tea) Matcha Powder*, Aloe Barbadensis (Aloe Vera) Leaf Juice*, Cocos Nucifera (Coconut) Oil*, Phasecolus Angularis (Adzuki) Seed Powder*, Vanilla Planifolia (Vanilla Bean) Extract*, Cinnamomum Burmannii (Cinnamon) Powder*, Maranta Arundinacea (Arrowroot) Root Powder*, Mentha Piperita (Peppermint) Oil*, Myristica Fragrans (Nutmeg) Powder*, Orbignya Oleifera (Babassu) Seed Oil*, Butyrospermum Parkii (Shea) Fruit Butter*, Theobroma Cacao (Cocoa) Butter*, Helianthus Annuus (Sunflower) Seed Oil*, Lecithin*, Cucurbita Pepo (Pumpkin) Seed Oil*, Mixed Tocopherols (Vitamin E), Simmondsia Chinensis (Jojoba) Seed Oil*, Corthellus Shiitake (Mushroom) Extract*   cosDNA Certified Organic Ingredients.
Energy Muse "Self Love" Stones Hmmm, I love getting crystals and stones, but these do not seem to be that great in quality or size, so I have a hard time with the price tag on this one ~ they should be bigger or better quality, imho.   There are 3 stones for self love ~ rose quartz for unconditional love, rhodinite for compassion and aventurine for opening your heart.  You would hold these stones in your hands and say "I am beautiful and radiate light from within" as your meditation mantra.  All Energy Muse pieces are cleansed and activated in their sacred healing room. RV $20.00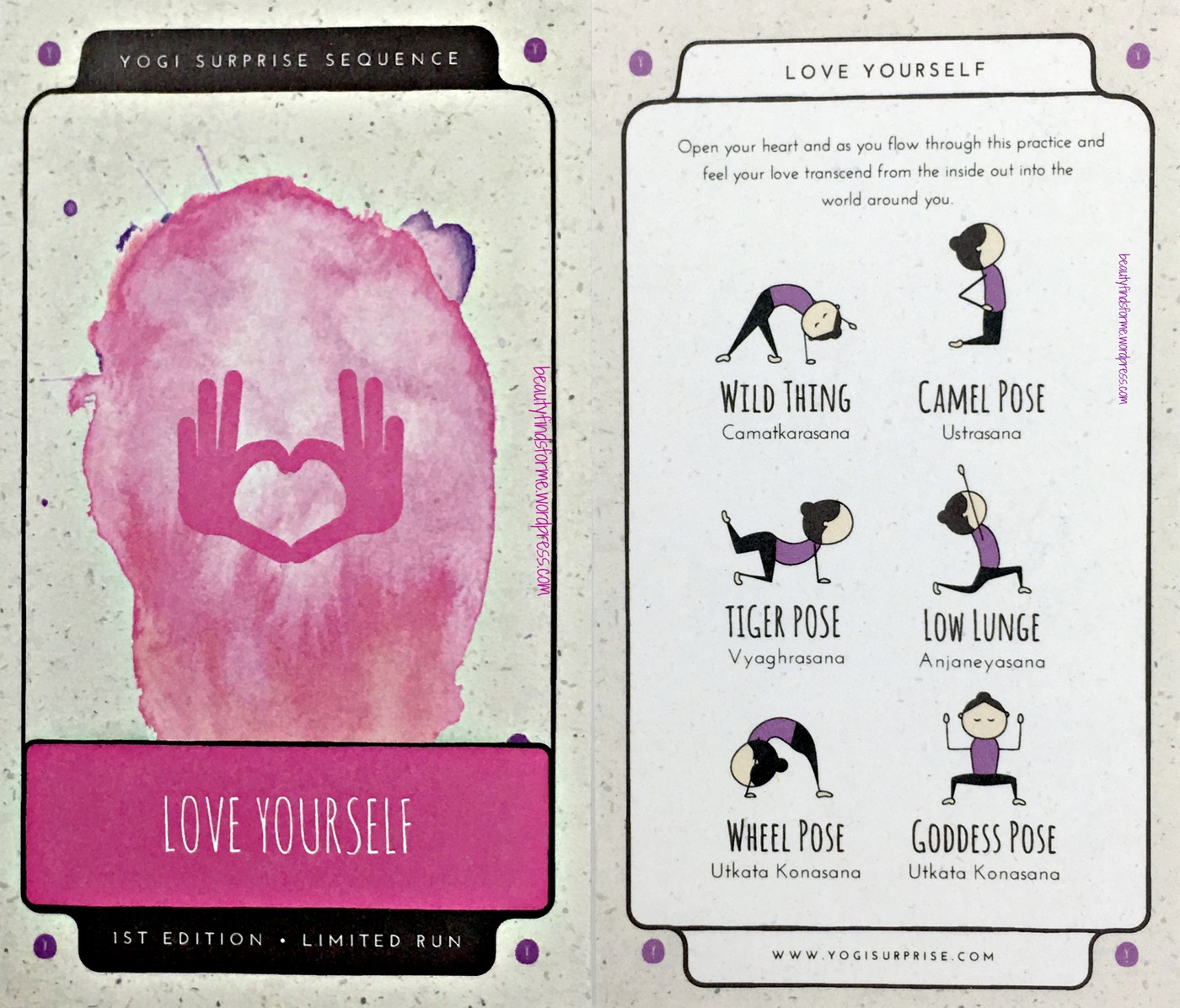 Bonus Item: Yogi Surprise Yoga Sequence Series Card:  Love Yourself ~ "Open your heart and as you flow through this practice and feel your love transcend from the inside out into the world around you."   Yogi Surprise always has a sequence card in every lifestyle box with poses and positions that reflect the theme of the box.

This month wasn't the best month from Yogi Surprise that I have gotten ~ the standout items are the Balanced Guru sugar scrub and Kailo Wellness aromatherapy roll-on oil.  I do like the massage book ~ I just wish there were more self massage techniques in there, but the rest of this box was a bit flat.   The cream was nice, but I couldn't use it and the tumbled stones were so not worth $20.00 ~ that is a rip off.  I wouldn't pay more than $10.00 for that trio.   However, there are some months that I LOVE EVERYTHING in the box, so I figure this evens out.   It isn't a bad box, I just was not wow'd with several items in it, so it felt a little light despite the higher retail value of almost $107.00   Do you subscribe to Yogi Surprise Lifestyle Box?  What was your favorite item this month?

If you are interested in signing up to Yogi Surprise for either their Lifestyle or Jewelry box, I would love it if you used my affiliate link  or save $10.00 of your first box with referral code REF3AQZHRS0OX.  Join and received free Chakra Healing Stones

Check out the spoilers for next month's boxes below!    If you sign up for the Lifestyle box, use YOGILOVE to get 15% off the life of your subscription! 
Next Month Spoilers
[ all descriptions in italics from linked website.  this blog post contains referral & affiliate links ]