[ disclosure: blog post contains press samples, affiliate links, referrals.  read more here ]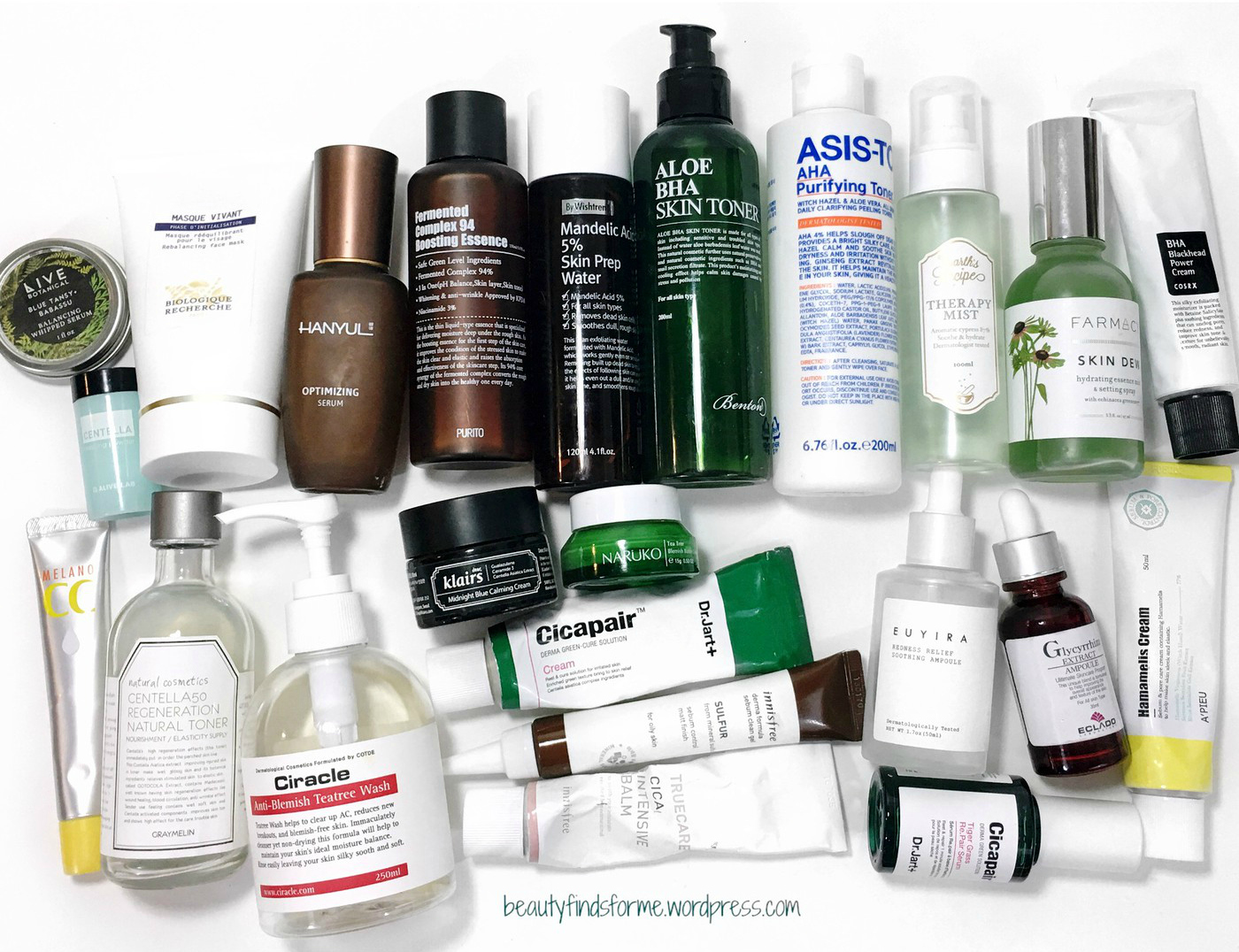 I had been wanting to write this blog post for a month now and I am finally getting around to it!! Back in November, I was testing out a product ~ Tia'm Aura Milk Face Peeling Toner (review)  and it broke  me out horribly.  I was still getting pimples even after I stopped using it.  To make matters worse, I got the flu and my skin just was so congested, greasy and pimple prone.  That product contained a deadly combination of ingredients that I have learned does not work for my skin ~ thankfully, as I blog failures as well as successes, I learned that the combination of betaine salicylate and glycolic acid is not a friend to my skin.  I thought it was just in balm form (chica y chico, 23 years old, simplistic skin), but it looks like I can get a bad reaction with certain combination of BHA's and AHA's as well. 
I also have the type of skin that scars very easily so my PIH (post inflammatory hyper-pigmentation) lingers on for a while ~ nice red or reddish purple spots and depending on the size of the zit, it can be quite overwhelming to look at.  Most of the time, a couple of products with normal hormonal breakouts or little white heads are all I need, but at times, I need something more.  I have listed some products below ~ some tried and true, some brand new but I feel are really promising ~ that I feel really help heal, soothe, reduce redness, swelling and lighten fresh PIH scarring for oily, blemish prone skin.
Some products can be used with combo/oily and some even for dry skin, as I think they are universal.  I am  not recommending that you use all of these products at the same time  ~ I certainly do not ~ but I like choices ~ different brands, ingredients, price ranges ~ and hopefully you will find this little-big guide helpful.  There are also some other great products that I didn't include in this list as I do not have them right now on hand  or I felt that this blog post was just getting to large ~ I didn't really want to talk about all the different oil controlling lotions, sleep packs and so on, as there are a lot out there.  I really wanted to target products to help you heal a rough, active patch of blemishes that WON'T GO AWAY and you need to repair your skin barrier STAT.
Purging:  Yes, I know what purging is and it happens with actives (BHA, vitamin C, AHA, etc)  However, if I break out in places that I never or rarely break out, that isn't purging to me ~ that is a reaction to ingredients.  If the purging continues for more than 4 weeks, I hang it up.  There are other products out there that do not cause this type of reaction to my skin and at my age, walking around with zits all over my face is not the look I am going for.
Some notations... I have reviewed several of these products fully and I will link the full review next to the product.  Press samples are notated with an * and if I plan to review a new product fully, I will say so.  If there is a product that I don't mention a review on and you would like one, let me know in the comments!!  Products marked as HG Status means I have purchased these multiple times and highly recommend them.  All ingredients are listed at the very end of this blog post.
If I cannot find any distributor outside of Korea, I recommend using a shipping service such as Korean Buddy.  I will post more on that at the end of the review
Ingredients
As always, know your skin.  What works for me may not work for you, which is why I post the full list of ingredients at the end of the blog post, so you can judge for yourself.
Tree Tree:  Known for its topical antiseptic and anti-fungal properties and help target and treat blemish-prone skin.  It also reduces oil and sebum production on your skin, while not disrupting the moisture level.
Centella: Also known as Tiger Grass, as tigers would roll in patches of centella to help heal their wounds.  Common herbal ingredient that is used medicinally to help speed up wound healing, such as blemishes and skin rashes.  It also helps minimize the appearance of pores, and since it stimulates collagen production, it will make your skin more supple and firm. There are also concentrated derivatives of centella as well ~  asiaticoside, asiatic acid, madecassic acid and madecassoisise.
Sulfur: A blemish busting ingredient that will dry up and heal blemishes and has antibiotic and anti fungal benefits. It helps purify and disinfect your skin
AHA (alpha hydroxy acids):  Mainly derived from fruit and milk sugars ~ these are the most common using natural sources:   glycolic acid (sugar cane), lactic acid (milk), malic acid (apples, pears), citric acid (oranges, lemons), tartaric acid (grapes).  The two acids that can penetrate deeper into your skin layers are lactic and glycolic acids. You want an acidity of 3 to 4, with a 5 to 8 percent concentration of AHA.  The AHA ingredient should be one of the top 3 ingredients in the list and since AHA's need time to absorb into your skin, you should not really bother with products that will be rinsed off, like cleansers.  You should pick AHA's if your skin is not prone to breakouts or you really want to lighten hyper-pigmentation and tone and firm your skin, as they can stimulate collagen and elastic production in your skin.
BHA (beta hydroxy acids):   Salicylic acid ~ which most natural products get it from willow bark.   BHA needs a lower concentration, around 1 to 2 percent, and should have a pH level between 3 and 4 to work effectively.  Also, BHA ingredients should be in the lower half of the ingredient list.   BHA's are usually less irritating than AHA's and unlike AHA's, BHA' are lipid/oil soluble, which means they can dissolve in fats and penetrate sebum filled pores much better than AHA's.   BHA's are best for oily skin and blemished skin.  If you have combination oily/normal, you can use BHA's, barring any sensitivities.
Retinol: A derivative of vitamin A.  Retinol is an active and it helps promotes cellular turnover and I have used Retin-A, a prescription strength version, years ago and it really helped with my blemishes.  Its other side effect that makes this ingredient so wonderful, is it will help lighten PIH, age/sun-damage hyper-pigmentation and reduce fine lines and wrinkles, while making your skin smooth.  Retinol can cause photosensitivity, so only use at night-time and wear sunscreen during the daytime.    
Vitamin C: A fantastic anti-oxidant, healer and brightening of skin, that makes me break out like crazy if that is the sole purpose of the product.  With one exceptional product.

Licorice:  A skin brightening ingredient as well as reducing flaking and smoothing your skin. It is also an anti-irritant and anti-inflammatory, so it soothes and calms the skin.
Ferments: Fermented yeast filtrates are highly moisturizing as well as being a powerful anti-oxidant.  They help fight free radicals and reverse and slow down the aging process in your skin, by reducing the appearance of existing fine lines and wrinkles while preventing new ones and also by brightening and evening out your skin tone by fading hyper pigmentation spots.  It also controls celluar turnover and oiliness. As the molecules are smaller with fermented ingredients, it can penetrate more easily and deeper into your skin, delivering the nutritional benefits faster.   FTE (First Treatment Essence) have a lot of ferments in them.
Alcohol:  This is not necessarily bad for your oily skin ~ if the product has a lot of emollients and humectants in it, it probably is fine.  Alcohol really cuts through oil and grease ~ don't use it alone, however.  Make sure the product has a good formula and if you are really sensitive to it, stay away from it.
Cleanser & Mask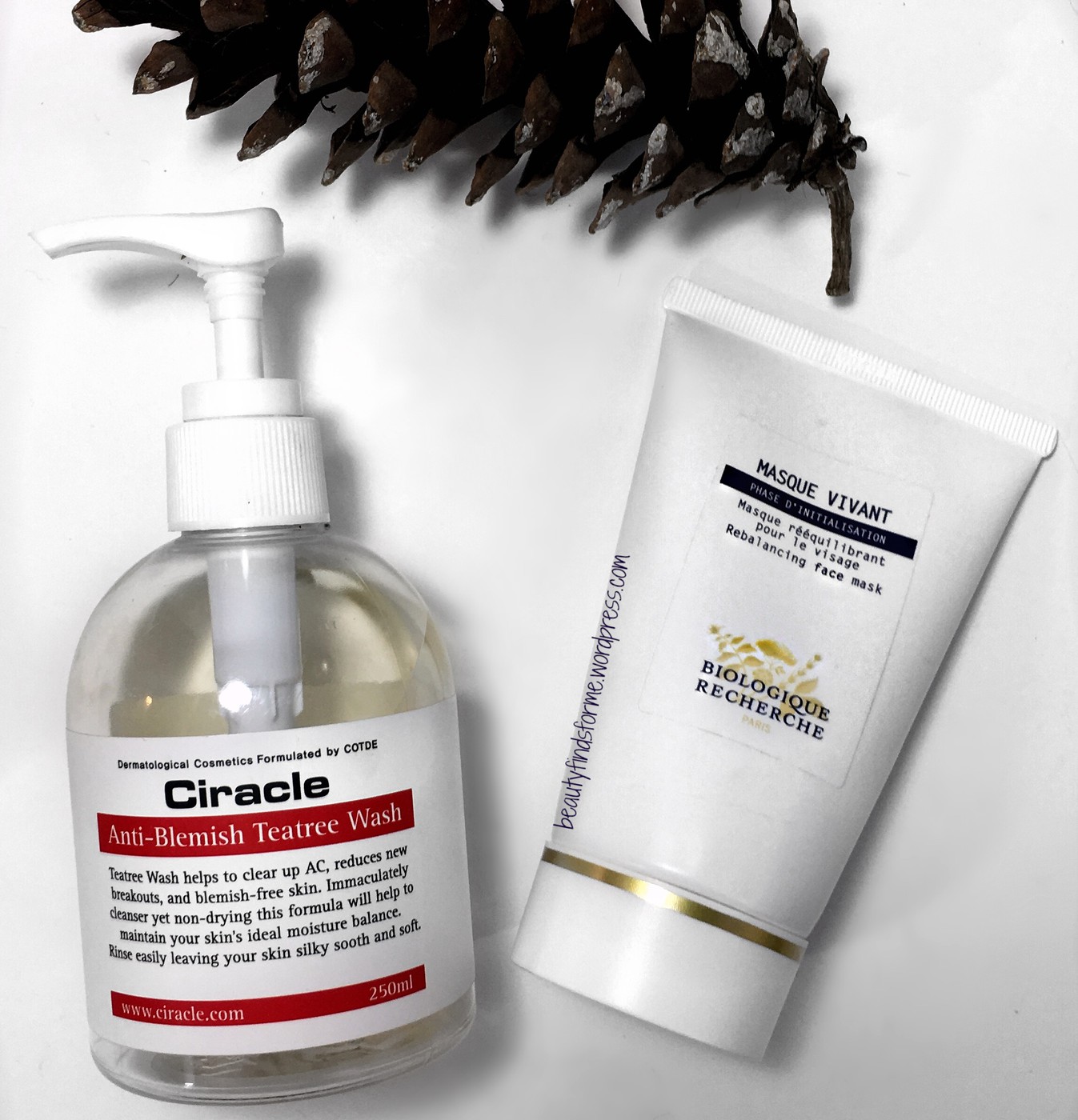 Ciracle Anti-Blemish Teatree Wash (review)  pH 5.5 to 6  Holy Grail of oil cutting cleansers.  It smells like tea tree and also contains willow bark extract, which is an astringent and both of these ingredients help control the oil (sebum) in your skin as well.  It has citric and lactic acid in here as well, to help gently exfoliate.  This is a gel cleanser and I use it a lot in the summer time to help control my oil, but also use it when I have horribly congested skin as well.  HG Status 250 mL $17.00 ~ $20.00 [ YesStyle | Amazon USA | eBay | Jolse ]

Biologique Recherche Masque Vivant  I don't like to use a lot of clay masks or scrubs when I have huge cystic zits all the time, but this is the exception.  Recommend by Ashley @gamine.beauty, I purchased this little expensive gem ~ it contains yeast extracts, cucumber,witch hazel, vinegar, lactic acid, kaolin.  Stinky, yeasty scent.  Draws out debris from pores, making pores look tighter and smaller. Skin is smooth, soft, controls oil, looks brighter and less red.  Use as a spot treatment on blemishes overnight.  A little goes a long way, easy to spread so you can get your money's worth out of it.  Vicki Morav gives out a TON of samples if you ask nicely, so you can try out some of their other products too.  3.4 oz $70.00 [ Vicki Morav ]
FTE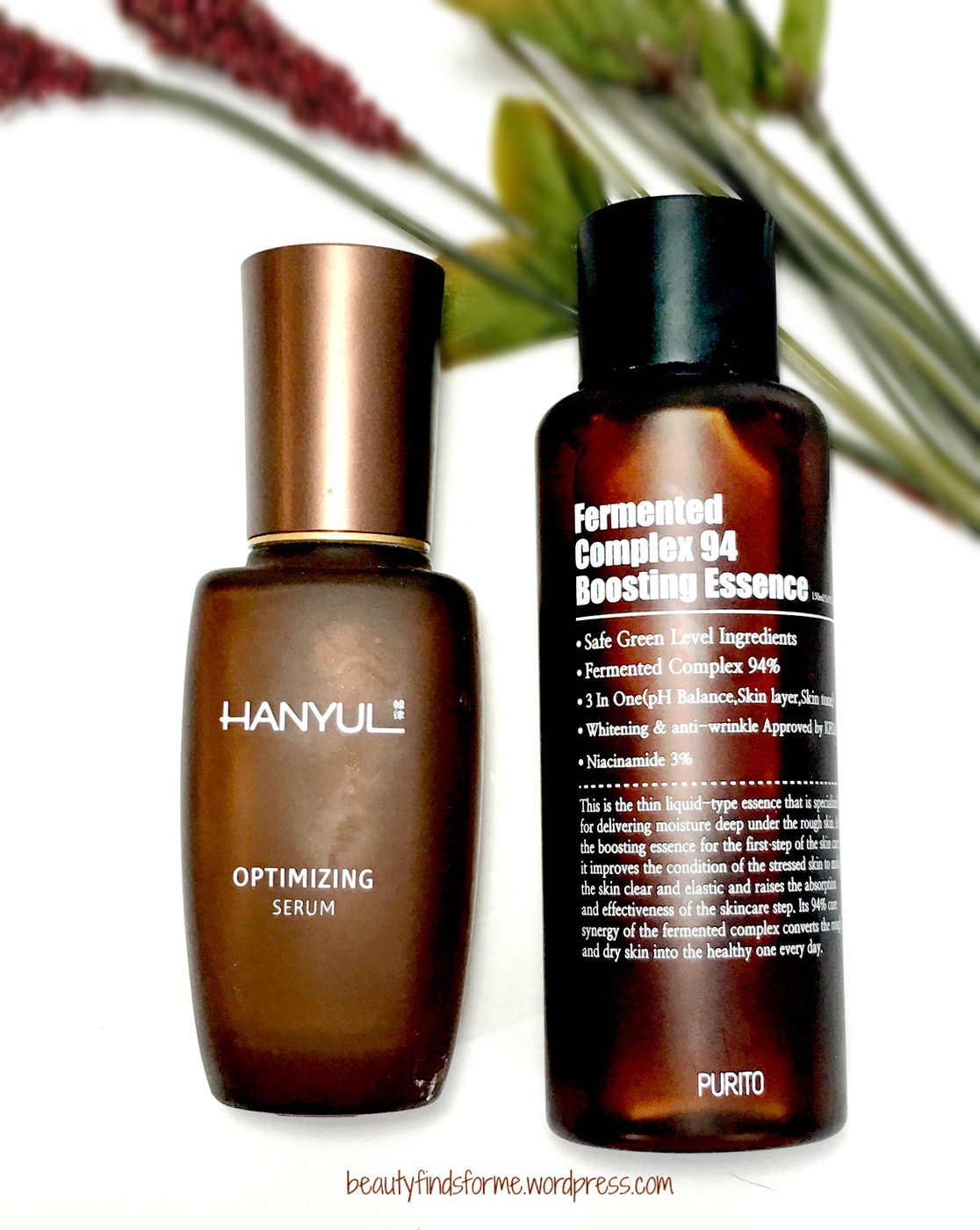 Hanyul Optimizing Serum (review)  This liquidy pine-floral scented fermented pine needle and soybean first serum is amazing.  It's like liquid silk on my skin and makes my skin feel so good.  It is refreshing, soothing, clearing and I do notice when I don't use it ~ I feel this helps reduce my blemishes and prevents breakouts.  It's not for everyone, but I love it a lot.  I have purchased this 3 times now.   HG Status   70 mL $40.00 ~ $70.00 [ Beautytap | eBay | Amazon USA ]
Purito Fermented Complex 94 Boosting Essence *  This is a fairly new product for me and I will review this one fully in the future.  Purito is a newer brand and they are really inexpensive but wow, their products are great.  I prefer using Naruko's Miracle Essence for daytime use, as it has no oily residue (review | purchase), but this is a great alternate as well ~ it is a bit oily on my skin as due to the 3% niacinamide, so I use this at night time.   FTE's are brightening products that keep my aging skin hydrated without breaking me out. 150 mL $14.00 ~ $19.00   [ eOpenMarket | eBay | Amazon USA  ]
Actives
It may not seem like it with this following list, but I do try to go a bit more easy on the acids and actives when my skin is hell bent on having a zit party.  I do still use acids, as they help exfoliate dead skin cells, excess oil and help with skin renewal, but I won't use a really high concentration of acids in a low pH formula as I do not wish to irritate my skin at this point.  As always and especially when using actives, wear sunscreen.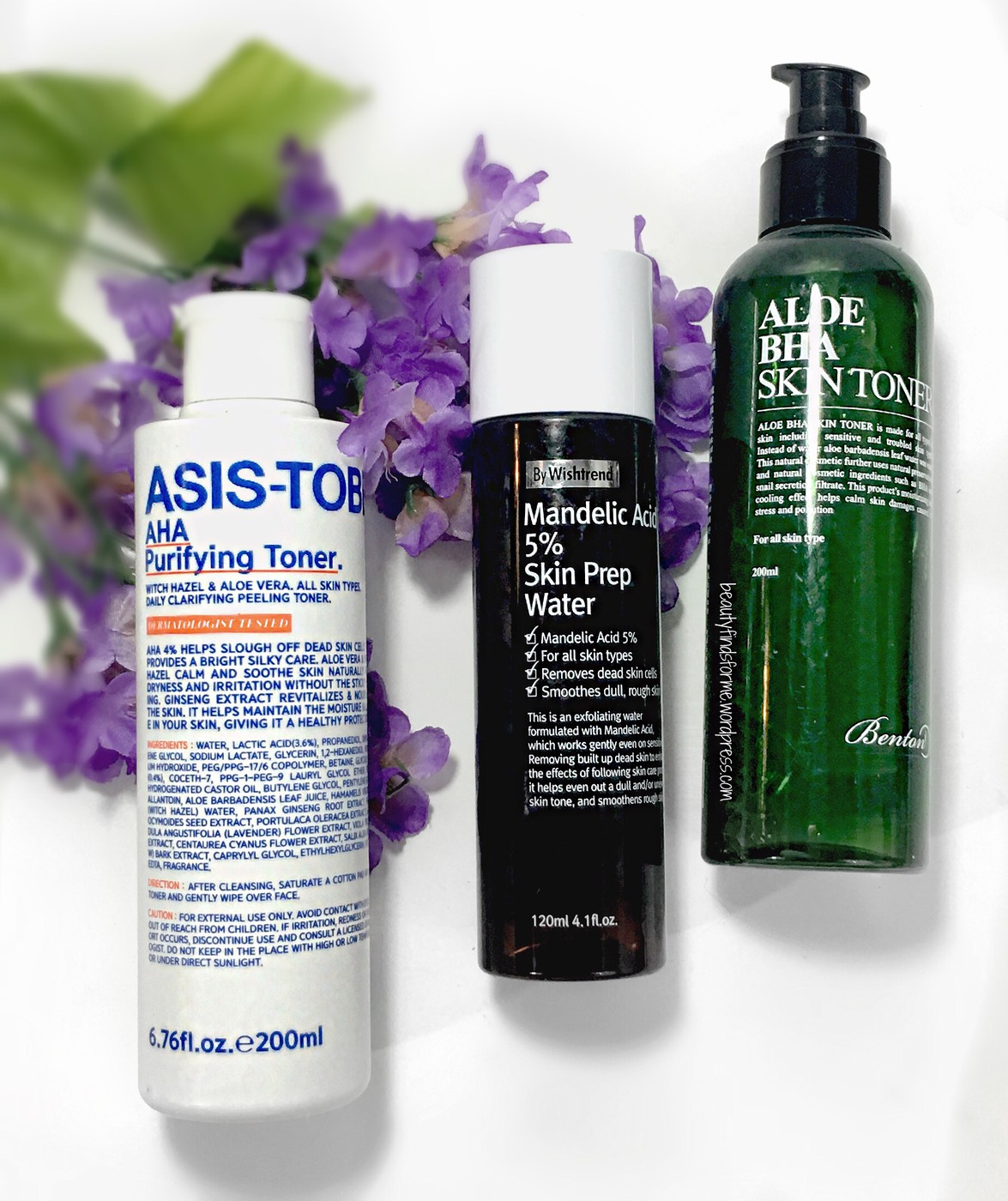 Asis Tobe AHA Purifying Toner  * (review)  pH 3.9  This is not only an exfoliating 4% (3.6% Lactic Acid and .04% of Glycolic Acid) AHA toner (and the AHA ingredients are right at the top of the ingredient list, as it should be!!), but has some wondering astringent and soothing ingredients as well ~ aloe and glycerin are highly hydrating and moisturizing without any greasy or oily.  Love this product, so hard to find and I just purchased a new bottle from TesterKorea.  It's a shame that this brand is not more popular.  It can sting a bit as it does have a low pH, so I don't use it daily when I am in this bad blemish place.  It's a solid brand and I would love to make this an HG product.  200 mL ~ 250 mL  $16.00 ~ $18.00 [ TesterKorea | Interview ]
By Wishtrend Mandelic Acid 5% Prep Water * (review)  pH 4  I received this as a press sample and I keep purchasing it!  This is so gentle for daily use ~ mandelic acid is probably one of the more gentler AHA out there, made from bitter almonds.  This is very hydrating without any greasy residue, unclogs pores and helps maintain clear and clean skin.  HG Status  120 mL $22.00 [ Wishtrend ]

Benton Aloe BHA Skin Toner (review)  pH 6  It may have a higher pH level to be even effective as a BHA product, but this stuff is so soothing, so calming and I want to take a bath in it. Made with aloe, salicylic acid, snail slime, beta glucan and peptide polyglutamic acid, this is one of the best offering from Benton.   Helps reduce redness and heals blemishes quickly.  HG Status  $13.00 ~ $18.00  [ BeautyTap | eBay | Amazon USA | iHerb ]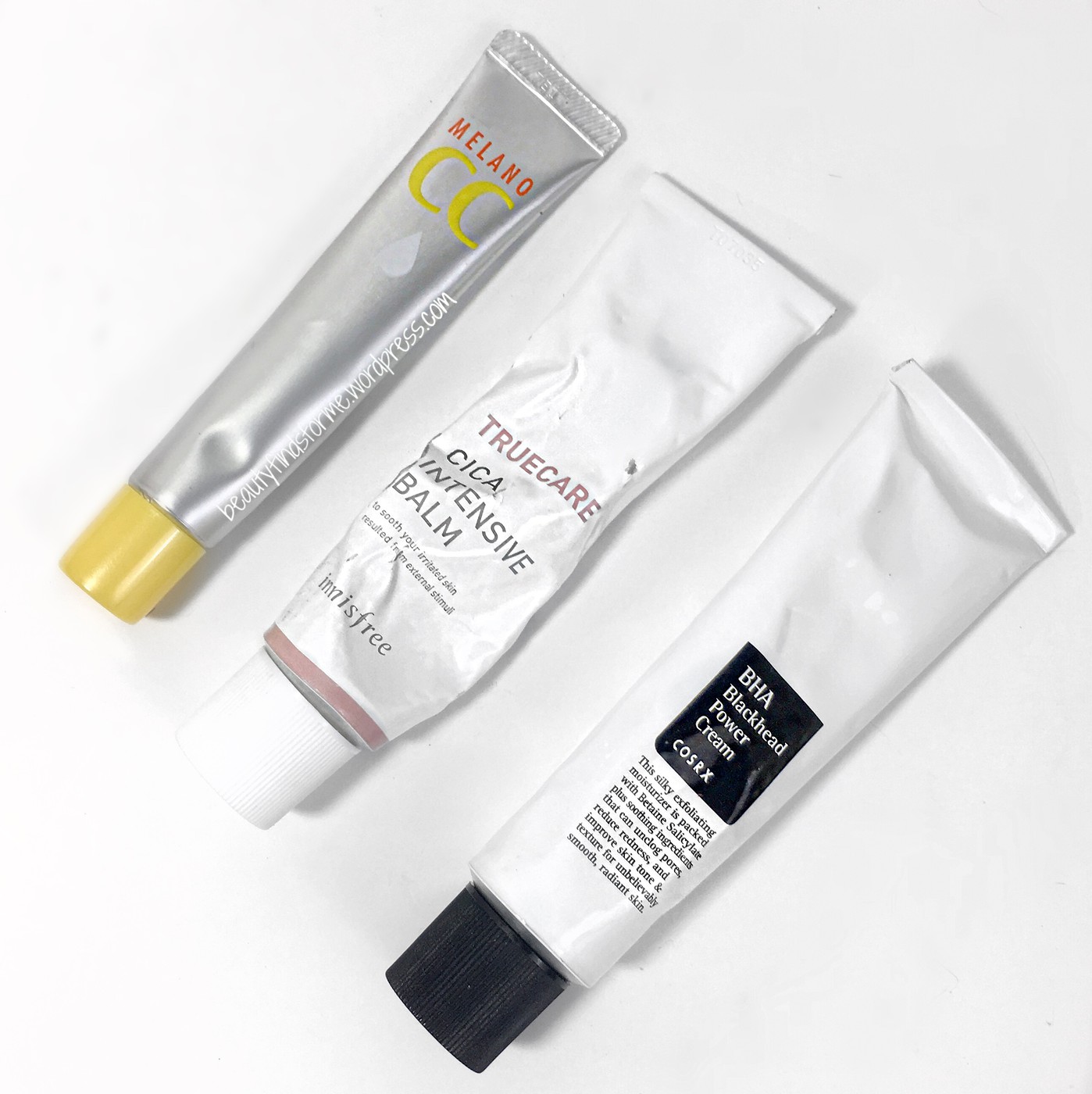 Rohto Melano CC Medicinal Stain Essence with Vitamin C & E (review)  This is the only vitamin C product that has not caused me to break out and it helps lighten newly formed PIH and prevents comedones.  This is a gem of gems in my skincare ~ I only use it at night time as it is a bit oily.  This has ascorbic acid, vitamin C, which is an antioxidant that helps with cellular renewal and can help reduce hyper-pigmentation on your skin.  This also has vitamin E, which along with vitamin C, helps slow down free radical damage. It has a higher pH of around 7, so that is why this doesn't cause me to break out and works for me.  If you struggle with vitamin C,  give this a try ~ it is relatively inexpensive and a little goes a long way.  HG status 20 mL $12.00 ~ $15.00  [ Beautius | Amazon USA | eBay ]
Innisfree True Care CICA Intensive Balm (review)  pH5 ~ 5.5  This contains concentrated derivatives of centella: asiaticoside, asiatic acid, madecassic acid and madecassoisise, making it a powerful healing product.  But the best thing about this ~ it has RETINOL.  K-Beauty seems to just start dabbing with retinol and when I saw this back in 2016, I was all over it.  This doesn't dry out my skin, doesn't cause it to break out, heals and prevents whiteheads, while leaving my skin smooth, clear and bright.  Now, a lot of stores do not carry this, as Innisfree Korea only sells it online.  I am not sure why the True Care line is like this, but it is a harder series to find.  But it is out there and eBay sometimes has the little mini's, so you can try it out before committing to a larger purchase.  I know my friend DD @hamforburgers loves this too!  HG Status  40 mL $20.00 ~ $25.00   [ Amazon USA | eBay  |  YesStyle | Tester Korea  |  BeautyBoxKorea  | Innisfree Korea ]
cosRX BHA Blackhead Power Cream pH 4 ~ 5  This is a new product for me (very new) but I already feel REALLY good about this one.  I had resisted it so hard when it first came out as cosRX BHA products didn't really work for me that well.  I had been thinking of purchasing this when I saw Kath @skinfullofseoul mention it several times, so when I hauled at iHerb (fantastic shop, ships globally too), I picked it up. This is in a balm form, has a light tea tree scent and it is super hydrating and really helps clear out my pores of gunk and oil.  This is a night time treatment and you can use it as a sleep pack or as a spot treatment, as it does provide a nice protective film over your blemishes.  50 mL   $16.00 ~ $18.00 [ iHerb | eBay | Cupidrop | Amazon USA ]
Mists
Mists are funny creatures ~ are they a toner?  A setting spray?  Quite frankly, I use them as toners and I also like to use them in the morning, evening and while I am doing outdoorsy things.  As I wear makeup, I don't like spraying my face with a mist during the day unless I washed my face and am reapplying my makeup.   Unboxing Beauty Helpful Tip: When you are really sick, your skincare routine is probably the last thing on your mind.  However, your skin needs hydration and if you are oily skinned, you want to prevent blemishes.  I keep a pack of facial wipes to cleanse my face while I am in bed, some hydrating, moisturizing sheet masks and facial mists ~ to keep my skin hydrated and refreshed.  It really helps too if you are running a fever.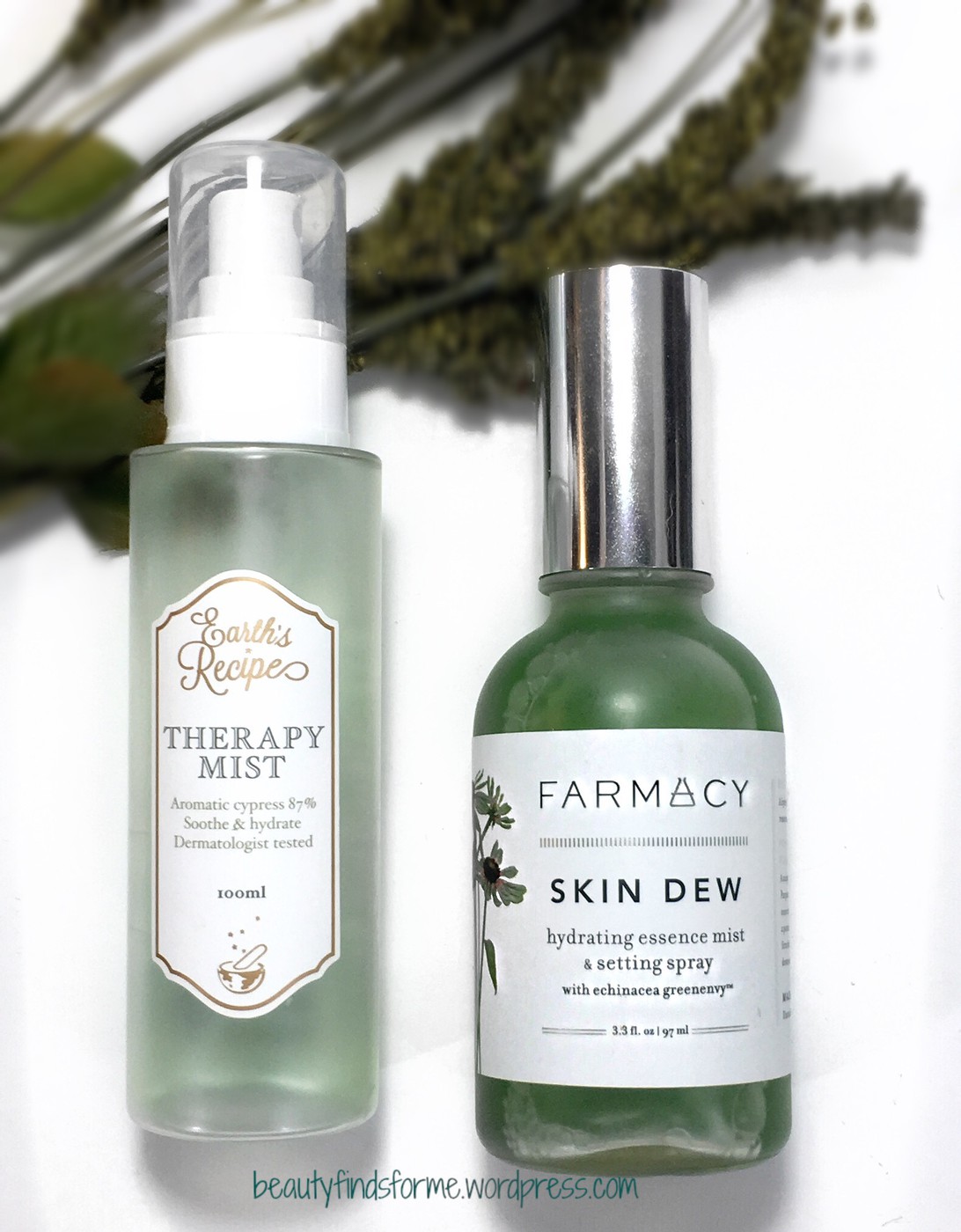 Earth's Recipe Therapy Mist * (review)  pH 5.5  This is a pH balanced mist made especially for oily and irritated skin.  It is a grease cutter, while providing a massive dose of hydration.  Soothing and calming, I have already repurchased this one.  … on its way to HG Status 100 mL $26.00 ~ [ Amazon USA | Bemused Korea ]
Farmacy Skin Dew Hydrating Essence Mist & Setting Spray Can I be blunt here?  Not a huge a fan of Farmacy products ~ I honestly think their line is for drier skin types than myself.  Except for this product.  This isn't as oil controlling as Earth's Recipe Therapy Mist, but it does freshen my skin, hydrate without an oily residue plus it smells great and has a tingling feeling on my skin.  It has echinacea for collagen production, horsetail plant extracts for soothing and toning and kiwi for vitamin C, antioxidant and skin barrier protection.  Downsides:  Cost $$$$ and the mister is very forceful.  Be prepared for blast off when you use this.  I don't know why they call it a setting spray, as it isn't ~ the blast from the mister would remove all of your makeup!! lol  3.3 oz  $44.00  [ Sephora ]
Toner & Ampoules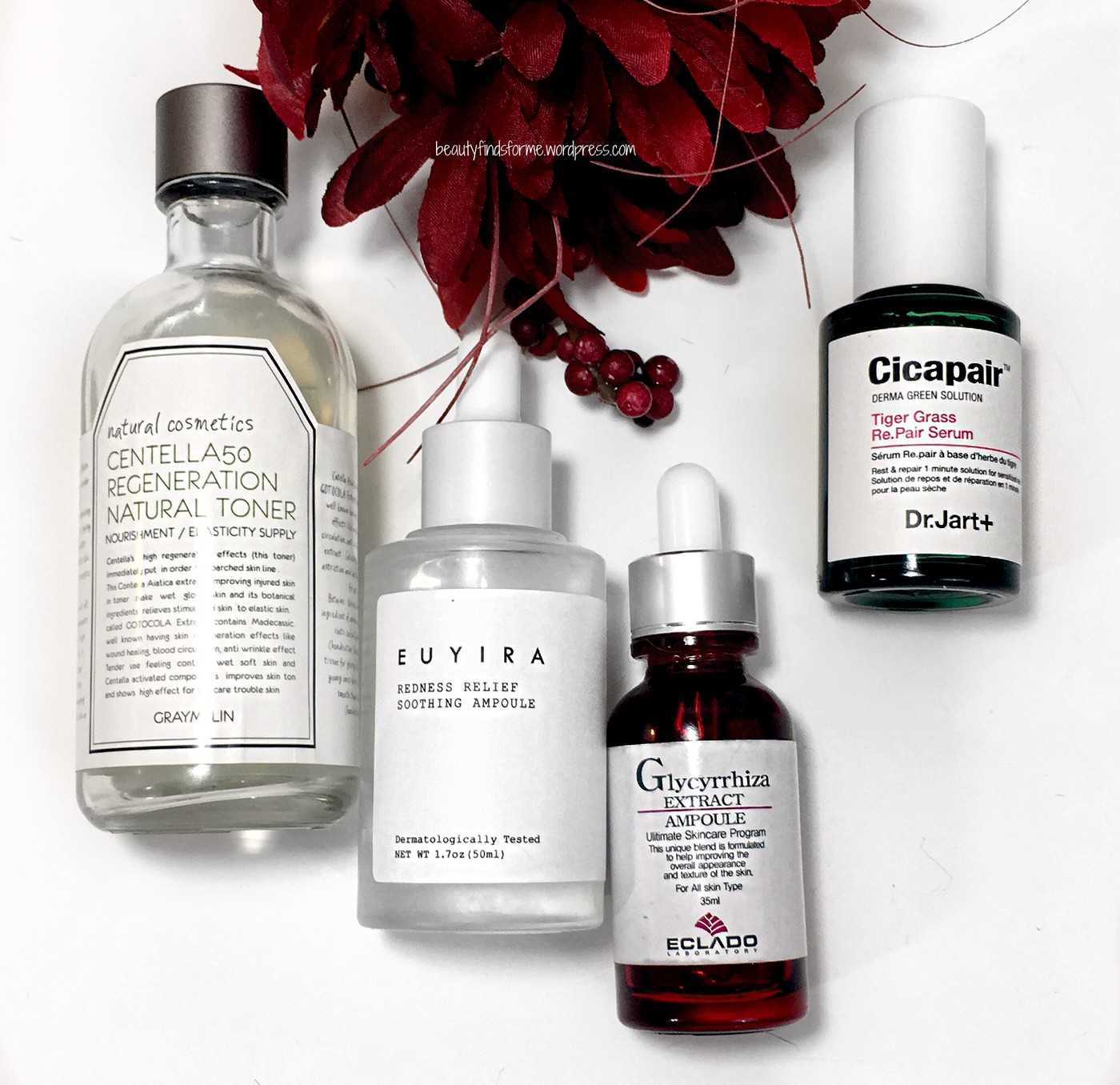 Graymelin Centella 50 Regeneration Natural Toner  (review)  Your skin will love you for this toner.  I don't care what skin type you have, you will love this soothing toner that is made with 50% centella extracts, EFG, beta glucan and other good stuff.  It is so hydrating and bouncy and I always love using this toner.  It is not only great for when your skin is hurting from blemishes, but if you use acid treatments or over-exfoliated, this is a wonderful ~ it will not sting your face at all.  Recommended for all. Alas, I do not know what the future of Graymelin holds ~ the one place that I knew that carried it ~ BeautyTap (formally W2Beauty) is no longer carrying Graymelin as it doesn't really sell.  It's HG Status but hard to find  130 mL $16.00 ~ $25.00  [ eBay | Graymelin Korea ]
Euyira Redness Relief Soothing Ampoule  *  This is a fairly new item in my skincare routine ~ I have had it since the beginning of December.  I will be writing a full review on this soon here, but I wanted to let you know how I felt about it. This does not really help heal or prevent blemishes, nor does it provide oil control.  However, this does soothe, reduce pain and inflammation, calm redness and also hydrates my skin without causing my blemishes to look glossy, red and dewy ~~ LJH Tea Tree Essence was a horrible product for my skin as it did nothing for it except make my zits look more red and MOIST.  This product is what I had thought LJH was going to do for me, so I am really happy with it.   50 mL  $47.00 [ Euyira ]
Eclado Glycyrrhiza Extract Ampoule *  I will review this fully in a few weeks time.  This is a sleeper product for me.  It took a while, but I think I figured it out and I do like it so far.  This is the most expensive item here, clocking in at $114.00, but it is a brightener and lightener of fresh PIH.  Niaciamide works somewhat on my skin, but not as well as I would like and I only can use one vitamin C product due to my skin's reaction to that ingredient.  I was initially struggling with this ampoule, as I didn't know how to use it ~ I tried adding it to oils, creams, emulsions and nothing.  Then I started using it straight up on my skin that needed the help.  I noticed two things ~ it looks like it is helping to lighten or lessen the appearance of fresh PIH and it is very soothing and purifying.  It seems oily out of the bottle, but it doesn't leave an oily residue.  I was curious how a 98% licorice product would work and it seems to be promising.  Huge Con:  Price Tag.  But a little goes a long way with this ampoule and should last several months.  $114.00  [ Beautytap ]  Save 30% on this product with unboxingeclado promo code.  Valid thru 2/28/2018
Dr Jart+ Cicapair Tiger Grass Re.Pair Serum  Okay, I have not opened this yet,  so it is a cheat… but I love the Dr Jart+ Cicapair Cream (see below). When I did a swatch test at Sephora, this is light weight, not greasy and seems to be perfect as a day time serum.  I will be starting this once the weather gets warmer and I will do a full review on it!  I was just so excited about this product as it is fairly new and I know that there are a lot of Dr Jart+ Cicapair fans out there.  Sephora obviously carries it, but so does Sweet Corea for much less!  50 mL  $25.00 ~ $46.00 [ Sephora | Sweet Corea ]
Balms, Creams & Night Treatments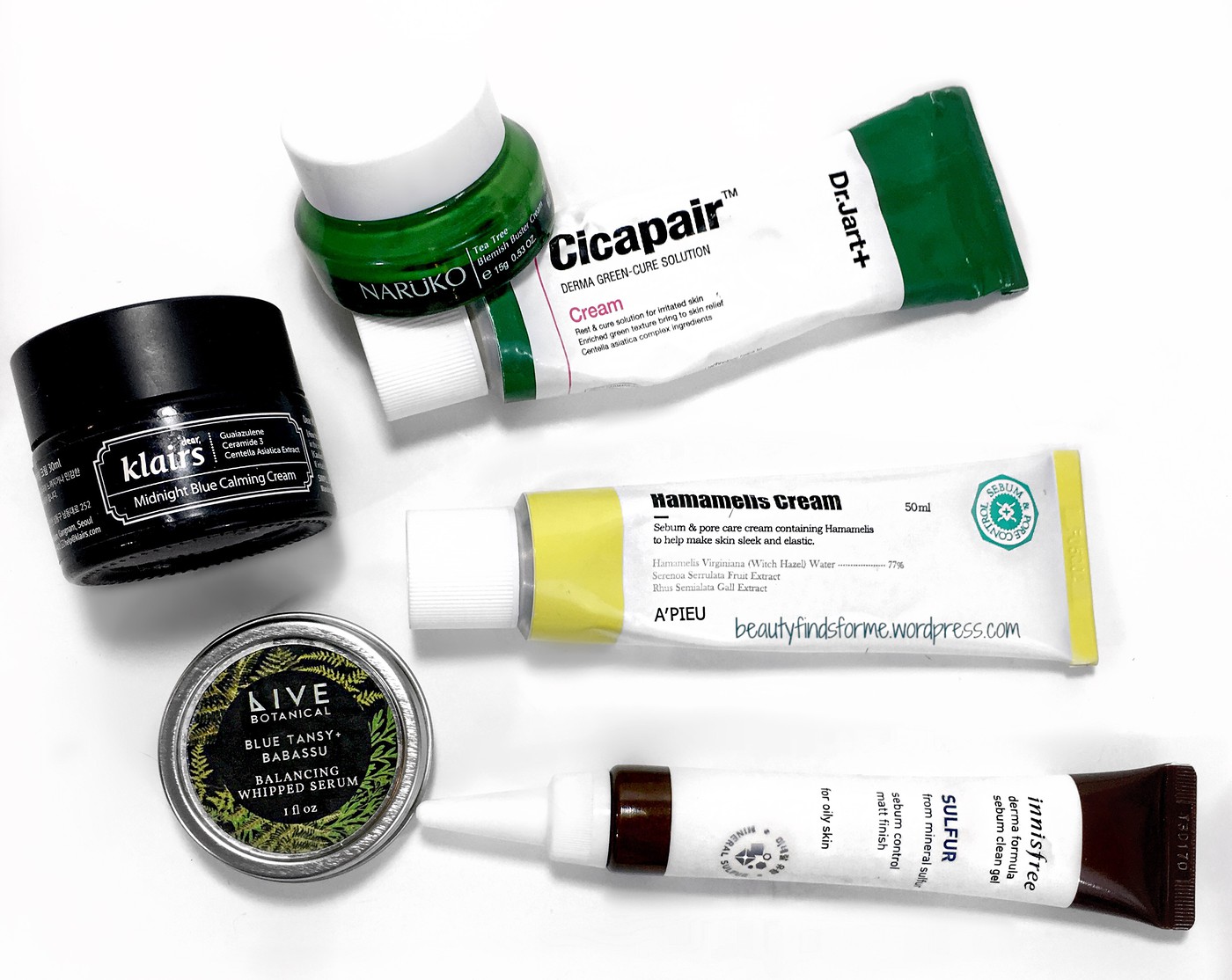 Klairs Midnight Blue Calming Cream * (review)  First up, it's blue… it is blue because it contains guaiazulene, which comes from soothing chamomile.  This also has centella as well as fermented soybeans and anti-aging peptides.  It is a lotion-cream, very soothing and you can use it any time your skin feels tight and hurt.  This heals and soothes.  It does not prevent blemishes but it is made for active skin issues.  HG Status  30 mL $24.50 [ Wishtrend ]
Live Botanical Aer Blue Tansy + Babassu Balancing Whipped Oil (Serum) I discovered this one by watching a story by the lovely IG'er Amy @bondenavant, who is currently pregnant and is suffering from acne.  If you are pregnant, you can't use ingredients like retinol, so finding other alternatives to help soothe and repair your skin barrier is a must.   This is a new product for me and it is the much cheaper version of May Lindstrom's Blue Cocoon. Much cheaper.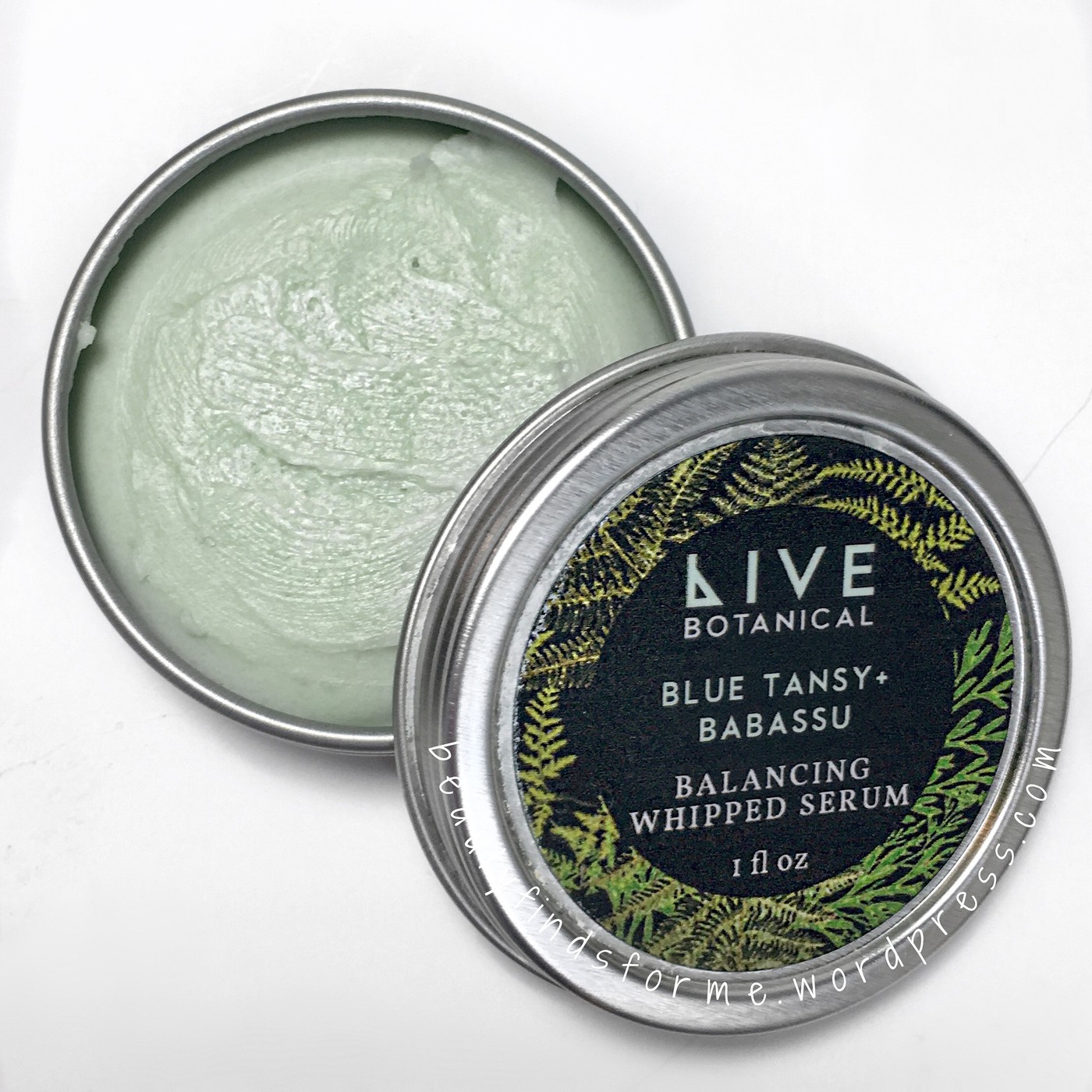 It is just a beautiful sea-foam blue shade of a solid balm that turns to an oil as the heat from your skin activates it.  Full of soothing and moisturizing ingredients, such as anti-inflammatory blue tansy, repairing, protective, non-clogging babassu oil and it has a blend of cold pressed oils that are high in linoleic acid ~ which is perfect for oily, blemish prone skin. This is a great product to put on your pimples at night time to help heal and strengthen your skin barrier.  It smells great due to the juniper, lemon balm and lavender.  They have repackaged this in a jar now and it is a few dollars more ~ it used to be $28.00 in a tin ~  but it is the same great product. 30 mL $32.00  [ Live Botanical ]  This is Amy's promo code as she is an affiliate ~ save 15% off your first order with code bondenavant
Naruko Tea Tree Blemish Buster Cream  (review coming once I get MORE of this in my hands)  I purchased this last fall and I LOVE it.  So, you know how well the cosRX Acne Pimple Master Patches work?  They deflate zits and reduce redness??  Think of this as the thick paste version ~ I like this better than the patches because I can really smear this paste all over my chin and blemish hot spots at night and in the morning, my blemishes are really calmed down.  In fact, this helps prevent them ~ you know that feeling you get sometimes when there is a pimple JUST waiting to be born?  This will stop that in its tracks.  Its SO cooling as well, as it has menthol in it, smells fantastic (I love a good smelling product) ~ mint and herbs and you can use this during the day as well.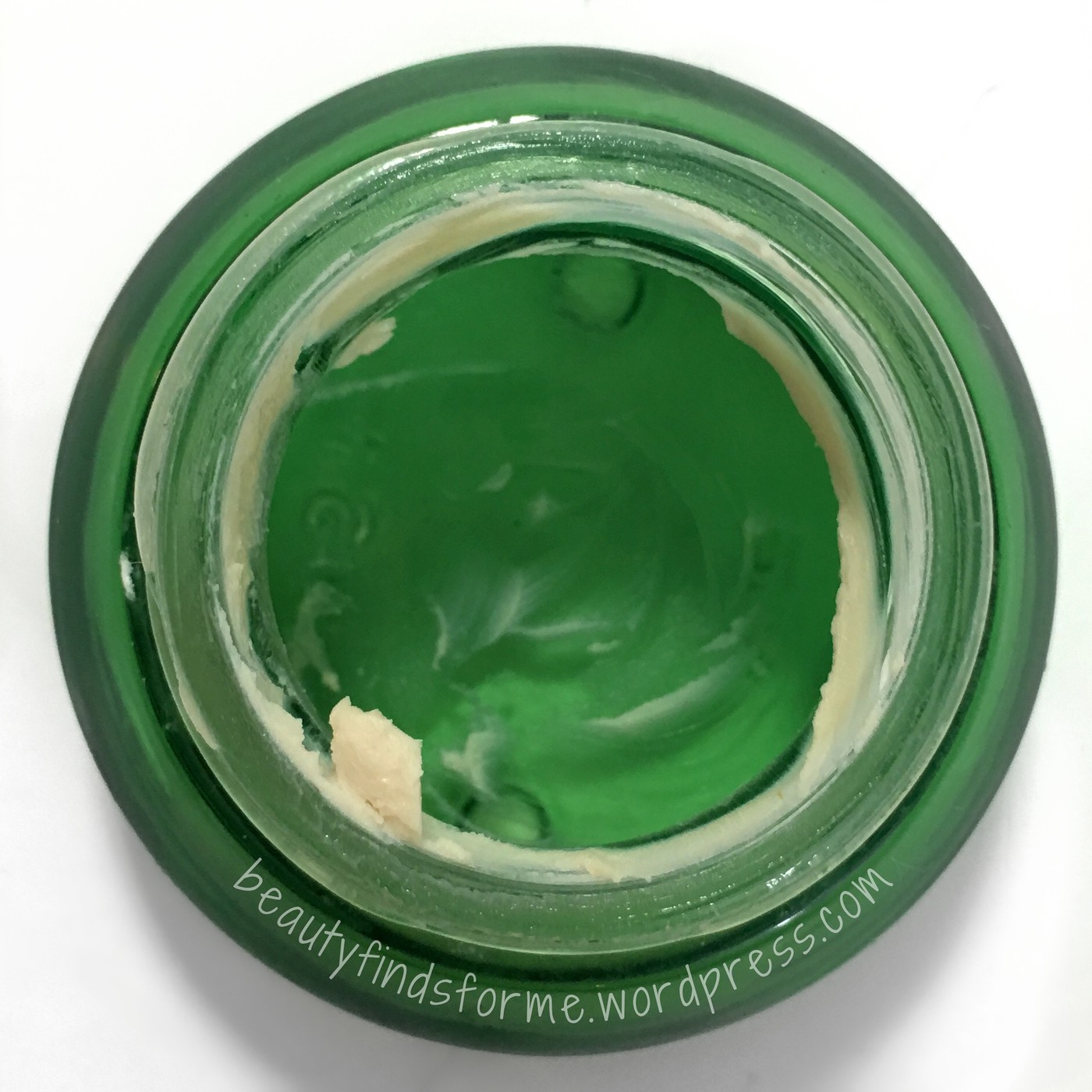 Naruko USA is out of stock right now and I have been waiting for almost 2 months for my order!!  It's popular and I need it back.  HG Status  15 gram  $15.00 ~  $24.00 [ Naruko | My Styling Box | eBay ]
Dr Jart+ CICAPAIR Cream * (review)  This is one of the most calming and soothing creams I have used ~ it is thick and moist so I rarely use it during the day, but at night time, I slather this over my affected area ~ I really love using this as a sleep pack.  It doesn't break me out, despite its thick creamy texture, but it does help repair my skin beautifully. This contains not only centella but its derivatives ~ I do not consider those to be "acids" however and you can use this cream during the day if your skin is dry.   Lovely pale green, smells like herbs ~ it is expensive though ~ but Sweet Corea has it about $20.00 less than Sephora!  Recommended for all skin types.  I am on my second tube and I would love to see a less expensive version of this.  I am hopeful ~ I have a couple of centella creams coming my way from Purito and LeeGeeHaam and I will compare them to this gold standard of CICA creams.  50 mL $29.00 ~ $48.00  [ Sephora | Sweet Corea ]
A'Pieu Hamamelis Cream *  This is a new product for me and I have to say… I'm liking it a lot!! I will be reviewing this as well.   I thought this would be a night time balm treatment, because of the metal tube, but it isn't.  This is a lotion/cream, but once I apply it onto my skin, it just melts into it like water ~ made with 77% of witch hazel extracts, this is so soothing and refreshing on my skin.  If you are suffering from blemishes, this is such a lovely hydrating, non greasy product that not only soothes, but it will help with sebum and pore control.  I like this enough to say, try it.  It's $8.00 and it has a lovely light citrus scent too. 50 mL $8.00   [ Meibe Korea ]  Use UBMEIBE5  to save $5.00 off your order.

Innisfree Derma Formula Sebum Clean Gel * Another new product for me and I will review fully.  This is a night treatment only and it is specifically formulated for oily skin.  This contains 1% mineral sulfur crystals, which is great at really killing off bacteria and reducing inflammation.  The first time I used this on a monster zit, I noticed that it had reduced in size the next morning plus the redness was not as great.  I have goooood feelings about this one.  30 mL $14.00  [ Jolse ]
Windex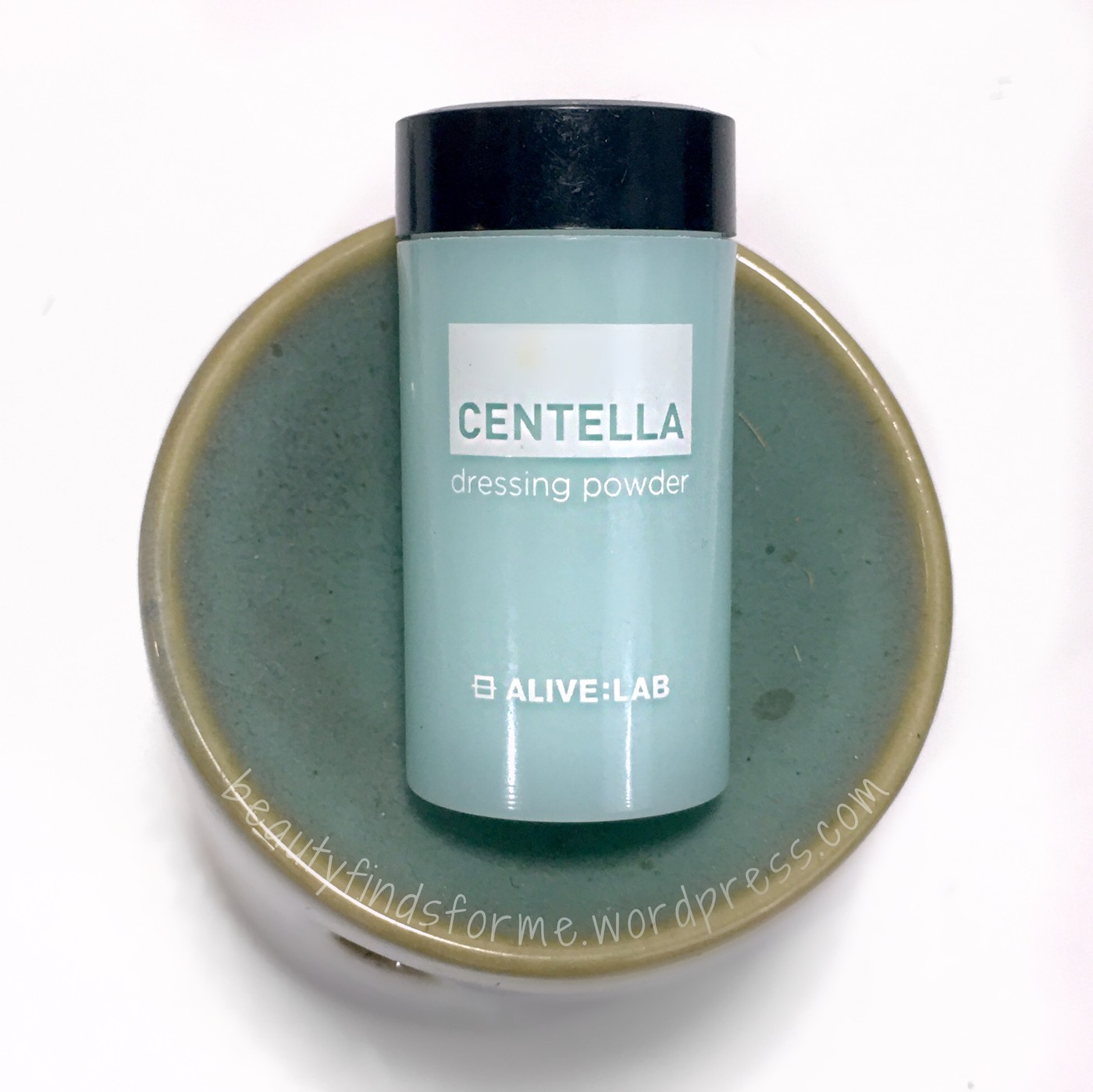 Alive:Lab Centella Dressing Powder (review)  The Windex is reference to the movie My Big Fat Greek Wedding, where the father uses Windex for EVERYTHING ~ including skin issues!   This is a multi-purpose powder that you can mix into any cream, serum, ampoule, sleep pack, toner ~ even a facial cleanser!  If you pop a pimple, gently apply some powder over the area and thickly apply a cream or lotion that works for your skin to lock it in ~ the healing time will speed up and reduce swelling.  If you don't have a lot of skincare products, purchase this one as adding this powder will turn that into a skin barrier repairing product.  It isn't just for zits either ~ use it it your skin is sun or wind burned, heat burns, rashes.  Buy it, it is cheap and it will last you a long time.  As it does contain zinc oxide, it can leave a white cast, so if you have a darker skin tone, make sure to mix it with enough product so it doesn't leave any white residue on your skin.  HG Status 8 mL  $9.00 ~ $17.00  [ StyleKorean |  Amazon USA | eBay ]
Yeah! Done
You might be asking, where are the cosRX Acne Pimple Master Patches?  Those are GREAT, don't get me wrong.  But once these horrible HUGE zits start appearing, Mr cosRX patches do not really work well.  I have to use several (yes, you read that right) of them to cover the huge pimples and then it doesn't seem to be as effective.  I love the patches for smaller little pimples and I am happy to use those.
I hope this was helpful to my oily, blemish prone friends and readers and  let me know if you have tried any of these products!  How did they work for you?  Are you going to purchase any of the ones I mentioned?  Let me know in the comments below
Shipping Service and Sephora
If I can only purchase from a Korean Online Shop, I use Korean Buddy as my shipping service.  Just send them the links and they will take it from there!  You can save 50% off handler fee with Korean Buddy Shipping Service by using my blog url as a referral https://beautyfindsforme.wordpress.com with your first purchase    Also, Sephora USA does ship internationally ~ read their FAQ here if your country is on the list!

Ingredients List
Ciracle Anti-Blemish Teatree Wash:  Sodium Laureth Sulfate, Water, Ammonium Laureth sulfate, Cocamidopropyl Betaine, Glycerin, Cocamide DEA, Sodium Cocoyl Isethionate, Propylene Glycol, Sodium Chloride, Portulaca Oleracea Extract, PEG-120 Methyl Glucose Dioleate, Triclosan, Salix Alba (Willow) Bark Extract, Citric Acid, Melaleuca Alternifolia (Tea Tree) Leaf Oil, Rhus Semialata Gall Extract, Artemisia Princeps Leaf Extract, Disodium EDTA, Butylene Glycol, Lactic Acid, Phenoxyethanol, Methylparaben  cosDNA

Biologique Recherche Masque Vivant: Yeast Extract (Faex Extract), Water (Aqua), Propylene Glycol, Bentonite, Kaolin, Alcohol Denat, Cucumis Sativus (Cucumber) Fruit Extract, Glycerin, Vinegar, Lactic Acid, Hamamelis Virginiana Bark/Leaf/Twig Extract, Hypericum Perforatum Flower/Leaf/Stem Extract, Acacida Senegal Gum, Xanthan Gum  cosDNA

Hanyul Optimizing Serum: angelica acutiloba root extract, cnidium officinale root extract, alcohol, butylene glycol,water, dimethicone, glycine max (soybean) seed extract, pinus sylvestris leaf extract, phaseolus radiatus seed extract, bacillus/soybean ferment extract, hordeum distichon (barley) extract, morus alba leaf extract, tricholoma matsutake extract, oryza sativa (rice) extract, coix lacryma-jobi ma-yuen seed extract, carthamus tinctorius (safflower) seed oil, lithospermum erythrorhizon root extract, prunus armeniaca (apricot) kernel extract, phaseolus angularis seed extract, theobroma cacao(cocoa) extract, glycerin, dextrin, methoxy PEG-114/polyepsilon caprolactone, sodium methylstearoyl taurate, adenosine, acrylates/C10-30 alkyl acrylate crosspolymer, hydrogenated lecithin, tromethamine, disodium EDTA, phenoxyethanol, fragrance  cosDNA 
Purito Fermented Complex 94 Boosting Essence: butylene glycol, lactobacillus/rice ferment, camellia sinensis leaf extract, taraxacum platycarpum extract, morus alba bark extract, niacinamide, 1,2-hexanediol, bifida ferment lysate, acrylates/C10-30 alkyl acrylate crosspolymer, allantoin, viscum album (mistletoe) leaf exract, arginine, caprylyl glycol, nelumbo nucifera flower extract, portulaca oleracea extract, sodium hyaluronate, adenosine, perilla ocymoides seed extract, glycerin,  saccharomyces/viscum album (mistletoe) ferment extract, saccharomyces/imperata cylindrica root ferment extract, lactobacillus/soybean ferment extract, dipotassium glycyrrhizate, disodium EDTA  cosDNA

Asis-Tobe AHA Purifying Toner: Water, Lactic Acid (3,6%), Propanediol, Dipropylene Glycol, Sodium Lactate, Glycerin, 1,2-Hexanediol, Potassium Hydroxide, PEG/PPG-17/6 Copolymer, Betaine, Glycolic Acid (0,4%), Coceth-7, PPG-1-PEG-9 Lauryl Glycol Ether, PEG-40 Hydrogenated Castor Oil, Butylene Glycol, Pentylene Glycol, Allantoin, Aloe Barbadensis Leaf Juice,Hamamelis Virginiana (Witch Hazel) Water, Panax Ginseng Root Extract, Perilla Ocymoides Seed Extract, Portulaca Oleracea Extract, Lavandula Angustifolia (Lavender) Flower Extract, Viola Tricolor Extract, Centaurea Cyanus Flower Extract, Salix Alba (Willow) Bark Extract, Caprylyl Glycol, Ethyl hexylglycerin, Disodium EDTA, Fragrance  cosDNA

By Wishtrend Mandelic Acid 5% Skin Prep Water: Water, Mandelic Acid (5%), Butylene Glycol, Beta-Glucan, Panthenol, Glycyrrhiza Glabra (Licorice) Root Extract, Prunus Amygdalus Dulcis (Sweet Almond) Fruit Extract, Sodium Hyaluronate, Sorbitan Sesquioleate, Centella Asiatica Extract, Houttuynia Cordata Extract, Sorbitol, Dimethyl Sulfone, Chlorphenesin, Sodium Citrate, Arginine, PEG-60 Hydrogenated Castor Oil, Ethylhexylglycerin, Hydrolyzed Collagen, Carbomer  cosDNA
Benton Aloe BHA Skin Toner: Aloe Barbadensis Leaf Water, Sodium Hyaluronate, Snail Secretion Filtrate, Glycerin, Pentylene Glycol, Zanthoxylum Piperitum Fruit Extract, Pulsatilla Koreana Extract, Usnea Barbata (Lichen) Extract, Arginine, Salicylic Acid (0.5%), Althaea Rosea Flower Extract, Aloe Barbadensis Leaf Extract, Aloe Barbadensis Leaf Juice, Beta-Glucan, Polyglutamic Acid, Portulaca Oleracea Extract, Psidium Guajava Fruit Extract, Aspalathus Linearis Extract,  Acrylates/C10-30 Alkyl Acrylate Cross Polymer  cosDNA  
Rohto Melano CC Medicinal Stain Essence with Vitamin C & E:  Active Ingredients:  Ascorbic Acid (Active Vitamin C), Tocopheryl Acetate (Vitamin E Derivative), Dipotassium Glycyrrhizinate, Isopropylphenol  Other Ingredients: Ascorbyl Tetraisopalmitate, Ethoxydiglycol, Alpinia Katsumadai Seed Extract (Alpinia White), Butylene Glycol, Disodium EDTA, Thickeners, Fragrances  cosDNA
Innisfree TrueCare CICA Intensive Balm: water, glycerin, propanediol, cyclopentasiloxane, squalane, arbutin, cetearyl alcohol, orchid extract, camellia sinensis leaf extract, camellia japonica leaf extract, opuntia coccinellifera fruit extract, citrus unshiu peel extract, madecassoside, madecassic acid, asiaticoside, asiatic acid, retinol,  adenosine, glyceryl stearate, dissostearyl malate, cyclodextrin, cetearyl glucoside, stearic acid, polyglyceryl-3 methylglucose distearate, polysorbate 60, hydrogenated lecithin,  hydroxyethyl acrylate/sodium acryloyldimethyl taurate copolymer, carbomer, tromethamine, 1,2-hexanediol, disodium EDTA   cosDNA 
cosRX BHA Blackhead Power Cream: centella asiatica leaf water(50%), butylene glycol, helianthus annuus (sunflower) seed oil, glycerin, betaine salicylate (4%), cetearyl alcohol, panthenol, dimethicone, betaine, bees wax, cetearyl olivate, sorbitan olivate, caprylic/capric triglyceride, elaeis guineensis (palm) oil, elaeis guineensis (palm) kernel oil, 1, 2-hexanediol, ethylhexylglycerin, niacinamide, hydroxyethyl acrylate/sodium acryloyldimethyl taurate copolymer, xanthan gum, sodium hydroxide, melaleuca alternifolia (tea tree) leaf oil  cosDNA

Earth's Recipe Therapy Mist: chamaecyparis obtusa water, methylpropanediol, 1,2-hexanediol, niacinamide, panthenol, propanediol, dioscorea japonica root extract, piper methysticum (kava)  leaf/root/stem extract, phellinus linteus extract, arctium lappa root extract, melia azadirachta leaf extract, melia azadirachta flower extract, coccinia indica fruit extract, ocimum sanctum leaf extract, curcuma longa (turmeric) root extract, solanum melongena (eggplant) fruit extract, aloe barbadensis flower extract, corallina officinalis extract, sodium hyaluronate, hydrogenated lecithin, citrus aurantium dulcis (orange) oil, citrus limon (lemon) fruit oil, cymbopogon schoenanthus oil, citrus aurantium bergamia (bergamot) fruit oil, cymbopogon nardus (citronella) oil, geranium maculatum oil, octyldodeceth-16, water, C12-14 pareth-12, betaine, sodium citrate, polyquaternium-51, glycosyl trehalose, citric acid, adenosine, disodium EDTA, hydrogenated starch hydrolysate, raffinose, biosaccharide gum-1, lecithin, allantoin, inositol, hydrolyzed hyaluronic acid cosDNA 
Farmacy Skin Dew Hydrating Essence Mist & Setting Spray: Water, Glycerin, Propanediol, Methoxycinnamidopropyl Hydroxysultaine, Patented Echinacea Purpurea 'Greenenvytm' Root Extract, Equisetum Arvense Juice, Phenoxyethanol, Oleth-20, Actinidia Chinensis (Kiwi) Fruit Extract, Melia Azadirachta Leaf Extract, Mentha Piperita (Peppermint) Oil, Melia Azadirachta Flower Extract, Coccinia Indica Fruit Extract, Citrus Aurantium Dulcis (Orange) Peel Oil, Ocimum Basilicum (Basil) Flower/Leaf Extract, Cananga Odorata Flower Oil, Citrus Aurantium Bergamia (Bergamot) Fruit Oil, Citrus Aurantifolia (Lime) Oil, Rosmarinus Officinalis (Rosemary) Leaf Oil, Solanum Melongena (Eggplant) Fruit Extract, Curcuma Longa (Turmeric) Root Extract, Corallina Officinalis Extract, Zingiber Officinale (Ginger) Root Oil, Aloe Barbadensis Flower Extract, Ocimum Sanctum Leaf Extract, Caprylic/Capric Triglyceride, Dehydroxanthan Gum, Sodium Phytate, Sodium Citrate, Citric Acid, Amino Esters-1, Potassium Sorbate, Sodium Benzoate, Ethylhexylglycerin, Caramel cosDNA 
Graymelin Centella50 Regeneration Natural Toner:  Centella Asiatica Extract (50%), Butylene Glycol, Water, PEG/PPG-17/6 Copolymer, 1,2-Hexanediol, Betaine, Sodium Hyaluronate, Beta-Glucan, Sodium Chondroitin Sulfate, Human Oligopeptide-1 (EGF), Camellia Sinensis Leaf Extract, Alchemilla Vulgaris Leaf Extract,Vaccinium Macrocarpon (cranberry) Fruit Extract, Aspalathus Linearis Extract, Melissa Officinalis (lemon balm) Leaf Extract, Rosa Canina Fruit (rose hips) Extract,Vaccinium Angustifolium (blueberry) Fruit Extract, Hibiscus Sabdariffa Flower Extract, Euterpe Oleracea Fruit (acai) Extract, Rosmarinus Officinalis (rosemary) Extract Caprylyl Glycol, Allantoin, Aloe Barbadensis Leaf Powder, Styrene/VP Copolymer, Carbomer ,Triethanolamine, Adenosine, Dipotassium Glycyrrhizate, Chlorophyllin-Copper Complex cosDNA 
Euyira Redness Relief Soothing Ampoule: Glacier Water, Water, Sodium Hyaluronate, Methylpropanediol, Mannan, Butylene Glycol,PEG/PPG-17/6 Copolymer, Glycerin, Camellia Sinensis Leaf Extract,  Melaleuca Alternifolia (Tea Tree) Extract, Portulaca Oleracea Extract, Cryptomeria Japonica Leaf Extract, Nelumbo Nucifera Leaf Extract, Saccharomyces Ferment, 1,2-Hexanediol,Allantoin, Melaleuca Alternifolia (Tea Tree) Leaf Oil, Dipotassium Glycyrrhizate, Aspalathus Linearis Extract, Glycyrrhiza Glabra (Licorice) Root Extract, Ethylhexylglycerin, Caprylyl Glycol,Polyglyceryl-4 Caprate, Pentylene Glycol  cosDNA

Eclado Glycyrrhiza Extract Ampoule: Glycyrrhiza Extract (98%), Butylene Glycol, Glycerin, Hydroxyethyl cellulose, Natto Gum, Hyaluronic Acid Extract, Scutellaria Baicalensis Root Extract, Paeonia Suffruticosa Root Extract, Distilled Water  cosDNA
Dr Jart+ Cicapair Tiger Grass Re.Pair Serum: Water, Glycerin, Propanediol, Butylene Glycol, Niacinamide, 1,2-Hexanediol, Dimethicone, Dimethicone/Vinyl Dimethicone Crosspolymer, Carbomer, Tromethamine, Artemisia Princeps Leaf Extract, Hydroxyacetophenone, Cyclopentasiloxane, Melia Azadirachta Leaf Extract, Cyclohexasiloxane, Ethylhexylglycerin, Glyceryl Polyacrylate, Octyldodecanol, Adenosine, Melia Azadirachta Flower Extract, Disodium EDTA, heobroma Cacao (Cocoa) Extract, Dextrin, Lavandula Angustifolia (Lavender) Oil, Polyglutamic Acid, Lecithin, Citrus Grandis (Grapefruit) Peel Oil, Phenoxyethanol, Rosmarinus Officinalis (Rosemary) Leaf Oil, Anthemis obilis Flower Oil, Madecassoside, Aniba Rosaeodora (Rosewood) Wood Oil, Centella Asiatica Leaf Water, Houttuynia Cordata Extract, Asiatic Acid, Asiaticoside, Alcohol, Madecassic Acid, Centella Asiatica Meristem Cell Culture, PEG-8, Caprylyl Glycol, PPG-1-PEG-9 Lauryl Glycol Ether, Helianthus Annuus (Sunflower) Seed Extract, Gentiana Lutea Root Extract, Achillea Millefolium Extract, Arnica Montana Flower Extract, Artemisia Absinthium Extract, Hedera Helix (Ivy) Leaf/Stem Extract, Sodium Glycerophosphate, Phytic Acid, Centella Asiatica Extract, Selaginella Lepidophylla Extract, Potassium Magnesium Aspartate, Citric Acid, Sodium Polyacrylate, Calcium Gluconate, Magnesium Gluconate, Potassium Sorbate, Xanthan Gum, Sodium Benzoate, Polysorbate 20 cosDNA
Klairs Midnight Blue Calming Cream: Water, Cetyl Ethylhexanoate, Butylene Glycol, Glycerin, Sodium Hyaluronate, Caprylic/Capric , Triglyceride, Centella Asiatica Extract, Sorbitan Stearate, Cetyl Alcohol, Butyrospermum Parkii (Shea Butter), Argania Spinosa Kernel Oil, Simmondsia Chinensis (Jojoba) Seed Oil, Sorbitan Sesquioleate, Glyceryl Stearate, Stearic Acid, Portulaca Oleracea Extract, Anthemis Nobilis Flower Extract, Ceramide 3, Polysorbate 60, Bees Wax, Chlorphenesin, Tocopheryl Acetate, Xanthan Gum, Acrylates/C10-30 Alkyl, Acrylate Crosspolymer, Morus Alba Root Extract, Triethanolamine , Brassica Oleracea Italica (Broccoli) Extract, Lavandula Angustifolia (Lavender) Oil, Eucalyptus Globulus Leaf Oil, Pelargonium Graveolens Flower Oil, Citrus Limon (Lemon) Peel Oil, Citrus Aurantium Dulcis (Orange) Peel Oil, Cananga Odorata Flower Oil, Guaiazulene, Acetyl Hexapeptide-8, Lecithin, Acetyl Glutamine, SH-Oligopeptide-1, SH-Oligopeptide-2, SH-Polypeptide-1, SH-Polypeptide-9, SH-Polypeptide-11, Bacillus/Soybean/Folic Acid Ferment Extract, Caprylyl Glycol, 1,2-Hexanediol  cosDNA
Live Botanical Aer Blue Tansy + Babassu Balancing Whipped Oil (Serum) : Bababssu Oil*, Cranberry Seed Oil, Sunflower Seed Oil*, Grape Seed Oil*, Passion Fruit Seed Oil*, Infusions of Lavender*, Lemon Balm* , Self-Heal*, Essential oils of Blue Tansy*, Juniper Berry and Lavender* cosDNA *organic
Naruko Tea Tree Blemish Buster Cream: Active Ingredient: salicylic acid (.5%)  Other Ingredients: cyclopentasiloxane, cyclohexasiloxane, talc, diethylhexyl carbonate, calamine, dimethicone, kaolin, candelilla cera, triethylhexanoin, sorbitan olivate, silica, polyethylene, silica dimethyl silylate, borneol, menthol, mentha spicata crispa (Moroccan mint) herb oil, phenoxyethanol, ethylhexylglycerin, cinnamomum cassia oil, piroctone olamine, tea tree (melaleuca alternifolia) essential oil, orange (citrus nobilis) essential oil , spearmint (mentha viridis) essential oil, lemon (citrus limonum ) essential oil, lime (citrus aurantifolia) essential oil, peppermint (mentha piperita) essential oil, grapefruit (citrus paradisis)essential oil , niaouli (melaleuca viridiflora)essential oil, oryza sativa (rice) hull powder, lens esculenta (lentil) seed extract, tranexamic acid, snow fungus (tremella fuciformis) extract, kalanchoe spathulata extract, glycyrrhiza glabra (licorice) root extract, scutellaria alina flower/leaf/stem extract, peucedanum ostruthium leaf extract, ginkgo biloba leaf extract, artemisia umbelliformis extract, leontopodium alpinum extract, epilobium fleischeri extract, calendula officinalis flower extract, chamomilla recutita (matricaria) flower extract, camellia sinensis (green tea) leaf extract  cosDNA

Dr. Jart+ Cicapair (Tiger Grass) Cream: Water, Propanediol, Centella Asiatica Leaf Water, Butylene Glycol, Caprylic/Capric Triglyceride, Panthenol, Diisostearylmalate, Polyglyceryl-3 Methylglucose Distearate, Butyrospermum Parkii (Shea) Butter, Glyceryl Stearate, Niacinamide, Macadamia Ternifolia Seed Oil, Cetearyl Alcohol, Hydrogenated Poly(C6-14 Olefin), Hydrogenated Polydecene, Hydrogenated Polyisobutene, 1, 2-Hexanediol, PEG-8, PEG-100 Stearate, Polyacrylate-13, Palmitic Acid, Tocopheryl Acetate, Beeswax, Glycerin, Stearic Acid, Phenoxyethanol, Polyisobutene, Asiaticoside, Carbomer, Tromethamine, Madecassic Acid, Asiatic Acid, Spirulina Platensis Powder, Alcohol, Polysorbate 20, Ethylhexylglycerin, Lavandula Angustifolia (Lavender) Oil, Sorbitan Isostearate, Adenosine, Ceramide NP, Citrus Grandis (Grapefruit) Peel Oil, Hydrogenated Lecithin, Disodium EDTA, Rosmarinus Officinalis (Rosemary) Leafoil, Anthemis Nobilis Flower Oil, Sodium Hyaluronate, Centella Asiatica Extract, Theobroma Cacao (Cocoa) Extract, Dextrin, Houttuynia Cordata Extract, Anibarosodora (Rosewood)Wood Oil, Centella Asiatica Meristem Cell Culture, Madecassoside, Citric Acid, Achillea Millefolium Extract, Artemisia Absinthium Extract, Arnica Montana Flower Extract, Gentiana Lutearoot Extract, Sucrose Laurate, Sodium Glycerophosphate, Selaginella Lepidophylla Extract, Potassium Magnesium Aspartate, Lysolecithin, Magnesium Gluconate, Calcium Gluconate, Potassium Sorbate, Sodium Ascorbyl Phosphate, Sodium Benzoate, Xanthan Gum  cosDNA 
A'Pieu Hamamelis Cream: Hamamelis Virginiana (Witch Hazel) Water (77%), Butylene Glycol, Cetearyl Alcohol, 1,2-Hexanediol, Isotridecyl Isononanoate, Glyceryl Stearate, Niacinamide, Polymethylsilsesquioxane, Pentylene Glycol, Methyl Methacrylate Crosspolymer, Ammonium Acryloyldimethyltaurate/VP Copolymer, Caprylic/Capric Triglyceride, Caprylyl Methicone, Hydroxyacetophenone, Citrus Aurantium Dulcis (Orange) Oil, Carbomer, Tromethamine, Adenosine, Salvia Sclarea (Clary) Oil, Disodium EDTA, Hexylene Glycol, Argania Spinosa Kernel Oil, Rhus Semialata Gall Extract, Capryloyl Glycine, Sesamum Indicum (Sesame) Seed Oil, Beta-Sitosterol, Serenoa Serrulata Fruit Extract, Cinnamomum Zeylanicum Bark Extract, Sarcosine, Tocopherol  cosDNA

Innisfree Derma Formula Sebum Clean Gel: purified water, methyltrimethicone, butylene glycol, glycerin,dicaprylyl carbonate, colloidal sulfur, 1,2-hexanediol, ethanol, vinyl dimethicone/methicone silsesquioxane crosspolymer, ammonium acryloyldimethyltaurate/VP copolymer, cetearyl alcohol, polyglyceryl-3 methylglucose distearate, hydroxyethyl acrylate/sodium acryloyldimethyl taurate copolymer, shea butter, glyceryl stearate, stearic acid, glyceryl caprylate, hyaluronic acid, hydrogenated lecithin, disodium EDTA, xanthan gum, sorbitan isostearate, camellia sinensis (green tea) leaf extract, citrus unshiu peel extract, opuntia coccinellifera fruit extract, orchid extract, camellia japonica leaf extract, tocopherol, gycine soja (soybean) oil  cosDNA

Alive:Lab Centella Dressing Powder:  Zinc Oxide, Silica, Asiaticoside (derived from Centella Asiatica), Asiatic Acid (derived from Centella Asiatica), Madecassic Acid, Allantoin, Dipotassium Glycyrrhizate (Licorice), Azelaic Acid, Panthenol  cosDNA