Once again, I do get sidetracked in posting my Yogi Surprise Lifestyle boxes ~ they contain so many great items!!  This month's box is SO colorful and I think this must be one of the best ones they have curated yet.  I always enjoy getting my Yogi Surprise Lifestyle box ~ even if you do not practice Yoga, this is a great eco-friendly, green lifestyle subscription box.  What is Yogi Surprise?   

Yogi Surprise Lifestyle Box
6-8 full-size yoga lifestyle items

Vegetarian and GMO-Free

$70+ retail value in every box

$44.95/month + free shipping
This month's theme is "Peace & Seva" ~  Seva encompasses the concept of selfless service—or giving without any expectation of receiving anything in return. Since it's all too easy to get caught up in the hustle and bustle of the holiday season, we're providing you with gifts in our December box designed to help restore your sense of peace and energize both your mind and body.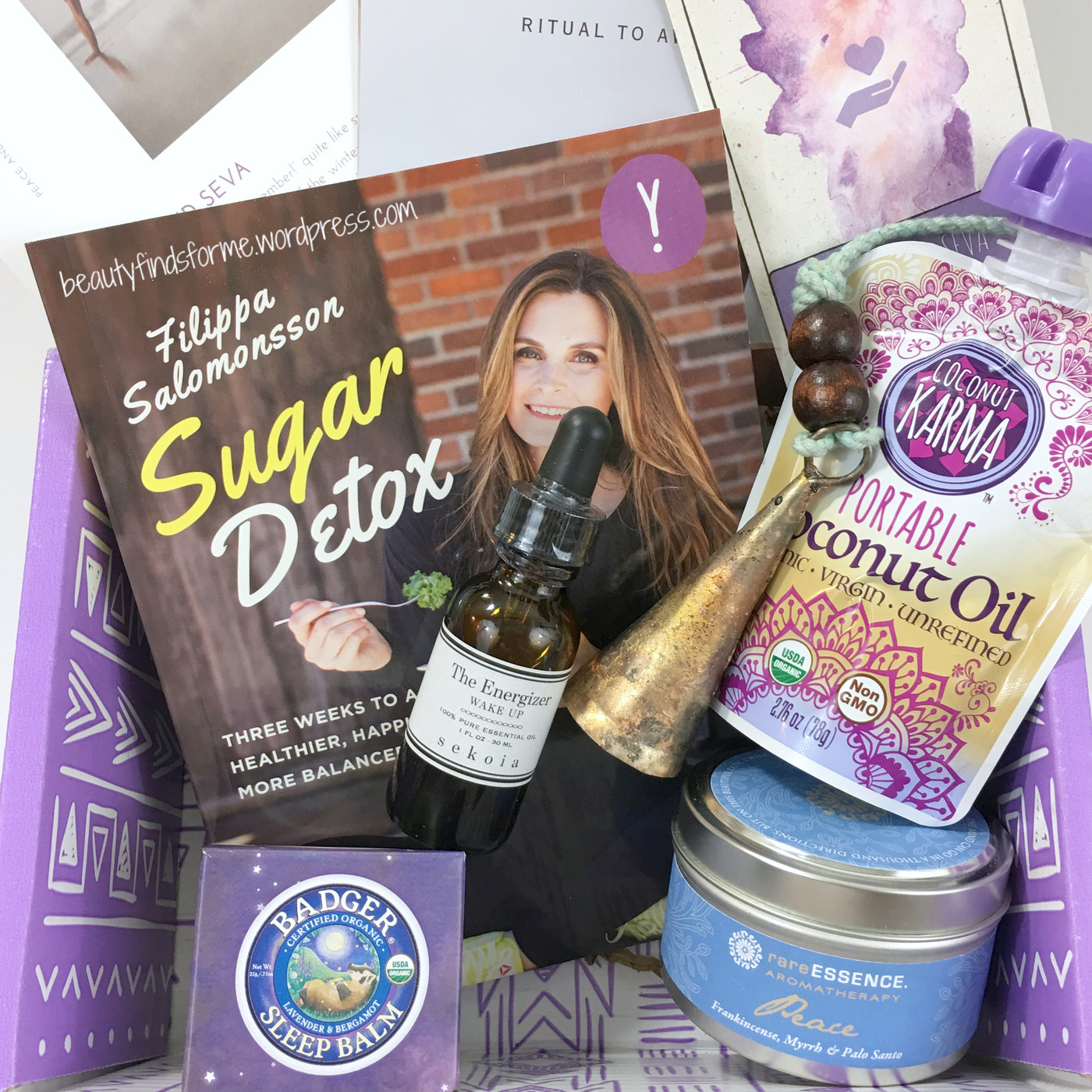 Informational Card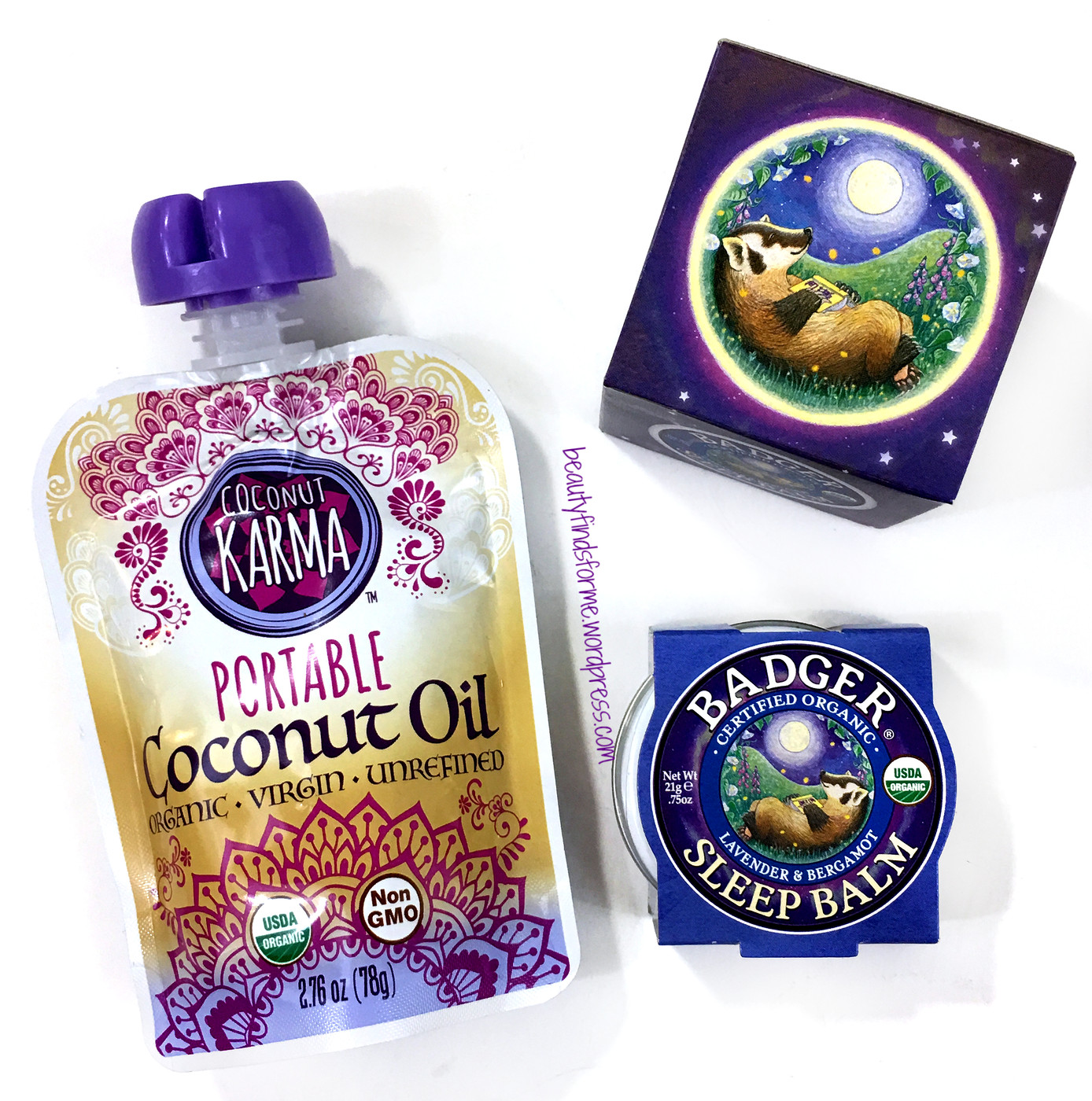 Coconut Karma Portable Coconut Oil by Tundalaya  The award for most colorful and decorative coconut oil package goes to Coconut Karma!  I love this beautiful pouch design, filled with 100% unrefined, organic, cold-pressed virgin coconut oil ~ topped off with a lavender cap, that you can reseal easily.  Coconut oil is very versatile ~ you can use it in cooking, to remove makeup, deeply moisturized cracked and dry skin, as a milk or butter substitute, oil pulling and a hair conditioner. This is also the perfect size to tuck away in your luggage as it is 78 grams (2.76oz)  USDA certified organic and no GMO ~ to use, just knead the closed pouch gently and then squeeze out!  RV $5.00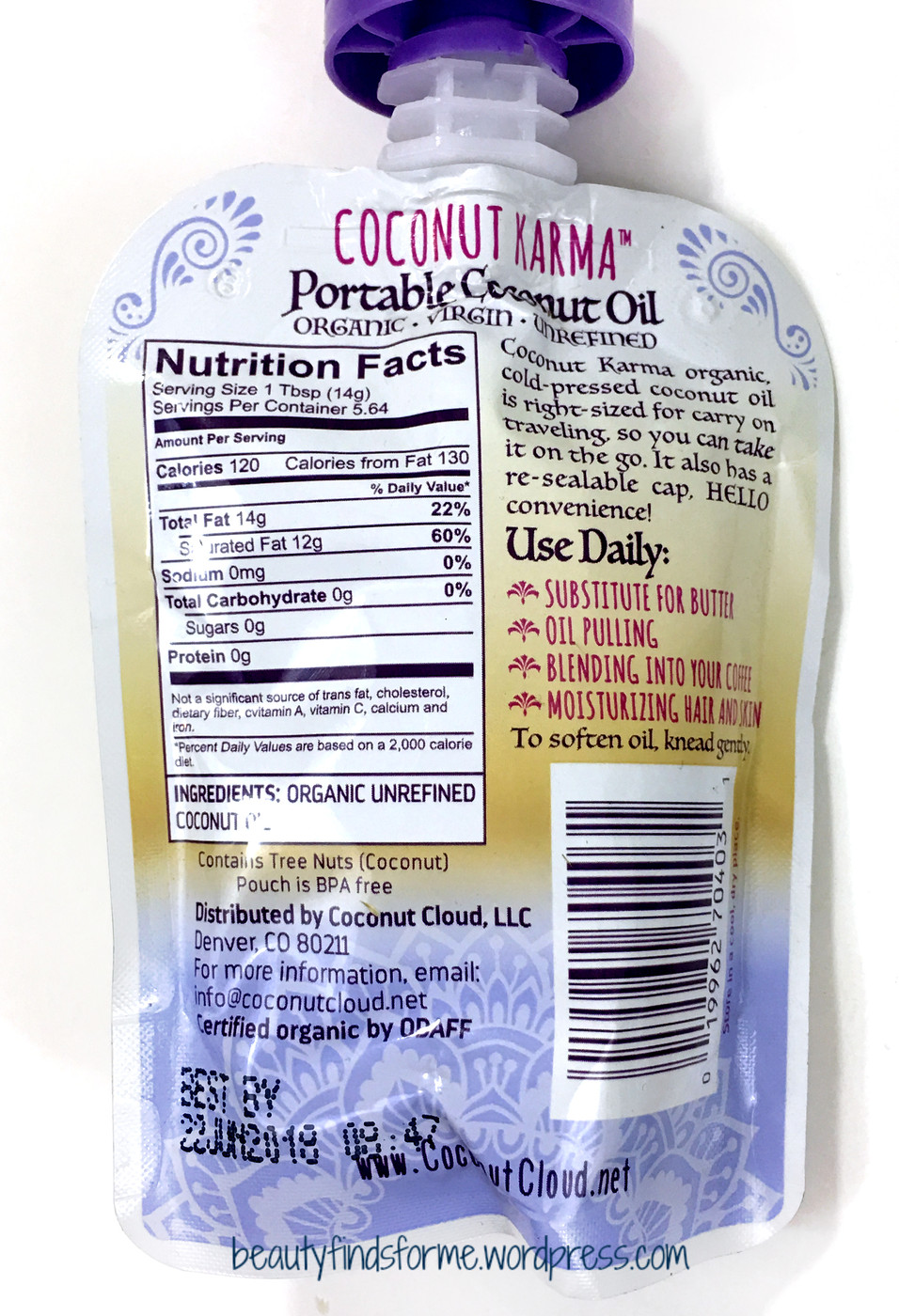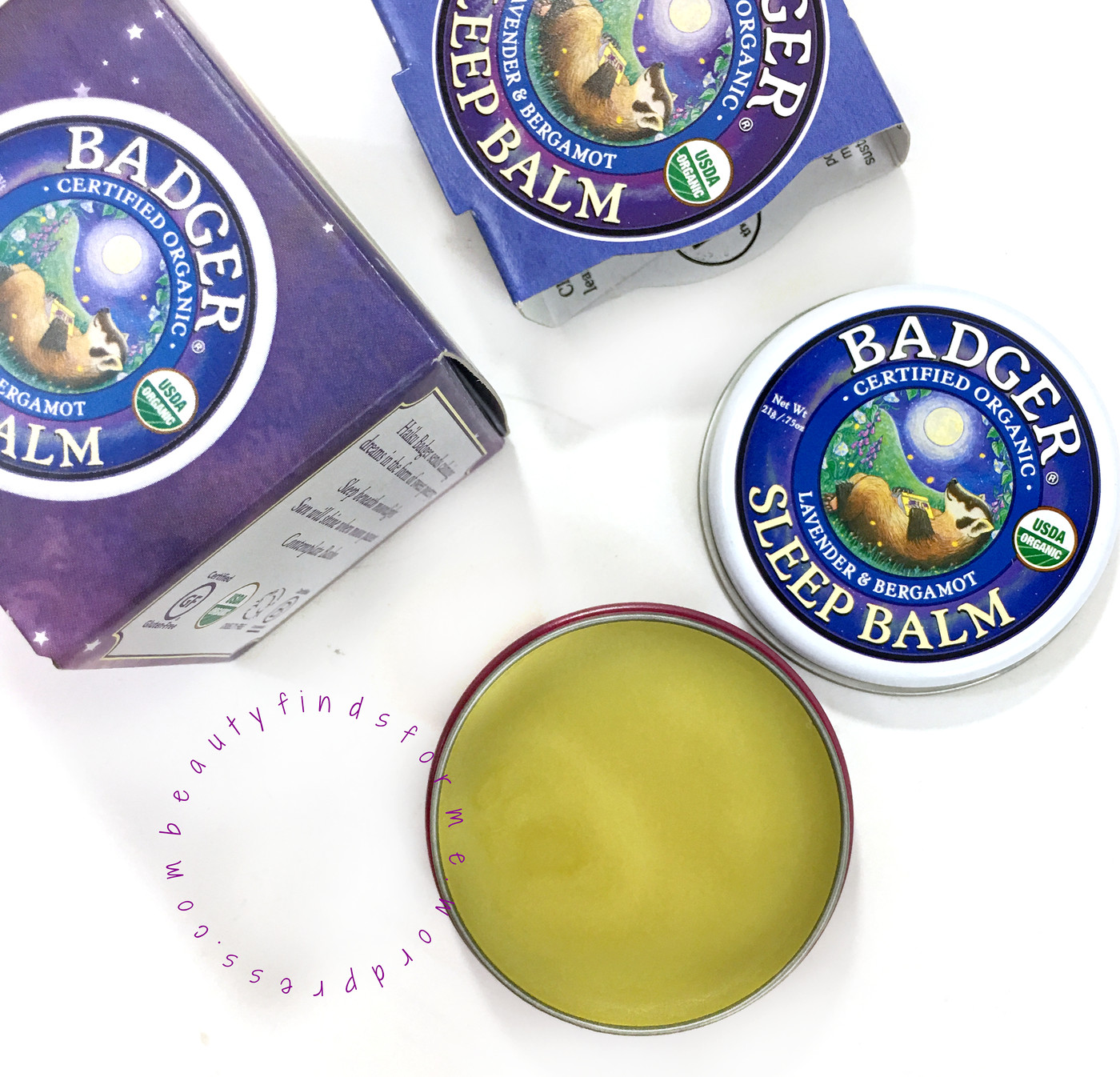 Badger Organic Sleep Balm Next up, another adorable design, with a lovely little tin full of lavender and bergamot goodness. I love the little badger sleeping under the full moon, in a field of lavender.  Badger Organics created this smooth balm that is certified gluten free, USDA organic and cruelty free, and it is a certified B Corporation ~ meaning that it is a for-profit company that has been certified by the nonprofit B Lab and meets the rigorous standards of social and environmental performance, accountability, and transparency. (source)   Made in the USA, this travel tin will help calm, soothe and relax your senses ~ just apply to your pulse points and to your temples.  It won't cause you to sleep, but the relaxing scent of lavender and bergamot will help you unwind for the day.  Despite being labeled as cruelty free, this is not vegan, as it does contain beeswax.   .75 oz  RV $5.99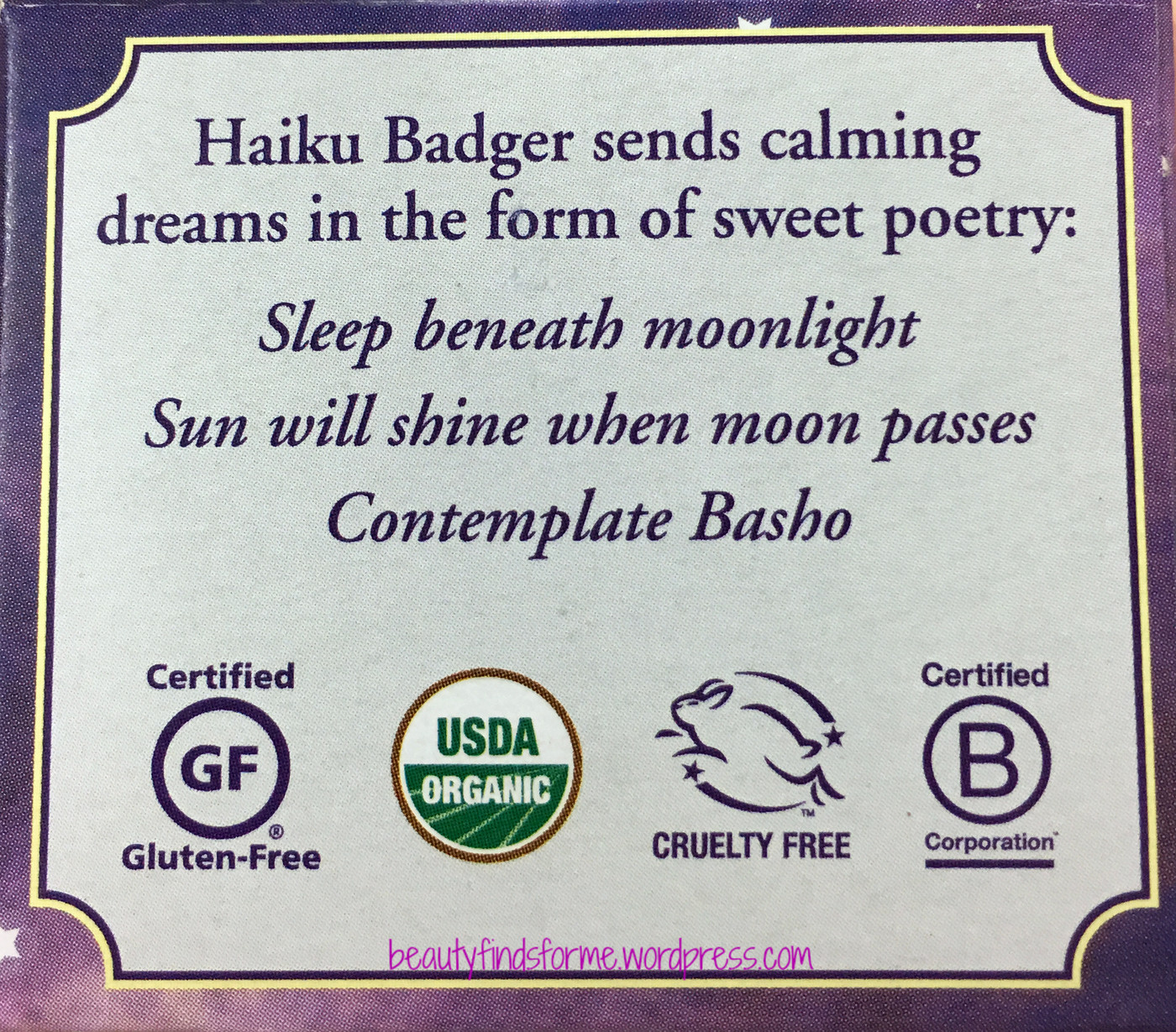 Description: A dreamy night balm rich with precious oils to calm, encourage, cheer and relax poetic Badgers and other restless wanderers. Badger Sleep Balm doesn't make you sleepy: the sophisticated blend of essential oils helps quiet your thoughts and clear your mind, then you fall asleep naturally. Rosemary is the traditional herb for clear thinking, confidence, and memory. Bergamot is mentally uplifting, and Ginger is strengthening and confidence-inducing. Balsam Fir is refreshing, like a walk in the woods, while Lavender is the traditional sleep herb: fresh and relaxing. This balm is perfect for those nights when you can't seem to stop the mind chatter! Just rub a little balm under nose, on lips, on temples or other pulse points. The aroma calms and relaxes, allowing for a peaceful transition into sleep.
Ingredients: *◊Olea Europaea (Olive) Fruit Oil, *Ricinus Communis (Castor) Seed Oil, *Cera Alba (Beeswax), *Citrus Aurantium Bergamia (Bergamot) Peel Oil, *Lavandula Angustifolia (Lavender) Flower Oil, *Rosmarinus Officinalis (Rosemary Verbenone) Leaf/Flower Oil, *Zingiber Officinale (Ginger) Root Extract, *Zingiber Officinale (Ginger) Root Oil, *Abies Balsamea (Balsam Canada) Needle Oil.  Organic essential oils contain >0.001% Limonene, Eugenol, Linalool, Citral.  *=Certified Organic ◊=Extra Virgin Olive Oil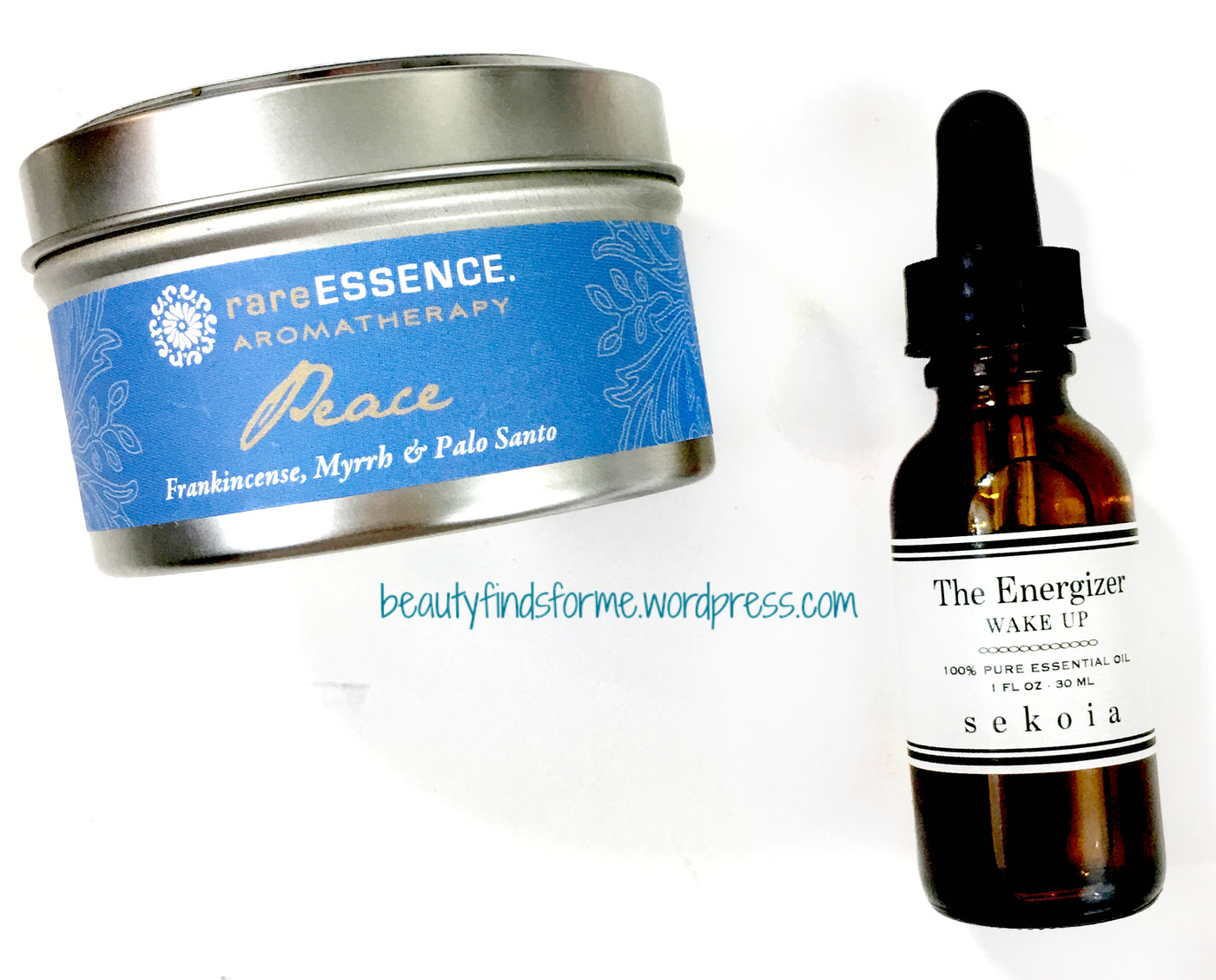 RareEARTH Essence Peace Candle  This spa candle is made with 100% pure GMO-free soy wax,  100% essential oil fragrances and cotton wicks.  This is a travel tin and Peace is made with frankincense, myrrh, and palo santo scents ~ "in an ancient and perfect harmony"  I love this scent ~ I really can pick up the palo santo essence ~ palo santo is a tree that grows along the coast of South American and means "Holy Wood" in Spanish. Part of the citrus family., it is also related to frankincense, myrrh and copal.  It has a blend of scents that is sweet and almost intoxicating ~ pine, mint and the citrus lemony scent come thru on this candle.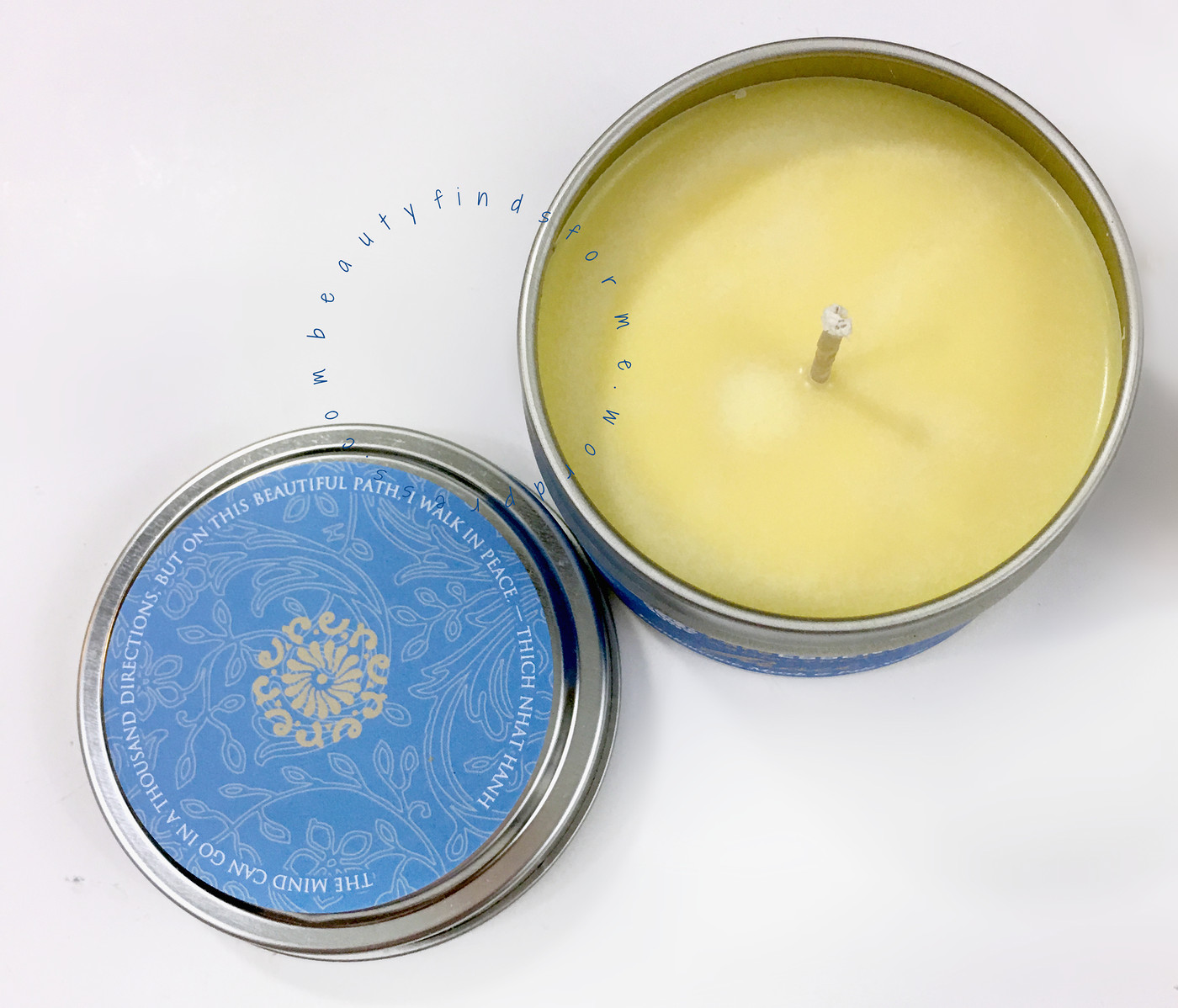 RareEarth candles are vegan and free from petroleum, paraffin waxes, synthetic dyes, artificial scents and phthalates.  Burn Time 60 hours  4 oz travel tin  RV $14.00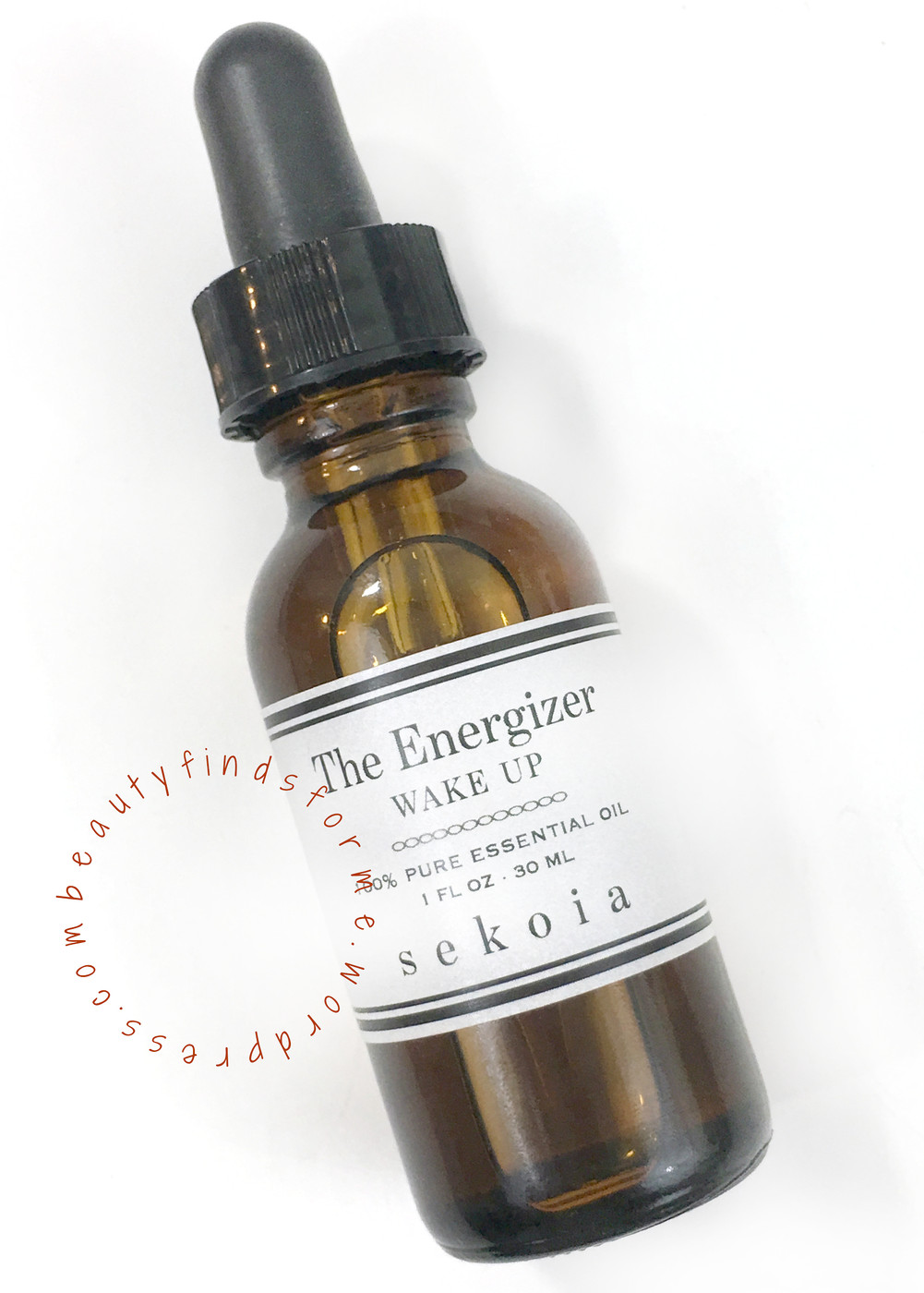 Sekoia Essential Oil in The Energizer The wonderful scents just keep coming!! I am so happy so far with this box!! This is an energizing and invigorating scent, due to its use of the crisp citrus scent of may chang, lemon and orange, plus the sweet scent of spearmint, the woodsy, green tones of pettigrain and herbal lavender ~ all in a carrier oil of coconut.   This is a dark amber colored glass bottle, as to preserve the strength and has an eye glass eyedropper.  All Sekoia's essential oils are wild harvested, 100% pure and pesticide free.  The Energizer can be used topically without any dilution as it has a carrier oil (I am loving it as a perfume), can be inhaled to wake up and bring clarity to your mind, during meditation, massage therapy, bathing, acupressure and with both warm and cold compresses.  Use this oil with an energizing yoga practice at https://sekoiastudios.com/awaken 1 oz $39.00  Promo Code:  Use AWAKEN to save 10% on your purchase at Sekoia

Ingredients: fractionated coconut oil, essential oils of spearmint, may chang,
orange,lemon,lavender, pettigrain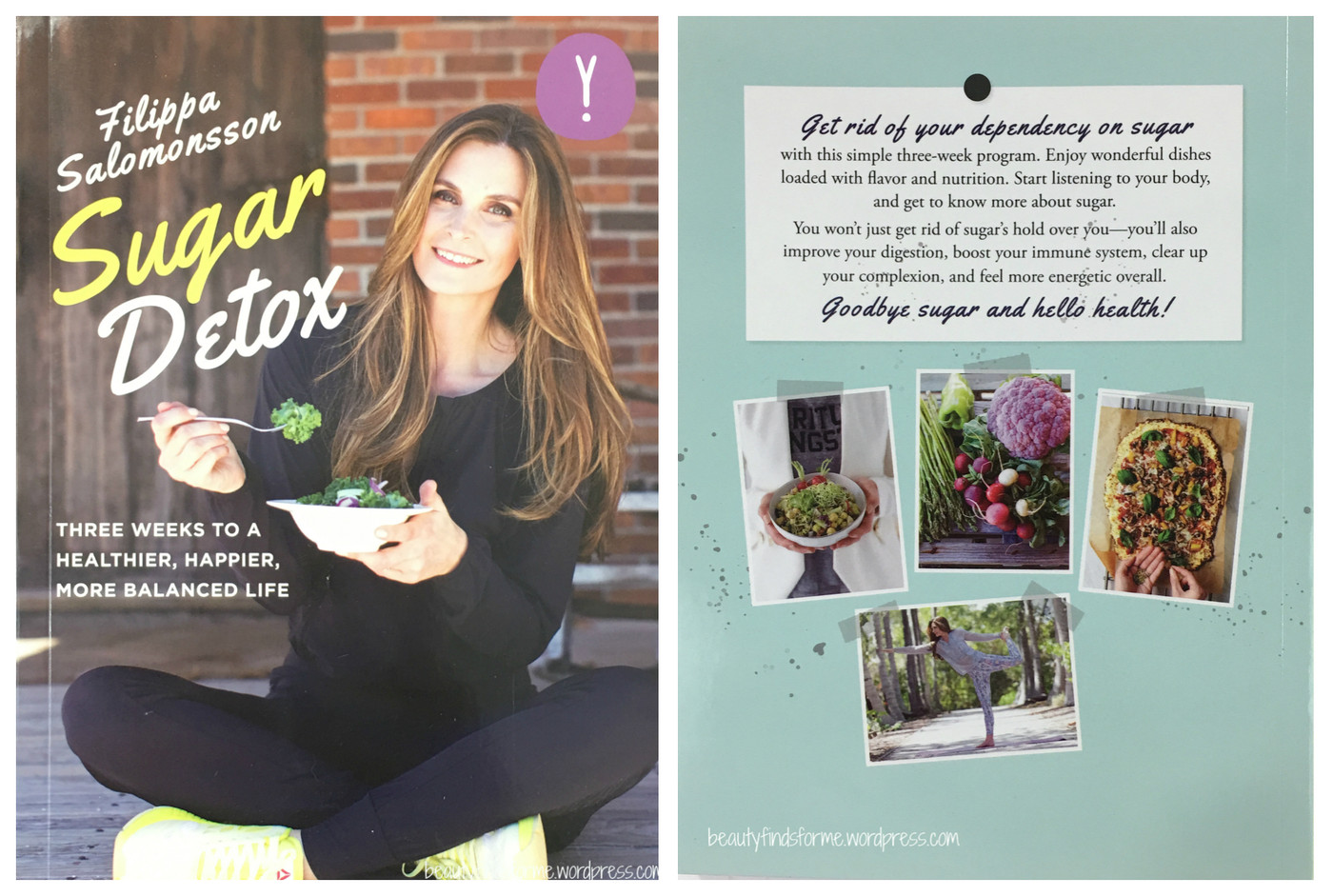 Sugar Detox by Filippa Salomonsson I remember reading The Sugar Blues when I was a teen and how sugar is worse than cocaine in what it does to your body. Well, I still eat sugar, but I do know that over the years, I have cut out a lot of sugary things like soda.  I do try to use natural sugars ~ such as honey, but I still cannot escape the sugar.  However, I do love getting books that help me in diet and eating more healthy ~ this is a 3 week program to cleanse and purify your body from toxins and keep sugar out of your life.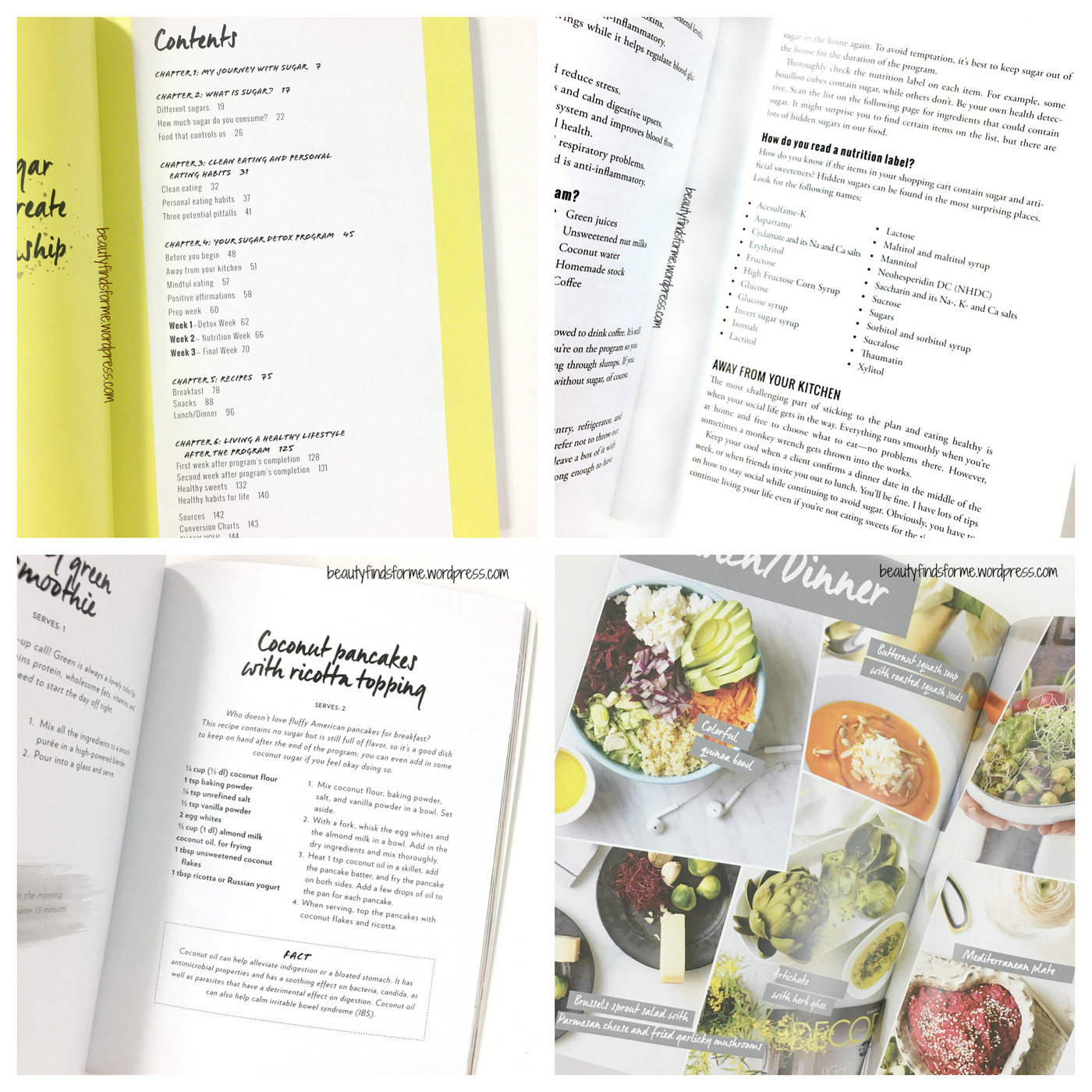 For me, it won't be out of my life for good, but any type of reduction in sugar is most welcome.  I love the recipes in this book and they look really easy.  The author, Filippa Salomonsson, is a holistic health coach  and owns Raw Clarity, a healthy juice bar.   RV $13.00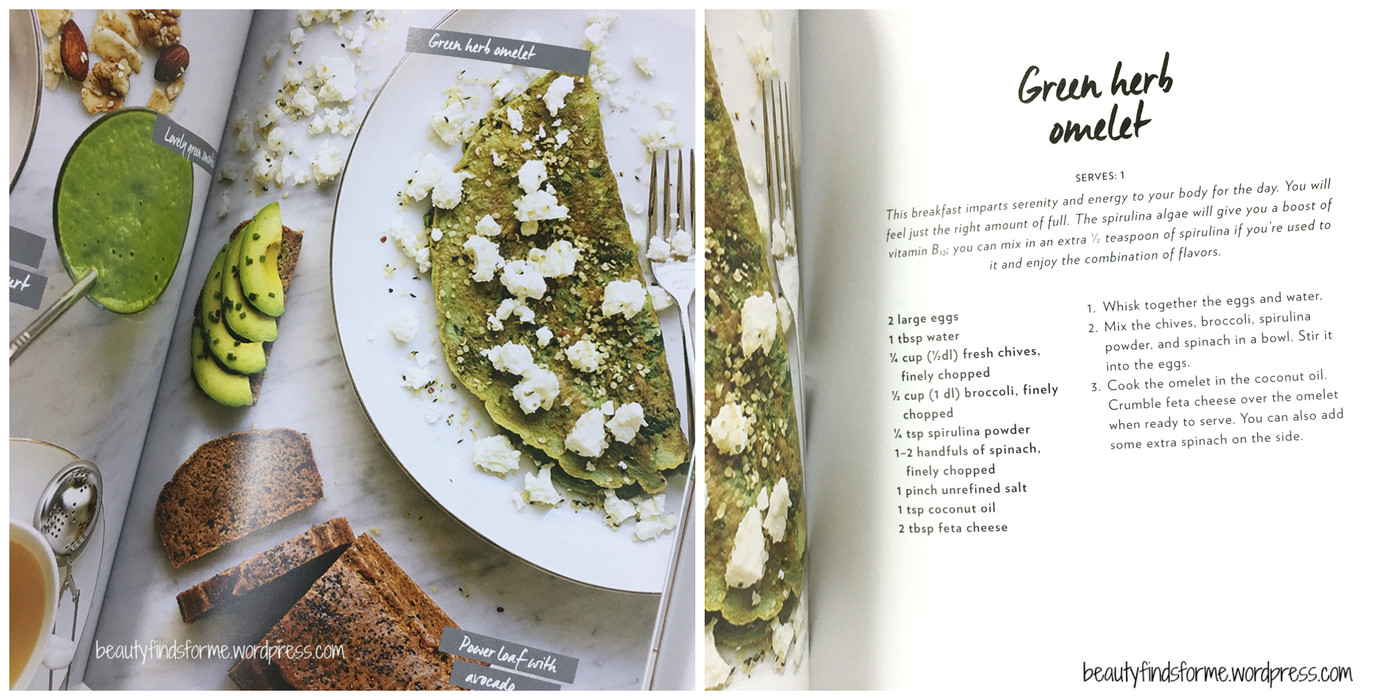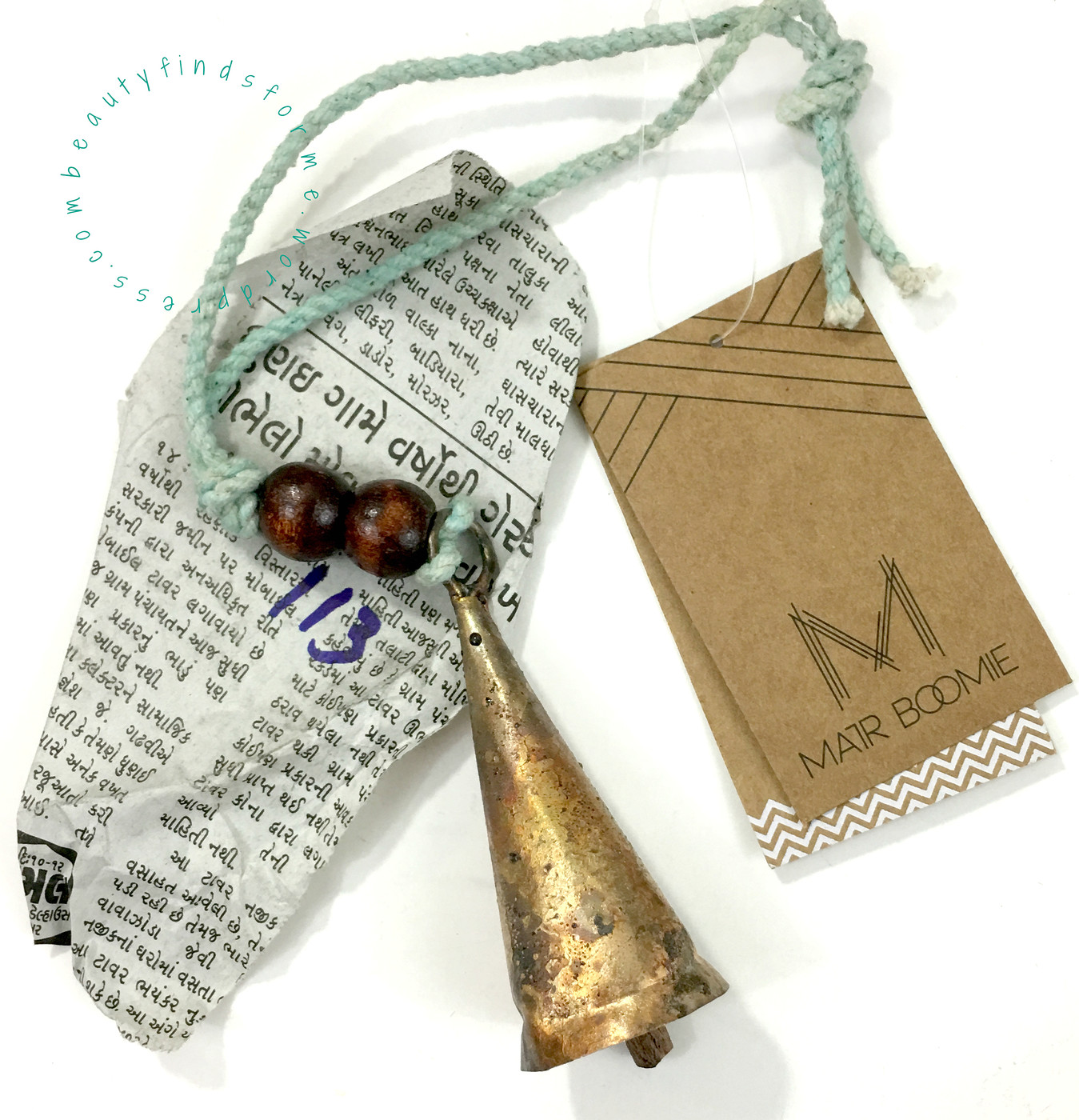 Yogi Chimes/Bell by Matr Boomie  I saved the best for last!! This is a handmade rustic bell or chime, from India. Each bell is made from recycled tin and iron metals by artisans in the desert Kutch region. They manually cut the metal sheets and then hand shape the bells, coat them in powdered brass and copper, then fire them in a kiln. The bell is then tuned to have a unique sound. 


This bell is hung by a pale celedon colored cord and then two wooden beads are suspended right above the cone shaped bell.  The clapper is a wooden one and it makes a lovely ring!  I want to see more items like this one in our boxes!  This is just a delightful item and it brought a smile to my face.  I also love that this bell was wrapped in paper from India too!  RV $15.00
Description: Bell-making is an ancient Indian craft with enchanting origins. Traditionally used by farmers to identify their livestock, each bell is tuned to produce a distinctive chime. Creating music from lifeless metal, bell-making in India uses craftsmanship passed down through generations. Due to consecutive droughts over the years, cattle breeders no longer buy bells on a regular basis and the demand for traditional bell making was on the verge of dying. With the help of fair trade and mission-based organizations, at least 1,000 village artisans in the desert Kutch region are repositioning this art form and earning sustainable livelihoods by selling the bells internationally. Most artisans work from their homes on local or homemade furnaces.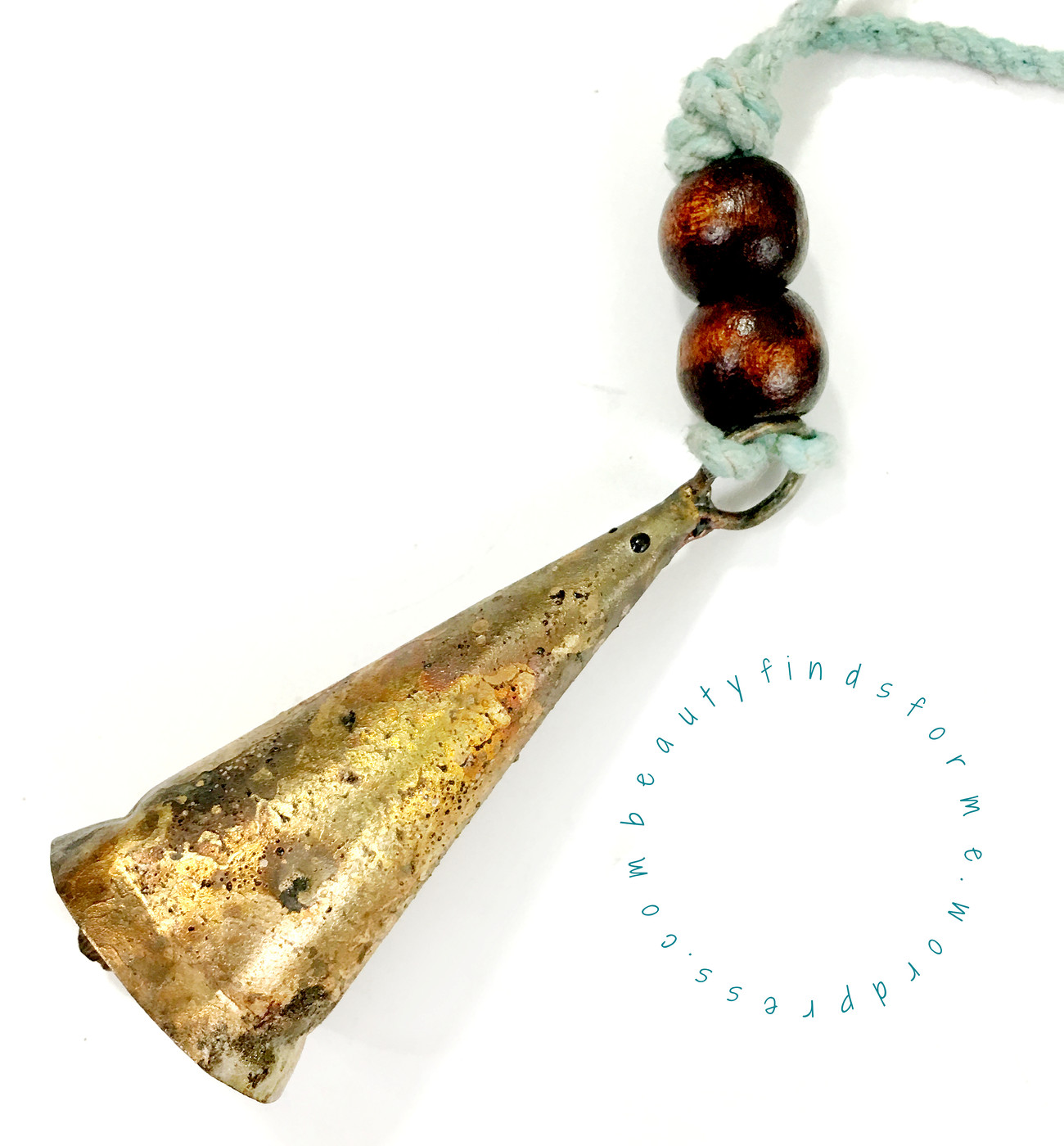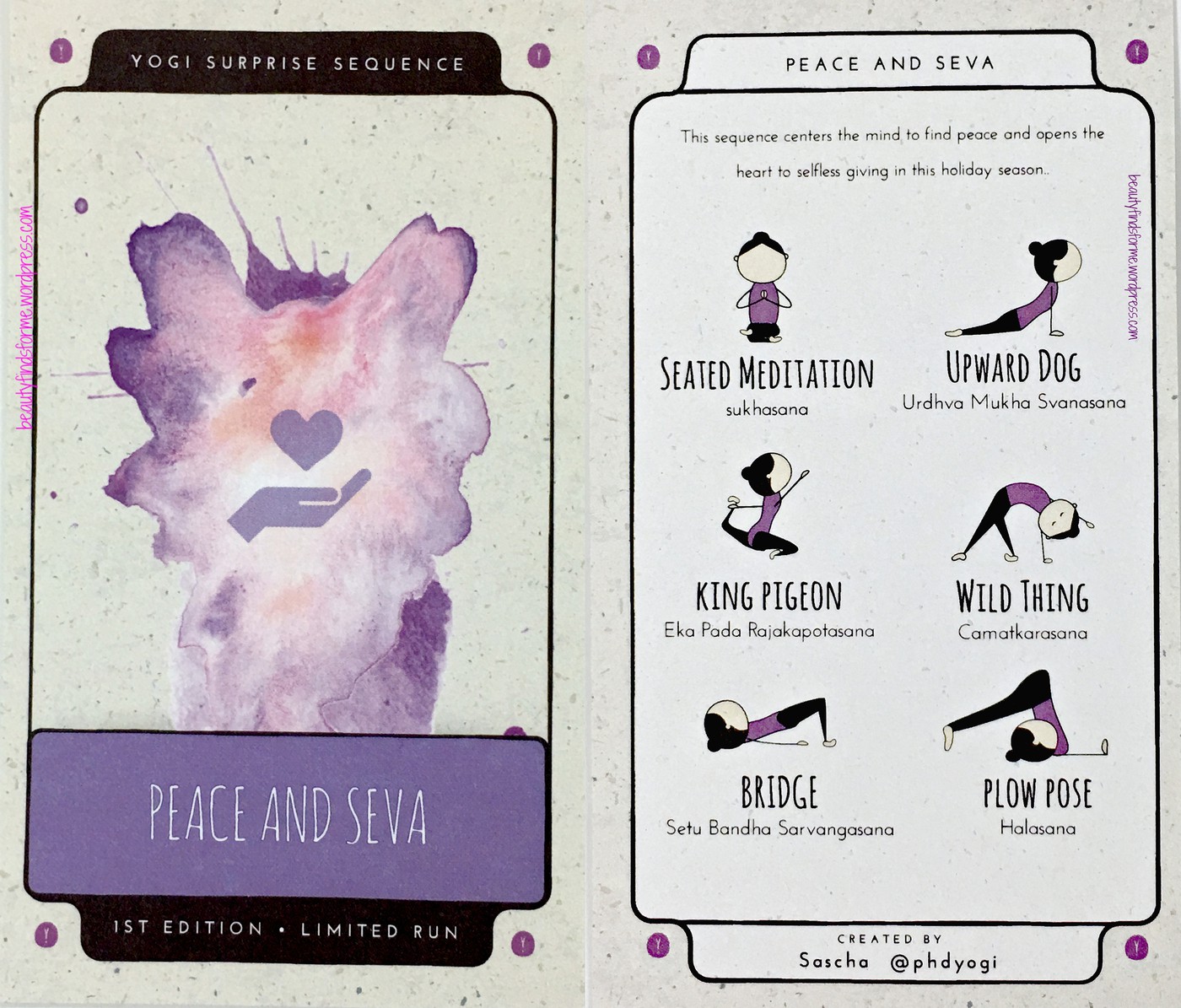 Bonus Item: Yogi Surprise Yoga Sequence Series Card: Peace & Seva "This sequence centers the mind to find peace and opens the heart to selfless giving this holiday season"   Yogi Surprise always has a sequence card in every lifestyle box with poses and positions that reflect the theme of the box.

This month was my favorite box ever from Yogi Surprise! They got everything right for me, from the amazing scents of the essential oil and candle, to a lavender sleep balm.  The Sugar Detox box is fantastic with great recipes including ones with chia seeds ~ I love making chia seed puddings ~ plus I can use my coconut oil in some of those recipes too.  And that BELL!!  I love it ~ that is the coolest item that Yogi Surprise has sent and it is just so wonderful. This box has a retail value of $92, which is really high!  Do you subscribe to Yogi Surprise Lifestyle Box?  What was your favorite item this month?

If you are interested in signing up to Yogi Surprise for either their Lifestyle or Jewelry box, I would love it if you used my affiliate link  or save $10.00 of your first box with referral code REF3AQZHRS0OX.  Join and received free Chakra Healing Stones

Check out the spoilers for next month's boxes below!    If you sign up for the Lifestyle box, use YOGILOVE to get 15% off the life of your subscription! 
Next Month Spoilers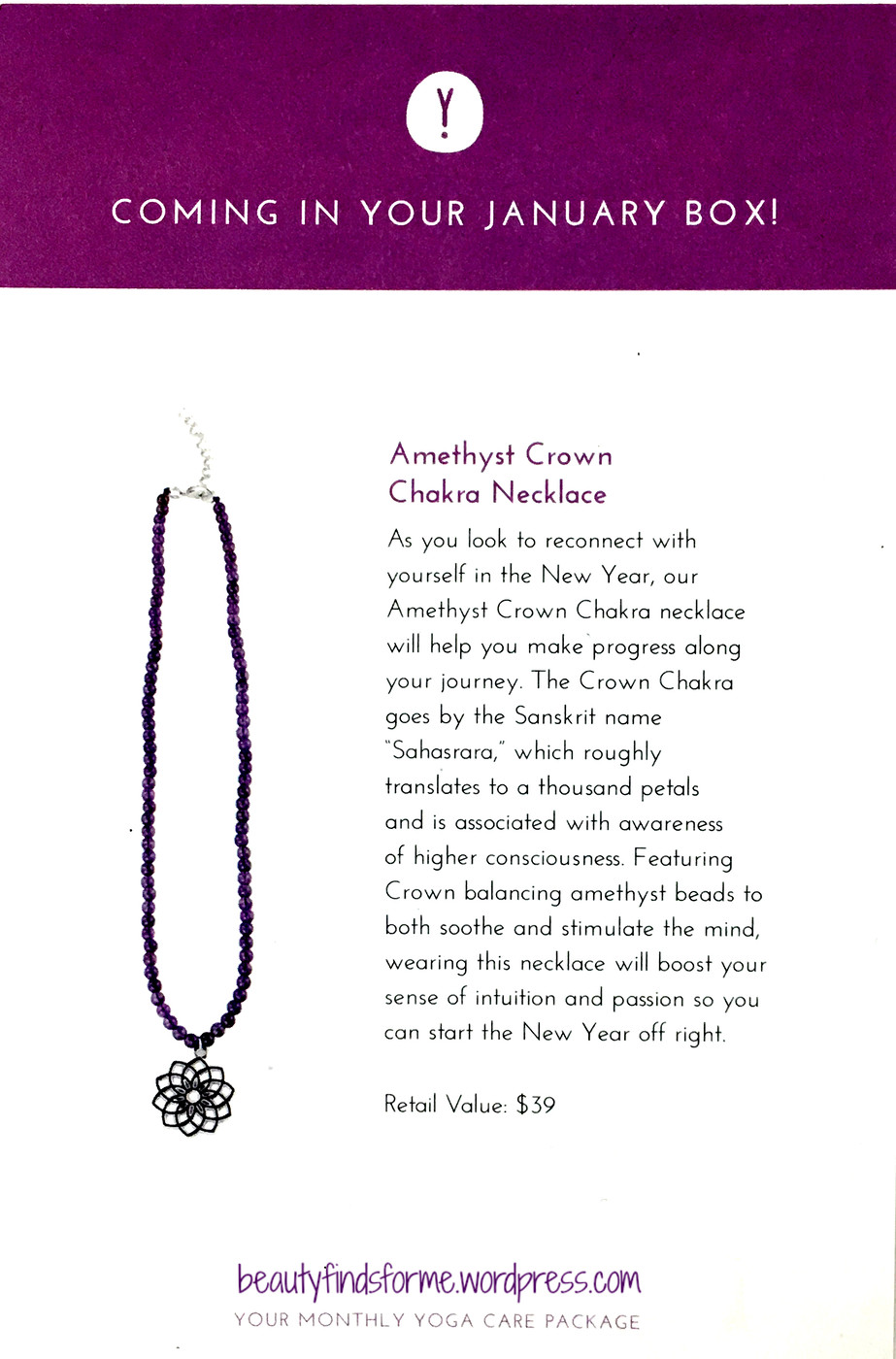 [ all descriptions in italics from linked website.  this blog post contains referral & affiliate links ]