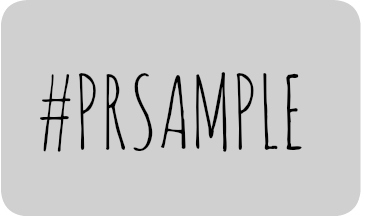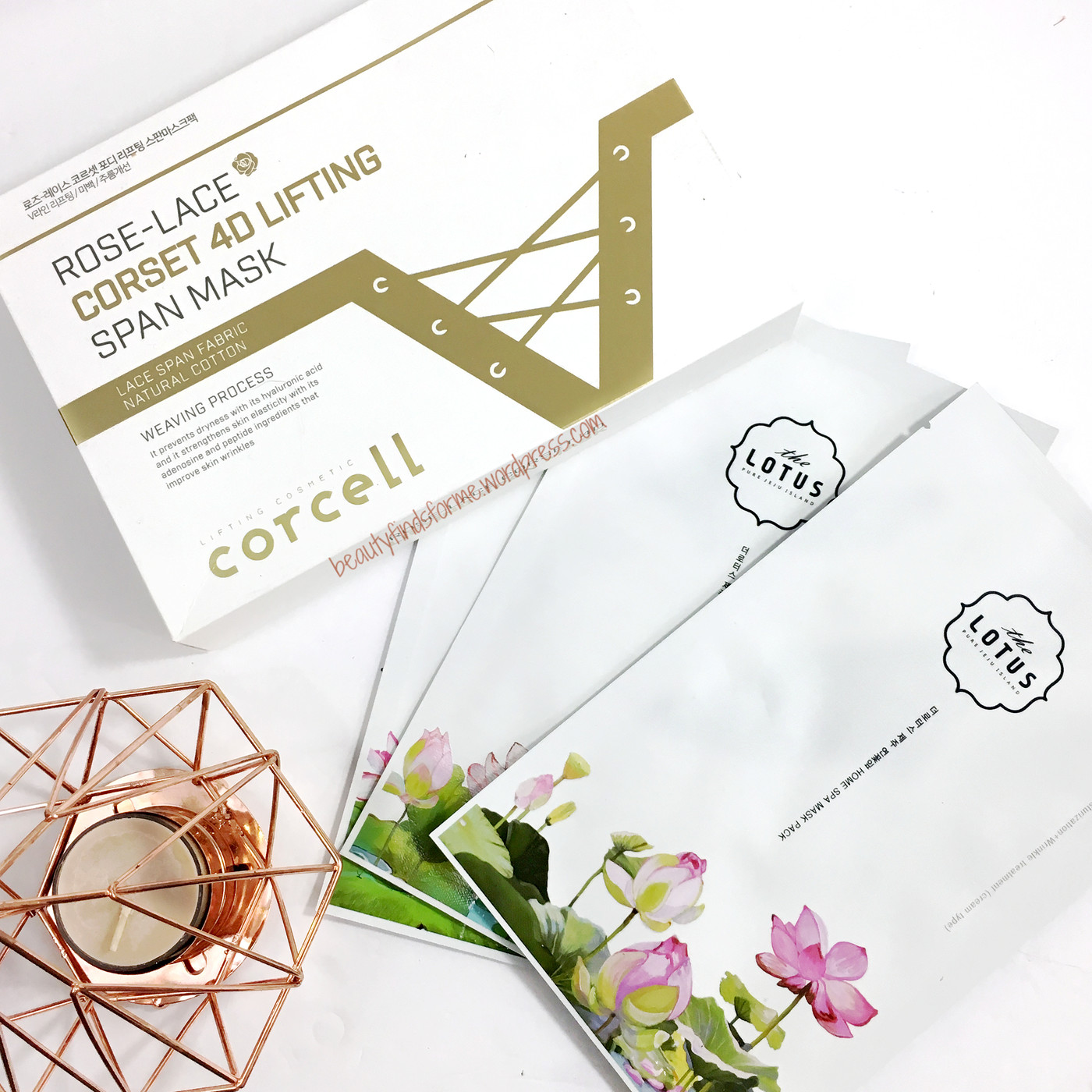 Be Mused Korea is a brand new store that carries a lot of my favorite new brands, such as Earth's Recipe, A by BOM , 107 One O Seven and ATOClassic.  The owner, Lisa, beauty-blogged for over 10 years and has been dreaming of opening her own shop for 5 years and it is finally here! I  was so excited to see the brands she curated, as they are new or not as popular,  but some of them I have used them in the past and love them.  Be Mused Korea is in the heart of K-Beauty, Seoul ~ and they are very selective on how they choose brands to feature on their online shop. I actually purchased some items from her shop and then she asked if I would like to review some items.  I received a lovely PR package full of masks, not just one or two, but a full box of 3 types, so I could test them out properly.    I have reviewed the Merbliss masks here and now I am going to focus on the Corcell Rose-Lace Corset 4D Lifting Span Mask (whew!!) as well as a bonus review at the end!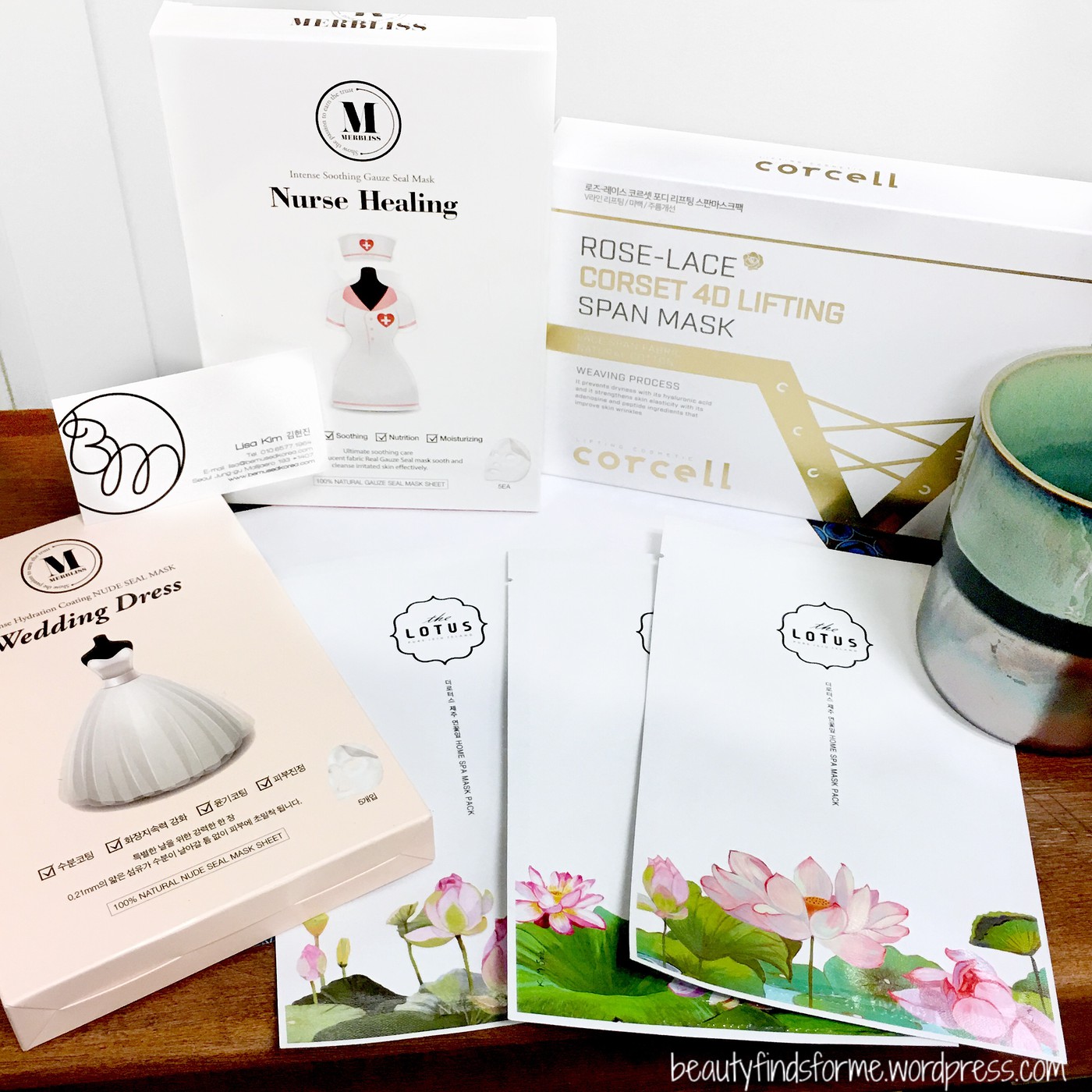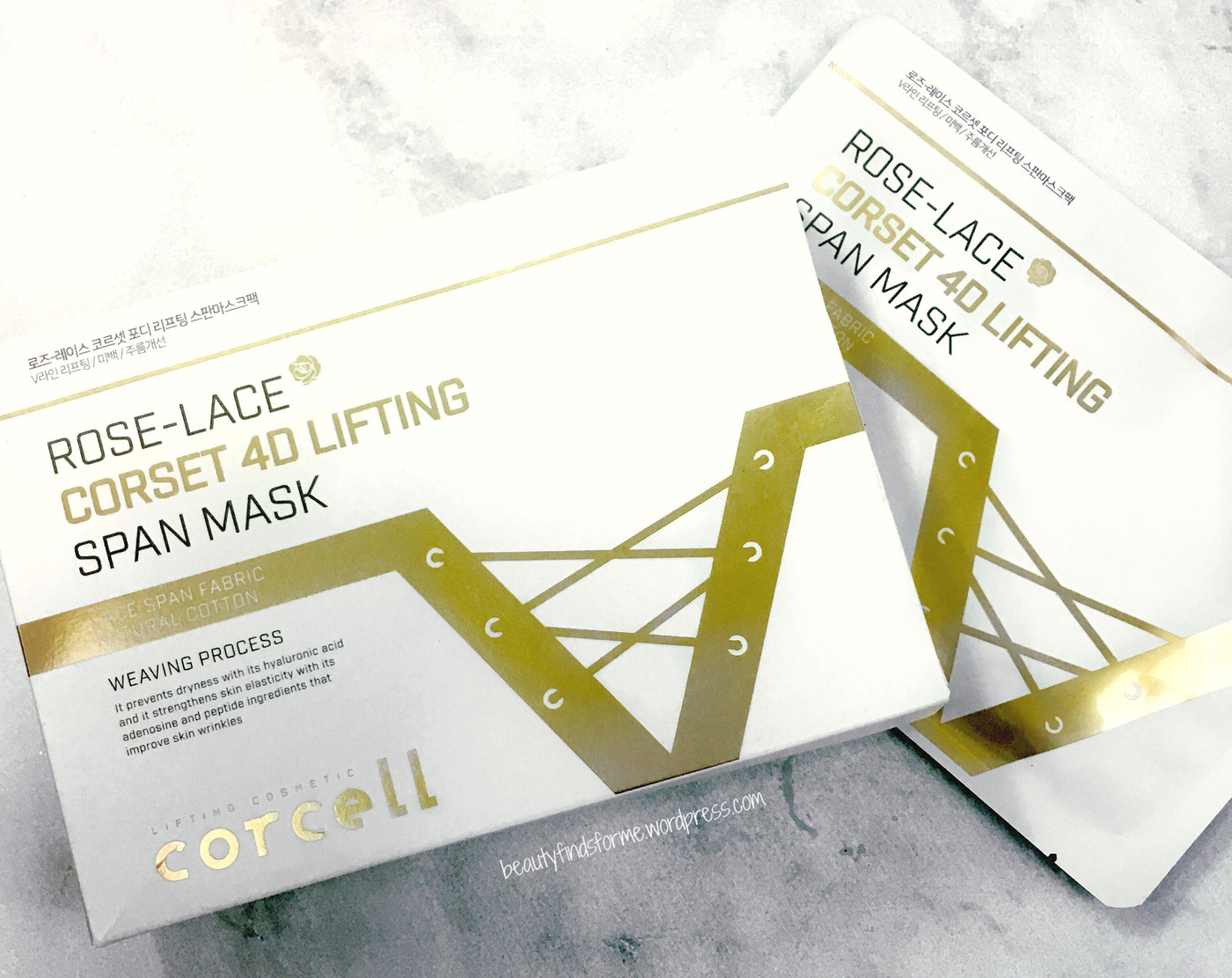 I have never heard of the brand Corcell until Bemused Korea introduced them to me.  This mask is a firming and toning mask and I wanted to really test it out, so I did use all 5 masks in the span of less than 3 weeks.
Corcell is a skincare brand that specializes in innovative anti-aging and lifting cosmetics. Corcell uses the most cutting edge anti-aging ingredients such as acetyl hexapeptide-8, known as the "Botox peptide" for its ability to relax wrinkles and lines. Corcell products also feature Volufiline from Sederma, a plant extract from anemarrhena asphodeloides root that is clinically tested to firm and fill the skin, giving it greater volume and plumpness for a younger appearance.
Skin Type/Concerns: Oily, blemish prone, aging, fine lines/wrinkles, pores and hyper-pigmentation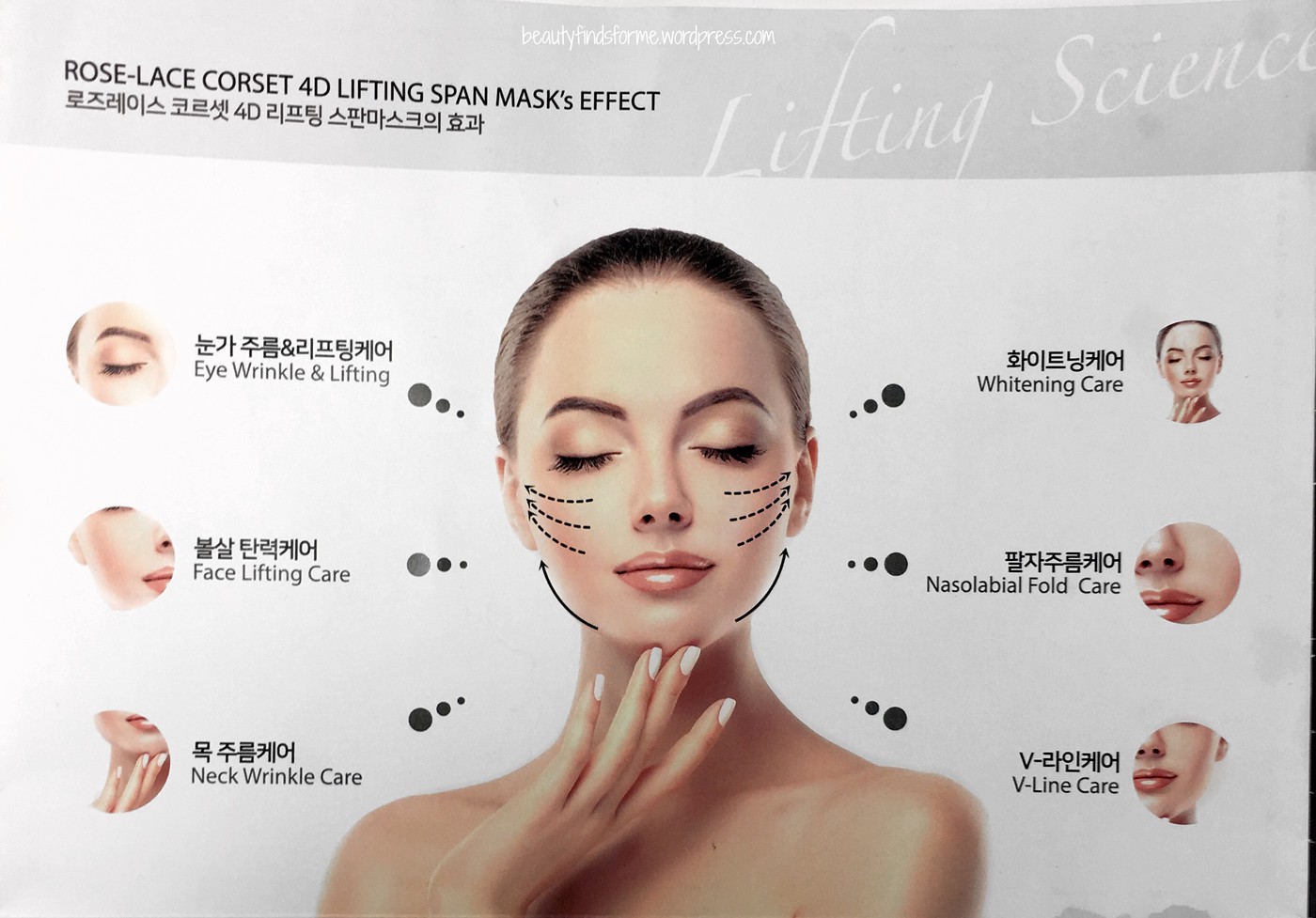 Despite the name, there is no rose extract in here ~ the rose description comes from the lacy rose pattern on the sheet mask. Instead, this mask is full of firming, brightening and moisturizing ingredients, starting with anti-aging peptides.  Acetyl hexapeptide-8, also known as botox peptide, helps bind water to your skin, helps regenerate skin cells and reduce the appearance of fine lines and wrinkles;  Copper tripeptide-1 is made from soybeans and aids in the production of glycosaminoglycans which help support and maintain the production of collagen and elastin.
KFDA approved brightening ingredient niacinamide (vitamin B3) is a powerful antioxidant that acts as an anti-inflammatory, improves your skin elasticity, enhance the skin barrier function and also it helps to even out skin tone and reduce post-inflammatory hyper-pigmentation. KFDA approved anti-wrinkle ingredient adenosine is a yeast derived compound that will strengthen the power of your skin to regenerate and has anti-aging, anti-wrinkle and anti-inflammatory properties. Allantoin is known for healing, soothing and softening skin and it also helps remove cracked and chapped skin, leaving behind healthy looking skin.
French patented compound Volufiline™, extracted from anemarrhena asphodeloides roots, will help promote lipid (fat) storage so it will create more volume in your fatty tissues.  This will help plump up your skin which in turn will provide a lifting and firming effect.  I guess this ingredient is really popular with boob and butt creams!
Ingredients:  Water, Butylene Glycol, Sodium Polystyrene Sulfonate, Glycereth-26, Niacinamide, Hydroxyethyl Urea, 1,2-Hexanediol, Hydrogenated Polyisobutene, Polyglyceryl-10 Laurate, Glycerin, Polyglycerly-10 Myristate, Ethylhexylglycerin, Hydroxyethyl Cellulose, Disodium EDTA, Allantoin, Adenosine, Citric Acid, Sodium Citrate, Copper Tripeptide-1, Acetyl Hexapeptide-8, Xanthan Gum, Anemarrhena Asphodeloides Root Extract, Citrus Aurantium Bergamia (Bergamot) Fruit Oil cosDNA analysis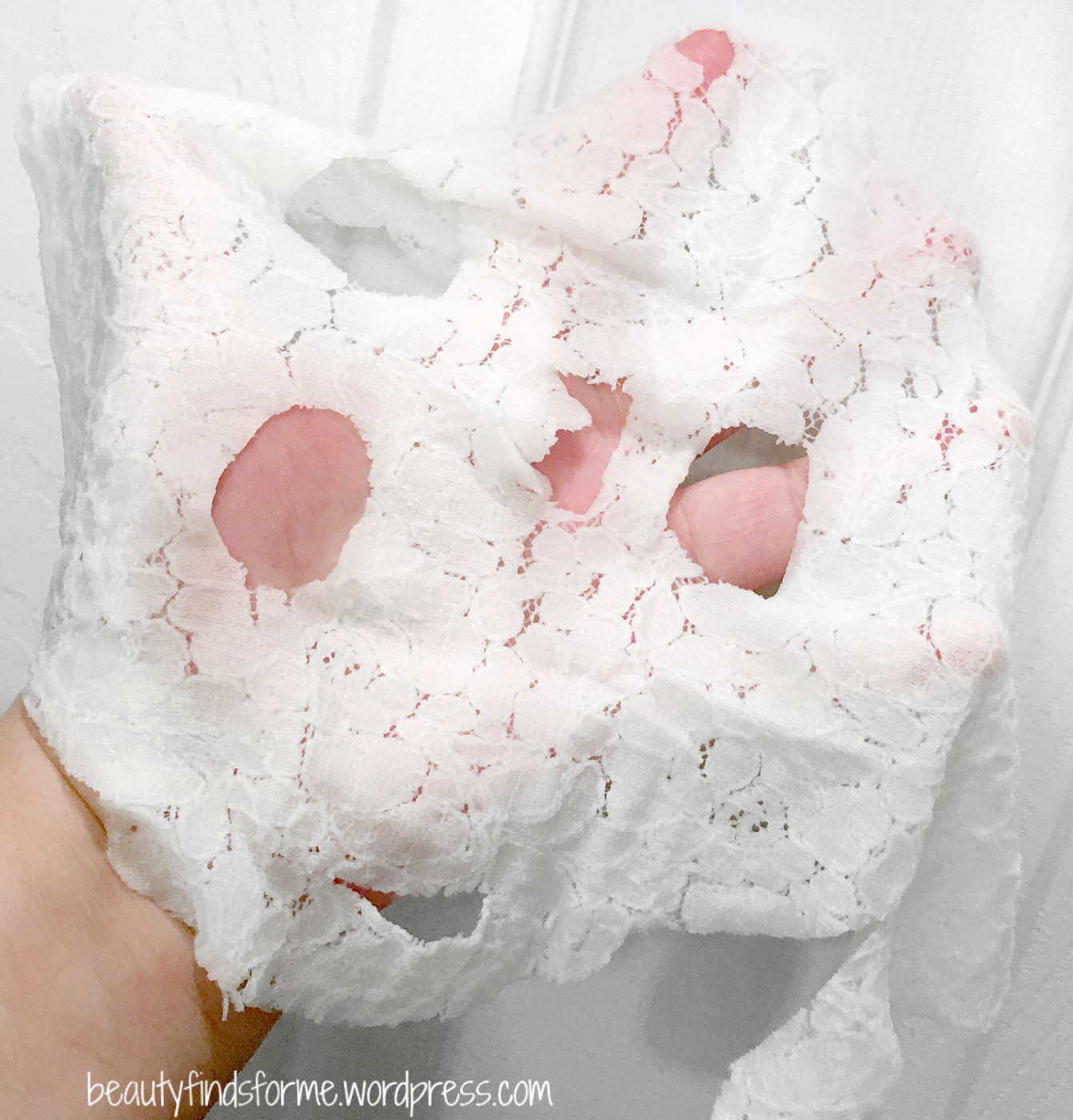 Rose-Lace Corset is called this because of  it external appearance ~ the sheet mask itself is made of stretchy spandex and cotton and has both a face and a neck piece ~ they are attached ~  with little loops on each piece to hook over your ears.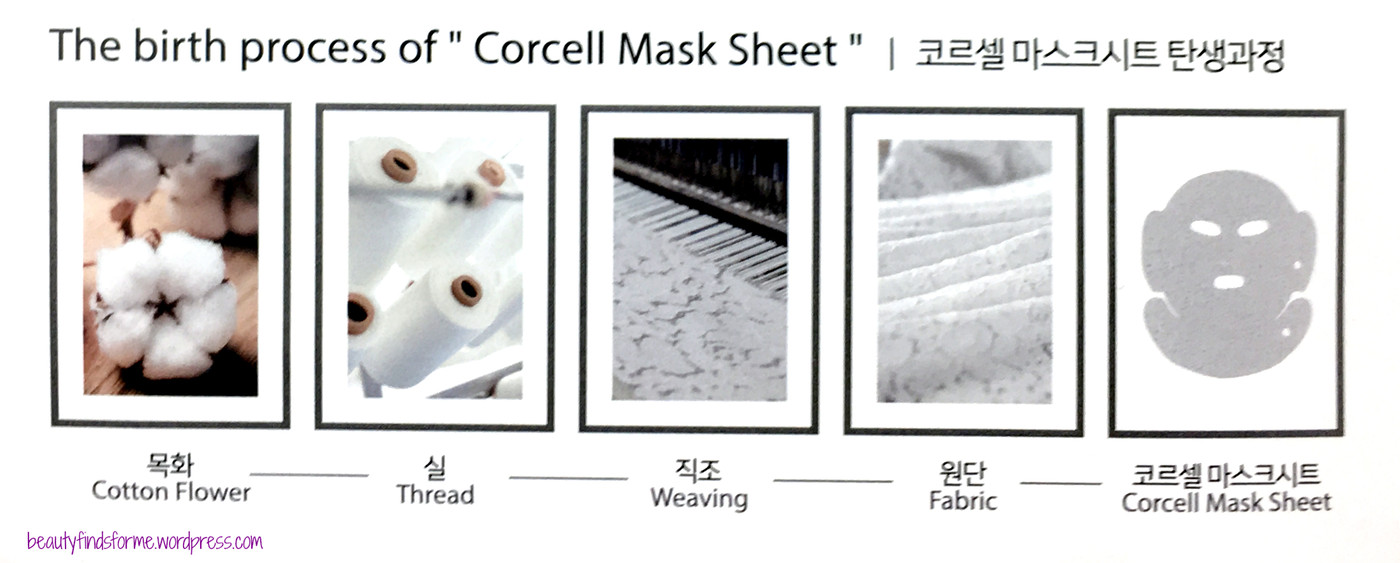 This will provide the "corset" feeling as it will physically lift and tighten your skin, especially your jawline, when you wear it.  The mask itself is very lacy ~ it has a rose design, hence the name of this mask.  It is not dripping in essence, but the mask itself is quite damp and there isn't any excess essence in the pouch.  I did not notice a major scent with this mask at all, so I will say it is scentless or close to it.  Apply the sheet mask with the smooth spandex side facing outwards.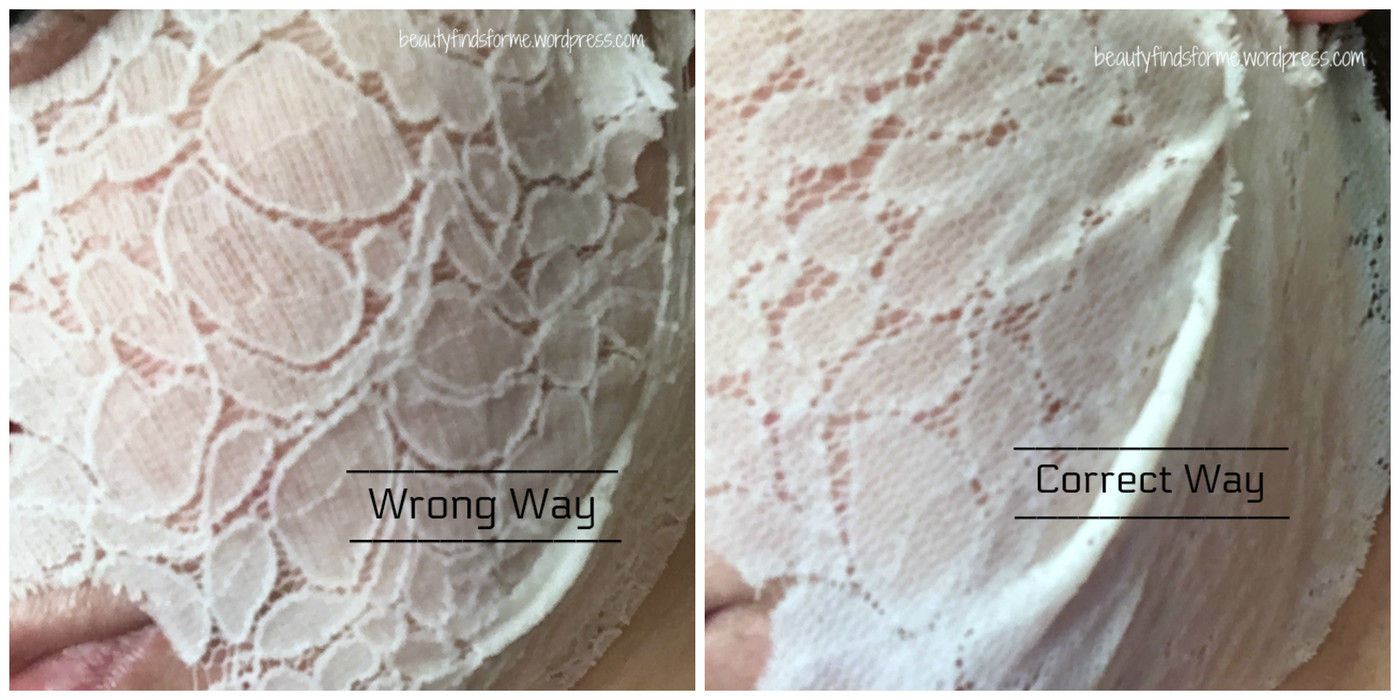 I am never quite sure which loops are done first or if it matters, but since I put the mask on my face first, I hook the face loops over my ears. I then stretch the neck piece up and try to get a comfortable fit first before hooking the neck piece loops around my ears. I find that getting a good fit, pulling up on the neck part to really tighten the fit under my chin will help make the loops around my ears NOT hurt as much ~ the tension sometimes pulls on my ears and that is not a nice sensation.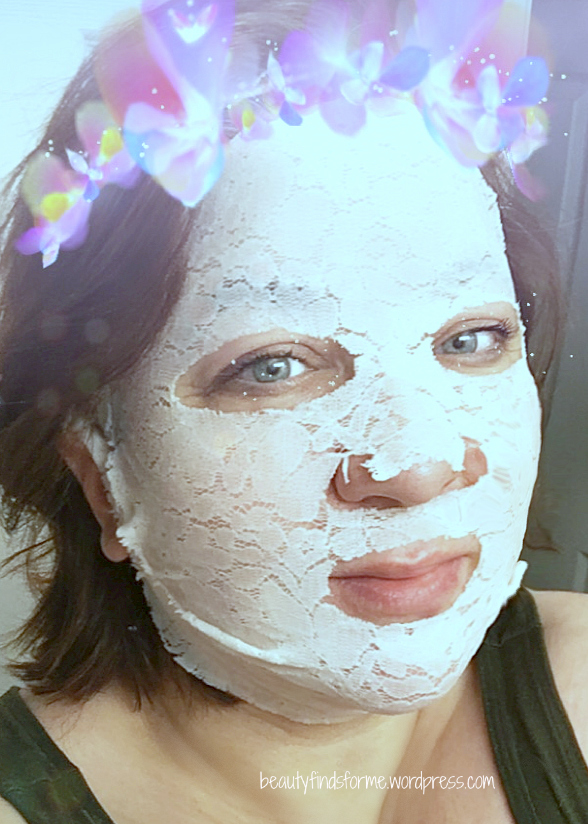 As with all V-Line masks, I look like a moon.  I have a chubby oval face and these masks just seem to accentuate that chubby moon. I can move around freely, but eating and drinking is not really possible as the mouth opening is too small for me.  I also feel very restricted whenever I wear a V-line mask, but it also is nice to have my skin pulled taunt like that too.   I will never have a tight V-Line, as my jawline is not very prominent and I do have a lot of fat down there!   Even when I was a little kid and skinny, I could make a double chin nicely just by pushing my chin down towards my chest ~ drove my mother crazy when I would do that ~ lol.
The mask itself feels nice on ~ it isn't scratchy like other lace masks, but soft and comfortable.  However, the ear loops do become a bit painful so I was happy to remove this mask after 20 minutes.  Whatever essence that was on the sheet has been absorbed into my skin and there is a slight tacky residue on my face.  My skin also feels very firm too ~ I think this is due to the wearing of the mask itself and this is a residual after-effect.  As that tacky feeling stays on my skin for about 30 minutes, I use this mask as part of my night time routine ~ it is not a good day time mask, as it makes my skin very shiny and it does nothing for my pores.  However, as part of my night time skincare routine, this mask helps plump up and temporarily firm my skin and when I wake up, my skin does look more smooth. 
Final Thoughts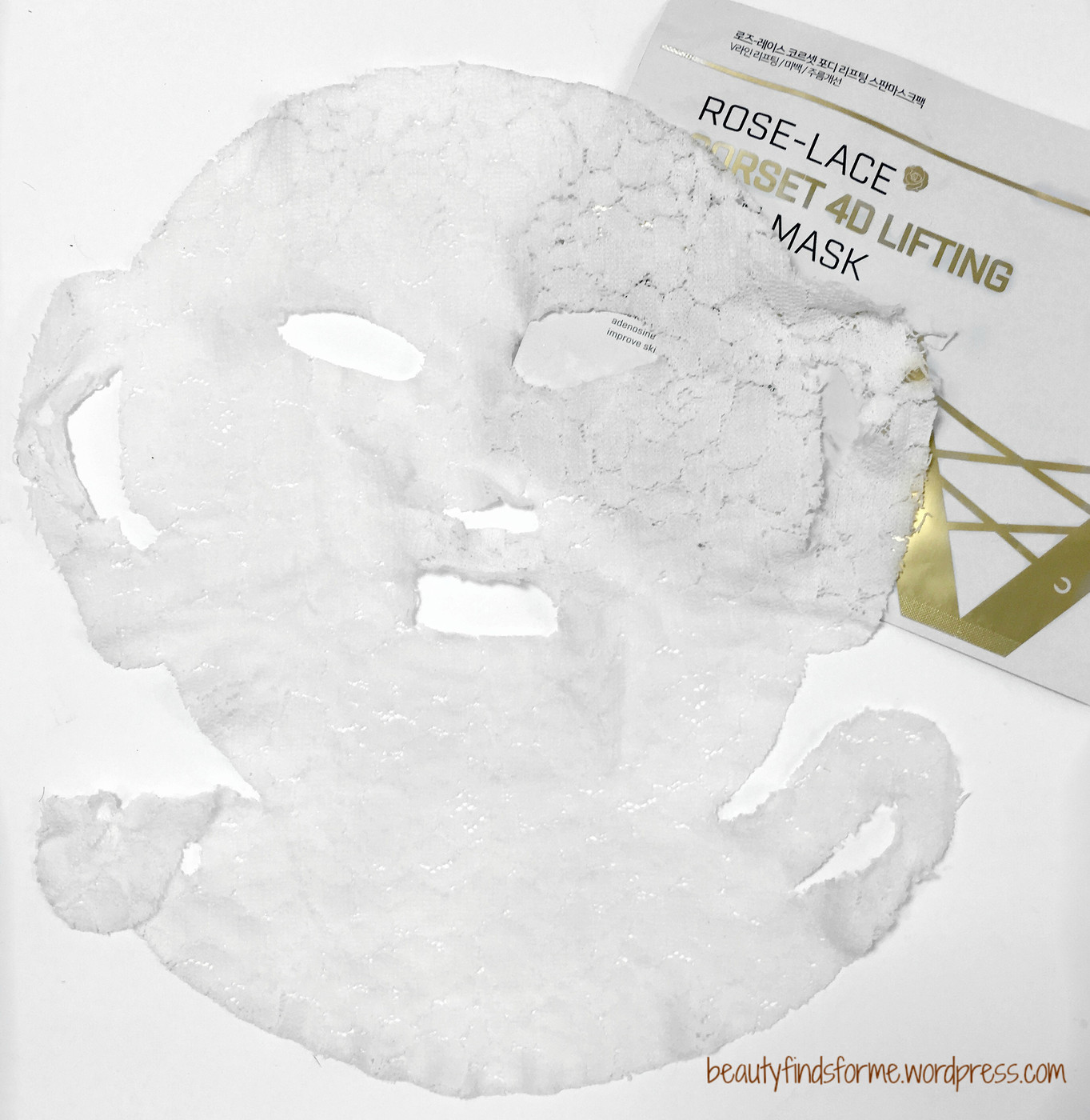 This is a special treat mask, due to its expense.  I think that if you are going to a special event, such as a wedding, anniversary ~ something that you want to look your best, these masks would be a good 5-day treatment.  I used them twice a week, for 2 1/2 weeks as I had a full box of 5.  I did notice a difference when I did wear them and I have to assume if you wore them daily for 5 days, your face would look more smooth and firm, even temporarily.  If you have the money, you could use these twice weekly as part of your normal skin care routine. Are you interested in trying Corcell's Rose Lace Corset mask?

Where to Purchase




Be Mused Korea ships globally and if your country is not on their list, drop them a message.  I read online that a customer asked them to add in her country and it was done quickly!  They also give out nice samples and shipping time is extra fast too.  Free shipping with any purchases over $60.00 and for a limited time, if you sign up for their newsletter, you will get a one-time use coupon for 10% off their shop.

Bonus Review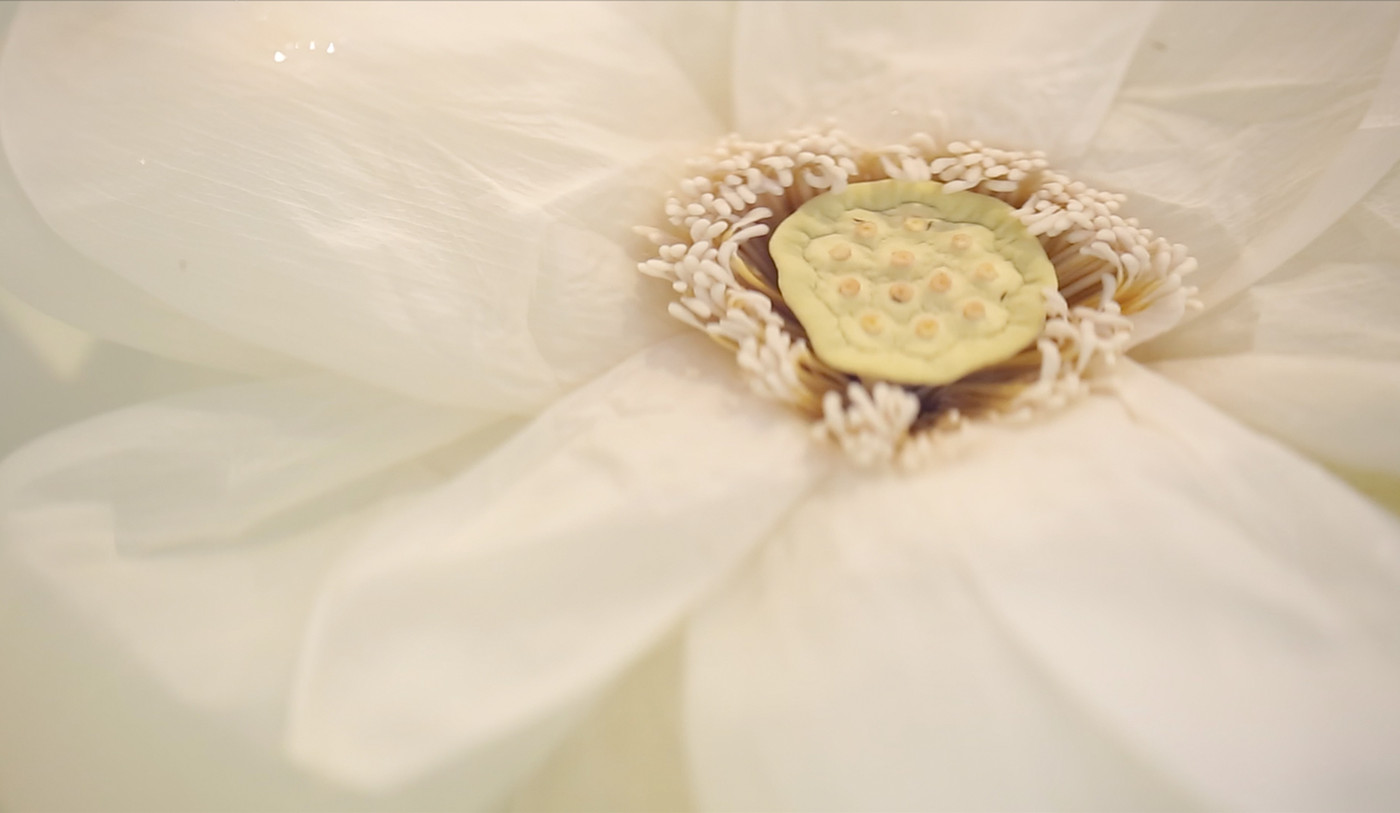 Lisa also sent me a trio of The Lotus Home Spa Mask Pack to test out.  She doesn't carry these in her store at this time, but I have tried them and thought I would share my thoughts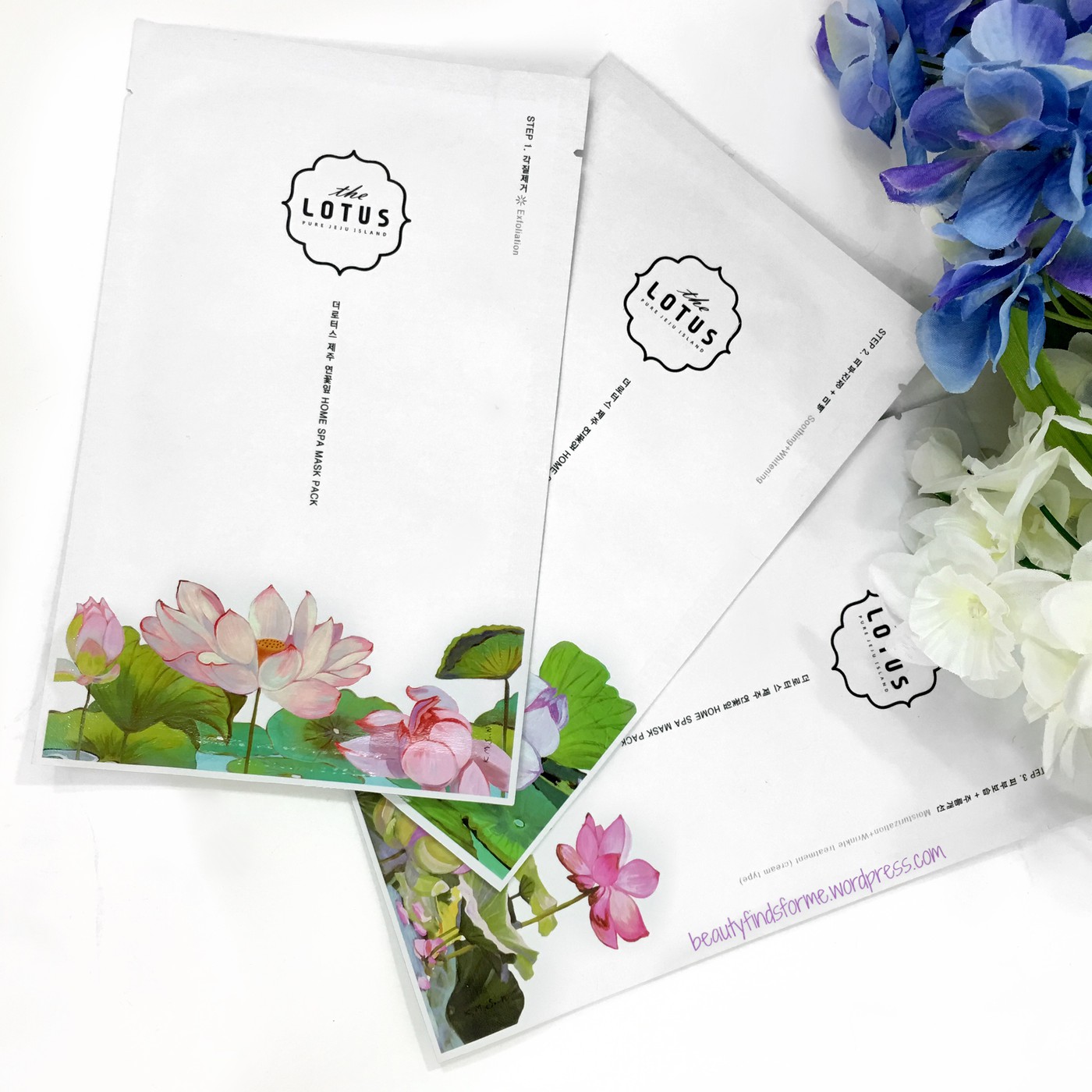 Over a year ago, I had tried one of these masks and had not thought it was very special. However, this time, I am able to use the masks as a home spa facial, which entails using all 3 of these masks consecutively. Now granted, The Lotus does state you can use them separately, but I wanted to experience the mask set as it was intended. I do have to say this is one of the prettiest packaging I have seen ~ each mask has a different drawing of the lotus flower.
Similarities: All mask sheets are made from a natural rayon material and are infused with benitsubaki (red camellia) oil and oleate directly into the sheet, making it look peachy pink in color, while being soft. These oils will help soothe your skin, have antibacterial properties and will not irritate your skin. All masks have the same fit, which on my big face, was just big enough. If you have a larger face, this might be a bit small. The mask material is not thin, so I didn't think it really clung to my face like a second skin, as there were gaps, but it adhered nicely and didn't pull away as it dried.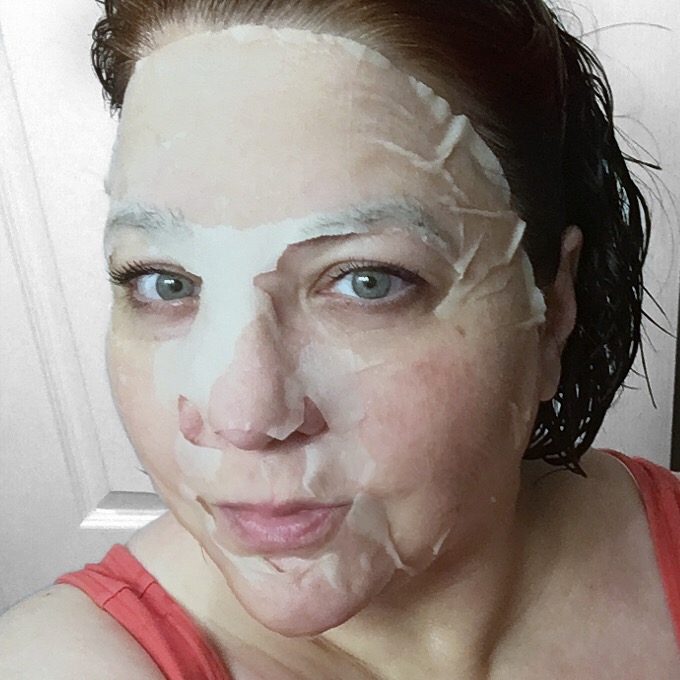 All 3 masks have some common ingredients, including the showcased lotus, a clarifying and anti-aging ingredient ~ it will help smooth, moisturize and brightens skin tone, resulting in a radiant glow. This also has antioxidant botanicals green tea and tangerine blossom, along with hydrating humectants glycerin and sodium hyaluronate. Each mask has a variety of essential oils as well, which I honestly do not think contributes that much to the scent. I used all 3 of these masks right after each other, so if you plan to do this, put aside at least one hour to fully enjoy this set.
Step 1 Exfoliation: This mask contains lactic acid, an AHA that will help gently exfoliate the top layers of your skin, removing dead skin cells, dirt and oil. Lactic acid also stimulates cell regeneration, so your skin is smooth and soft
Scent: Bitter sour scent, due to the lactic acid
Essence: Thin, clear watery, not a lot of it. Due to this, this mask felt rougher than the others, even though it was the same material
Results: Skin is smoother and soft
Step 2 Skin Soothing+Whitening: This is a brightening and hydrating mask. This mask contains arbutin which is a natural antioxidant that breaks down into hydroquinone. Hydroquinone is a compound that prevents melanin formation and is a common ingredient in skin-lightening products, while being gentle and safe
Scent: Faint geranium scent
Essence: Lots of a clear watery gel. This essence is much thicker than the Step 1 essence so it makes the mask feel more soft and plush
Results: Skin looks brighter and feels very hydrated
Step 3 Skin Moisturization+Wrinkle Treatment: This mask will moisture and plump up your skin, while nourishing it. This contains horse fat, so it is the only non-vegan mask in here. Horse fat has healing benefits to your skin, while preventing skin damage. It contains alpha-linolenic acid, an essential omega-3 fatty acid that acts as an anti-inflammatory. Linoleic acid, an omega 6 fatty acid, helps strengthen and regenerates the moisture barrier in your skin.
Scent: The scent is the nicest of the 3 ~ an herbal citrus scent
Essence: Slightly milky, cream-gel essence and a lot of it
Results: Skin feels cool to the touch and soothed. It feels like I applied a nice moisturizer to my skin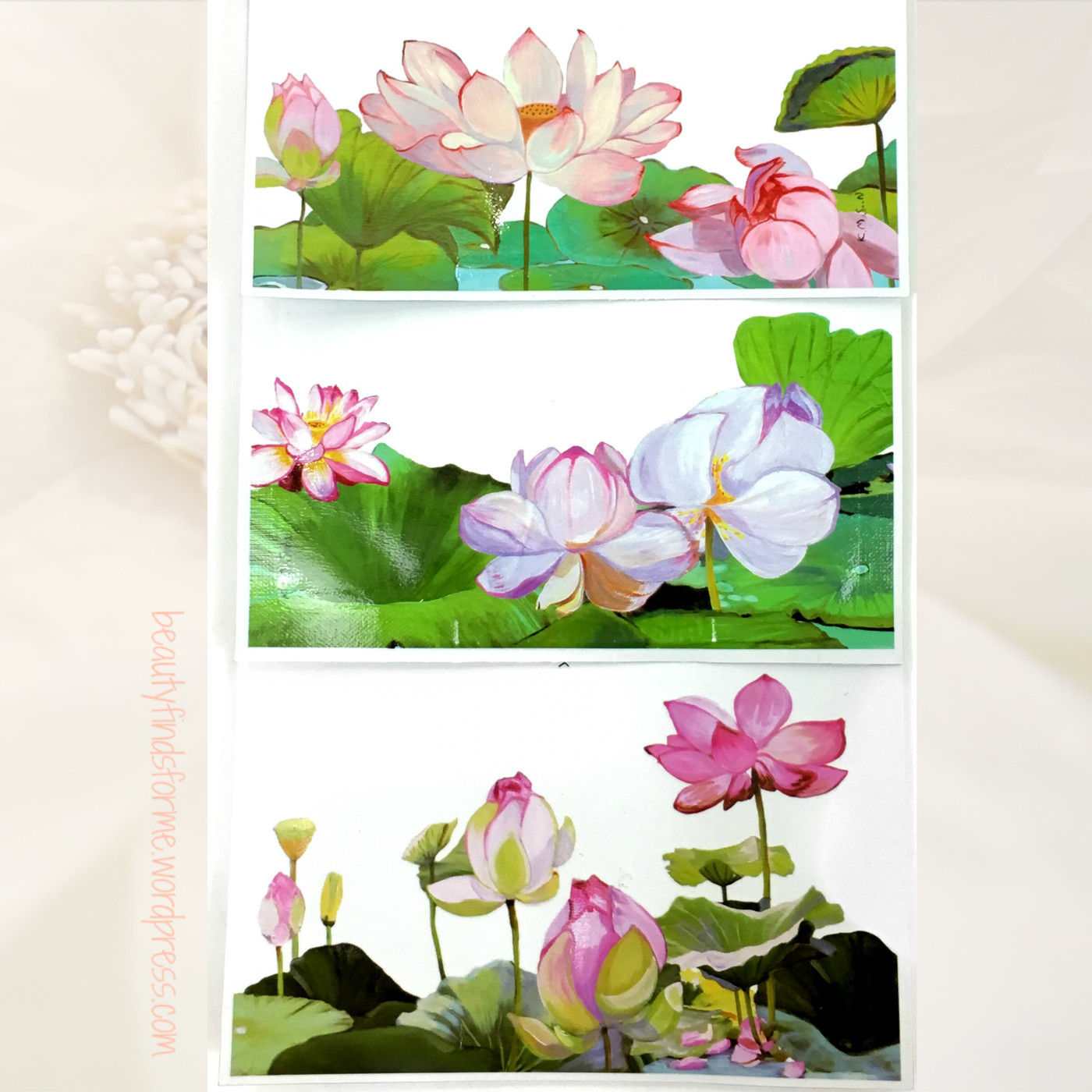 After the end of this trio of masks, my skin looked brighter, felt smoother, softer and more hydrated. Using all of the masks in this order, I didn't experience any sticky, tacky residue on my skin and I felt that I experienced a really nice home spa experience! Boston doesn't have any Korean spas, so this is going to be the closest I get to one!! lol
Now, these masks aren't inexpensive ~ I believe they are about $8.00 per mask at another shop. However, I would use this as a full home spa treatment, not individually, so it would come to about $24.00 for a 60 to 90 minute treatment. Since I did see and feel visible results at the end of the 90 minutes, I would say if you have a special event, this is a trio that can deliver results quickly. It isn't a miracle worker, obviously this is not the same as having a spa facial, but for the price point and results, it is something that I would recommend using. I am not sure that using the masks individually would yield the results that would make it worth the price, but I do think that all together, this is a nice treat for your face. Have you tried The Lotus Home Spa Mask Pack set yet? What did you think of them?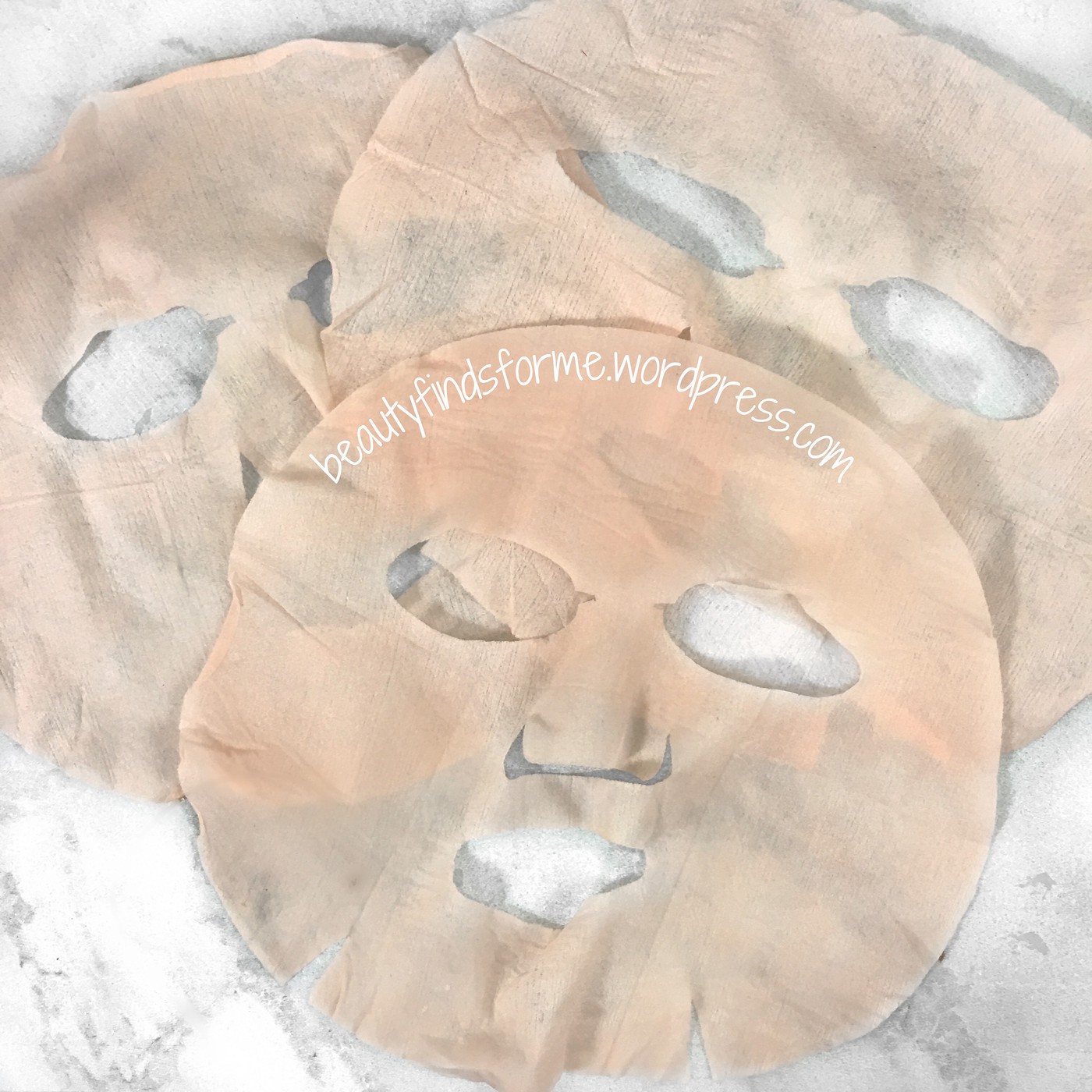 Step 1 Exfoliation Ingredients: water, nelumbo nucifera (lotus) leaf extract, lactic acid, butylene glycol, glycerin, hexanediol, camellia sinensis (green tea) leaf extract, tangerine blossom extract, hydrogenated castor oil, sodium hyaluronate, carbomer, allantoin, disodium EDTA, tocopherol (vitamin E), panthenol, triethanolamine, citrus aurantium bergamia (bergamot) oil, pelargonium graveolens (scented geranium) blossom oil, citrus limon (lemon) fruit oil, citrus nobilis (mandarin orange) oil  cosDNA analysis

Step 2 Skin Soothing+Whitening Ingredients: water, nelumbo nucifera (lotus) leaf extract, butylene glycol, glycerin, hexanediol, arbutin, camellia sinensis (green tea) leaf extract, tangerine blossom extract, hydrogenated castor oil, sodium hyaluronate, citrus limon (lemon) fruit oil, lavandula angustifolia (lavender) oil, pelargonium graveolens (scented geranium) blossom oil  cosDNA analysis

Step 3 Skin Moisturization+Wrinkle Treatment Ingredients: water, nelumbo nucifera leaf extract, butylene glycol, glycerin, camellia sinensis (green tea) leaf extract, tangerine blossom extract, cetyl alcohol, polysorbate 60, sodium hyaluronate, horse fat, carbomer, allantoin, disodium EDTA, panthenol, triethanolamine, adenosine, citrus limon (lemon) fruit oil, lavandula angustifolia (lavender) oil, rosmarinus officinalis (rosemary) oil, eucalyptus globulus oil, citrus aurantifolia (lime) oil, ormenis multicaulis (chamomile) oil, juniperus communis (juniper) fruit oil cosDNA analysis

[ disclaimer: products received for review purposes. descriptions in italics from bemused korea ]