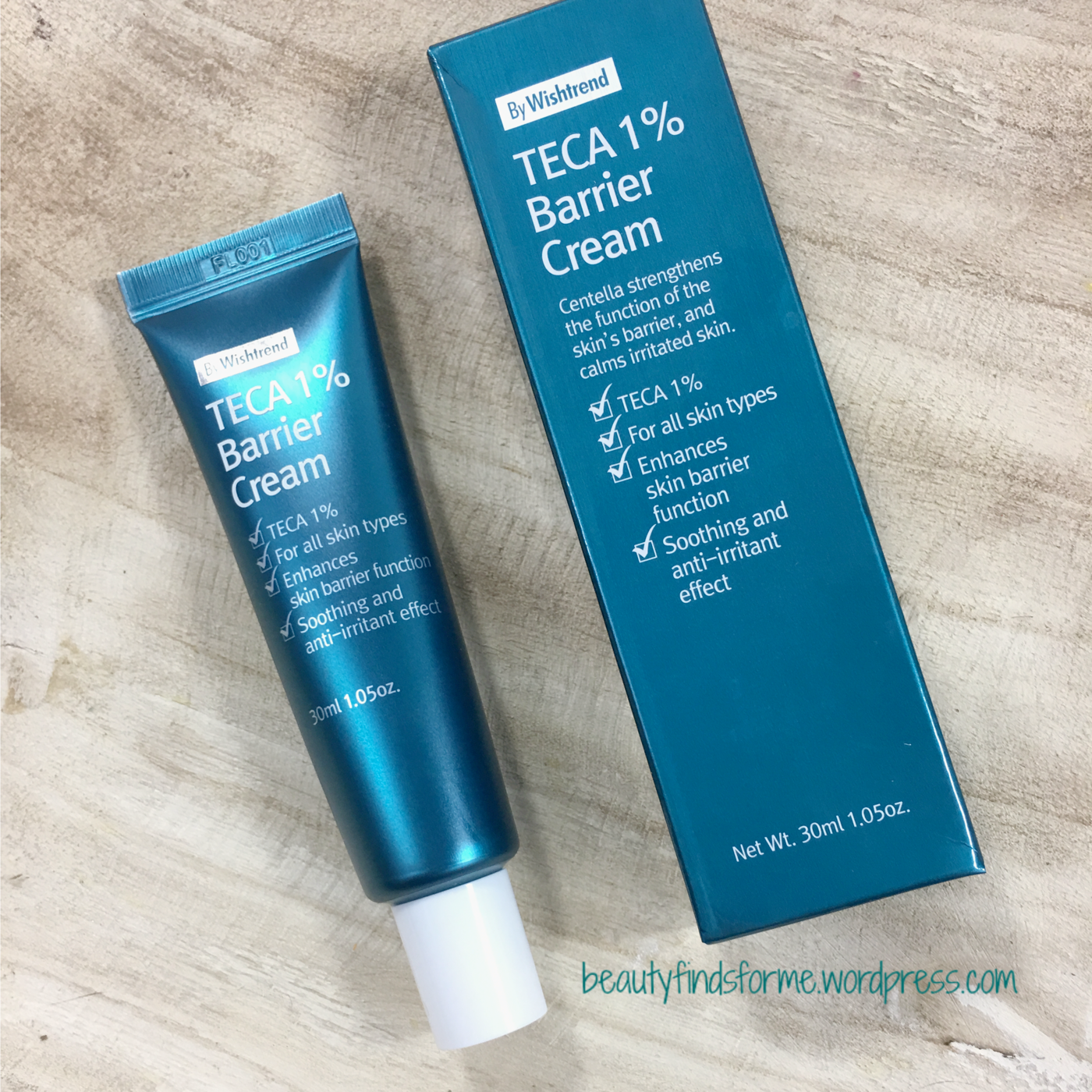 One of the big trends this past year has been healing balm creams ~ I have reviewed quite a few of them ~ Innisfree TrueCare CICA, Dr Jart CICAPAIR, Simplistic Skin Supreme Salve,  Chica Y Chico Beta-Salic 2.0  and now, By Wishtrend's latest product ~ Teca 1% Barrier Cream.   These creams vary in ingredients, but they all contain some form or forms of centella asiatica ~ a healing, soothing herb that has been used for centuries as a medicinal ingredient. Wishtrend sent me this product in exchange for an honest review, so let's see how I feel about it!

Skin Type/Concerns:  Oily, blemish prone, aging skin with hyper-pigmentation and fine lines/wrinkles.

What is TECA?  TECA is a formula made from asiaticoside, asiatic acid and madecassic acid and is a skin conditioning compound which also contains an active ingredient for skin repair.  By Wishtrend TECA cream contains 1% of this compound, which is the same percentage for other centella ointments. 
Compared to other healing cream/balms, By Wishtrend TECA cream has a lot less ingredients, but they do have three derivatives of centella asiatica, a common herbal ingredient: asiaticoside helps form collagen to strengthen your skin and speeds up wound  healing. Madecassic acid helps aid in the production of collagen and tissue  while asiatic acid is an anti-aging compound, that helps to plump up your skin, prevents wrinkles, fine lines and scar tissue.  
This also has allantoin, which moisturizes, exfoliates and softens skin, making it look smooth and refined, while reducing and relieving irritation. This product does contain dimethicone, so if you are sensitive to that ingredient, please take note of that.  Dimethicone is a silicone and makes for the smooth, silky texture, but since this is supposed to be a healing product, make sure your skin is 100% clean. Dimethicone forms a barrier and will not only create a protective film on your skin, it will trap everything that is underneath it too ~ including dirt, oil and impurities.  Cetearyl alcohol is a 'good alcohol' as it is a fatty, non drying alcohol that is not irritating and can provide skincare benefits as an emollient.
Ingredients: Water, Dipropylene Glycol, Glyceryl Stearate SE, Cetearyl Alcohol, Dimethicone, PEG-40 Hydrogenated Castor Oil, Cyclopentasiloxane, Ethyl Hexanediol, Cyclohexasiloxane, Asiaticoside, Madecassic Acid, Asiatic Acid, Tromethamine, Carbomer, Xanthan Gum, Glyceryl Caprylate, Allantoin, Disodium EDTA cosDNA analysis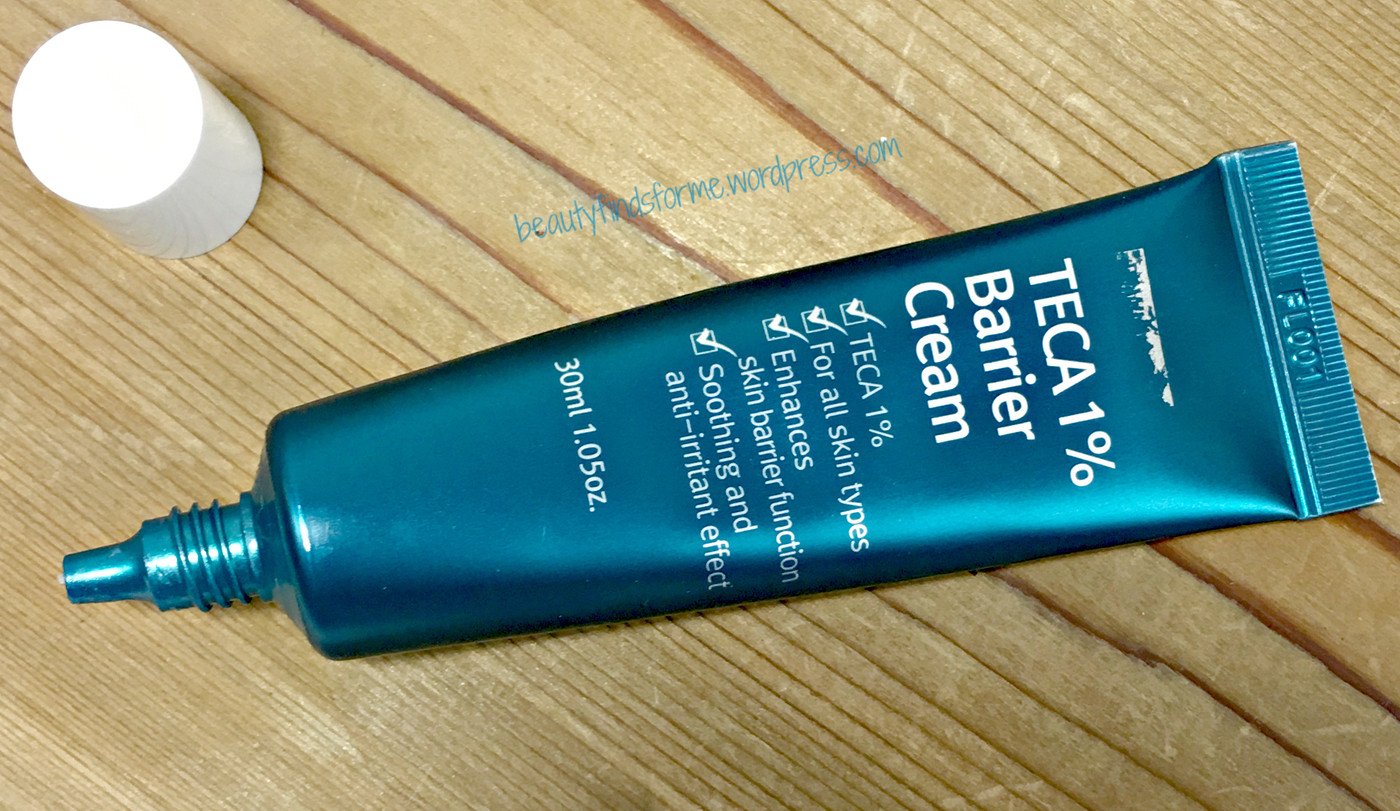 This cream balm comes in a blue-green holographic plastic tube with a pointed tip, for precision point application for spot treatments.   The description for this barrier repair cream is
The Teca 1% Barrier Cream creates a protective layer to keep moisture and active ingredients within the skin while strengthening, calming, and improving the skin's overall health. Contains Centella asiatica to help regenerate the skin. Helps restore damaged and weakened skin barrier
It claims are
Helps regenerate damaged skin due to collagen synthesis.

Prevents acne scars, lightens pigmentation.

Prescribed the same content of centella as ointments.
The texture is quite soft and looks like Vaseline, so I would say this is more on par with an ointment, not a cream.  It has a heavier texture than it looks, but it spreads easily on my skin, absorbing quickly without leaving a greasy or sticky residue.   It is also scentless as well, which is a nice plus for an ointment.

This moisturizes really well ~ it contains a lot of emollients with cyclohexasiloxane, cyclopentasiloxane, glyceryl caprylate along with dimethicone.  It increased my moisture level by 37% while decreasing my oils by 36%.  You can see that in the winter time, my skin is quite dehydrated!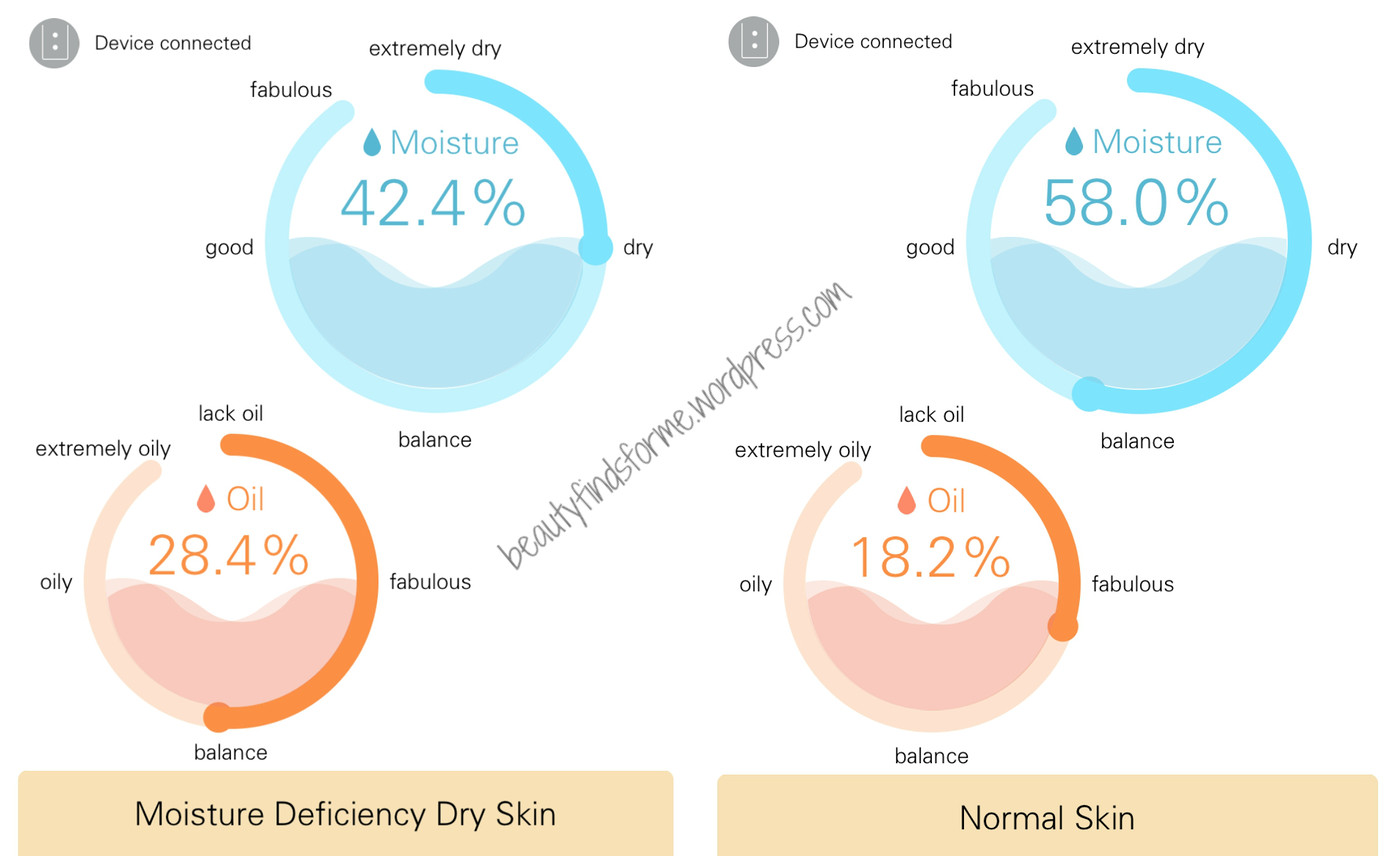 That said, I was experiencing what I like to call Holiday Zits ~ the types that come out during times of massive stress and overindulging in sweet and rich foods ~ and this did not seem to affect my blemishes one bit.  My skin felt soothed when I used it, but my pimples neither got smaller in size, nor healed faster.  It also didn't help with the PIH (post inflammatory hyper-pigmentation) that my blemishes caused.  However, I do exfoliate, both chemically and physically, and this barrier cream really helped reduce any irritation and redness from exfoliation.   By Wishtrend TECA 1% also helped remove any dry flaky bits of skin on my face as it was so moisturizing.
Final Thoughts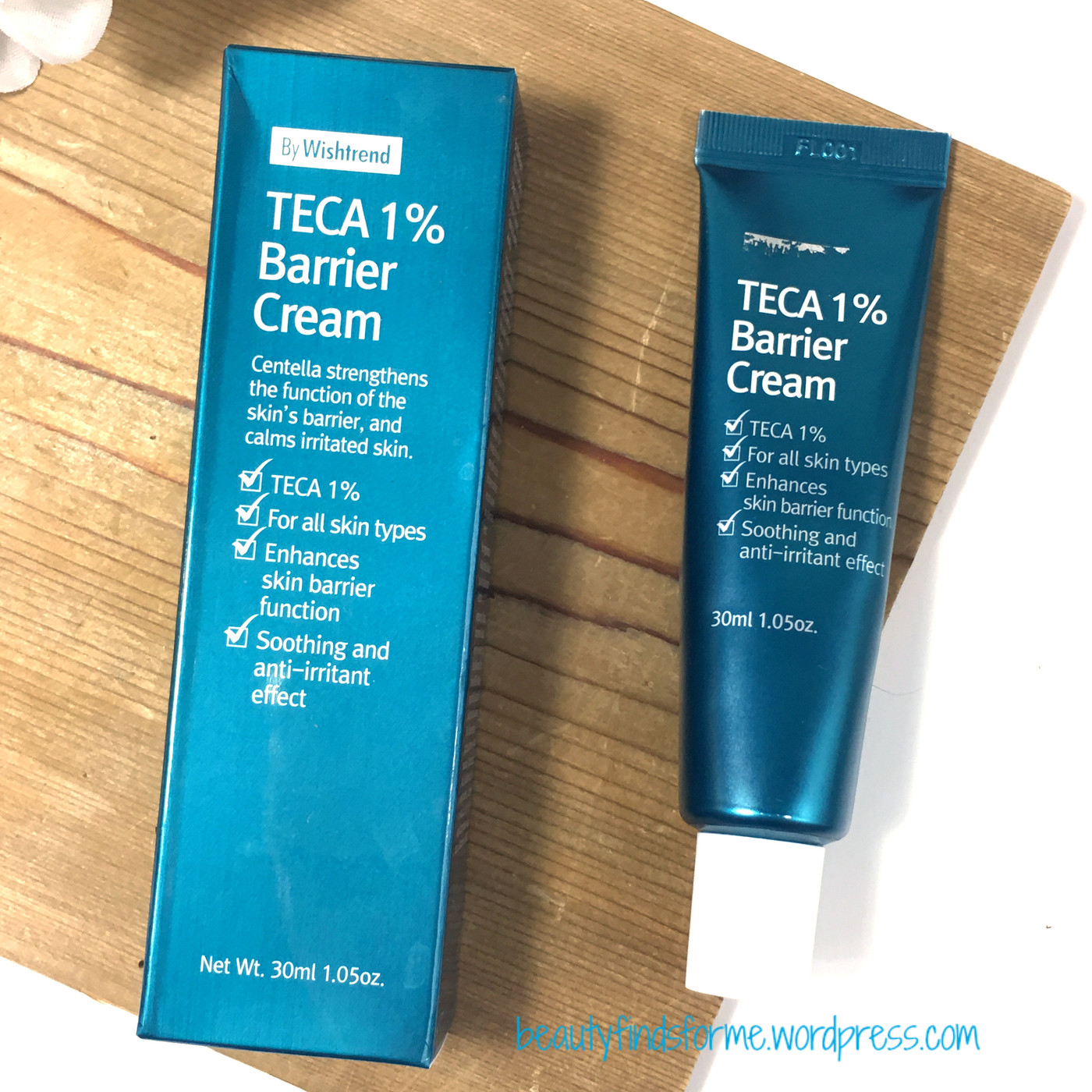 So, despite me really wanting to love this product as a post acne balm, it really just helped soothe my skin. I looked at the other balms I reviewed and the ingredients list.  Regardless if they worked for me or not, none of the other balms I used contained  dimethicone, which is an ingredient that I am not sensitive to, but might cause issues as it traps whatever is on your skin ~ if I am trying to heal blemishes, I am trapping all of the lovely bacteria and pus on my skin.   This product didn't make me break out in blemishes, but it didn't really heal my existing ones, nor helped with acne scarring. 
Now, where this balm did excel was in soothing and calming my skin.  I felt it helped hydrate and provide that protective film on my skin, so I did use this when I was outside with the snow and cold winds ~ the other nice thing about this product is that it can be used both night and daytime use.  Many balms of this type are only for nighttime use, due to their AHA/BHA/retinol ingredients.  It is lightweight enough for oily skin types to use during the day without the greasy or oily feel on the skin and moisturizing enough to keep any dry patches away. Winter time is a rough time for my skin, as the cold and harsh winds outside transition to hot, forced dry air indoors, so my skin is jumping back and forth from two extreme and dry conditions. I will use this if my skin is wind chapped from the cold or is irritated from using a chemical or physical exfoliator, as I do feel it helps strengthen my skin barrier, while providing soothing care.

Where to Purchase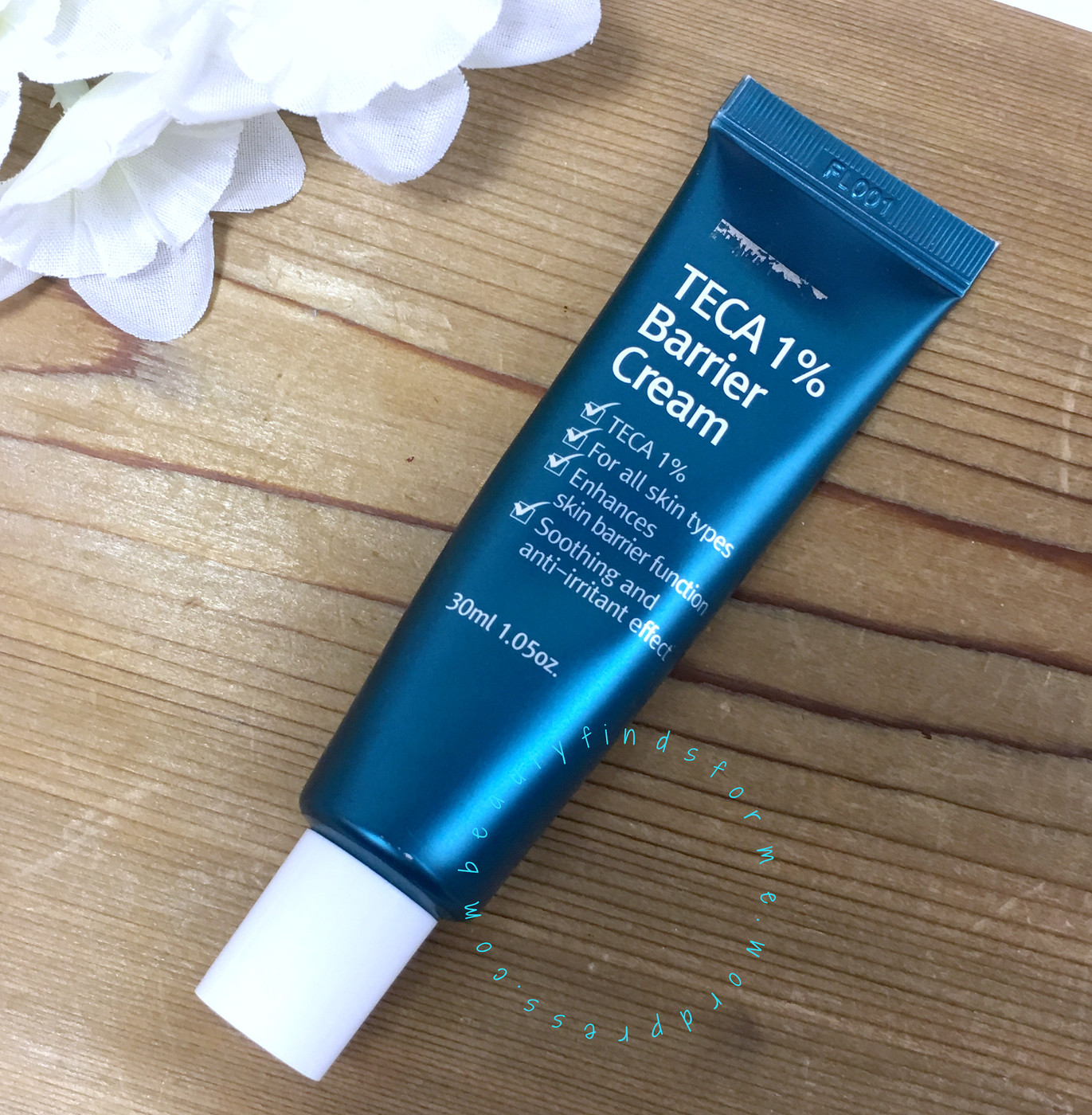 You can purchase By Wishtrend TECA 1% Barrier Cream  (click here) at Wishtrend for $27.50 for a 30 mL tube.  A little goes a long way with this product, so it might seem small, but it should last 3 months or so. 
Check out my monthly Wishtrend specials for more deals and coupons ~ click here.  If this is your first time shopping with Wishtrend, you can save $5.00 off your purchase by using my friends referral number ~ 092847308  ~ and you will receive the coupon. Register first and enter the my code in the form labeled "friends invitation program" and wait for the coupon before you place your order.  Also, remember to save your welcome and any order emails from Wishtrend.  They usually have discount and free shipping codes just for your use in them, so you can save even more money on your next order!
You automatically receive Free Shipping with purchases $69.00 USD and over
Don't forget to check out Wishtrend's Free Shipping Product Selection

Wishtrend ships globally
Centella Cream Balm Comparisons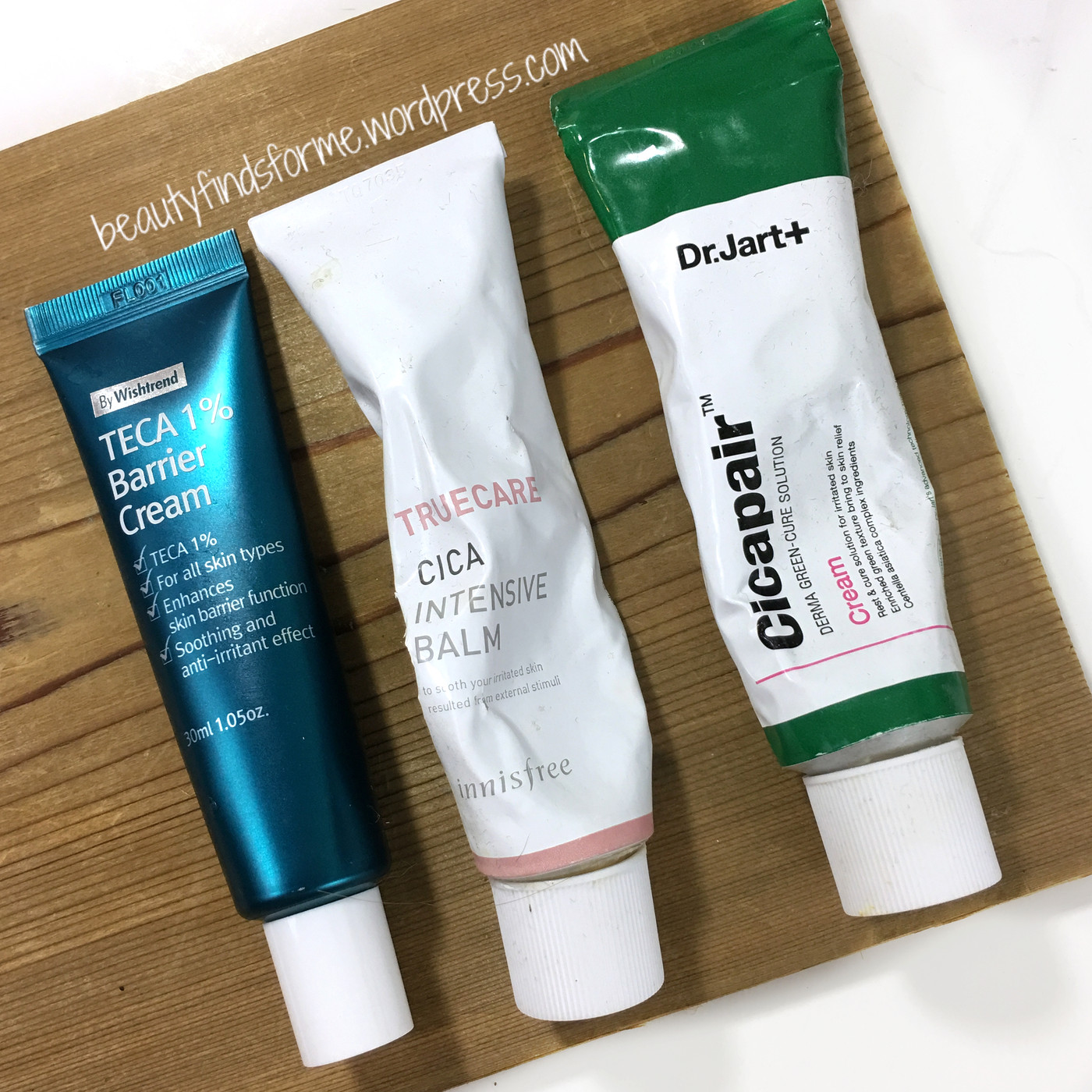 For those interested, I did do a comparison of textures with By Wishtrend TECA 1%  Barrier Cream, Innisfree TrueCare CICA Intensive Balm and Dr Jart+ Cicapair (Tiger Grass) Cream.  By far, By Wishtrend is the most versatile of the three for my oily skin type, as I can use it day and night, whereas Innisfree is night time only due to its retinol ingredient.  Dr Jart+ doesn't have ingredients that make it a night time product only, but its texture is a bit thicker and I prefer to use it at night time.
By Wishtrend is a gel, pretty much odorless and its texture is very much like a balm/vaseline. However, when I massage it out, it quickly absorbs into my skin, leaving no residue, so I am using this as a spot treatment for both day and night time use.

Innisfree is a gel-cream, pretty much odorless and has a lotion like texture. It contains retinol, so it is for night use only

Dr Jart+ is a thicker cream, pale green in color, has a strong, very pleasant herbal scent. This is much thicker and I use it sometimes as a night pack and rarely use it during the day time. It absorbs nicely, but can be overpowering for oily skin types.
[ product received in exchange for a review. contains affiliate links for a small commission ]
[ descriptions in italics from wishtrend ]