December's theme for Kloverbox is Happy Holidays, bring products that will help you shine!  Kloverbox is a subscription box that not only is natural and has a focus on indie brands, but they also find unique and interesting products as well.
Kloverbox is an eco-friendly, organic lifestyle box and I love how they introduce new, unique and innovative products each month.  Kloverbox delivers deluxe and full size products and I have been impressed with their packaging and curating of their boxes. You can subscribe to Kloverbox  either as a month-to-month at $25/monthly, 3 month subscription at $23.75/monthly or a 6 month subscription at $22.50/monthly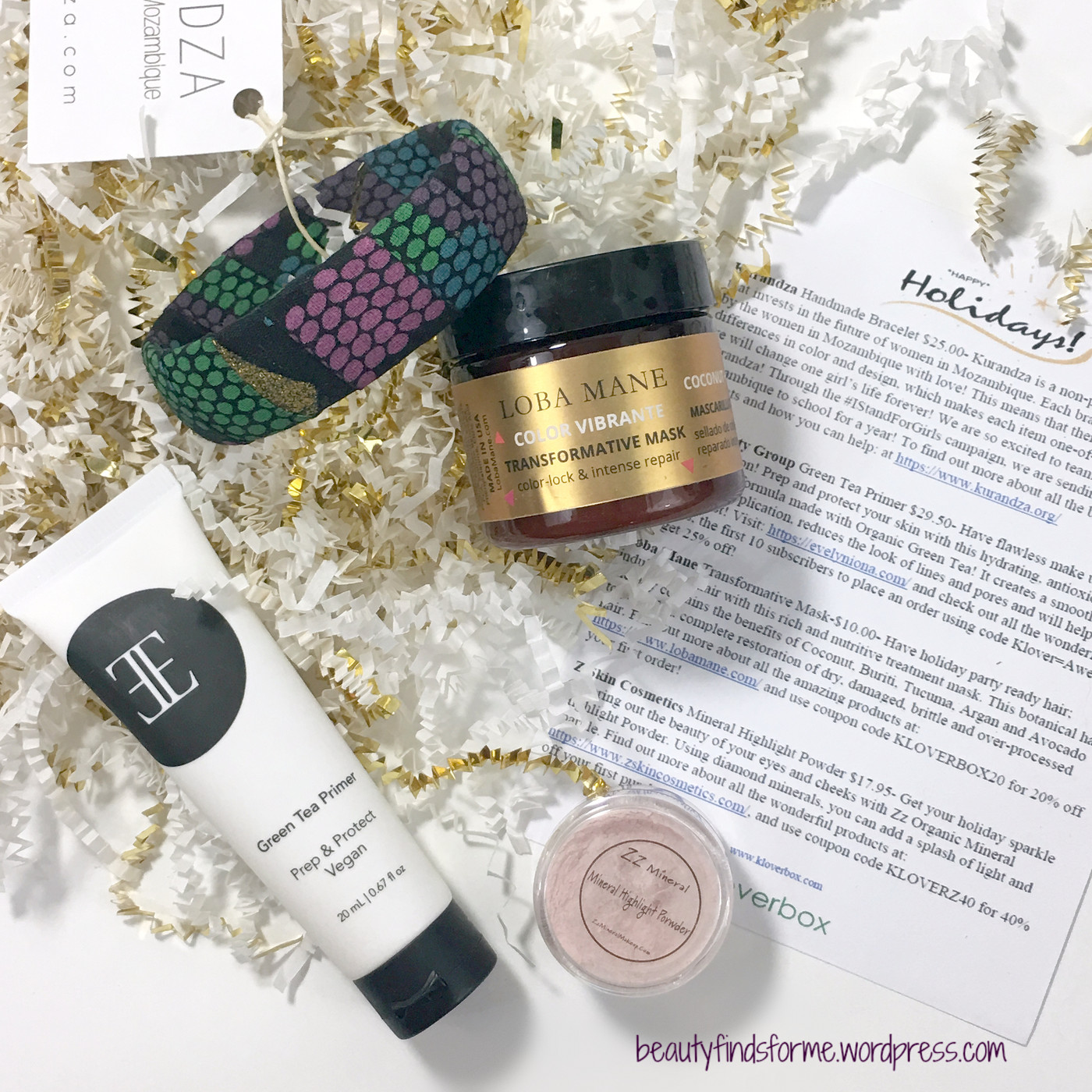 Informational Card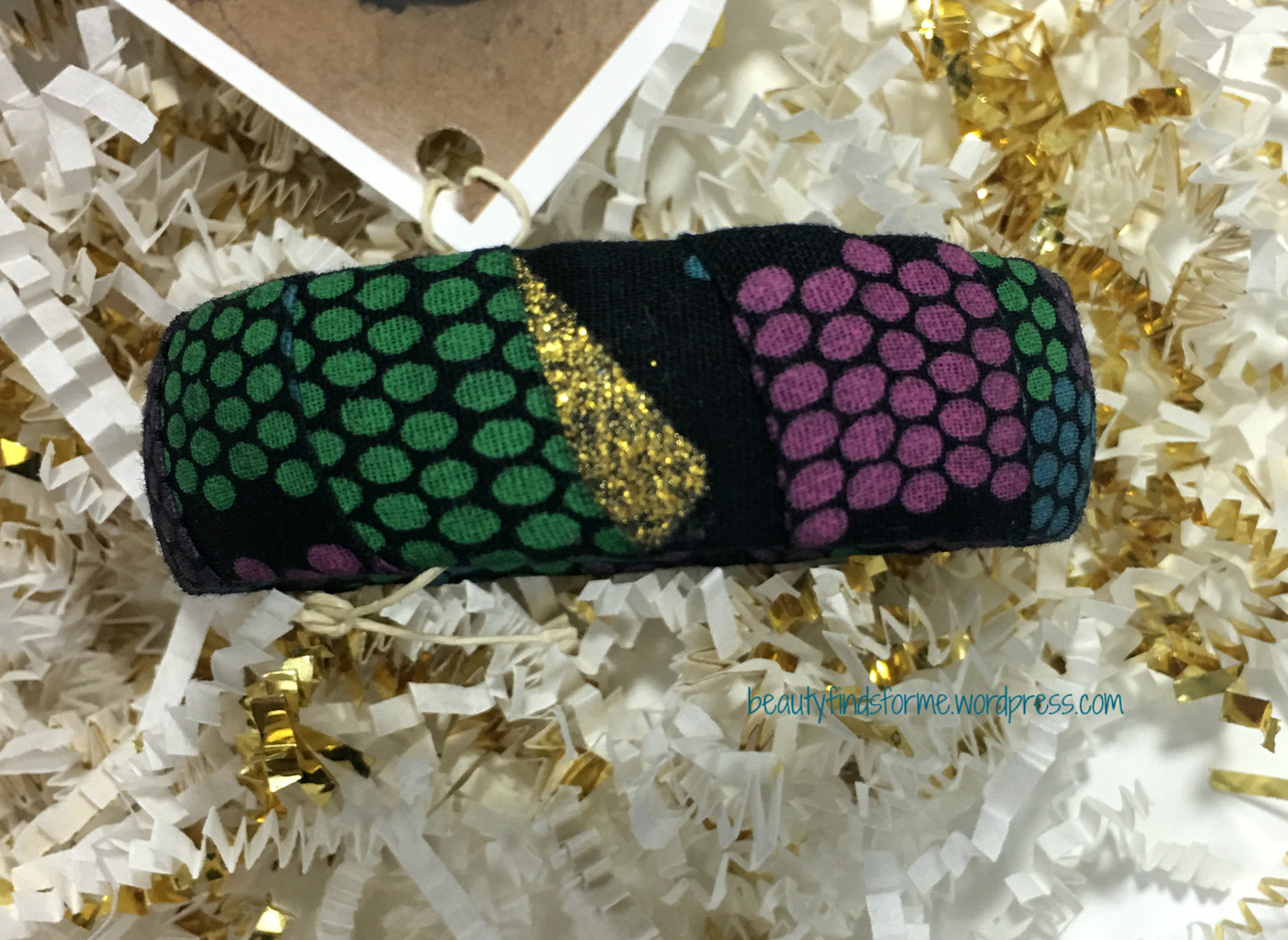 Kurandza Handmade Bracelet This is absolutely beautiful ~ this handcrafted bracelet as a hard core and is cloth wrapped  in teal, purple, green dots with one lone gold accent on a black background.  The cloth is a cotton fabric with a capulana wax-print.  I love the mission statement too ~ these bracelets are made by the women in Mozambique and Kurandza invests in their future thru education and employment opportunities. Kloverbox has teamed up with Kurandza and is sending a girl in Mozambique for a year!

Alas, I am from good peasant stock, so I do not have dainty hands ~ these bracelets are 2 7/8 inches diameter and since they are inflexible, I can't get it  over my knuckles which is the widest part of my hand (about 3 1/2 inches in diameter). If this was  slightly stretchy or opened with a clasp, it would have fit beautifully around my wrist. I will figure out how to use this as it is so beautiful ~ I might use it as a ring to hold my delicate scarves.  RV $25.00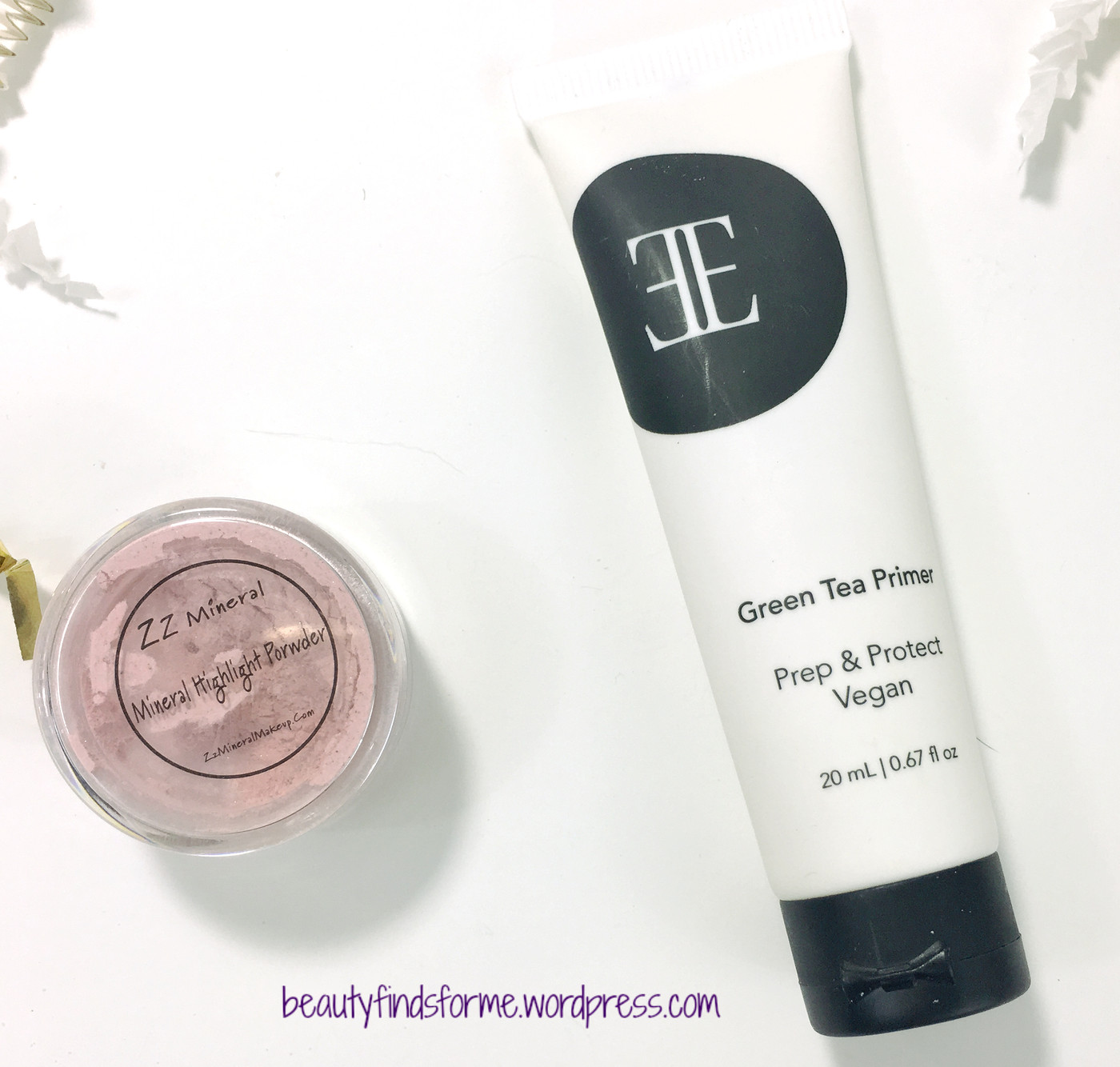 Z Skin Cosmetics Zz Mineral Highlight Powder I love the Z Skin Simply Organic Sunblock I got earlier this year so I am excited to try another product from this brand. This is a mineral highlighter and it is a pretty pink with little dark bits in it ~ I am not sure what those are ~ that could be the beet root or mica.  Zz Mineral Makeup uses exotic minerals sourced from all over the world ~ volcanic minerals, underwater cave crystals and vibrant rainbow hued minerals.  These minerals will help with both healing blemishes as well as soften fine lines and wrinkles.  This powder buffs out to nothing, quite frankly, but it makes for a great finishing powder on my skin! The pinkish shade brightens up my skin tone without being glitter or harsh.

My only complaint is the packaging.  Z Skin should put a plastic tab protector on this as it was quite messy when I opened it up initially, as a lot of the powder was already in the main sifter area, as you can see in the photo above.  RV $17.95  Promo Code: Save 40% off your first purchase  at Z Skin Cosmetics with KLOVER40
Ingredients: Arrowroot, Zinc, Beet Root, Hibiscus, Peach Mica, Pearl Mica 
Evelyn Iona Green Tea Primer Yeah! I have one of these already, but I really like it for the wintertime. I rarely use primer, so I hardly  purchase them ~ this one feels really thick and heavy on initially, but then magic-presto, it sinks in and leaves no footprint behind, but just a smooth canvas on your skin, making makeup application look better and last longer. This not only has green tea in it, which is known for its  antioxidant, anti-inflammatory and anti-carcinogenic benefits, but also more anti-antioxidant, anti aging ingredients with vitamin E and resveratrol, along with soothing chamomile. Shake well before using and a little goes a long way with this white colored primer ~ it you apply too much, it will pill up on your skin. 20 mL $29.50 Promo Code: The first 10 Kloverbox subscribers to place an order on Evelyn Iona Online Shop can use promo code Klover=Awesome for 25% off!
Ingredients: water, cyclopentasiloxane, dimethicone, organic simmondsia chinensis (jojoba) seed oil, PEG-120 jojoba wax esters, glyceryl stearate,  oryza sativa (rice) starch,  persea gratissima (avocado) oil,  rose canina (rosehip) fruit oil,  ethylhexyl palmitate, isopropyl myristate,  hydroxyethylcellulose, tocopheryl acetate,  phenoxyethanol, alcohol, organic aloe barbadensis leaf juice,   ascorbyl palmtate,  ethylhexylglycerin, resveratrol, organic chamomilla recutita (matricaria) flower extract,  sodium hydroxide, organic camellia sinensis leaf extract  cosDNA analysis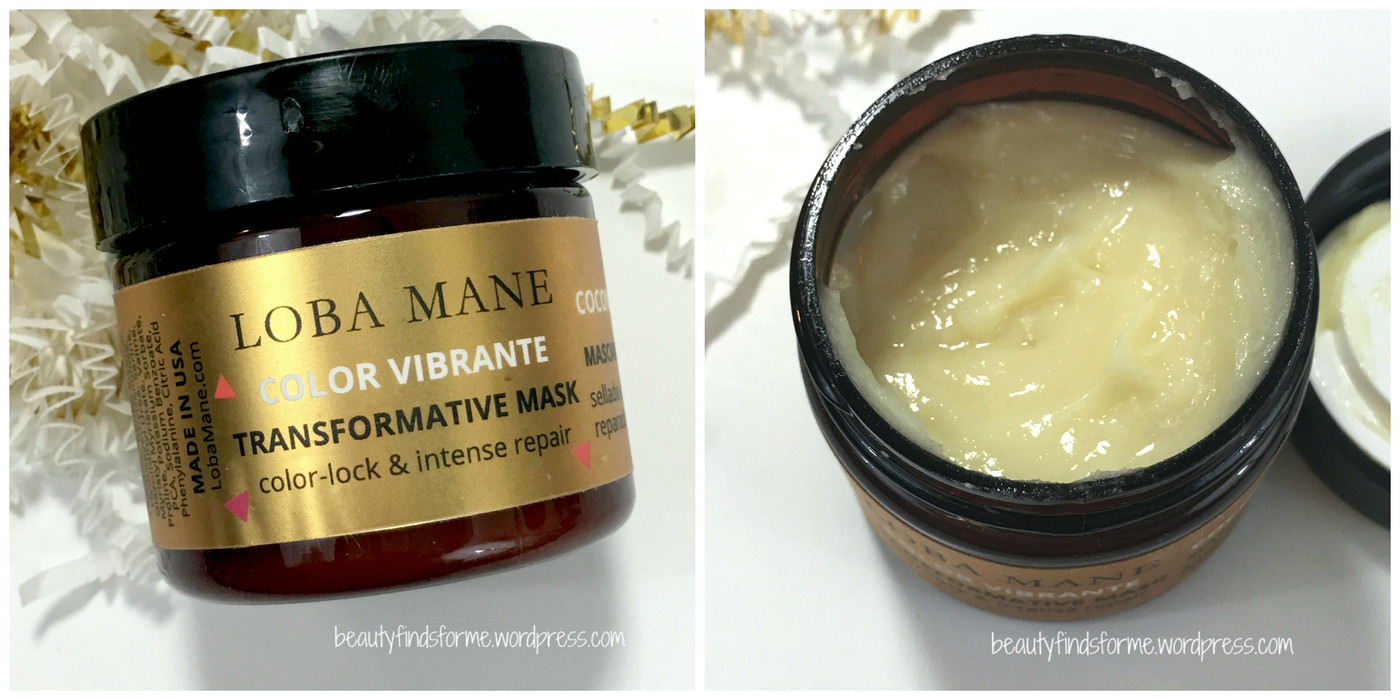 Loba Mane Transformative Hair Mask This is the most exciting item in the box for me! This is a rich  restorative hair treatment that smells like plumeria to me! It reminds me of the tropics for some reason ~ and this botanical hair treatment contains oils of coconut, buriti, olive, argan, tucuma and avocado to  help bring back shine and smoothness, while strengthening your hair. It will also help reduce fading if you color your hair and since I color my hair all the time, this is nice to have on hand. Just apply some of the product to clean, wet hair and leave on for 3 to 10 minutes, then rinse off. This is a made in the USA vegan, natural and certified organic plant based product that is free from GMO's, sulfates, parabens, salts, petrochemicals and is cruelty free.  2 oz $10.00 Promo Code: Save 20% off purchases at Loba Mane with code KLOVERBOX20
Description: Indulge your hair with our rich and nutritive treatment mask. This botanical hair therapy contains the benefits of Coconut, Buriti, Tucuma, Argan and Avocado to provide a complete restoration of dry, damaged, brittle and over-processed hair. Suitable for all hair types. Enriched with antioxidants, vitamins, amino acids, essential fatty acids, phospholipids, and phytosterols for absolute hair restoration.  Rejuvenates and prevents early aging. Strengthens and prevents breakage and split ends. Revitalizes, softens and boosts shine.
Ingredients: DI Water, Cetyl Alcohol, Cocos Nucifera (Coconut) Oil, Glycerin, Cetearyl Alcohol, Behentrimonium Methosulfate, Fragrance (Essential Oil Blend), Quaternium-87, Glyceryl Stearate, Mauritia Flexuosa (Buriti) Fruit Oil, Astrocaryum Vulgare (Tucuma) Fruit Oil, Olea Europaea (Olive) Fruit Oil, Argania Spinosa (Argan) Kernel Oil, Persea Gratissima (Avocado) Oil, Arginine, Vitamin E Acetate, Behentrimonium  Chloride, Sodium PCA, Aspartic Acid, Sodium Lactate, Glycine, Alanine, Disodium EDTA, Histidine, Benzyl Alcohol, Hydroxyethylcellulose, Diazolidinyl Urea, Serine, Myristyl Myristate, Valine, Proline, Potassium Sorbate, PCA, Sodium Benzoate, Phenylalanine, Citric Acid  cosDNA analysis

This month gets back to Holiday basics with a lovely bracelet from a company with a great social mission, a highlighter made from minerals, a deep restorative hair mask treatment and an organic facial primer  ~ all from brands that are focused on using organic ingredients.  My favorite item has to be the hair mask as it smells divine!  I paid $15.00 due to a Black Friday promo code + renewing 3 month subscription and received a value of over $82.00.  Do you subscribe to Kloverbox?  What was your favorite product this month?

Current Promo:  Want to save 10% off your subscription?  Use my referral link here    One and three month terms automatically renew, the six month is a one time purchase.   The monthly subscription has an option to skip a month!

Next Month's Spoiler
It's rare to get a sneak peek into the next month, so I am excited to see this product for January 2018.  The box value will be over $60.00 too!
Overnight Peel DERMA-E Essentials: Reveal dramatically fresher, newer skin overnight with this skin-brightening blend of glycolic sugar cane and fruit acids. Our skin-renewing formula contains 5% Alpha Hydroxy Acids (AHA) for safe, effective removal of dead surface skin cells. With every use, skin tone becomes more radiant, pigmentation is evened and age spots are visibly diminished. 100% vegan, cruelty-free, paraben-free, sulfate-free, mineral oil-free, lanolin-free, gluten free, GMO-free.  RV $19.00

[ descriptions in italics from linked website.  contains referral link and affiliate links ]