I had subscribed to NMNL, which is a Japanese Beauty subscription box, but I cancelled it ~ I did try to love it, but after several months of horrible, tween-y boxes with no-name brands, I couldn't justify it anymore.  A few weeks ago, Kirei Station, a Japanese online store, offered to send me their brand new Getsu Box, a monthly subscription of Japanese beauty and lifestyle products.  I was very interested, as I want to know more about Japanese beauty products, so I accepted.   Their Getsu boxes are $30.00, so that is on par with NMNL subscription boxes and if you sign up for a 3, 6 or 12 month subscription, you can save more money.
Kirei Station is a great online store with hundreds of Japanese skincare, hair care and makeup items.  I have ordered from them and they offer so many lovely products at great prices ~ I just purchased Tsubaki Premium Repair Hair Mask and I cannot wait to use it.  They offer three types of shipping ~ SAL which is free, Registered Airmail ($5.00) or EMS, which is by weight, but they always offer a 25% off  EMS shipping promo code of EMS25, so you can save there.  They also have a first time purchase 10% off code of CODE-01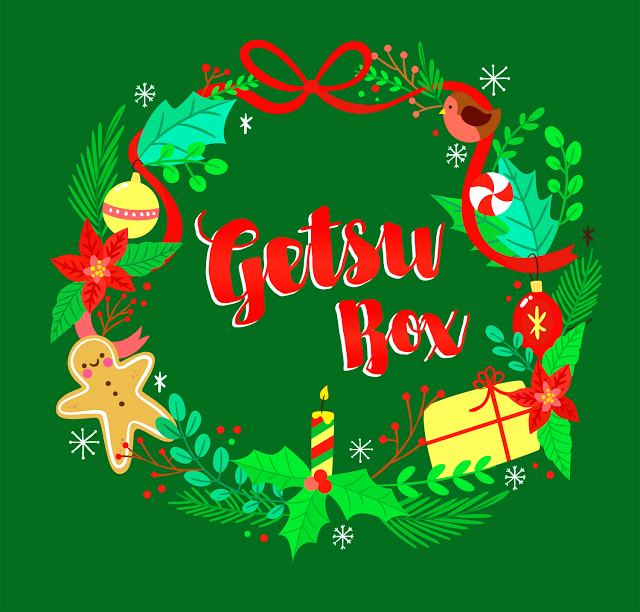 December Getsu Box Description: Our December Getsu Box will have two full sized products, trial kits/ mini sized products, a mask and a limited edition snack. How many products will you get? It's a secret! No spoilers on what brands you will be receiving as well! It's Christmas, we might not know exactly what you wrote on your wish list just like Santa Clause but we want to be as secretive as him because we don't want to ruin the surprise. Each Getsu Box costs $30. You can also subscribe for 3, 6 to 12 months, special discount included! Shipping is on us of you decide to opt for SAL.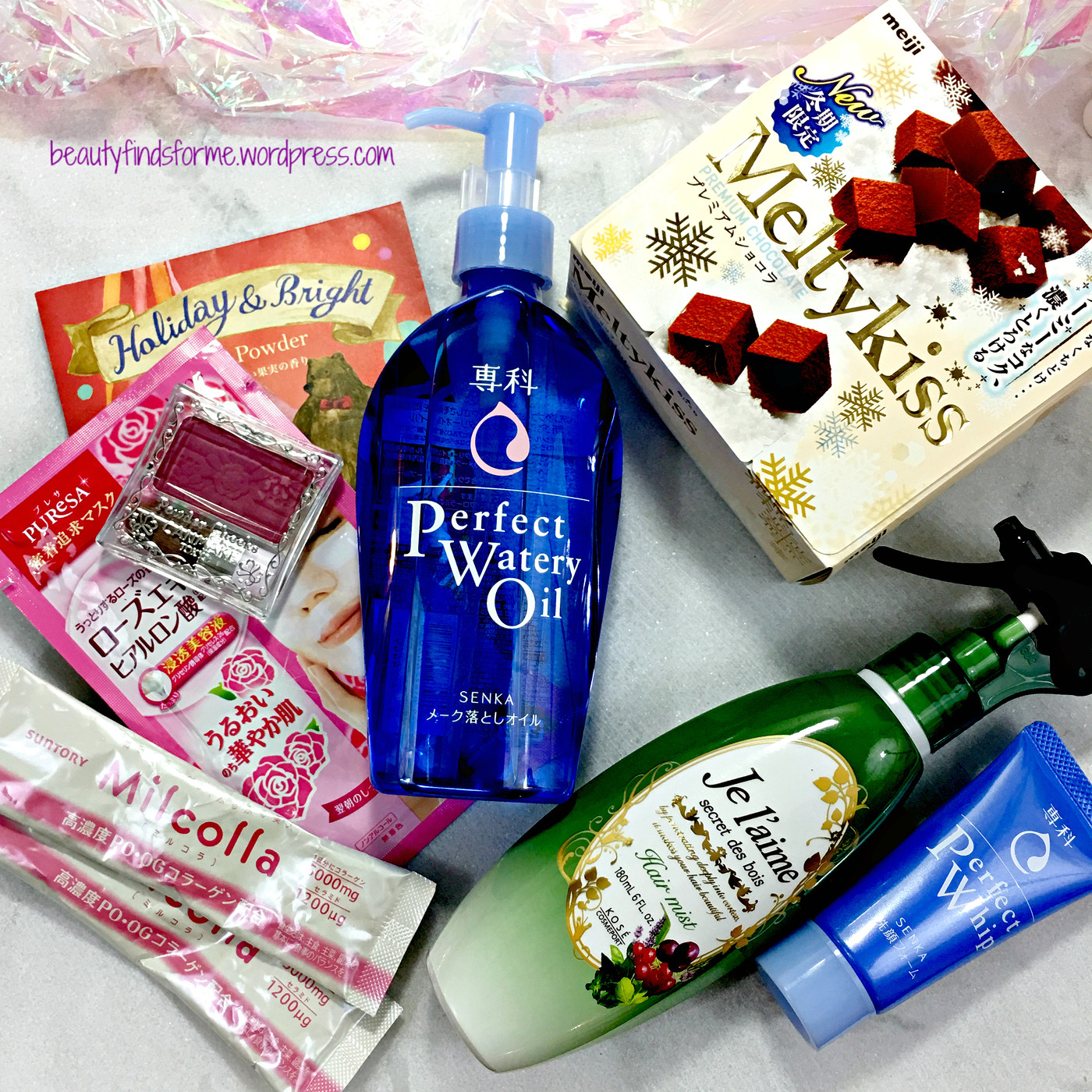 Informational Card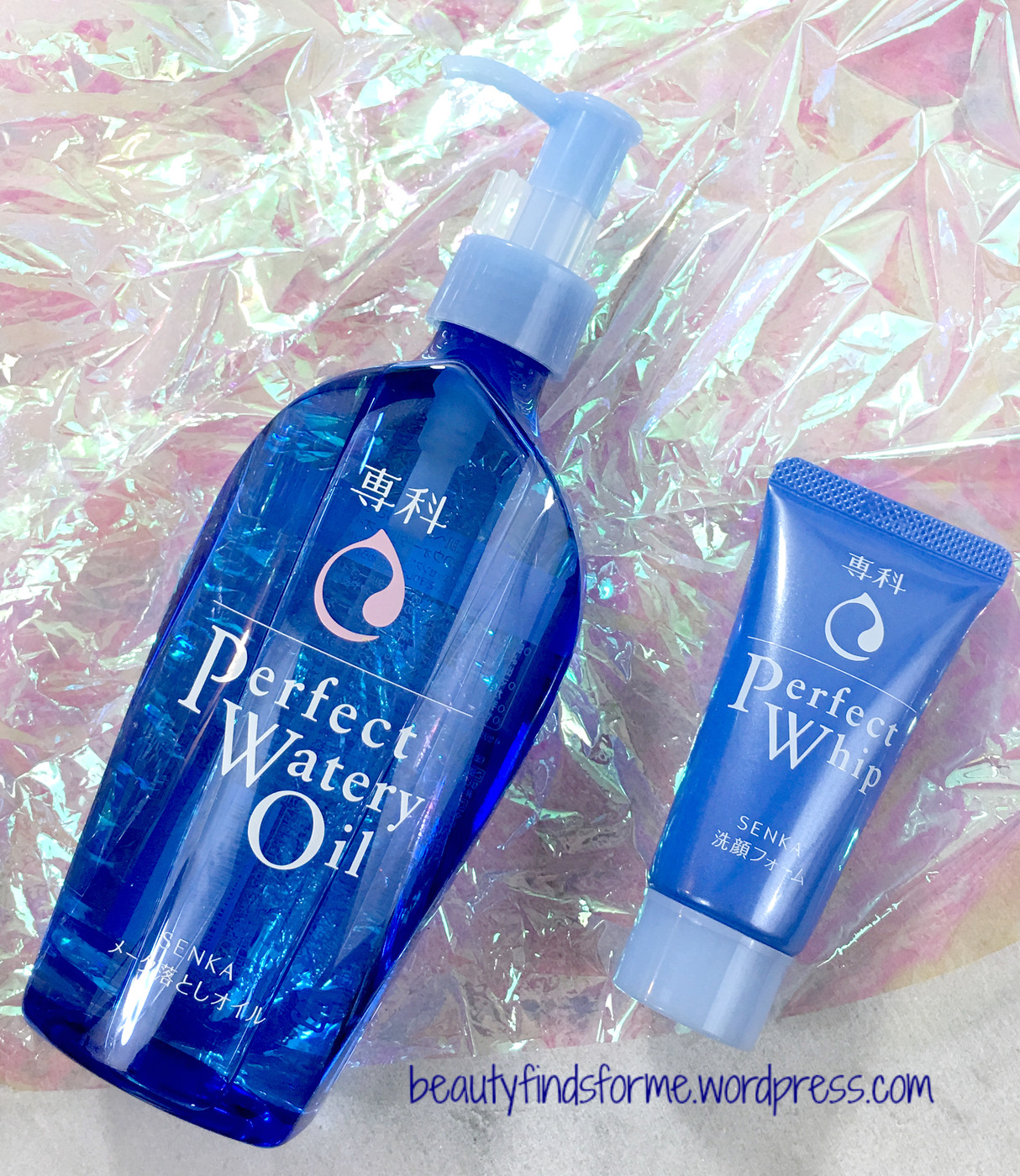 Shiseido Senka Perfect Limited Edition Pack  This special edition contains two Shiseido Senka cleansing products ~ Shiseido makes some fantastic items that are common place in Japan, but we don't get them stateside unless you go to a store that carries Japanese beauty items.  I have never seen the Senka items in my area, so I am thrilled to get these.  The first one is a full size 230 mL Perfect Watery Oil, which is your first cleanser ~ an oil based cleanser that contains amino acids and silk ~ it has a lovely fruity-floral scent that isn't heavily perfumed and I have been using it since I got this box.  I like it a lot and it does take off makeup nicely.  The  next item is a travel size 30 gram of the Perfect Whip, a foaming cleanser which I have used before and REALLY like. It is a higher pH level, , but I haven't had any issues using this cleanser at all. I will repeat my original comments on this cleanser when I first purchased it: 
In the Western world, Shiseido is this very high end brand sold in department stores ~ but in Japan, Shiseido varies from expensive items to everyday practical items, such as shampoos and this facial cleanser.  This is a very popular facial cleanser in Japan and it has gone thru several different formulas. The one I received is the latest 2016 version, which has silk in its ingredient list.  This is a rich foam cleanser that will remove makeup while unclogging pores.  It contains silk essence, amino acids  and 2 types of  hyaluronic acid to help smooth and restore the natural moisture balance in your skin.   Its' selling point is that the cleanser will create a very dense soft foam, which is supposed to act like a cushion, protecting your skin from your too harsh cleansing techniques ~ lol.  I guess that is a selling point!   I love looking at Japanese ingredient lists as they are formulated a bit different from normal Korean skincare products.  This is a new HA to me ~ sodium acetylated hyaluronate (AcHA):  "Sodium Acetylated Hyaluronic Acid ( AcHA ) is a distinctive HA-derivative which is easy to use due to amphipathic properties, has high suppleness of the stratum corneum, and offers high water-retentiivity (more than 2 times than normal HA). This product has a strong affinity for skin, and remains firmly on the surface of skin to prevent water from evaporating from skin" (source)

I couldn't find this limited edition version, so I broke down the retail price based on each item ~ Watery Oil $17.20 and Whip Foam $2.40 = RV $19.60
Shiseido Senka Perfect Watery Oil Ingredients: mineral oil, PEG-8 glyceryl isostearate, cetyl ethylhexanoate, cyclomethicone, isostearic acid, glycerin, ethylhexyl palmitate, sodium hyaluronate, sericin,  sodium acetylated hyaluronate, hydrolyzed silk, water, alcohol, tocopherol, citric acid, potassium sorbate, fragrance
Shiseido Senka Perfect Whip Ingredients: water, stearic acid, PEG-8, myristic acid, potassium hydroxide, glycerin, lauric acid, ethanol, butylene glycol (BG), glyceryl stearate SE, polyquaternium-7, sodium hyaluronate, sericin, sodium acetylated hyaluronate (AcHA), hydrolyzed silk, disodium EDTA, sodium metabisulfite, citric acid,potassium sorbate, sodium benzoate, fragrance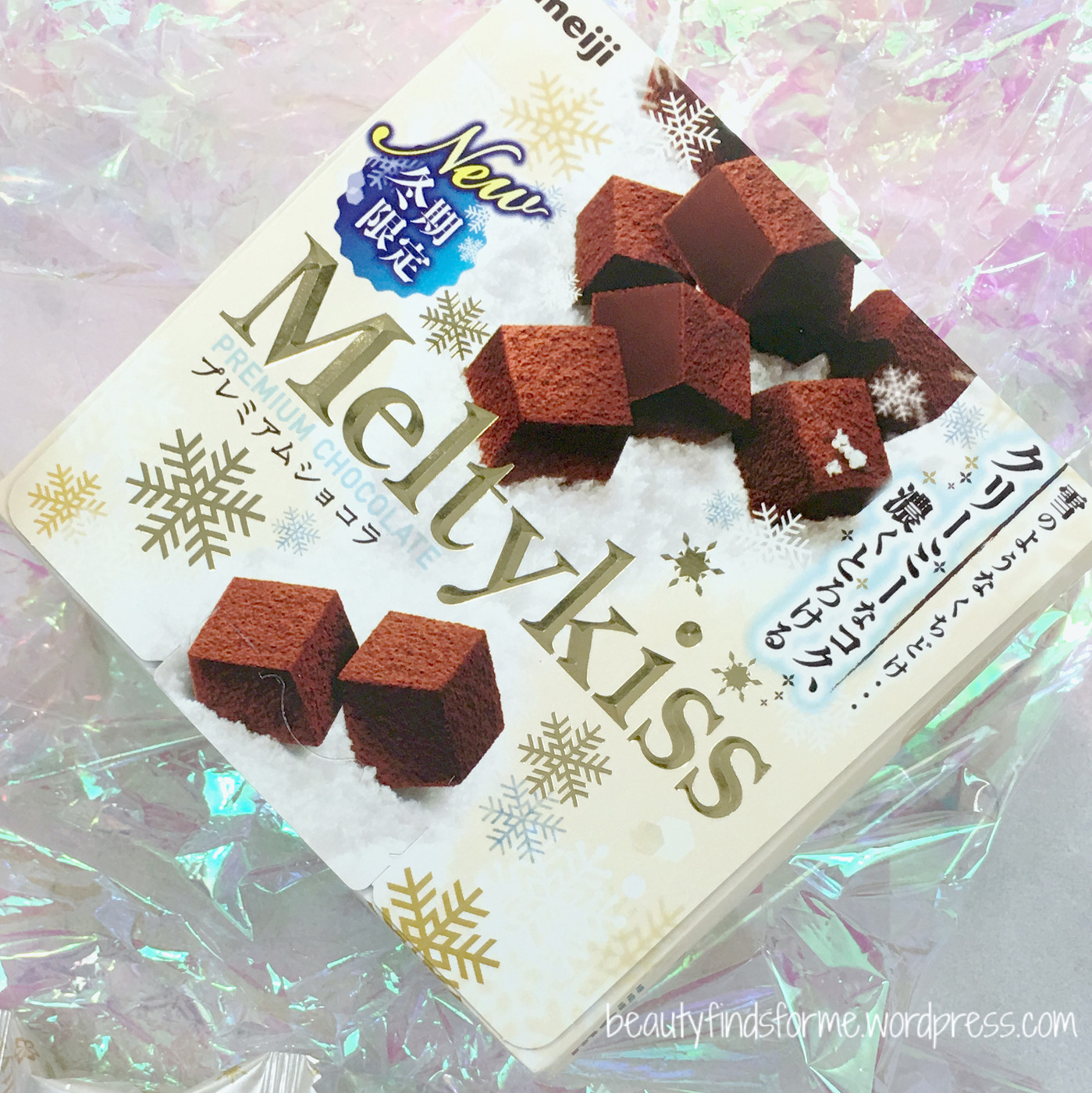 Meiji Meltykiss Winter Limited Edition Premium Chocolates  This is a limited holiday edition and these are quite popular in Japan.  They literally melt in your mouth and the taste is such a rich cocoa chocolate ~ it isn't milk chocolate but it isn't dark or bittersweet chocolate either.  It is almost as if they took milk and bittersweet chocolate and mixed them together.  These are just great and I love them!  According to Meiji, these are cubes of chocolate creams with an outer layer of fluffy milk chocolate, dusted with cocoa powder and they only release them for a few weeks during the winter time, as they melt easily! 60 grams RV $8.00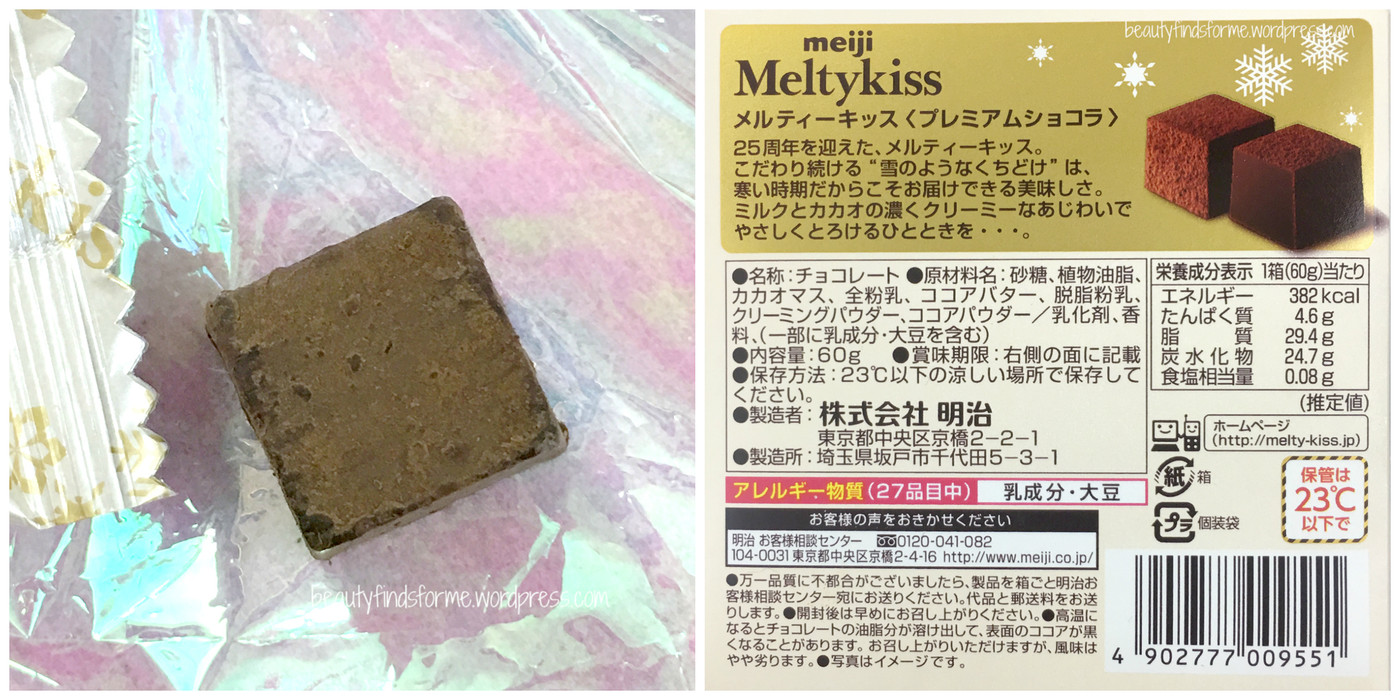 Ingredients: sugar, vegetable fat and oil, cocoa mass, whole powdered milk, cocoa butter, skimmed milk powder, creaming powder, cocoa powder, emulsifier, fragrance, (including milk ingredients · soybeans in part)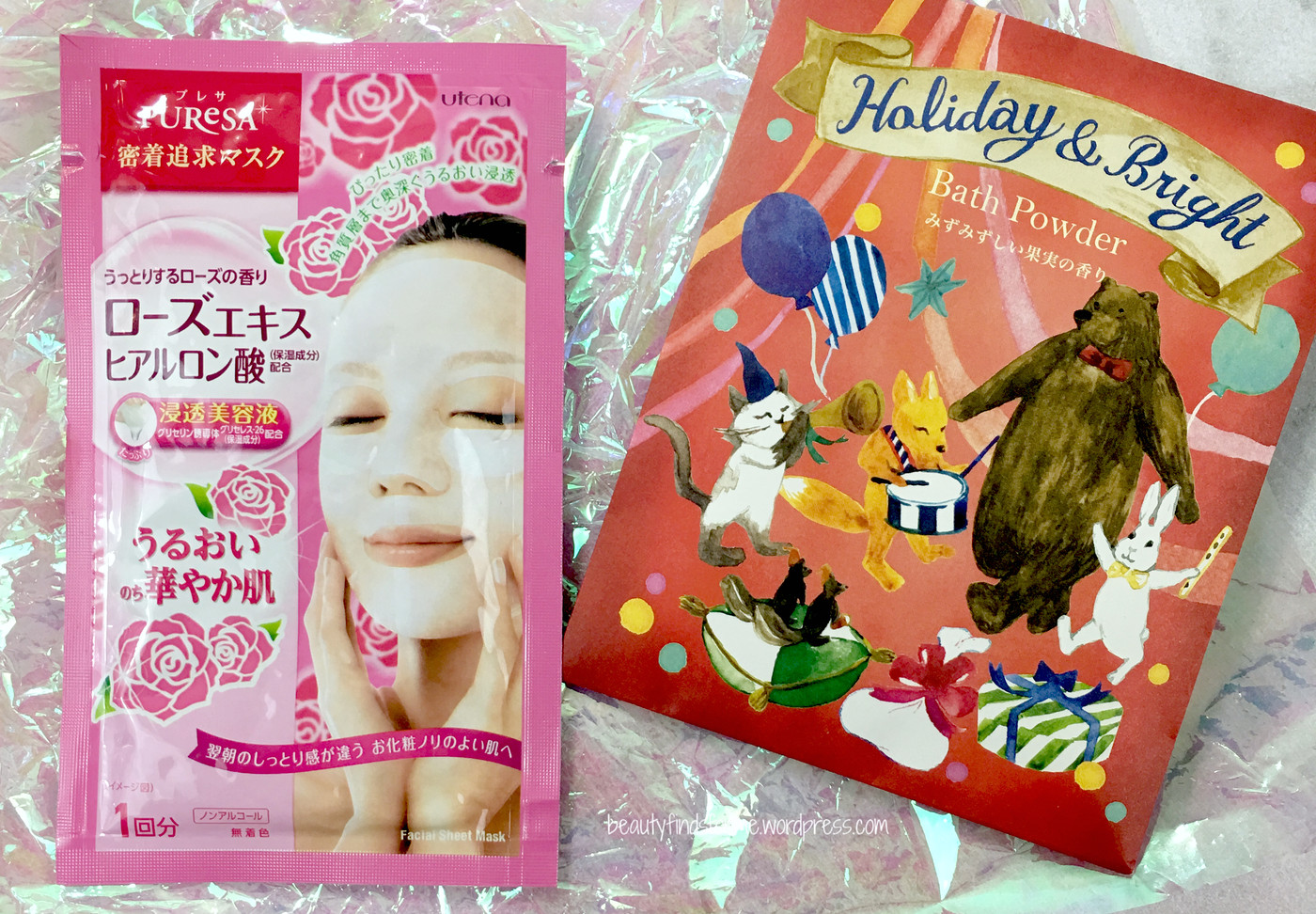 Utena PureSa Hyaluronic Rose Mask  I cannot use rose, as I am allergic to it, but it is really nice to see that Kirei Station added a facial sheet mask in here.  This mask is made from 100% Japanese cotton and is full of a rich hydrating serum that also helps calm your skin.  This mask does not contain alcohol, based on the description I found.  I don't see this version on Kirei Station, but they do sell PureSa Facial Sheet masks    RV $2.40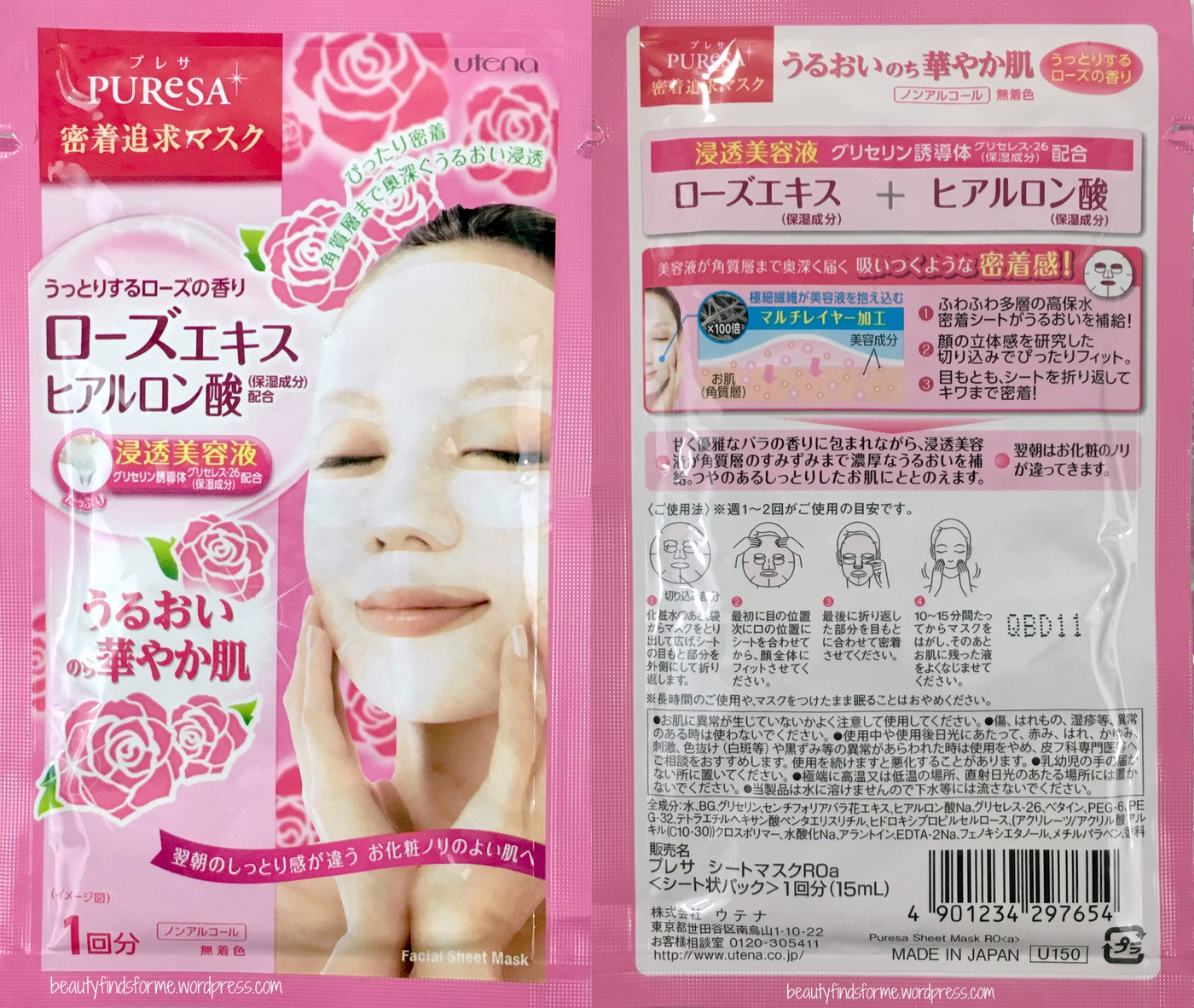 Description: Rose extract + hyaluronic acid (moisturizing) is the penetration essence mask of compounding. While wrapped in the scent of  rose, giving a rich moisture to the skin, and leads to moist skin shiny.  also fit to the high water retention adhesion sheet is any unevenness of special processing, delivers deep beauty solution to the stratum corneum. The smell of  alcohol and those who are worried, for sensitive skin to alcohol, was up a gentleness, a non-alcohol formulation.
Ingredients: water, BG, glycerin, rosa centifolia flower extract, hyaluronic acid, glyceryl-26, betaine, PEG-6, PEG-32, pentarythrityl tetraethylhexanoate, hydroxypropyl cellulos( acrylates/acrylic alkyl polyacrylates (C10-30)) crosspolymer, sodium hydroxide, allantoin, EDTA-2Na, phenoxyethanol, methylparaben, fragrance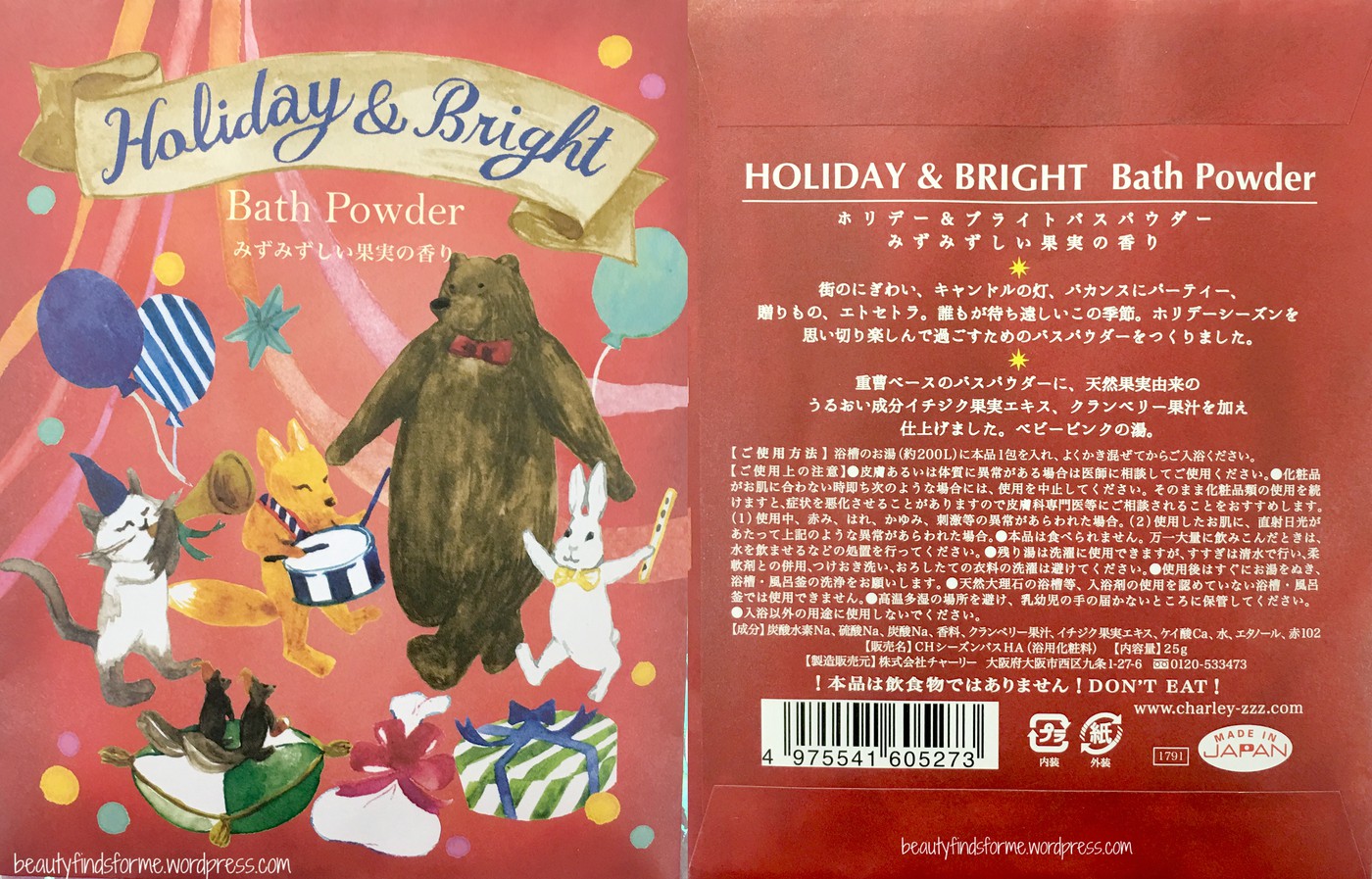 Holiday & Bright Bath Powder by Charley ZZZ  The animals playing and dancing reminds me of the myth that on the stroke of midnight, on Christmas Morning (cause it is midnight..), animals can speak. I am not sure where this legend came from, but I do know my mom, who is from Europe, used to tell us this story… so every Christmas Eve, when I was a small child, I would struggle to stay up until midnight with my cats, to find out if they would speak to me in hooman speak. Alas, I never found out!  This fruity bath powder is scented with cranberries and fig extracts and will turn your bath water a bright pink!  I am looking forward to some baths over the holiday break next week!   I have had this brand before with other bath salts and they have a whole online store filled with bath powders!  25 grams RV $1.33
Ingredients: sodium carbonate, fragrance, cranberry juice, fig fruit extract, calcium silicate, water, ethanol, red 102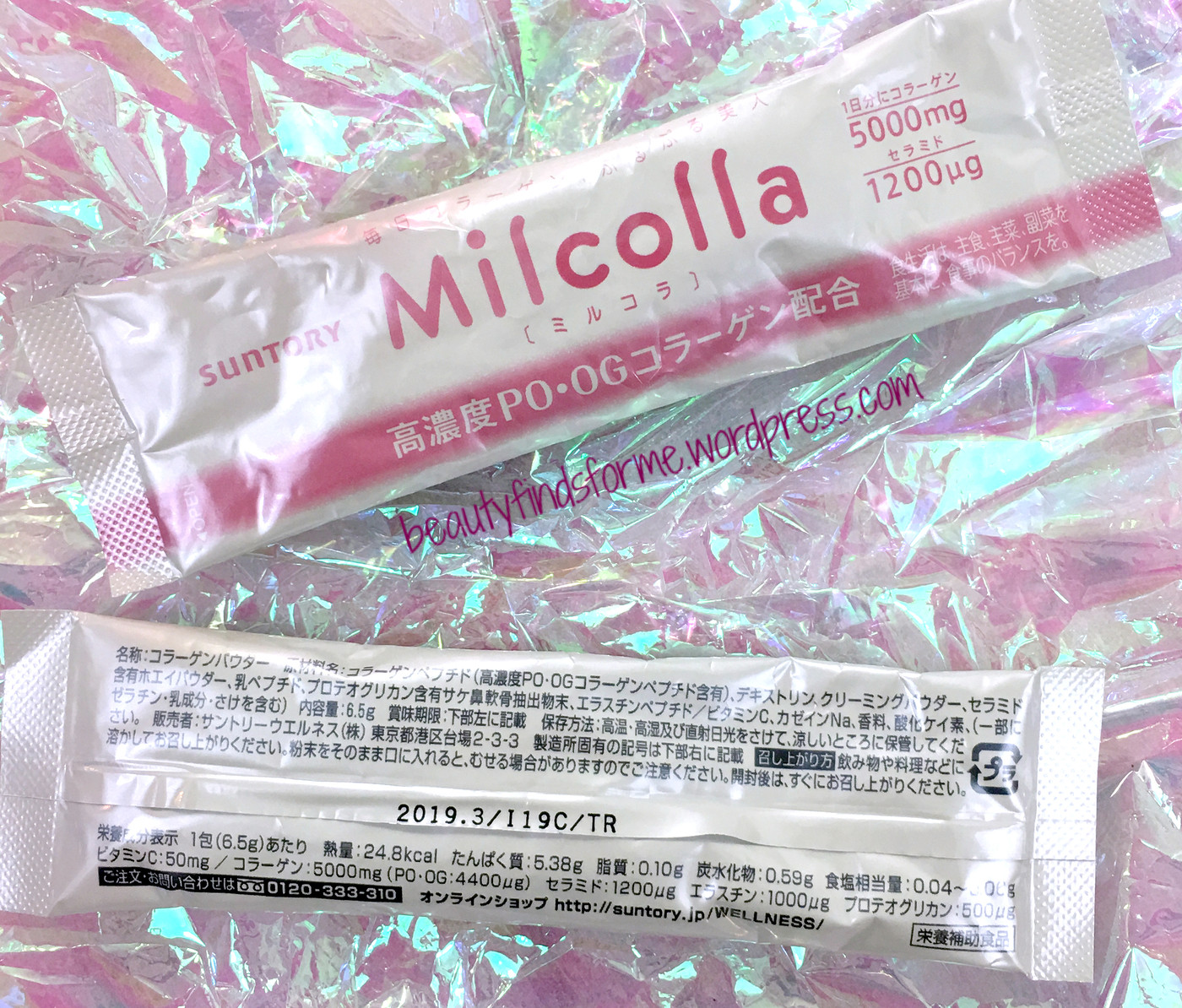 Suntory Milcolla Collagen  This is what sets this beauty box from other beauty boxes ~ right here.  They included a collagen supplement to help make your insides healthy and beautiful!  You just add one package to tea, coffee, milk or a beverage of your choice. ~ but not water ~ I read a review that this tastes horrible in plain water, but when mixed with other liquids, it is tasteless.   Each spoonful of this collagen powder contains 5000 mg of low molecular weight collagen, 1200 μg of milk ceramide, 1000 μg elastin and 500 μg of proteoglycan ~  in other words, collagen peptide, milk ceramide, vitamin C, milk calcium, and vegetable based lactic-acid bacilli. This beauty supplement will help keep your skin moist and supple and since the collagen is a low molecular weight,  it is easier to absorb.  The price at Kirei Station is the lowest I have seen it ~ eBay, Amazon ~ I have seen it at least $20.00 or more for a 30 day box (48.80)  2X RV $3.25
Ingredients:  Collagen peptide (contains high concentration PO · OG collagen peptide), dextrin, creaming powder, ceramide (containswhey powder), milk peptide, proteoglycan (salmon nasal cartilage extract substance), elastin peptides, vitamin C, casein Na, fragrance, silicon oxide and other raw materials including gelatin)
Nutrition: protein 5.38g, fat 0.10g, carbohydrates 0.59g, sodium 16~22mg, vitamin C 50mg, potassium 2.35mg, phosphorus 2.1mg,  and energy 24.8kcal/per 1 day.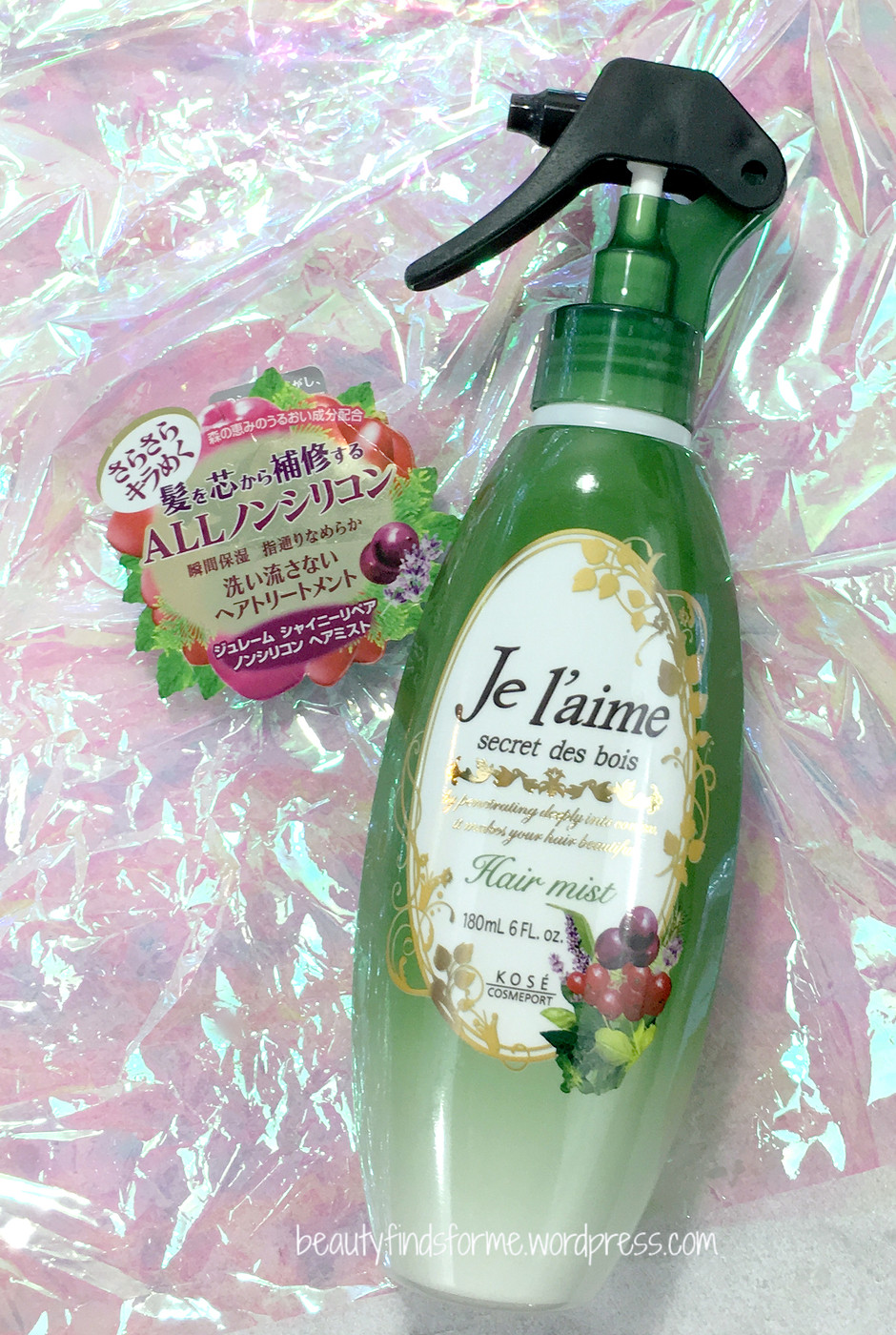 Kose Cosmeport Je l'aime secret des bois Hair Mist This treatment hair mist, containing fruity extracts, is silicon free and helps nourish your hair, controls frizzies and has a unisex fragrance ~ it reminds of a woodsy scent but it does start out strongly with alcohol, as it does contain alcohol in it.  For my oily hair, I don't have an issue with alcohol in my hair care products ~ it also contains collagen, raspberry, blackberry, peony, Hinoki cypress water and corn oils to help create smooth hair.   I don't think this is made anymore or maybe it isn't available online anymore ~ so I went with current Je l'aime products for price 180mL  RV $15.00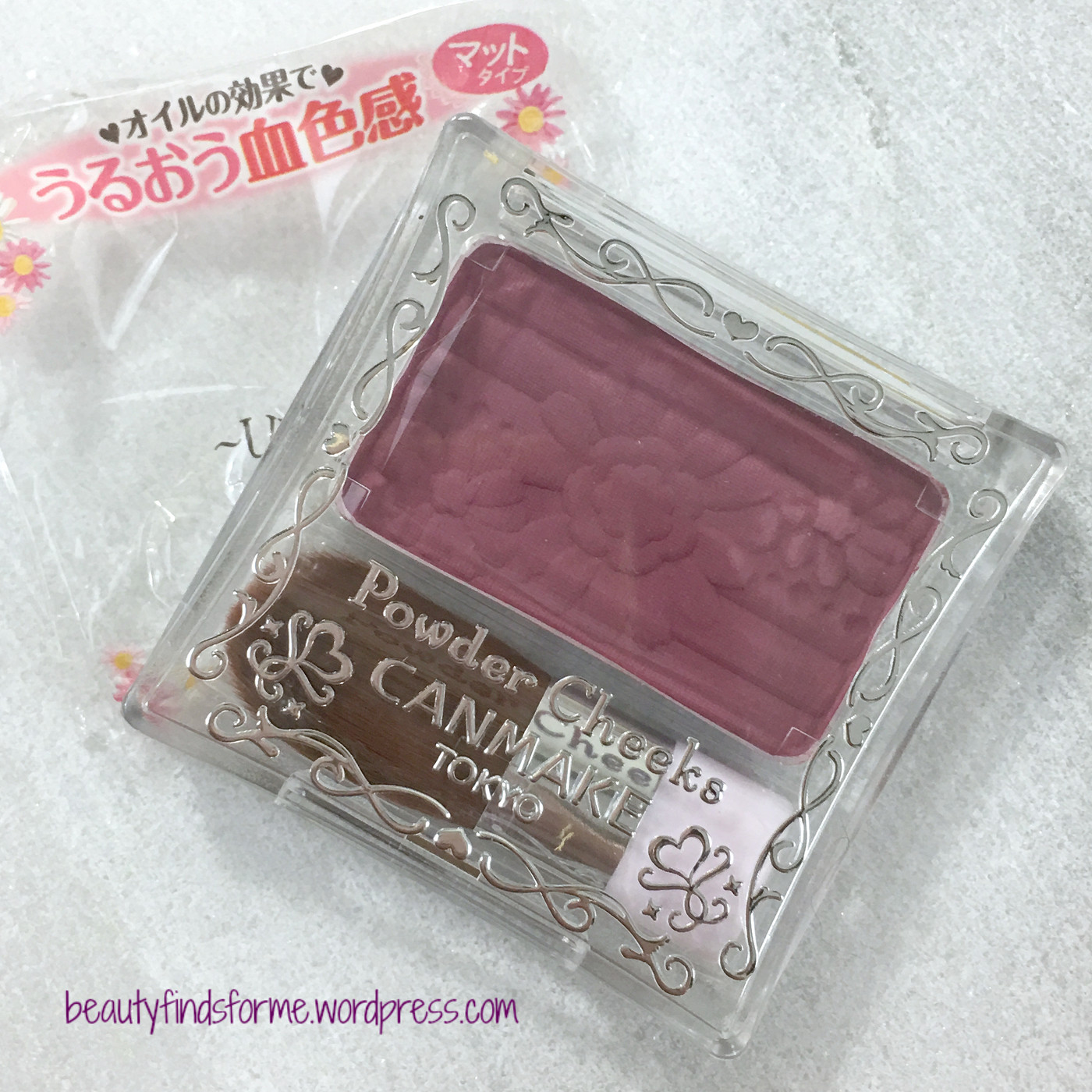 Canmake Powder Cheeks in PW38 Plum-Pink  If you follow me on Instagram, I did do an unboxing in my stories there and when I got to this item, I said that NMNL never, never, never, never, never and I mean NEVER gave us Canmake even though they teased us with this product all the time.  Canmake is a very popular Japanese makeup brand and I never tried it before… My very first Getsu Box and I got Canmake!! This is a powder blush, but it has an oil-in-base formula, which helps moisturize your skin while having a smooth and silky texture. It is long lasting and it will absorb excess oil and contains hyaluronic acid, glycerin, ectoin, squalane, grapeseed oil, honey, royal jelly extract and apple fruit extract.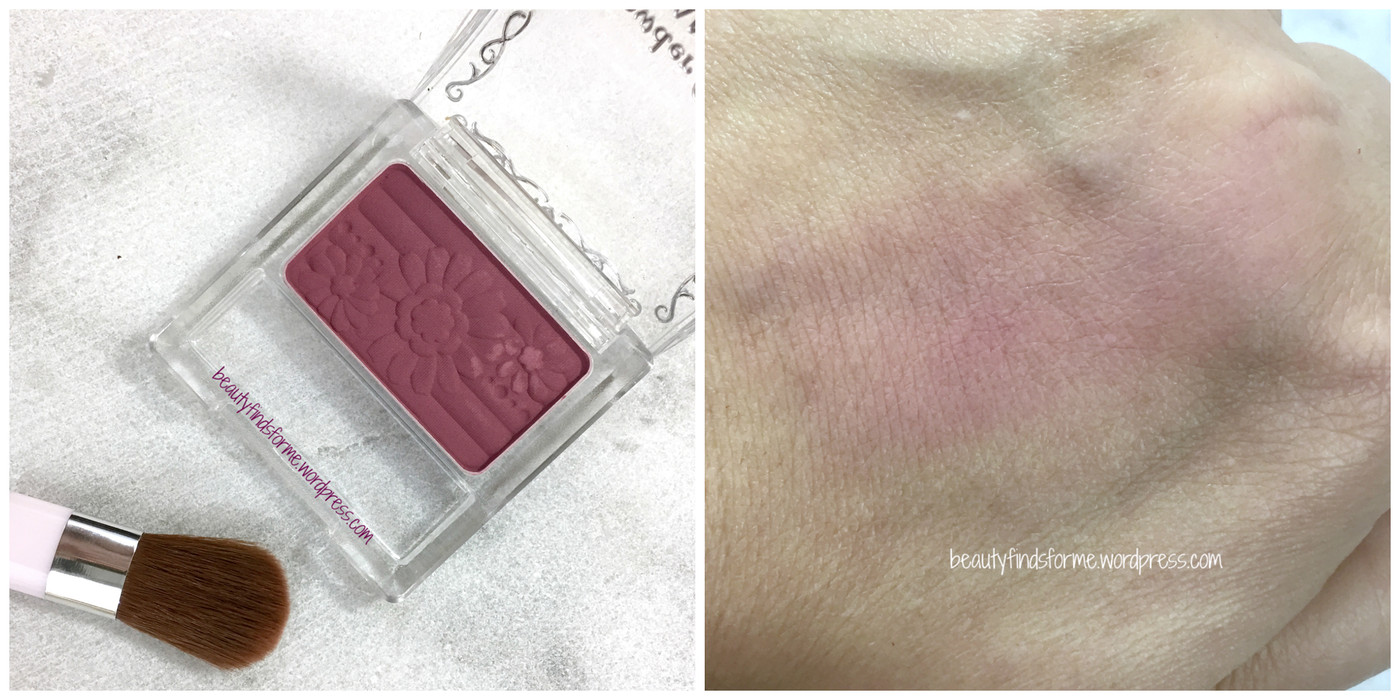 The color of this blush is a beautiful pigmented, matte plum shade and it does look quite dark in the pan, but once applied with a nice fluffy blush brush, it is a beautiful shade ~ not clownish at all and perfect for the fall/winter season. It's not cakey or chalky ~ this is one of the best products in the box!!  RV $10.08
Final Thoughts
I really think this box is heads over NMNL boxes ~ there are name brands in here, popular brands in Japan and a solid value.  I love that Kirei Station added some treats that were limited edition plus a beauty supplement for your body.  This box has everything a beauty box should have ~ skincare (cleansing products from Shiseido Senka), spa treatments (facial sheet mask and bath salts from a brand that makes a lot of popular bath products), hair care (treatment hair mist from Kose Cosmeport), a on-point autumnal  blush shade from the popular Canmake brand plus beauty supplements and chocolates!!   The value is here as well ~ this box has almost a $60.00 retail value.  Japanese products are not as well known here stateside, so it is really nice to get a box that has value and are popular brands.
The December box is sold out, but you can get the January Box (click here to purchase)   Again, you can pick your shipping method and if you want EMS, you can save 25% off  EMS shipping with promo code EMS25 or use CODE-01, if this is your first time purchase to get 10% off.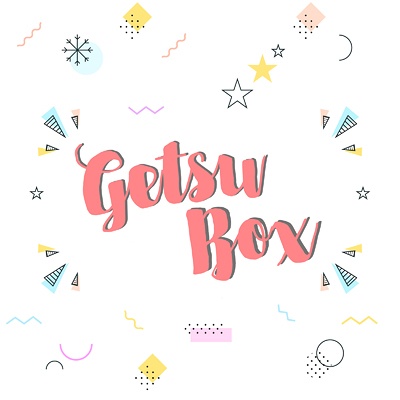 January Getsu Box Description:  Can you believe 2018 is just around the corner? Start your new year with our January Getsu Box! For the 1st box of 2018 we decided to spice things up by adding more variety on our product line up. We will be posting a spoiler on our IG so make sure to follow us there! For those who are curious, you will be getting a total of 8 products for January. 4 full sized product will be included along with other items like mask (not the usual face mask), trial kits,  mini sized products, samples, a snack and tea. A little spoiler for two products in this box, it will have a certain scent that Japanese love. Hint: a fruit scent
I know that Kath at SkinFullofSeoul will be getting the January Box, so check out her IG feed and blog for that unboxing!
[ disclosure: products received complementary for review purposes. contains affiliate links ]