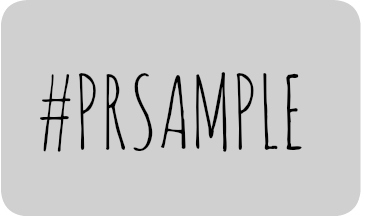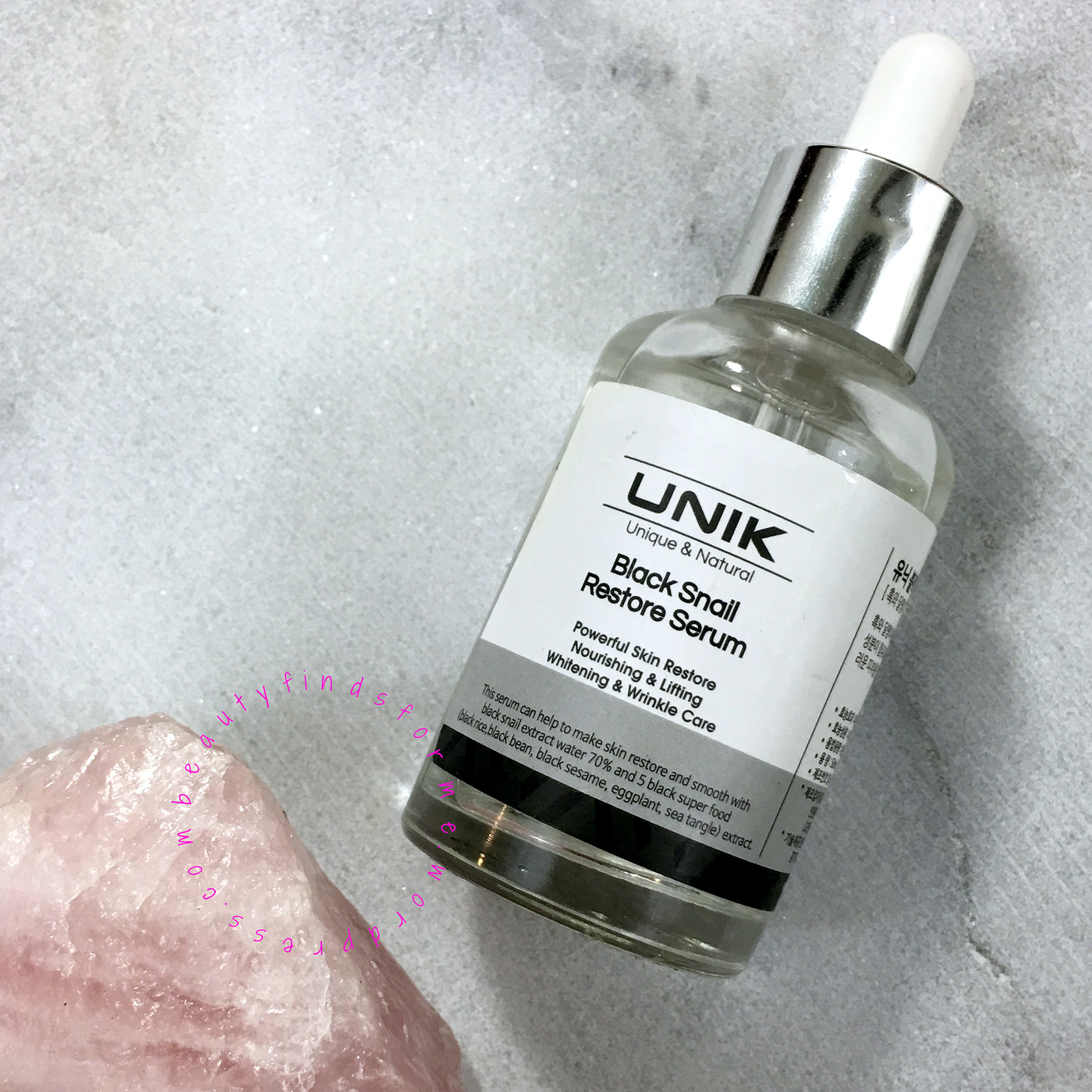 This is a long overdue review!  I started using this in mid September and had this review sitting in my drafts folder for well over a month.   I have a few skincare product reviews that I need to publish, so look for a couple more this week. I have reviewed a couple of products in the past from brand iUNIK from e-Tailer unique4u, which is a new K-Beauty online store ~ however, they are not new to selling K-Beauty.  I have purchased their products from their top rated Platinum eBay seller at blueprint21. ** Update:  The store blueprint21 is not at eBay anymore ~ based on the negative reviews, it looks like there was some major issues of packages going missing and they no longer sell on eBay.

unique4u used to sell a variety of brands at their online store, but now have focused on the iUNIK brand, which I believe is their own house brand ~ similar to how RoseRoseShop did with Neulii. I have enjoyed all the products so far that I have tried, and this one is no exception.  iUNIK sent me their Black Snail Restore Serum for review purposes.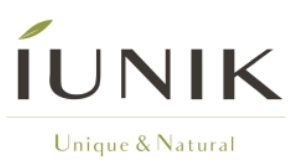 iUNIK doesn't have a huge lineup right now, but what they have is quite interesting and solid.  They have serums, toners, peeling gel and creams, featuring beta glucan, snail, rose and hyaluornic acid.  iUNIK stands for
i = Ideal Skin Over Dreamy (I think they mean ideal skin over unrealistic skin goals)

U = Unique products

N = Natural occurring ingredients, mild and raw materials from natural origin.


I = Ingredients ~ less bad and harmful ingredients, more good ingredients

K = Know how knowledge to create the best products thru continuous Research & Development
I will admit, I have a love-hate relationship with products that contain snail secretion filtrate ~ aka snail slime.  I love its restorative abilities and how it soothes my skin, heals it quickly and leaves it soft and plumped up, but I hate that most of the snail products I have used are STICKY.  Very STICKY.   My skin will have a hard time absorbing sticky snail products, so I have not been using them as much as I would like too.  iUNIK Black Snail Restore Serum contains 70% snail secretion filtrate, which will increase skin elasticity and firmness,  leaving skin soft and supple. It contains "beauty-enhancers like hyaluronic acid, glycoprotein enzymes, glycolic acid, antimicrobial and copper peptides, proteoglycans, and elastin. All of these compounds are known skin enhancers that are already added to beauty products."  (source Coveteur).  It also has healing benefits ~ repairing skin from blemishes, reducing acne and working to lighten hyper-pigmentation scarring.  It also soothes like no other ~ if I overdo exfoliation, whether it is chemical or physical, snail secretion filtrate products quickly calm skin down, reducing redness.  I personally have not seen any skin brightening with snail slime, but it does help heal blemishes faster, so for new PIH, it does help reduce the impact of that discoloration.  I have found that unless there is an allergic reaction to this ingredient, it works on all skin types and for all ages. I find this sticky stuff to be a miracle worker on my skin. 
Along with snail slime, centella asiatica is another key ingredient, which is another soothing and healing ingredient. Centella asiatica is a common herbal ingredient that is used medicinally to help speed up wound healing, such as blemishes and skin rashes. It also helps minimize the appearance of pores.
Black Super Food Ingredients~ black soybeans, black rice, black sesame, kelp and eggplant. These contain anthocyannin, a water soluble black pigment ~ hence its name of "Black Super Foods" ~ that will remove excess dirt, debris and oil.  These ingredients contain antioxidants to help prevent the formation of free radical damage and also heal existing damage. They also contains protein and iron that helps skin's firmness, adds elasticity, provides nutrition. It also helps control excess oil and provides pore care.
Natural HG is a fermented complex of mistletoe, Japanese bloodgrass (Imperata Cylindrica) and soybeans create a bio-polymer component that will increase moisturization, reduce moisture loss, stimulate skin regeneration and repair damaged skin, all while soothing your skin.
 This also has niacinamide and licorice root for brightening as well as rooibos ~ aspalathus linearis contains flavonoids that act as antioxidants, helping combat free radicals and also reversing free radical damage.  It has anti-viral, anti-fungal and antibacterial properties, which will help heal and reduce rashes, blemishes and other skin disorders, as well as soothing skin as it is hypoallergenic.  It also helps protect your skin from UV ray damage as it contains Vitamin D and zinc.
Ingredients: Snail Secretion Filtrate (70%) ,Centella Asiatica Leaf Water, Methylpropanediol, Glycerin, Niacinamide, Glycereth-26,Water, 1,2-Hexanediol, Sodium Hyaluronate, Saccharomyces/Viscum Album (Mistletoe) Ferment Extract, Lactobacillus/Soybean Ferment Extract, Laminaria Japonica Extract, Glycine Soja (Soybean) Seed Extract, Oryza Sativa (Rice) Extract, Sesamum Indicum (Sesame) Seed Extract, Solanum Melongena (Eggplant) Fruit Extract, Saccharomyces/Imperata Cylindrica Root Ferment Extract, Caprylyl Glycol,Butylene Glycol,A llantoin, Centella Asiatica Extract, Glycyrrhiza Glabra (Licorice) Root Extract, Artemisia Vulgaris Extract, Vaccinum Angustifolium (Blueberry) Fruit Extract, Ginkgo Biloba Leaf Extract, Rosa Canina Fruit Oil, Carbomer, Arginine,Pentylene Glycol, Adenosine, Ethylhexylglycerin, Xanthan Gum, Aspalathus Linearis Extract cosDNA analysis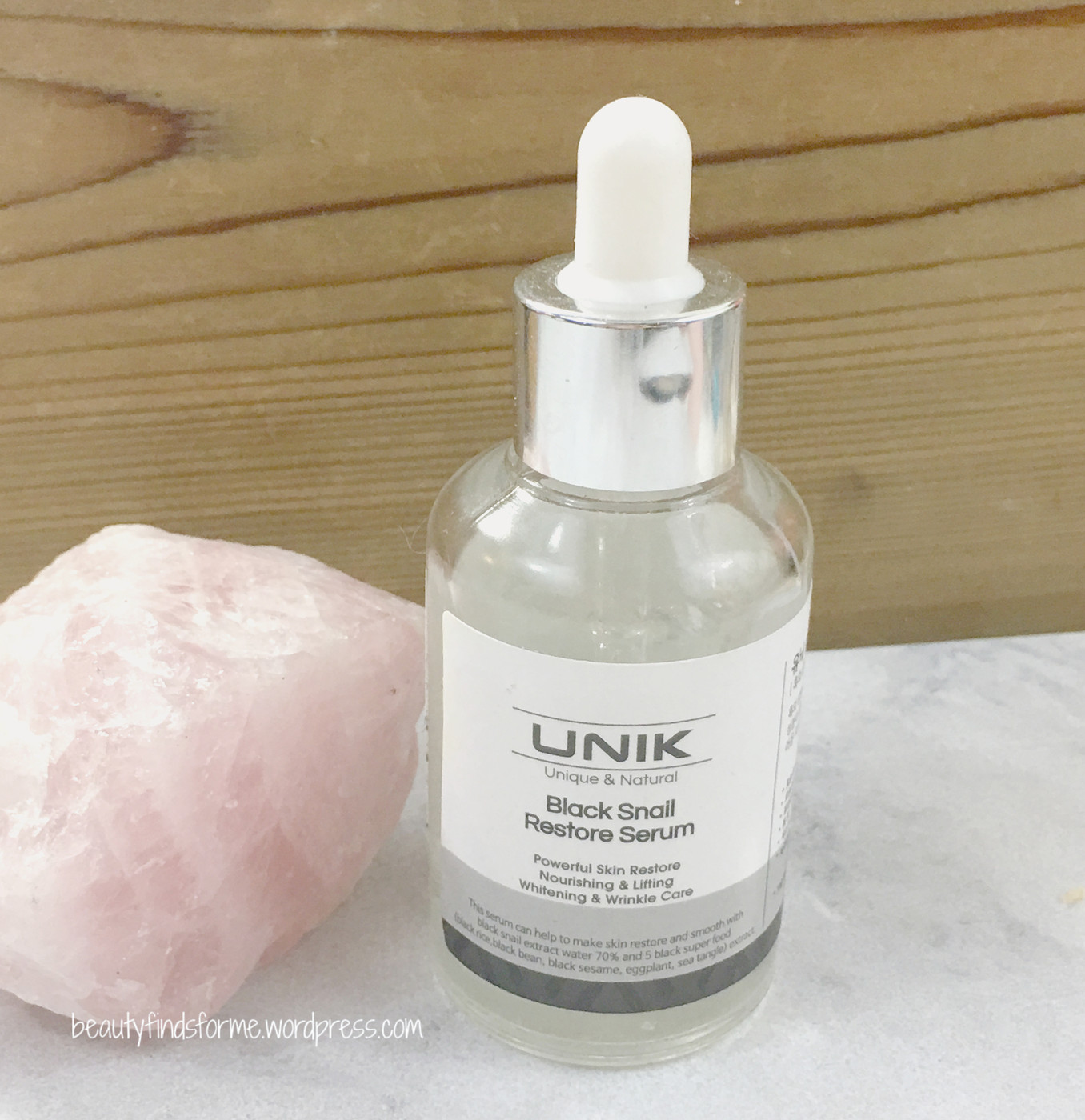 This serum comes in a plain 50mL clear glass bottle with an eye dropper applicator ~ nothing exciting to look at, but it's what is inside that counts!  The serum is also clear and has a viscous consistency, but it isn't gel like, just thicker than water.  It has no scent either and it is  easy to pat into my skin and absorbs quickly, with no sticky or greasy residue.  My skin does feel more supple and looks more plumped up with moisture where I applied this, and it leaves a cooling feeling on my skin, which is quite soothing 

The day I took this test, my skin was REALLY dry in the morning as it was so hot inside my home.  You can see that my skin was dehydrated but with lots of oil.  After applying this serum on my skin, it increased my moisture level by 52% while reducing my oil levels by 29%, resulting in hydrated normal skin.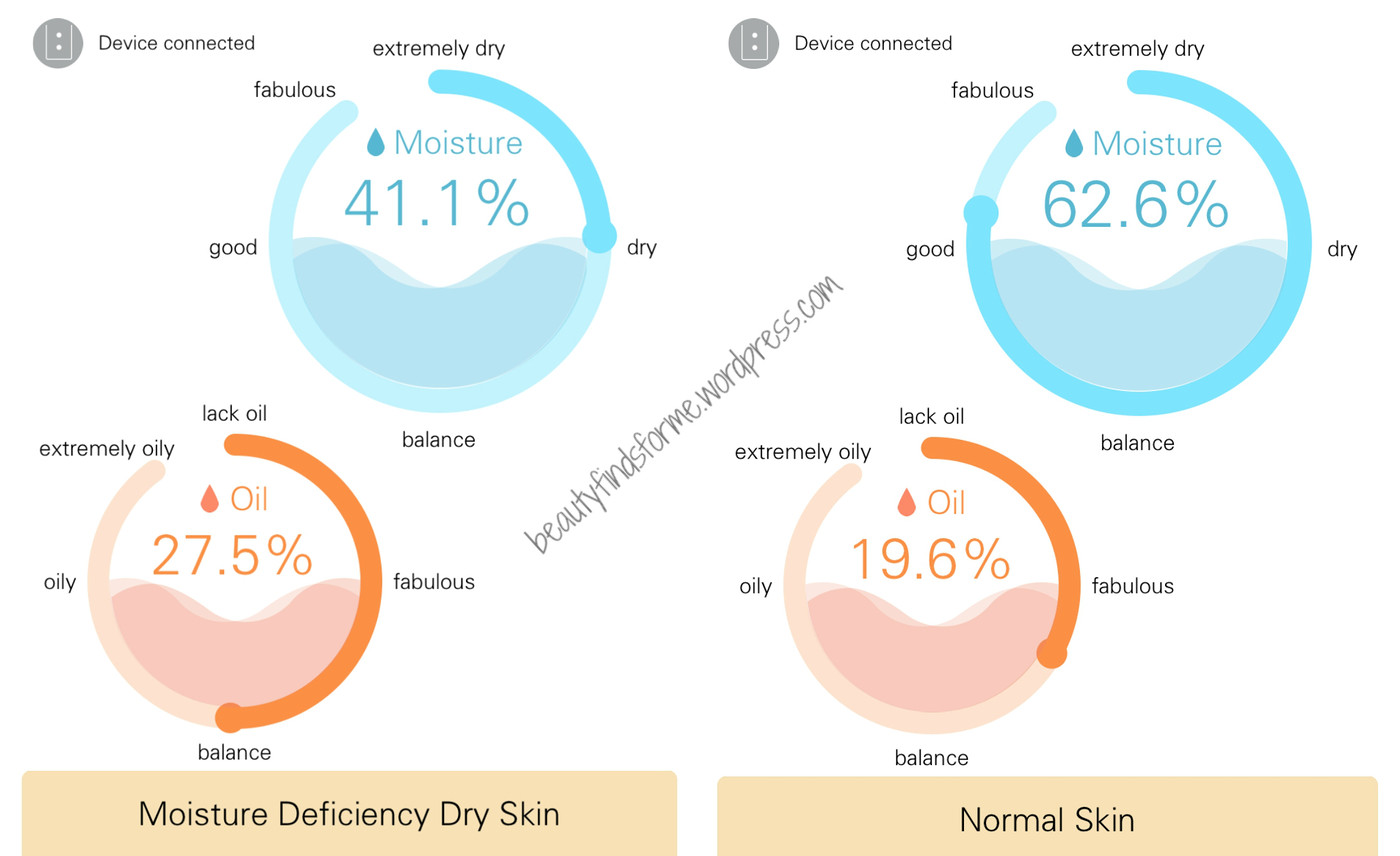 This does have a pH level of ab0ut a 5, which makes it nice for those with very sensitive or irritated skin, as it will bring balance to your skin.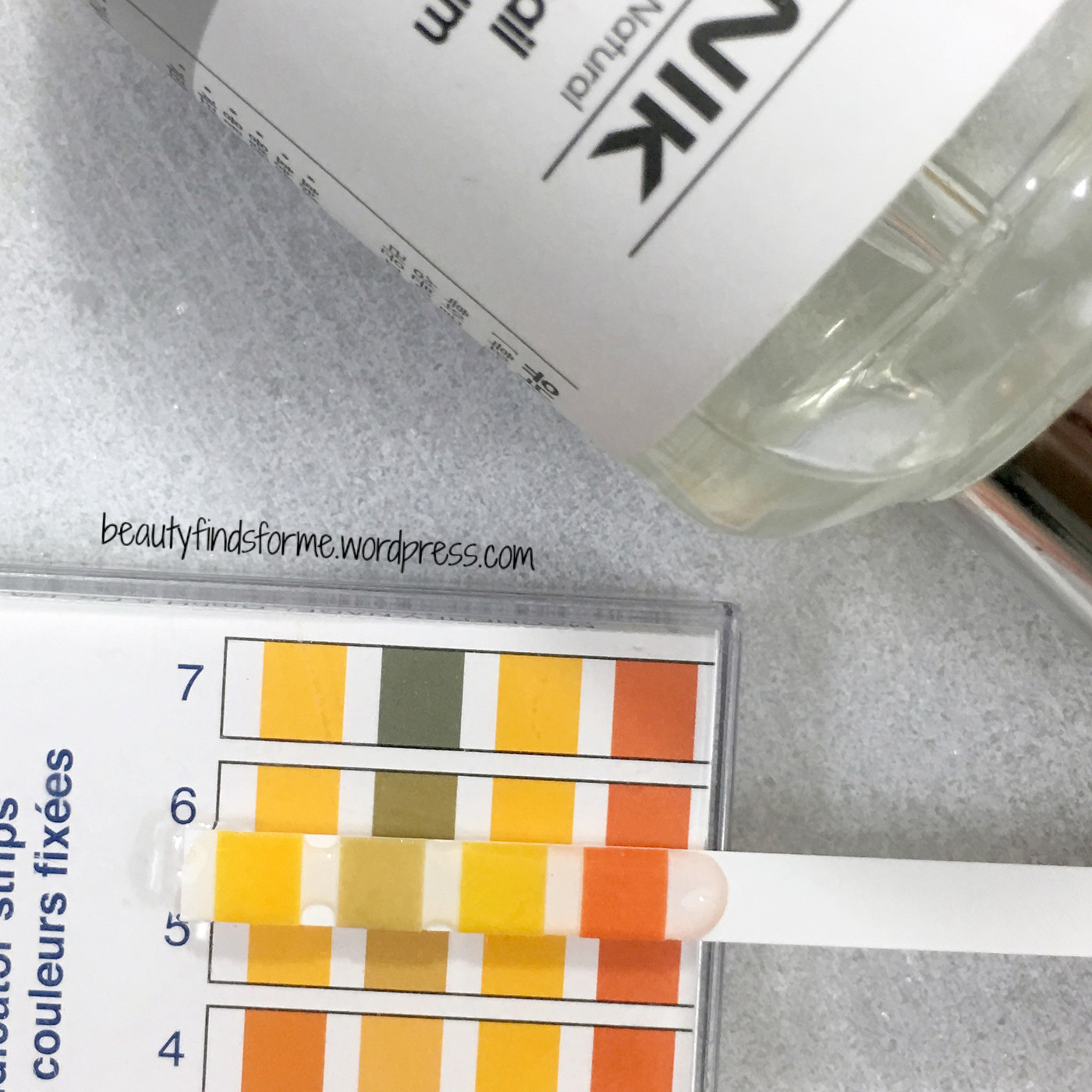 Final Thoughts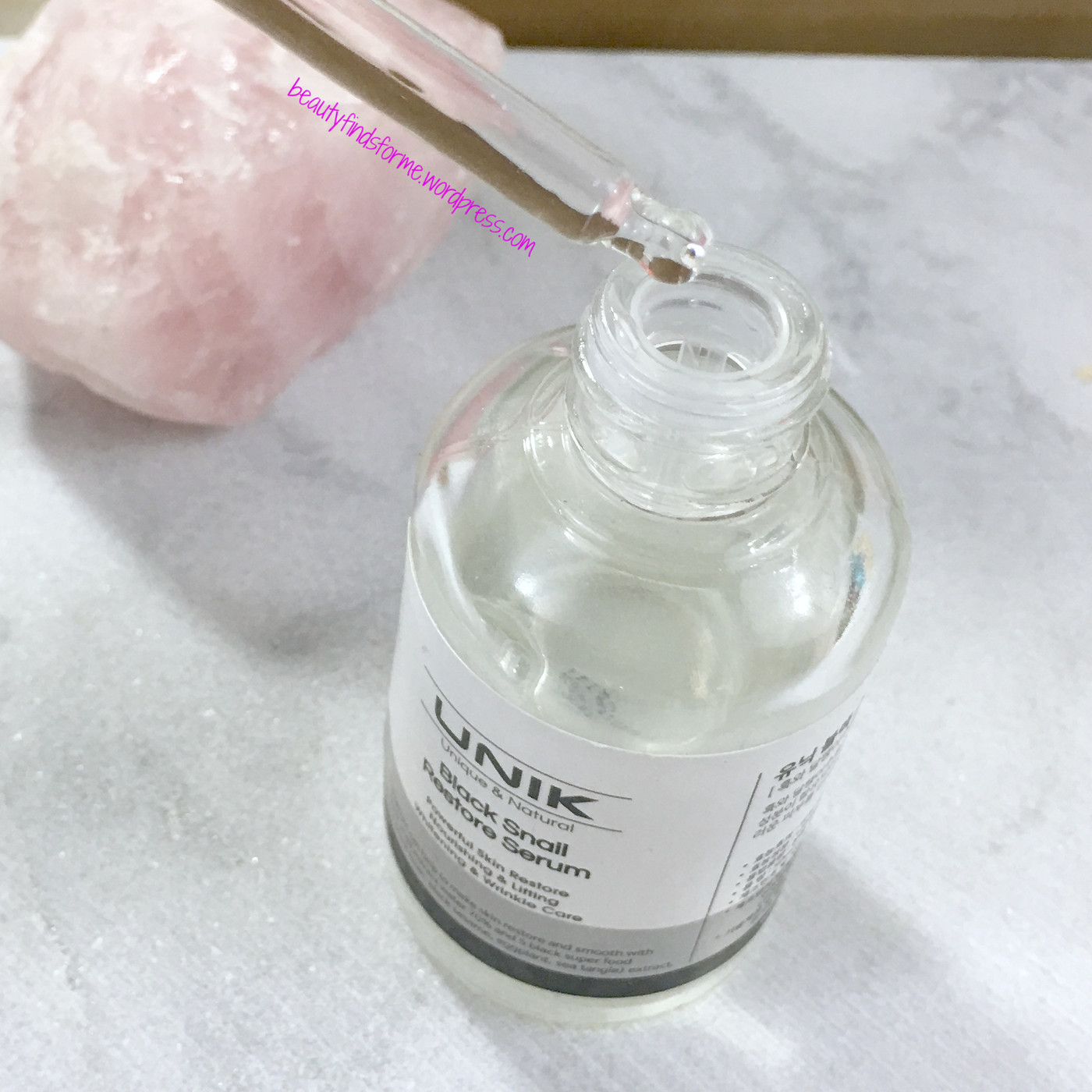 I don't use this snail serum by iUNIK that often, as I like to save it for when my skin is really red, raw and irritated.  It really helps soothe and calm my skin down, and it does help heal almost overnight minor rashes and irritation ~ obviously if you have major issues with your skin, it will take a bit longer, but this serum does do the trick.  I will say the biggest selling point for me is the non-sticky texture ~ its texture has a slight viscosity to it but it is not sticky, so it will absorb nicely into the skin without a tacky residue. That is huge plus for me, as for an oily skinned person, the sticky finish on most snail slime products were a major turnoff.  I think that the low pH, the non sticky texture and soothing properties would be excellent for all skin types, especially for those experiencing sensitivity.   Have you tried iUNIK Black Snail Restore Serum?  Or any of the iUNIK products?
Where to Purchase
You can purchase this on eBay still, as there are sellers there that carry iUNIK ~ check the list here and look at their feedback ratings. I know that there has been a lot of positive feedback from seller SweetCorea and they do sell the Black Snail Restore Serum for $12.99 USD with free shipping.  (eBay affiliate links)

You can purchase iUNIK Black Snail Restore Serum from unique4 online shop  for $15.49  USD.  If you purchase from unique4 and buy two of them, you will get a free full sized Lime Moisture Mild Peeling Gel (read my review here)

unique4 has free worldwide shipping and give samples with every purchase.  Use Promo Code ROSE to get 10% off your purchase of $20.00 or more at unique4.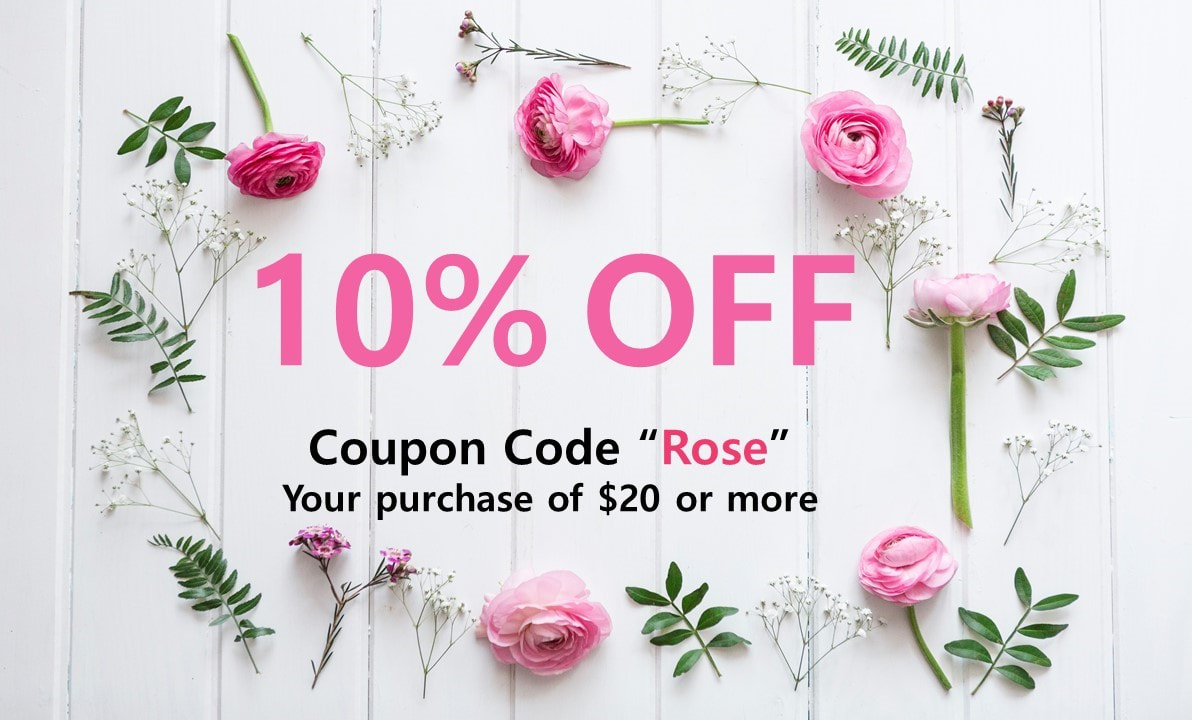 [ disclosure: product received complementary for review purposes.  blog post contains affiliate links ]