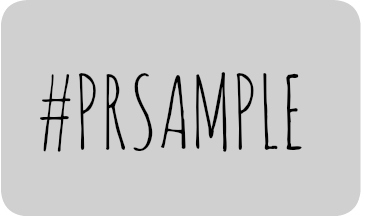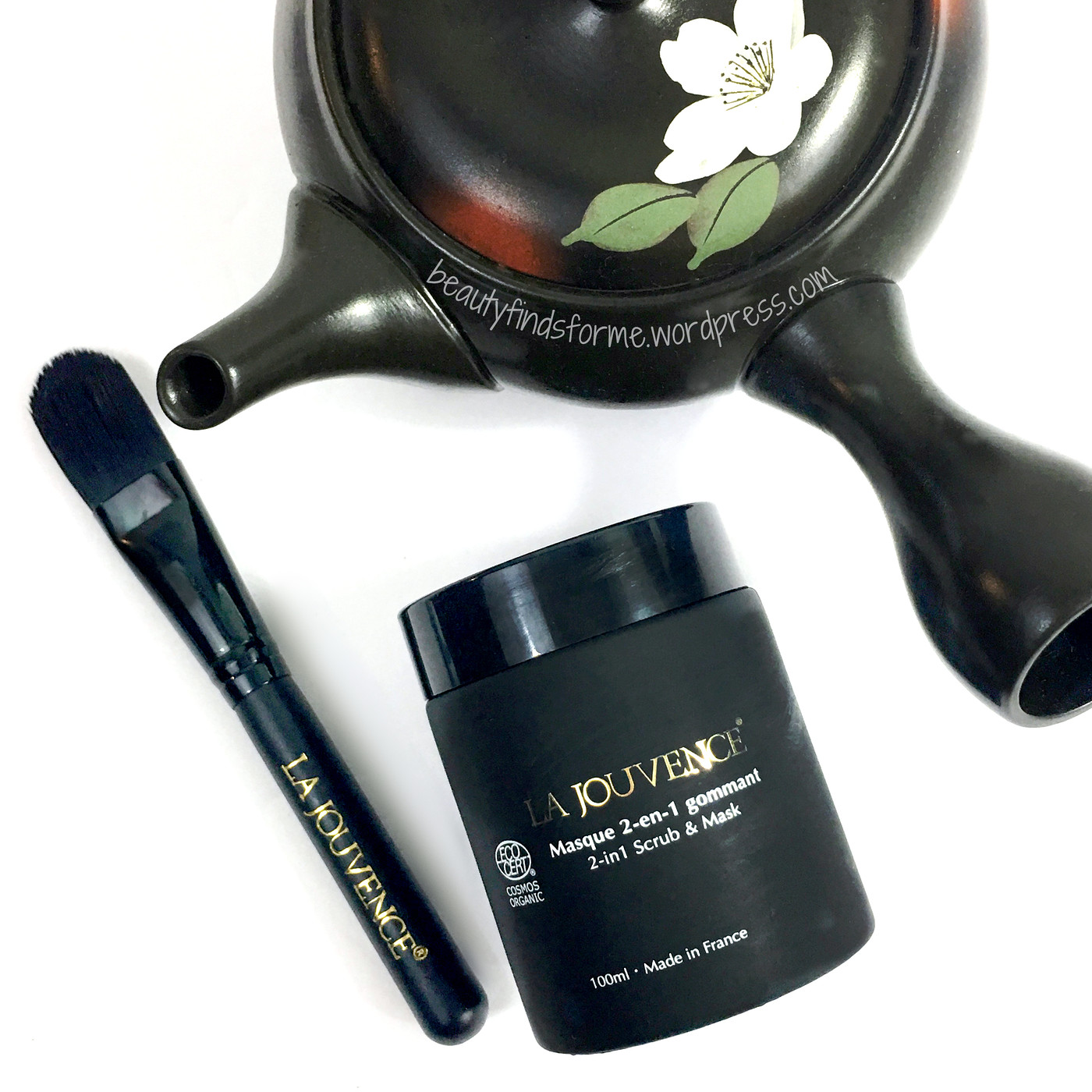 I received this lovely product from La Jouvence ~ the La Jouvence Masque 2-En-1 Gommant Scrub and Mask.  La Jouvene is a luxury brand from Hong Kong and this particular product is made in France.  La Jouvence wants to reinvent and refine the skincare industry to help create the best skin products that will help reserve the signs of aging, by using new and proprietary technologies with premium ingredients.  They have an impressive line-up of cleansing, masks, serums and creams skincare products.

image from la jouvernce hk
The packaging on this mask+scrub product is just amazing ~ it is a smooth black matte glass jar, that is so satisfying to look at and hold in my hand.  It FEELS good in my hand, so smooth. This lovely jar is filled with a mask that is certified fully organic by eco-cert ~ in fact, this is La Jouvernce's  that fully incorporates certified organic ingredients. This is a 2in 1 facial scrub and mask that is effective, gentle and very nourishing. The scrub part of this  mask comes from little biophypeel pellets made from argan and it helps remove dead skin with physical exfoliation. It also has three AHA (alpha hydroxy acids) in here to help smooth, refine, unclog pores and chemically exfoliate ~ lactic acid, phytic acid and citric acid. This is also a nourishing, moisturizing mask, as it contains sunflower seed and jojoba oils, shea butter and honey ~ full of anti-oxidant benefits. This also has soothing chamomile and hydrating aloe vera in it as well.
Ingredients: pure water, sunflower seed oil, butyrospermum parkii (shea butter) oil, glycerol, palmityl alcohol, potassium palmitoyl hydrolyzed wheat protein, honey, organic jojoba oil, anthemis nobilis (chamomile) flower water, microcrystalline cellulose,sodium acetate, hibiscus sabdariffa flower extract, vaccinium oxycoccus (cranberry) extract, natural benzyl alcohol, xanthan gum, argania spinosa shell powder, acacia gum,  sodium anisate, aloe barbadensis leaf juice, natural botanical extract flavor, lactic acid, phytic acid, tocopherol, citric acid  cosDNA analysis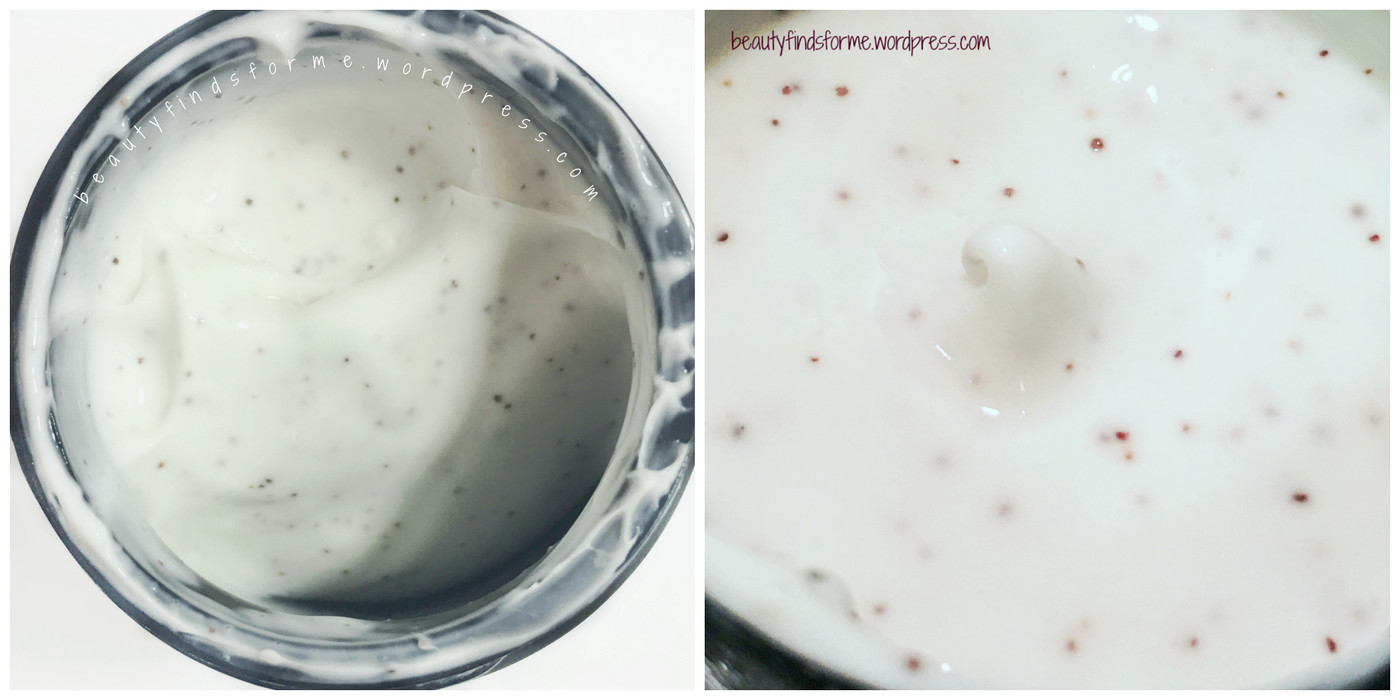 This mask is very creamy looking and I can actually see the argan bits in it ~ This has a very faint scent to it and it reminds me of honeyed apples for some weird reason. This mask comes with a brush, so lovely! I just paint my face with the mask and leave on for about 20 minutes.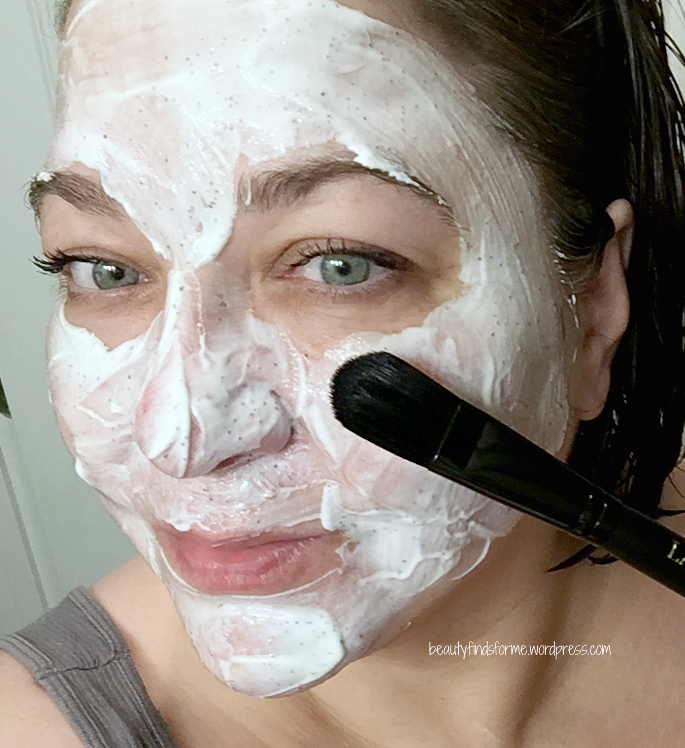 This mask doesn't really dry down due to the oils and butters ~ after 20 minutes, I gently massaged my face, working those argan pellets around my nose, forehead and chin for about 1 minute ~ don't overdo this step ~ be gentle and don't massage for minutes, as those argan bits can be quite scrubby. Rinsing off with cool water, my skin is a bit pink from the physical exfoliation, but it feels really nice and smooth ~ and moisturized! The oils and butters really protected my skin, while deeply moisturizing and both the physical and chemical exfoliation really made my pores look very clean and reduced the appearance of their size too. My skin felt so soft and looked rejuvenated after using this.  This is SO much better than Olivarriet Gentle Glow Seed Polishing Mask ~ I found that one to leave a film on my face plus the seeds were too large and rounded to be exfoliators.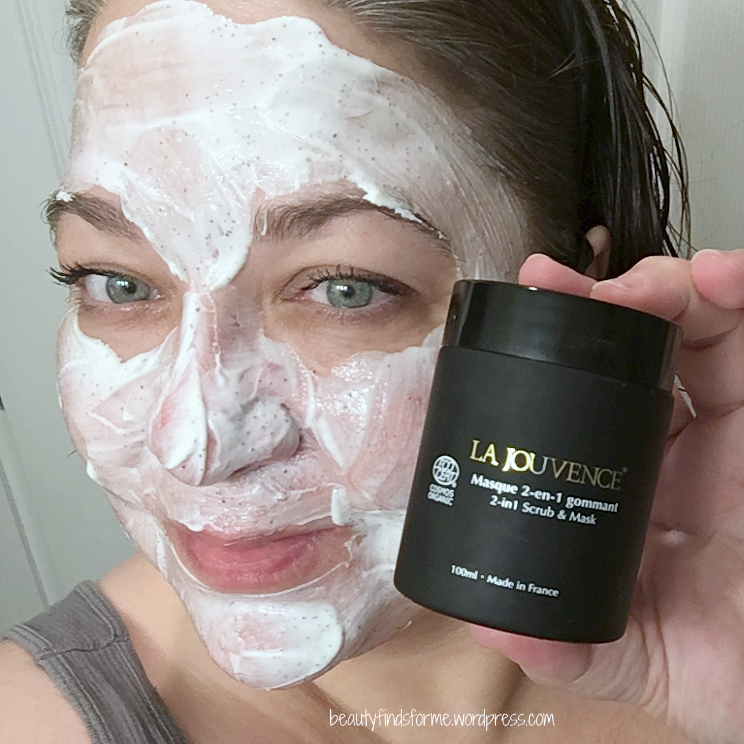 You can purchase this lovely creamy mask + scrub at GoGo Beauty, which is the only authorized dealer for La Jouvence in North America.  This isn't an inexpensive mask, as it retails for about $61.00 USD, but if you  looking for a gift for that person who has everything, this is the mask to choose!  The presentation of the mask, from the heavy expensive black glass to the sleek brush in a velvet pouch to the sweetly scented moisturizing and exfoliating mask ~ this is a nice present for someone ~ or for yourself!
The only other site I know that sells this brand is the La Jouvence Hong Kong site itself and I have to assume they only ship within Hong Kong.
[ disclosure: product received for review purposes ]