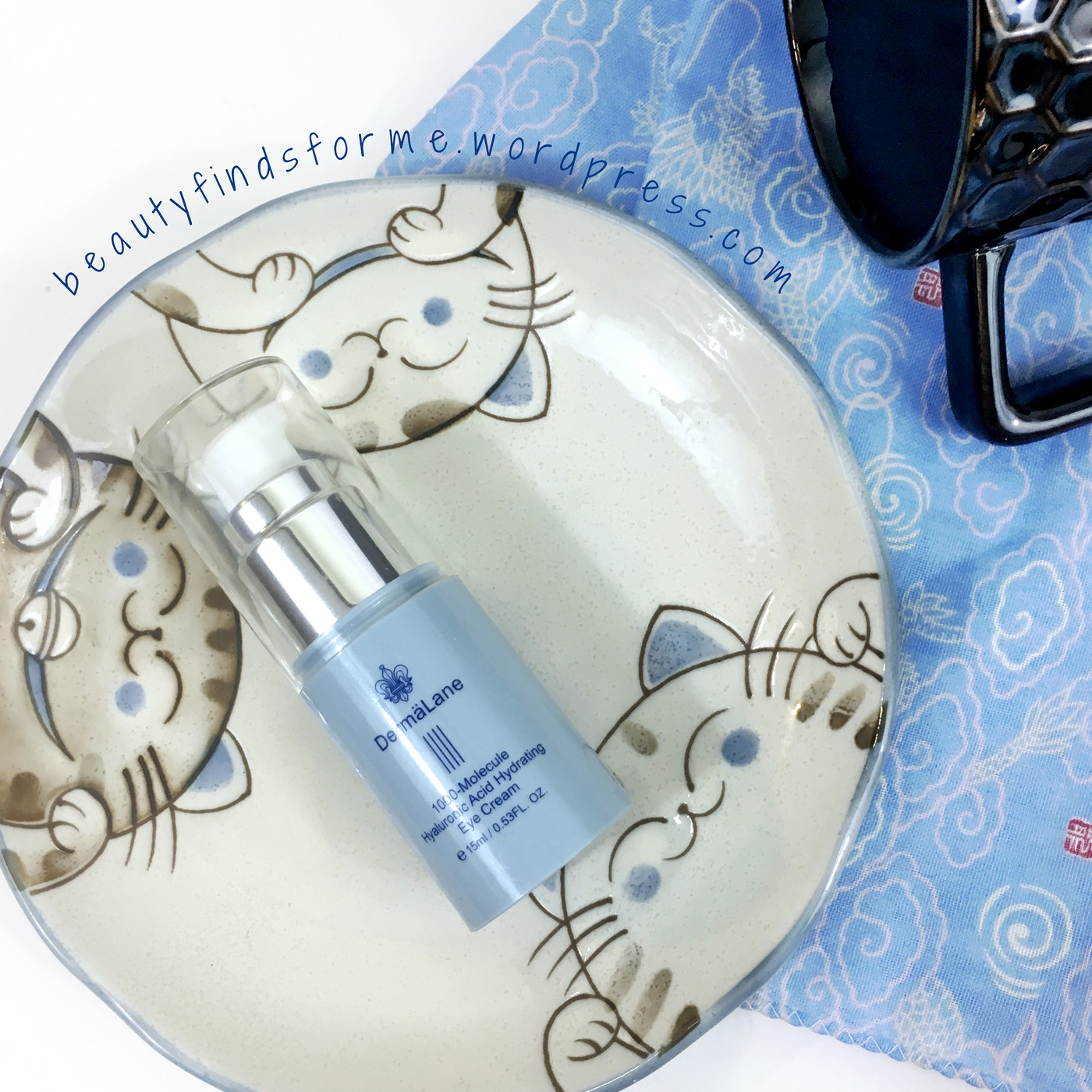 This is my third item that I have tried from the Naruko DermaLane 1000-Molecule Hyaluronic Acid  series.  I really love the Hydrating Night Gelly and the Essence ~ I was given the chance to try out the eye cream in this series and since I am always keen in trying new eye products, I said yes!  Many thanks to Naruko USA for sending the Naruko DermaLane 1000-Molecule Hyaluronic Acid Hydrating Eye Cream my way. 
I am always interested in eye creams, as the skin around your eyes is thinner and fragile compared to other areas on your face and body.  The reason behind this is that it has less collagen, fibrous proteins, elastin and propeoglycans (hydration), which is what makes up your extracellular matrix components (ECM).  Since it has less ECM, your skin around your eyes has less tissue support and adhesion making it more susceptible to fine lines, wrinkles and aging.  It also has much less fat and sebaceous glands, so it is much drier as well.  Facial expressions also add to the hell hole that is your skin around your eyes ~ so even if you have oily or youthful skin in general, will always be your true 'age' tell ~ and sometimes, might even be premature aging as well.

Skin Type/Concerns: Oily, blemish prone, aging skin with fine lines/wrinkles and hyper-pigmentation (both sun damage and PIH)
Just like the other 1000 Molecule Hyaluronic Acid items, this eye cream is mainly a hydrating product, with repairing and brightening properties.  I am actually shocked that there is only 2 proprietary special blends in here as normally, I see several in Naruko products!   So, let's get the hydrating and moisturizing ingredients out of the way first ~ hydrating humectants sodium hyaluronate, glycerin, polyquaternium-51 and NMF sodium PCA will attract moisture continuously to your delicate skin around your eyes and keep dehydrated and dry skin soft and supple.   To keep all of this moisture locked in, omaga-9 rich nourishing cramebe seed oil, vitamin B5 panthanol and water-binding trehalose will help to strengthen your moisture retention barrier and make sure your skin does not lose all of that hydration.  Anti-aging  fermented olive leaf helps boost your collagen production to keep your skin firm and elastic and niacinamide for brightening your skin tone.

The two property blends are Eyedeline and 5-Element Beauty Factor.  Eyedeline is a new one for me, and it is made from butylene glycol, water and from Playa Paraiso, Tenerife Island in Spain, a specific type of plankton called E. crustaceum.  This marine formula will provide complete care for the skin around your eyes, reduce excess fluids, reducing dark circles, boosts collagen and elastic production and decreases the process called glycation, which create harmful molecules called AGEs (advanced glycation end products), which, you guessed it, prematurely ages the skin. [ source ]  By using this compound, the delicate skin around your eyes will look more brighter and fresh.  
The 1000-Molecule Hyaluronic Acid series all contain the "5-Element Beauty Factor", which is made up of fermented minerals which are extracted from beer yeast.  This is actually known as ABC Bio-Chelate 5/Radish Root Ferment Filtrate.   Minerals cannot be produced within the human body, but they are key in our health ~ we couldn't assimilate vitamins and certain enzymatic reactions would never take place without these inorganic compounds . The complete ingredients are water, saccharomyces/zinc ferment, saccharomyces/copper ferment, saccharomyces/magnesium ferment, saccharomyces/iron ferment, saccharomyces/silicon ferment  and leuconostoc/radish root ferment filtrate, which is a natural antimicrobial.   This complex is used in skin and hair care products, as well as makeup. 
Active Concepts, which produces this fermented mineral blend, ran studies on how it would work topically on your skin, using a DNA micro-array with 21,629 different DNA fragment.  They found that it enhanced your skin's barrier function, provided anti-inflammatory benefits, increased growth factors while decreasing stress related factors and increased your cellular energy production. .   Rachel at Naruko also provided this information to me as well
These are the essential minerals that our body and skin needs and it improves our body's ability to absorb and reacts to enzymes/yeasts and minerals are as important as vitamins. The fermented mineral can improve the effectiveness of the mineral itself and let our skin absorb it easier.  Minerals are essential in helping our body react to enzymes, help and improve skin processes such as producing protein, metabolism and generating new skin cells. It also make our cells healthier, improving our defenses from all kinds of damage, protects from inflammation, reducing pressure factor and strengthen cell production. The idea of this for skin care is to improve hydration and cell wall, the effectiveness of skin care, reduce cuticle, repair and improve your skin's defenses, while reviving your skin, giving it a youthful healthy glow. 
Ingredients:purified water, butylene glycol, niacinamide, hydrogenated polyisobutene, Bis PEG-18 methyl ether dimethyl silane,  cetyl ethylhexanoate, triethanolamine, dimethicone, phenoxyethanol, carbomer, glycerin, isohexadecane, polysorbate 60, polyquaterium-51, crambe abyssinica seed oil, limnanthes alba (meadowfoam) seed oil,  limnanthes alba (meadowfoam) seed oil, acrylates copolymer, chlorphenensin, phospholipids,  glycosyl trehalose, panthenol, lactobacillus/olea europaea (olive) leaf ferment extract, tocopheryl acetate, hydrogenated starch hydrolysate, saccharide isomerate, ethylhexylglycerin, sodium hyaluronate, sodium PCA, sodium polyacrylate, iodopropynyl butylcarbamate, saccharomyces/copper ferment, saccharomyces/iroj ferment,saccharomyces/magnesium ferment, saccharomyces/silicon ferment, saccharomyces/zinc ferment, sorbitol, trehalose, urea, leuconostoc/radish root ferment filtrate,, citric acid, sodiu citrate, plankton extract cosDNA analysis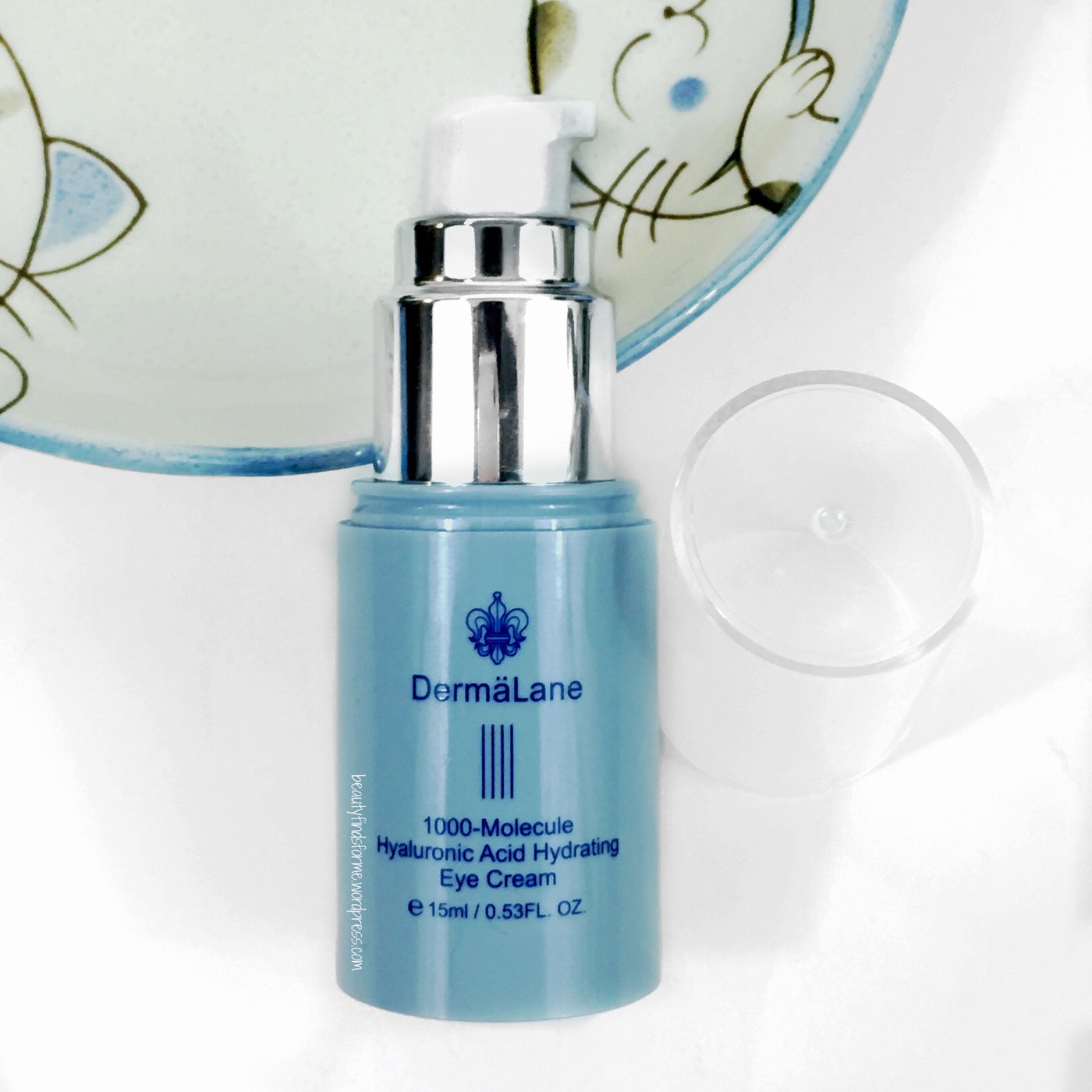 Naruko DermaLane 1000-Molecule Hyaluronic Acid Hydrating Eye Cream comes in a small  15 mL vacuum pump container in the signature blue shade of this series.  This is quite smaller than most eye creams I have used, as I am used to a 30 mL size.   The description claims that this eye cream will

Tighten eye contour, improve pigmentation
Minimize aging fine lines, increase elasticity
Revitalize the skin around the eyes, complete repair aging
Improve dark spots around eye, recover skin bright radiance
Increase firmness, leave skin smooth and soft
Continue replenish hydration and moisture, maintain elastic skin touch
Soothe eyes, recover transparent glow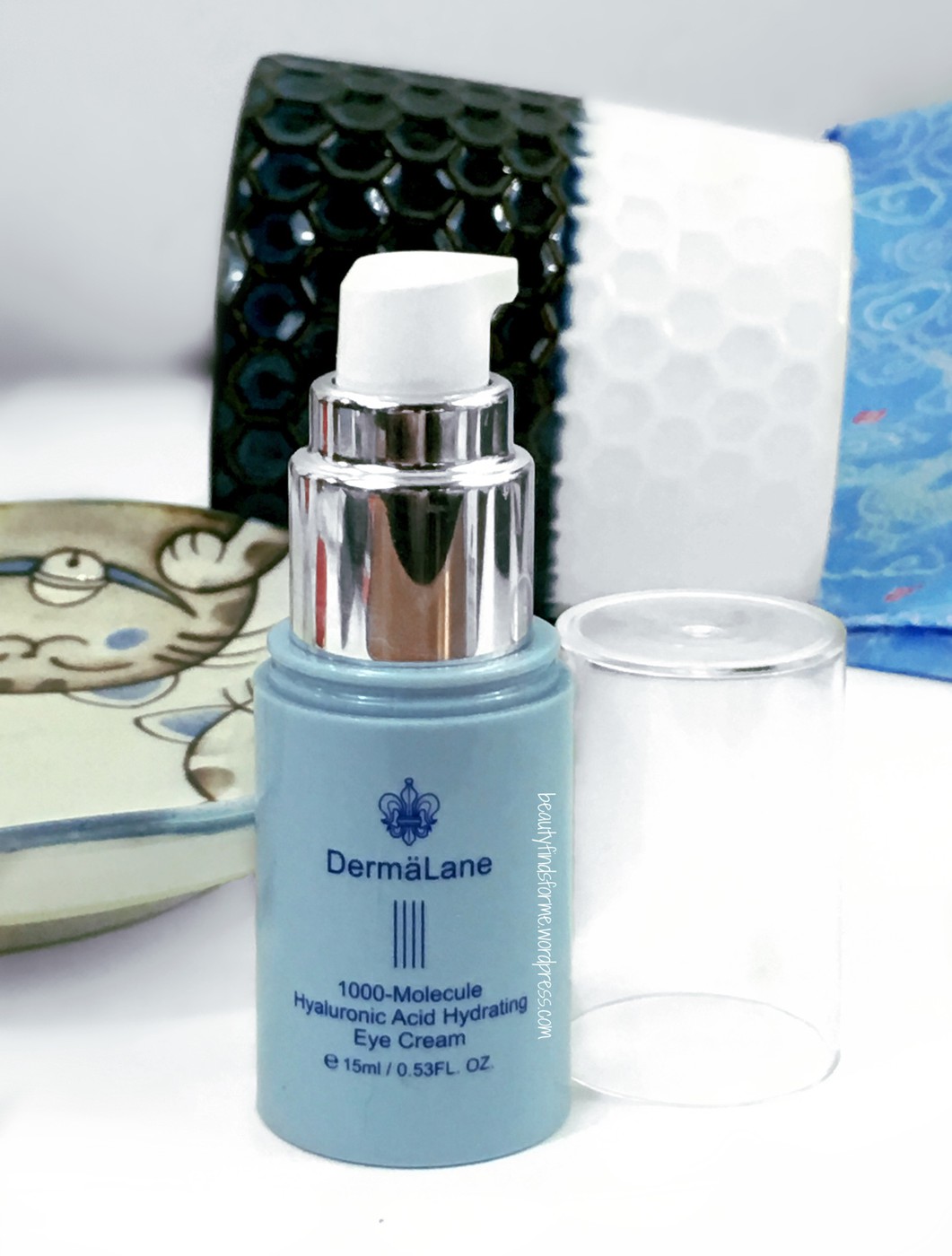 This lightweight gel-lotion has no scent that I can tell and it may look a bit more solid in the photos, but it really is very thin.  Once I started patting it into my skin, it quickly turned to a watery texture and absorbed quickly.  This does not leave any sticky or tacky residue on my skin.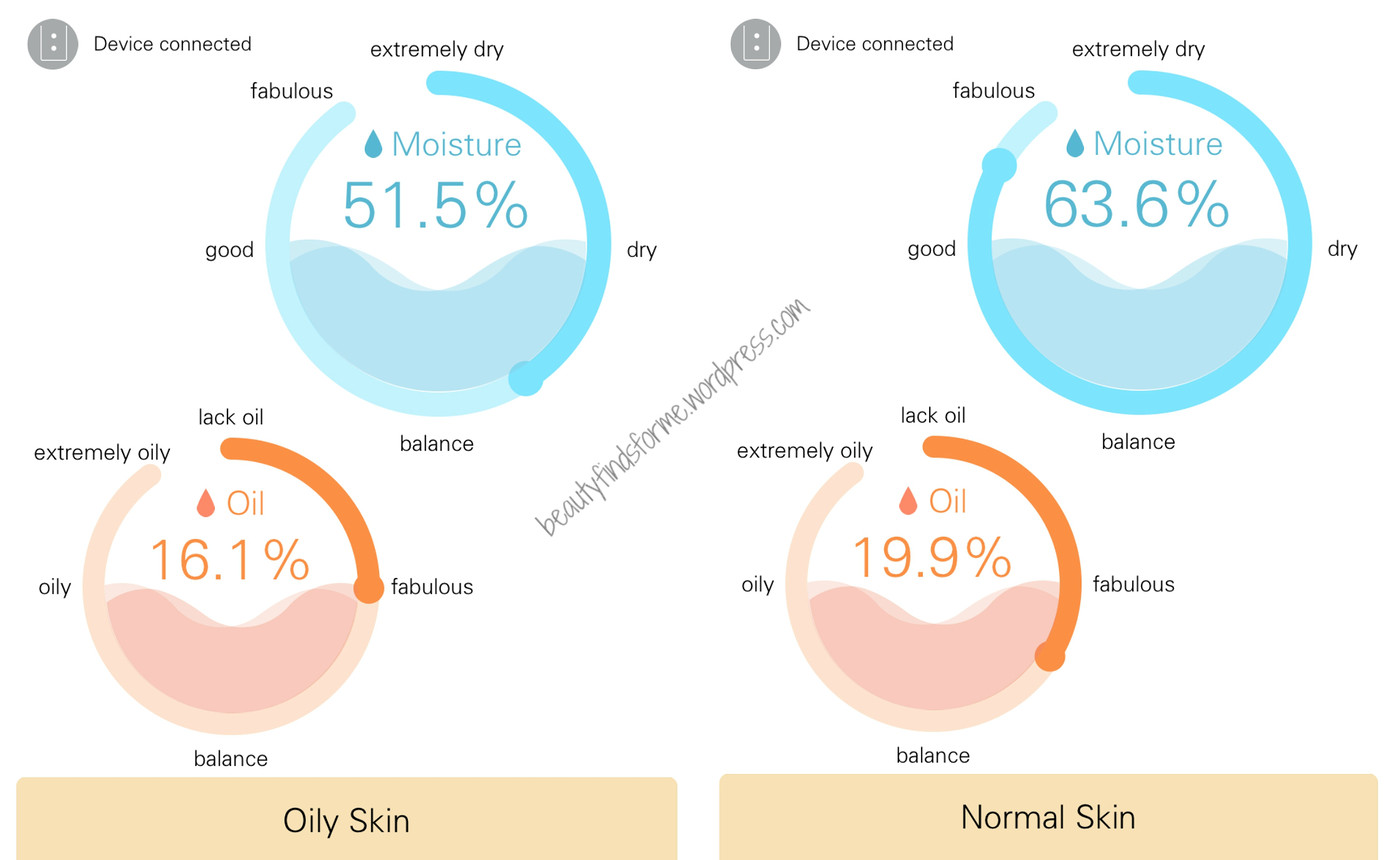 This increased both my moisture and oil levels by about 24%, which is pretty hydrating when you think about it.  In fact, after using this bottle up, I only found that this helped in two fronts ~ it helped with reducing puffiness and it hydrated my skin.  I honestly didn't see any other benefits to this eye cream and it was very lightweight.  With my older eyes, I felt that this was not enough for me ~ I started using it as a first step to prep and hydrate the skin under and around my eyes before adding a more moisturizing and repairing eye cream.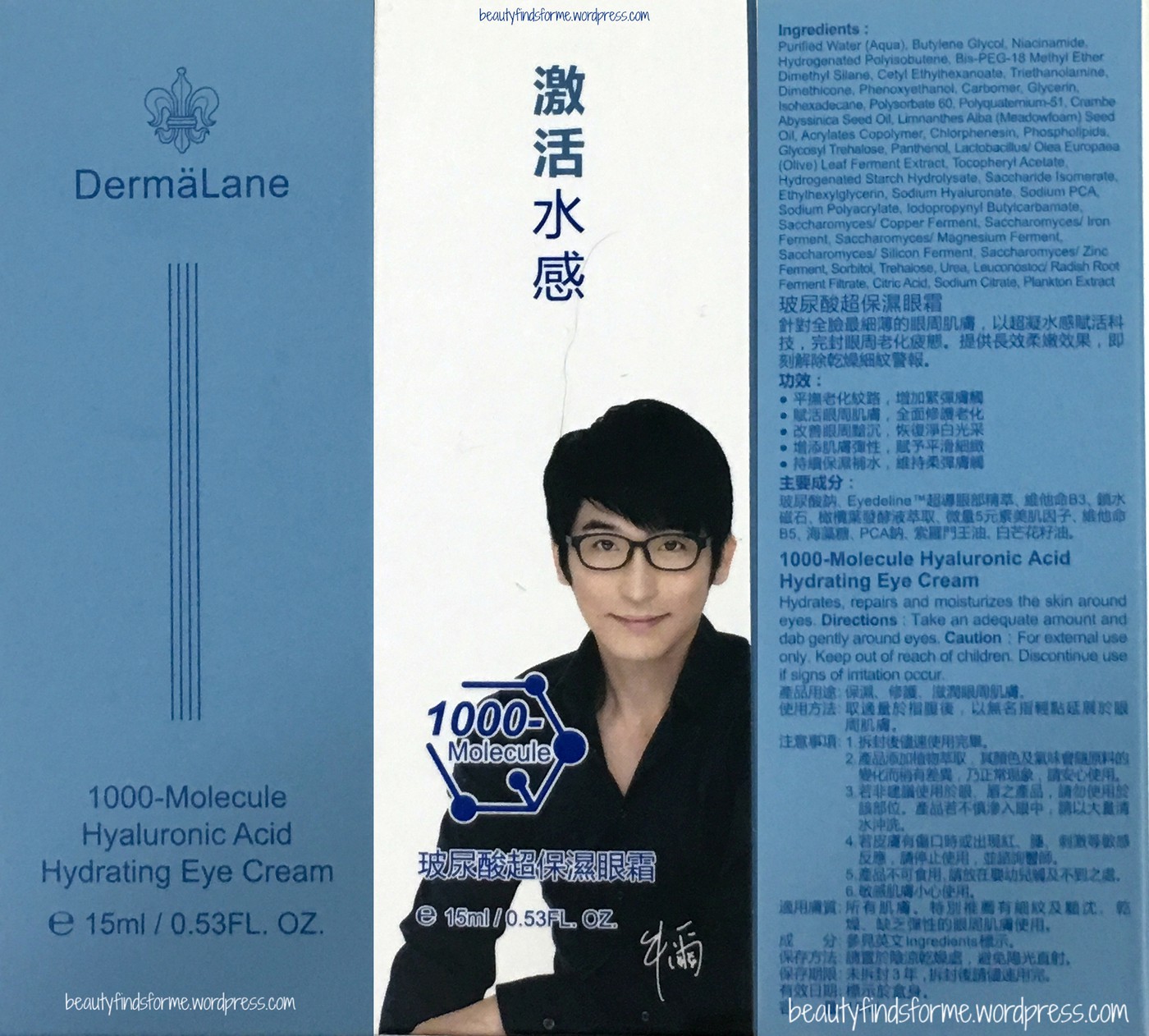 Final Thoughts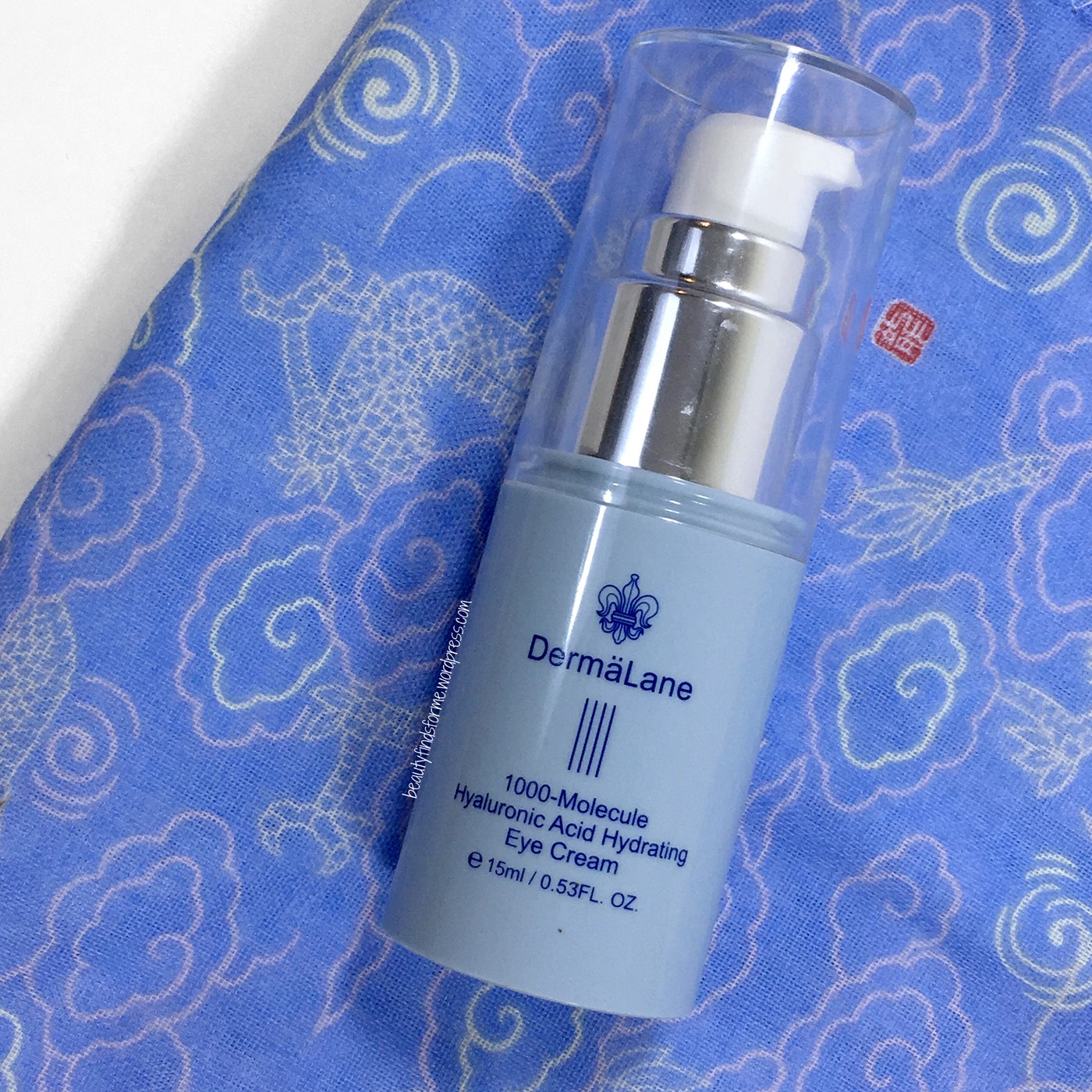 Unlike the Night Jelly and Essence, I did feel that this product in the DermaLane HA line was not the best one for me as an eye cream.  My skin under and around my eyes are the most problematic for me, so I felt this was too lightweight to use on its own.  I did use it as an eye serum, as I do have two steps for my eye care ~ a watery type of essence or serum first to prep my skin and hydrate it, before locking that hydration in with a more moisturizing cream.  Naruko used to sell an eye serum, in the Apple Seed & Tranexamic Acid line, but they do not anymore ~ so this one is a good substitute.  I did find that this eye cream did hydrate beautifully and reduced swelling and puffiness under my eyes.  If you are in your 20's and early 30's, this eye cream will be sufficient for your needs ~ you should always use an eye cream as it is never too young to start!  I didn't in my 20's and I feel with all of the squinting and outdoor sports I used to do, has caused the skin around my eyes to pay a heavy price, as I have a nice fine lines network around my eye area. If you  have older skin like me, you can use this as a first step to hydrate and depuff the skin before using a more moisturizing eye cream.   Have you tried this product yet? What do you like about it best?

Where to Purchase
Naruko, of course!  Naruko has several different stores around the world too
Naruko USA  Naruko USA will also give free gifts and you earn points when you purchase at their store.  These reward points then can be converted to spend on any product you want.   Currently, Naruko is offering 50% OFF when you purchase $100.00 or more DermLane products at their website!  For USA orders, if you order $40.00 or more, you automatically get free shipping.  Naruko USA will ship internationally, so check here for more information.

Prices here are without the 50% off discount.
Naruko DermaLane 1000-Molecule Hyaluronic Acid Eye Cream 15 mL RV $43.99
There are other products in the DermaLane 1000-Molecule line as well
[ complementary product received for review purposes. contains affiliate links ]