[ this blog post contains referral & affiliate links ]
Due to the holidays, I am really late in getting my November Yogi Surprise Lifestyle box unboxing live here.  I always enjoy getting my Yogi Surprise Lifestyle box ~ even if you do not practice Yoga, this is a great eco-friendly, green lifestyle subscription box.  What is Yogi Surprise?   

Yogi Surprise Lifestyle Box
6-8 full-size yoga lifestyle items

Vegetarian and GMO-Free

$70+ retail value in every box

$44.95/month + free shipping
This month's theme is "Gratitude" ~ Making sure that you are empowered and positive so you give back this season.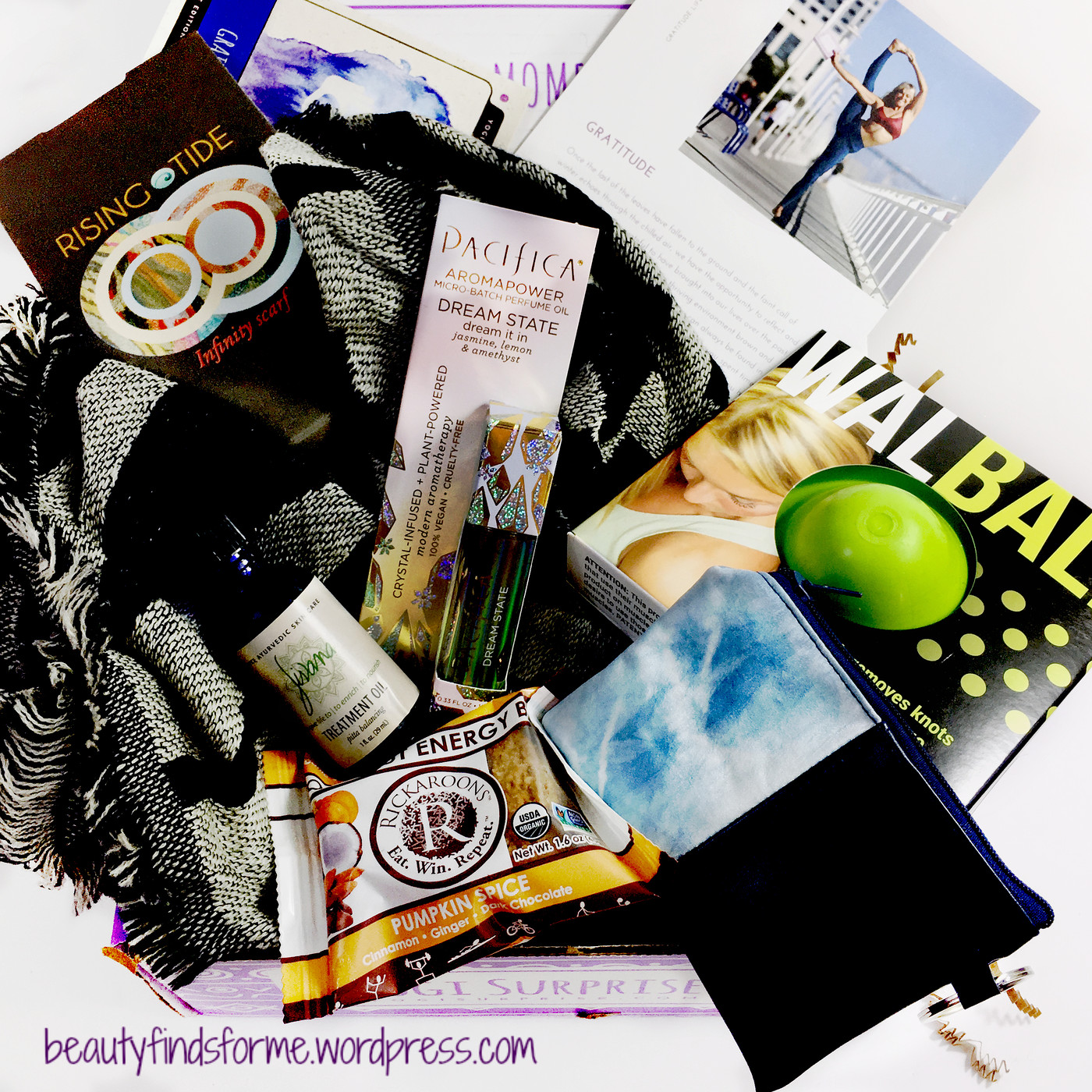 Informational Card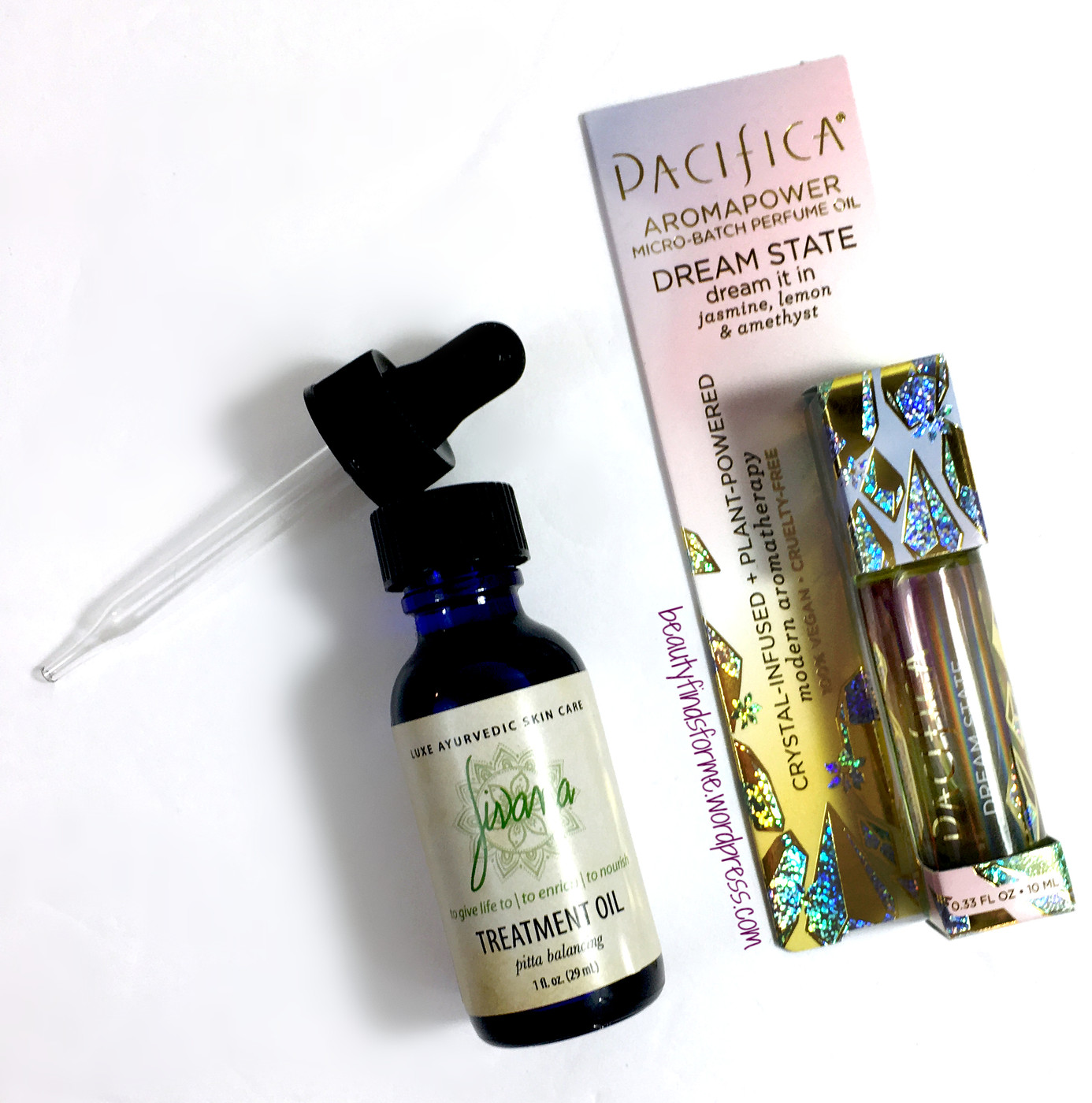 Jivana Skin Balancing Treatment Oil in Pitta Balancing (1 oz RV $22.00)  The Pitta Balancing oil is a Calming oil ~ this is made with some lovely oils to help calm and soothe skin that is inflamed, red and over-sensitive.   This has a base of almond, jojoba and hemp oils, moisturizing squalene, made from olives and soothing calming chamomile, calendula and green tea extracts.  Jivana creates their skincare products following the practices of Ayurveda, one of the oldest medical systems and originated in India over 3000 years ago.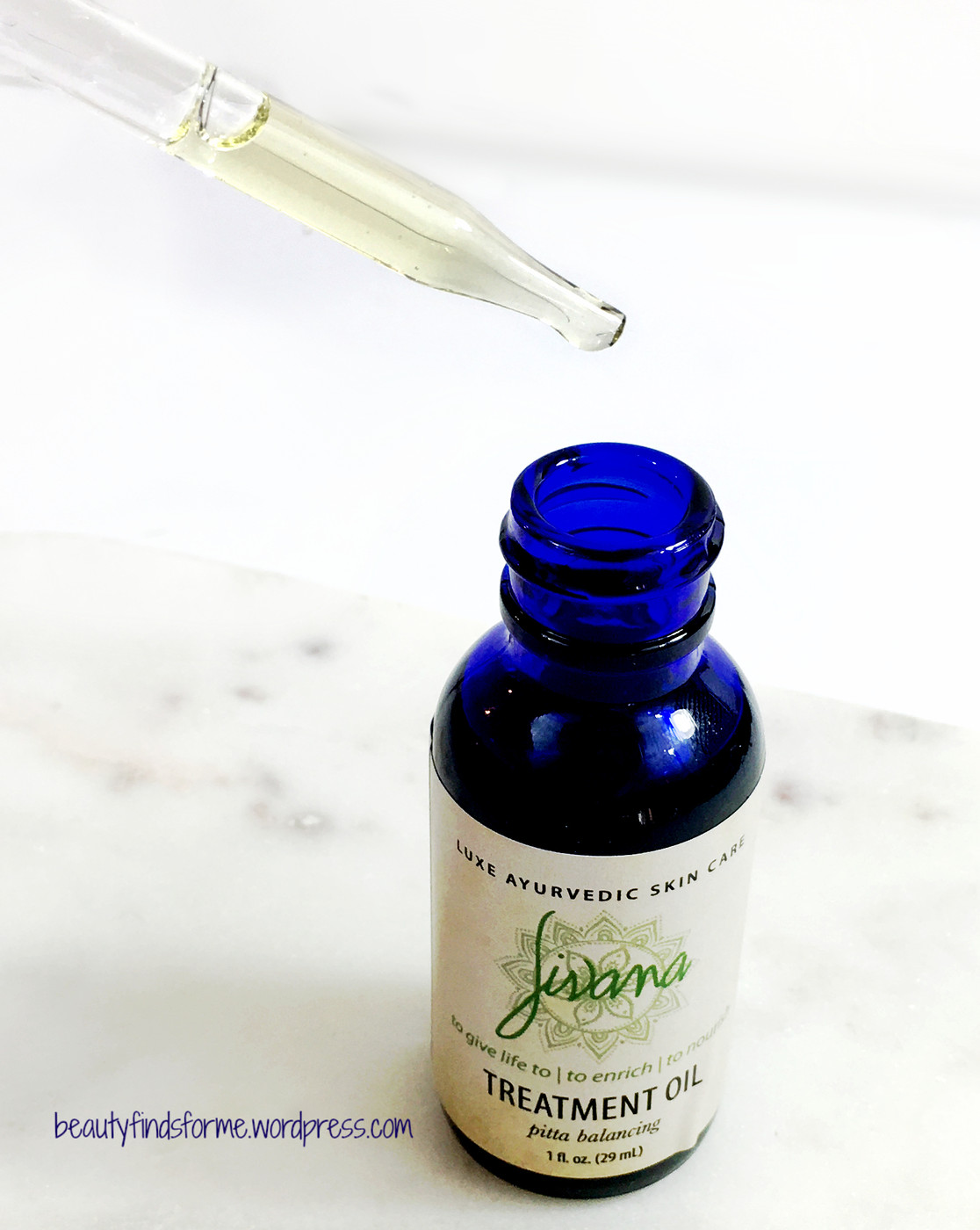 The bottle is a nice cobalt blue glass bottle with an eye drop applicator ~ the oil is on the thicker side so I will use this as a moisturizing body oil.   This SMELLS amazing ~ just like honeysuckle ~ I love that scent ~ it is one of the few rich, heavy florals that I just adore.  Promo Code: Use PITTA to save 15% off your next purchase at Jivana.  Expires 01/31/2018
Ingredients:  almond oil, jojoba oil, hemp seed oil, argan oil, olive squalene, chamomile extract, green tea extract, calendula extract, honeysuckle, vitamin E, proprietary fragrance blend, propylene glycol, diazidinyl urea, lodopropynyl butylcarbamate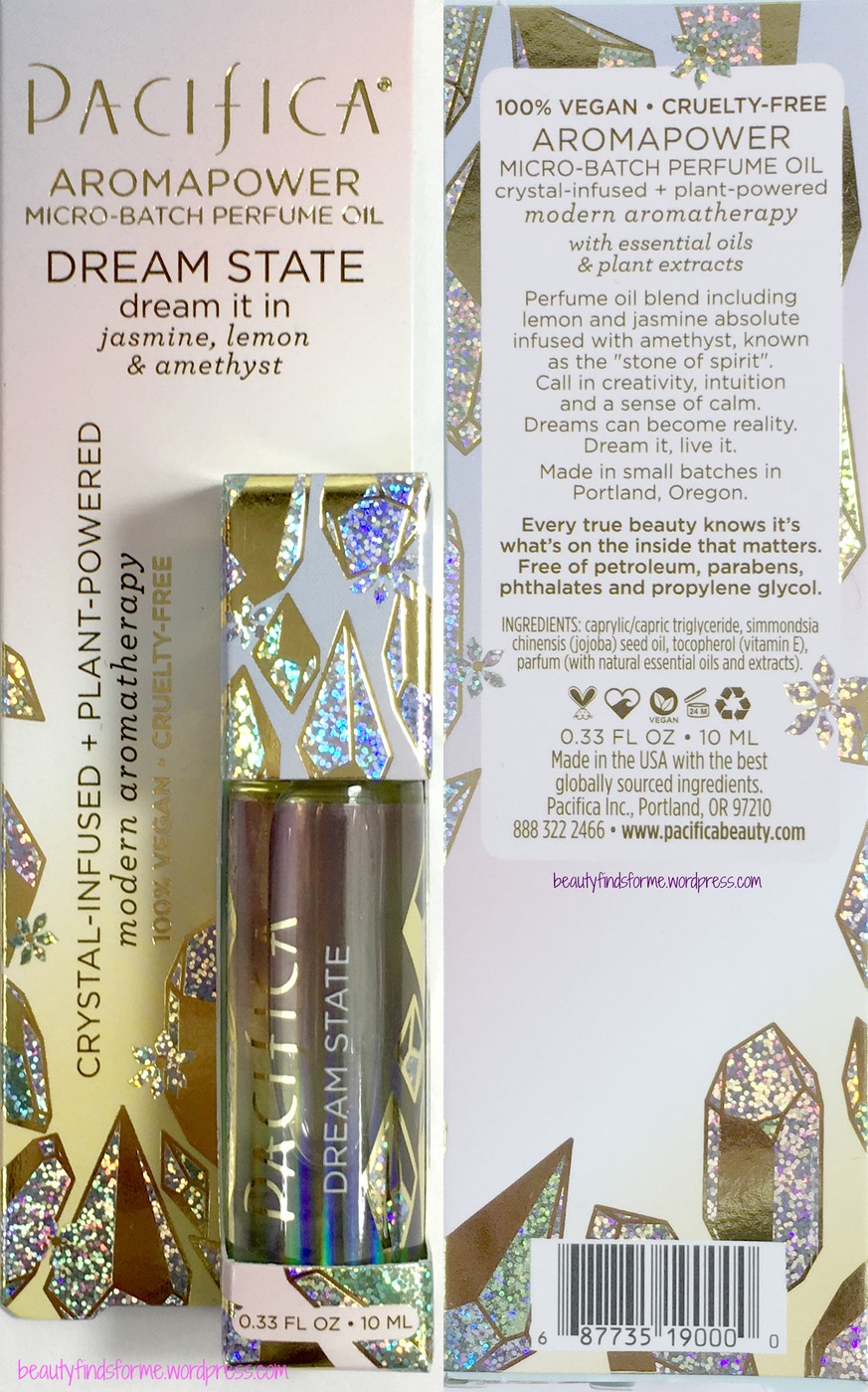 Pacifica Roll On Perfume Oil in Dream State (10 mL RV $14.00)  So there are several varieties in the AromaPower Micro-Batch oils this month ~ and of course, I get the one with jasmine in it!! Jasmine makes me sneeze. The AromaPower perfume oils are plant fragrances with crystal-infused aromatherapy oils.  Now, I am not sure I buy into the infusing of crystals with perfume oils, but I have to say, this packaging is impressive.  From the box to the glass roll on tube, there is a holographic effect with essential oils & plant extracts.   Dream State will "call in creativity, intuition and a sense of calm. Dreams can become reality. Dream it, live it."  Why am I having Rocky Horror Picture Show Flash Backs here ~ lol.  This is oil blend has lemon and jasmine absolute scents infused with amethyst ~ stone of spirit . It is made in small batches in Portland Oregon.  Anyway, with the jasmine, I cannot use it, so I will gift it, but I am interested in some of the other roll on scents.  Their other scents are: Breath Taking (cardamom, vanilla, pepper and warm spices infused with rose quartz), Hardcore Happy (tuberose, coconut and vanilla infused with quartz), Power House (pineapple, lime, and rose infused with tourmaline) and Mind Control (lemongrass, tangerine and grapefruit infused with peridot).  I am really interested in Breath Taking and Mind Control. Which one would you chose? 
Ingredients: Caprylic/Capric Triglyceride, Simmondsia Chinensis (Jojoba) Seed Oil, Tocopherol (Vitamin E), Parfum (With Natural Essential Oils And Extracts)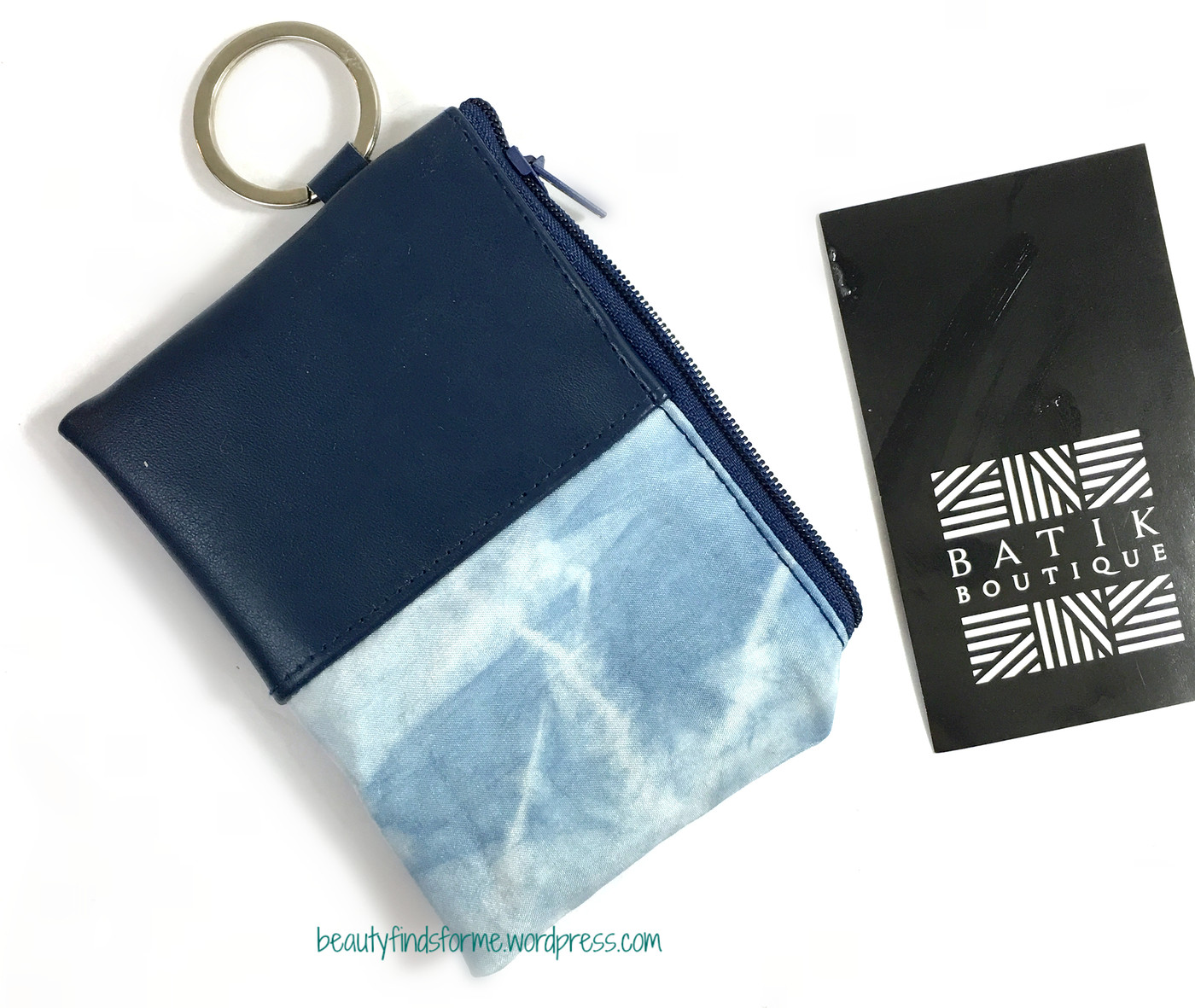 The Batik Boutique Cardholder with Key Ring  (RV $26.00) This was our sneak peek last month and it is so cute! I received a navy blue one, as there were color variations ~ this is made with cotton hand and eco-friendly dyed Malaysian Shibori and PU leather.  These are all handmade, so the design will vary on the Shibori side.  This is fully cotton lined inside and zips up to close.  This also has a nice key ring on the end!  I am going to use mind to hold my zip drives and my passcode device. This is artisan crafted, hand made in Malaysia and measures 4.4 inches in length by 3.25 in width.   Promo Code: Use code WELCOME2BB and save 20% at The Batik Boutique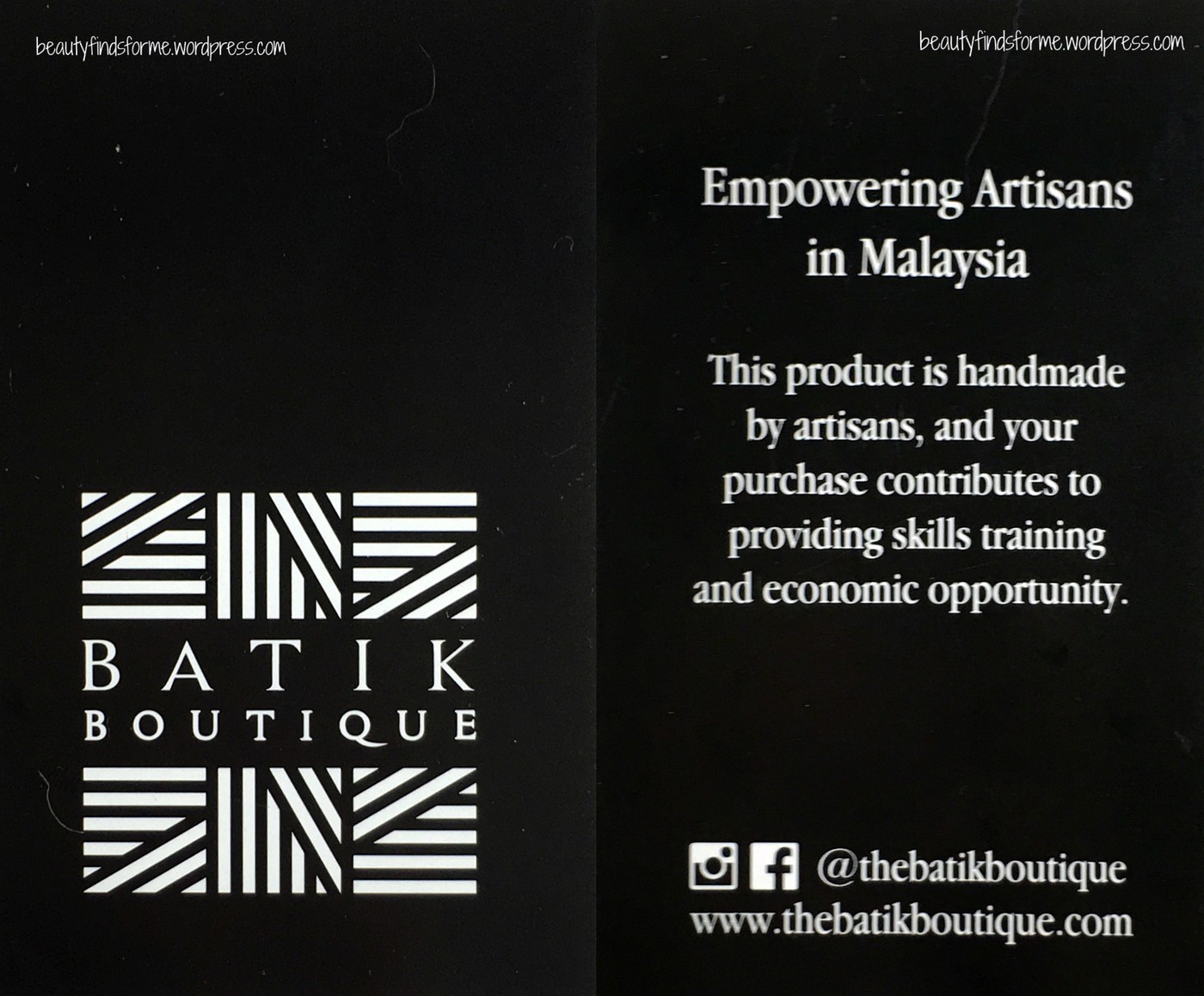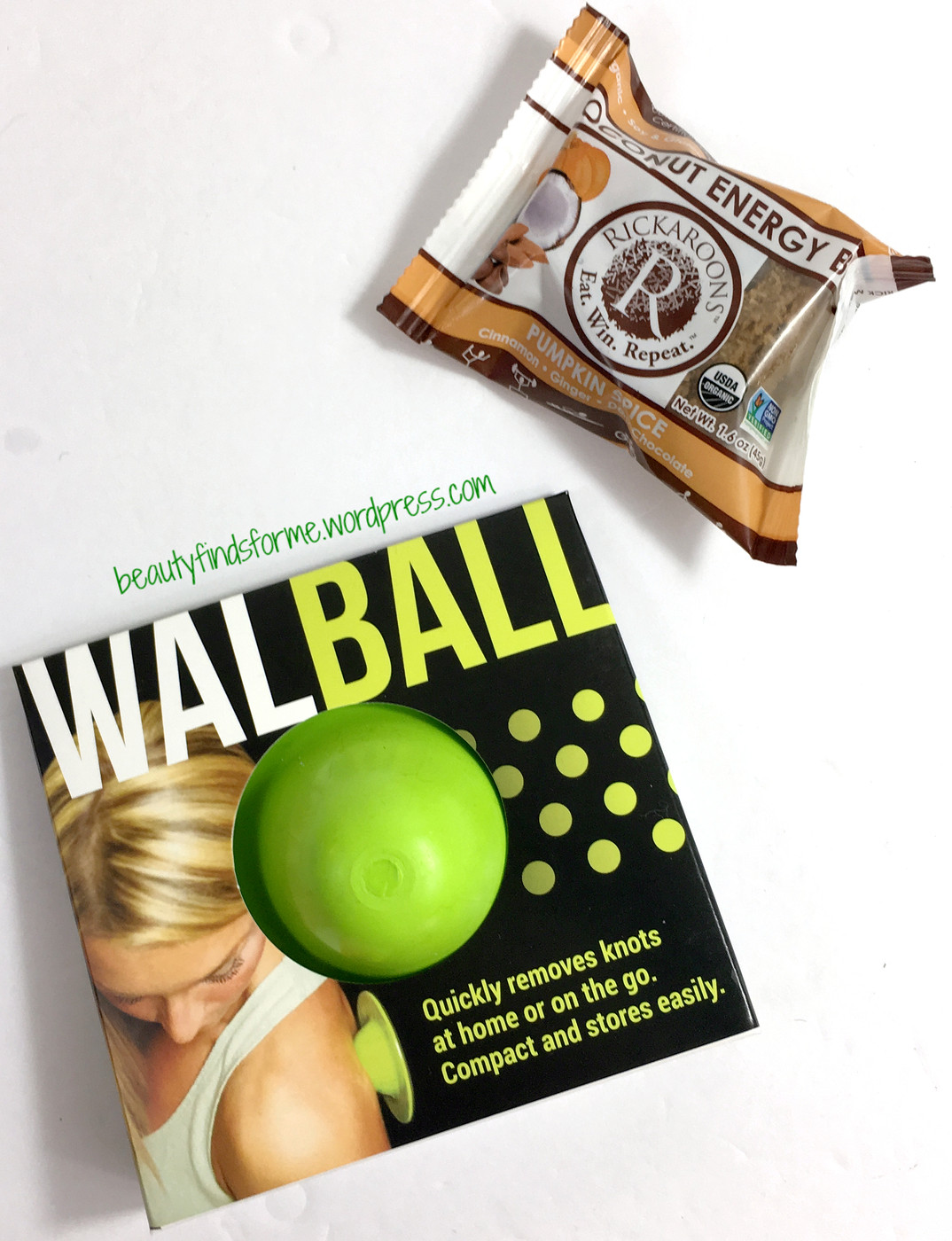 WALBALL Massage Ball (RV $20.00) Okay this is totally cool!  This weird UFO space ship device will stick to the wall and you can massage your back where your pain points are!  It won't permanently stick to the wall, but just enough that you can self-treat your aching muscles.  This quickly lets you target your trigger points ~ that tight painful area within your muscle ~ and helps relieve pain and knots.   a A trigger point therapy tool that was designed to alleviate pain and muscular knots. A trigger point is a tight area within muscle tissue that causes pain. You can use this anywhere as it is so portable.  I no longer have to find a corner wall and try to work out my knots in my back ~ lol.  This is a great idea and it can be used anywhere on your body and it can be used as part of your pre-workout warm-up.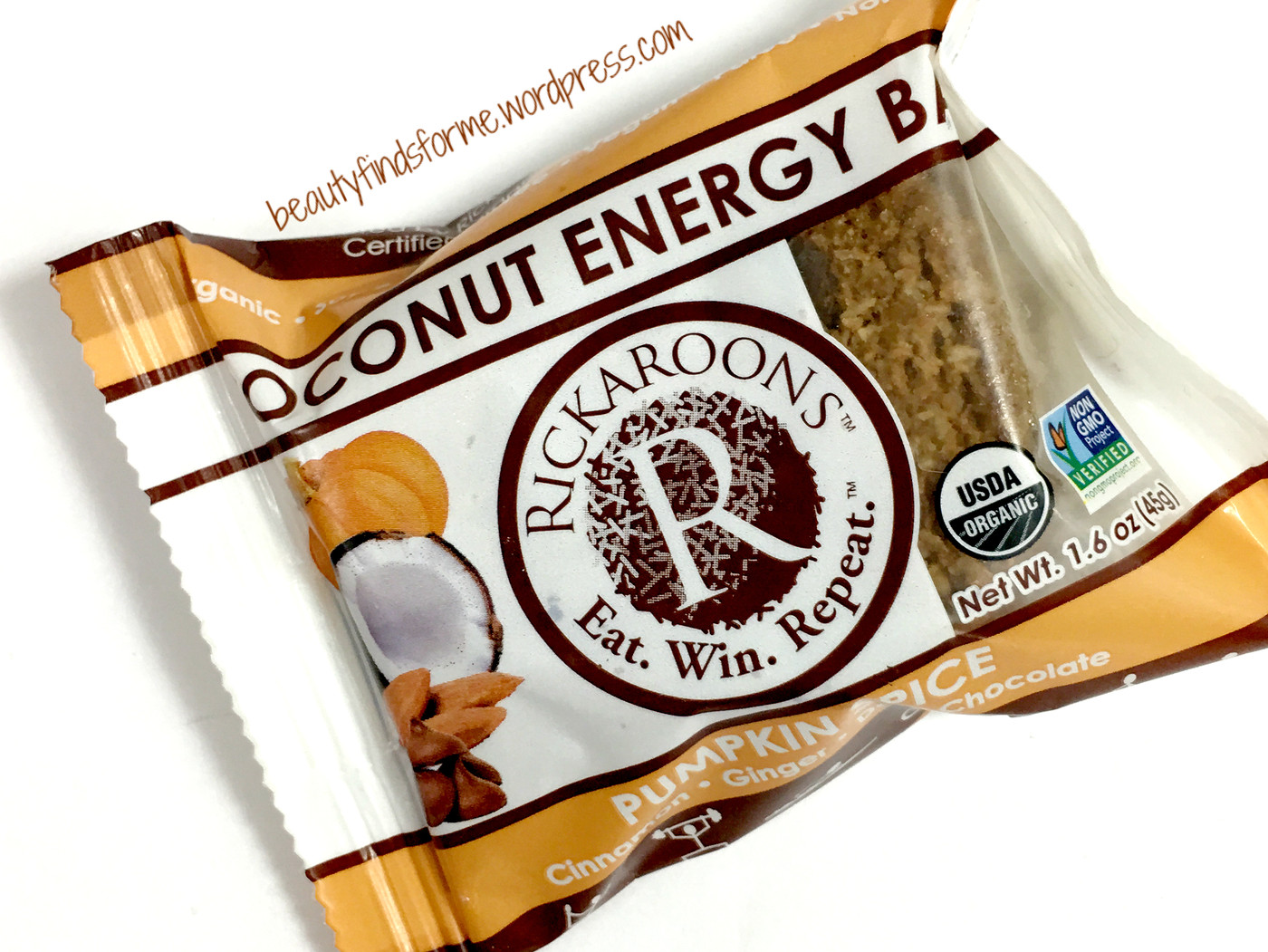 Rickaroons Pumpkin Spice Coconut Energy Bar (1.6 oz RV $2.50)  I love Rickaroons ~ these coconut treats are nice and moist, dense and tasty.  This one takes their chocolate blondie and added pumpkin pie spice to it ~ it is a best selling item that is seasonal ~ they only produce them starting in October and up to New Year's Eve.  USDA Organic, Non-GMO verified, gluten free, paleo and vegan.
Ingredients: 100% Organic: Shredded Coconut, Blended Almonds, Coconut Palm Nectar, 70% Dark Chocolate Chips (Cocoa Beans, Evaporated Coconut Palm Nectar, Cocoa Butter, Sunflower Lecithin), Coconut Oil, Pumpkin Spice Blend, Ground Vanilla Beans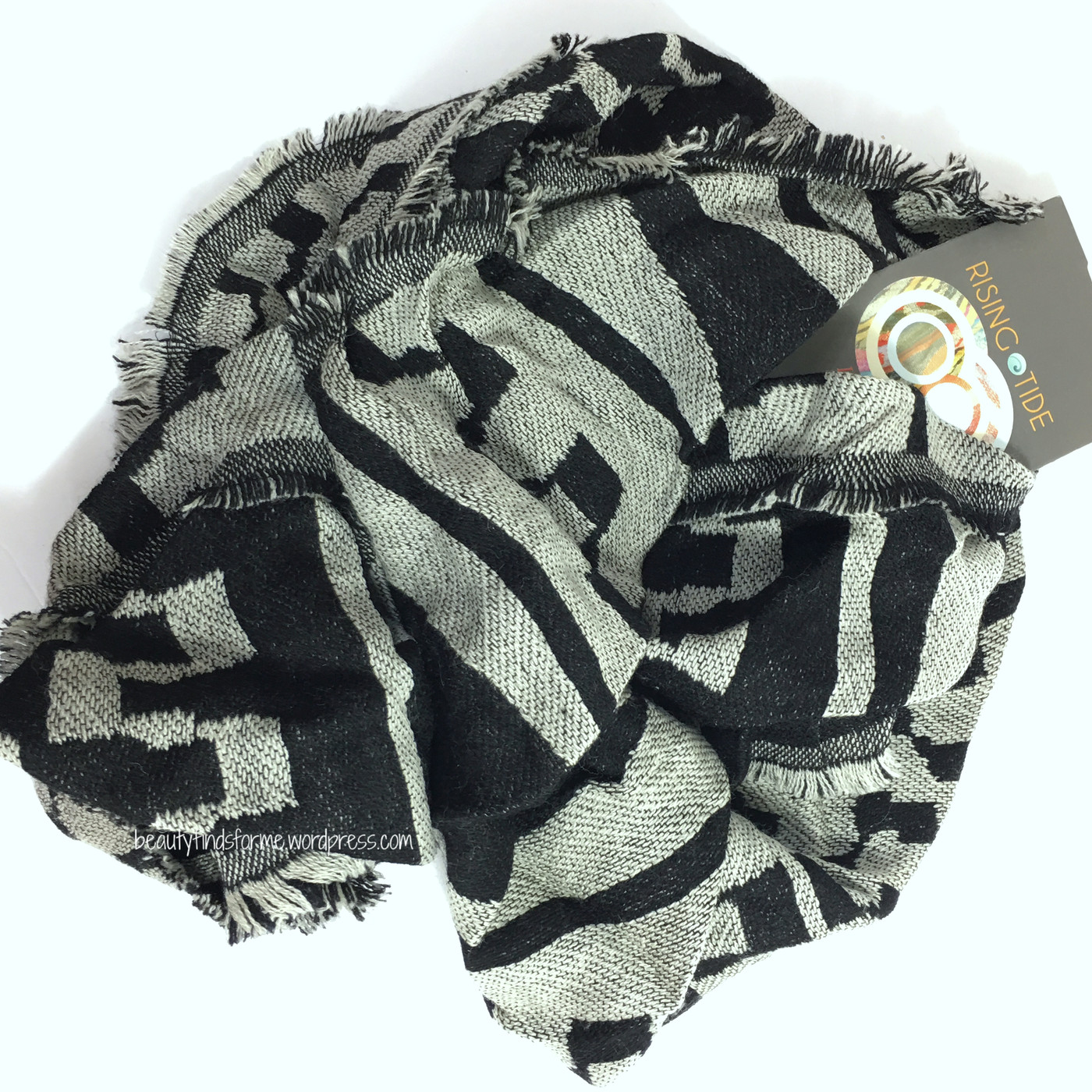 Rising Tide Drape Scarp for Meditation in Blanket Infinity (RV $22.00) This scarf was a variation and it is a bit dull looking on the onset ~ lots of blacks and greys in a geometric print.  But I happen to love greys and blacks and geo prints, so this is my taste ~ lol.  The nice thing with a dull print like this is that you can wear a bright color top and really punch it up!  Black and grey go WITH anything.  This is made with a blend of wool and rayon, so it can also be used as a great scarf to wear with my winter coat (which is black)  This is made in India and measures 38 inches by 14.5 inches and can be worn in different ways.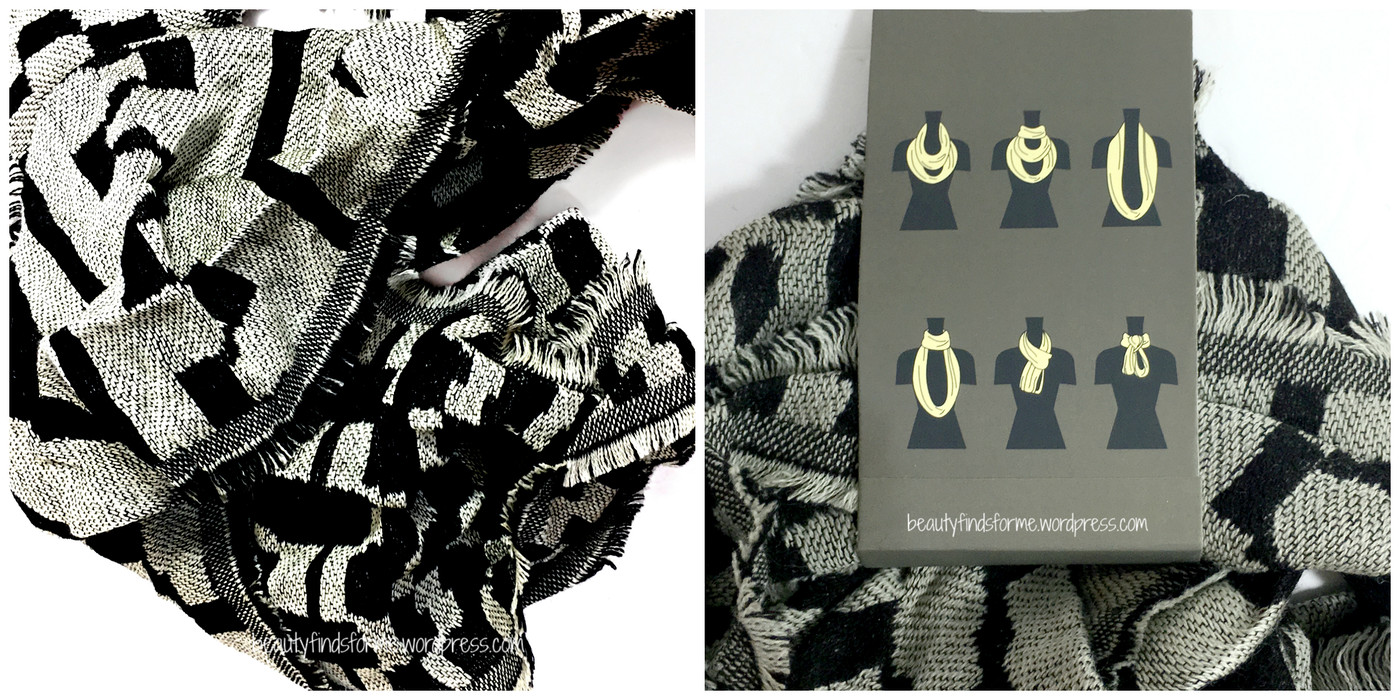 Bonus Item: Yogi Surprise Yoga Sequence Series Card: Gratitude "This sequence was created to assist you in setting your intentions on greater self-compassion to enhance your greater awareness of just how special and miraculous your journey through life is."  Yogi Surprise always has a sequence card in every lifestyle box with poses and positions that reflect the theme of the box.

I wish I had gotten a different perfume roll-on, but outside of that, I loved this month's box!  It grew on me, as I actually used the items for a couple of weeks before posting this unboxing.  I think my favorite items are the WALBALL (what a great idea) and the card holder, which I will use for all my small computer accessories. This box has a retail value of $106.50, which is really high!  Do you subscribe to Yogi Surprise Lifestyle Box?  What was your favorite item this month?

If you are interested in signing up to Yogi Surprise for either their Lifestyle or Jewelry box, I would love it if you used my affiliate link    Check out the spoilers for next month's boxes below!    If you sign up for the Lifestyle box, use YOGILOVE to get 15% off the life of your subscription!
Next Month Spoilers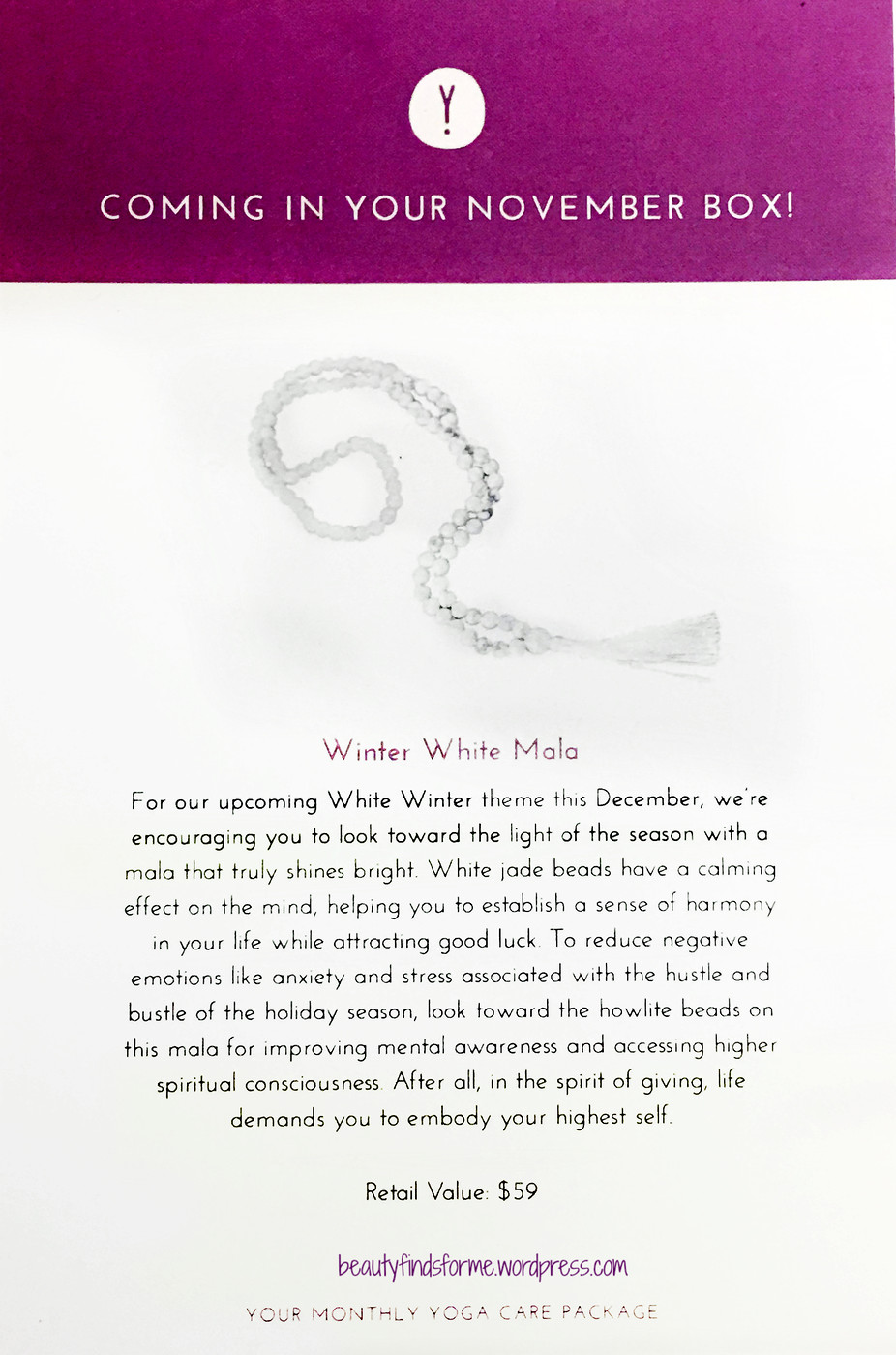 [ all descriptions in italics from linked website.  this blog post contains referral & affiliate links ]