November's Flickerbox is Harvest Moon, very timely as we wind down the Autumn season and into the winter months.

What is Flicker Box?
Flicker Box is inspired by a love and appreciation for handmade candles. We believe that people appreciate products produced by quality artisans made in the United States. We want to connect candle lovers with people who love to make candles. Each Flicker Box contains a variety of artisanal candles made from candle artists from around the United States. We share their story and ship subscribers a delightfully curated box right to their doorstep. Flicker box can be purchased as an automatically-renewing monthly subscription or 3, 6, or 12 month term subscriptions.  from myflickerbox
Information Card
Another View Starting on the left:  PaddyWax "Smoked Wood + Amber", Candelaria "Topaz" ,  Karmalit "Autumn Equinox"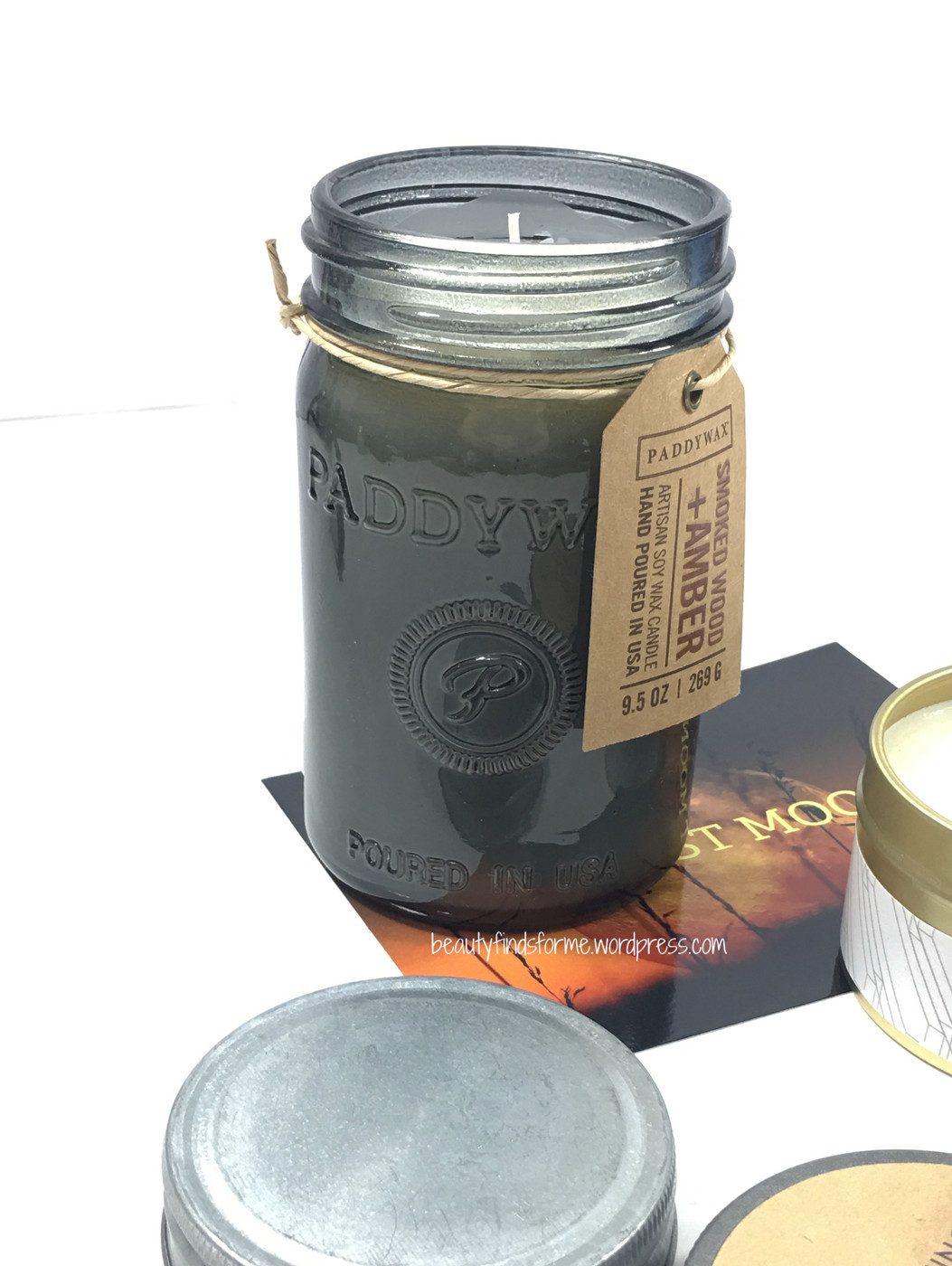 PaddyWax "Smoked Wood + Amber"  This is my favorite candle from this box! It is HUGE and the 100% soy candle is housed in a tall glass, smoke-grey colored  relish jar, with a tin lid.  This is just an amazing candle. "A blend of smokiness aroma finished in a relish jar."   Smoked Wood + Amber contains the following notes ~ balsam, amber (top), cinnamon, patchouli, clove (middle) and vanilla, sandalwood, smoke (base).  The first scent I pick up is balsam, which makes sense, as that is the top note. As this burns, I am sure I will pick up on the spices and sweetness of this candle.  Made in Nashville, TN with natural fragrance oils, hand-poured, fragrance infused, soy wax blended candles    Burn time 60 hours.  9.5 oz RV $20.00
Candelaria "Topaz"  This creamy soy candle in a gold brushed travel tin smells like breakfast!  Sweet maple syrup with apples and spice.  Very festive and mouthwatering!! "An awesome blend of maple syrup with hints of rum & vanilla and ripe apple & spice.Quintessential fall candle!"  Candelaria is located in Denver as well, and all of their candles are made in small batches, using  hand poured 100% soy wax, sourced from American-grown soy beans.  Soy burns clean, so it is eco-friendly.  They use lead free cotton wicks, primed with vegetable based wax and use only premium grade blended fragrance and essential oils ~ no added dyes, lead or chemicals.  Burn time about 30 hours.  6 oz tin RV $12.00 Promo Code: Save $10.00 off $20+ orders at Candelaria with code HARVESTMOON. Expires 12/31/2017

Karmalit "Autumn Equinox"  Karmalit always has some of the best fruity scented candles out there ~ but this one is overpowered by the musk and I do not smell any of the fruity scents. "Fresh picked berries + sandalwood! We added in a dash of lemon zest and lots of musk to capture an afternoon on a gorgeous autumn walk."  I am a bit disappointed with this one, but maybe it will smell better once it burns.  Karmalit candles are all 100% natural soy, hand poured, eco-friendly and biodegradable.  This mini candle is in a nice glass jar and has a burn time of about 40 hours.  RV $12.00
Well, 2 out of 3 ain't bad ~ I really love the PaddyWax candle ~ the scents are so perfect for fall and Candelaria is just a lovely gourmand scent.  Karmalit was a bit of a disappointment as it was just too musky and the delicate berries, sandalwood and lemon scents were just drowned out. Thankfully, the other two candles made up for that one.  This box's value is $44.00 and I paid $34.00 for my box, as I am on a month to month subscription and I am grandfathered in, so my shipping is included in the price tag. I always mention this in each review, as I think you should have the proper expectation if you subscribe to FlickerBox.  I never expect to have a huge value placed on it.   Shipping costs for candles is expensive and the products are made by artisans, making their eco-friendly candles with their own scents and hand crafted, it is a great deal.  Also, some months are well over $40.00 in value, so it does even out in the end.   For Black Friday, you can save 20% off any subscription through 11/27/2017 using code TURKEYDAY17. If you miss out on this promo, you can save 15% off your subscription using promo code FLICKERBOX and that is good until 12/31/2017

Flickerbox also has a store, where you purchase candles that were featured in their past boxes.

Do you subscribe to Flickerbox?  What did you think of this month's candles?  Let me know in the comments below!
Sneak Peak for Next Month
https://www.instagram.com/p/BbkpTjYDBvh
Next month's box theme is 'Traditions'  ~ all things traditional Christmas!

[ descriptions in italics from the product linked website ]