[ disclosure: product received for review purposes. contains affiliate links ]

October's Peaches & Petals theme is "Rejuvenate, Relax & Refresh"   Peaches & Petals is a subscription service that is focused on lifestyle and beauty products.  From their website  "Experience our world of fun, flirty and fashionable vintage-modern lifestyle in a hand-curated box delivered to you each month"  This box was sent to me for review purposes from Peaches & Petals and I thank them for their generosity as always 🙂  I am always appreciative of companies who look for honest feedback on their services.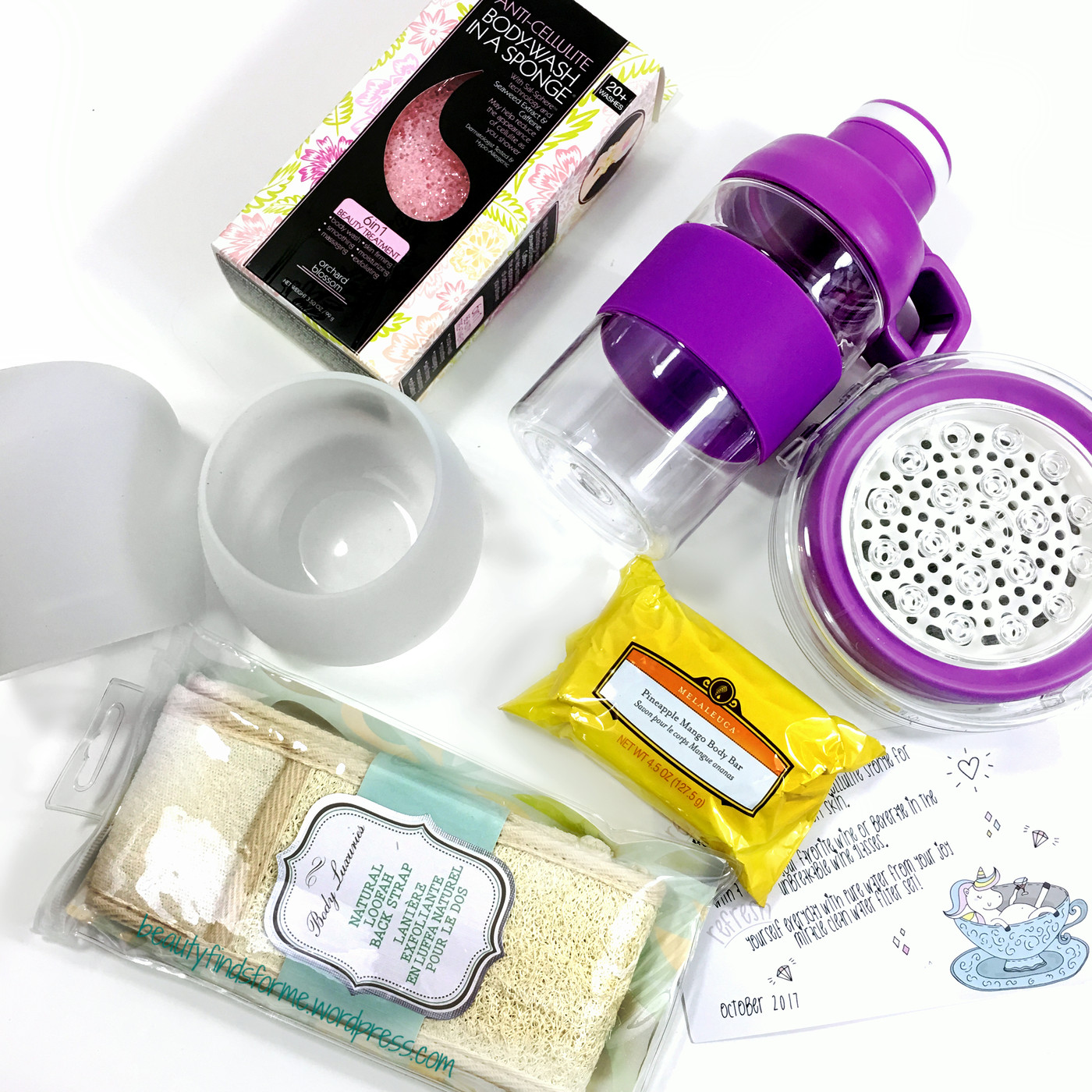 Informational Card
Explanation on valuing products:  Since Peaches & Petals does not give a value on their products,  I normally will use the Retail Value from the vendor's site or an average if I find the product on multiple sites with varying prices.  Subscription boxes are usually basing their value on Retail Value, not Markdown or Sale Values.  With that in mind, you can usually find products for less, just like anything else in the marketplace.

Unbreakable Wine Glasses ~ Stemless Silicone   Let's start out with the totally wasted product for me first.  These are unbreakable wine glasses that are made from a soft silicone and I just will not use them.  I cannot even imagine wanting to use them!  They collapse so easily and due to their surface, they pick up all lint, dust and cat hair everywhere.  I guess I would rather have a plastic hard wine glass if I need one that won't shatter.  I do know they are popular and people seem to like them, but it isn't my thing.  2 glasses 2 glasses RV $8.50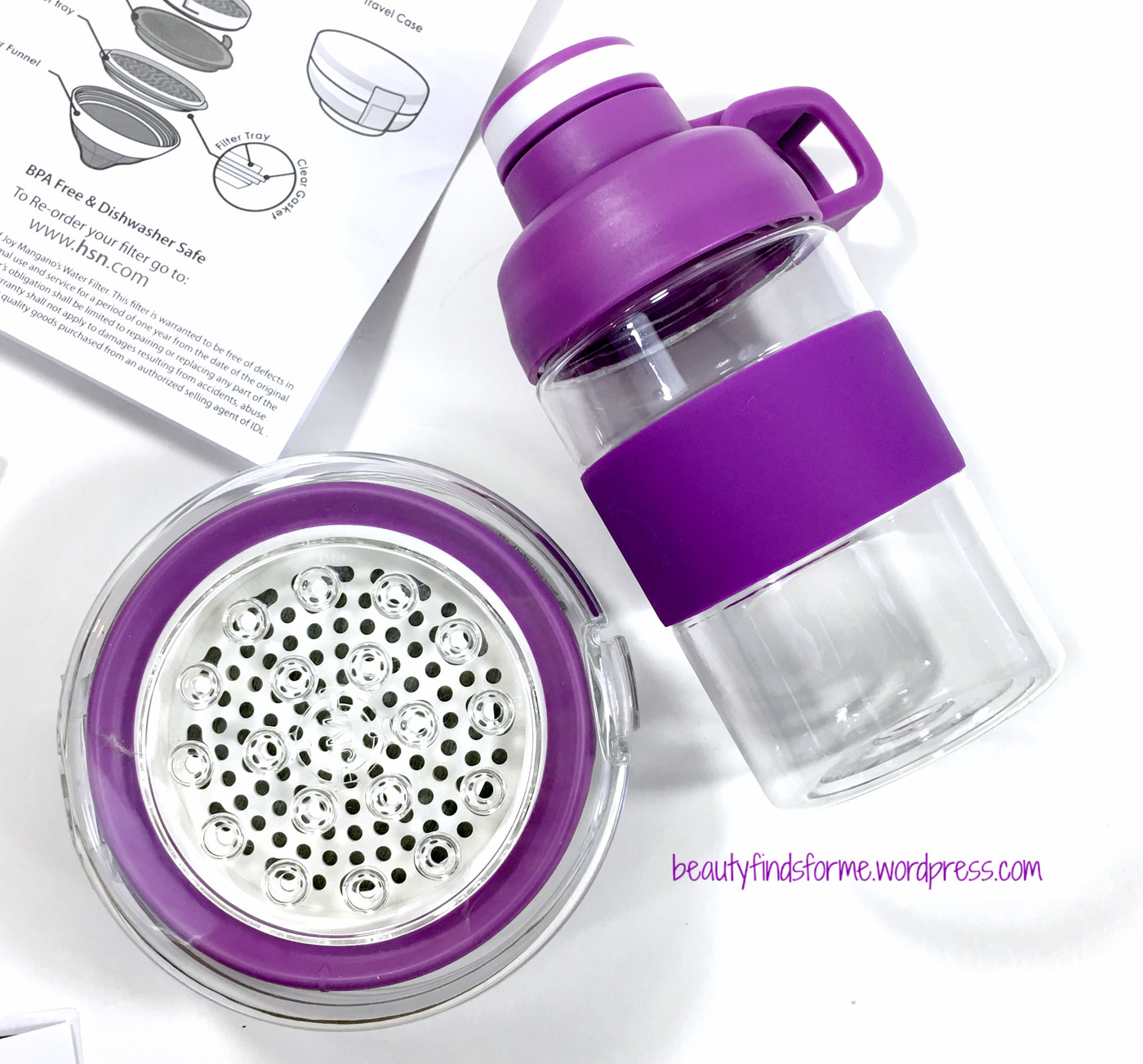 Joy Mangano Miracle Clean Water Filter Set with Case and Bottle in Purple Orchid  I DO like this!!  This is a great little water bottle with a carbon filter system, so you can get nice, filtered water in your home.  This BPA free filter set will remove 99.6% of sediment in water ~ such as rust, sand, silt, pollen and as small as 30 to 50 microns.   The filter unit and travel case are dishwater safe (top rack only) and you do need to remove the carbon filter first before putting in the washer.   It comes with two filters, so you are good for at least 6 months. You should only use this with municipal water and not water such as river or swamp water, folks.  This does not filter out the creepy crawlies. This has a date wheel, to remind you when to change the filter ~ and you flip up the top part of the filter system, so that water can sit in it, while it drains into the bottle.  The water bottle has a silicone band for gripping and is shatter-proof, impact and stain resistant.   RV $16.94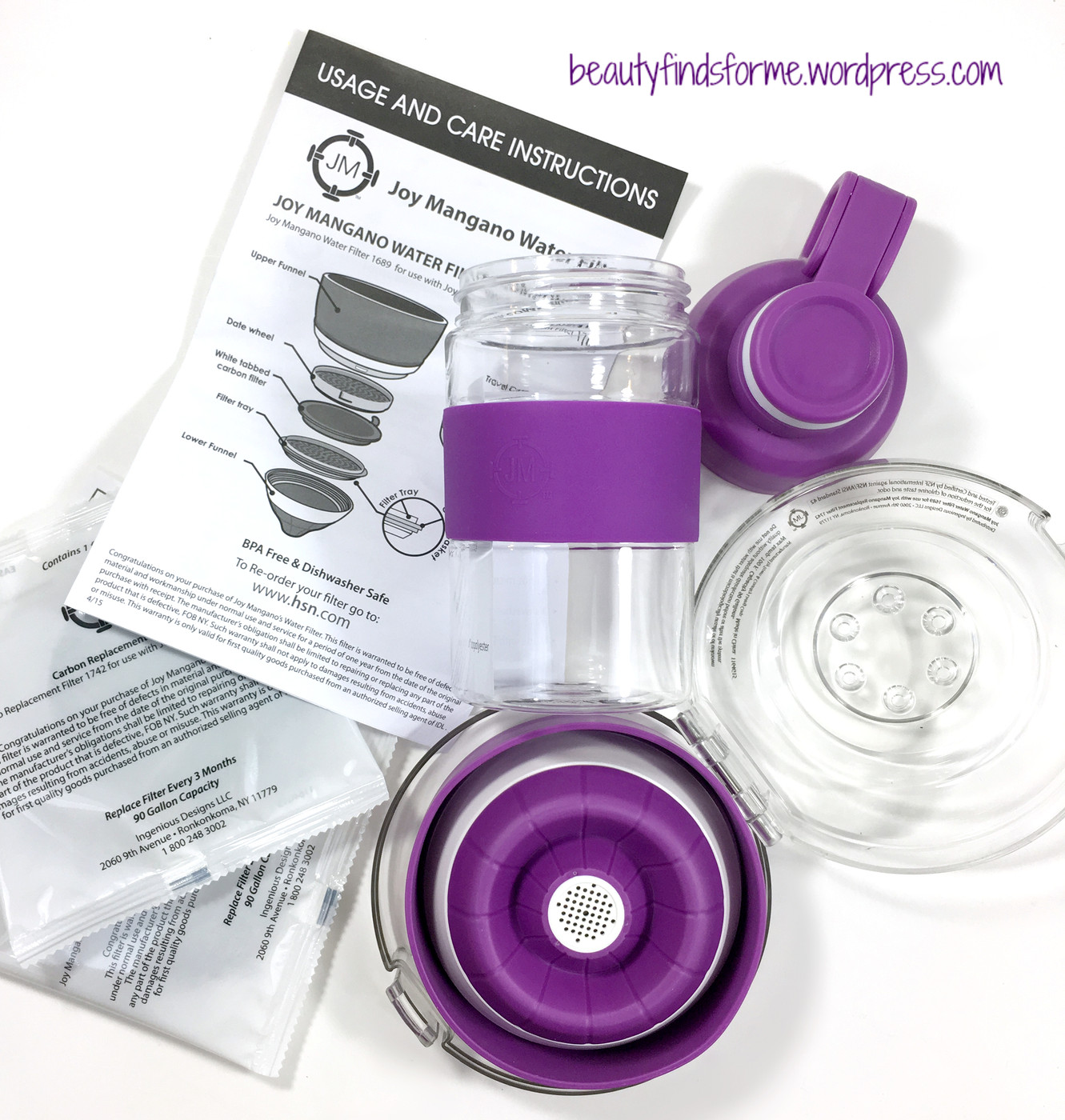 Description: Get clean, fresh water on the go — without the clutter of all those plastic bottles. This lightweight water filter unit folds into a compact, portable case. The included carbon filters removes 99.6% of sediment — including chlorine, bad taste and odor — for water that tastes fresh and delicious. Eco- and wallet-friendly, this is one water filter you can count on as the perfect investment. Each filter has a lifespan of 90 gallons or 3 months 1 filter = 681 water bottles (16.9 oz.)  More Features Earned the Good Housekeeping Seal 
Peaches & Petals included a detox water recipe too!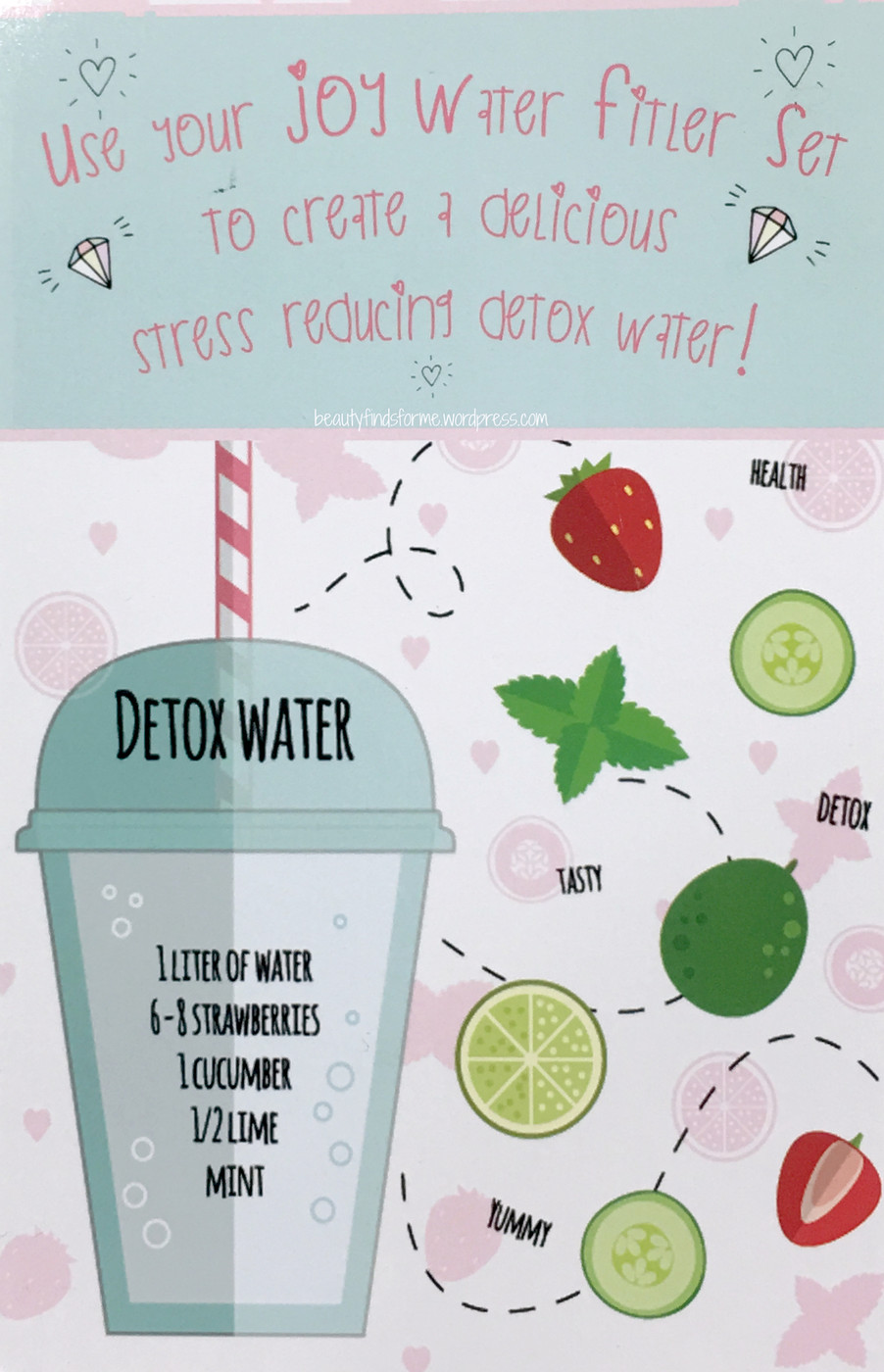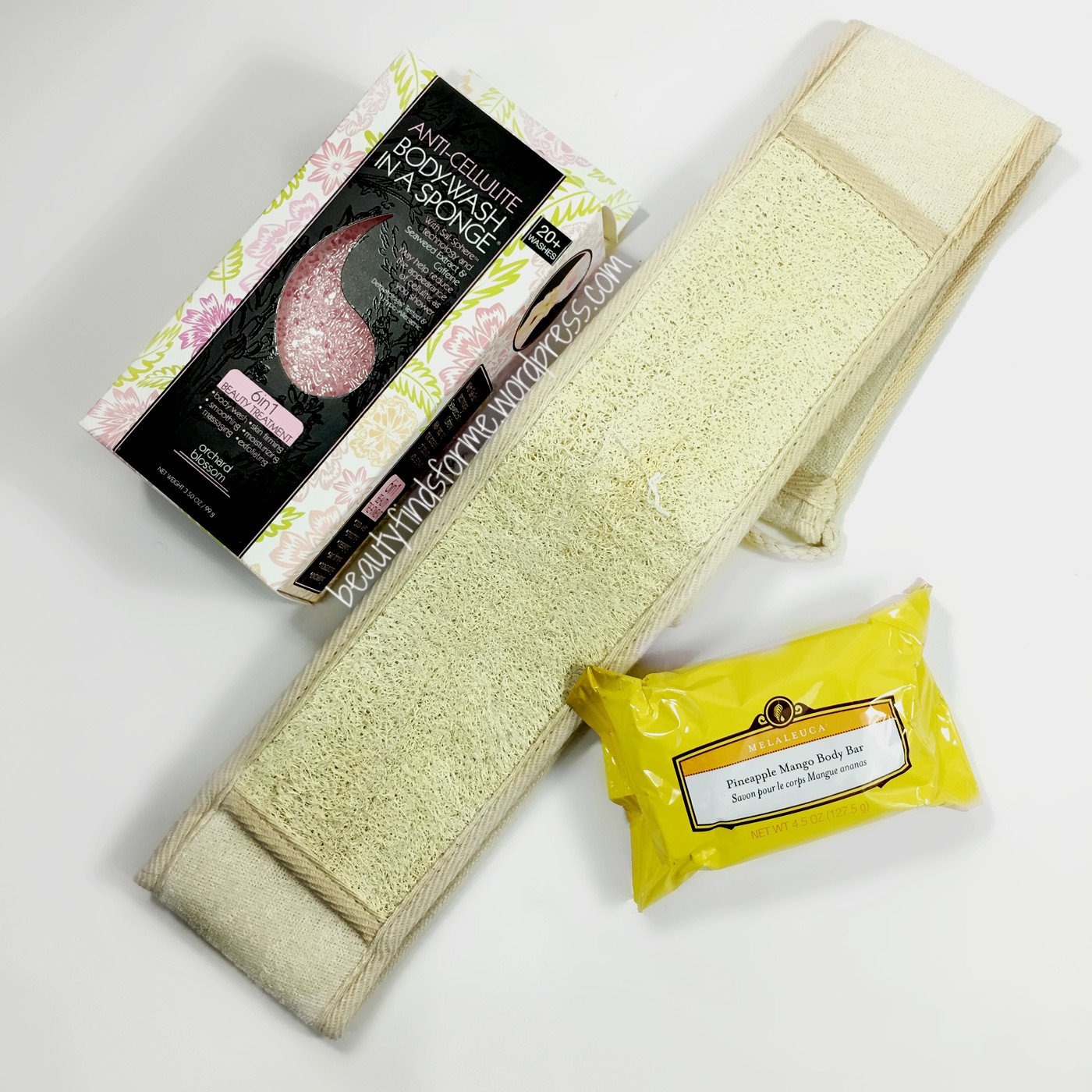 Spongables Body Wash in a Sponge Anti-Cellulite (Orchard Blossom) These are infused body-wash, tear-drop shaped sponges that are fantastic for going on vacation or traveling.  This has olive oil and vitamin E, for hydration and moisture, and it also contains seaweed extracts, caffeine and something called SalSphere™ Muscle Toner ~ all helps to buff and massage and smooth skin while helping to reduce the appearance of cellulite.  This is good for 20 or more washes, dermatologist tested and hypo-allergenic.   I like the packaging on this one better than the ones you see on Ulta and Amazon ~ I think this was made for the Mexican market, but make no mistake, the contents are the same.  3.5 oz RV $7.99
Ingredients: glycerin, water, sodium stearate, sorbitol, propylene glycol, sodium laureth sulfate, sodium laurate, fragrance, olea europaea fruit oil (olive oil), sodium chloride, sodium thiosulfate, stearic acid,  caffeine, petrolatum, tocopheryl acetate (vitamin E), phenyl trimethicone, hydroxyethyl benhenamidopropyl dimonium chloride, fucus vesiculosus extract (bladderwrack), isomerized safflower acid, lauric acid, pentasodium pentetate,  tetrasodium etidronate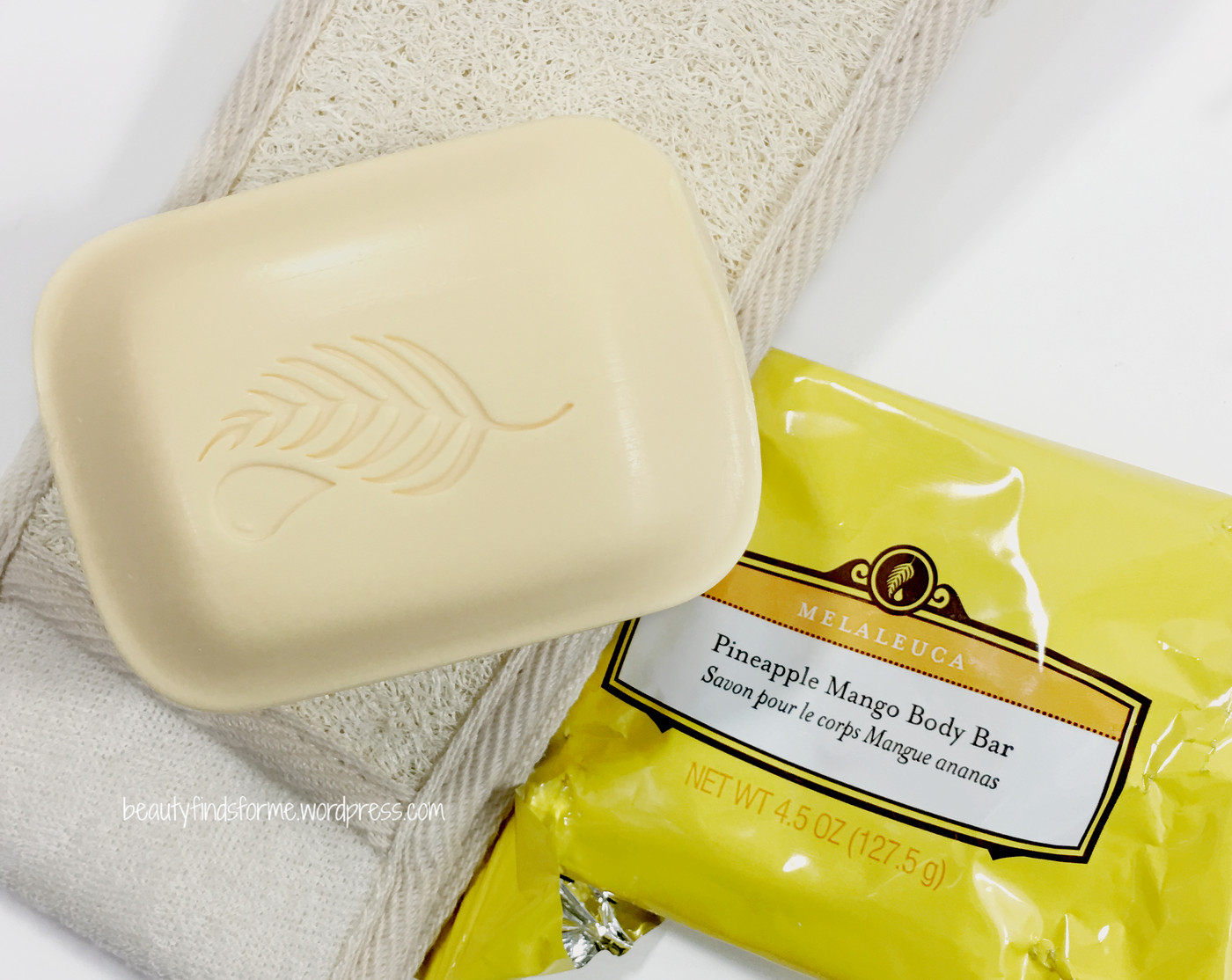 Melaleuca Pineapple Mango Body Bar Another body soapy product ~ this one in a nice tropical fruit scent of pineapple and mango.  Melaleuca soap bars are French milled to remove air bubbles, so what is left is a heavy, dense bar of soap ~ made with natural moisturizers of aloe vera, glycerin and natural oils.  4.5 oz bar RV $6.50

Body Luxuries Natural Loofah Exfoliating Back Strap Scubber  And to use that tropical fruit soap bar, a great loofah back strap ~ I cannot reach my back (short arms) all the way, so this is a great to put some soap on and then scrub away!  This is perfect for the winter time, as my skin gets dry and this will help exfoliate and polish ~ the front side is a flatten loofah sponge and the back side is plush, soft cotton to help polish and smooth your skin. This is has a good length to it ~ almost 29 inches in length and over 3 inches wide along with two rope handles so you can easily use it.  I also use it on the backs of my legs too, especially on the thigh area. Just make sure to rinse well and hang dry in your shower. RV $7.99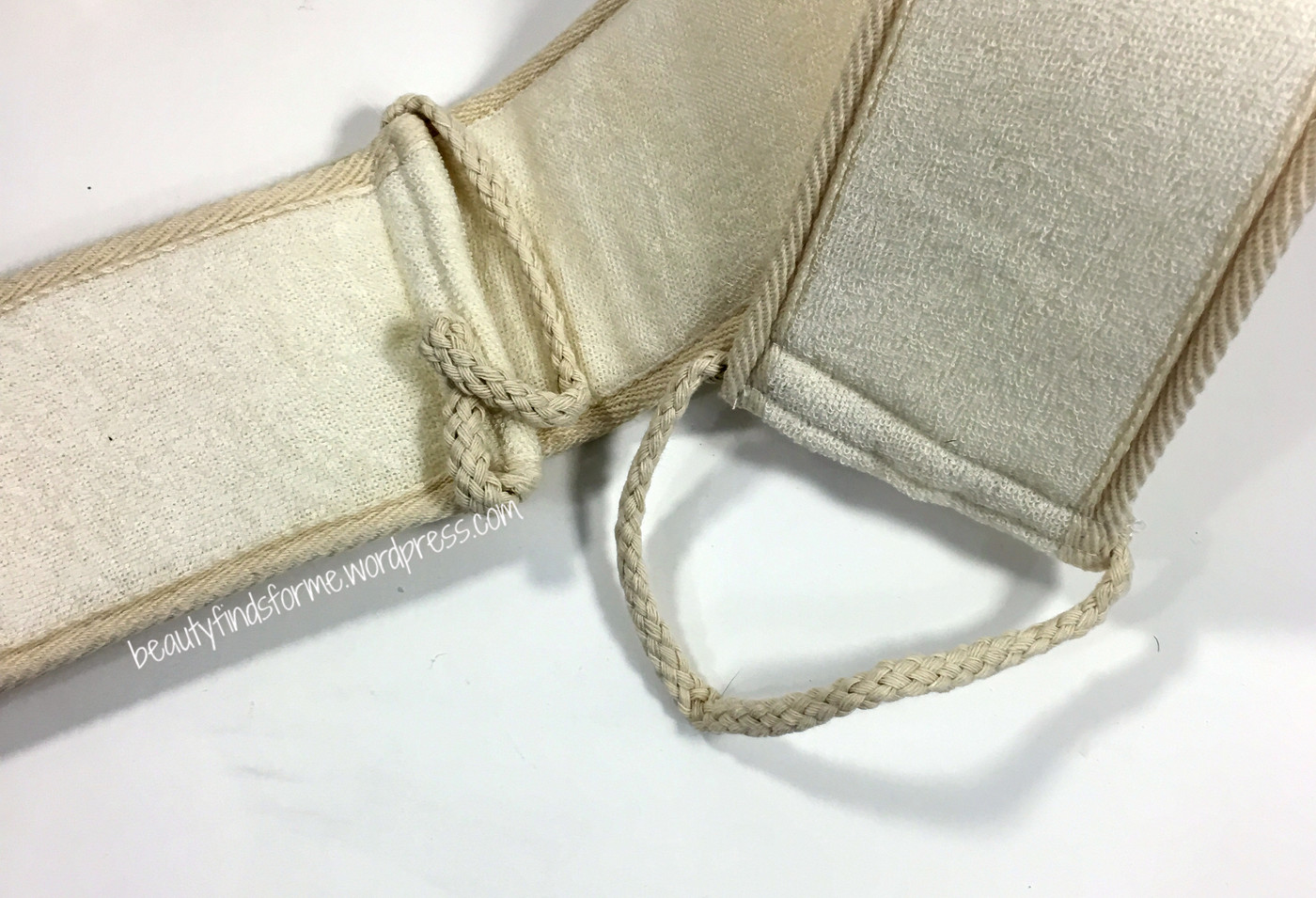 Final Thoughts
I did like the theme this month and outside of the wine glasses, the other items were really useful and nice. I love bath products, so getting 3 of them was fine by me and I really like the mini water bottle filtration system ~ you can actually put this on any water bottle or container to filter your H2O.   Peaches & Petals monthly subscription boxes are $19.99 a month and that includes shipping.   This month, the box looks to be of  a retail value around $48.00, based on the retail value of the items.  Many thanks to Peaches & Petals to sending this me for review purposes ~ I always look forward to seeing what P&P puts in their boxes! Did you receive this month's Peaches & Petals box?  What was your favorite item and what do you think of it?

If you would like to subscribe to Peaches and Petals, I wold love it if you used my referral links!

[ products were received complementary for review purposes.  All opinions are my own and are unbiased.   ]
[ Blog post contains affiliate links and referral links. Descriptions in italics from linked site ]
Save
Save
Save
Save