November's theme for Kloverbox is Home and it focuses on products for your home ~ from accessories to cooking spices.  Kloverbox is a subscription box that not only is natural and has a focus on indie brands, but they also find unique and interesting products as well.
Kloverbox is an eco-friendly, organic lifestyle box and I love how they introduce new, unique and innovative products each month.  Kloverbox delivers deluxe and full size products and I have been impressed with their packaging and curating of their boxes. You can subscribe to Kloverbox  either as a month-to-month at $25/monthly, 3 month subscription at $23.75/monthly or a 6 month subscription at $22.50/monthly



Informational Card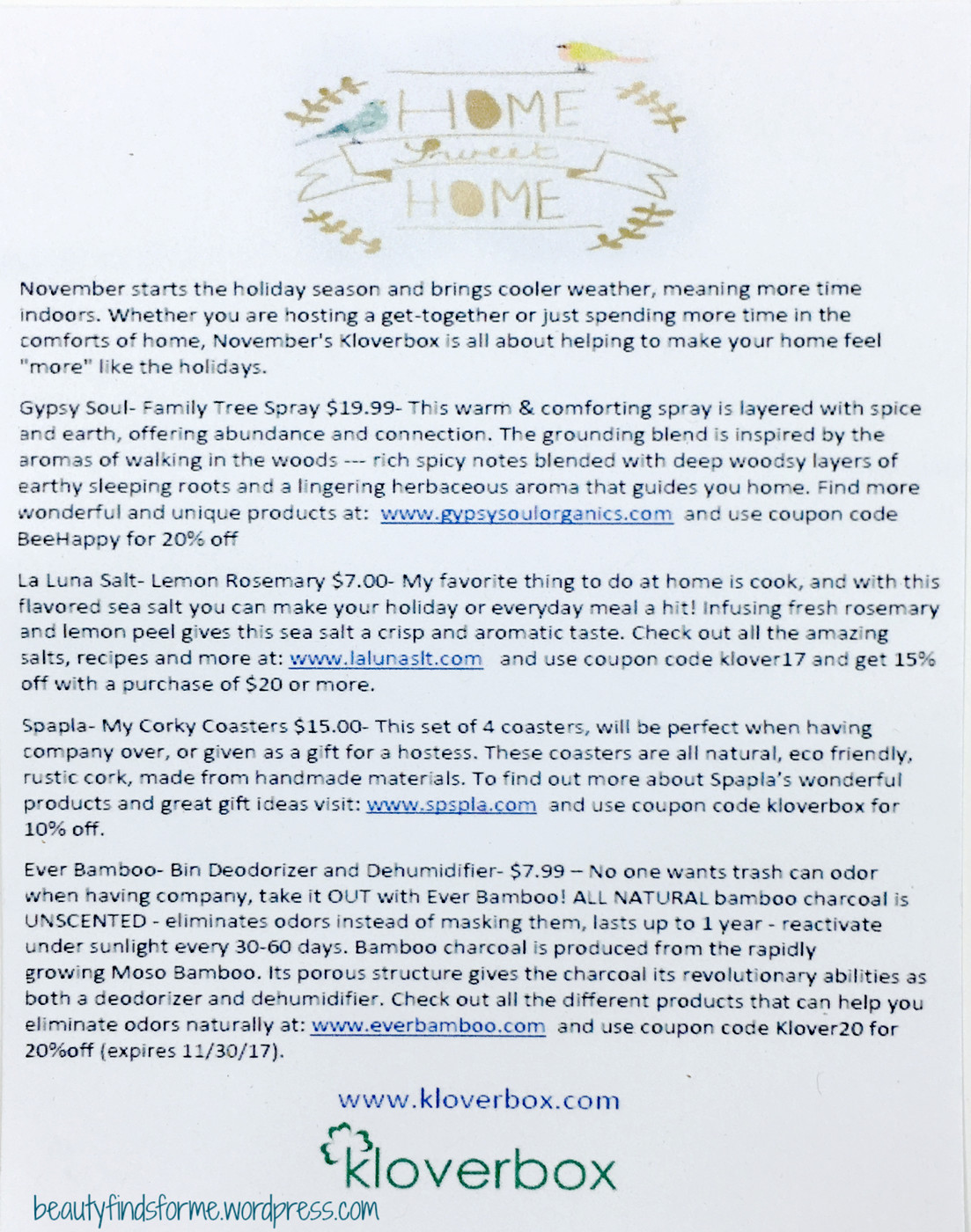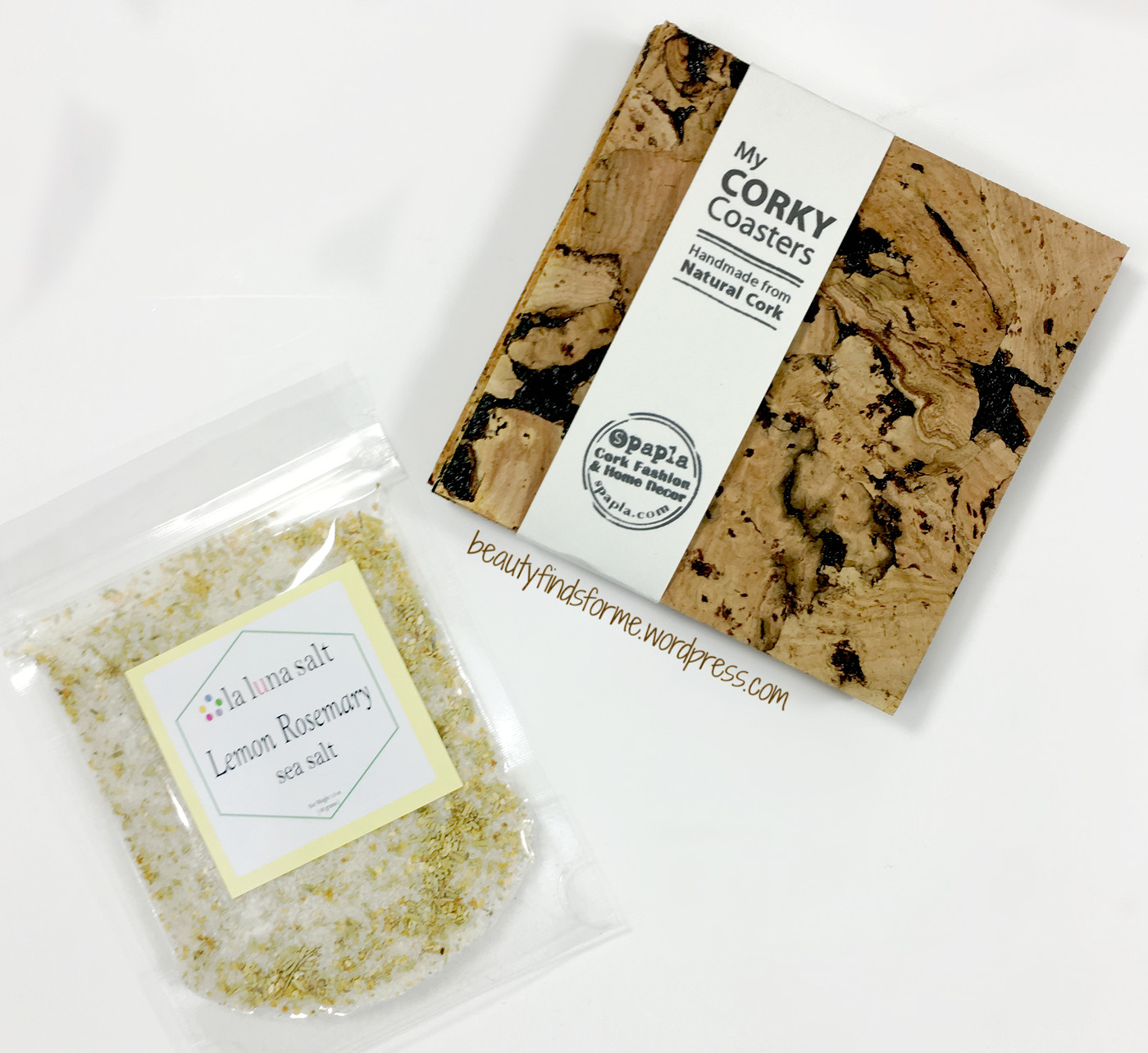 La Luna Salt Lemon Rosemary This is perfect for the holiday season ~ just add to some roast chicken, potatoes, salads and fish. This has fresh rosemary and lemon peel in the sea salt and it is such a nice herbal mix ~ the warm of the rosemary and the brightness of lemon add a spark to this sea salt. La Luna Salt have a variety of salt blends ~ saffron & fennel, black truffle, smoked bacon, ginger, lavender rosemary, draft beer and smoked honey, just to name a few!   2 oz bag RV $7.00  Promo Code:  Save 15% off  at La Luna Salt with code klover17 with any purchase of $20.00 or more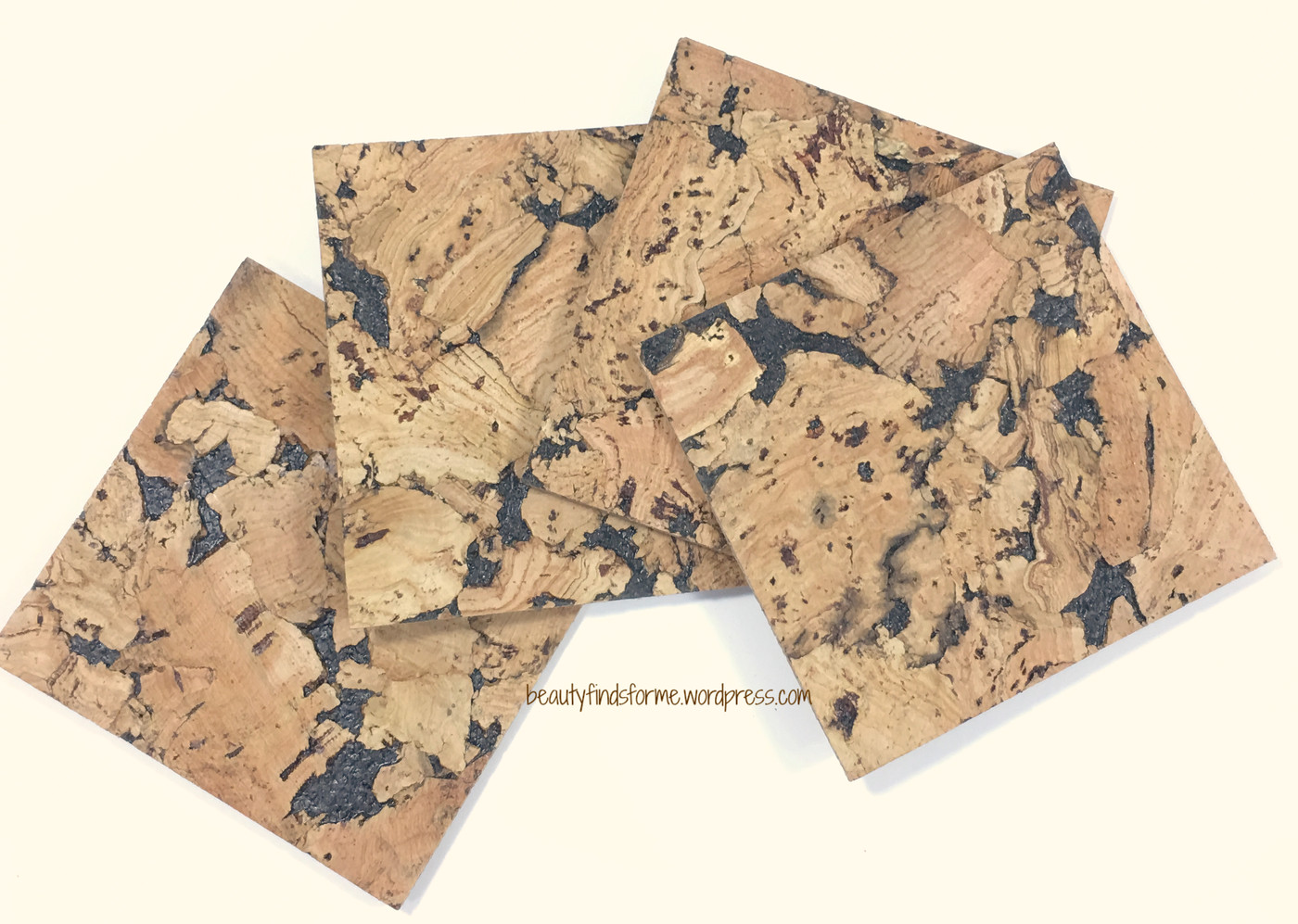 Spapla My Corky Coasters  From Israel, family owned brand Spapla, I received a set of all natural, eco-friendly coasters made from rustic cork.  These are nice squares about 3.9 inches and are handmade, artisan crafted,  They are big enough for all glasses and mugs ~I love the warm brown tones of these coasters and they are so light in weight, yet absorb any moisture from your drinks.   Set of 4 RV $15.00 Promo Code:  Save 10% off  at Spapla  with code kloverbox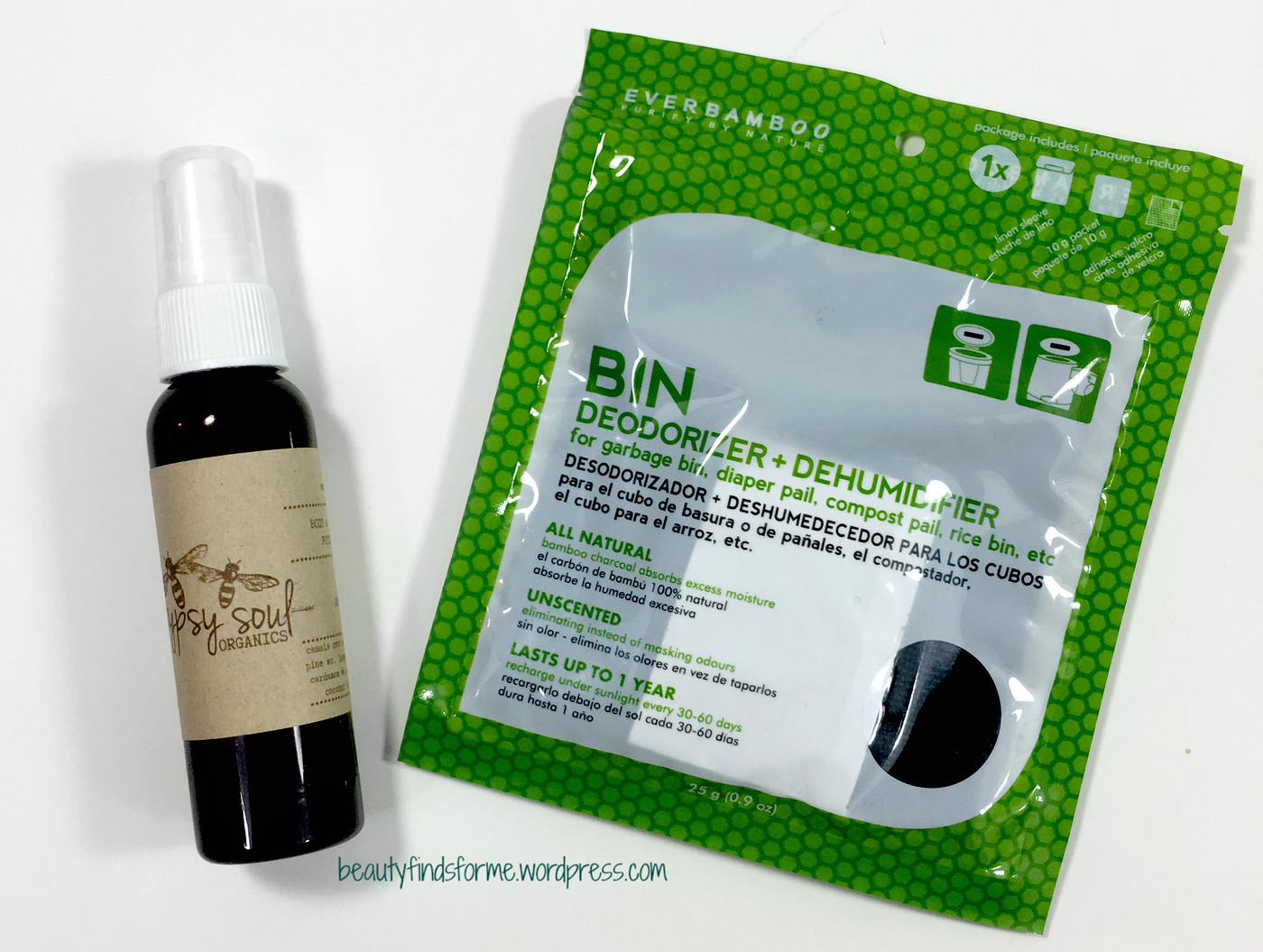 Gypsy Soul Family Tree Spray From Austin, Texas, this is a family owned apothecary and I love this brand!  Freshen up your home for the holidays with this lovely earthy, spicy and woodsy scent  ~ it hits all the high notes for me ~ cloves, pine, to help  keep your home smelling beautiful.  This comes in a 2 oz amber-colored plastic spray bottle, so there is no breakage ~ if you purchase this directly on their website, they say it is a glass bottle.  Each bottle has about 350 pumps of a natural botanical mist that can refresh your room or your body, spray on linens, use during yoga or meditation. 2 oz RV $19.99  Promo Code:  Save 20% off  at Gypsy Soul Organics with code BeeHappy

Ingredients: organic cassia root essential oil, organic cinnamon bark essential oil, organic pine essential oil, organic lavender essential oil, organic clove bud essential oil, organic cardamom essential oil, organic nutmeg, organic coffee bean essential oil, organic coconut oil, organic purified spring water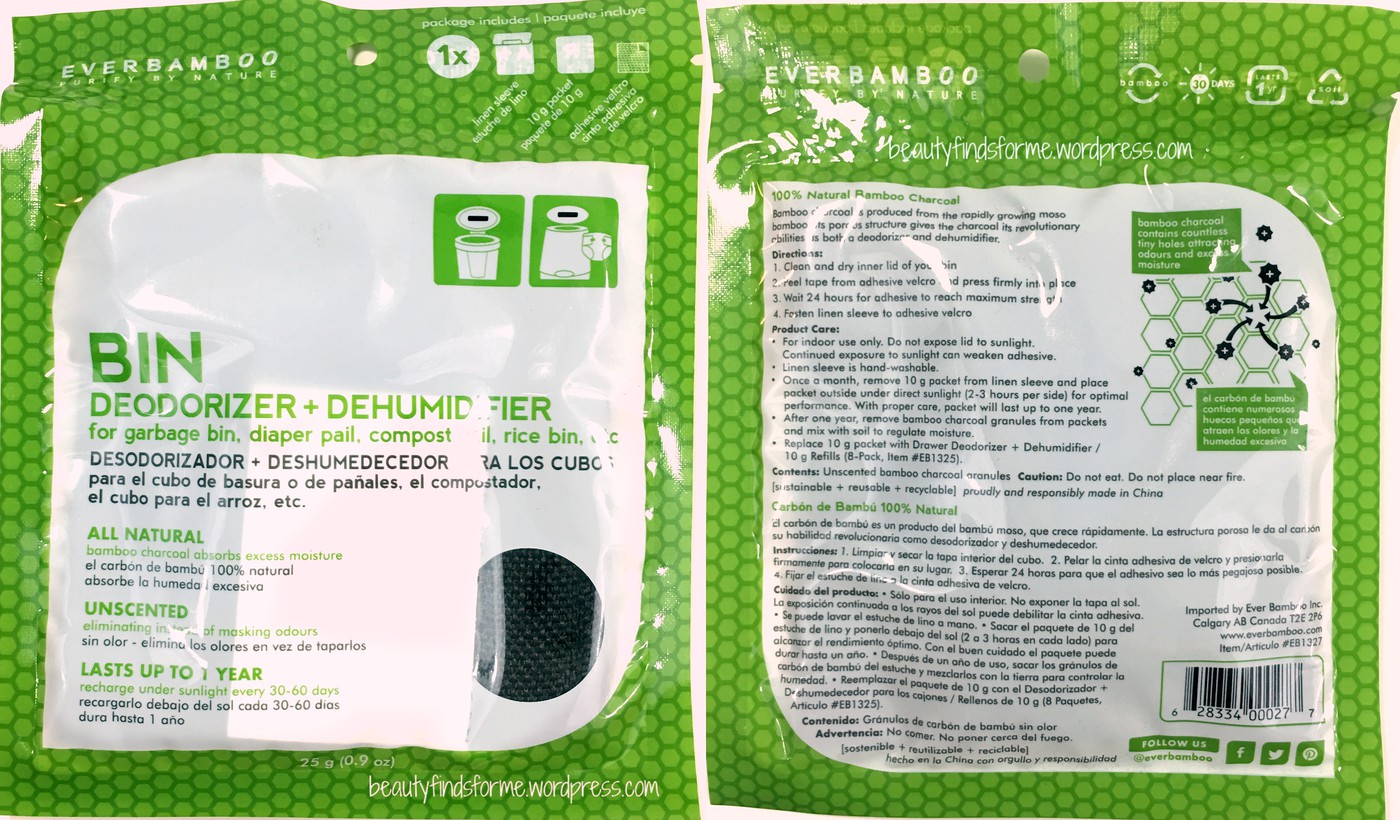 Ever Bamboo Bin Deodorizer and Dehumidifier I got a bamboo charcoal deodorizer bag that I leave in the room with the kitty litter box ~ I love these things, because they are all natural, unscented and  removes odors, not masks them. These 100% natural bamboo charcoal deodorizers last a long time too ~ every month, just leave out in direct sunlight to reactivate the charcoal for 2 to 3 hours and this will last up to a year ~ and then you can reuse it to mix into your soil! This has a velcro attachment, so it can be placed under the lid of your trash bin, diaper pail, compost pail, rice bin, kitty litter, etc .  RV  $7.99 Promo Code:  Save 20% off  at Ever Bamboo with code klover20 Expires 11/30/2017
How to Use: For indoor use only. Do not expose lid to sunlight. Continued exposure to sunlight can weaken adhesive. Linen sleeve is hand-washable Once a month, remove 10 g packet from linen sleeve and leave packet outside under direct sunlight (2-3 hours per side) for optimal performance. With proper care, packet will last up to one year. After one year, cut open packet and mix charcoal granules into soil to regulate moisture.

I like that this month focused on lifestyle products, instead of skincare or makeup.  I mean, I love skincare, makeup, beauty products, but I also love lifestyle items too ~ so it is great to get a nice herbal citrus salt, fantastic coasters (love these!) and two different types of room deodorizers ~ one that smells like the holiday season, with its cloves, cinnamon, pine, nutmeg scents and the other is a great heavy-duty eliminate odors item.  I paid $15.00 due to a Black Friday promo code + renewing 3 month subscription and received a value of almost $50.00.  Do you subscribe to Kloverbox?  What was your favorite product this month?

Current Promo:  Want to save 10% off your subscription?  Use my referral link here    One and three month terms automatically renew, the six month is a one time purchase.   The monthly subscription has an option to skip a month!  Also, check out Kloverbox's Black Friday Special ~ Order a new 3 or 6 month subscription and receive a FREE bonus box! This special box will feature some of Kloverbox's favorite products from past boxes and it is value over $65.00 (while supplies last)

[ descriptions in italics from linked website.  contains referral link and affiliate links ]