disclosure: contains affiliate links
Yes, I subscribe to a jewelry box, but not just any jewelry box! November is here and wow, this month is wonderful for Yogi Surprise Jewelry!  What is Yogi Surprise?   

Yogi Surprise Jewelry Box
2 handmade pieces + 1 organic treat

Handcrafted in Bali. Fair Trade

$65+ retail value in every box

$24.95/month + free shipping
The Jewelry box will contain two handcrafted yoga inspired jewelry pieces, that are fair trade, sustainably harvested materials, nickle-free, lead-free and cadmium free.  These are made in Bali, Indonesia and 10% of all proceeds will be given to education the Balinese families to make these beautiful pieces.  It also contains an organic treat.

This month's theme is "Gratitude" ~ As Mother Nature turns our once lush and lively environment into a barren landscape in  preparation for winter, let us take refuge in her restorative powers by turning inward and reflecting on all the abundance we were blessed to have experienced this past year. Knowing that peace and joy can never truly be found by searching for them outside ourselves, we must look inward to generate those feelings by practicing gratitude. For the month of November, we're bringing you a set of jewelry pieces that will help ground you in the present and center yourself as you take the time to  acknowledge every meaningful personal connection, every significant experience, and every important lesson that brought you to where you are now. With so much to be grateful for, you'll feel empowered to harness your positive energy and give back to the people, places and animals that mean so much  to you.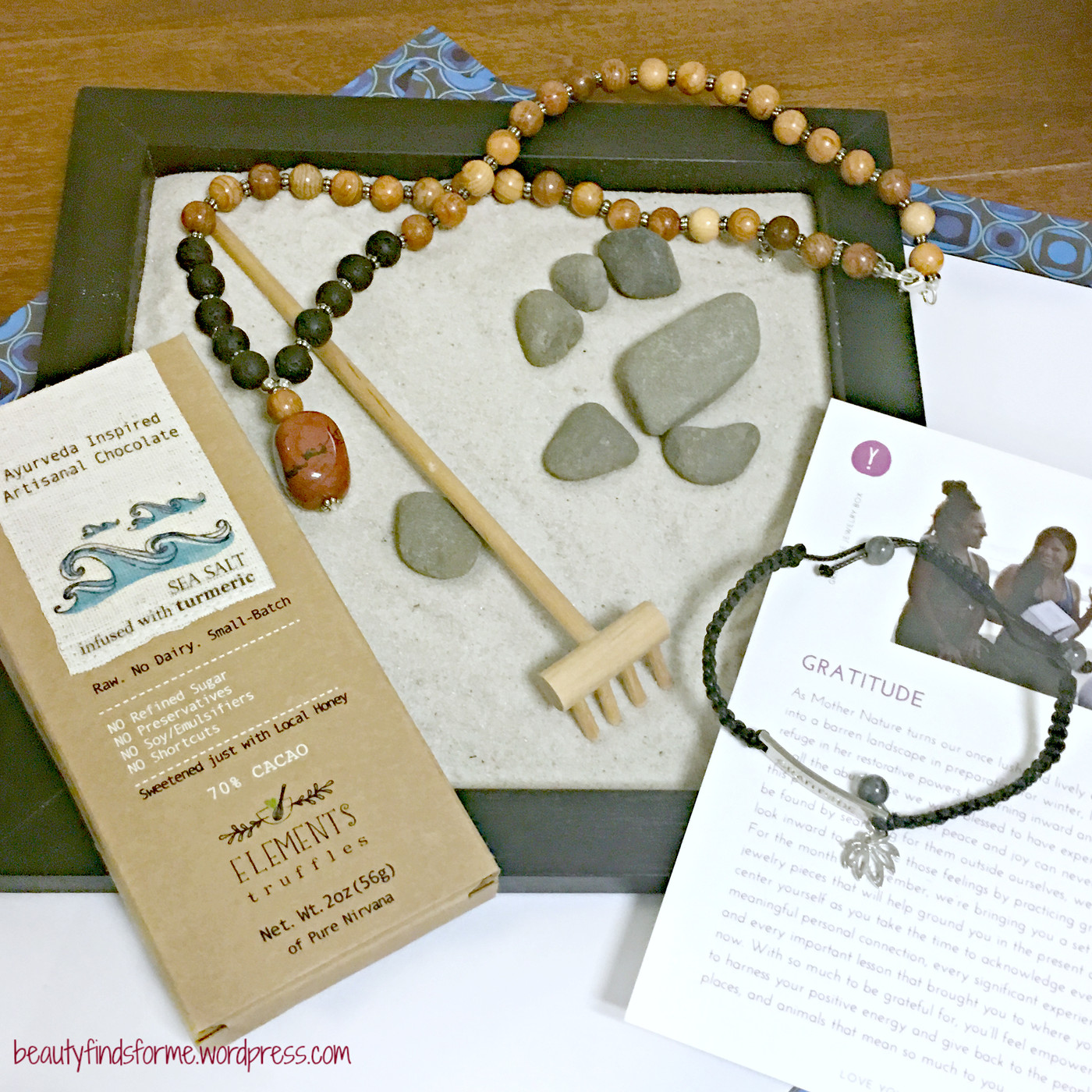 Informational Card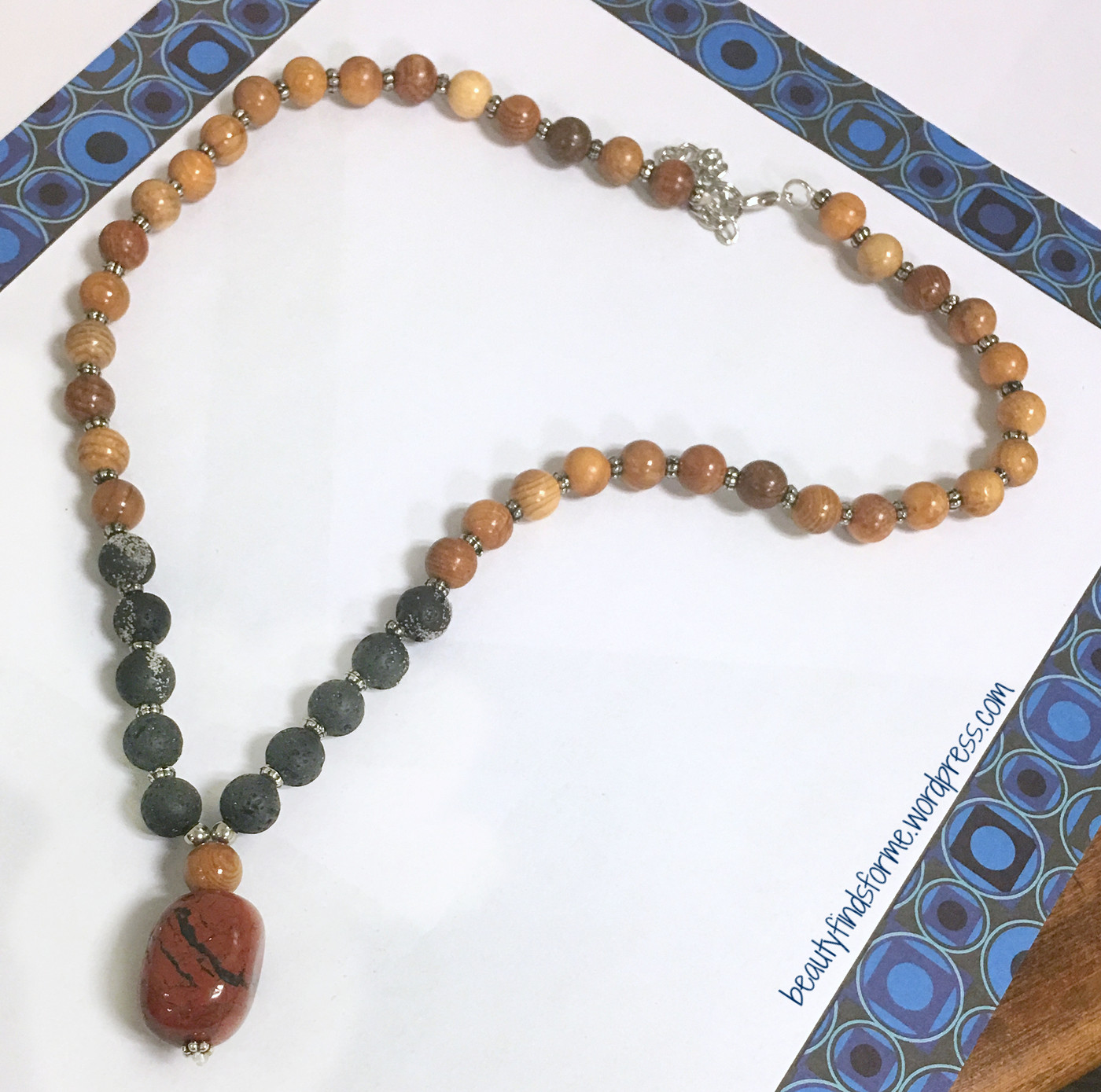 Grounding, Giving Necklace This is so pretty ~ I love the polished yew wood beads in that orange-brown shade and lava rock beads to add some more contrast.  Lava beads are porous, so you can dab a bit of perfume oil on them and it will last all day long!  Finally, a red jasper pendant, about 1 inch in lenght ~ my stone has black striations in it, so it ties back into the lava beads.  There are little silver-toned spacer beads between each bead and this 19 inch necklace has a 2 inch extender.  RV $35.00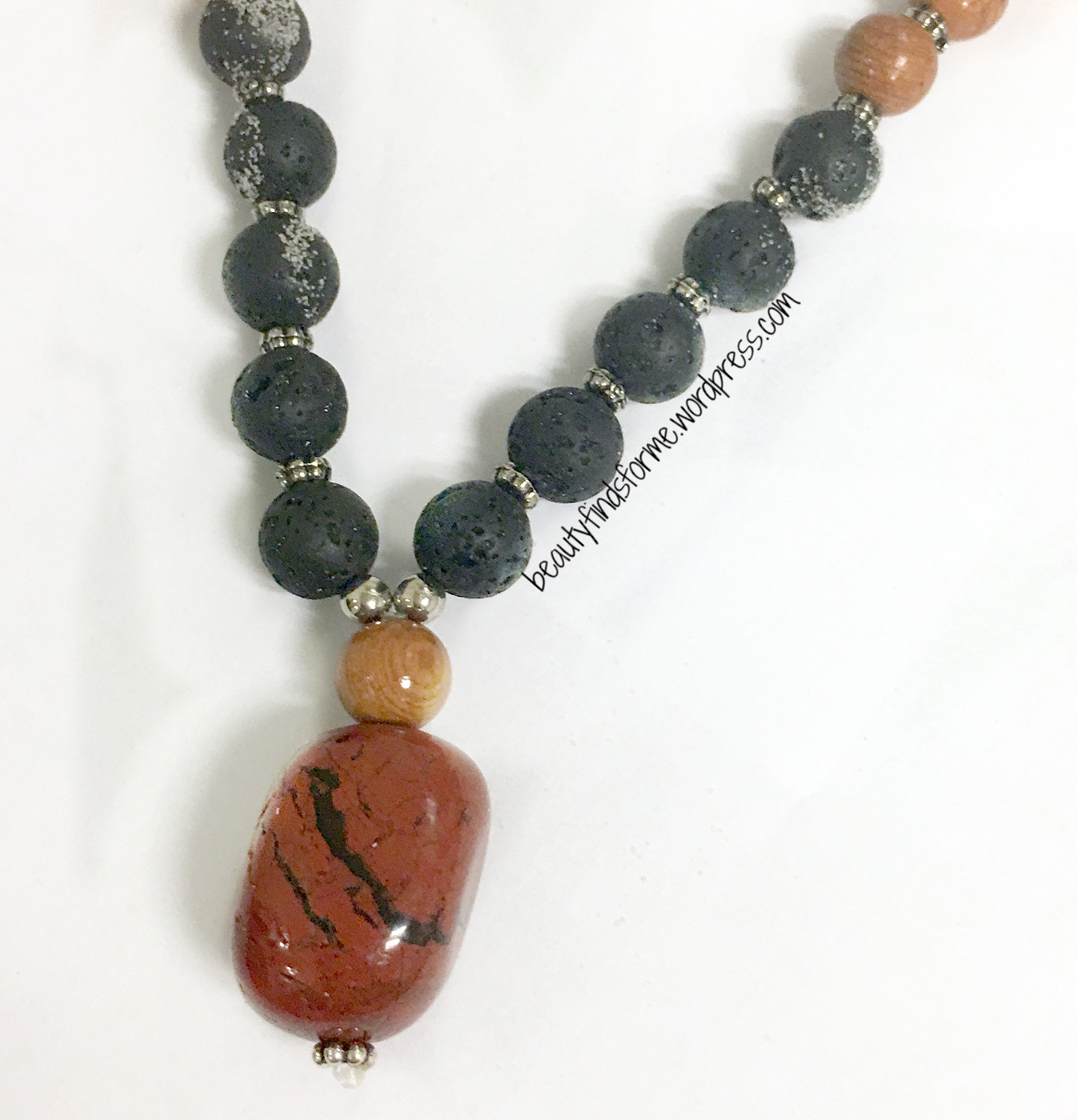 Sacred Yew Wood  The Yew tree is a long living tree, some have been recorded to over 4000 years old.  It is associated with immortality, birth, renewal, regeneration, transformation and provides access to the beyond and our ancestors.  It protects us from evil, provides dreams and is a symbol of the old magic.   The yew tree is used to provide us understanding that there are other levels of existence beyond this life ~ it helps live our lives more fully and with social conscious.  Death is a transformation and it is part of a never ending cycle as we are reborn, regenerated, elevated to the next plane of existence.   It was sacred to many cultures, such as Romans, Druids, Celts, Greeks and North American Natives.
Lava:  Crown and Higher Crown Chakras Basalt, also known as Lava,  is a stone of strength and courage, it allows one the opportunity for stability throughout changes in their life. If you are going through a lot of shifts in your life then basalt would be a helpful stone for you. Basalt helps to diminish the negative aspects of one's character and allow us one to see where modification of your character can be helpful.  source
Jasper: The Supreme Nurturer, Base & Sacral Chakras Jasper is considered a Power Stone and a stone that accepts intense responsibility as a Protection Stone. Jasper gives one the courage to speak out and have personal independence.  Its a stone of the earth, and therefore a very "grounding" stone.  All Jaspers  have excellent protective energies. Jasper helps to re-align all chakras, in integrate those energies for our greatest good.  source  Jasper helps to align the chakras and facilitate dream recall. It is a balancing stone that works to align the physical, emotional and mental bodies with the etheric realm. Placing jasper in a room helps to eliminate negative energies. It also helps one to accept responsibility and become more grounded in the stabilizing energies of the earth. Metaphysically jasper helps to balance the yin and yang energies and stabilize the aura.  source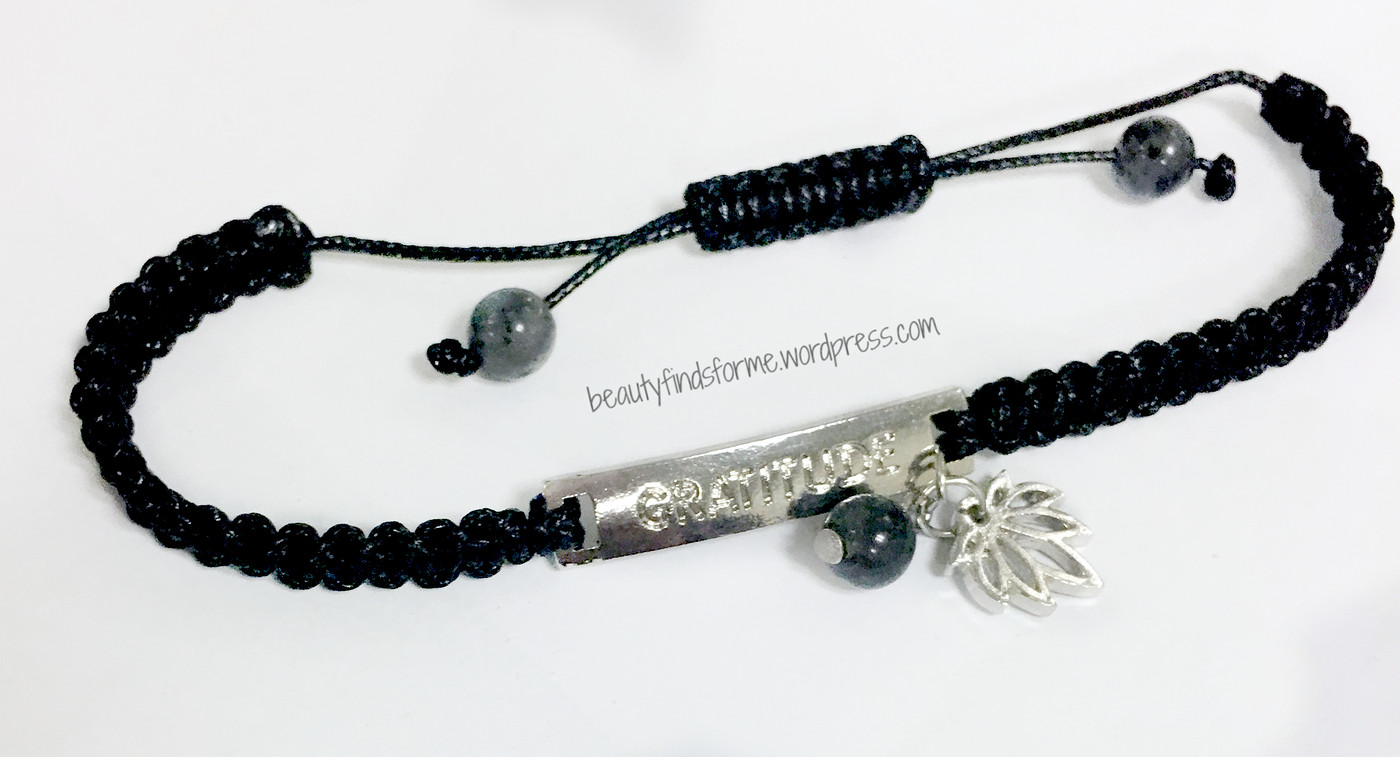 Gratitude Bracelet  This is a very simple bracelet and it is perfect to stack with my other beaded and Mudlove bracelets.  It is an adjustable bracelet, strung on waxed black cord in a macramé style and has two labradorite beads dangling from the ends.  The front of the bracelet has a silver toned bar with the word "GRATITUDE' on it and dandling from one side of the bar are two charms ~ a silver toned lotus flower and a black labradorite bead.   When I first saw this, I was underwhelmed, but I have been wearing it now for a couple of days and it is one of my favorite bracelets!  I hope Yogi Surprise will put more of these message bracelets in our boxes.  RV $22.00
Lotus In Buddhism, the lotus flower represents purity, spiritual awaking and faithfulness.    The flower symbolizes purity, because it is clean, despite living in murky pond waters.
Labradorite  This stone has healing energy and is good crystal to aid in relieving both pain and stress.  It can open up physic hearing, which involves the throat chakra and the third eye chakra.  Labradorite will protect and remove negativity from your aura.  If you need energy, it will help to recharge you.  It will bring insight, clarity and success towards your destiny.    Read more at Crystal Meanings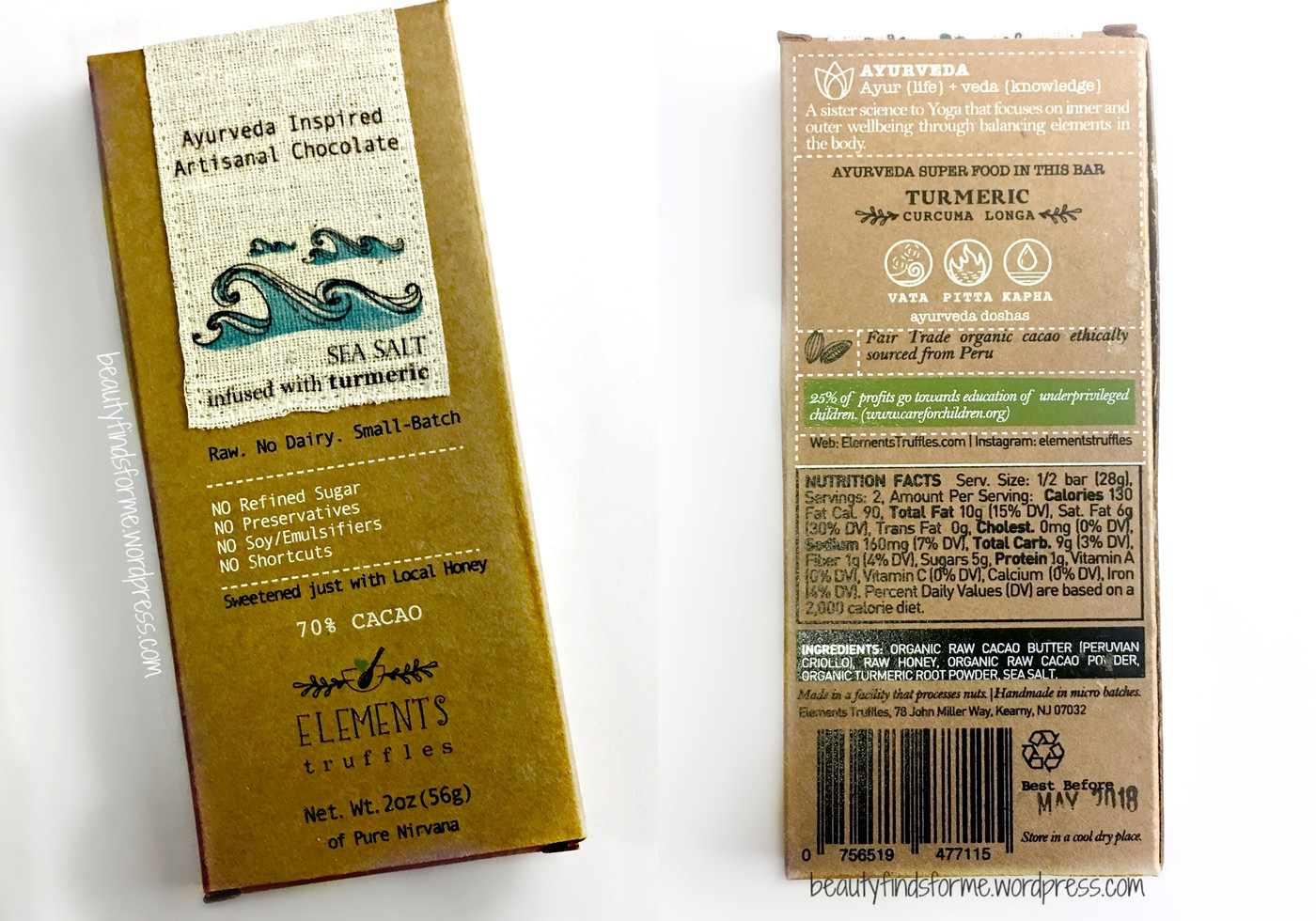 Element Truffles Sea Salt Bar with Turmeric When I first opened up and took a bite of this chocolate bar, I didn't read what it was ~ I knew it had turmeric in it but was surprised how creamy and smooth it was. No wonder, as this is a truffle bar! It has a nice warm taste, due to the Ayurvedic spices and I really like this a lot.  I mean A LOT.  I will be purchasing this in the future. Elements Truffles hand made their chocolate in micro batches and use Fair Trade organic cacao that is ethically sourced from Peru. Elements donates 25% of their profits to go towards education for underprivileged children ~ http://www.careforchildren.org   RV $7.00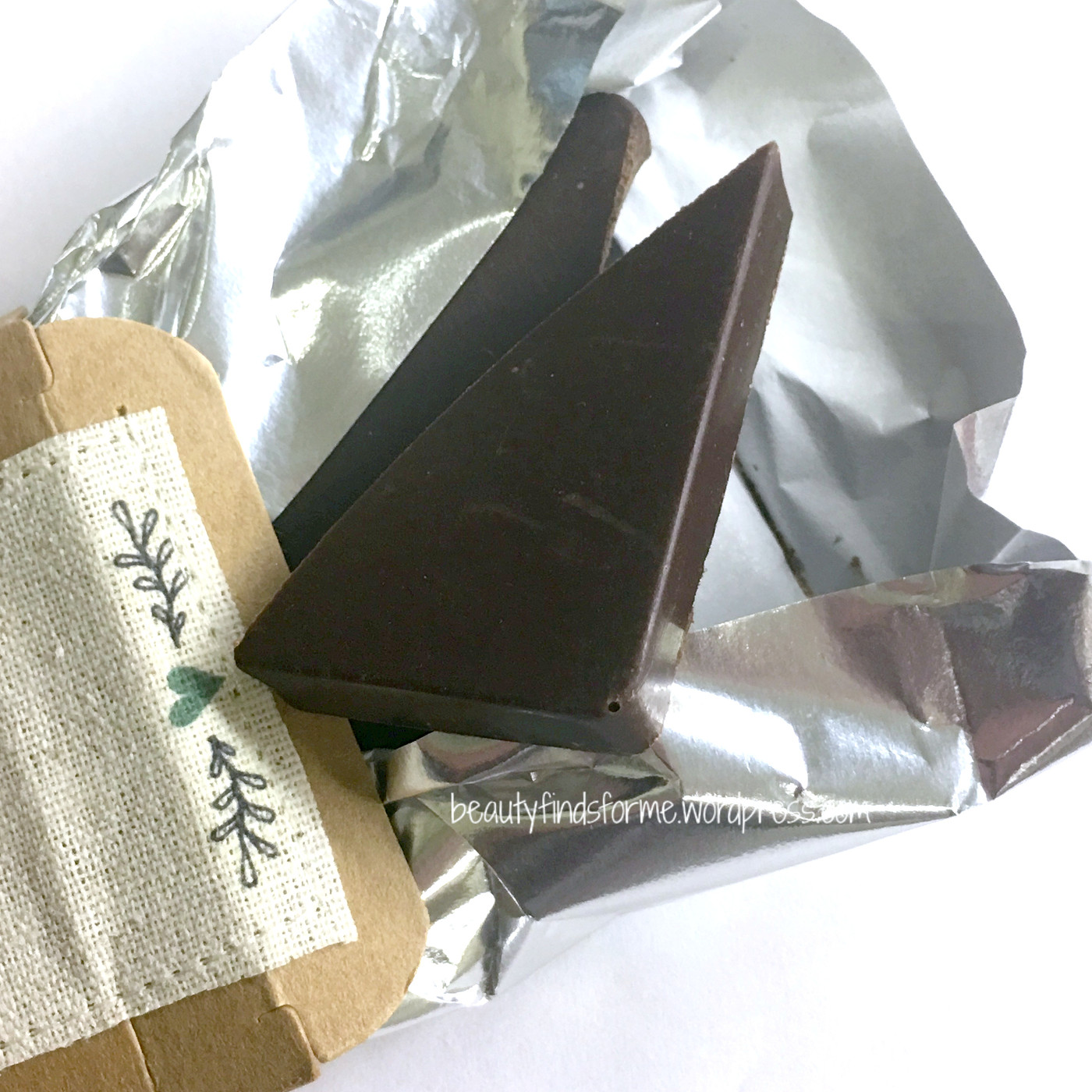 Description: Ayurveda [ayur (life) + veda (knowledge)]: A sister science to Yoga that focuses on inner and outer well being through balancing elements in the body.  Decadent . Energizing . Anti-inflammatory. Sea Salt from a family farm in Greece meets Turmeric from India.  A perfect treat for any time of the day. Curcumin in turmeric stimulates the body's own antioxidant mechanism and also helps delay aging.  Turmeric helps balance – Vata, Pitta and Kapha – all three doshas. 
AYURVEDA INSPIRED – All our chocolates have been inspired by & designed in accordance with Ayurveda, the ancient Indian science of medicine – Turmeric helps balance three doshas while offering excellent anti-aging & anti-inflammatory benefits
DAIRY FREE CHOCOLATE – We offer 100% dairy free chocolate bars that are also free of common emulsifiers, stabilizers, preservatives & synthetic flavors/scents – Pure, raw chocolate bars with no refined sugar/synthetic sweeteners
NON-GMO, ORGANIC & GLUTEN FREE – Along with being raw & healthy, these chocolate bars are wholly organic & gluten free – Made strictly from non-GMO ingredients – No harmful chemicals or additives are used in these organic chocolate bars 

Ingredients: Organic Raw Cacao Butter (Peruvian Criollo), Raw Honey, Organic Raw Cacao Powder, Organic Turmeric Root Powder, Sea Salt.

I feel like a broken record but… Another fantastic month from Yogi Surprise!  The necklace is a nice change from mala's (nothing wrong with mala's, I have a lot of them) and the warm reds and oranges are nice fall colors.  The bracelet is a sleeper hit for me as I honestly didn't think I would like it as much as I do!!  The best thing though, the CHOCOLATE!!  It is smooth, creamy, no bitter taste and just decadent.  This box has a Yogi Surprise retail value of  $64.00  ~ I go by the value of the pieces to me and this month, these items are worth it!   Part of the proceeds from this box will go back to the local artisans that made these items and help educate their community.

Do you subscribe to Yogi Surprise?  Which box do you get and what was your favorite item this month?  Let me know in the comments below, I would love to read them 🙂
If you are interested in signing up to Yogi Surprise for either their Lifestyle or Jewelry box, I would love it if you used my affiliate link    Check out the spoilers for next month's boxes below!    If you sign up for the Lifestyle box, use YOGILOVE to get 15% off the life of your subscription!

Next Month Spoilers



They do mean December, not November!
[ all descriptions in italics from linked website.  this blog post contains referral & affiliate links ]