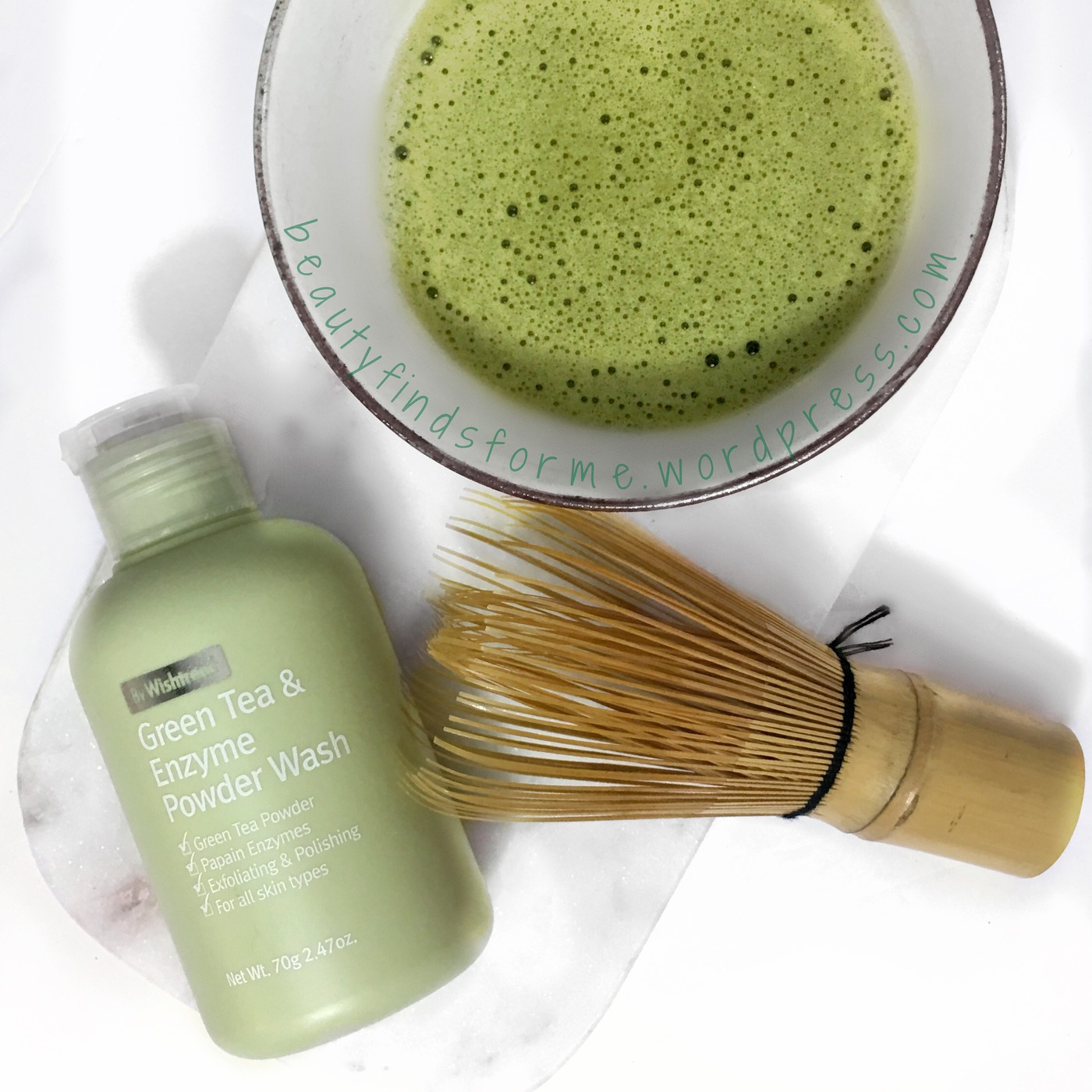 Powder enzyme washes are on trend right now!!  A few years ago, I was turned on by enzyme powder washes with a fantastic product from AmorePacific, but it is quite expensive.  Back then, hardly anyone talked about foaming powder enzymatic facial cleansers, but now.. they are all over the place (and I have reviewed a few).  By Wishtrend has created one made with green tea and I had the opportunity to try this on advanced notice before the general release.

Skin Type/Concerns:  Oily, blemish prone, aging skin with hyper-pigmentation and fine lines/wrinkles.

For those who do not know what an enzyme cleanser is, I have written up a little description on this type of skincare product. Enzymes in skin care have two functions ~ exfoliation and to help reduce swelling, tenderness, redness and pain ~ anti-inflammation.  Enzymes can be very gentle and are a fantastic replacement for facial scrubs and microdermabrasion products, such as  Dr. Brandt Skincare Microdermabrasion Skin Exfoliant and Derma E Microdermabrasion Scrub ~ those products can be too harsh for your skin and could exacerbate the skin issues you thought the product was going to handle!   Enzymes break down the upper layer of skin which contains dead skin cells that contains keratin and whisking them away ~ literally decomposing the skin cells. By breaking down keratin, your skin is smoother and silkier.  Some of the best fruit enzymes are papaya (papain), blueberry and pineapple.   I do not use enzyme cleansers as a second cleansing/foaming cleanser step.  I use them after a foaming cleanser step ~ I guess you can say that I triple cleanse!!

The first ingredient in here is baking soda (sodium bicarbonate) which can be a controversial ingredient in cleansers ~ personally, I think my skin must be tough and not terribly sensitive to the stuff I put on it, so I just raised an eyebrow at this ingredient, as I do know how certain quarters of the skincare community feel about baking soda.  Baking soda is an alkaline ingredient, clocking in at a 9 pH level, but this formula also has citric acid in it, which is acidic and a pH adjuster.  Baking soda is an antiseptic, so it will kill bacteria. 
Plant derived sodium lauroyl glutamate is a gentle surfactant made from amino acid and fatty acids, and leaves skin soft and smooth.  Sodium cocoyl isethionate is a fatty acid, coconut derived surfactant, which solubilizes oils, allowing water to mix with oil and dirt, so the grime is rinsed away completely.   [source ] 
image credit wishtrend instagram
Two percent green tea leaf powder allows for some physical exfoliation along with the baking soda,  while providing soothing care against irritation and swelling due to its rich source of antioxidants, polyphenols and tannins.  This cleanser also contains some contains anti-oxidant amino acids that have water binding properties and act as moisturizers in this formula ~ lysine HCL, proline, acetyl methionine and theanine ~ theanine is an amino acid from green tea.
Papaya contains an enzyme called papain which has anti-inflammatory and anti-bacterial benefits. It will chemically exfoliate your skin without irritation by gently loosening dead skin cells and removing them from your skin, making your skin smooth, vibrant and healthy. Papain solves a variety of skin issues, such as acne, dry skin and premature aging while providing pore and sebum care.  Sodium ascorbyl phosphate is a stable, water soluble derivative of vitamin C, which helps brighten your skin tone. Humectants sorbitol and sodium hyaluronate ensure that the skin is hydrated.
Ingredients: Sodium Bicarbonate, Sodium Lauroyl Glutamate, Sodium Cocoyl Isethionate, Zea Mays (Corn) Starch, Camellia Sinensis Leaf Powder(2%), Lysine HCL, Proline, Sodium Ascorbyl Phosphate, Acetyl Methionine, Theanine, Carica Papaya (Papaya) Fruit Extract, Sorbitol, Papain, Betaine, Cellulose Gum, Citric Acid, Sodium Hyaluronate  cosDNA analysis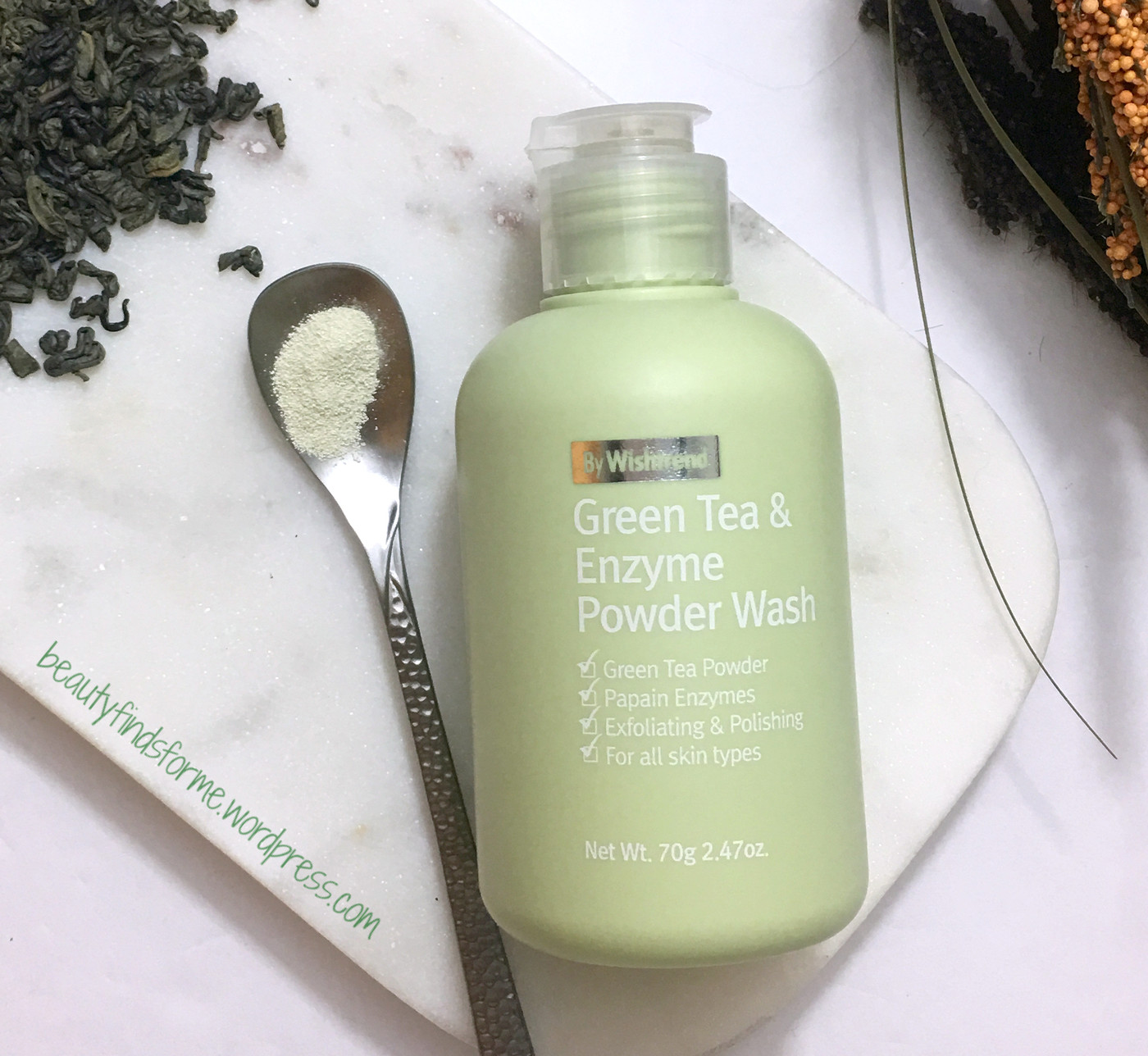 This cleanser comes in a squat 70 gram (2.47 oz) matcha-green colored plastic bottle with a handy flip top cap.  The pale matcha-green colored grains are finely milled ~ not as fine as AmorePacific Enzyme Treatment Peel but much finer than Tosowoong Enzyme Powder.   And yes, this cleanser smells like matcha! This is the nicest scented enzyme powder cleanser I have ever used and sometimes I feel like I should just make a cup of matcha instead of putting it on my face!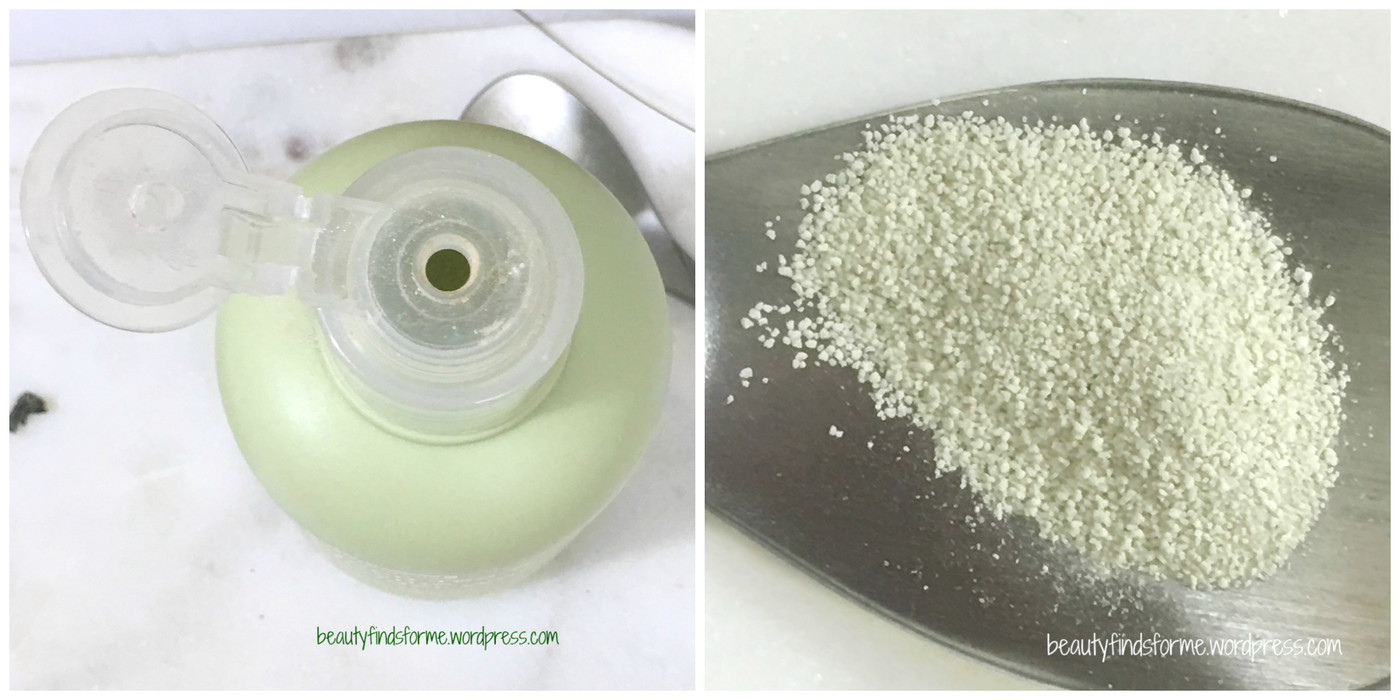 This foams up decently for an enzyme powder wash as well ~ normally, these types of cleansers do not have a lot of foaming action ~ except for Tosowoong ~  but you don't need that much foam for an exfoliating enzymatic cleanser.  I did do two different foam tests ~ one with just using my hands to create the light foam and the other using my Foreo Luna Mini to create the foam.  As you can tell, my Foreo does create a nicer foam and if I had used more powder, I would have gotten even more foam.   One thing I appreciate is that it doesn't clump up while I am trying to create a foam, like Innisfree Green Barley Powder Wash  ~ hey, I told you I tried a lot of enzyme powder washes!!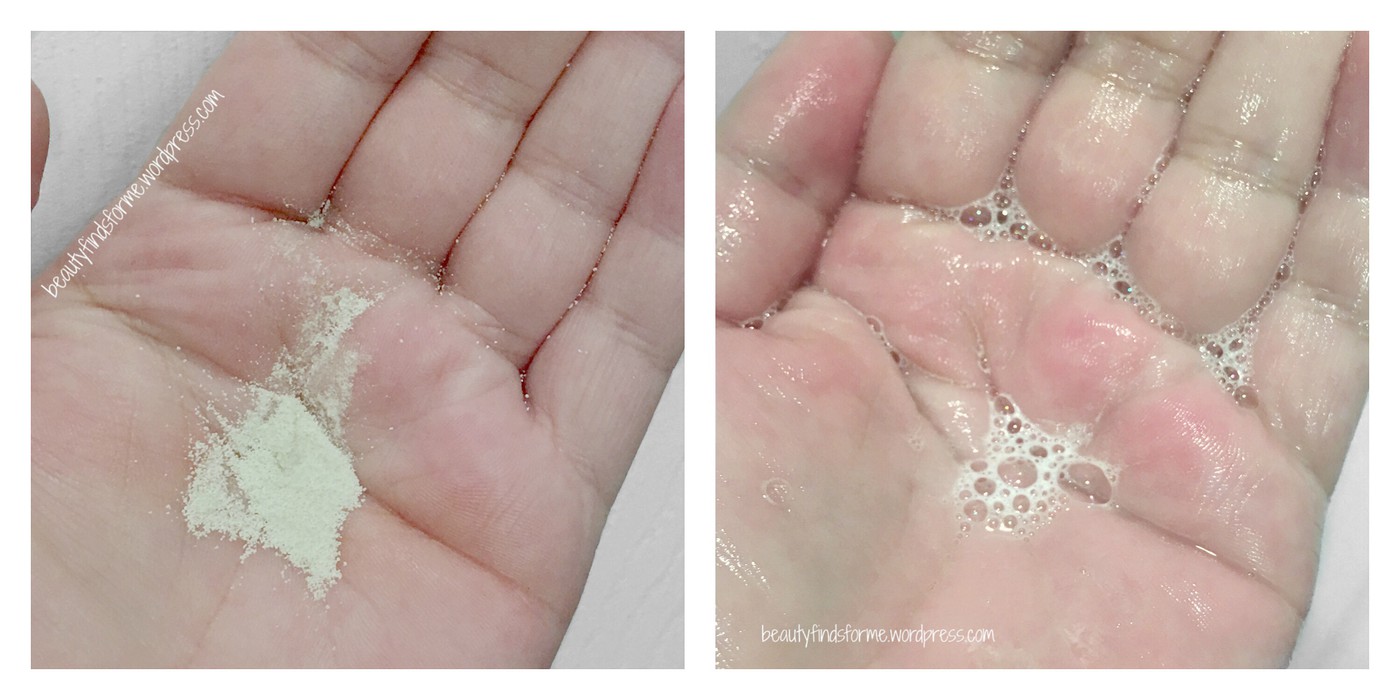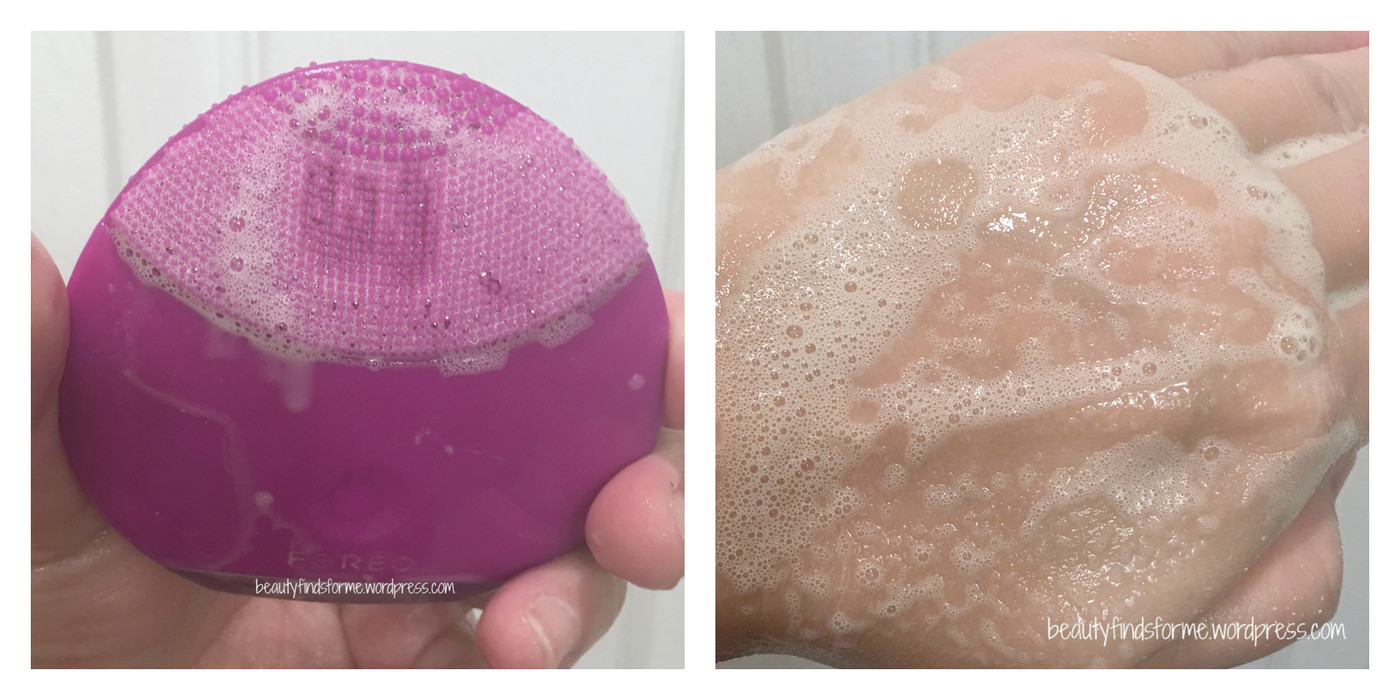 This cleanser does not cause any stinging or irritation on my skin and when I rinse it off,  my skin does not feel dry or stripped.  In fact, it feels like I just put on a thin layer of emulsion on my skin, as it not only feels smooth, but moisturized ~ I can feel a protective barrier of lipids on my skin, but it is not oily or greasy.  It sounds gross and like my face isn't clean, but that isn't the case.  My skin is quite clean and this light moisturized feeling is actually quite nice ~ I think this not just the cleanser, but also the natural oils in my skin!   I did do a pH test on this cleanser and found that this cleanser really does take in account the pH level of the water you use ~ at home,  I got a level of pH 8.  I personally do not find that to be that high or even bad, as the results on my skin are positive.  I will go into more about the testing at the end of this review, as this was a sticking point for me while I was testing out this product.

Wishtrend Precaution: Do not use along with another skin care products that have exfoliating effects (retinol, high concentration vitamin C, AHA/BHA, etc.) I personally have used this with other acids with no side effects, but you have to know your skin before using other exfoliating products. And ALWAYS wear sunscreen

Final Thoughts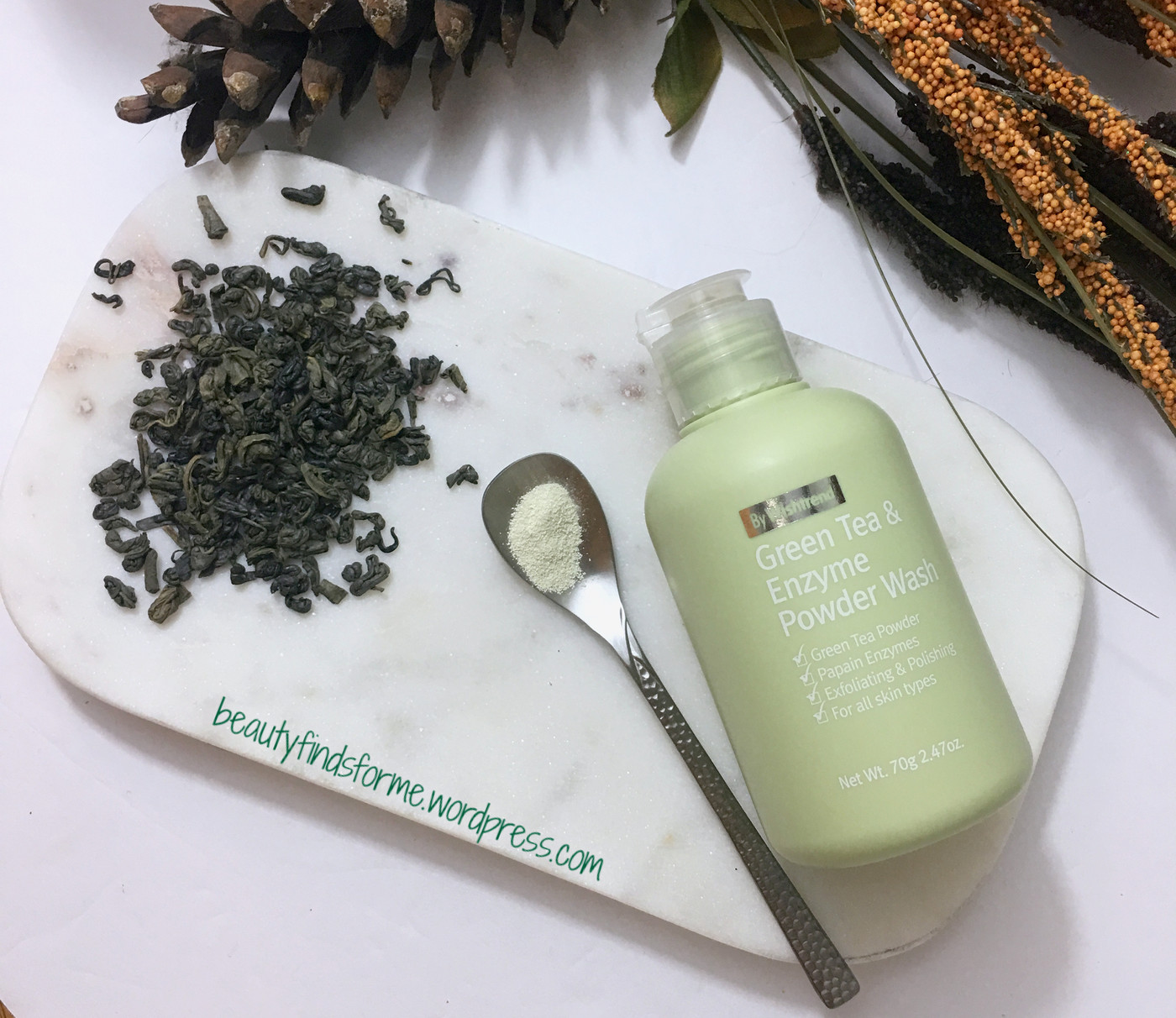 You know, I really enjoyed this cleanser ~  It is a good solid enzyme cleanser with a lovely and unique scent for a skincare product ~ matcha!  The grains are small and not rough, really nice ingredients and it foams up nicely, with good exfoliation.  I love that my skin feels clean, yet moisturized after using this and it is a skin smoother ~ although not as smooth as Naruko's defunct Raw Job's Tears Supercritical CO2 Pore Minimizing & Brightening Wash Powder ~ yeah, I won't miss trying to spell out the full name!  Wishtrend recommends that if you have sensitive skin, to only use this 2 to 3 times weekly, but as I do not have sensitive skin, I have been using it daily during the last 2 weeks.   Have you tried this cleanser yet?  Are you interested in trying it? 
Where to Purchase
You can purchase By Wishtrend Green Tea & Enzyme Powder Wash (click here) at Wishtrend for $17.60, which is a 20% automatic discount from the regular price of $22.00 USD.  This price is good for 6 days ~  from November 10th to 16th, 2017 and then it will be listed at 10th-16th November 2017
Also during this event, there will be two kits featuring By Wishtrend Green Tea & Enzyme Powder Wash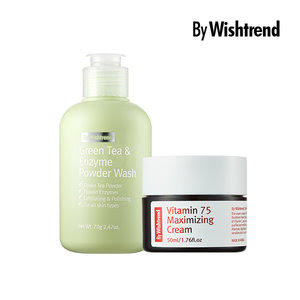 By Wishtrend Green Tea & Enzyme Powder Wash + By Wishtrend Vitamin 75 Maximizing Cream  Sale Price $37.49 Save 25%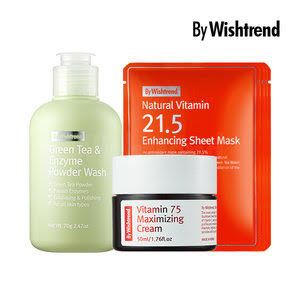 By Wishtrend Green Tea & Enzyme Powder Wash + By Wishtrend Vitamin 75 Maximizing Cream + By Wishtrend Natural Vitamin 21.5 Enhancing Sheet Mask (10 sheets)  Sale Price $55.29 Save 30%
Check out my monthly Wishtrend specials for more deals and coupons ~ click here.  If this is your first time shopping with Wishtrend, you can save $5.00 off your purchase by using my friends referral number ~ 092847308  ~ and you will receive the coupon. Register first and enter the my code in the form labeled "friends invitation program" and wait for the coupon before you place your order.  Also, remember to save your welcome and any order emails from Wishtrend.  They usually have discount and free shipping codes just for your use in them, so you can save even more money on your next order!
You automatically receive Free Shipping with purchases $69.00 USD and over
Don't forget to check out Wishtrend's Free Shipping Product Selection

Wishtrend ships globally
pH Testing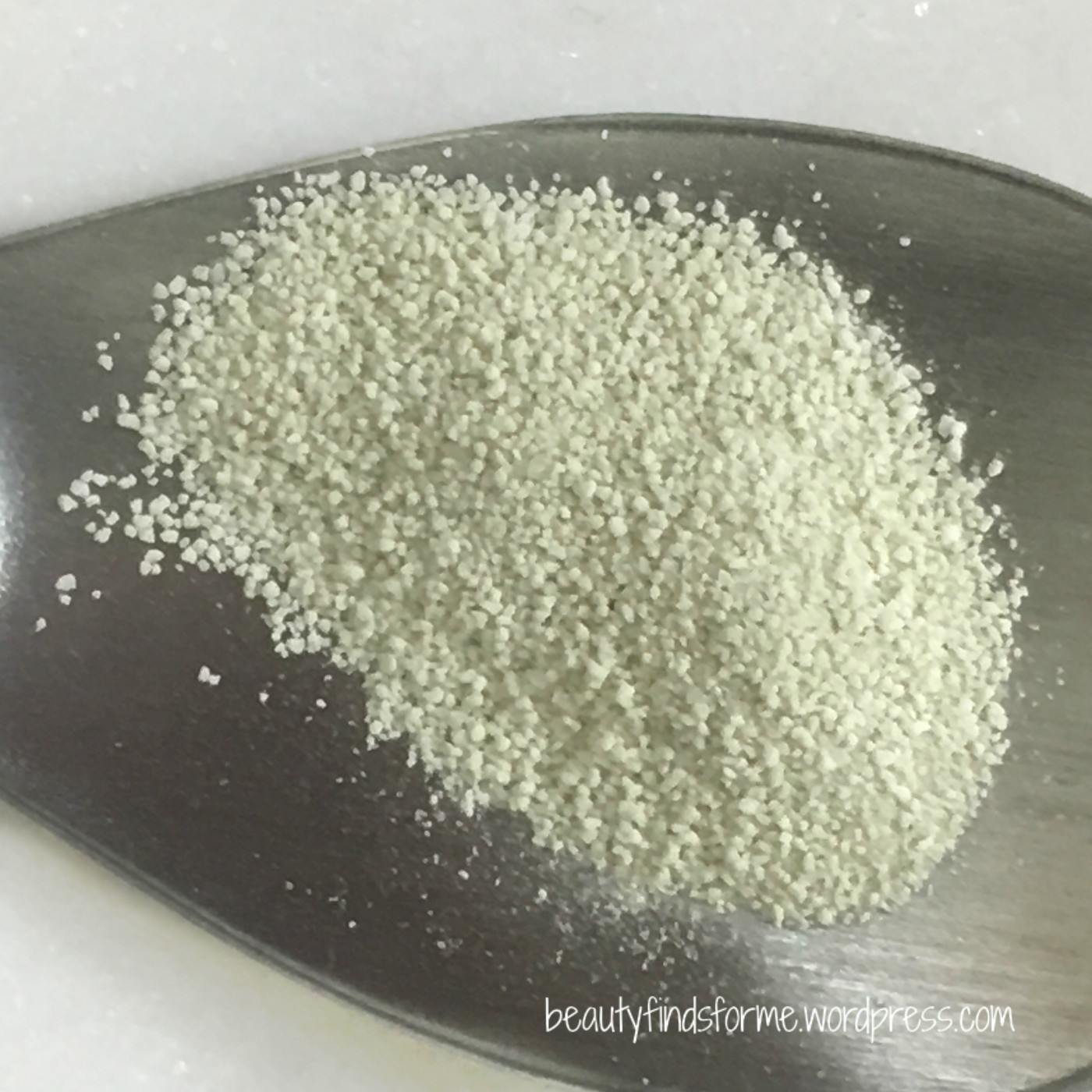 Note:  I do not have issues with a pH cleanser that is higher ~ everyone's skin is different and reacts differently.  I have had bad cleansers with low pH levels and fantastic cleansers with higher pH levels.  If a cleanser has a pH level of 7 or 8, that alone doesn't disqualify it for me ~ it is how it makes my skin feel afterwards that is important.  I only pH test because I know that some of my readers are of need of a lower pH cleanser and I provide that information so they can better informed.  I am not an expert and of course, I realize how I test and my testing results may not be the same as a big brand.  This section is going to be long-winded but I did want to explain how I got to my results.

When I first received this, I did a quick pH test with my strips and didn't think much of it ~ after all, I have done pH testing for a while now and have matched or come close to a brand's claims.  I saw that other bloggers were testing between a 7 to 7.5, and that is when I wanted to conduct some more tests, as I thought maybe something went wrong with my initial test. I decided to tested with my digital meter ~ I also sent a sample to my fellow blogger friend and someone who I think is very rigorous on pH testing, Vanessa at IG  @goalstogetglowing (blog),  to get her results.  The following are the results with the testing specs
I used a digital meter that I made sure was calibrated.  I use Apera Instruments PHB-3 Waterproof pH Pocket Tester, ±0.1 pH Accuracy, 0-14.0 pH Range (see here for information)  and  I calibrated it each time during the test with the pH 7 buffering solution.  Between each test, my meter bulb was rinsed off with distilled water, per the meter's instructions.  I mixed 1/4 teaspoon of cleanser with same amount of water, as I would use equal parts when washing my face.  In the USA, our tap water is alkaline, so it is rare to find tap water with the same level as purified water and we don't wash our face with purified water as rule.  I did do a test with spring water, but not distilled, as distilled water is acidic and does not provide a good test result. 
Strip Test
Tap Water (9 pH) I retested the water and it is a 9, not a 8 ~ Cleanser Result is between an 7 and 8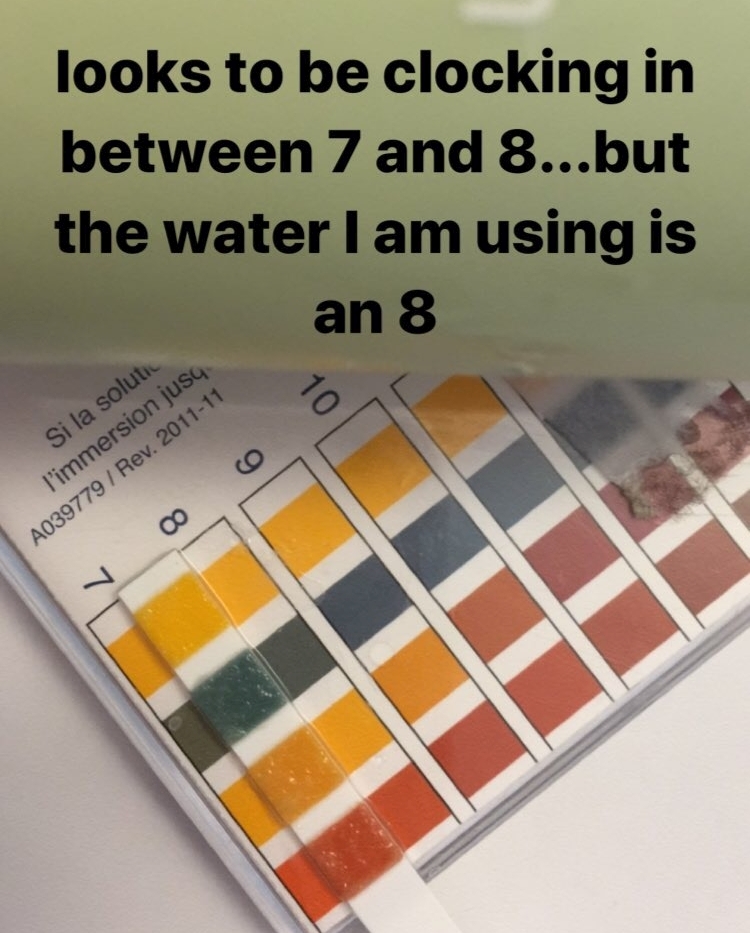 Digital Tests
Spring Water (7.5 pH)  Cleanser Result = 7.6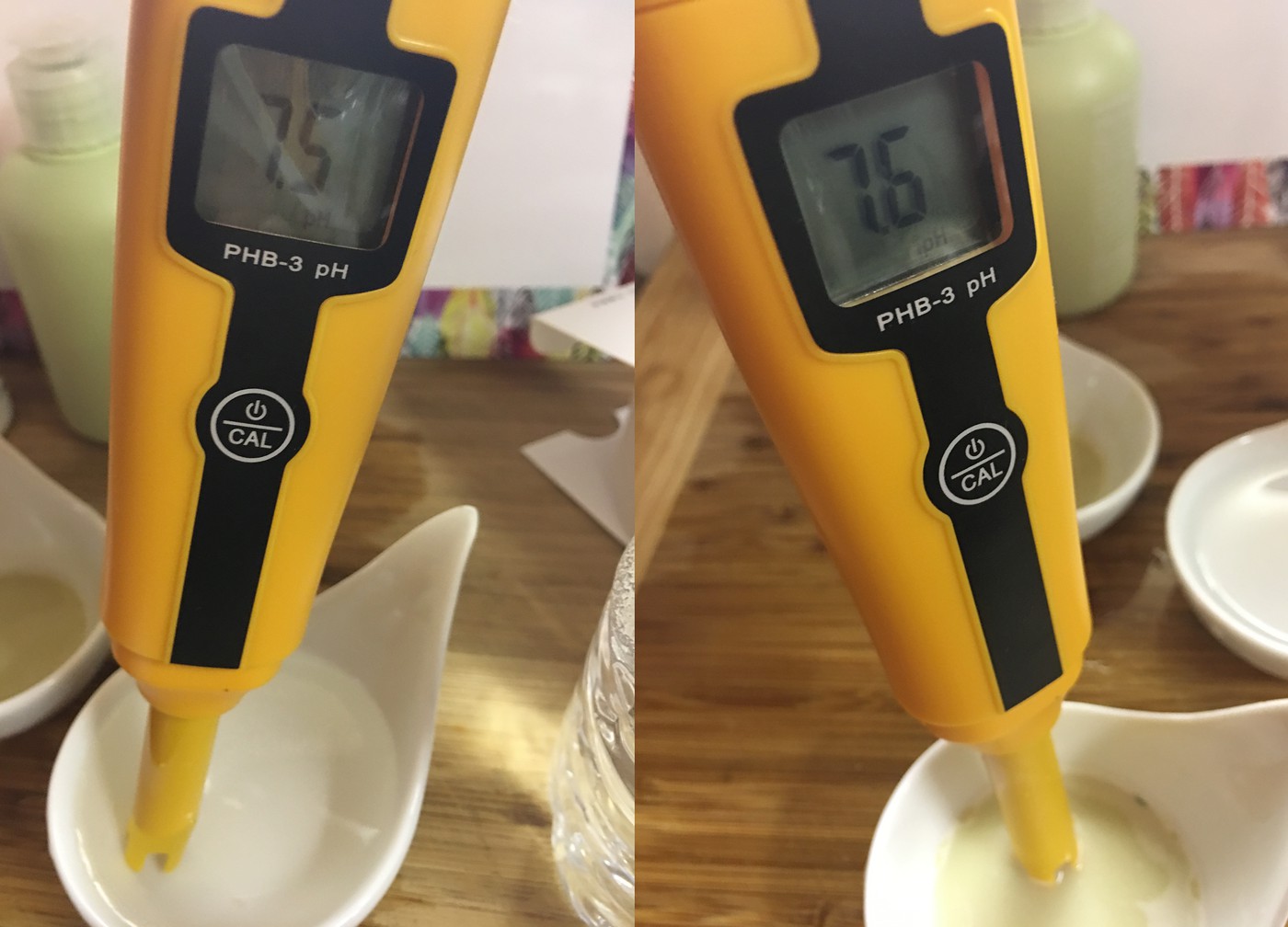 Tap Water (9.6 pH) Cleanser Result = 8.0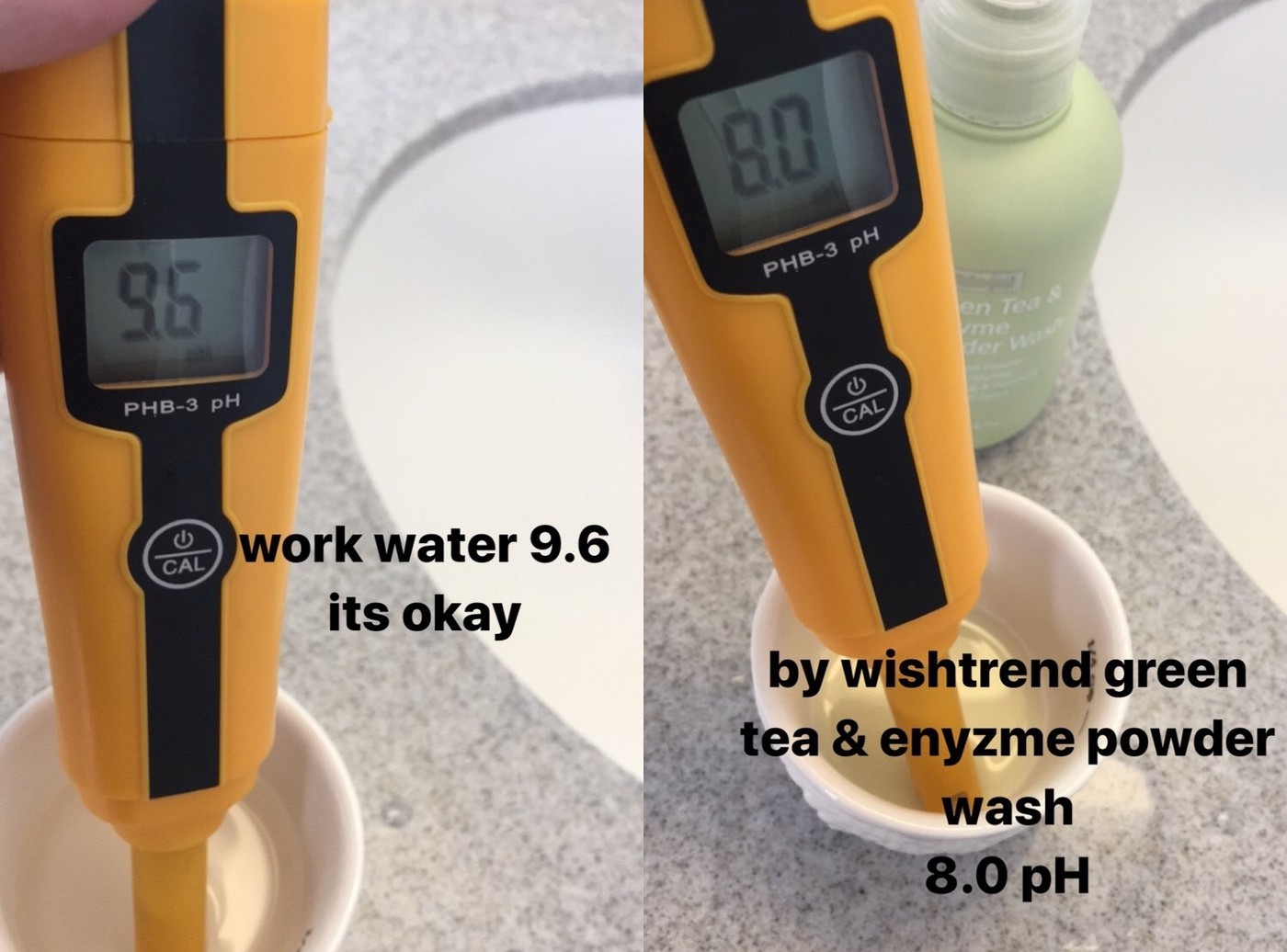 Vanessa's Test with Tap Water (8.4 pH)  Cleanser Result = 7.5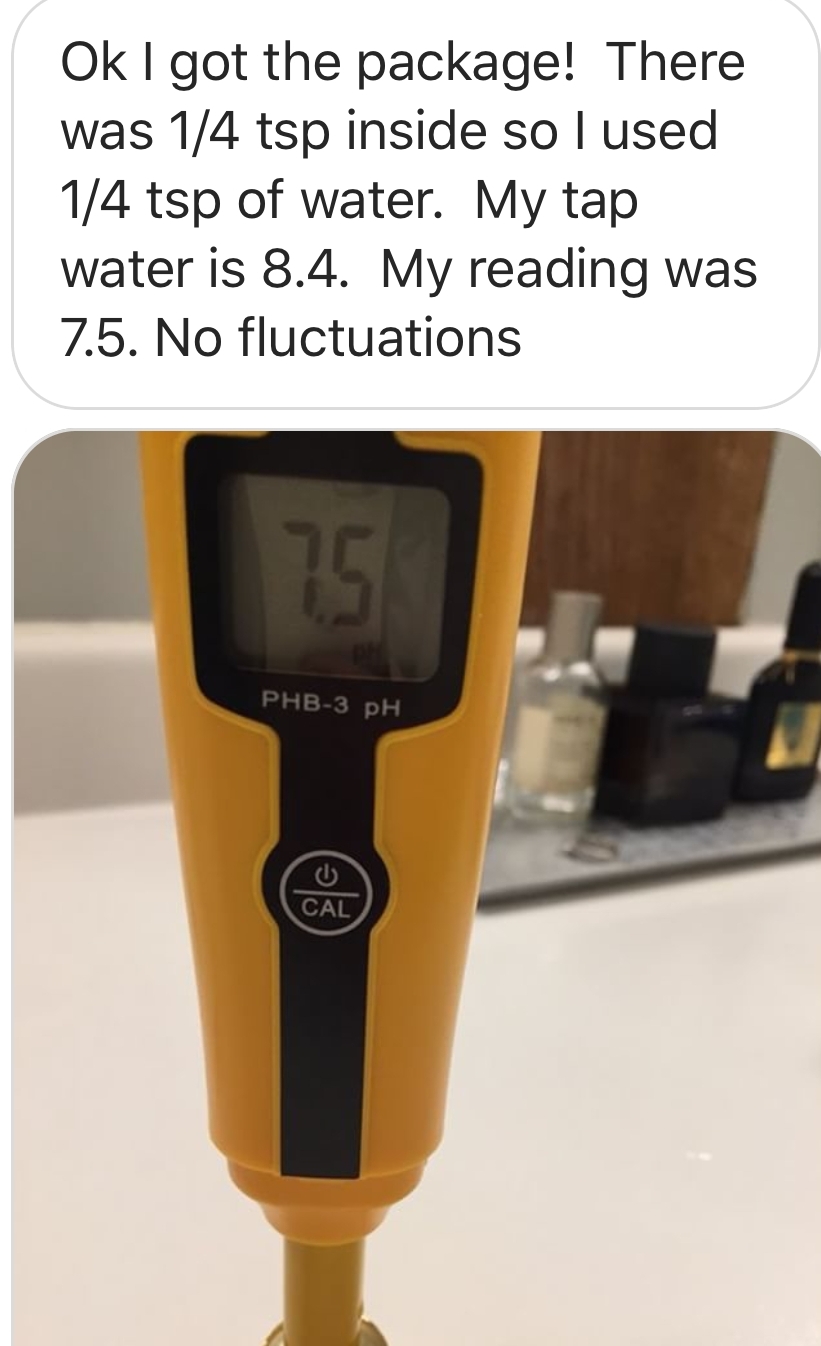 I did some control tests with other cleansers that I knew the brand pH levels and my results were similar to theirs, so I feel comfortable that my testing is valid.  I am of the theory that this cleanser's pH level will be determined by the pH level of the water you use.   As with everything in life, YMMV (your mileage may vary)

[ product received in exchange for a review. contains affiliate links for a small commission ]
[ descriptions in italics from wishtrend ]