This giveaway is closed!  Congratulations to the winners!

First Prize, which was all of the main goodies + the Laneige Lavender Sleeping Mask Pack is: @gunshotwounds

Second Prize Winner, which is the Innisfree Broccoli Clearing Lotion & Innisfree Green Tea Sleeping Pack is: @anitapratapsingh

I will have more giveaways in the future!
It's time for my October Reader's Choice UnboxingBeauty GiveAway!   Thank you to my readers who support my blog and use my links to provide me with a small commission as this is how I can continue to do these giveaways!  Good luck

Back in July, I had won a store credit to Althea and decided to use that credit to pay it forward to my loyal readers.  I asked what products you might like to see in a Giveaway at my Instagram account and based on your feedback, I purchased several items from Althea and then added some additional items from my own personal stash.   I am doing something a little different with this giveaway ~ I will have a first place and a second place winner, and the second place winner prize will be dependent on the first place winner's choices!  This  giveaway is open to both USA and  International Readers (basically anywhere the USPS can ship to)  This Giveaway runs until the end of the day (EST) October 28th, 2017 and some of the activities can be done daily.  The more options you do, the more entries you get!
If you regram on IG (see IG photo here) and tag @colebiancardi and #OctoberReadersChoiceUnboxingBeauty, you will get double the points with an Instagram repost!  Share the K-Beauty Love!
You get extra points for regramming on Instagram ~ BUT you need to post the link in the entry form here ~ this is something you can do daily!  Since Instagram Shadowbans, it is getting harder to find the hashtags and regrams, as you can be hidden from me.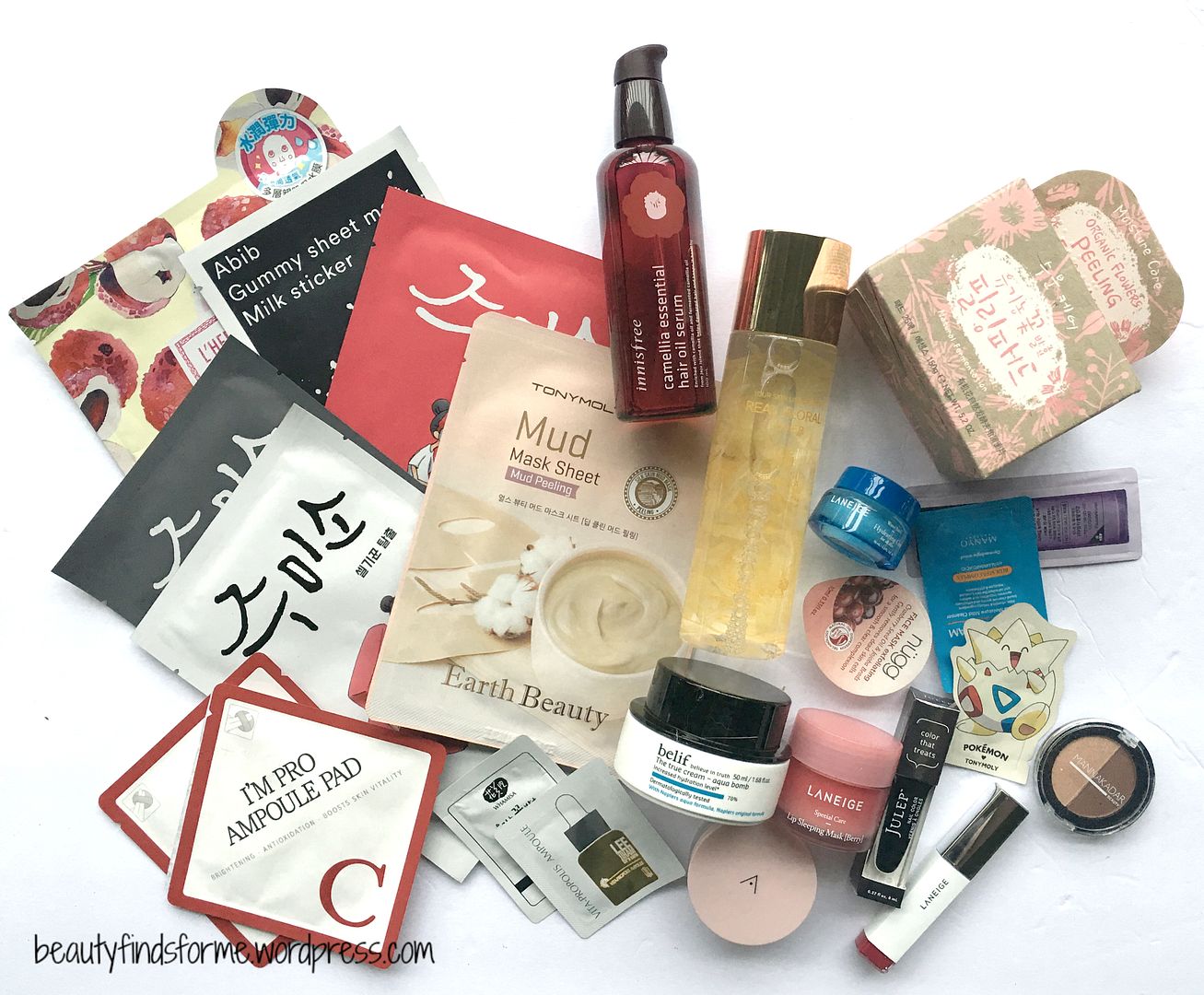 First Prize Winner will receive
Laneige Two Tone Lip Bar in No. 2 Red Blossom

A trio of Hello Skin Jumiso Masks: First Skin Lightening (white), Chewy Elasticity Mask (red), Water Splash Mask (black)


Abib Gummy Sheet Mask Milk Sticker

L'Herboflore Lychee Translucent Hydromask

Julep Nail Polish in Skylla

Wish Formula I'm Pro Ampoule Pad

TonyMoly Mud Mask Sheet

Innisfree Camellia Essential Hair Oil Serum

Whamisa Organic Flowers (moisture) Peeling Finger Mitts

Laneige Special Care Lip Sleeping Mask in Berry

belif Aqua Bomb

nügg Exfoliating Face Mask – Cranberry Seed Oil & Jojoba Beads

Althea Petal Velvet Powder

Natural Pacific Real Floral Toner Calendula

Manna Kadar Radiance Split Pan Bronzer and Highlighter Duo
The First Prize winner will then pick from either
Laneige Special Care Lavender Water Sleeping Mask
OR
Innisfree Broccoli Clearing Lotion and Innisfree Green Tea Sleeping Pack (exp 08.17.2018)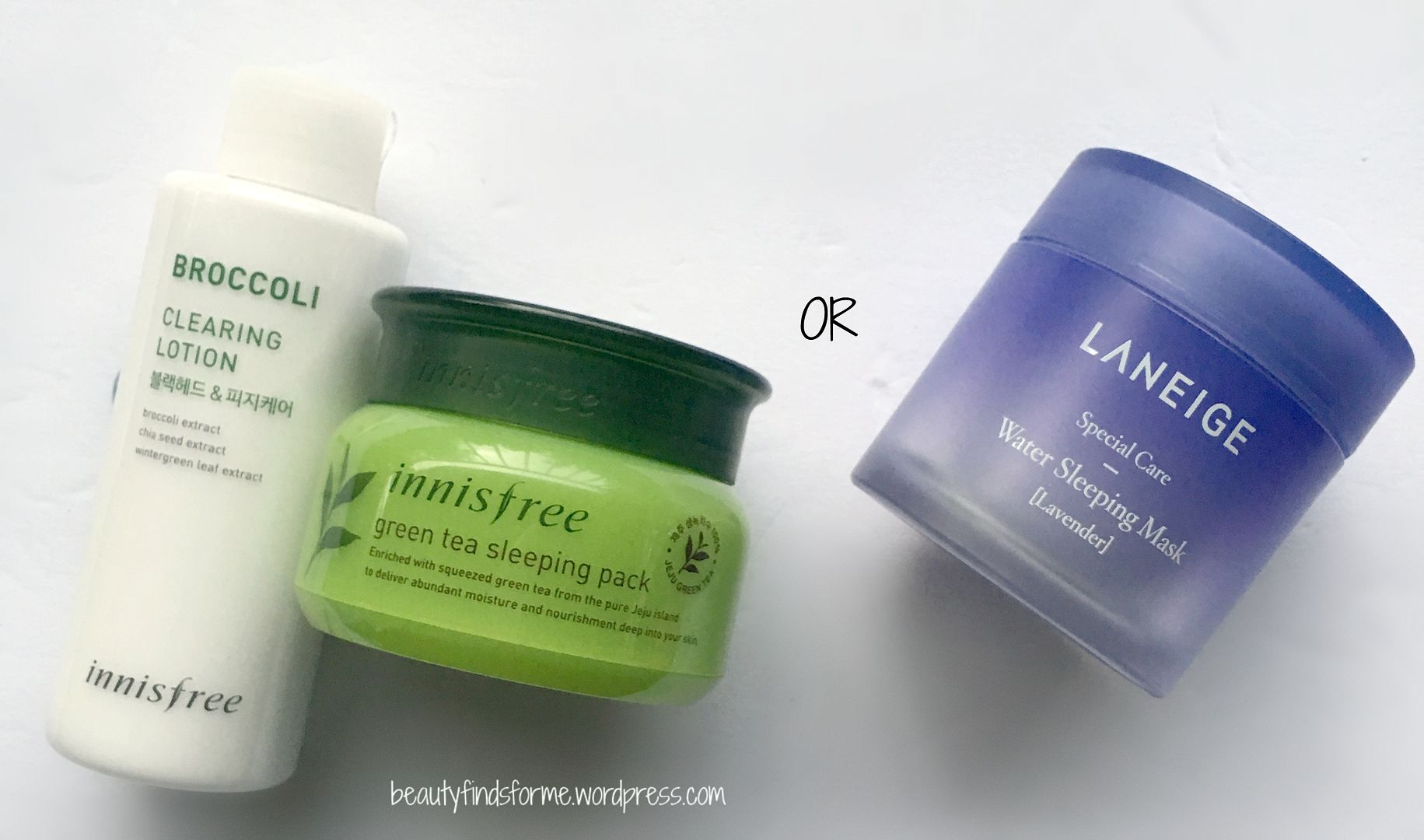 Second Prize winner will receive either the Laneige Special Care Lavender Water Sleeping Mask OR Innisfree Broccoli Clearing Lotion and Innisfree Green Tea Sleeping Pack (exp 08.17.2018).  The actual prize will be determined by what the First Prize Winner didn't chose.  I hope this makes sense!!
I will also add in more masks and samples to both prize packages!
What you need to do to enter
Use the Entry Link below to enter via Rafflecoper.  This will open a new page with the entry form.  This is legit as my copy of wordpress does not allow me to embed the entry form directly into my blog.

All entries will be verified and anyone who has multiple accounts will be disqualified.

Qualified entry will then be randomly drawn.

I will notify the winners within 24 hours of the contest close. The winners will have 36 hours from then to contact me  with the following information:  their full name and mailing address as it should be addressed for their country


If the winner does not contact me within 36 hours,  another winner will be selected and the original entry is null and void
What you need to know
beautyfindsforme is me 🙂
By entering, you are agreeing to all of the following items:
beautyfindsforme is not responsible for damages due to shipping, lost, stolen packages or any other issues.  Once the parcel is mailed out, it is out of my hands.

Once beautyfindsforme has the winner's information, beautyfindsforme will ship it out and give the winner a tracking number (if applicable)

The winner is responsible for verifying the products and their contents and to determine the suitability of those products for their own needs.  beautyfindsforme is not responsible for the actual products and ingredients.
This is an international giveaway.  beautyfindsforme will pay for shipping and your country must be one that the USPS (United States Postal Service) ships to.  Please check their site to see if they ship to your country.

The winner is responsible for any custom and/or import duties in their country.  beautyfindsforme is not responsible for those fees.


You must be 18 years of age or older (or the age of majority in your own country), or must have the express permission of a parent or legal guardian to enter and receive the prize.

Please ~ would love it if you would post photos of your prize on IG and/or Facebook so people know where you got these great products!  And that I am legit in offering giveways! 
To Enter, Click on this link or the image and follow the instructions!  This contest will end on October 28th,  2017.  Some of the entries you can do daily, so enter more often for a greater chance to win!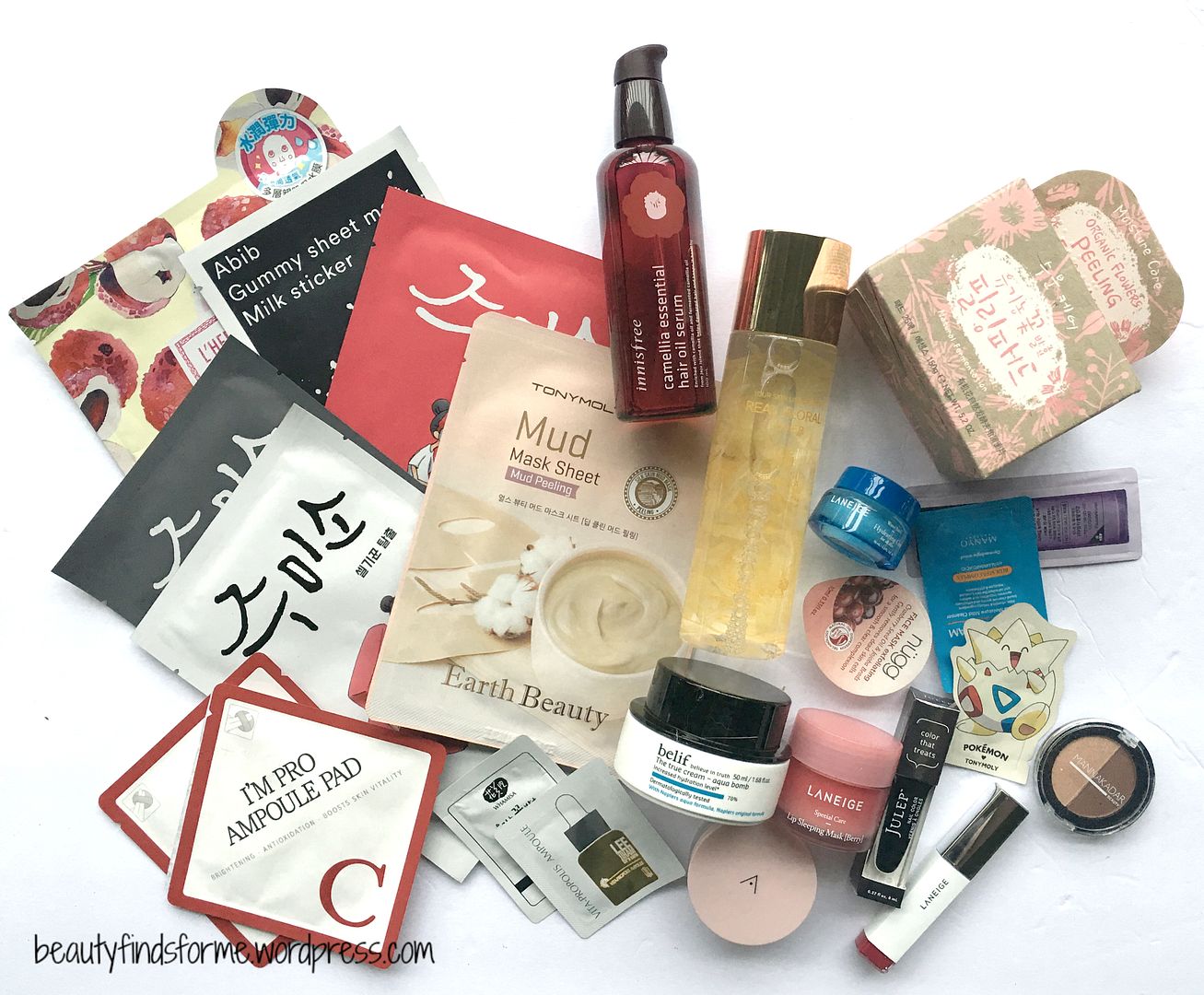 Don't forget to like me and follow me on Facebook and Instagram!  I've moved on FB, so I would REALLY appreciate it if you did so 🙂