08liter turned me onto to 11 Huesday ~ 08liter, for those who do not know, is a company that connects people to brands and you can win free skincare and makeup products ~ normally Korean brands.  You try the product for a few days and then post your review on their site and also on the Social Media Platform of your choice ~ either Facebook or Instagram.  I loved the products I had won from 08Liter and was fortunate enough to get additional 11 Huesday products from the brand!    This blog post will contain 4 skincare products.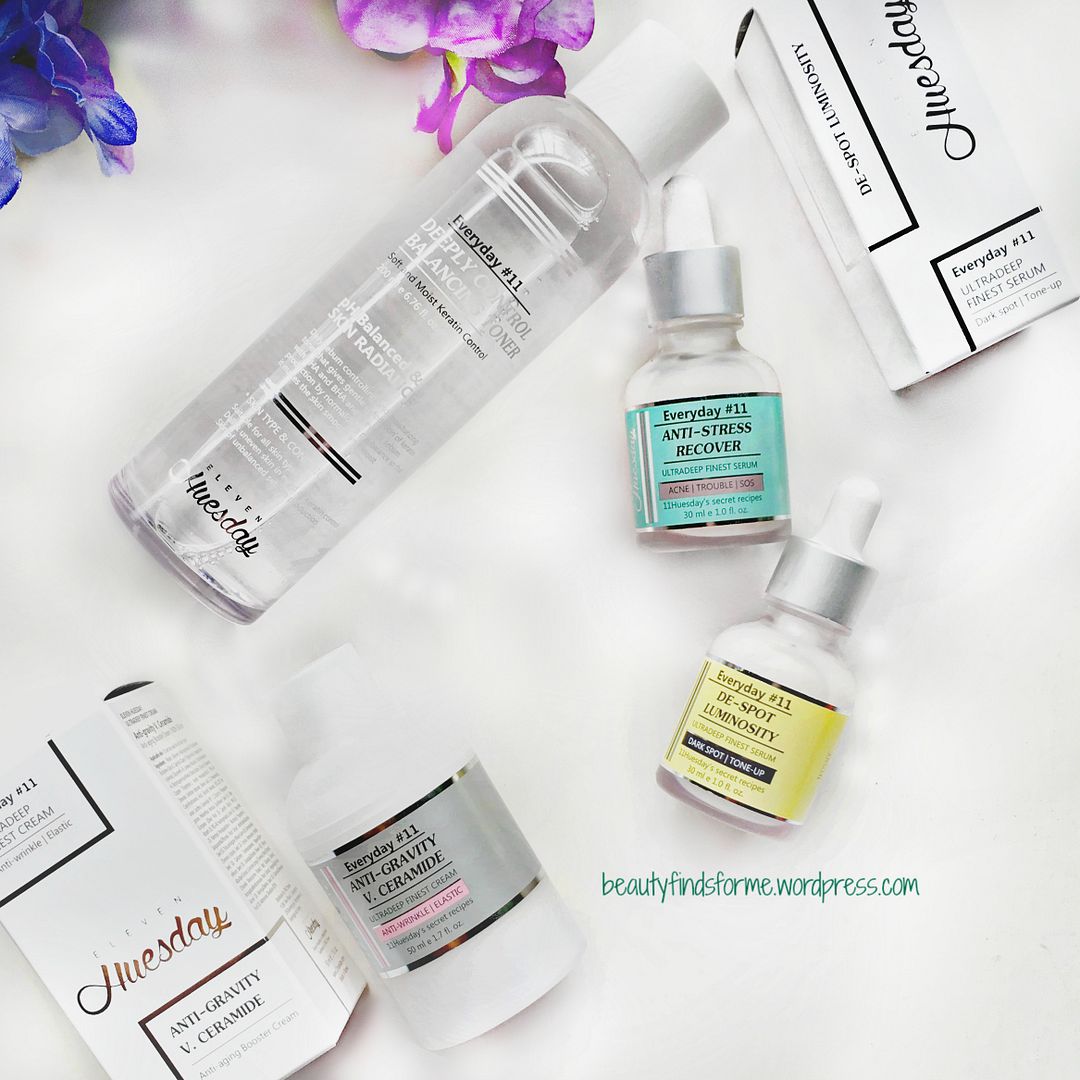 Established back in 2014 as TMC Korea, 11 Huesday creates home care products that are professional quality that will respond to specific skin issues, while sticking to the basics. They have a range of products that will help treat skin that is exposed to harmful external environment pollution and stress. 11 Huesday uses ingredients suitable for your skin ~ from natural herbal medicine  patented ingredients to the latest proven skincare ingredient.
Skin Type/Concerns: Oily, aging, hyper pigmentation, fine lines/wrinkles, pores, blemish prone
Serums:  11 Huesday makes 4 serums and I am reviewing 3 of them here.  All of the serums come in a small 30 mL frosted plastic bottle with an eye dropper applicator.
Antioxidant Aging Barrier Ultradeep Finest Serum (courtesy of 08Liter)  The Anti-Aging serum claims to have
Anti-oxidant effect and enhancement of skin recuperation and repairing
Dual skin barrier for moisturizing and hydration
Activation of collagen for enhancement of elasticity and toning
This is a anti-oxidant serum, made with a multi-peptide formula to help with aging concerns and revitalize your skin: Acetyl Hexapeptide-8, which helps bind water to your skin, helps regenerate skin cells and reduce the appearance of fine lines and wrinkles; Palmitoyl Pentapeptide-3 is a mixture of fatty and amino acids, stimulates collagen and elastic production, helping repair damage to your skin and reducing deep wrinkles and lines. This also will stimulate collagen production, due to rh-Oligopeptide-1 (aka human oligopeptide-1), an EGF (Epidermal Growth Factor).  This will also fight free radicals, reduce and repair wrinkles, smooth the texture of your skin, while hydrating and moisturizing your skin. Nicotinoyl tripeptide-1 is soothing as it has strong anti-oxidant and anti-inflammatory benefits, as well as cell detoxifying properties. It has salmon DNA as well ~ which is, as I learned, salmon milt, or semen (okaaayyyyyyyy). So this is NOT VEGAN (hahaha). This helps with your skin elasticity, strengthens your skin barrier and smooths skin texture, while aiding in the production of hyaluronic acid.
There are some nice 💦hydrating and moisturizing ingredients as well ~ sodium hylaronate, glycerin and chia seeds ~ chia seeds are an ancient seed used by Aztec and Mayan civilizations and is considered a superfood, due to its rich store of nutrients and full of fiber and protein. Chia seeds can hold up to 10 times their weight in water and in skincare, the antioxidant rich seeds are used to help reduce wrinkles and hydrate.  They also contain omega-3 fatty acids, so it will help calm your skin as it is an anti-inflammatory.  This little 30 mL bottle is full of great ingredients, salmon sperm aside.

This serum looks thicker than it is ~ it has a slippery, slimy-watery texture and has a powder-floral scent which thankfully disappears ~ I never understood why skincare companies love using this scent. As this is an anti-aging serum and usually those are really sticky on my oily skin, I was nervous that this might not absorb nicely into my skin, but it did! The trick is to just use 1-2 drops and layer it in ~ and 1-2 drops is more than enough for me. My skin does feel very hydrated and smooth. It balanced my oily skin, increasing both moisture and oil levels by 24%.
My skin texture when I use is this quite smooth and hydrated, but I haven't noticed any permanent reduction in fine lines and wrinkles. It does help keep my skin supple, however.
Ingredients: water, glycerin, dipropylene glycol, propanediol, tripeptide-29, acetyl hexapeptide-8, palmitoyl pentapeptide-4, nicotinoyl tripeptide-1, rh-oligopeptide-1, caprylyl glycol, PPG-26-buteth-26, PEG-40 hydrogenated castor oil, 1,2-hexanediol, caprylhydroxamic acid, butylene glycol, sodium hyaluronate, biosaccharide gum-1, pentylene glycol, sodium phosphate, lecithin, allantoin, betaine, DNA, panax ginseng root extract, atractylodes japonica rhizome extract, dioscorea japonica root extract, ziziphus jujuba fruit extract, camellia sinensis leaf extract, helianthus annuus (sunflower) seed extract, chlorella minutissima extract, salvia hispanica seed extract, betula alba leaf extract, morus alba fruit extract, punica granatum fruit extract, adenosine, cyclodextrin, disodium EDTA, fragrance, phytosphingosine, lactic acid  cosDNA analysis

Amaranth Hydra Seal Serum  (courtesy of 08Liter) This was the first 11 Huesday product I tried and it is still my favorite.
Provide moisture and elasticity to rough and dehydrated skin caused by loss of moisture during day time.
Replenishment of damaged collagen from aging

Improvement of skin elasticity
This hydrating serum is made with 1000ppm amaranth seed oil, known as the "Treasure of Inca" and naturally contains squalane to deeply hydrate and moisturize your skin.  Amaranth seed oil has anti-oxidant properties and will increase cell activity, so it will help regenerate and protect your skin. It also contains hydrolyzed milt extract, which will tone and bring elasticity to your skin. It also claims to balance your skins moisture/oil levels. I was worried about this serum, as it contains a lot of oils in it ~ argan, meadowfoam, watermelon ~ I don't remember if I have had a product with watermelon seed oil in it before ~  sweet almond, avocado, along with amaranth. Lots of oils!
The texture of this is so silky and slippery and the color is beautiful ~ if you could liquefy an opal, this is what it would look like,  as it has that milky opalescence about it. The scent is a bit soapy but not unpleasant and it feels like an oil under my fingers, but once I apply it to my skin, it doesn't act like an oil ~ it absorbs quickly into my skin, with no residue ~ my skin looks quite glossy initially, but after a few minutes, that gets absorbed as well. My skin feels silky smooth, very hydrated and moist.
I've been asked about my device that I use to take my moisture/oil readings. It is the Susee Nano Spray and you can purchase it off eBay or Amazon. You will need an app to take the readings and I just purchased the WaySkin device (Amazon, eBay, Glow Recipe) and will do a comparison between the two ~ I have the feeling that they complement each other. Amaranth Hydra Seal resulted in a 40% increase in moisture and a reduction of 34% in oils, turning my oily skin into normal, moist hydrated skin!
Once again, I was really impressed that 11Huesday not only sent the item, but a nice pamphlet, beautifully designed, with their other products. 
Ingredients: Water, Glycerin, Butylene Glycol, Dipropylene Glycol, PEG-40 Hydrogenated Castor Oil, Glycereth-26, Panthenol, Betaine, Biosaccharide gum-1, Sodium Hyaluronate, Glyceryl Acrylate/Acrylic Acid Copolymer, Propylene Glycol, 1,2-Hexanediol, Caprylhydroxamic Acid, Oryza Sativa (Rice) Bran Extract, Argania Spinosa Kernel Oil, Acrylates/C10-30 Alkyl Acrylate Crosspolymer, Cyclodextrin, Triethanolamine, Limnanthes Alba (Meadowfoam) Seed Oil, Citrullus Vulgaris (Watermelon) Seed Oil, Prunus Amygdalus Dulcis (Sweet Almond) Oil, Persea Gratissima (Avocado) Oil, Amaranthus Hypochondriacus Seed Oil(1,000ppm), Yeast Extract, Chlorella Minutissima Extract, Cucumis Sativus (Cucumber) Fruit Extract, Amaranthus Hypochondriacus Seed Extract(1,000ppm), Punica Granatum Fruit Extract, Dioscorea Japonica Root Extract, Poria Cocos Extract, Hydrolyzed milt extract, Fragrance, Disodium EDTA, Ammonium AcryloylDimethyltaurate/VP Copolymer  cosDNA analysis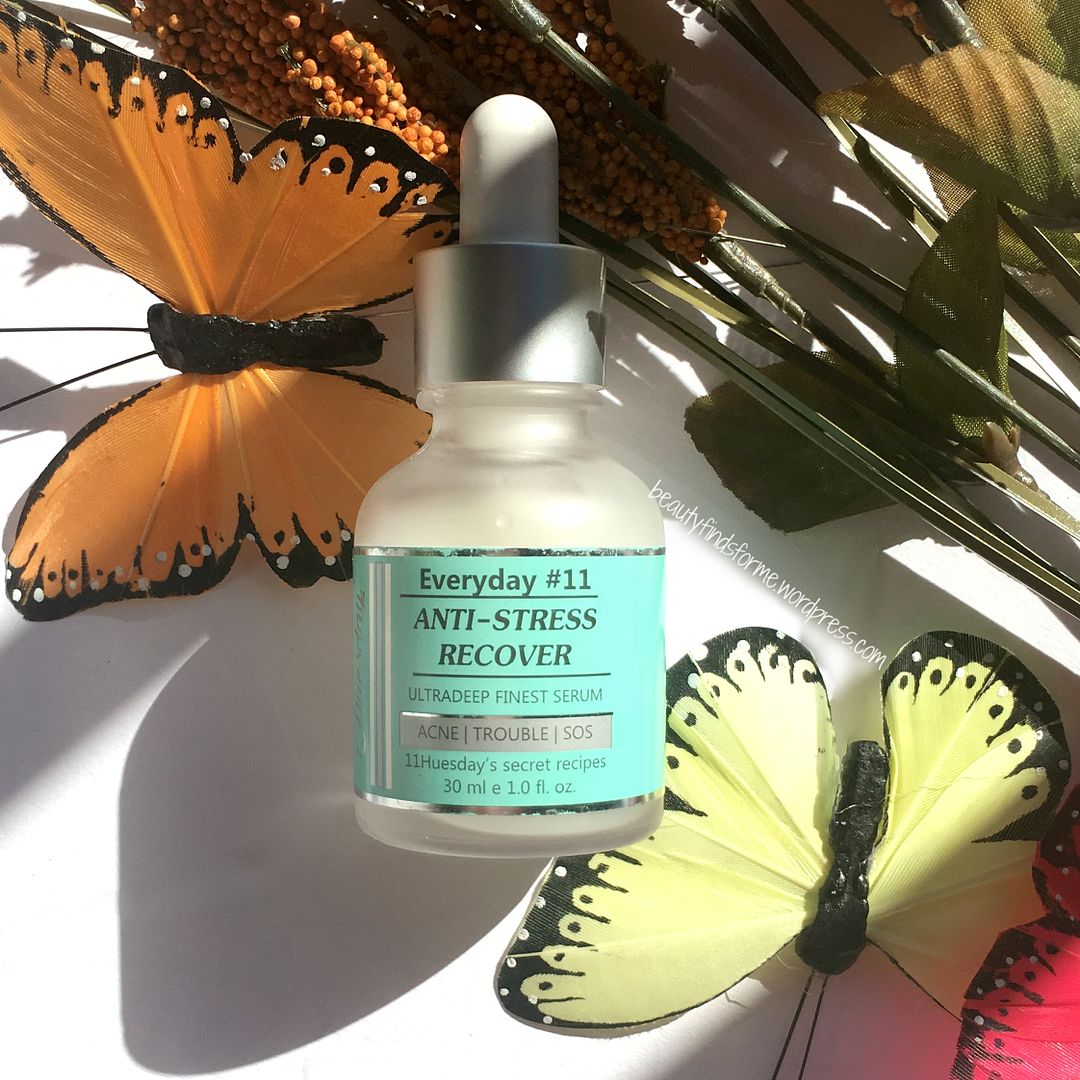 Anti-Stress Recover Serum (courtesy of 11 Huesday)   This is another serum in their lineup and I was really interested in trying this one out as I do get blemishes and reddened skin. Anti-Stress Recover serum is for those who have
Trouble skin which has irregular oil and water balance
Sensitive skin caused by stress or external stimulation
Skin in need of care of sebum production.
This contains several really good ingredients for blemish prone and oily skin.  There is a natural and pure patented compound called NAFLEX 1, which contains herbs that are traditionally used in Oriental medicine: polygonum multiflorum, peony, angelica, honeysuckle, licorice and Chinese cinnamon, which will help soothe and calm irritated skin with its anti-inflammatory properties.
Polygonum multiflorum: Provides energy and elasticity to tired skin. 
Peony root : Soothing effect for trouble skin
Lonicera japonica (honeysuckle): Soothing effect and leaves the skin smooth and soft
Korean angelica root : Provides energy and revitalizes for tired skin
Cinnamomum cassia blume : Anti-inflammation and cutaneous vasodilation
Licorice : Soothing effect 
This also has bee venom, which is one of my favorite ingredients ~ Bee venom is supposed to be nature's "Botox" and this ingredient reacts to the skin by "fooling" it into thinking that you have been stung.   Your body then will redirect blood to the area where the product was applied and it will produce more collagen and elastin, making your skin look firmer and healthier. This has anti-inflammatory benefits too, reducing swelling and redness. According to articles, the bee is not harmed when extracting the venom.  This ingredient will not sting your face ~ if you have ever used Benton's Snail Bee products, they contain bee venom and I am a huge fan of their essence.   Neem oil is not only a calming, soothing ingredient due to its anti-inflammatory benefits as it contains vitamin E and essential amino acids, but  it also helps with acne and blackheads as it is a antimicrobial too.  
There is also garlic in here, which may sound weird, but garlic helps soften your skin, remove excess sebum and dirt to unclog your pores.  It contains high amounts of sulfur, zinc and calcium, which have antibiotic and anti fungal benefits. Don't worry about the scent, though!  This serum has no odor that I can detect and it has no artificial fragrance either.  I wish 11 Huesday would make all of their products scent-free. 

This serum, even with all of its moisturizing and nourishing oils of hazel, argan, jojoba and rice bran, is not greasy or heavy.  It is a lightweight serum that is yellowish and milky in appearance and it hydrates my skin nicely.  It absorbs quickly too as it is really more watery than it looks, leaving a calm, refreshed feeling behind on my skin.  It balances my naturally oily skin by increasing the moisture by 35% and decreasing oil levels by 37%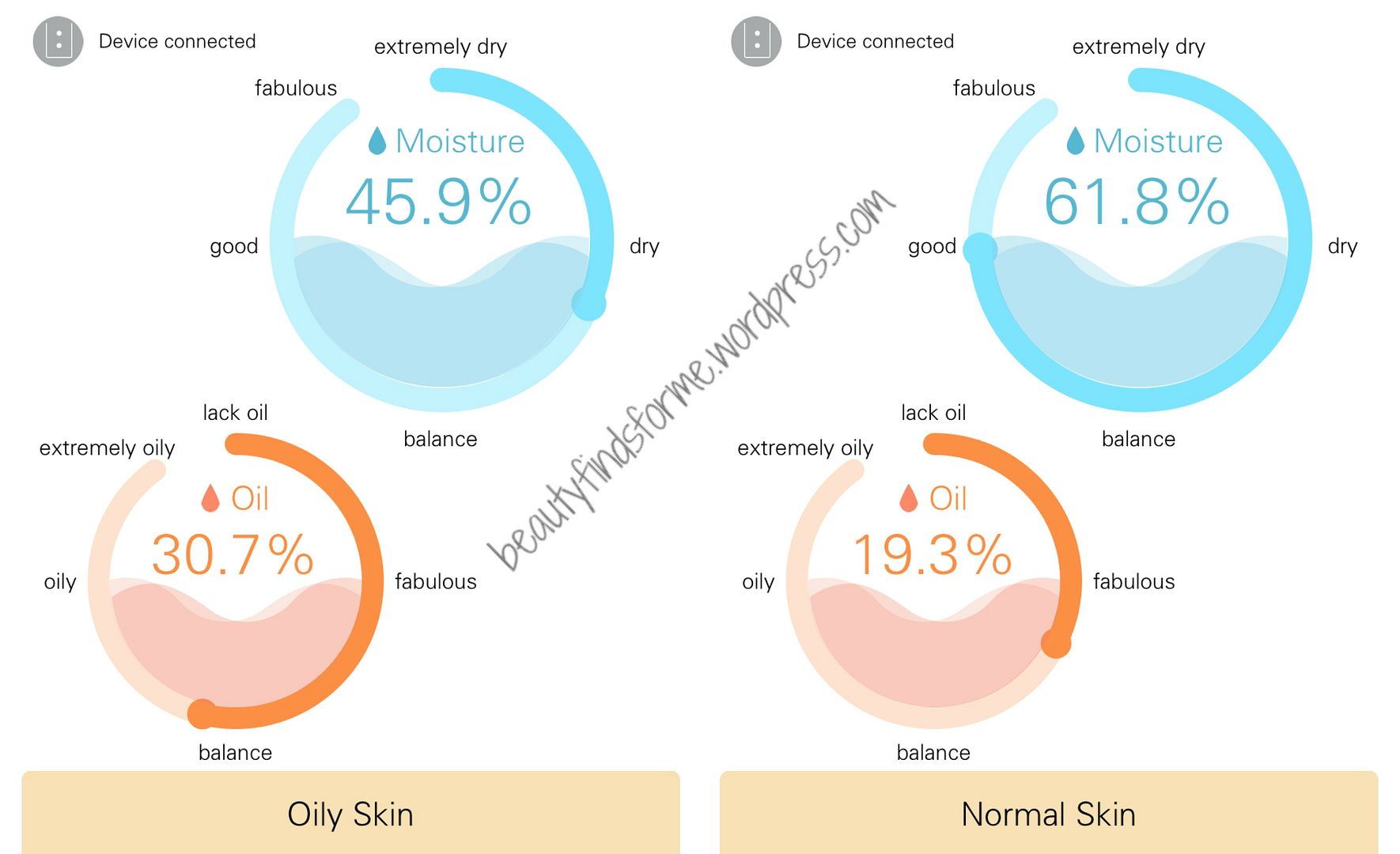 Ingredients: Water, Glycerin, Dipropylene Glycol, Glycereth-26, Propanediol, Butylene Glycol, 1,2-Hexanediol, Caprylhydroxamic Acid, Sodium Hyaluronate, Polysorbate 60, Panthenol, Glyceryl Acrylate/Acrylic Acid Copolymer, Propylene Glycol, Corylus Americana (Hazel) Seed Oil, Argania Spinosa Kernel Oil, Simmondsia Chinensis (Jojoba) Seed Oil, Acrylates/C10-30 Alkyl Acrylate Crosspolymer, Oryza Sativa (Rice) Bran Oil, Polygonum Multiflorum Root Extract, Paeonia Albiflora Root Extract, Lonicera Japonica (Honeysuckle) Flower Extract, Angelica Gigas Root Extract, Cinnamomum Cassia Blume Branch Extract, Glycyrrhiza Glabra (Licorice) Root Extract, Camellia Oleifera Seed Oil, Melia Azadirachta Seed Oil, Phaseolus Radiatus Seed Extract, Camellia Sinensis Leaf Extract, Allium Sativum (Garlic) Bulb Extract, Chrysanthemum Sibiricum Extract, Bee Venom, Disodium EDTA cosDNA analysis
Deeply Control Balancing Toner (courtesy of 11 Huesday)  I was really excited to try this toner as it is made for oily and blemish prone skin.  This is an AHA and BHA toner that will help unclog pores, reduce excessive oil and smooth/refine skin texture over time.

Multi-booster toner for radiant and moisturized skin texture
Gives gentle exfoliation with AHA and BHA
Prevents excessive sebum production by normalizing pH balance
Suitable for all skin types
Dull and uneven skin in need of keratin treatment
This does contain three AHA (alpha hydroxy acids) ~ malic, lactic and citric ~ which helps remove dead skin cells and refine skin texture at the surface of your skin, while moisturizing skin.  However, these ingredients are near the end of the list and to be effective, AHA  ingredients must be in the top 1/3 of the ingredient list.  This also contains BHA salicylic acid, which is another acid exfoliator, but this is oil soluble and will penetrate deeply into your pores to dissolve excess oil and dirt, removing dead skin cells.  It is also an anti-inflammatory and anti-bacterial.  This ingredient is near the end of the list as well, which is correct for BHA ~ they should be near the end.
This has enzyme papain, derived from papayas and it also is an exfoliator ~ it removes oil and dead skin cells from your pores, inhibits excess oil and will leave your skin feeling soft and smooth. Niacinamide is a powerful antioxidant that acts as an anti-inflammatory, improves your skin elasticity, enhance the skin barrier function and also it helps to even out skin tone and reduce post-inflammatory hyper-pigmentation.  Witch hazel is an blemish prone skin's best friend because it has antibacterial and antiseptic qualities which helps clear up acne and it removes excess oil from skin. It also helps shrinks blood vessels, which tightens our skin. Witch Hazel can speed up healing and is a powerful anti-inflammatory, which also helps soothe skin. Finally, Witch Hazel refreshes and rejuvenates skin, refines the pores and seal in moisture.
Sodium hyaluronate is an intensive moisturizing ingredient which bonds water to keep skin hydrated. It is a natural substance found in the human body and it made up of amino and uronic acids, and helps retain 100 to 1,000 times its own water weight in our skin cells. Xylitol will reinforce your skin barrier function, limiting water loss in your skin and preventing skin dehydration on a cellular level. This also has some lovely herbal soothing and healing ingredients: lavender, peppermint, chamomile, rosemary.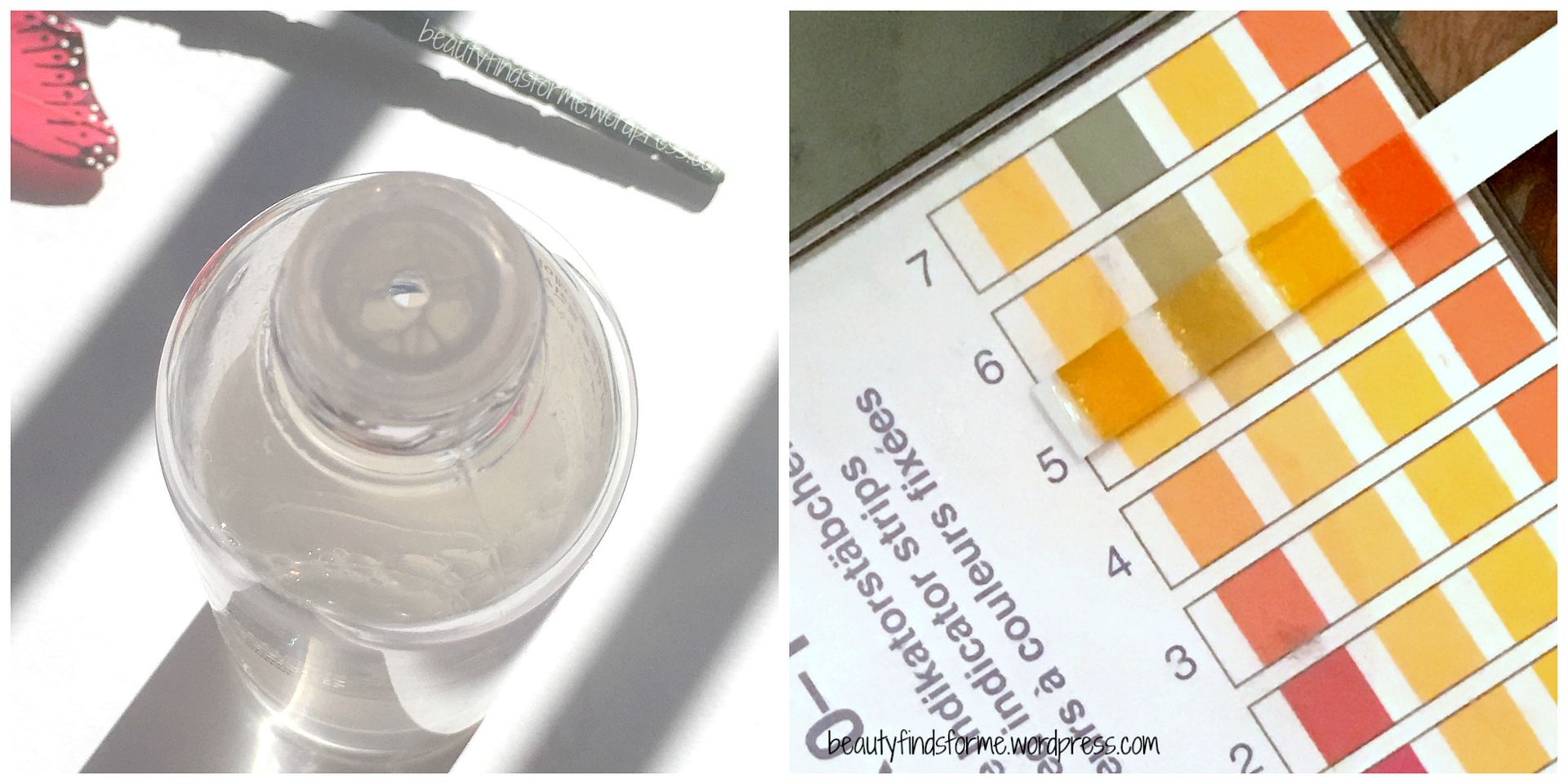 This toner has a traditional pin hole applicator and you just shake out the amount you want on a cotton pad or in the palm of your hand ~ either swiping with the pad or patting on your face with your hand.    This does have a pH level of 5 to 5.5, so it is mildly acidic.  Deeply Control Balancing Toner is one of those "bouncy" toners which has a viscosity to it ~ I normally love these types of toners, but they aren't all created equal.  For a "bouncy" toner to work on my skin type, it cannot leave behind a filmy, sticky, tacky residue.  
This does leave a tacky residue on my skin and also imparts a glossiness that was unexpected.  My skin was shiny where I applied this, which for an "oil controlling" toner, that should not happen.  Also, due to its vast amount of botanicals, I had expected this toner to smell like a lovely botanical herb garden, with a minty freshness.  Alas, no.  The scent of this is a heavy perfume floral and any benefits the actual toner might have gets negated due to the scent.  This toner did increase my moisture levels by  31% and decreased my oil levels by 35%
However, I didn't find the claims of allowing for better absorption for other skin care products to ring true, due to the fact this left a sticky and glossy finish on my skin, nor did my skin feel fresh because of this.  I guess the claim of luminous is due to the fact that I had this film of shine caused by the toner. This toner might work for other oily or oily/normal skin types, but it did not for me. 
Ingredients: Water, Propanediol, Niacinamide, 1,2-Hexanediol, PEG/PPG-17/6 Copolymer, Papain, Hamamelis Virginiana (Witch Hazel) Extract, Lavandula Angustifolia (Lavender) Extract, Monarda Didyma Leaf Extract, Mentha Piperita (Peppermint) Leaf Extract, Freesia Refracta Extract, Chamomilla Recutita (Matricaria) Flower Extract, Rosmarinus Officinalis (Rosemary) Leaf Extract, Sodium Hyaluronate, Xylitol, Malic Acid, Lactic Acid, Citric Acid, Salicylic Acid, Hydroxyethylcellulose, Tocopheryl Acetate, Tromethamine, PEG-60 Hydrogenated Castor Oil, Carbomer, Sodium PCA, Disodium EDTA, Fragrance cosDNA analysis

Final Thoughts
I recommend the Anti-Stress Recover and Amaranth Hydra Seal serums ~ those two are the standout products from the four that I tried over the summer time.  Anti-Stress Recover is soothing and calming to my skin, reducing shine and oil, whereas the Amaranth Hydra Seal was just a lovely moisturizing serum, great hydration and doesn't add to my oil collective in my skin.  The Antioxidant Aging Barrier is also quite nice as well but I did not notice any reduction of fine lines and wrinkles with it ~ just hydration, which is why it is not in my top recommendations. However, the Deeply Control Balancing Toner is a bitter disappointment, from the strong perfumed fragrance ~ this was the strongest scent of the 4 products used ~ and how it didn't control my oil, left a sheen to my skin with a tackiness.
I have two more products to try from 11 Huesday ~ their  De-Spot Luminosity Serum and Anti-Gravity V. Ceramide Anti-Wrinkle Lotion.  I swatched the Anti-Gravity lotion and it will be for winter time, as it is a heavier lotion ~ and it is heavily fragranced ~ I do wish it wasn't that strong perfume scent.  Have you tried any 11 Huesday products?  Which ones and how did you like them?
Where to Purchase
YesStyle
YesStyle is an authorized retailer of 11 Huesday and they carry the full line of 11 Huesday (click here)  They ship globally and offer discounts based on how much you purchase from them.  Free shipping to the USA for orders $35.00 and over.
All Serums are 30 mL

Deeply Control Balancing Toner 200 mL  RV $26.90

Amazon USA
They do not have as full of a selection (click here) as YesStyle, but they do have much lower prices and with free USA Prime Shipping
Serums 30 mL
Deeply Control Balancing Toner 200 mL  RV $18.00 
Skin Moisture/Oil Devices
Susee Nano Spray
WaySkin Device