I was approached by Earth's Recipe late summer about trying some of their skin care products.  I had seen them on Instagram from time to time and was already interested as the products used some unique ingredients. I reviewed what they had to offer and selected a few products that I felt would work for my skin type: Therapy Mist, Moisture Light Cream, Energy Boosting Toner, Dual Hydrating Liposome and Waterful Sun Gel.  I plan on using the last three during the fall/winter months, but I did use the Therapy Mist and Moisture Light Cream during late August and September, as they are specifically designed for oily and blemish prone skin.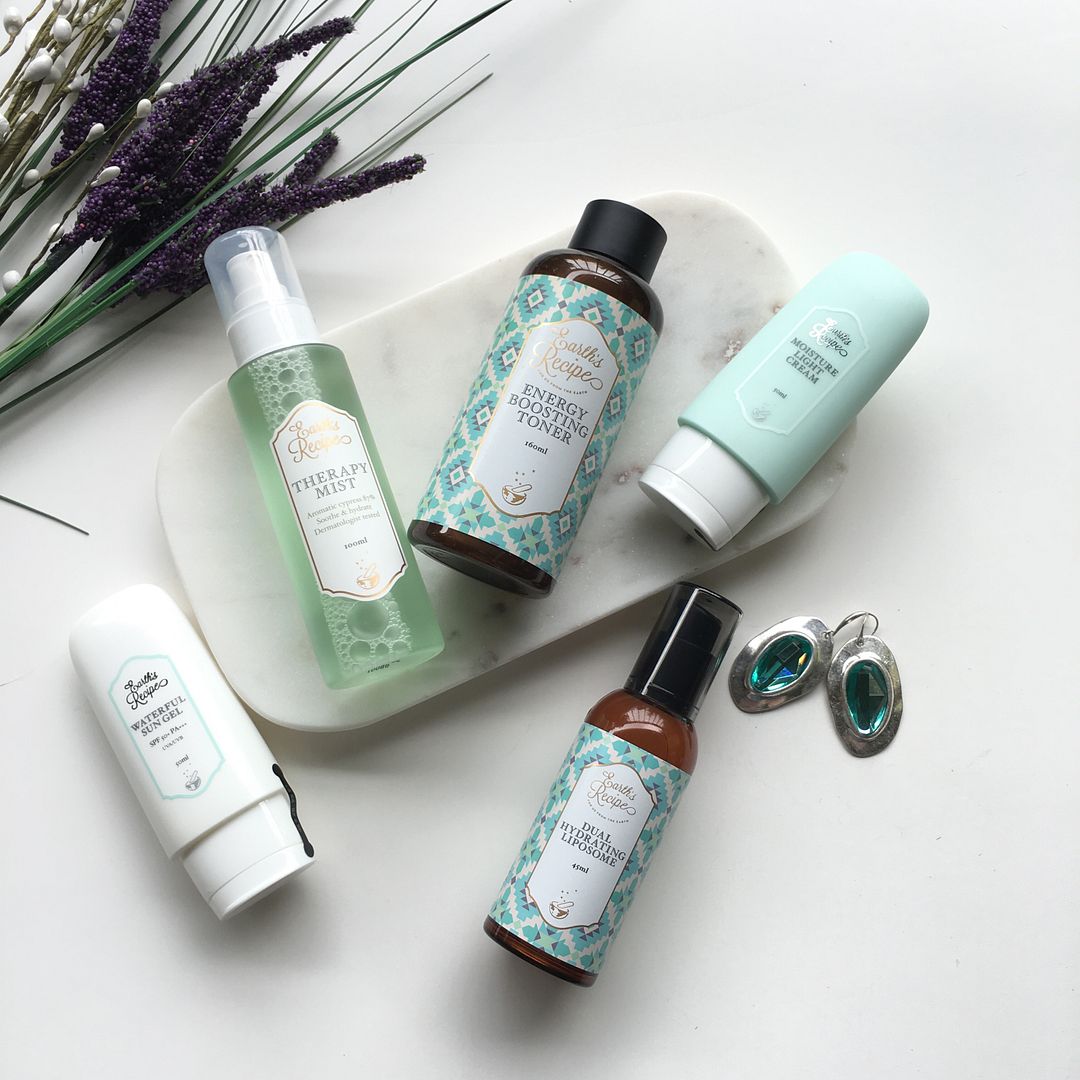 Earth's Recipe has a skincare philosophy rooted in traditional Navajo medicine with the idea that Nature's wisdom works best. The brand strives to work with, instead of against, nature to find solutions for today's skin problems. By maximizing safe and potent natural ingredients and minimizing harmful artificial ingredients, Nature's Recipe aims to formulate safe and effective products for all skin types. From its recyclable packaging, to its formulations that are free of parabens and other toxic ingredients, Earth's Recipe aims to honor the earth's natural resources. All Earth's Recipe products are hypoallergenic and suitable for sensitive or delicate skin. With a top-notch reputation among beauty experts, Earth's Recipe's products are known for promoting radiant, firm, and plump skin. (source bemusedkorea.com)

image credit earthsrecipe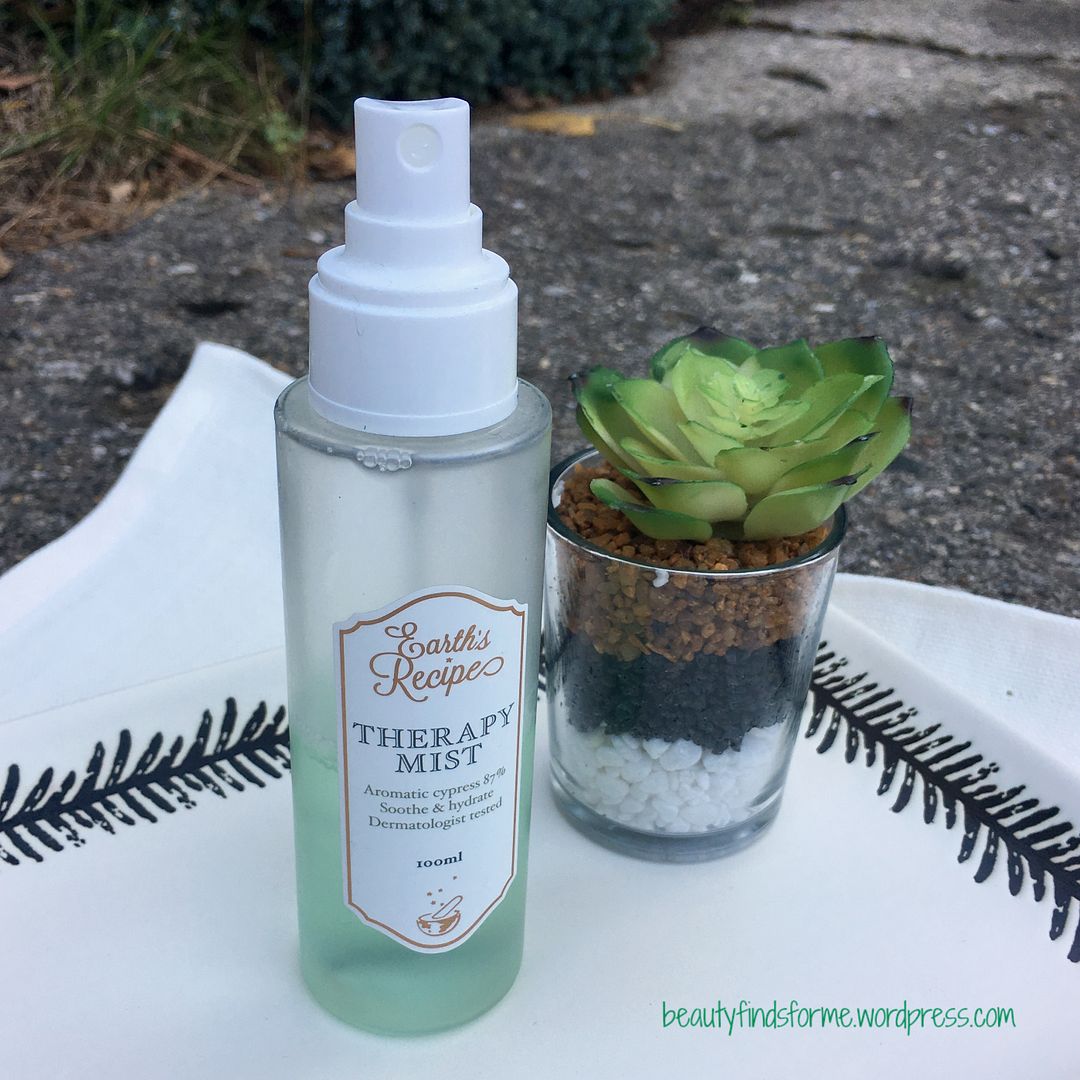 Earth's Recipe Therapy Mist  I love mists and toners and this is a pH balanced facial mist that is made for oily and irritated skin.  It helps soothe and calm stressed skin, while providing a massive dose of hydration and nutrition from its botanical ingredients. This contains 87% hinoki cypress water, a therapeutic ingredient.  Cypress contains phytoncide compounds, which helps the tree protect itself from pollutants and will  purify and protect your skin as well.  It has antiseptic, anti fungal and antiviral properties to heal blemishes and minor skin issues, like abrasions and rashes, and purifying your skin. Dioscorea japonica (Japanese yam) has anti-oxidant, anti-wrinkle properties, skin brightening, reduces inflammation of the skin while moisturizing.  Kava has been used as a folk remedy for thousands of year in the South Pacific for skin issues and speed up wound healing, while retaining moisture in your skin, as it forms a moisture barrier on your skin.

Melia azadirachta (neem) has antiseptic properties and will help control blemishes and help them. Turmeric is a popular ingredient for blemish control, as it has both anti-inflammatory and anti-oxidant properties.  Turmeric soothes blemishes and heals acne, while reducing redness and swelling.  It also can soften and reduce the appearance of fine lines and wrinkles. rejuvenate skin.  Citric acid (AHA) will gently exfoliate and promote cellular turnover, so it will help brighten and smooth your skin. Adenosine helps improve the reduction of wrinkles and is also an anti inflammatory.
Niacinamide is a powerful antioxidant that acts as an anti-inflammatory, improves your skin elasticity, enhance the skin barrier function and also it helps to even out skin tone and reduce post-inflammatory hyper-pigmentation.  Hydrolyzed hyaluronic acid helps supply nutrition and strengthen your cell barrier and will penetrate deep into your skin, while retaining moisture. As this is aromatic mist, it does contain essentials oils of orange, lemon, lemongrass, bergamot, citronella and geranium, in case your skin is sensitive to these types of oils.  This mist has been dermatologist tested and is hypoallergenic, free from parabens, synthetic dyes and fragrances and mineral oils.  Earth's Recipe is also strongly against the animal testing that they do not test any of their products on animals.

Ingredients: chamaecyparis obtusa water, methylpropanediol, 1,2-hexanediol, niacinamide, panthenol, propanediol, dioscorea japonica root extract, piper methysticum (kava)  leaf/root/stem extract, phellinus linteus extract, arctium lappa root extract, melia azadirachta leaf extract, melia azadirachta flower extract, coccinia indica fruit extract, ocimum sanctum leaf extract, curcuma longa (turmeric) root extract, solanum melongena (eggplant) fruit extract, aloe barbadensis flower extract, corallina officinalis extract, sodium hyaluronate, hydrogenated lecithin, citrus aurantium dulcis (orange) oil, citrus limon (lemon) fruit oil, cymbopogon schoenanthus oil, citrus aurantium bergamia (bergamot) fruit oil, cymbopogon nardus (citronella) oil, geranium maculatum oil, octyldodeceth-16, water, C12-14 pareth-12, betaine, sodium citrate, polyquaternium-51, glycosyl trehalose, citric acid, adenosine, disodium EDTA, hydrogenated starch hydrolysate, raffinose, biosaccharide gum-1, lecithin, allantoin, inositol, hydrolyzed hyaluronic acid cosDNA analysis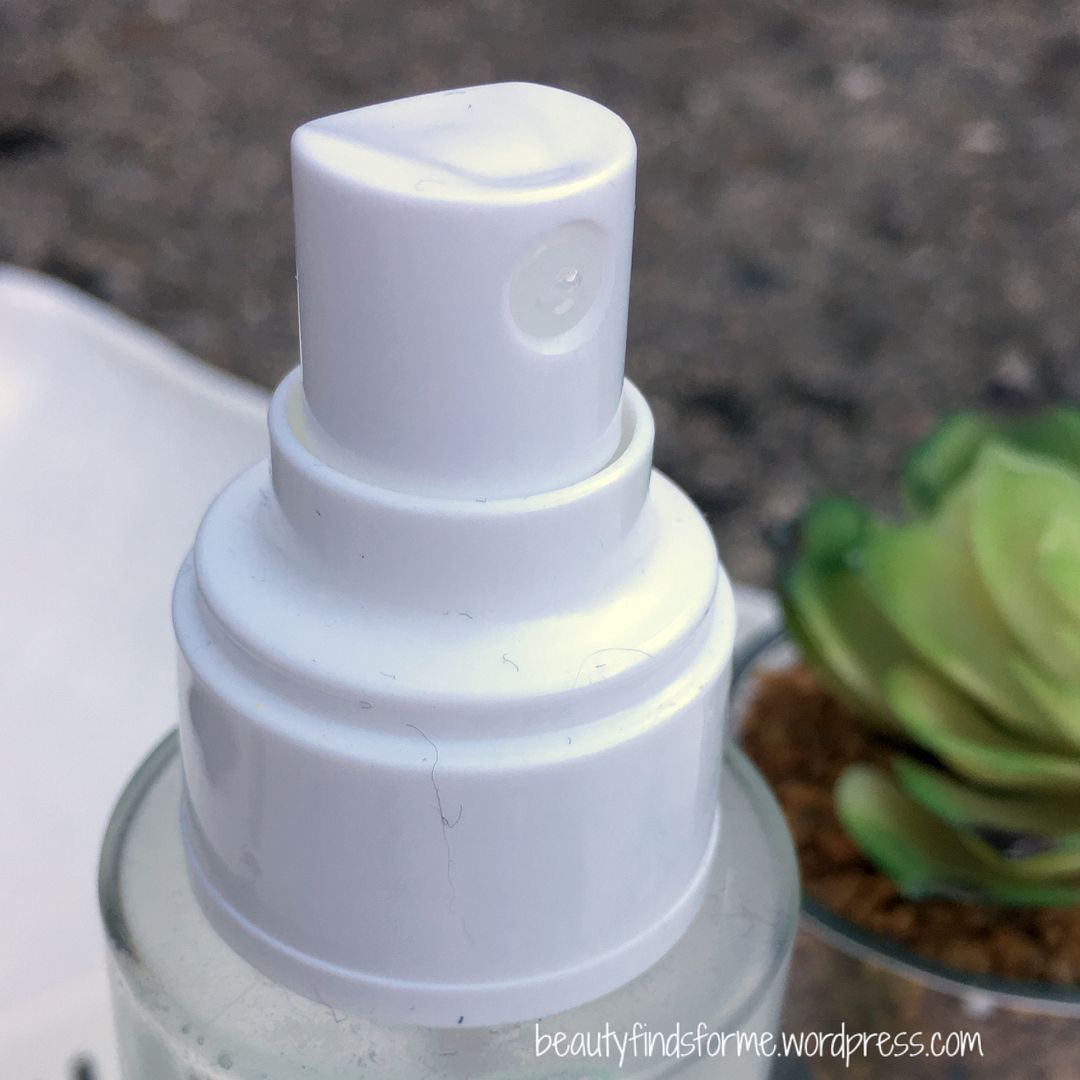 This mist comes in a nice compact 100 mL bottle with a spray pump.  The color of the watery liquid is a lovely sea water green, but it is colorless when applied to the skin.  This is an aromatic mist and has a lovely light warm scent of lemon-citrus and sharp-piney cypress.  I am not a scientist, so I am not sure how valid this claim is, but Earth's Recipe states that due to the size of the cypress molecule extracts, they recommend spraying this about 10 inches from your face.  Now, should you do that?  I would recommend that if you use this spray as a setting makeup spray, as the mist comes out quickly and does drench your face if it is too close ~ however, for when I use it as my toner step, I keep it pretty close to my face, as I want the hydration. 
This increases my moisture and oil levels by 18% and it normalizes my oily skin.  Since this has a pH level of around 5.5, it will help restore balance to my skin and it does feel so refreshing!  It is cool and hydrating and I love the scent of this spray.  I also feel it helped calm down redness on my face as well as act as an oil controlling product.  You can see in the photos that I have used quite a bit of it. 
This can also be used as a body mist, as it will help with any irritated skin or skin issues.  Earth's Recipe also recommends making your own sheet mask with this toner ~ just soak a dry cotton mask or use cotton sheet pads with the  the mist and then put in the refrigerator to cool. Apply to mask or pads to your face and then spritz some more mist over that and leave on for 5 to 10 minutes. This will instantly cool, soothe and refresh your skin.
Earth's Recipe Moisture Light Cream The Moisture Bound Cream is the more "famous" of the two Moisture creams that Earth's Recipe creates, but I chose this one because it is light weight.  The Moisture Bound is for drier, less oily and blemish prone skin than myself and I am glad that Earth's Recipe created a nice lightweight version that is not sticky or oily.
This contains the hydrating, plumping and skin-glowing ingredient of tremella fuciformis (aka snow fungus), which is pretty cooling looking mushroom.  It is ironic as it is a tropical mushroom not an arctic one and its snow fungus name comes from its white appearance. Tremella is a white gelatinous parasitic fungus that has been used in TCM (traditional Chinese medicine) for centuries, as well as for culinary dishes. It draws water to the skin, just like hyaluronic acid, helping keep your skin hydrated and moist, plumping up fine lines and wrinkles. It is supposed to be 120% more efficient than HA, as its particles are smaller than hyaluronic acid ~ it penetrates your skin better and more easier. Snow fungus is a natural organic alternative to hyaluronic acid. It contains Vitamin D, the sunshine vitamin ~ we need produce it when we get it thru exposure to the sun and also in foods and supplements. Also, snow fungus is an antioxidant with vitamins vitamin B1 and B2, helping combat and reserve free radical damage, including lightening of hyper-pigmentation spots.
Phellinus linteus is another mushroom that grows on mulberry tree trunks and is also known as black hoof mushroom. It is an antioxidant and anti-inflammatory and has the ability to help with skin issues such as eczema. It has been shown that phellinus linteus has the same antioxidant effects as Vitamin C.  Fermented lactobacillus/soybean have moisturizing properties of polypeptides and  contains a component called genistein, which has anti-aging benefits.  Soy also stimulates the collagen production in your skin which in turn increases the elasticity of your skin. Ceramides are a lipid found in our skin cells and as we age, those ceramides decline, leading to dry, flaky skin. When ceramides are introduced back to the skin via skincare products, it helps lock in moisture and repairs the moisture barrier.  Folic acid (vitamin B9) helps keep your skin radiant and glowing, while palmitoyl pentapeptide-4 (aka Matrixyl; originally known as palmitoyl pentapeptide-3) is a mixture of fatty and amino acids, stimulates collagen and elastic production, helping repair damage to your skin and reducing deep wrinkles and lines. 
I notice that Earth's Recipe likes to use terms without any ingredients around these "formulas" ~ such as Olive Crystal Emersion System and White Jelly Natural Herbs.  I have to assume (and you know what assume means ~ it makes an ass out of u and me) that the Olive Crystal is the two derivatives of olive oil in here ~ cetearyl olivate and  sorbitan olivate, which are natural emulsifiers that are PEG-free ~ they help retain moisture, while moisturizing and is hypoallergenic.   Honestly, I am stumped with the "White Jelly Natural Herbs" bit that are rich in collagen.  I would have assumed (yep, there it is again!) it was the snow fungus, but that is a separate ingredient category in itself.   Maybe part of that includes the poria cocos fungus ~ used for its anti-aging, anti-inflammatory and antioxidant properties, combating free radicals.
Again, this product is dermatologist tested and is hypoallergenic, free from parabens, synthetic dyes and fragrances and mineral oils and is cruelty free, not tested on animals. 
Ingredients: water, polyglycerin-3, hydrogenated poly(C6-14 olefin), dimethicone, 1,2-hexanediol, caprylic/capric triglyceride, niacinamide, vegetable oil, glycerin, cetearyl olivate, sorbitan olivate, dioscorea japonica root extract, methylpropanediol, phellinus linteus extract, arctium lappa root extract, piper methysticum leaf/root/stem extract, poria cocos sclerotium extract, lactobacillus/soybean ferment extract, tremella fuciformis (mushroom) extract, epilobium angustifolium flower/leaf/stem extract, citrus aurantium dulcis (orange) oil, hydrogenated lecithin, argania spinosa kernel oil, citrus nobilis (mandarin orange) peel oil, sodium hyaluronate, litsea cubeba fruit oil, dimethiconol, cyclopentasiloxane, sodium polyacrylate, cetearyl alcohol, betaine, glyceryl stearate, PEG-100 stearate, polysorbate 60, squalane, hydrogenated polyisobutene, tocopheryl acetate, ethylhexylglycerin, alcohol, polyquaternium-51, glycosyl trehalose, isononyl isononanoate, polyglyceryl-10 stearate, hydrogenated starch hydrolysate, raffinose, biosaccharide gum-1, butyrospermum parkii (shea) butter, stearic acid, adenosine, polyglyceryl-2 dipolyhydroxystearate, disodium EDTA, PVM/MA copolymer, lecithin, butylene glycol, panthenol, inulin lauryl carbamate  cosDNA analysis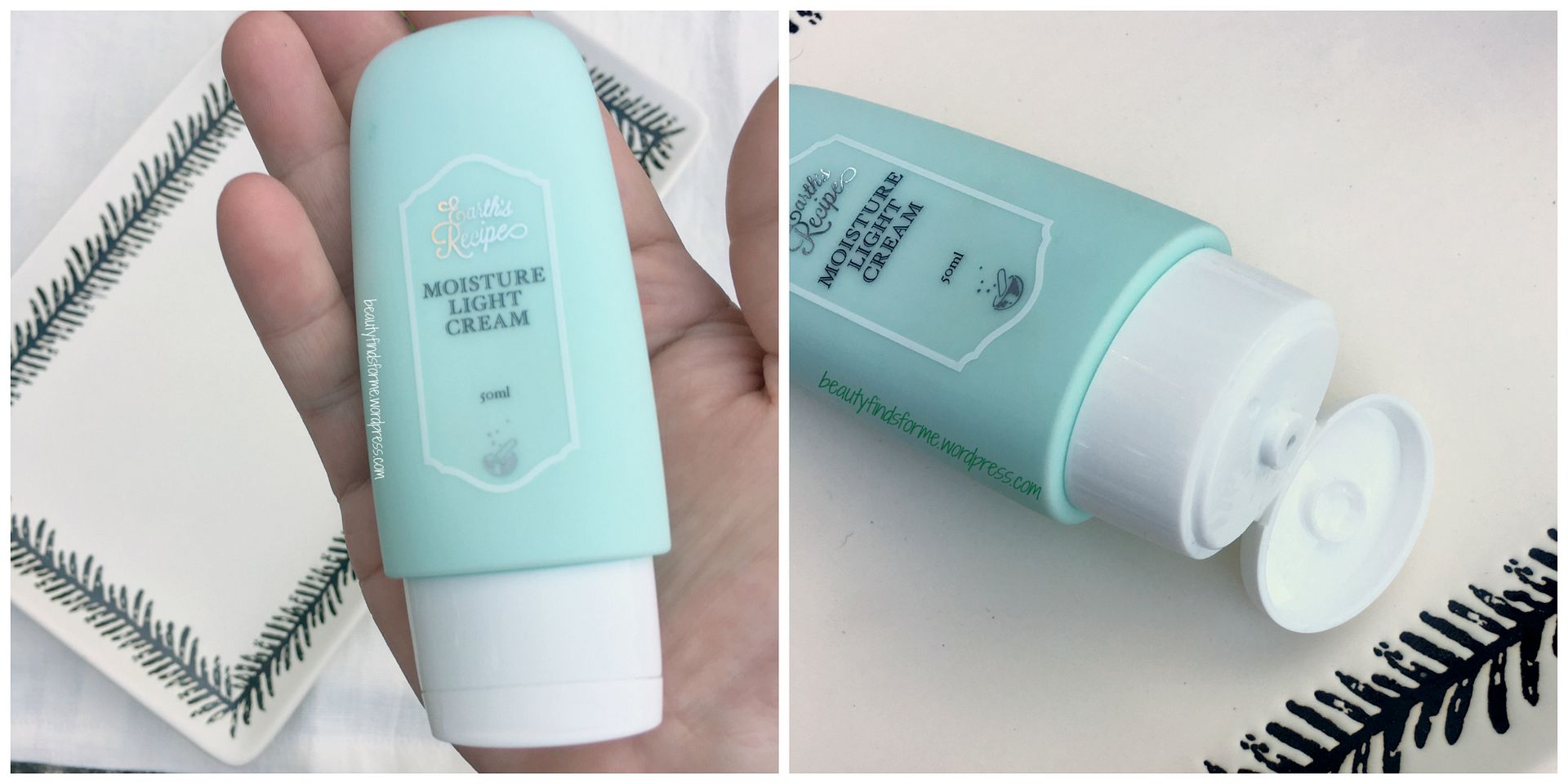 I love that Earth's Recipe products are so compact ~ this tells me that they are also concerned about excessive packaging.  This cream comes in a small aqua colored plastic tube, but it is 50 mL, a standard size for creams. It has a flip cap top and it is easy to squeeze out this gel-cream.  The gel-cream is creamy white in color and has a good firm, but gentle texture.  It smells like citrus!  And no wonder, as this does contain mandarin orange peel oil in it along with litsea cubeba fruit oil, which has a lemony scent to it.  It isn't overpowering and the scent does fade quickly.
The texture is soft, smooth and creamy and it spreads easily with quick absorption as it is lightweight.  It has an almost watery feel when massaged into the skin and there is an initial slick feeling on my skin before it fully absorbs.  There is no tacky or oily residue with this Moisture Light Cream.
It may only increase my water and oil levels by around 11% but it feels like a lot more, as my skin is so soft and supple.  My skin is plumped up with hydration and I can not only feel it, but it looks like it too!
Final Thoughts
Both the Therapy Mist and Moisture Light Cream are really great for oily skin and I find myself reaching for the mist toner, over and over again.  I have the feeling that this one will be on my items to purchase again ~ it is so cool and refreshing, while hydrating and soothing.  It is a perfect addition to the 7-layer hydrating toner method.  The moisture light cream is also a winner for oily skin ~ it is not heavy and has a great gel-cream texture, but not TOO gel-like, if you know what I mean. This cream is fantastic as a transitional lotion from summer to winner ~ in those months where you don't know if you should wear shorts or a sweater ~ or maybe both on the same day!!  Both of these products have lovely aromatherapy properties with their relaxing, yet refreshing scents.  If you have oily or oily/combo skin,  you might want to try these out!  Especially the Therapy Mist 😀  Have you tried any of Earth's Recipe's products?  Which ones and how did you like them? 
Where to Purchase
Amazon USA with Prime Free Shipping.  They carry a lot, if not all, of Earth's Recipe skincare products.  You can also save 10% on your entire Earth's Recipe order at Amazon if you purchase 2 or more of their products ~  use promo code EARTHSRC
Bemused Korea is a brand new store that carries Earth's Recipe as well and they have international shipping. Check out Lisa's store ~ and if your country is not on her list, drop her a message.  I read online that a customer asked her to add in her country and she did!
You can also use a shipping service and order directly from Earth's Recipe online store in Korea.  I recommend Korean Buddy (click here) ~ I have used them many times in the past and have always been pleased with their service.  All you have to do is send them the links and they will come up with the product total.  You pay them, they get the products, weigh it and then give you the shipping costs.  If you have never used Korean Buddy before, you can save 50% off the handling fee by using my blog as a referral https://beautyfindsforme.wordpress.com   
[ disclaimer: products received for review purposes. contains affiliate links ]