I was introduced to Lapothicell via 08Liter and fell in love with their A.C. Daily Calming Peeling Booster and Natural Mineral Sun Protection Sunscreen SPF50+/PA+++ and then Lapothicell sent me a plethora of products to review.
"Lapothi" means cure in Old French and "Cell" stands for skin cells, so it literally means "cure the skin cell". It is made with Kukje Parm specialists vast knowledge with high tech skin science research. Lapothicell provides a solution for every skin type with hypoallergenic treatments and effective ingredients that are mild on the skin with great results. Lapothicell safely aims to deliver specific results by intensive  dermatology and clinical testing, with no animal testing and their products are free from parabens, artificial colors and minimal artificial dyes
Lapothicell was developed through all of technology and know-how accumulated by Kukje pharmaceutical researchers under the concept of "Real Derma-Cosmetic" over the past 57 years and launched with much fanfare in June last year. The product has been accomplishing remarkable achievements based on its quality and specialized features.  (source)
Lapothicell's most popular and signature product is their A.C. Daily Calming Peeling Booster, which had five clinical trials to show that it helped treat acne, clogged pores, blackheads and other skin issues.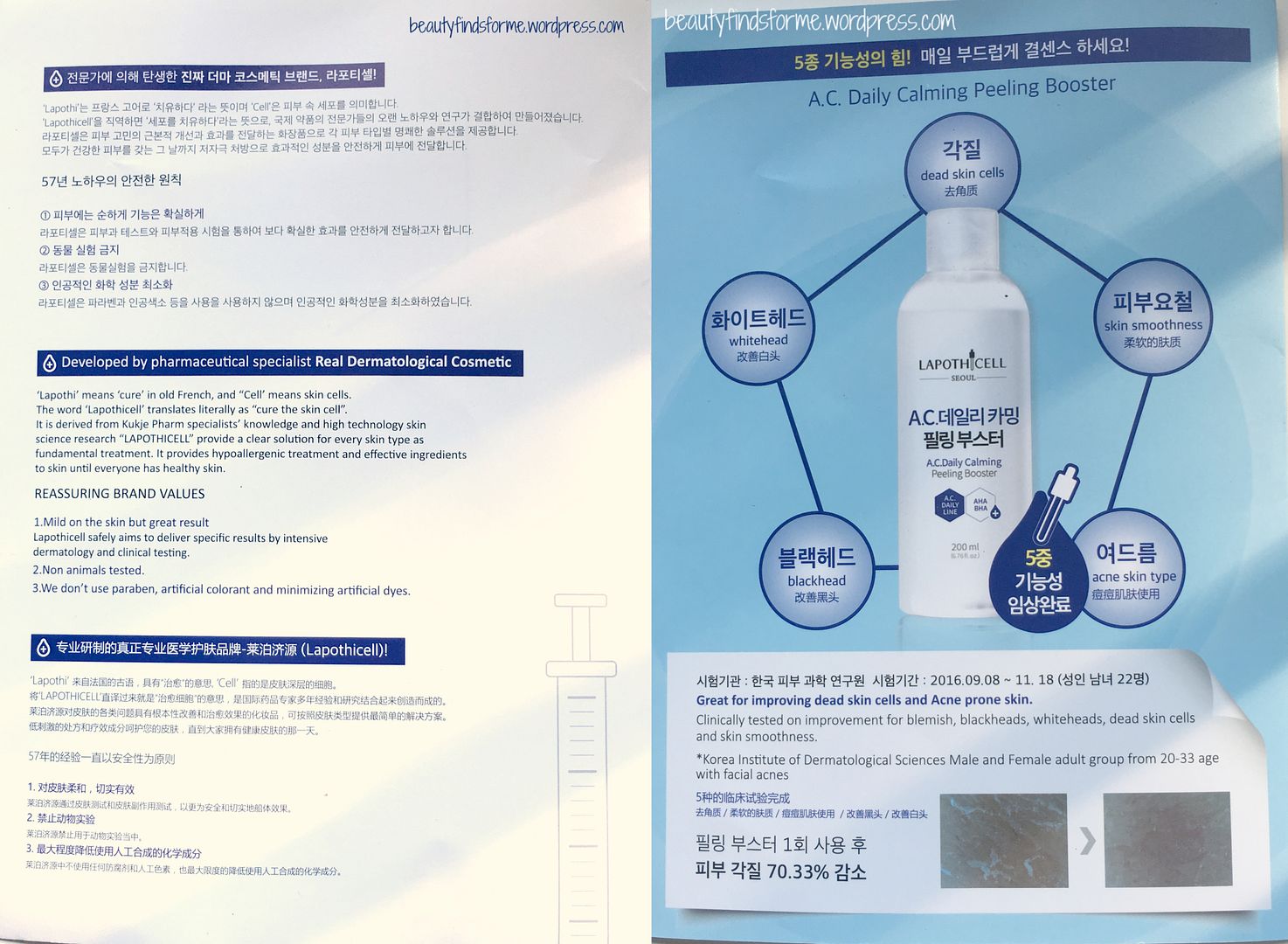 Lapothicell sent me their Ceramide Hydra Fluid, Tone Up & Cover Cushion SPF50+/PA+++ in Natural Beige, Tone Up & Clear Serum,  Keep Your Youth Daily Gel and Keep Your Youth Ultra Lift Daily Essence.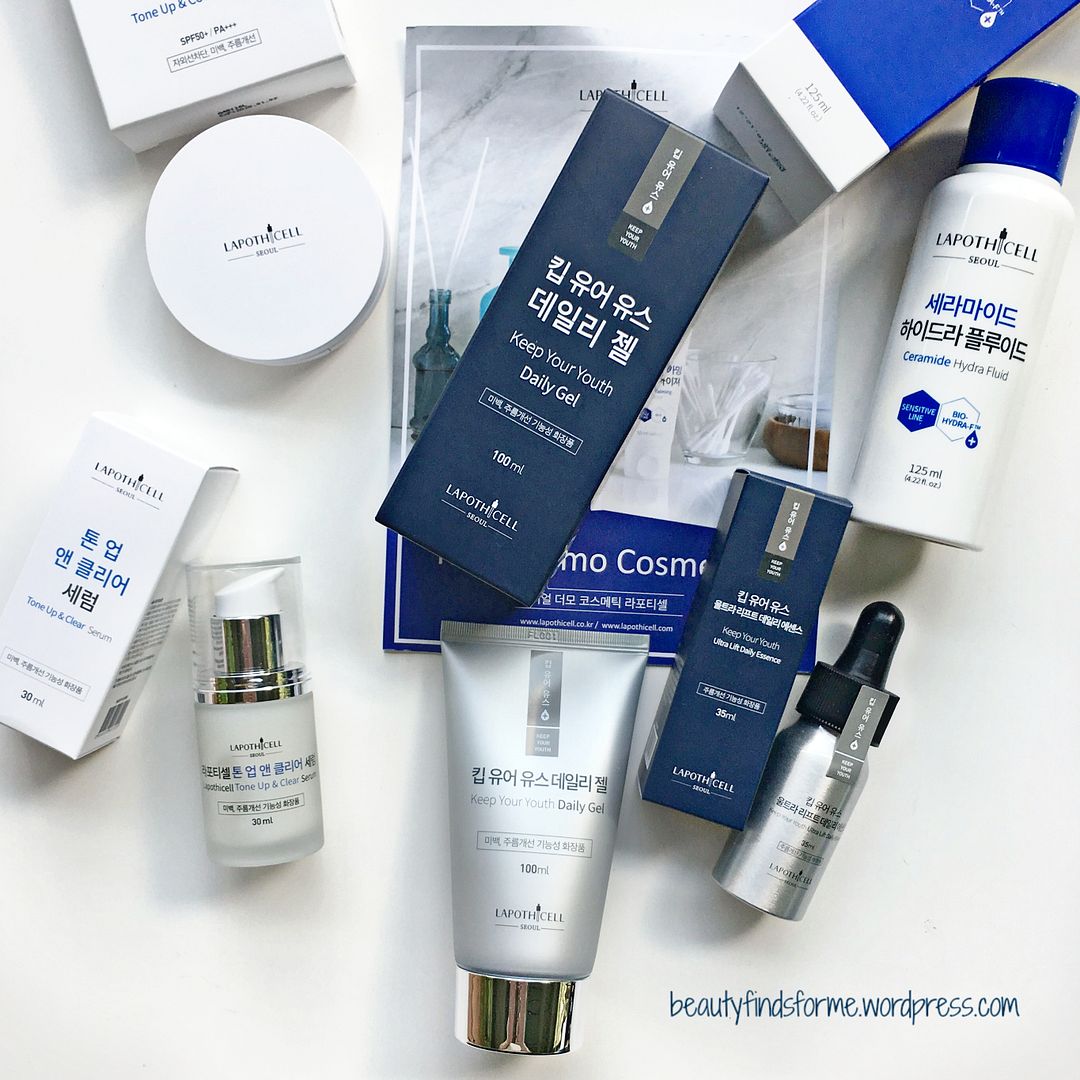 This blog post will  focusing on the original 08Liter items plus two new ones that I used in the latter summer months this year, as they were designed for oily skin. I thought they were best suited for the warmer months due to their formulations and could really help control my oil production. In this blog post, I will be reviewing items from all of their lines ~ Basic Skin Care,  Tone Up  and Keep Your Youth.
Skin Type/Concerns: Oily, blemish prone, aging, fine lines/wrinkles, hyper-pigmentation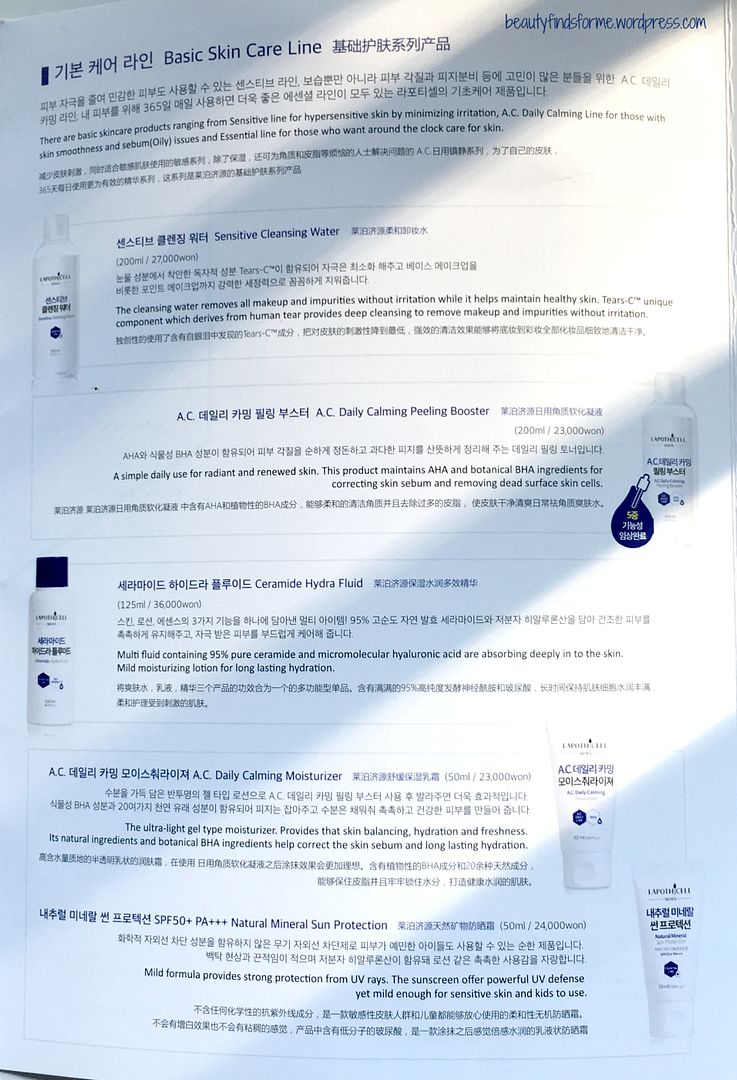 Basic Skin Care Line: There are basic skincare products ranging from their Sensitive line, designed
to minimize irritation for those with hypersensitive skin, the A.C. Daily Calming line for oily skin, helping to smooth and reduce oil and the Essential Skincare line, which provides protection 24 hours a day.
Lapothicell A.C Daily Calming Peeling Booster (courtesy of @0.8L_USA) This is a daily use booster toner that will help gently dissolve dirt, oil, dead skin cells and other impurities on your skin, exfoliating your skin and pores, leaving your skin looking clear and brighter, while helping reduce inflammation and redness from blemishes. The key ingredients are AHA (alpha hydroxy acid) glycolic acid, an exfoliator and helps clear up acne, moisturizes and reduces the appearance of fine lines and premature aging, by increasing cellular turnover and revealing new skin. If your skin is sun-damaged, adding AHA to your skin care routine is beneficial.  Wintergreen leaf is rich in methyl salicylate (85% – 99%) , which is not only an anti-inflammatory, but will also help tone your skin and prevent blemishes.  Tea tree extract is known for its topical antiseptic and anti-fungal properties and help target and treat blemish-prone skin. It also reduces oil and sebum production on your skin, while not disrupting the moisture level. Aloe vera soothes, treats inflammation, helps speed up skin healing and also has a plethora of antioxidants ~ beta-carotene, Vitamin C and Vitamin E, which help improve your skin's firmness and keeps your skin moist and hydrated, without feeling oily and greasy. It also contains over 75 different nutritious ingredients, including minerals, enzymes, amino acids, salicylic acid and much more.

This also has witch hazel, a soothing astringent ingredient, which is friendly to both dry and oily skin. This is a very watery toner and it has a faint scent of citrus, which is very enjoyable. This does have alcohol in it as the 3rd ingredient, but I do not smell any alcohol odors with this toner. There are many great ingredients in this AC Booster besides the ones I just mentioned ~ chia seed, centella, glycerin, houttuynia cordata, portulaca, lavender and bamboo, all known for healing, calming, soothing and moisturizing your skin.
That said, as far as a AHA/BHA product goes, this is not really that useful. Its pH level is a 5.5 and that is not enough to effectively exfoliate and its AHA ingredient is actually after the BHA ingredient. AHA's should be at the top of an ingredient list, not at the end. But, it is a 5.5, which means it is a nice pH balancing toner for your skin.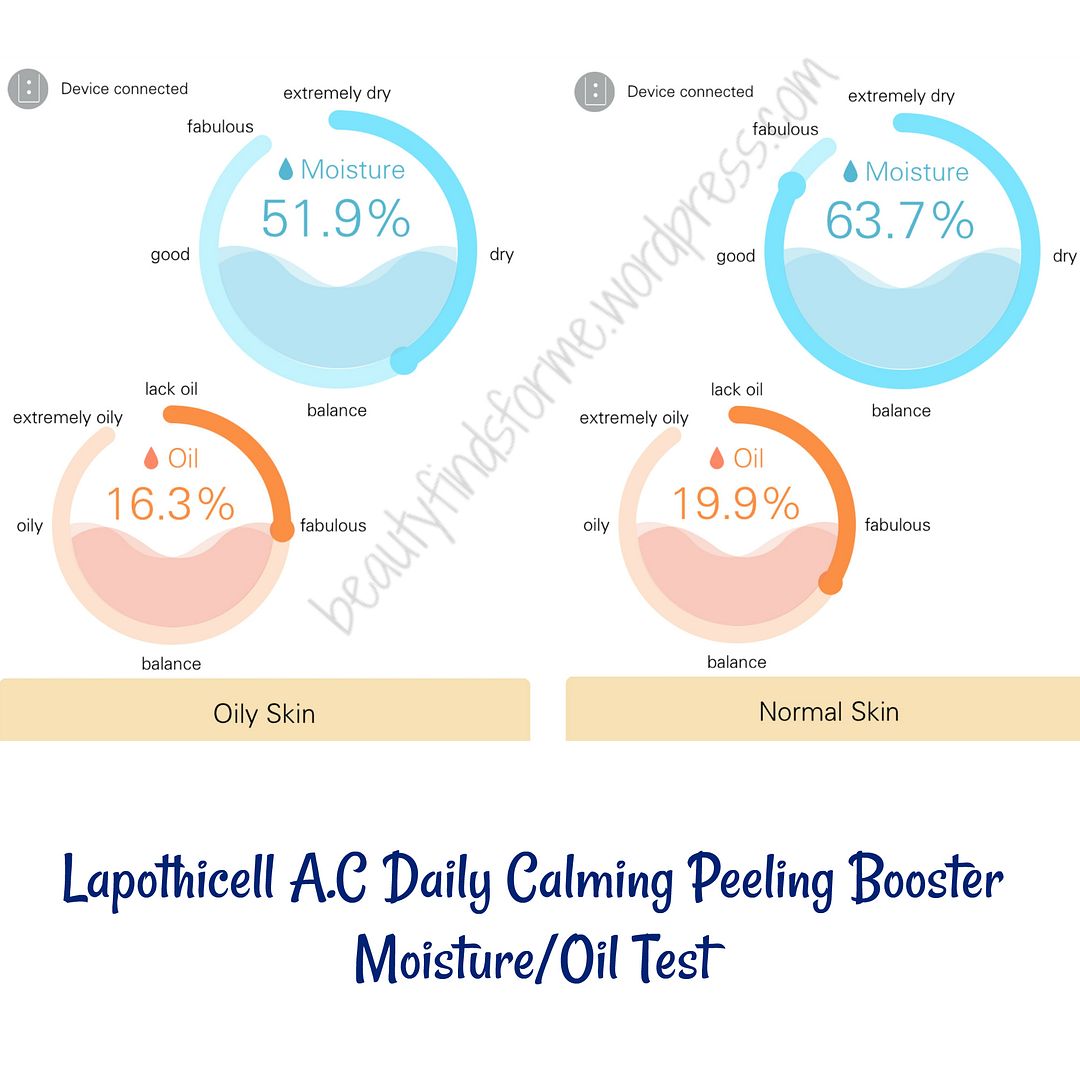 I found that I used this as an astringent and hydrating toner, as it helped cut thru my greasy and oily skin and left it feeling soft and smooth, with an increase of 23% moisture, normalizing my oily skin. It doesn't sting my skin nor dry it out. This is a huge bottle at 500mL so I am really pleased with this product ~ I used this quite a bit over the hot summer months and am half through the bottle!  This is a must for wiping down oily, grimy skin without irritation, leaving smooth, refreshed skin behind.   Two thumbs up for this one.I will purchase it when it is gone as I love the scent and how it makes my skin feel!
Ingredients: Water, Glycerin,Alcohol, Propanediol, PEG-40 Hydrogenated Castor Oil, Pentylene Glycol, Salvia Hispanica Seed Extract, Centella Asiatica Extract,Houttuynia  Cordata Extract, Sodium Citrate, Gaultheria Procumbens(Wintergreen) Leaf Extract, Butylene Glycol, Ethylhexylglycerin, Portulaca Oleracea Extract, Citrus  Aurantium Dulcis (Orange) Oil, Citrus Medica Limonum (Lemon) Peel Oil, Citrus Aurantium Bergamia (Bergamot) Fruit Oil, Disodium  EDTA, Allantoin, 1,2- Hexanediol, Lavandula Angustifolia (Lavender) Oil, Bambusa Vulgaris Extract, Pelargonium Graveolens Flower Oil, Ocimum Basilicum (Basil) Oil, Aloe Barbadensis Leaf Extract, Melaleuca Alternifolia (Tea Tree) Leaf Extract, Glycolic Acid, Hamamelis Virginiana (Witch Hazel) Leaf Water, Anthemis Nobilis  Flower Extract, Propylene Glycol, Carica Papaya(Papaya) Fruit Water,  Phenoxyethanol  cosDNA analysis

Lapothicell Natural Mineral Sun Protection SPF50+ PA+++ (courtesy of @0.8L_USA) I was interested in trying this sunscreen as it claimed it had a matte finish ~ matte finish sunscreens are so hard to find!! This uses natural minerals to filter UV rays, is gentle and mild, good for sensitive skin, as it is hypoallergenic.  A quick reminder on what UVA and UVB rays ~ UVB is what causes sunburns and reddened skin and has direct links to cancer.  UVA is what causes us to tan, and age ~ wrinkles and deep lines are caused by UVA exposure. This contains two physical blockers with zinc oxide and titanium dioxide, which provide both UVA and UVB protection, preventing both surface and deep skin damage.  This has some nice herbal ingredients that are great for blemish and oily prone skin
Chamomile calms down the skin and relieve redness effectively as it has antioxidant, antibacterial and anti-inflammatory properties. It helps to relieve skin issues and irritations because it soothes and lessens swelling and redness, while healing skin and stimulating cellular renewal. Centella asiatica is a common herbal ingredient that is used medicinally to help speed up wound healing, such as blemishes and skin rashes. It also helps minimize the appearance of pores. Houttuynia cordata is a medicinal herb that is found in a lot in Asian skin care products. It is an antibiotic, which helps with preventing infection from skin problems, such as blemishes. It also has powerful detox properties, is an astringent and anti-inflammatory. Aloe vera helps improve your skin's firmness and keeps your skin moist and hydrated, without feeling oily and greasy.  Willow bark is a BHA (beta hydroxy acid) which helps exfoliate skin by removing dead skin cells, contains salicylic acid, to help combat acne. It is also high in anti-oxidants, which tone and reduce inflammation as well as being an astringent, to control oil. Salicylic acid is fat soluble, so it can really get to the oil that is inside your pores.
This also has some nice hydrating ingredients as well ~ Salvia hispanica (chia seeds) are an antioxidant and is used to hydrated your skin. They also contain omega-3 fatty acids, so it will help calm your skin as it is an anti-inflammatory. Sodium hyaluronate is an intensive moisturizing ingredient which bonds water to keep skin hydrated. Hinoki cypress (chamaecyparis obtusa) has antiseptic, anti fungal and antiviral properties to heal blemishes and minor skin issues, like abrasions and rashes, and purifying your skin.  Fermented soybeans have potent anti-oxidant and anti-inflammatory benefits ~ they contain polypeptides, which have moisturizing and anti-aging properties. 

I was initially dismayed when I saw how thick and white this sunscreen was out of the tube; this also has a faint floral scent, but it isn't unpleasant. When I started to massage this thick cream into my skin, I was happy to discover that it actually was absorbing quickly and fully into my skin and didn't leave a white cast on my skin. That said, I do not know if it leaves a white cast on darker skin tones than mine. 
Is it matte? Yep!! I was able to smear this all over my face and it left a matte finish and I didn't get any tacky or greasy residue. It also wasn't drying at all, which is great because sometimes a matte product will make your skin dry and rough looking ~ this sunscreen did not do that. For a thick cream at SPF50, I was very happy about the performance of this sunscreen. This is a chemical free sunscreen,so it is safe for children too. This sunscreen is a must for those with oily skin who need protection, but not the greasy dewiness a lot of sunscreens leave behind.

Ingredients: Water, Cyclopentasiloxane, Zinc Oxide, Propanediol, Titanium Dioxide(CI77891), PEG-10 Dimethicone, Dimethicone, Cyclomethicone, Disteardimonium Hectorite, Pentylene Glycol, Magnesium Sulfate, Salvia Hispanica Seed Extract, Centella Asiatica Extract, Houttuynia Cordata Extract, Aluminum Hydroxide, Hydrogen Dimethicone, Stearic Acid, Dimethicone Crosspolymer, Sorbitan Sesquioleate, Phenyl Trimethicone, Fructooligosaccharides,Saccharide Hydrolysate, Pullulan, 1,2-Hexanediol, Ethylhexylglycerin, Octyldodecanol, Anthemis Nobilis Flower Extract, Butylene Glycol,Echium Plantagineum Seed Oil, Helianthus Annuus (Sunflower) Seed Oil, Aloe Barbadensis Leaf Extract,Sodium Hyaluronate, Cardiospermum Halicacabum Flower/Leaf/Vine Extract, Panthenol,Tocopherol,Origanum Vulgare Leaf Extract, Chamaecyparis Obtusa Leaf Extract,Salix Alba(Willow) Bark Extract, Lactobacillus/Soybean Ferment Extract, Portulaca Oleracea Extract, Cinnamomum Cassia Bark Extract, Scutellaria Baicalensis Root Extract, Phenoxyethanol, Fragrance  cosDNA analysis

Keep Your Youth Line:  Prevents and reduces the appearance of facial lines and wrinkles  and supply nourishment to your skin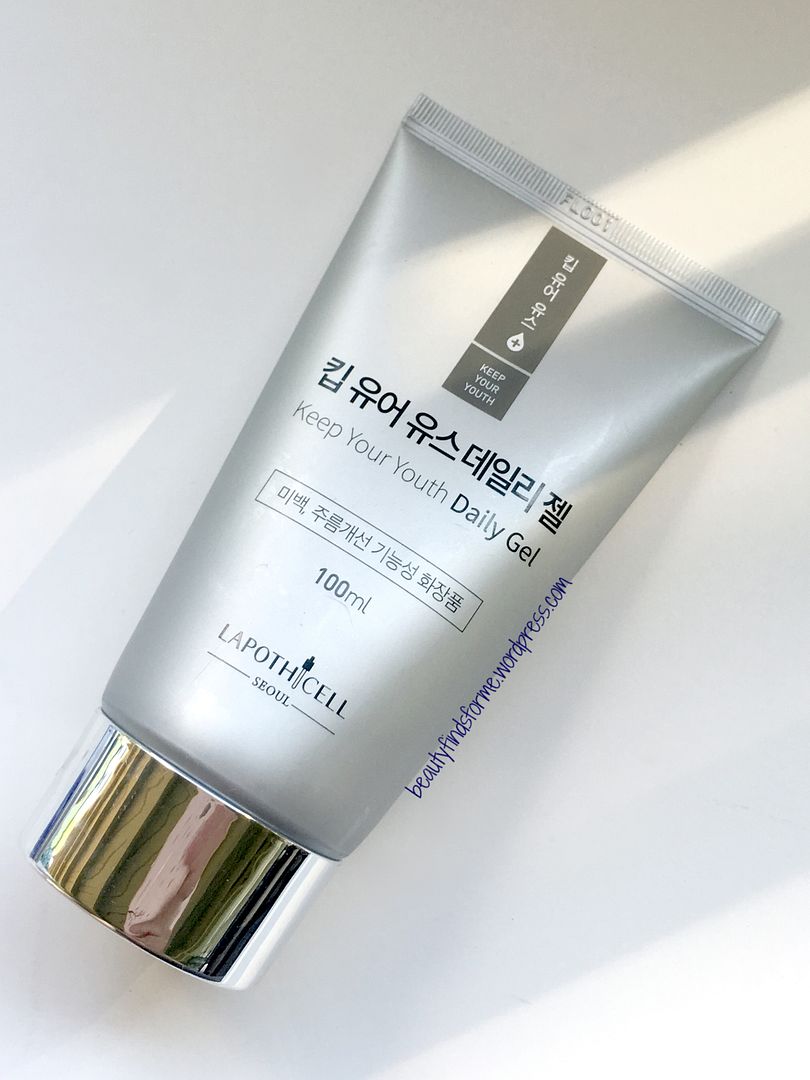 Lapothicell Keep Your Youth Daily Gel  The packaging is blah.  A grey pearlized plastic tube with a silver cap.  But don't let the external boring appearance fool you ~ this moisturizing gel was a lifesaver for my skin over the summer months!
Key ingredients in this lightweight gel are niacinamide (vitamin B3) is a powerful antioxidant that acts as an anti-inflammatory, improves your skin elasticity, enhance the skin barrier function and also it helps to even out skin tone and reduce post-inflammatory hyper-pigmentation.  Pearl is full of amino acids & minerals, will keep skin healthy and radiant, while increasing hydration.  Adenosine is yeast derived and has anti-aging, anti-wrinkle and anti-inflammatory properties.  This also contains PhytoG honey, using pollen from Jeju Island's own tangerine flowers ~ honey has antibacterial and antioxidant properties,  preventing infection, healing skin, repairing and combating damage caused by free radicals and prevents premature wrinkling.  Honey keep moisture in your skin and as it is a humectant, it attracts moisture as well.  Palmitoyl pentapeptide-4 (aka Matrixyl; originally known as palmitoyl pentapeptide-3) is a mixture of fatty and amino acids, stimulates collagen and elastic production, helping repair damage to your skin and reducing deep wrinkles and line. Ceramides are a lipid found in our skin cells and as we age, those ceramides decline, leading to dry, flaky skin. Introducing ceramides back to our skin via skincare products helps lock in moisture and create balanced skin.
Now, this does have a lot of dimethicone ingredients in it, so keep that in mind if you are sensitive to those ~ I am not, however, and I really loved the silky smooth slide of this gel.  This moisturizing gel  is full of  emollients and moisturizing ingredients, along with antioxidants and anti-aging ingredients.   This gel-cream has no scent that I can tell and it glides on and turns into water drops on my skin, and as I pat it in, it absorbs quickly.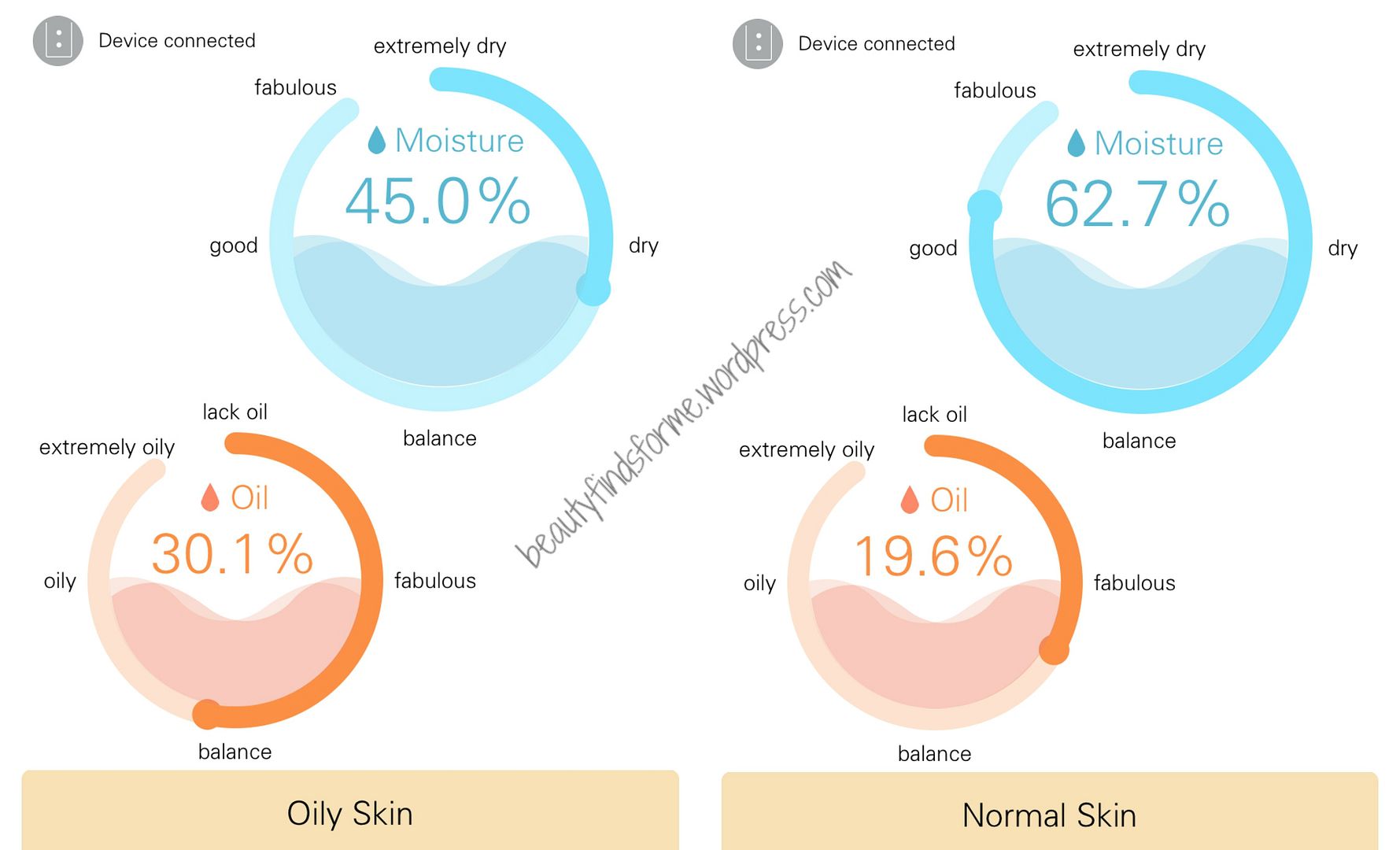 This increases my moisture level by 39%, which may not seem like a lot, but this is a gel, not a watery product, so this is actually a great amount for a moisturizer!  This also has the added benefit of reducing my oil levels by 35%, balancing my skin. This not only hydrates my skin beautifully, but it doesn't leave any dewy finish ~ it isn't matte, but it leaves behind a nice satin finish, which I am grateful for!  My skin is plumped up, looks rejuvenated and more even in tone, as this gel helps reduce redness and inflammation. 
Ingredients: water, methylpropanediol, cyclomethicone, dimethicone, cyclopentasiloxane, niacinamide,  dimethicone/PEG-10/15 crosspolymer, phellinus linteus extract, arctium lappa root extract, piper methysticum leaf/root/stem extract, pearl extract, honey extract, hydrogenated lecithin,  dimethicone/vinyl dimethicone crosspolymer, 1,2-hexanediol, sodium chloride, PEG-10 dimethicone, sodium citrate, ethylhexylglycerin, PEG-9 polydimethylsiloxyethyl dimethicone, adenosine,  butylene glycol, panthenol, raffinose, folic acid, ceramide NP, cholesterol, tromethamine, caprylyl glycol, palmitoyl pentapeptide-4, tropolone, phenoxyethanol  cosDNA analysis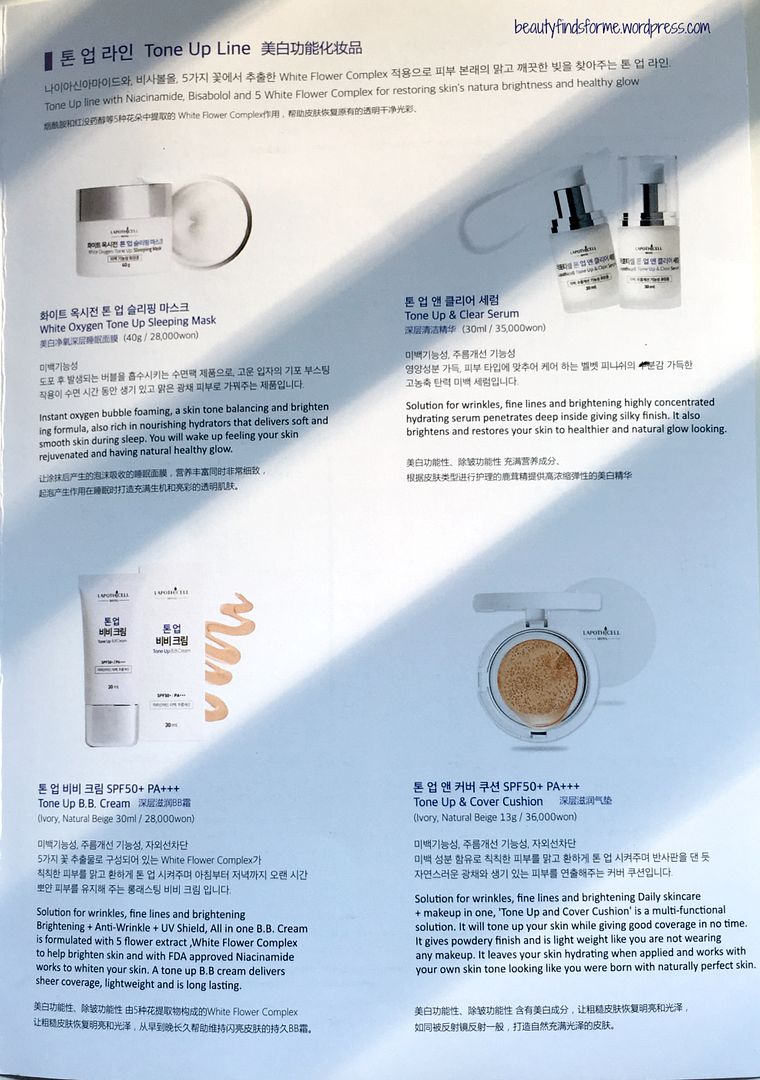 Tone Up Line: with niacinamide, bisabolol and 5 white flower complex, helps restore skin's natural brightness and healthy glow
Lapothicell Tone Up & Cover Cushion #23 Natural Beige SPF50+ PA+++ My last item for this blog post is their Tone Up cushion ~ Lapothicell also makes this in #21 Ivory, which I felt would be too light and I am glad I went with #23 Natural Beige.  For the record, I am NW20 in Mac.  This is a multi-functional skincare and cosmetic product ~ its ingredients will help brighten and reduce the appearance of fine lines and wrinkles, while protecting your skin from UV ray damage.  It comes in a matte white cushion case with dark navy blue lettering and has the standard mirror, internal lid and a cushion puff.
Again, nothing flashy or sexy about the cushion case, but it is what is inside that counts.  Key ingredients include three UV blockers ~ two physical, titanium dioxide and zinc oxide, which will block both UVA and UVB rays and chemical blocker ethylhexyl methoxycinnamate (Octinoxate), which mainly protects against UVB rays, but has some UVA protection.  Niacinamide is a powerful antioxidant that acts as an anti-inflammatory, improves your skin elasticity, enhance the skin barrier function and also it helps to even out skin tone and reduce post-inflammatory hyper-pigmentation.  Adenosine will help boost collagen and elastin production to help firm and tone skin, while acting as an anti-inflammatory.  Bisabolol (chamomile derivative) is a rich source of moisture, while providing soothing and healing care, as it is also an anti-inflammatory, anti-oxidant and anti-microbial.
The cushion also has "5 White Flower Complex", consisting of flowers from elderberry (sambucus nigra), orange (citrus aurantium dulcis), lily magnolia (magnolia liliflora),  frangipani (plumeria rubra) and tiger lily (lilium tigrinum).  This complex will help restore your skin's natural glow and brightness, while hydrating your skin.  I am sorry I do not have a full face comparison as by the time I started taking photos, my cushion was all used up!  That is how much I liked it!  Hopefully the following swatches will show you how this looks and covers on my skin.
The shade is a really great match for my skin type ~ I have both warm and ruddy skin tones, so I guess I am a wuddy! My skin is certainly not a neutral shade.  Natural Beige is a neutral shade and I found that the coverage is light to medium ~ it is buildable without caking.  I did not notice any strong scent with this cushion, so that is a plus from me as some cushions have a horrid floral or baby powder scent.  If you are looking for a full coverage cushion, this is not it, but for daily normal wear, this cushion works well on my skin.  I do not feel like I am even wearing a foundation on my skin when this is applied as it has such a lightweight feel.  Its finish is described as powdery, but what that means is that this is not a dewy cushion.  It is a good semi-matte to matte finish on my skin and looks very natural.  Does it brighten my skin tone?  Yes, I did notice that even with the matte-like finish, my skin looked more radiant and brighter when I used it. 
This does not cause clogged pores, nor does it settle in my fine lines and wrinkles.  It does provide a nice finish ~ however, I did not find this to be long wearing on my oily skin.  I have to touch up within 3 hours after each application, but since this is buildable, I just pat over the existing layers.  This was a really good cushion to use during the hot summer months, as it did keep my skin shine-free!
Ingredients: water, cyclopentasiloxane, titanium dioxide (CI 77891), ethylhexyl methoxycinnamate,  phenyl trimethicone, cyclomethicone, zinc oxide (CI 77947), butylene glycol, glycerin,  hydrogenated polyisobutene, butylene glycol, PEG-10 dimethicone, niacinamide,  disteardimonium hectorite, sorbitan sesquioleate, bisabolol, sambucus nigra flower extract, citrus aurantium dulcis (orange) flower extract, magnolia liliflora flower extract,  plumeria rubra flower extract, lilium tigrinum extract, hydrated ferric oxide (CI 77492), magnesium sulfate, dimethicone crosspolymer, beeswax, talc, aluminum hydroxide (CI 77002), ceresin, phenoxyethanol, stearic acid, triethoxycaprylylsilane, ferric oxide (CI 77491), ethylhexylglycerin, black oxide of iron (CI 77499), adenosine, disodium EDTA, 1,2-hexanediol, fragrance  cosDNA analysis
Final Thoughts
Wow, this brand is fantastic!  Yeah, their packaging might look boring and very standard, all tubes and bottles, with no cutesy stuff, but they remind me of cosRX when they first started off and before they decided to go all cutesy with Mr cosRX.  I also think, and don't shoot me, that this brand is better than cosRX ~ I know, I know ~ I love cosRX too, but all four of these items are winners.  I thought I would have issues with their sunscreen ~ nope!  I thought that their BB cushion would be dewy because what Korean brands consider matte, I find to be very dewy looking still.  Are there standout items here?  Yes ~ the A.C. Daily Calming Peeling Booster and Keep Your Youth Daily Gel are items that I would like to purchase for next summer!  They really worked well and I love both of them.  Alas, they aren't available on amazon.com, so I unless I want to pay a HUGE amount for shipping by ordering from Lapothicell's site directly, I cannot get them.  I am hoping that by next spring, they will have better shipping options and more stores carrying Lapothicell.
Where To Purchase
Amazon carries several items from the Lapothicell line and you can also purchase directly from Lapothicell's online store, as they ship internationally, but does not offer free shipping.  However, their shipping fees are really horrible, so hopefully, these products will be carried by stores like Jolse or W2Beauty, whose shipping rates are much more reasonable.
Lapothicell A.C Daily Calming Peeling Booster
Lapothicell Natural Mineral Sun Protection SPF50+ PA+++  (50 mL)

Lapothicell Keep Your Youth Daily Gel  (100 mL)

Lapothicell Tone Up & Cover Cushion #23 Natural Beige