I have become a huge fan of A. by BOM products ~ their Ultra Watery Eoseongcho Cleanser and 2 Step Ultra Cool Leaf Mask and 2 Step Ultra Floral Leaf Mask are my favorites.   You can read my A. by Bom reviews here, where I have reviewed several of their products already.  They recently had a huge PR blitz campaign, where they had Choi Si-won, famous K-Pop, actor and model, promote their latest and greatest  item, the 2 Step Ultra Night Leaf Mask. 
https://www.instagram.com/p/BYqVe9Th45r/?
I purchased mine from a new store, Bemused Korea, and I have tried this mask out twice now. A. by BOM uses ingredients from natural vegetable and botanicals  ~ such as using autumn grains which will help nourish and revive dull, tired skin; floral extracts that will create firm, toned skin that is elastic and soft and seed oils, giving nourishment to make your skin glowing and radiant.  A. by BOM believes that the beauty of Korea is the world's best, constantly looks to improve and bring better, unique products to their customers and listens to their customers needs. 
Skin Type and Concerns:  Oily, blemish prone, aging, fine lines/wrinkles and hyper pigmentation.
Unlike the other masks, which included a full size facial sheet mask, the Ultra Night Leaf Mask is quite unique.  It is a 2 step process ~ the first being a Night Leaf Patch and the second step is a sleep pack.  This night mask system will help tighten, tone and brighten your skin, while rejuvenating your skin overnight. 
Once again, A. by BOM's design is just drop dead gorgeous. The mask package has an huge calendula flower in shades of orange with a blue-grey ombre background.  The first step is the patch and by now, A. by Bom has really put a lot of effort into this oversized calendula flower-shaped mask patch.   The huge patches have so much detail on them ~ petals in varying shades of golden orange and the stamens  ~ and they come protected between two thick mesh pieces.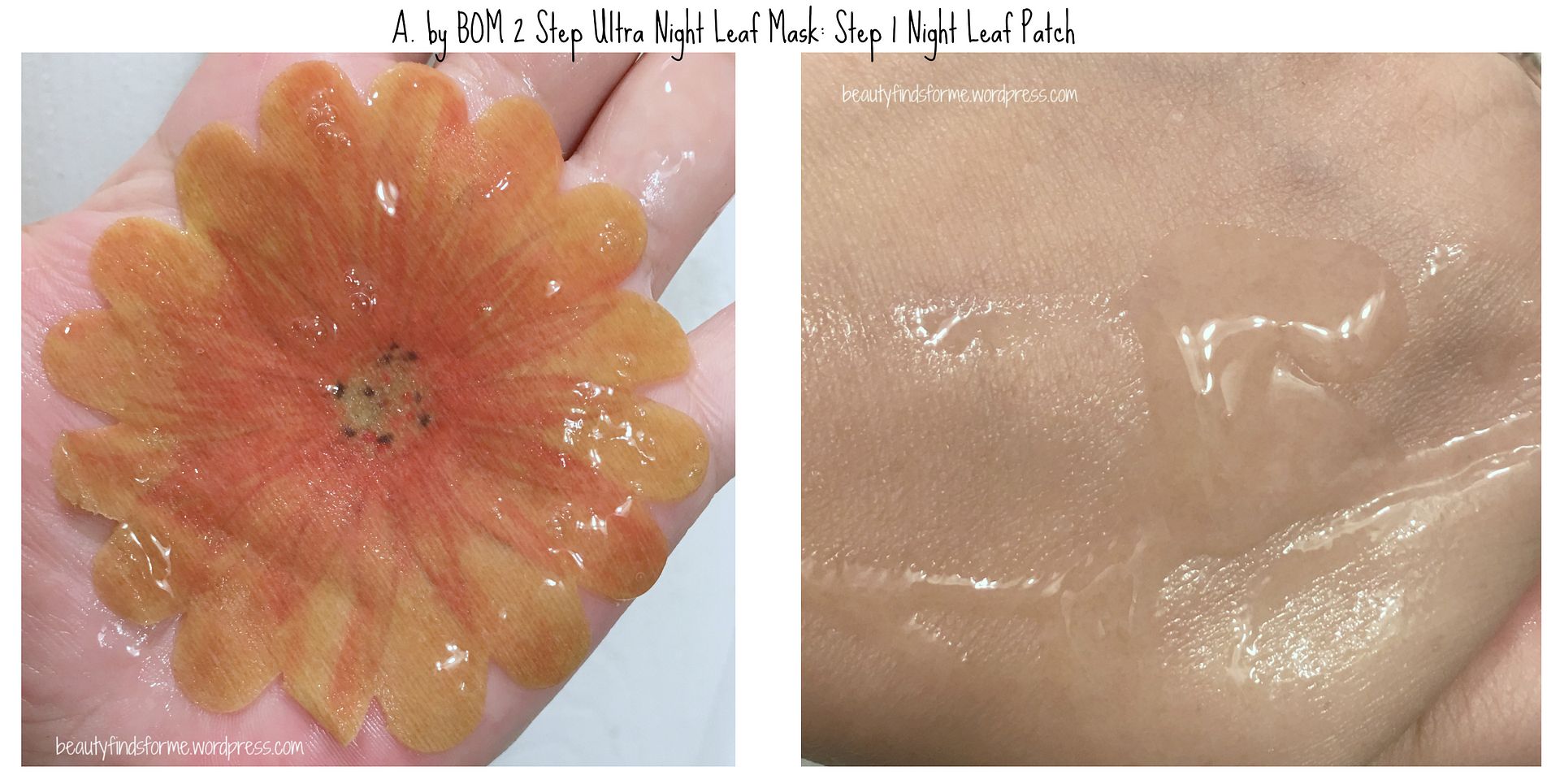 There is a lot of thick essence in this section of the pouch and it is a bit sticky too ~ it has a light pleasant floral scent and I apply the extra essence on my forehead and neck.  These patches are big enough to cover my cheeks and even though the instructions say to leave them on for 5 to 10 minutes, they are so wet and moist, that I left them on for an hour.  Once these are placed on my skin, they don't move and just stick to my face.
What are in these patches?  They have organic "orange-colored" florals ~ calendula (pot marigold) has one of the longest histories of usage of any herb in skin care. This is herb, which is not to be confused with the flower marigold, helps heal chapped and irritated skin. It stimulates wound and burn healing and it helps reduce dermatitits. Calendula gets much of its healing properties from its high levels of carotenoids, similar to Vitamin A.  Helianthus annuus (sunflower) is known for its hydrating and moisturizing properties and provides soothing, regenerative benefits to your skin, especially to those with sensitive and irritated skin. Aztec marigold (tagetes erecta) has been used for traditional medicinal purposes and the Cherokee used it as a soothing skin wash.  (source) 
Narcissus bulb extract can help balance moisture/oil levels in your skin and is an effective moisturizer as well as an anti-aging ingredient.  Two non orange-colored florals with a role in these patches are the winter begonia (bergenia ciliata) and its role is to help prevent and heal blemishes and other skin issues, as well as conditioning and soothing your skin. Cornflower (Centaurea Cyanus)  is an astringent, anti-inflammatory and conditions your skin.  It has a rich source of flavonoids which contain high concentrations of antioxidants, helping to combat free radicals and maintain a healthy skin.  They also have anthocyanins, which helps slow down collagen breakdown by stabilizing it.

The patches also has 3 different types of antioxidant, anti-aging and brightening vitamin C, including citric acid ~ this is an AHA and will help moisturize and condition your skin. Vitamin C is important for brightening and stimulating collagen production. Niacinamide (vitamin B3)  is a powerful antioxidant that acts as an anti-inflammatory, improves your skin elasticity, enhance the skin barrier function and also it helps to even out skin tone and reduce post-inflammatory hyper-pigmentation.
A1 Night Leaf Patch Ingredients: Water, Glycerin, Methylpropanediol, Niacinamide, Centaurea Cyanus Flower Extract, Althaea Rosea Flower Extract, Theobroma Cacao (Cocoa) Extract, Helianthus Annuus (Sunflower) Flower Extract, Calendula Officinalis Flower Extract, Bergenia Ciliata Root Extract, Tagetes Erecta Flower Extract, Narcissus Tazetta Bulb Extract, Hydroxyethyl Acrylate/Sodium Acryloyldimethyl Taurate Copolymer, Hydroxyacetophenone, Tromethamine, Allantoin, PEG-40 Hydrogenated Castor Oil, Dimethicone, Isohexadecane, Polymethylsilsesquioxane, Caprylyl Glycol, Ethylhexylglycerin, Adenosine, Butylene Glycol, 1,2-Hexanediol, Cetearyl Methicone, PEG-40 Stearate, Steareth-2, Steareth-21, Acacia Senegal Gum, Dextrin, Citric Acid, Caprylic/Capric Triglyceride, Ascorbic Acid, Ascorbyl Palmitate, Sodium Carbonate, Tocopherol, Carbomer, Caffeine, Xanthan Gum, Disodium EDTA, Phenoxyethanol, Sodium Benzoate, Potassium Sorbate, Chlorphenesin, Fragrance  cosDNA analysis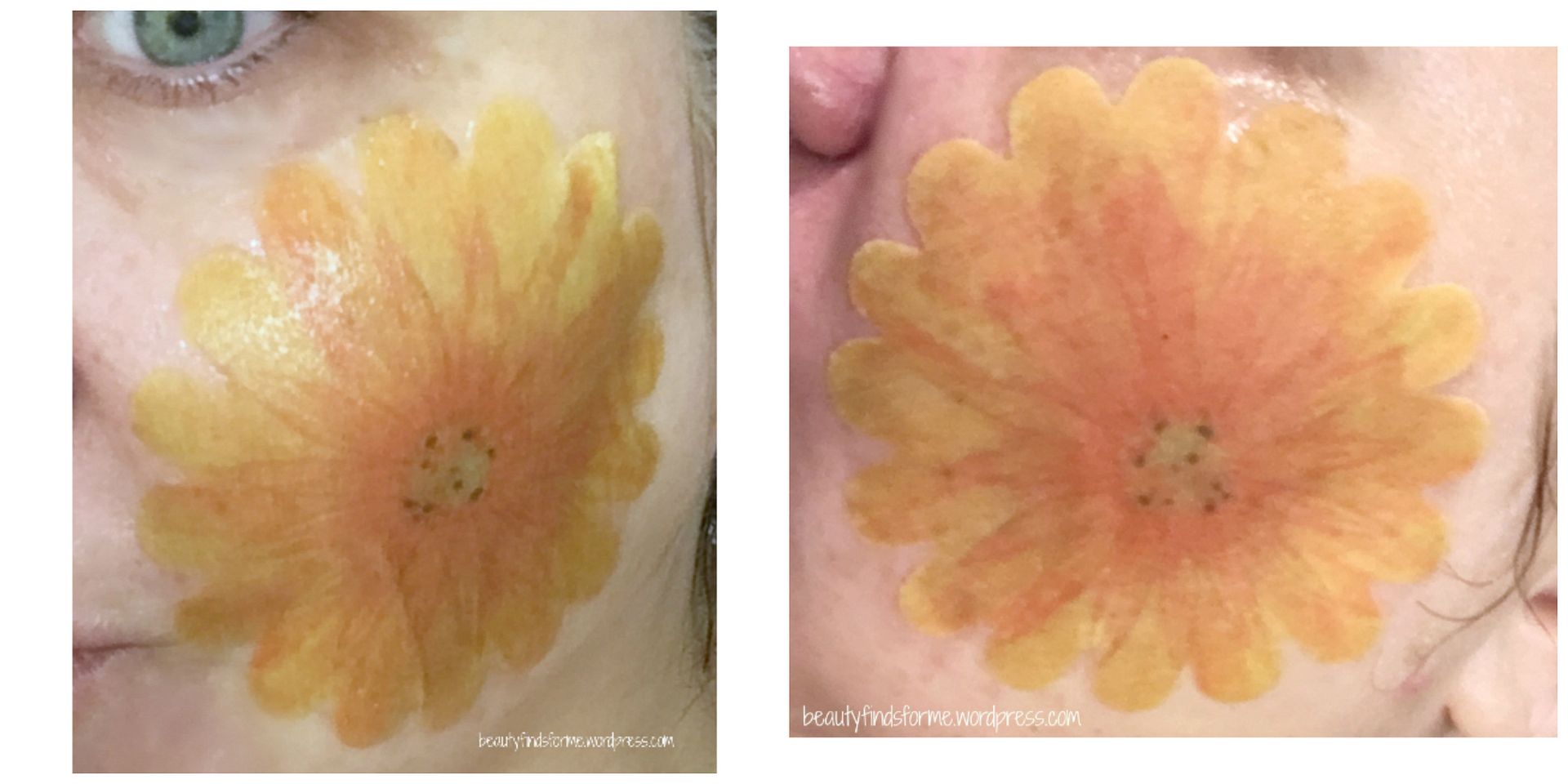 So, what happened after an hour?  My skin was visibly more pumped up, smooth and hydrated where these patches were placed.  I could actually tell the difference between my skin's texture and bounciness where the patches were and a huge unexpected plus ~ my pores were smaller and tighter in appearance!  The essence is still a bit tacky on my skin, but that is okay as I am moving onto the next step!  You do not rinse or wash off any of the essence on your skin. 
The second step is the Ultra Night Leaf Mask.  This is a regenerative gel-cream that will help hydrate your skin, while providing anti-oxidant and nourishing care.  This has some really nice ingredients in here, so let's break it down! 
This contains "warming ingredients", which doesn't mean that this sleep pack is going to heat up on your skin ~ in fact, I found that this mask was very cooling on my skin!  However, these ingredients do help transmit low levels of heat on your skin, which helps improve the circulation in your skin and gets your blood flowing.  Increased blood circulation in your skin will help improve your complexion, reducing that blotchy look.   Ginger contains 40 antioxidant compounds that help with anti-aging, removes toxins and stimulates your blood circulation. It combats and prevents damage from free radicals, helping improve elasticity which makes your skin firm, toned and less wrinkles. It have anti-bacterial properties to help fight off infections, it is also an anti-septic and antimicrobial, which helps keep blemishes away and its anti-inflammatory properties help reduce redness and swelling of the skin.  It also is a skin brightener and can help even out your skin tone by inhibiting the production of melanin.
Leonurus sibiricus (motherwort) has moisturizing and soothing properties and traditional benefits for this herbal ingredient includes anti-bacterial, anti-fungal, anti-inflammatory, antioxidant, astringent and increase blood circulation. Ginseng is used in anti-aging skin care products, as it is can stimulate the skin and activate the blood flow, which will increase toning and production of new skin cells. It also has anti-oxidant and anti-inflammatory properties, due to natural carbohydrate called saponin, and will help reverse damage caused by free radicals, such as hyper-pigmentation and also combat free radicals to prevent new skin damage of fine lines and wrinkles. Ginseng detoxes your skin and leaves it radiant and glowing. Applied topically, it helps stimulate collagen production to promote cellular renewal. Its herbal properties and usage dates back over 5,000 years.
Honey has antibacterial properties, so it can speed up healing in your skin ~ think acne, rashes, cuts ~ and prevent additional infection. The texture of honey will keep moisture close to your skin, which makes for a glowing and radiant complexion. Not only does honey keep moisture in your skin, but it is humectant, which means it attracts moisture too. Honey is also an antioxidant, which means it helps repair and combat any damage caused by free radicals and prevents premature wrinkling. This also has fennel, which is a potant antioxidant and helps detox your skin ~ it is a blemish busting ingredient as well, as it anti-bacterial.  It helps hydrate, tone and firm skin, increase elasticity and stimulates blood circulation, while purifying, healing, smoothing and soothing your skin.  (source)  Citrus junos (yuzu) is a powerful antioxidant, just like many citrus fruits are. It contains more than 3 times the amount of vitamin C than lemons and vitamin C helps combat free radicals. It can help reverse hyper-pigmentation, fine lines and wrinkles that were caused by free radical damage. It can also aid in the production of collagen, resulting in firmer and younger looking skin. Yuja helps soothe and smooth your skin. 
Trehalose supplies concentrated moisture to your skin and helps retain moisture, preventing your skin from drying out.  Hyaluronic acid helps supply nutrition and strengthen your cell barrier and will penetrate deep into your skin, while retaining moisture.  This also contains 2 more potent vitamin C ingredients for brightening and anti-aging benefits.
A2 Ultra Night Leaf Mask Ingredients: Water, Cyclopentasiloxane, Butylene Glycol, Cyclohexasiloxane, Glycerin, Trehalose, Theobroma Cacao (Cocoa) Extract, Panax Ginseng Root Extract, Zingiber Officinale (Ginger) Root Extract, Citrus Junos Fruit Extract, Tagetes Erecta Flower Extract, Foeniculum Vulgare (Fennel) Fruit Extract, Leonurus Sibiricus Flower/Leaf/Stem Extract, Actinidia Arguta Juice, Honey Extract, Pentylene Glycol, Ammonium Acryloyldimethyltaurate/VP Copolymer, Phenyl Trimethicone, Polyacrylamide, Caprylyl Glycol, Dimethicone/Vinyl Dimethicone Crosspolymer, C13-14 Isoparaffin, Sodium Hyaluronate, Aminomethyl Propanol, Laureth-7, Dextrin, Acacia Senegal Gum, Caprylic/Capric Triglyceride, Ascorbic Acid, Ascorbyl Palmitate, Sodium Carbonate, Tocopherol, Ethyl Hexanediol, 1,2-Hexanediol, Ethylhexylglycerin, Alcohol Denat., Carbomer, Disodium EDTA, Phenoxyethanol, Fragrance cosDNA analysis

This comes with 6 mL of sleep pack gel-cream which is a LOT.  I actually can get two uses out of this package and that includes my neck! The gel cream is silky smooth and to me, it smells like honeyed apples, not a floral scent.  I love this scent and it makes me hungry!   It absorbs fairly well and I do notice a bit of a light film on my skin, but 9 times out of 10, that is normal with my skin type and sleep packs ~ this has dimethicone in it, so I do expect to have that slickness on my skin.  However, it is not sticky, greasy or tacky to touch once it dries down.  This increased my moisture level by 39% and decreased my oil level by 35%.

In the morning, my skin looked so supple and brighter.  After removing the residue with a cleansing water, my skin felt smoother and looked very clear and more even toned.   
Final Thoughts
Yah, another great product from A. by Bom.  When I saw these being previewed, I was on the edge of my seat waiting for them to be released to the public.  I love a good sleep pack mask and the floral leaf designs are becoming A. by Bom's signature look now.  I also love soothing skin care ~ I mean, who doesn't?  ~ and putting big flowers on my cheeks was fun!  I do wish that the patches could be made into a full sheet mask, however, because I got such amazing results (pores looked smaller!!)  with the patches that I would like to have those results all over my face.   The sleep pack is wonderful as well ~ I love the silky gel texture, the apple-honey scent and how my skin looks so much more brighter and refreshed in the morning.   If I had a wish list, it would be that A. by Bom makes the sleep pack gel cream into a standalone jar.  This pack is really that good, in my opinion.  I have 3 of these masks left ~ which means 3 leaf treatments and 6 sleep mask pack treatments.  I will repurchase these, as I think they are well suited for traveling and also they are so much fun with solid results.

Have you tried A. by Bom yet?  Do you want to?  Which of their products looks to be the most interesting to you?
Where to Purchase

There is now an authorized retailer for A. by Bom that ships internationally. You can purchase these in singles for  $5.50 USD or by the box ~ you get 5 of them ~  for $27.50 USD and I purchased mine at the brand new store, Bemused Korea.

Bemused Korea also carries my favorite A. by Bom products ~ the 2 other floral leaf masks and the watery cleansing balm.  Check out Lisa's store ~ and if your country is not on her list, drop her a message.  I read online that a customer asked her to add in her country and she did!
You can also use a shipping service and order directly from any online store in Korea that carries their brand (see here for a list of online shops and links).  I recommend Korean Buddy (click here) ~ I have used them many times in the past and have always been pleased with their service.  All you have to do is send them the links and they will come up with the product total.  You pay them, they get the products, weigh it and then give you the shipping costs.  If you have never used Korean Buddy before, you can save 50% off the handling fee by using my blog as a referral https://beautyfindsforme.wordpress.com   
 [ contains referral links ]
Save