September is my Birthday Month, so let's see how Yogi Surprise fared!  What is Yogi Surprise?   

Yogi Surprise Jewelry Box
2 handmade pieces + 1 organic treat

Handcrafted in Bali. Fair Trade

$65+ retail value in every box

$24.95/month + free shipping
The Jewelry box will contain two handcrafted yoga inspired jewelry pieces, that are fair trade, sustainably harvested materials, nickle-free, lead-free and cadmium free.  These are made in Bali, Indonesia and 10% of all proceeds will be given to education the Balinese families to make these beautiful pieces.   It also contains an organic chocolate treat.

This month's theme is "For the Love of Yoga"  September marks a time to slow down and begin preparing for a restful autumn season after an active summer. As we welcome the arrival of National Yoga Month, we can take this time to acknowledge and honor the  growth we've experienced over the past summer through our practice. Yoga puts us on a path toward becoming the very best versions of ourselves, which is why this month's jewelry pieces have been designed with truth and transformation in mind. Gorgeous  African turquoise beads will harmonize your past self with the future self you want to be so you can embody your true purpose in the present. Andradite garnet beads will also help keep you grounded to your Earth element as you accept and flow with change. The more you embrace and celebrate your journey through your practice, the more you'll inspire others along the way to embark on their own journeys too.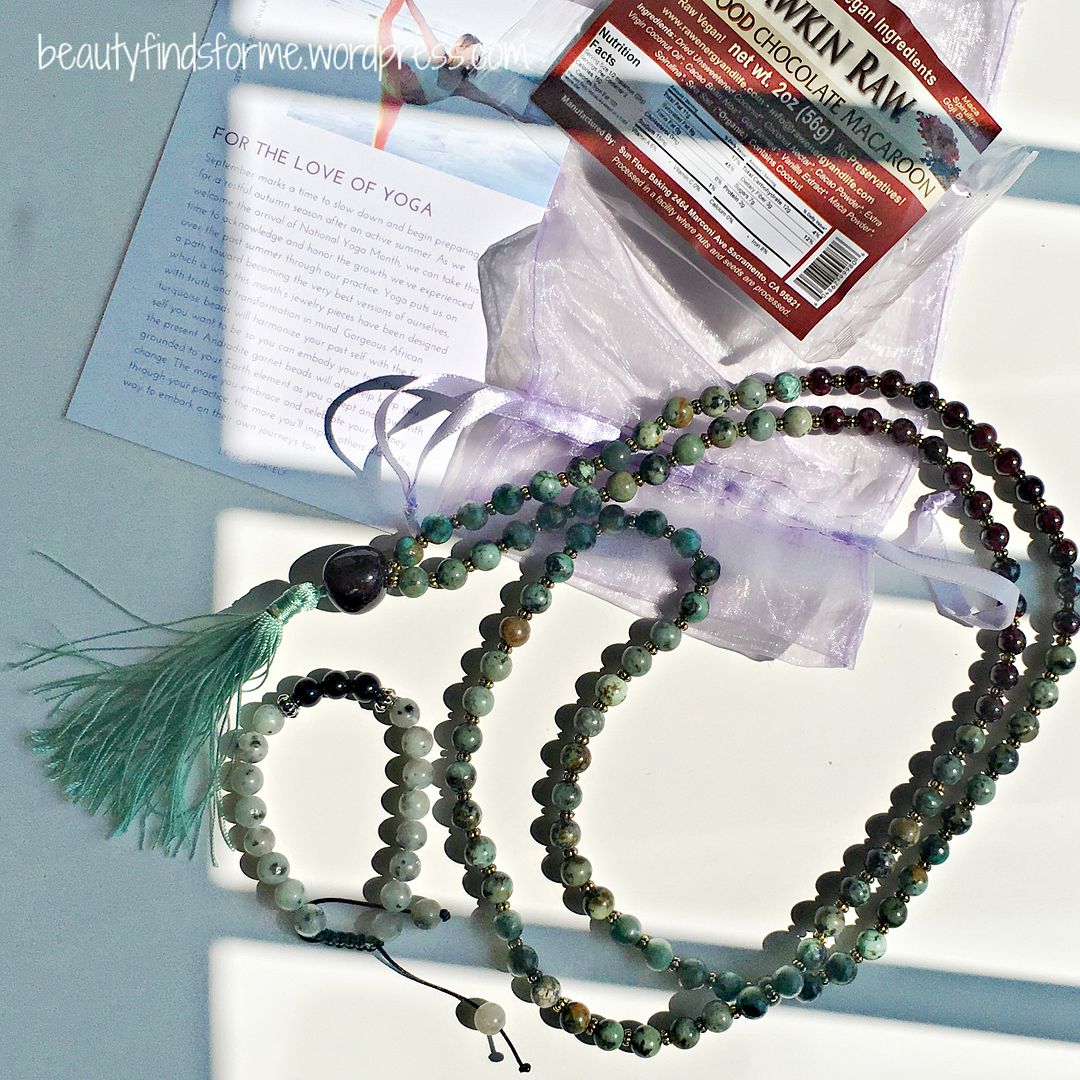 Informational Card
True Purpose Mala  My photos do not do these pieces justice.  This month's offerings are just stunning and it is unfortunate that with the bright light, I could not really capture the depth of the colors in the garnets.  This mala  is made for welcoming change and opening your heart to what the future has in store for you.  These have earthy olive colored African turquoise beads with a section of garnet beads, followed by another row of turquoise beads ~ all separated by antique gold toned spacer beads. 
The beaded necklace is 48 inches in length, so you can double it or knot it to shorten, or just wear the long length.  The pendant is made of a asymmetrical round garnet bead with a pop of color with its sea-foam tassel, coming in at 4 1/2 inches, making this mala 52 1/2 inches. Now, Yogi Surprise states these are Andradite garnets, but those garnets do not have the earthy red shade, but either green, olive, black or dark yellow.  These are a blood red-brown garnet, so I think they made a mistake ~ I believe these are Almandine garnets.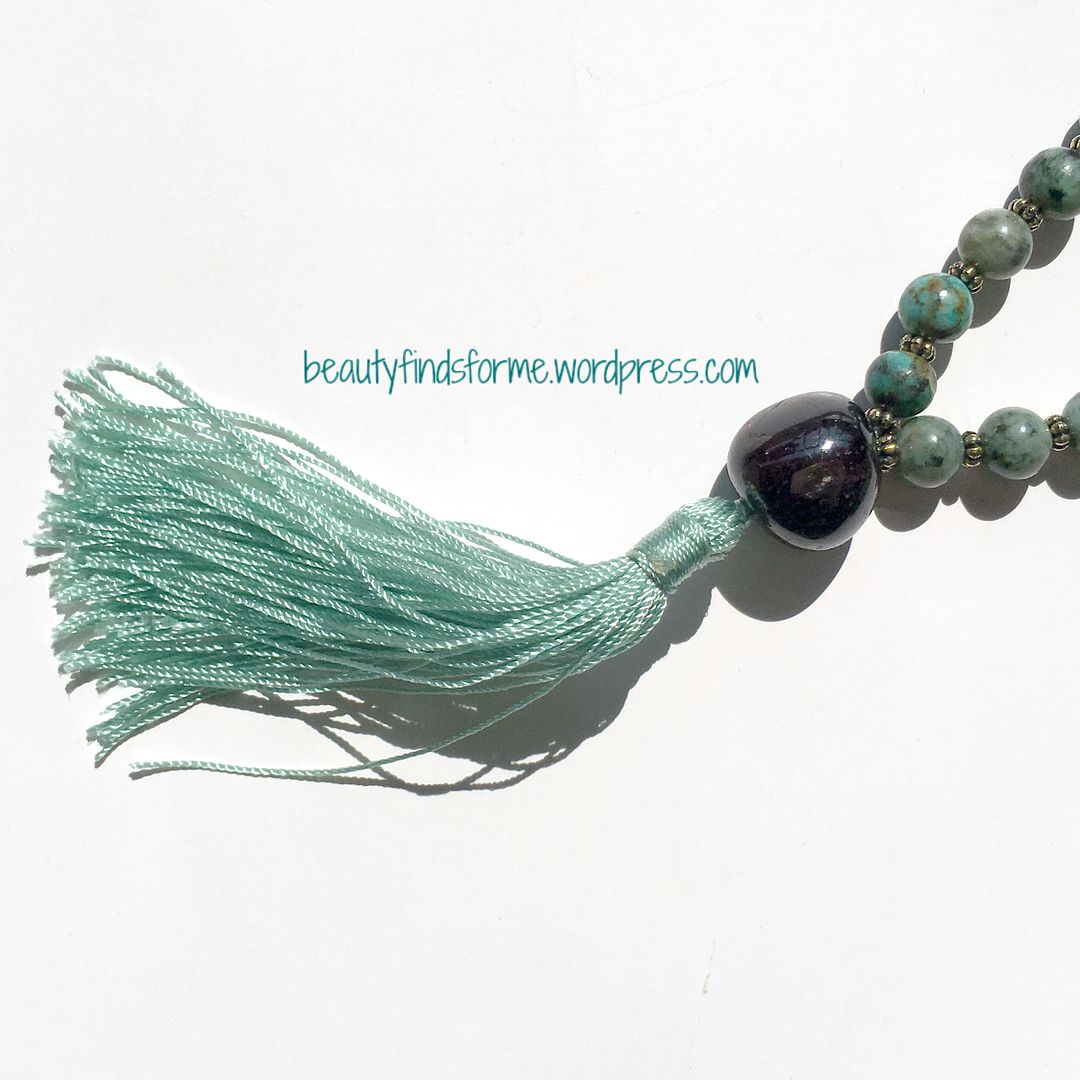 This is stunning and the garnets are a deep ruby blood red shade that flashes its color when it catches the light.  The necklace has this vintage feel to it and it is very heavy  ~ this is not some cheap, lightweight piece! RV $82.00
Turquoise:  5th Chakra ~ Throat Chakra Turquoise is perhaps the oldest stone in man's history, the talisman of kings, shamans, and warriors…  Turquoise strengthens the meridians of the body and the subtle energy fields, enhancing communication between the physical and spiritual worlds. Placed on the Third Eye, it supports intuition and meditation. On the Throat Chakra, it releases old vows, inhibitions, and allows the soul to express itself once more. It explores past lives and regards fate as ongoing and dependent on one's action at any moment.  Turquoise is a stone for finding wholeness and truth, and communicating and manifesting those qualities. It stimulates and harmonizes the Throat Chakra, making it easier to articulate and bring forth one's deepest wisdom. source
Garnets are one of the most revered stones in legends and folklore and it is an ancient talisman.  It was valued for its beauty as an ornament as well as its protective energies and powers.  It helps ground forces in yourself and represents primordial fire, purification and love. Also known as the Stone of Health, garnets extract negative energy from the chakras, and transmuting the energy to a beneficial state.  Almandine Garnet unites the energy of scarlet and red with the more muted, earthy overtones of brown. It is intimately tied to the Earth, and is a talisman of protection and unyielding strength, increasing willpower and resistance to all things negative. It aids circulation and all blood related issues. Associated with the First Chakra, it is a stone of physical love and relationships, and a spiritual stone of psychic protection. source

Mala are an ancient tool to help focus when you meditate and pray.   This is a symbol of the never ending cycle, and each bead is a Sanskrit prayer or mantra in sets.   You move the beads in rhythm with your breathing and it will help you center and quiet your mind, focusing on the mantra.    Mala beads can be used regardless of your religious beliefs as a mediation tool and will help you relax and calm your mind, body and spirit.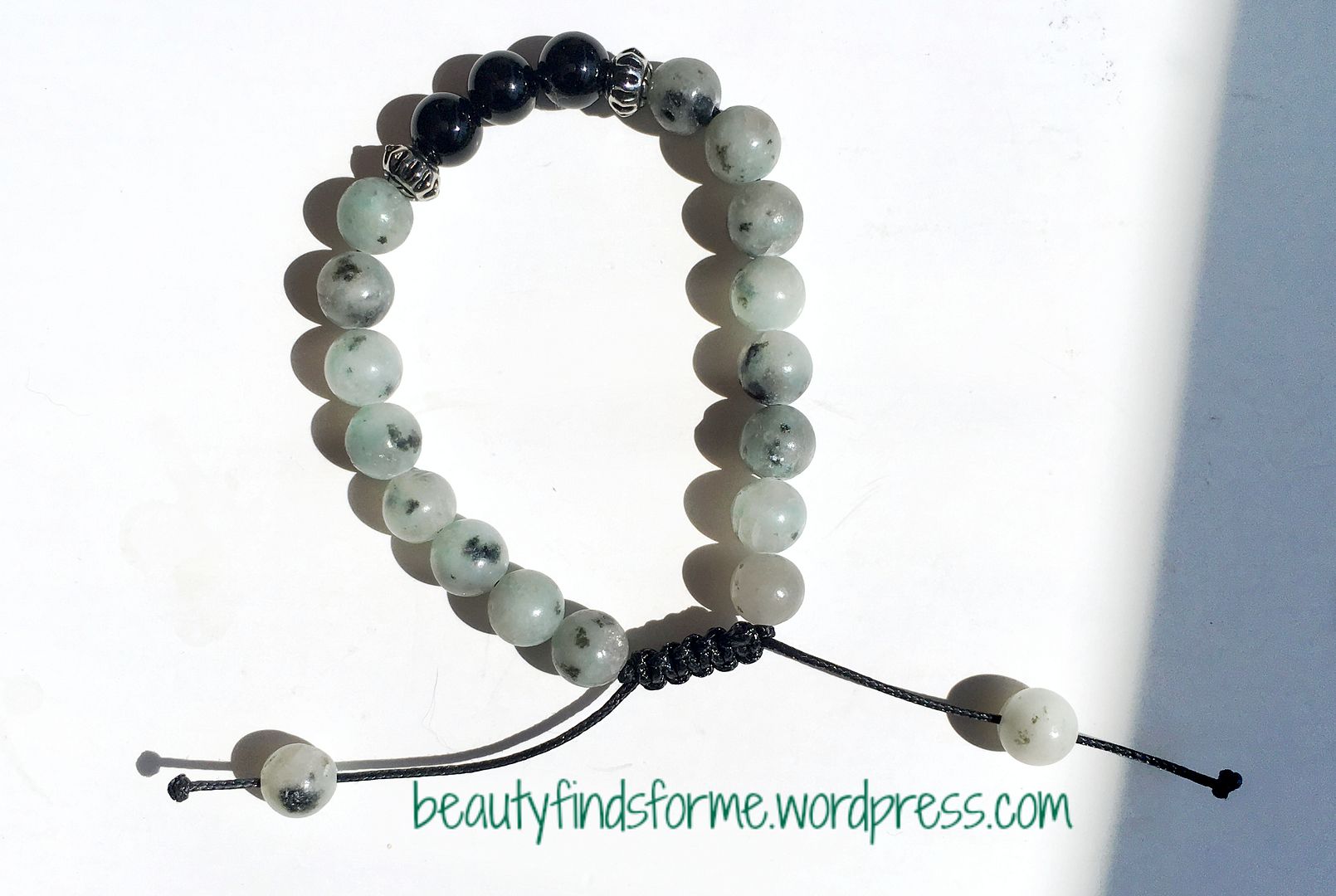 Black Agate and Sky Jasper Bracelet  Yeah! An adjustable bracelet this month ~ the last few months have had tiny small and too tight bracelets for me, so this is a welcomed change.  This has 3 grounding and protecting black agate beads, 2 silver toned spacer beads and then sixteen "sky blue" jasper beads.  At the ends of the bracelet, there are two more beads and this is adjustable from 7 to 10 inches.  Now, the jasper beads are more of a grey-green color to my eyes.  I don't see it as sky blue at all ~ I don't mind, as I like the greenish tones of the beads and would think that it would look funny to see a sky blue bracelet with the mossy greens and red-browns of the mala.  This bracelet is supposed to match the mala, so this color combo works better.  Like the mala, this bracelet has some weight to it and is very well crafted.  RV $23.00
Black Agate:  Root Chakra  This is a grounding and protective stone, which gives peace and calm, especially during times of sadness and grief.  Black Agate helps you gather your inner strength to move on.  It will help steady yourself as you make decisions and keeps your body in balance, even more so when aging. source

Jasper: The Supreme Nurturer, Base & Sacral Chakras Jasper is considered a Power Stone and a stone that accepts intense responsibility as a Protection Stone. Jasper gives one the courage to speak out and have personal independence.  Its a stone of the earth, and therefore a very "grounding" stone.  All Jaspers  have excellent protective energies. Jasper helps to re-align all chakras, in integrate those energies for our greatest good.  source  Jasper helps to align the chakras and facilitate dream recall. It is a balancing stone that works to align the physical, emotional and mental bodies with the etheric realm. Placing jasper in a room helps to eliminate negative energies. It also helps one to accept responsibility and become more grounded in the stabilizing energies of the earth. Metaphysically jasper helps to balance the yin and yang energies and stabilize the aura.  source
Raw Energy and Life Chocolate Macaroon  This is our treat in our box this month and it is made with 100% raw vegan superfoods ~ organic cocoa powder, extra virgin coconut oil, maca powder, spirulina, goji berries.  Pros:  Moist, not crumbly, very tender macaroon.  Cons: Worst Aftertaste EVER.  I felt like I ate mold or something.  2 oz RV $3.99
Ingredients: Dried Unsweetened Coconut*, Coconut Nectar*, Cacao Powder*, Extra Virgin Coconut Oil*, Cacao Bean Nibs*, Goji Berries*, Vanilla Extract*, Maca Powder*, Spirulina*, Sea Salt   *Organic
I am so happy that Yogi Surprise gave us an adjustable bracelet this month ~ I will have to let them know this is the right thing to do.  If they cannot let us have a profile for sizes, they have to continue to do this ~ or bracelets with extenders.  I love how the two pieces go so well together, even though the stones are quite different!  The colors are beautiful and I love the greens, blacks and reds in this month's box.  I really disliked the moldy-tasting macaroon, however.  This box has a Yogi Surprise retail value of  $109.00 ~ I go by the value of the pieces to me and this month, these items are worth it!   Part of the proceeds from this box will go back to the local artisans that made these items and help educate their community.

Do you subscribe to Yogi Surprise?  Which box do you get and what was your favorite item this month?  Let me know in the comments below, I would love to read them 🙂
If you are interested in signing up to Yogi Surprise for either their Lifestyle or Jewelry box, I would love it if you used my referral link   They are currently running a 10% off special for the first month, no promo code needed.   Check out the spoilers for next month's boxes below!    If you sign up for the Lifestyle box, use YOGIFRIEND to get 20% off the life of your subscription!

Next Month Spoilers



If you sign up now, you get a free gift worth $20.00 ~ Chakra Healing Stones  (these came in the May box ~ see my unboxing here)
Jewelry Box   Balanced Mala For our upcoming theme on becoming Balanced this October, we're excited to reveal our Balanced mala to you. This beautiful mala has been carefully crafted to show off delicate and shining pearl-colored beads balanced with hints of black, blue, and brown. Pearls are known to calm and center the spirit while black hematite promotes grounding and stabilization. Wearing this mala during your yoga and meditation practice will help harmonize your energies so you can move more freely with the ebb and flow of life.  Retail Value: $49
Lifestyle Box    Lotus Flower OM Massage Oil, Bohemian Funk This October, bring your body, mind, and spirit back to a state of balance with this soothing massage oil from Lotus Flower Om. Blended with hints of musk, amber, and vanilla for an overall earthy aroma, just a few droplets massaged into the skin will make you feel like you've been wisped away into the woods where nature can quietly work its restorative magic on you. Retail Value: $35  (ohhh exciting!)
[ all descriptions in italics from linked website.  this blog post contains referral & affiliate links ]