Congratulations to @kimono_kat 
She won my giveaway this month!  Stay tuned as I have my Reader's Choice Giveaway coming up in October and don't forget, there is the #MyBaeChallenge that is running on Instagram too, where you can win a prize as well!
It's time for my SeptemberUnboxing Beauty GiveAway!   Thank you to my readers who support my blog and use my links to provide me with a small commission as this is how I can continue to do these giveaways!  Good luck

This  giveaway is open to both USA and  International Readers (basically anywhere the USPS can ship to)  This Giveaway runs until the end of the day (EST) September 22nd, 2017 and some of the activities can be done daily.  The more options you do, the more entries you get!
If you regram on IG (see IG photo here) and tag @colebiancardi and #SeptemberUnboxingBeauty_GiveAway, you will get double the points with an Instagram repost!  Share the K-Beauty Love!
You get extra points for regramming on Instagram ~ BUT you need to post the link in the entry form here ~ this is something you can do daily!  Since Instagram Shadowbans, it is getting harder to find the hashtags and regrams, as you can be hidden from me. 
please note I removed the hanaka 2-step pore eraser from the giveaway as that expired in July.
make p:rem Black Cleansing Water (exp 09/25/2019)

Deoproce Green Tea Total Solution Toner (exp 02/2019)


Goodal Moisture Barrier Eye Cream (exp 12/2018)

elf beautifullybare Liquid Highlighter Illuminating

Age 20's Spa Water Bouncing Cream (exp 03/2019)

Dirty Little Secret Eye Crayon in Gold Plated

Colorpop  Ultra Satin Lip in London

Deluxe Size Laneige Water Bank Moisture Cream

Deluxe Size Caudalie Radiance Serum

The Blushed Nudes by Maybelline palette

Peripera Airy Ink Velvet in Elf Light Rose

Deluxe Size Ole Henriken Truth Serum Collagen Booster

Rimmel Precise Eyeliner in White

Menturm Petroleum Jelly

Deluxe Size Got2B Ultra Glued Invincible Styling Gel

Innisfree Canola Honey Mask  (exp 09/14/2018)

Sample Size Peter Thomas Roth Water Drench Hyaluronic Cloud Cream

Sample Size Marcelle 3-in-1 Micellar Gel Eye Makeup Remover

Fran Wilson Mood Matcher Green (turns to a rosey shade)

Anderson Lilley Winter in Manhattan Beach Body Cream


Sample Size Oribe Matte Waves Texture Lotion

Plus a lot of masks (more than pictured here) and samples!
What you need to do to enter
Use the Entry Link below to enter via Rafflecoper.  This will open a new page with the entry form.  This is legit as my copy of wordpress does not allow me to embed the entry form directly into my blog.

All entries will be verified and anyone who has multiple accounts will be disqualified.

Qualified entry will then be randomly drawn.

I will notify the winner within 24 hours of the contest close. The winner will have 36 hours from then to contact me  with the following information:  their full name and mailing address as it should be addressed for their country


If the winner does not contact me within 36 hours,  another winner will be selected and the original entry is null and void
What you need to know
beautyfindsforme is me 🙂
By entering, you are agreeing to all of the following items:
beautyfindsforme is not responsible for damages due to shipping, lost, stolen packages or any other issues.  Once the parcel is mailed out, it is out of my hands.

Once beautyfindsforme has the winner's information, beautyfindsforme will ship it out and give the winner a tracking number (if applicable)

The winner is responsible for verifying the products and their contents and to determine the suitability of those products for their own needs.  beautyfindsforme is not responsible for the actual products and ingredients.
This is an international giveaway.  beautyfindsforme will pay for shipping and your country must be one that the USPS (United States Postal Service) ships to.  Please check their site to see if they ship to your country.

The winner is responsible for any custom and/or import duties in their country.  beautyfindsforme is not responsible for those fees.


You must be 18 years of age or older (or the age of majority in your own country), or must have the express permission of a parent or legal guardian to enter and receive the prize.

Please ~ would love it if you would post photos of your prize on IG and/or Facebook so people know where you got these great products!  And that I am legit in offering giveways! 
To Enter, Click on this link or the image and follow the instructions!  This contest will end on September 22nd,  2017.  Some of the entries you can do daily, so enter more often for a greater chance to win!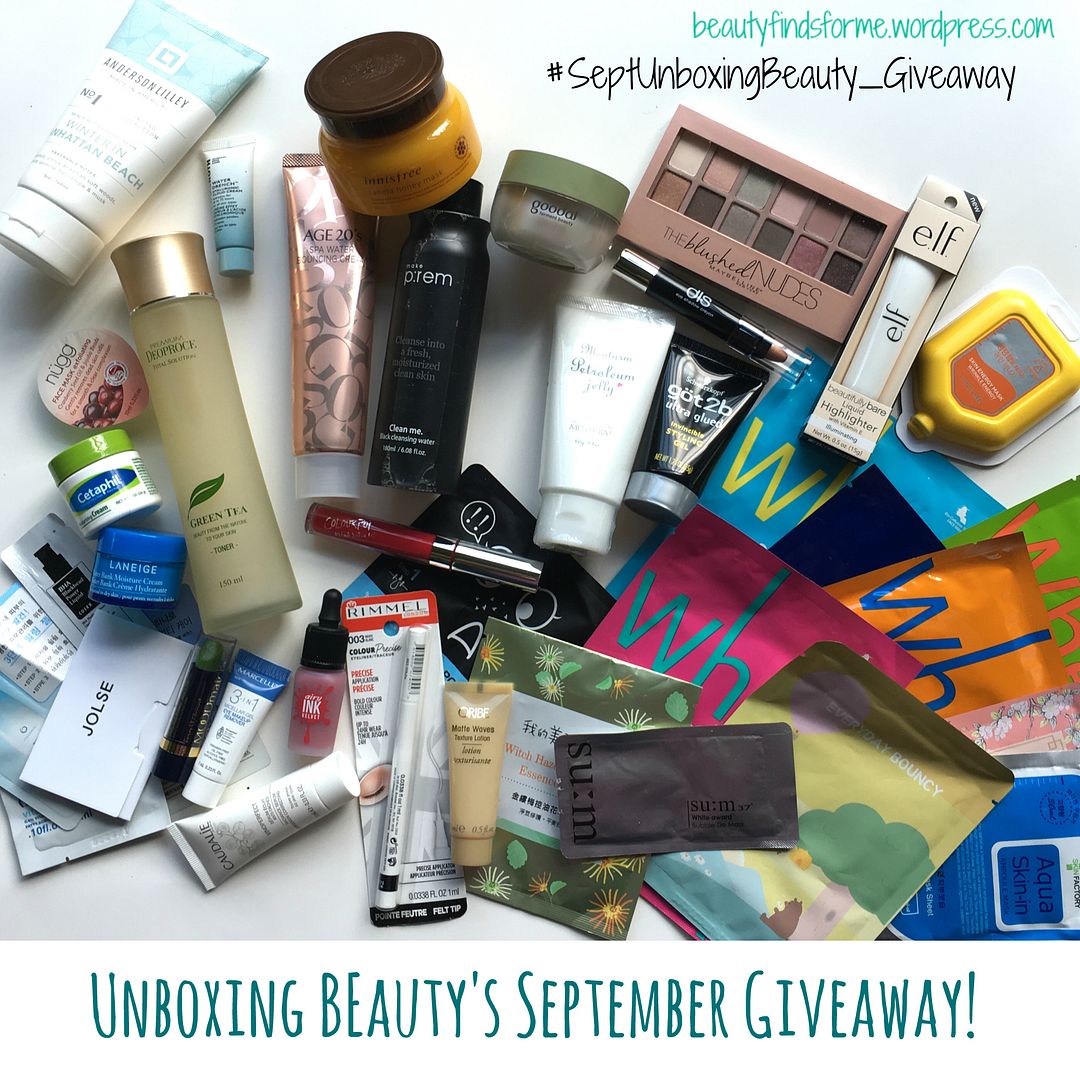 Don't forget to like me and follow me on Facebook and Instagram!  I've moved on FB, so I would REALLY appreciate it if you did so 🙂