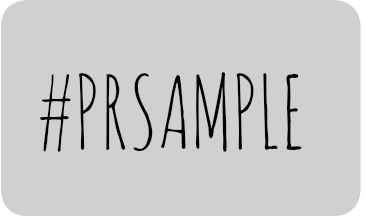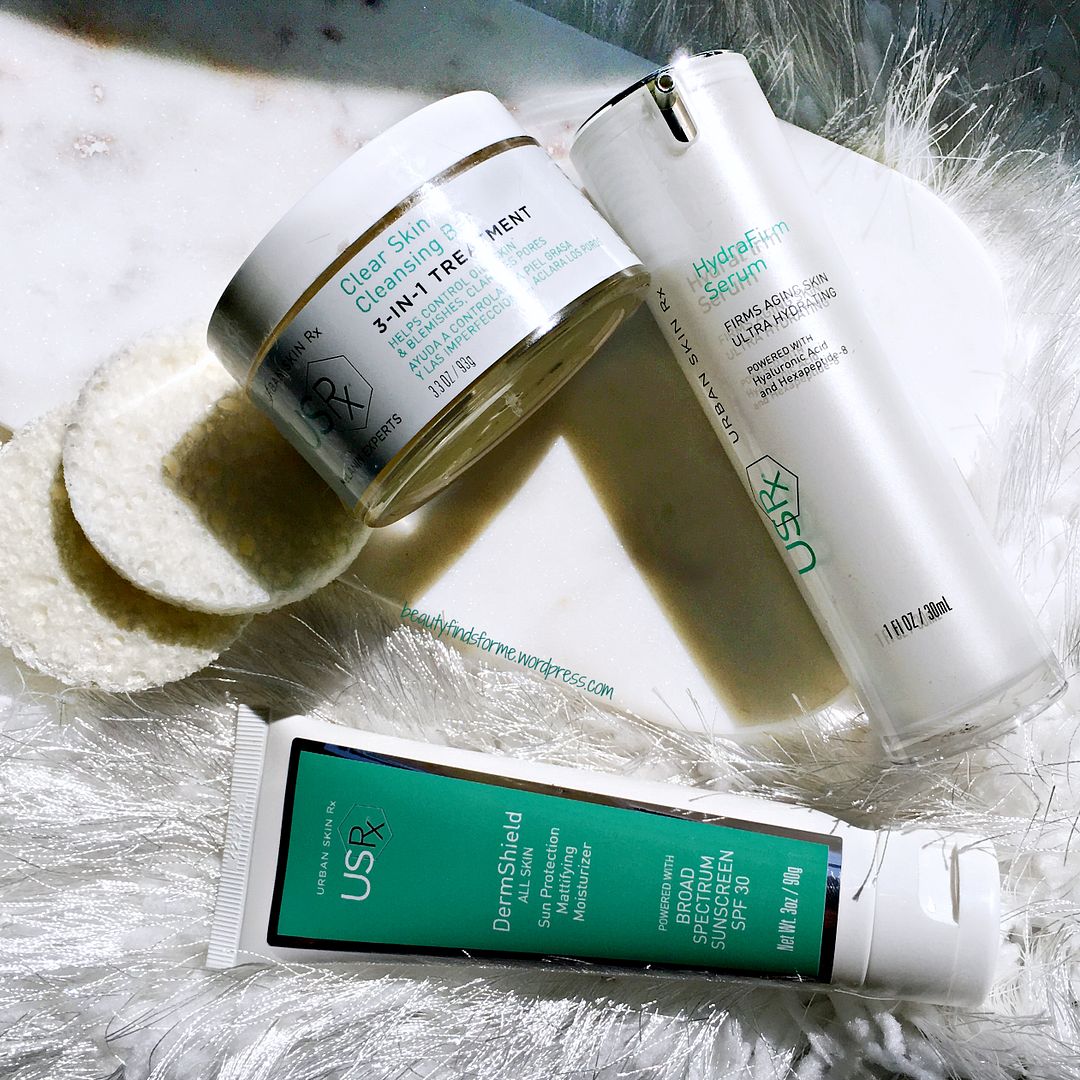 I was recently sent a PR package from Urban Skin Rx, which specializes in corrective skin care for all skin tones and colors. I  was very interested in their line, as I have uneven skin tone, due to both acne hyper-pigmentation (PIH) and sun damage hyper-pigmentation. I also felt that Urban Skin Rx had a variety of skin care products designed for oily and aging skin.
Urban Skin Rx, an unparalleled line of clinical skin care products,  was developed by Rachel Roff, a highly successful licensed medical aesthetician  and certified laser technician. Ms. Roff's goal for Urban Skin Rx is to offer scientifically  researched corrective skin care products for all skin tones and colors  Urban Skin Rx was launched in 2010 after years of testing  formulas on thousands of clients, at our Medical Spa and Laser Center, Urban Skin Solutions. High-performance Urban Skin Rx products stand apart from typical over-the-counter  skin care products in that we include higher concentrations of active ingredients as well as our products include ingredients to correct and prevent uneven skin tone, the most common concern of women of color.
I received three items in my package ~ a cleanser, serum and a moisturizer/SPF product ~ and these are my initial impressions of the products.  Skin Type/Concerns: Oily, blemish prone, aging skin with hyper-pigmentation and fine lines/wrinkles
Clear Skin Cleansing Bar This cleanser comes in a tub but it is not a cream, oil balm or jelly cleanser ~ to best explain it, think of it as a glycerin soap bar in a tub. This comes with two round sponges that you moisten, use them to foam up the soap and then massage the cleanser onto your face with the sponge. I personally prefer using  my soft pore brush as I just swirl it around in the cleansing tub and then apply to my face. You cannot store the sponges back in the tub while wet, so I did find that to be a bit inconvenient. This cleanser is designed for oily and blemish prone skin ~ it helps softens your skin, while deep cleaning your pores, removing excess dirt and oil and exfoliating your skin.
3 in 1 daily cleansing treatment for breakouts and blemishes
Provides anti-bacterial and anti-inflammatory benefits
Perfect for hormonal breakouts and oily skin type
Can be used as a mask and daily exfoliator
This has some nice moisturizing ingredients to prevent your skin from drying out ~ coconut oil, palm kernel oil, safflower seed oil, as well as hydrating glycerin. This has anti-aging soybean and blemish busting sulfur to dry up and heal blemishes, while exfoliating beta hydroxy acid (BHA) salicylic acid will go deep into your pores to dissolve oil and dead skin cells.  This also has Canadian hemlock, which helps treat skin conditions like eczema.  I love the scent of this cleanser ~ a nice strong scent of eucalyptus!
This foams up nicely too and does a great job cleaning my face while not stripping it of its natural oils ~ my skin is not greasy or oily after I use this, but it  doesn't feel tight or dry. It only had issues removing my really stubborn and long wearing lip tint, but my cleansing tests are usually more rigorous than my daily normal makeup!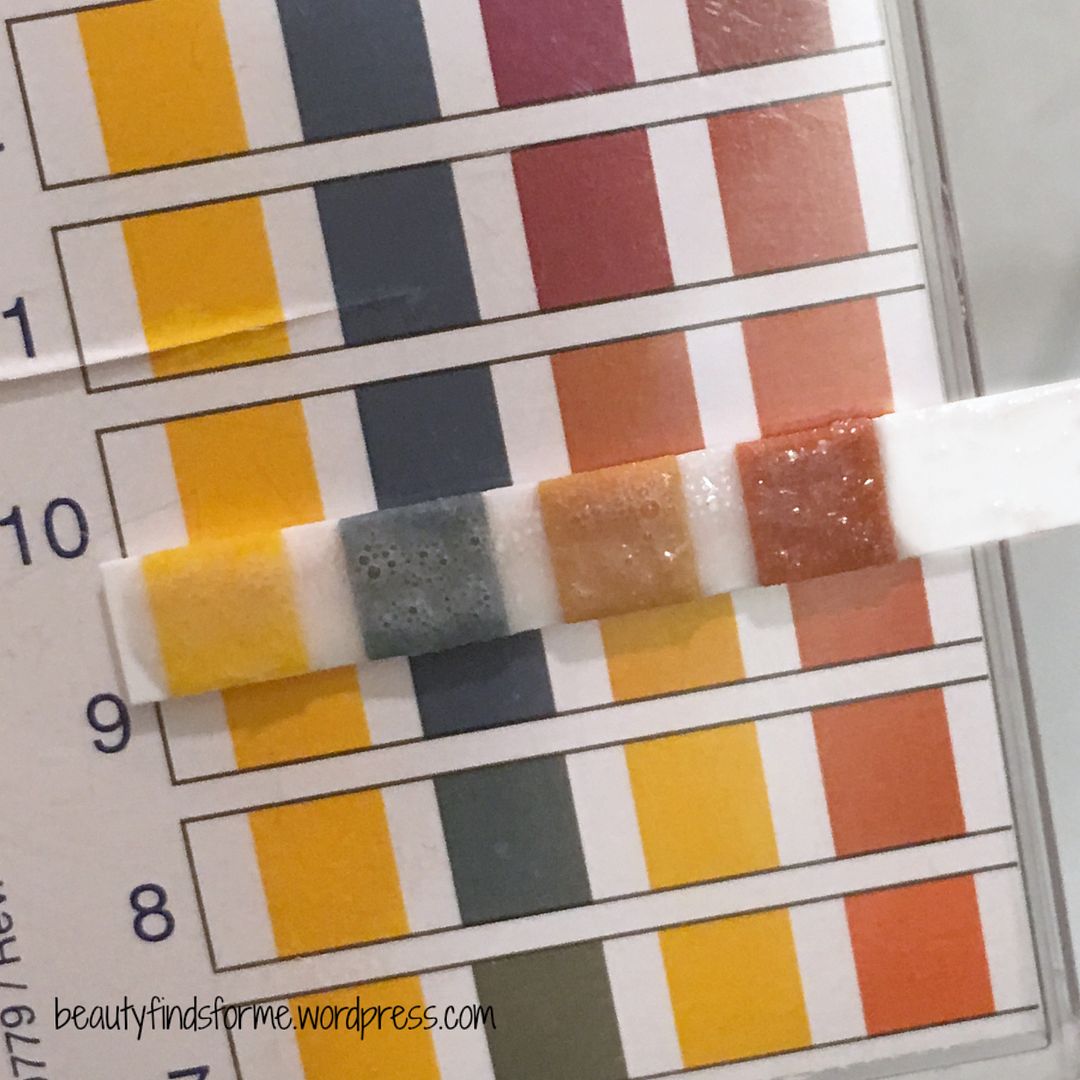 This does have a high pH of almost 10, so for those who cannot use a higher pH soap, you might wish to steer clear of this.  However, it looks like there is no added preservative in this soap, so that explains a higher pH level.  To prevent bacteria and microbes from forming in your cleansers, you either need to add preservative ingredients or keep the soap alkaline. Depending on your own skin care needs, you may want to have a cleanser that doesn't have added preservatives. According to Urban Skin Rx, you can also use this as a quick deep clean and exfoliating facial mask, by creating a creamy lather, massage the lather onto your face and leave on for about 1 to 2 minutes. Rinse off with warm water.
Ingredients: Cocos Nucifera (Coconut Oil), Elaeis Guineensis (Palm) Kernel Oil,  Carthamus Tinctorius (Safflower) Seed Oil, Glycerin (Vegetable), Purified Water,  Sorbitol, Sorbitan Oleate, Soybean Protein, Sodium Hydroxide, Propylene Glycol, Sulfur, Salicylic Acid, Eucalyptus Globulus Leaf Oil, Tsuga Canadensis (Hemlock) Leaf Oil cosDNA analysis
HydraFirm Serum  My next item is my favorite of the trio!  This is their oil free, anti-aging serum, full of peptides and hyaluronic acid, which won't clog your pores.  Oily skin may not wrinkle as quickly as drier skin types, but it does get dehydrated and we all get older too! 
Effective formula that combats the signs of anti-aging
Helps improve the look and feel of firmness and hydration
Helps the skin face environmental stressors
Multi purpose hydrator for all skin types
This contains chondrus crispus as its first ingredient ~  this red seaweed helps pull in moisture to your skin, creating a plumped up and healthy complexion, as it is rich in natural sodium. Hyaluronic acid helps retain more than 1000 times its weight in water within your skin cells as it is a gel-like, water-holding molecule.  It is an intensive moisturizing ingredient which bonds water to keep skin hydrated. It is a natural substance found in the human body and it made up of amino and uronic acids.
Next, there are a slew of peptides in here. Pentapeptide-18 (Leuphasyl) helps deeply penetrate into your skin cells, so that your fine lines and wrinkles are lessen in appearance. Dipeptide diaminobutyroyl benzylamide diacetate is a synthetic neuro-peptide and is also supposed to help prevent the formation of wrinkles caused by expression.  Acetyl octapeptide-3 helps keep skin looking younger, hydrated and smooth, as it can bind water to your skin and rejuvenate your skin.  Palmitoyl tripeptide-1 is a skin restorative amino acid chained peptide. Palmitoyl tetrapeptide-7 is an anti-inflammatory and helps reduce damage to your skin.  It is thought that this peptide will help aid in the production of collagen within your skin.
This also has powerhouse green tea, full of powerful anti-oxidants, due to its high concentration of polyphenols.  Green tea helps reduce the appearance of fine lines and wrinkles, by combating free radicals and reversing skin damage.  Panthenol helps cellular renewal and is an effective moisturizer. It is derived from plants and this ingredient comes from vitamin B5.  Panthenol is a natural humectant, which retains moisture and hydrates the skin. It also is a good lubricant on the skin, making skin look soft and smooth, as well as an anti-inflammatory
I love the bottle design!  It has a airless pump in a tall white bottle with green and black lettering. The serum is almost like a gel when first pumped out, but as I massage it into my skin, it turns watery and absorbs quickly, without any greasy residue or tacky feeling. This doesn't have a scent from what I can tell and my skin is immediately soft, smooth and very hydrated, with a semi-matte finish, which is great for oily skin. 
This increased my moisture level by 50% while decreasing my oil level by 29%, normalizing and hydrating my skin. My skin also looks and feels more firm as well, as if I did an instant lift.  Another plus is that there are no acne or irritant triggers on the ingredients, according to cosDNA.
Ingredients: Chondrus Crispus (Seaweed) Extract, Purified Water (Aqua), Hyaluronic Acid, Acetyl Hexapeptide-8, Pentapeptide-18, Dipeptide Diaminobutyroyl Benzylamide Diacetate, Acetyl Octapeptide-3, Palmitoyl Tripeptide-1, Palmitoyl Tetrapeptide-7, Malus Domestica Fruit Cell Culture, Gotu Kola, Camellia Sinensis (Green Tea) Leaf Extract, Panthenol, Phenoxyethanol, Ethylhexylglycerin cosDNA analysis 
DermShield All Skin Sun Protection Daily Moisturizer SPF 30  Now, I use a sunscreen daily, so I don't really need my moisturizer to have an SPF in it and I would prefer it didn't.  However, I do find it useful at times to have a 2-in-1 moisturizer with SPF ~ if I am doing outdoorsy things or I am traveling, I would want to carry and use less products.  This is a mineral based formula that is great for oily skinned types, as it isn't greasy or dewy and has a mattifying effect.
This does have 2% titanium dioxide (TiO2) a physical sunscreen ingredient that blocks both UVA/UVB rays and normally will produce a white cast.   It does have a chemical sunscreen ~ 7% ethylhexyl methoxycinnamate (Octinoxate) and octyl salicylate both help block and protect against UVB rays.  The difference between UVA and UVB rays?  UVA rays go beyond the top layer of your skin, deep into your dermal layer and cause premature aging.  UVB rays affect the top layers of your skin, causing tanning and burning. It is really important to wear sunscreen year-round ~ even during the snowy months, as rays bounce off the snow and back onto your face!
This also has aloe, which contains over 200 active components including vitamins, minerals, amino acids, enzymes and fatty acids. It helps repair collagen and elastin, and is packed with emollients that help soften and soothe the skin. Vitamin E, a powerful antioxidant, preventing free radical formation, protecting the upper skin layer from initial harmful UV radiation and preventing the deterioration of fats in your cell membranes.  Acetyl hexapeptide-8 is a skin restoring peptide, binding water to your skin and rejuvenate your skin
Mineral based formula that doesn't leave a grey/white film, even on the darkest of skin tones
Provides effective, daily sun protection to prevent future dark marks and sun damage
Mattifying effect ideal for acne prone/oily skin types
Helps to prevent aging skin

This SPF/Moisturizer is a white lotion that spreads easily and absorbs quickly into my skin, leaving a nice dry tea scent behind.  After testing a round of really greasy and oily sun creams lately (Benton), I am pleased to report this is not a dewy sunscreen. It really does have a drying and mattifying effect. I would say you should use it after you really apply hydrating serums and toners before this step.  I did use this when the weather here in Boston was in the upper 90's, so I was happy that it caused my oil production to slow down.  I would save for those days when it is really hot outside and I want to keep my skin fresh and not greasy.  I had a hard time gauging the moisture/oil level test because this is so mattifying!  I really do appreciate that Urban Skin Rx managed to create a formula with titanium dioxide that does not leave a white cast. Normally, if a product has titanium dioxide in it, you are bound to have that greyish/white look to your skin, but on my skin tone, I saw no cast. 
Active Ingredients: Titanium Dioxide 2%, Octinoxate 7%  Inactive Ingredients: Water, Aloe Barbadensis Leaf Extract, Isocetyl Stearate, Sorbitol, Cetearyl Alcohol, Ceteareth-20, Tocopheryl Acetate, Acetyl Hexapeptide-8, Hydrolyzed Rice Protein, Alcohol SDA-40, Dimethicone, Octyl Salicylate, Cetyl Alcohol, Methicone, Sodium Laureth Sulfate, Carbomer, Camellia Sinensis (Green Tea) Leaf Extract, Fragrance, Triethanolamine, Stearic Acid, Lecithin, Alumina, Caprylyl Glycol, Methylisothiazolinone  cosDNA analysis

Final Thoughts
I do love a brand that seems to understand that getting older doesn't mean your skin is going to be dry and thin.  My aging skin is thicker and oilier and I suffer from uneven skin tone and hyper-pigmentation, along with fine lines and wrinkles.  This trio contains solid products that work well in controlling the sebum production in my face and I LOVE the HydraFirm Serum ~ that stuff is really lovely!   I am impressed with my initial skin care testing with these three products. Have you tried any products from Urban Skin Rx?  Is this of interest to you?
Where to Purchase
Urban Skin Rx, of course! They have a whole line of skincare with different concerns and needs ~ take their skin quiz first to see what products you should try first.  They have free shipping for domestic orders over $75.00 and will include a free HydraBalance Sample with every order.  Save 10% on your first order with promo code WELCOME10
[ disclosure: items received complementary for review purposes.  descriptions in italics from urbanskinrx.com ]