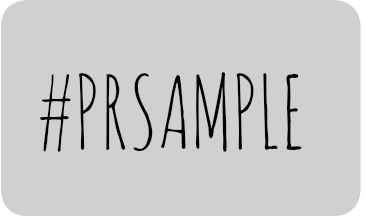 Swanicoco is a South Korean cosmetics company that began making naturally fermented soaps back in 2005.  They have been producing eco-friendly skincare, makeup and body care products, using their trademarked anti-aging fermentation process.  Swanicoco uses organic herbal and botanticals from all over the world ~ Korea, Europe, Australia and United States, and these ingredients are selected to create their products, which range from Pore Care to Anti-Aging Care lines.  The brand name combines elegance ~ swan ~ with natural botanical ingredients ~ coco.    
I received items from Swanicoco, tailored to my skin type and my issues and I have reviewed several items already.   I am focusing on brightening and refining my skin texture, with products ranging from an AHA peeling cream to targeted brightening ampoules. Due to this brightening routine, Kevin at Swanicoco added two sunscreens in my last PR package to ensure that I protected my skin from harmful UV rays.  When using AHA and brightening products, you really do need to make sure that you apply your sunscreen all the time.  So many times, a lot of people skip this step, but it is very important.  Wearing a sunscreen is the best defense from premature wrinkling and sun damage.

Skin Type/Concerns:  Oily, blemish prone skin with aging concerns  ~ fine lines and wrinkles around the eyes, hyper-pigmentation
Whenever I do a sunscreen review, I always like to include this in my blog post.  It may seem repetitive if you are familiar with my blog posts, but not everyone reads every review or clicks on resources to find out what I am referring to.  If you already know this information, skip over to read my review of two Swanicoco Sunscreens ~ Bio Cool Mint Sun Gel SPF50+/PA+++ and Daily UV Shield Perfect Sun Block Cream SPF50+ PA+++
We all know what SPF rating means, but what does PA stand for?   I am very familiar with SPF (sun protection factor) and that it ranks based on protection from UVB :: ultraviolet B (shortwave) rays.  But the PA rating is something newish to me and a lot of Western readers, and I really notice it on Asian sunscreens, not so much American brands.    PA is the amount of protection the sunscreen offers from UVA :: ultraviolet A (long-wave) rays.  PA ranks with + signs and the higher the + signs, the more protection you will get from UVA rays. 
UVB is what causes sunburns and reddened skin and has direct links to cancer.  UVA is what causes us to tan, and age ~ wrinkles and deep lines are caused by UVA exposure.  A really fantastic article about ultraviolet rays and how they affect our skin can be found here at the Skin Cancer website  and I highly recommend reading it.   One thing I have learned is that a broad spectrum sunscreen is the proper choice as it will help deflect the UV rays and not allow them to penetrate into your skin layers.
TL;DR:  You need to wear them.  Don't skimp on or skip this step.
Bio Cool Mint Sun Gel SPF50+/PA+++ is a lightweight sunscreen with a watery texture, specifically designed as an oil control sunscreen.  It has a flip top cap applicator, which I actually prefer due to easy of use and convenience ~  and the gel is not a mint green, much to my disappointment!!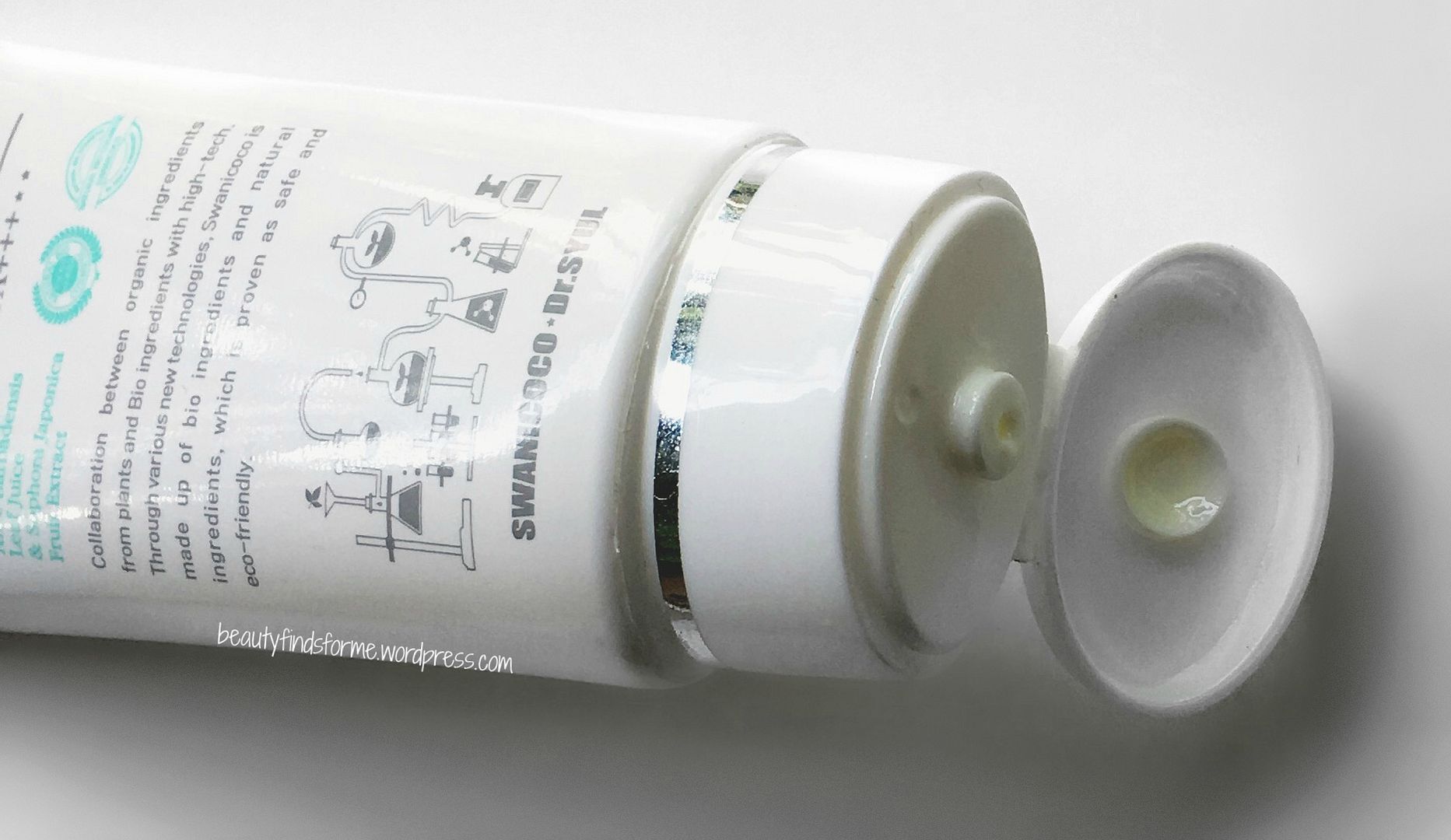 The gel is not a gelly, but more of a very thin lotion, and it turns to a watery essence as I massage into my skin ~ this reminds me so much of the 2015 Biore UV Aqua Rich Watery Essence SPF 50+ PA++++ in its texture and performance.  It has a light scent of bergamot, which is a warm citrus scent and I don't really smell the alcohol in this sunscreen. 

It does not leave a white cast behind and I feel like I am not wearing any sunscreen at all, as it doesn't leave my face feeling greasy or sticky, no dewy look here.  It has a really nice refreshing and cooling effect on my skin as it dries down and has a semi-matte finish.  This has a light waterproof finish as well ~ it can handle a normal sweat or water exposure, but it is not for heavy sports activity or swimming.  You should reapply after a couple of hours with normal activity. This sunscreen does not make claims that it is water or sweat resistant ~ these were just my observations  This is perfect for oily skinned folks and it is one of my favorite Korean sunscreens now ~ I normally like Japanese or Taiwanese sunscreens, as they are more lightweight and oily-skin friendly, but this one is on the same level, imho.
This contains four UVA/UVB filters to help block the rays and protect your skin:  ethylhexyl methoxycinnamate (Octinoxate), which mainly protects against UVB rays, but has some UVA protection; Homosalate is a UVB blocker, bis-ethylhexyloxyphenol methoxyphenyl triazine (Tinosorb S) absorbs UVA/UVB rays and finally, physical blocker titanium dioxide, which blocks both UVA/UVB rays

The first ingredient in this sun gel is aloe vera, a powerful moisturizer that doesn't leave your skin feeling oily or greasy. It soothes, treats inflammation, helps speed up skin healing and also has a plethora of antioxidants ~ beta-carotene, Vitamin C and Vitamin E, which help improve your skin's firmness and keeps your skin moist and hydrated.  Niacinamide is a powerful antioxidant that acts as an anti-inflammatory, improves your skin elasticity, enhance the skin barrier function and also it helps to even out skin tone and reduce post-inflammatory hyper-pigmentation. Sodium hyaluronate is a humectant that bonds water to keep skin hydrated. It is a natural substance found in the human body and it made up of amino and uronic acids, and helps retain 100 to 1,000 times its own water weight in our skin cells.  This sun gel also contains a bunch of essential oils, in case you are sensitive to them.  I am not, and I appreciate the mix of healing and blemish busting oils, such as lavender, tea tree, lime, lemon, eucalyptus and mint.
 image credit swanicoco
Ingredients: Aloe Barbadensis Leaf Juice, Ethylhexyl Methoxycinnamate, Alcohol, Butylene Glycol, Homosalate, Ethylhexyl Salicylate, Pentylene Glycol, Bis-Ethylhexyloxyphenol Methoxyphenyl Triazine, Niacinamide, Caprylyl Methicone, Titanium Dioxide, Glycerin, Isononyl Isononanoate,Ethylhexyl Triazone, 1,2-Hexanediol, Water, Polyglyceryl-3 Methylglucose Distearate, Lauryl Methacrylate/Glycol Dimethacrylate Crosspolymer, Ethyl Hexanediol, Cyclopentasiloxane, Ammonium Acryloyldimethyltaurate/VP Copolymer, Sorbitan Isostearate, Sodium Acrylate/Sodium Acryloyldimethyl Taurate Copolymer, Aluminum Hydroxide, Isohexadecane, Stearic Acid, Dimethicone/Vinyl Dimethicone Crosspolymer, Tocopheryl Acetate, Allantoin, Ethylhexylglycerin, Polysorbate 80, Adenosine, Citrus Aurantium Dulcis (Orange) Peel Oil, Sorbitan Oleate, Pelargonium Graveolens Flower Oil, Amyris Balsamifera Bark Oil, Lavandula Angustifolia (Lavender) Oil, Xanthan Gum, Melaleuca Alternifolia (Tea Tree) Leaf Oil, Eucalyptus Globulus Leaf Oil, Citrus Grandis (Grapefruit) Peel Oil, Mentha Arvensis Leaf Oil, Sodium Hyaluronate, Boswellia Carterii Oil, Citrus Aurantium Bergamia (Bergamot) Fruit Oil, Juniperus Mexicana Oil, Sophora Japonica Fruit Extract, Pancratium Maritimum Extract  cosDNA analysis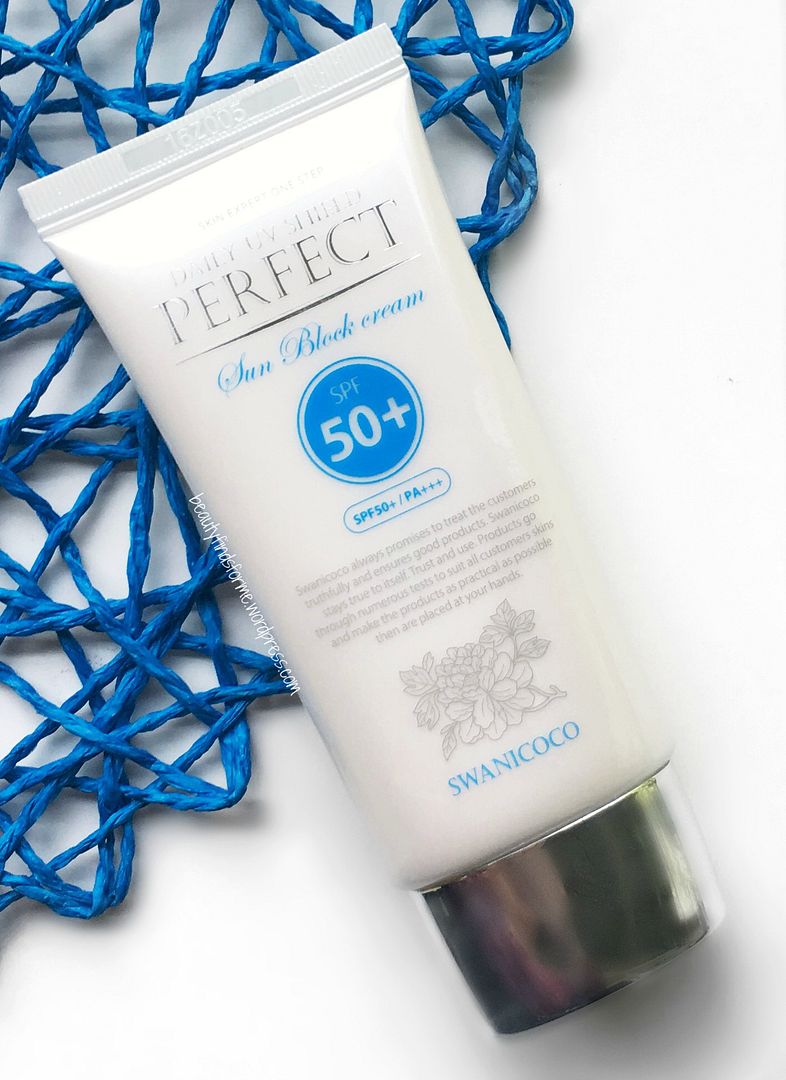 Daily UV Shield Perfect Sun Block Cream SPF50+ PA+++  This sunscreen is more in line with what I experience with Korean sunscreens ~ it is a thicker, almost oily lotion with a generic sunscreen type of scent.  It has a blunt pointed tip applicator, which means you have to twist off the bright silver cap.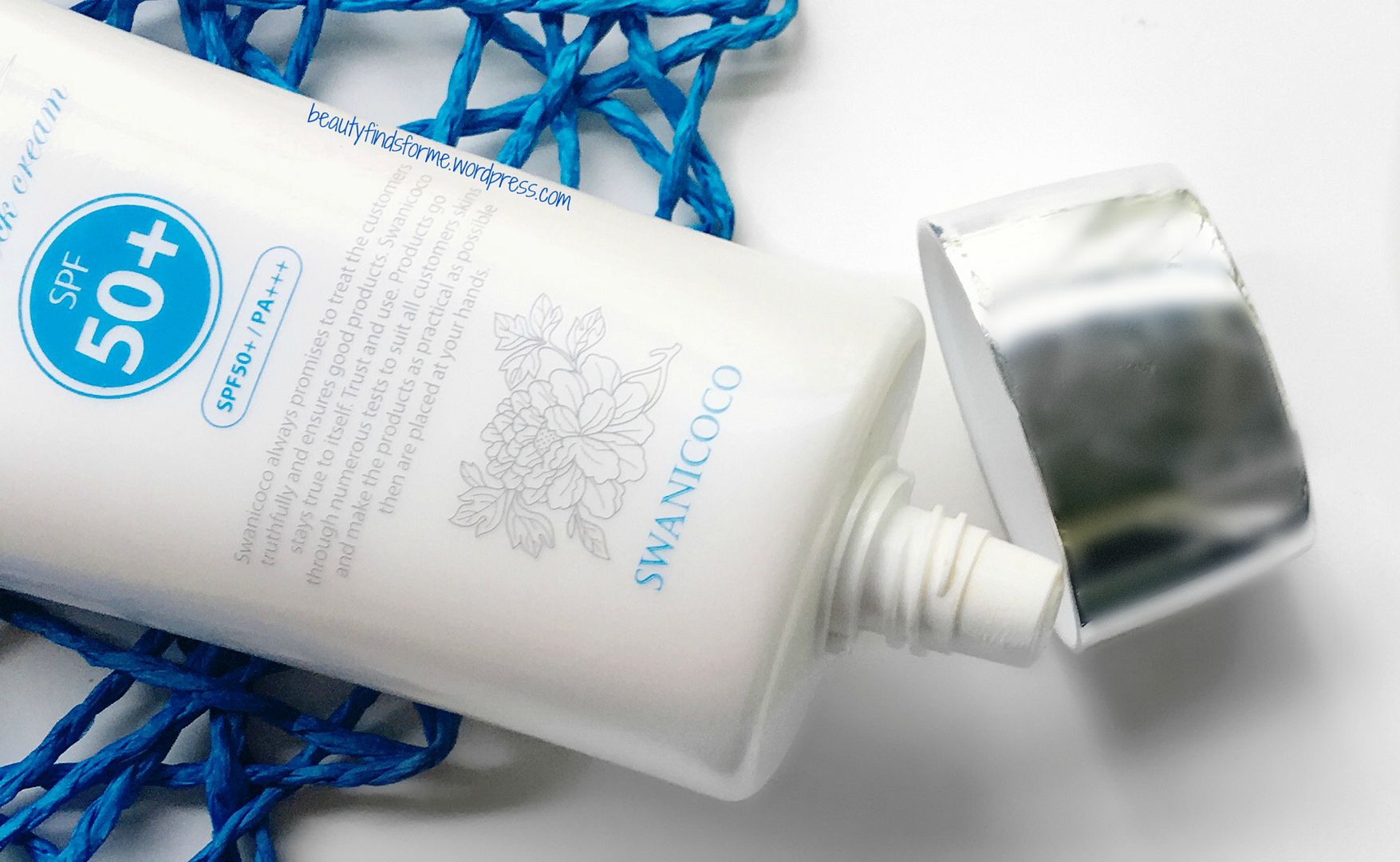 This lotion-cream has a slight beige tint to it, so I am wondering if it is also a color correcting product as well ~ however, as I massage it into my skin, the tint disappears and what remains is a very slight white cast ~ on me, it is not a big deal, but if you have a darker tone than me (Mac NW20), this might be more apparent on your skin.  I found this sunscreen to be too heavy for my skin type and it did leave a moist, dewy finish.
This contains five UVA/UVB filters to help block the rays and protect your skin:  ethylhexyl methoxycinnamate (Octinoxate), which mainly protects against UVB rays, but has some UVA protection; Butyl methoxydibenzoylmethane (Avobenzone) is a broad spectrum filter, as it effectively blocks both UVA and UVB rays, bis-ethylhexyloxyphenol methoxyphenyl triazine (Tinosorb S) absorbs UVA/UVB rays and finally, 2 physical blockers with zinc oxide and titanium dioxide and between the two of them, block both UVA/UVB rays and contribute to the white cast here.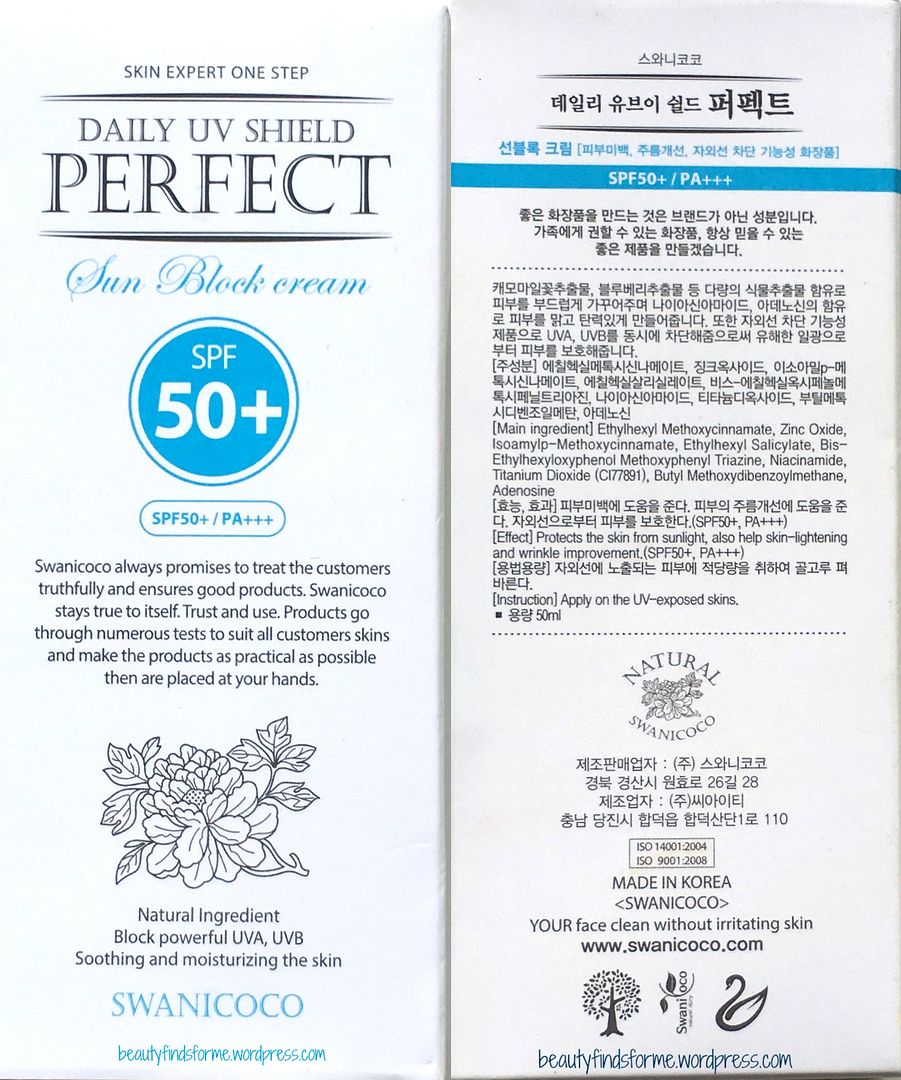 The first ingredient in this sun cream is green tea, which is full of powerful anti-oxidants, due to its high concentration of polyphenols, green tea helps reduce the appearance of fine lines and wrinkles. This also contains the skin brightening, anti-inflammatory antioxidant niacinamide, as well blueberries,  which help increase skin elasticity, with their rich content of vitamins A, B and C, along with phyochemicals to help combat free radicals and reverse damaged skin.  Just like the Bio Cool Gel, this lotion does contain a variety of essential oils.  Due to the beeswax ingredient, I did find this to be more waterproof than the Bio Cool Mint Gel, but again, I don't think this is for heavy duty sporting activities.  This sunscreen does not make claims that it is water or sweat resistant ~ these were just my observations

Ingredients: Camellia Sinensis Leaf Water, Ethylhexyl Methoxycinnamate, Butylene Glycol, Cyclopentasiloxane, Zinc Oxide, Dicaprylyl Carbonate, Ethylhexyl Salicylate, Isoamyl p-Methoxycinnamate, Vaccinium Angustifolium (Blueberry) Fruit Extract, Cetyl PEG/PPG-10/1 Dimethicone, Anthemis Nobilis Flower Extract, Phenyl Trimethicone, Niacinamide, Bis-Ethylhexyloxyphenol Methoxyphenyl Triazine, Cyclohexasiloxane, Titanium Dioxide, 1,2-Hexanediol, Sodium Chloride, Methyl Methacrylate Crosspolymer, Butyl Methoxydibenzoylmethane, Beeswax, Sorbitan Sesquioleate, Lauryl PEG-9 Olydimethylsiloxyethyl Dimethicone, Sorbitan Olivate, Disteardimonium Hectorite, Trihydroxystearin, Propylene Carbonate, Triethoxycaprylylsilane, Dimethicone Crosspolymer, Ceresin, Caprylyl Glycol, CI 77492, Dimethiconol, Adenosine, Dimethicone, Propanediol, Citrus Limon (Lemon) Fruit Oil, CI 77491, Talc, Citrus Aurantium Sinensis (Orange) Fiber, Tocopheryl Acetate, Water, Lavandula Angustifolia (Lavender) Oil, Illicium Verum (Anise) Fruit Extract, Citrus Grandis (Grapefruit) Peel Oil, Eucalyptus Globulus Leaf Oil, Citrus Aurantifolia (Lime) Fruit, Citrus Limon (Lemon) Fruit Extract, Vaccinium Myrtillus Fruit/Leaf Extract, Saccharum Officinarum (Sugarcane) Extract, Acer Saccharum (Sugar Maple) Extract, Citrus Aurantium Dulcis (Orange) Fruit Extract, Tocopherol  cosDNA analysis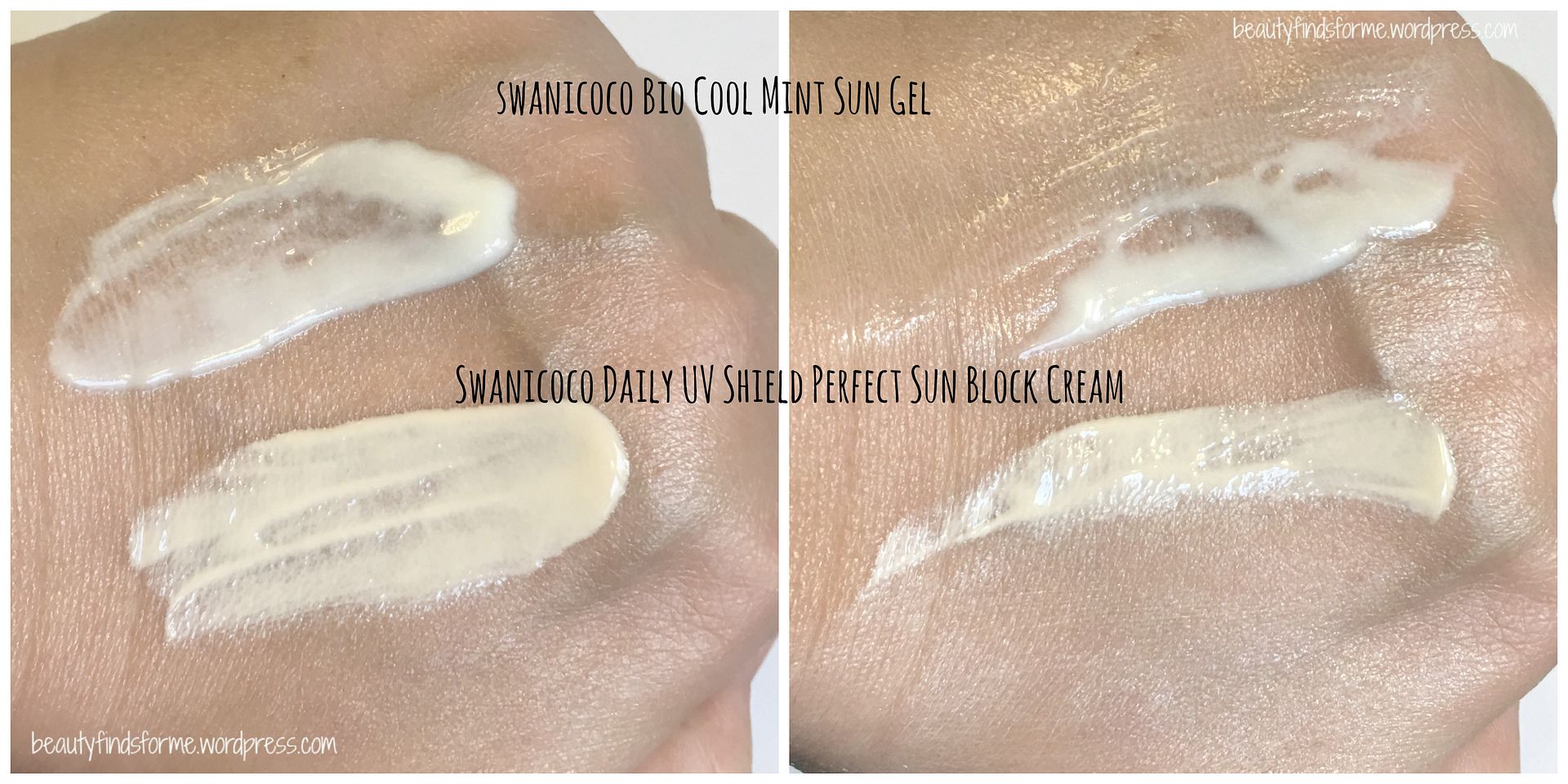 I wanted to show the swatches side by side ~ you can see that the Bio Cool is more water and does not leave a cast, whereas the Daily UV Shield has that thicker lotion look, plus that tint that translates into a faint white cast on my skin.
Final Thoughts
Between the two sunscreens, I really like and prefer the Bio Cool Mint Sun Gel over the Daily UV Shield Perfect Sun Block Cream.  The Bio Cool is more suited to my skin type and it didn't leave any residue or cast on my skin, while providing a nice fresh finish, with a cooling effect. The Daily UV is better for those who have drier skin and/or looking for a moist, dewy finish.  I found that to be too heavy for my skin type and whereas it looked tinted in the tube, it really didn't leave any tint to my skin ~ however, I did notice a bit of cast on this sunscreen for me.   I also like Bio Cool's flip cap applicator as I like to have my sunscreen with its cap attached ~ no accidental "I didn't twist it back on all the way and have sunscreen all over in my purse" accidents.  The price point on Bio Cool is much better ~ it is only $29.00 USD vs the $41.00 for the Daily UV.

Have you tried any Swanicoco products?  Which ones and what did you think about them?  Let me know in the comments below as I would love to read your thoughts!
Where to Purchase
Currently, W2Beauty is the authorized retailer and they do ship internationally.  They carry a huge line of Swanicoco ~ not just the skincare lines, but body and makeup lines as well.
W2Beauty are very generous with free samples, which vary depending on availability.  The more you order, the more (and bigger) freebies you get.  FREE shipping for purchases $60.00+ OR if you include any products from Benton (which is amazing, check out my reviews here), Klairs (reviews here) ~ the supple toner is fantastic ~ and Troiareuke.  If under $60.00, there is a one flat rate fee ~ for example, for USA, it would be $12.50.  You can check out the rates here.
What is Next
I was fortunate enough to get a second PR package from Swanicoco that will be targeting my need to improve and brighten my skin tone, reducing hyper-pigmentation. From the lower left and going clockwise

Kevin also thoughtfully added two sunscreens for me to try as I am going a bit hard core with the AHA product ~ Daily UV Shield Perfect Sun Block Cream SPF50+ PA+++  with green tea and Bio Cool Mint Sun Gel SPF50+ PA+++.   I will start using the two Revol products starting in September.  I am still using the AHA peeling cream and hope to have that review completed by the end of September, as I really want to provide a longer test period for this item.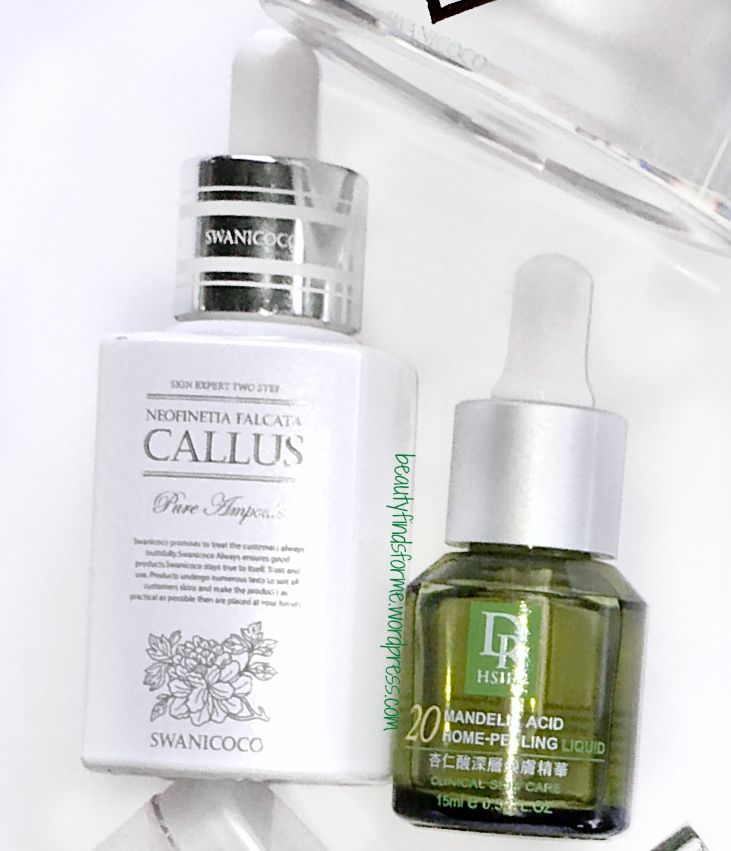 I also had purchased Swanicoco Neofinetia Falcata Callus Pure Ampoule on my own and that was languishing until I started using it with Dr Hsieh 20% Mandelic Acid Peel ~ I will review those two products together in the near future as I feel that they really work well together to get the best results.   I do not use the AHA 10% Peeling Cream nightly, as it is very intense on my skin. I use it a couple of times a week and then on 4 other nights, I split the time between Dr Hsieh 20% Peel with Swanicoco's Neofinetia Falcata Callus Ampoule and Pixi Overnight Glow Serum with 10% Glycolic Acid (affiliate link).  As you can tell, I am getting really serious about trying to lighten some of the sun damage that I have on my face. I am tired of seeing these blotches and am hoping for long term results with these products.

[ disclaimer: products received for review purposes. all opinions are my own & unbiased.  ]